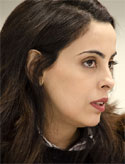 By Hala Aldosari
June 22, 2018
In the wake of Sept. 11, when Saudi ties to Islamist militants were under scrutiny, the kingdom decided that women could be appointed as consultants to the Royal Advisory Council. It began offering scholarships for women to study abroad — accompanied by their male guardian — and allowed them to be elected to local chambers of commerce.
In the aftermath of the Arab Spring, when there were whispers about whether the wave of revolutions could reach Saudi Arabia, the king at the time, Abdullah, made some women full members to the Royal Advisory Council. He issued a decree declaring that women could now be employed in retail jobs, and he permitted them to participate in municipal elections and the Olympics.
But under Crown Prince Mohammed bin Salman, who is still consolidating power, the tactic has been elevated to new heights. The regime stunned the world last September by announcing that the ban on driving by women would be lifted this summer; women will be allowed behind the wheel starting on Sunday. But the months before and since that announcement have seen a steady stream of additional small-scale reforms handed down, and other milestones marked: Women have been appointed to head the kingdom's stock exchange, and one of the country's largest banks. They are now allowed to attend sports and recreational events. They've also been granted greater access to jobs.
Prince Mohammed, in other words, has pursued a set of reforms aimed at making Saudi women good workers and consumers of recreation, while leaving the essential power structures that keep them second-class citizens untouched. By doing so, he's effectively furthered the development of two classes of women in Saudi society: one whose supportive guardians will enable them to put these reforms to use, and another, whose lives will still be shaped and determined by their conservative families.
Women are at the core not only of the Prince Mohammed charm offensive but of his larger vision to diversify the economy and to pare its huge welfare state. The attractions of employing more women in an economy trying to shift away from an overdependence on oil are obvious: The private sector is underdeveloped, centred on construction and retail, and largely dependent on state funding; at the same time, women's work force participation hovers at 21 percent, even though Saudi women are among the most educated in the region.
Small but visible concessions on women's rights come with political benefits too: They demonstrate that Saudi shares the values of would-be foreign investors, and send a message that this is a regime worth siding with against Islamists, including the Iranians.
But little has changed when it comes to the legal and social strictures on women in Saudi society. And under Prince Mohammed, little seems likely to.
In Saudi Arabia, the second-class status of women underlies the legitimacy of the monarchy as a custodian of religious and tribal values. The Saudi model of citizenship, in which men control women's movements and choices through the male-guardianship system, is one in which men are the primary political constituency, and women are citizens only by proxy.
There have always been exceptions, of course. A minority of women from powerful political and business families have indeed benefited from the changes that have taken place in Saudi Arabia over the years. These women were the first to participate in chambers of commerce in Riyadh, Dammam and Jidda; they also put a good face on the kingdom by representing it on delegations and at conferences abroad. They'll likely enjoy a soccer game or two, and will probably drive come this summer — though if they happen to be detained for certain traffic violations, they can be released only into the care of a male guardian.
But most Saudi women are not like these women. Most Saudi women are from conservative families; they are women like Amnah al-Juaid.
Two years ago, Ms. Juaid recounted in a video she posted online last fall, she was forced to sign a marriage contract by her abusive father. She ran away from home and enlisted the help of activists to find a job and safe accommodation in another city. She managed to stay underground for months until she had to renew her national identification card. When she did so, the authorities arrested her for being absent from her father's home without his consent. Running away, even for adult women, is a crime for women in Saudi Arabia, punishable by imprisonment and flogging, with the woman then returned to the guardian from whom she fled.
In an interview this spring, the crown prince was asked whether he will abolish the male-guardianship system. His response was to affirm that men's concerns remain the monarchy's priority: "If I say yes to this question," he said, "that means I'm creating problems for the families that don't want to give freedom for their daughters."
If that wasn't enough, any last doubts about the government's intentions toward women should have been swept away with the arrests of women rights activists in the weeks leading up to the end of the driving ban.
The crown prince's piecemeal approach to gender reforms can serve the interest of only a select group of women. It may even widen economic disparities by giving women from supportive families who are typically already members of the elite more opportunities than others from restrictive families. Worst of all will be if these small-scale reforms, and the silencing of feminists, slow the momentum for pushing the Saudi regime into making more meaningful change.
Hala Aldosari is a fellow at the Radcliffe Institute for Advanced Study at Harvard
Source: nytimes.com/2018/06/22/opinion/saudi-arabia-salman-women-driving.html
URL: http://www.newageislam.com/islamic-society/hala-aldosari/concessions-on-women's-rights-in-saudi-arabia-often-appear-during-times-of-turmoil/d/115629