By Aftab Ahmad, New Age Islam
03 July 2015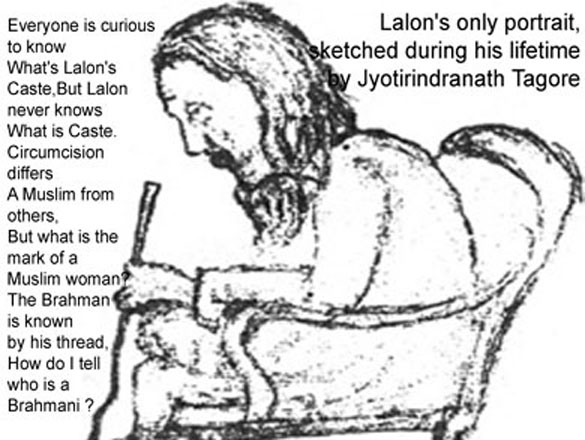 Lalan Fakir was the greatest Sufi and spiritual leader of the Baul sect that emerged from Bengal in the 18th century. Though Baul sect had already established its identity as a distinct Sufi sect, Lalan Fakir organized it through his knowledge and poetic skills spreading the message and ideology of this sect through his poetry He had established his own hospice or Akhara which became a tradition of the Baul sect.
According to some reports, he had more than one thousand disciples. He had established his identity as a great Sufi and a spiritual guide. He rebelled against caste system among Hindus and the discrimination among Muslims on the basis of Ashraf and Ajlaf, poor and rich and on the basis of untouchability and founded a sect that had no room for exploitation, religious communalism, social inequality, superstition , injustice and narrow-mindedness. Lalan declared that the service to the humanity and seeking the union with the Supreme Being was the means to salvation. That's why he put a veil over his religious identity in such a way that the researchers have not been able to ascertain his religious background.
According to some scholars, he was a Muslim while a section of scholars believes that he was a Hindu and belonged to the Kaistha caste. His biographers also differ over his date and place of birth. But all the researchers and scholars unanimously believe that he was on a high pedestal of humanity and spirituality. In his poetry, he deals with both Vedanta philosophy and Hindu mythology and Islamic theology with the same mastery and command. This also leaves researchers clueless about his religion.
According to one tradition, Lalan Fakir was born in Bhanrara village in Kushtia district now in Bangladesh in 1774.His father's name was Madhab Kar and mother's name was Padmavati. According to another tradition, he was born on 17th October 1772 in Jhinaidah village in district Harishpur. His father's name was Daribullah Dewan while his mother's name was Amina Khatun. His grandfather's name was Ghulam Qadir Dewan.
However, researchers believe that in later period, in the Islamic society of Bangladesh there was a deliberate attempt to prove Lalan Fakir a Muslim. One of his close disciples, Duddu Shah who was himself a good poet had purportedly written a poem on Lalan Fakir mentioning his family background. This poem was discovered at a later stage. In this poem, Duddu Shah writes that Lalan Fakir was born on the 1st of Kartik of Bengali year 1179 corresponding to 1772 A.D. in Harishpur. In the poem, Lalan Fakir's father's name has been given as Daribullah Dewan, mother's name as Amina Khatun and grandfather's name as Ghulam Qadir Dewan.
In this poem, Duddu Shah claims that his Murshid (Lalan Fakir) had told him not to make personal details about his life public but he was doing so after his death. Researchers have expressed doubt over the authenticity of this poem and believe that the poem was a part of the campaign to prove Lalan a Muslim.
Lalan's story is interesting as well as thought provoking. The incidents of his life and the experiences he had formed his religious and social outlook and ideology and he became a rebel against superstition, obscurantism, untouchability, religious narrow-mindedness and intolerance. Later, his ideas led him to the formation of his own spiritual sect.
The revolutionary change in his religious and social thought came about during one of his journeys. At the age of 30, Lalan went on a pilgrimage to Nabadwip. During the journey, he caught small pox and due to the superstition of the age, his companions left him to die on the way. Later, some sailors picked his body and threw him into the river so that his disease would not spread in that area. A Muslim woman who comes to take water from the river takes him to her house and takes care of him. Gradually, he regains health and after some days he goes back to his home. His family members and wife rejoice at seeing him back and alive.
However, their joy proved short-lived. The headman and the Brahmins of the village issued the fatwa that since Lalan had eaten in the house of a Malechha, (a term of contempt for Muslim, denoting his untouchability) so he had lost his religion and could no longer live among Hindus.
Shocked and deeply dismayed at the treatment of the society, he leaves home for good and comes to a Muslim fakir called Siraj Sain. He becomes his disciple and embarks on the path of Sufism and spiritual enlightenment. It is here that Lalan received all his education and knowledge of religion and Sufism. Lalan expresses his love and reverence to his mentor Siraj Sain in many of his songs.
Baul sect had come into existence before the birth of Lalan Fakir in the 18th century. During that period, this area was under the British rule and the farmers and the common people were going through a serious economic crisis due to the exploitative policy of the British and the landlords. This resulted in the Great Famine of Bengal. On the other hand, the caste system and the ill treatment of the low caste at the hands of the upper caste among both Hindus and Muslims had caused a spiritual anxiety among the common masses. The low caste people among both the communities had to suffer humiliation and insult.
Under these circumstances, a Pathan Sufi saint called Karim Shah came in this area and organized the tribals there. Karim Shah is called the original founder of Baul sect. He is also said to be the founder of another Bhaktivadi sect called Pagal Panthi which later turned into Baul sect under the influence of various religions like Buddhism, Hinduism, Islamic Sufism etc.
However, it is not correct that Karim Shah was the founder of Pagal Panthi. In fact, Pagal Panthi is one of the twelve branches of Nath Panth. Karim Shah might be a leader of Pagal Panth which over time accepted local religious and spiritual influences to take the form of Baulism. Karim Shah organized the tribals like Garo and Hajong into a spiritual and political force that in the later years revolted against the British rule in the area. He was successful in removing caste system, superstition, social inequality and communalism from the area to a great extent and the tribals became united as a single community.
Baul sect had members from both Hindus and Muslims. Mostly, the lower caste and downtrodden people from the Muslims and Hindus joined the movement. The sect follows the tradition of Guru-Shishya (spiritual guide and disciple) on the lines of Sufism. In this sect, the guru of a Muslim disciple could be a Hindu and the Murshid of a Hindu disciple could be a Muslim.
In this sect, sex has been sanctified and is considered a means of getting salvation. Under the influence of Vaishno Sahajiya, spiritual satisfaction is attained through sexual union between man and woman. In Baul sect, too women have a special place and importance. In the traditional society, the woman is a slave and subordinate to man but in Baul, she is a partner in the spiritual journey of man. Marriage and having children are taboo in this sect. They have secret sexual practices that are kept under cover because the general public may misinterpret them. During their conversations, they use symbols and codes.
In Lalan Fakir's songs, we get his philosophy and ideology. Bauls do not have their written document. Therefore, one can learn and know about their outlook of life, philosophy, beliefs and practices by listening to their songs.
Baul songs are divided into many categories depending upon the subjects they deal with. They are put under Param Tatva (Knowledge of the Supreme Being), Deha Tatva (knowledge of the body), Manush Tatva (knowledge of man), Atma tatva (Knowledge of Self), Murshid Tatva (knowledge of Guru or Murshid) etc.
Lalan composed about two thousand five hundred songs during his life spanning over 118 years. He himself was a singer and had a deep knowledge of music. The national anthem of Bangladesh has been composed on Baul tune. It is said that Lalan Fakir was the first to compose Baul songs. Baul songs are not found before Lalan though the word baul is used in many earlier day poems of Bengali. The word baul is also found in the poetry of Baba Farid of Punjab. By dint of his ideological knowledge and poetic skills, Lalan was able to establish an independent religious sect. Therefore, Lalan Fakir is considered the greatest exponent of Baulism.
Rabindranath Tagore and Lalan Fakir
Nobel Laureate Rabindranatha Tagore was deeply influenced by Lalan Fakir's songs and thoughts. Lalan's area fell under the land owned by Tagore's family and so he regularly visited the area to collect taxes and to supervise the land. During these visits, he came in contact with the Bauls. Rabindranath Tagore also met Lalan Fakir. Rabindranath Tagore used to enjoy the company of Bauls and he was impressed by their simplicity and innocence. As a result, Baul had an impact on Tagore's poetry. Tagore used the first two lines of Lalan's famous poem 'Khanchar bheetar achin pakhi' (The unknown bird in the cage) in his famous novel Gora.
In fact, the credit to introduce Lalan Fakir to the outer literary world goes to Tagore. He published twenty poems of Lalan in his magazine Prabasi. He had acquired a collection of 289 songs of Lalan from one of his disciples which is now preserved in Tagore Museum. The humanist attitude of the Bauls has been reflected in the poetry of Tagore.
Summing up, Lalan Fakir is known as a flag-bearer of revolutionary and non-conformist thought. In his songs, he derides religious and social supremacism and social inequality. He protests against oppression, injustice and exploitation. He died at the age of 118 years in 1890. His mazar is situated in Kushtia where every year a mela is held. Lalan Fakir is known as a legend in the literary and cultural world of Bangladesh. He has left lasting imprints on the culture and literature of Bangladesh.
Aftab Ahmad is a columnist for New Age Islam. He has been studying the Holy Quran for some time.
URL: https://www.newageislam.com/islamic-society/aftab-ahmad,-new-age-islam/great-sufi-and-baul-samrat-lalan-fakir-fought-against-caste-and-class-bias-among-muslims/d/103751