By Abhishek Bhalla
November 13, 2014
Madrasas with Indian teachers are not nurseries of jihad but those with staff from other countries are a potential hunting ground for terror groups. This has been the finding of a secret report that has been put together over the last one year and submitted to the Union home ministry. It is at such madrasas that young Muslims are indoctrinated in jihad.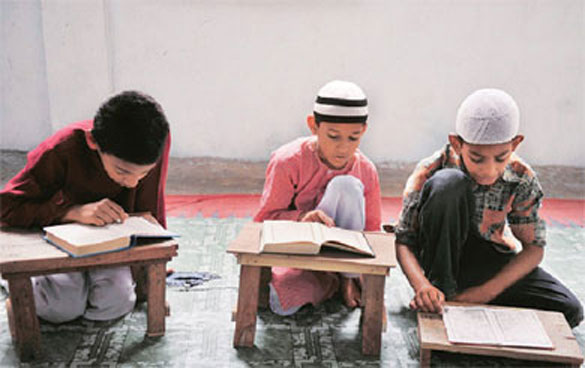 A report submitted to the MHA gives clean chit to madrasas run by Indian Muslim teachers
------
"There is no hate propaganda if the teachers are Indian Muslims and there is no jehadi indoctrination," the report states.
Under Scanner
Sources, however say that in many of these madrasas there are teachers from Bangladesh who need to be put under scrutiny.
The report suggests that majority of madrasas are not involved in jehadi activities, but in states like West Bengal and Assam there could be elements involved in anti-India activities.
The report also sheds light on the condition and quality of education in these madrasas. While those run by Indian groups are not a security threat, they resist any other kind of education which in turn leads to unemployment, as they focus more on religious teachings. These madrasas are mushrooming in Muslim-dominated areas where there are no good schools, and mostly poor people send their children there.
"These madrasas are mostly free for students who are not just given Islamic education but also provided with free lodging and food, besides some cash to buy clothes if they are extremely poor. There is a need to encourage these madrasas to incorporate elements of modern curriculums to help their students in terms of employment and life skills," the report said.
Worried over reports that Bangladeshi nationals were teaching students of a madrasa in Burdwan, intelligence agencies have been asked to zero down on some states with international border to check whether foreign nationals are teaching there.
Probes reveal that almost all teachers at the madrasas in West Bengal's Burdwan district, where an explosion killed two persons on October 2, were Bangladeshi nationals. The madrasa teachers, affiliated to the banned terror group Jamaat-ul-Mujahideen Bangladesh, were allegedly involved in indoctrination of young students and attracting them into jihadi ideology.
The report says that madrasas with Muslim teachers from abroad could be actively "radicalising young minds". "We are concerned that there may be many more foreign teachers who are still attached with many madrasas claiming to be Indian citizens with forged identity documents. Hence, a detailed study is required," a Union home ministry official said.
The survey will initially be conducted in states that share an international border-like West Bengal, Assam, Uttar Pradesh and Bihar-and may be extended to other states. Sources said there is no official figure about the total number of madrasas in the country. However, unofficial estimates say there are around 35,000 madrasas, both big and small, with an enrolment of about 15 Lakh students. Most of these madrasas are unrecognised. In its election manifesto for the 2014 elections, BJP had promised modernisation of madrasas.
Source: http://indiatoday.intoday.in/story/madrasa-muslim-teachers-indian-muslims-jehad-mha/1/400492.html
URL: https://newageislam.com/islamic-society/majority-indian-madrasas-involved-jihadi/d/100006