A Report by Kohram
7th Sep 2014
A Conference titled," Sufism: as a counter to Terrorism" was held today on Sunday at Pink city Press Club, Jaipur which was organised by Muslim Students organization (MSO) of India. The Conference was presided by Sufi Scholar Prof. Syed Liaqat H Chishti Moini (Gaddi Nasheen Dargah Ajmer & MSO Patron). Mufti Abdus Sattar Razvi (Head Mufti Jaipur) offered the Prayer in the end. While main Speakers in the Seminar were Mr. Arif Muhammad Khan (Former union Cabinet Minister) and Shri Acharya Maharaj Pramod Krishnam Ji (President, Bhartiya Sant Samaj) and ETV Head Jagdish Chandra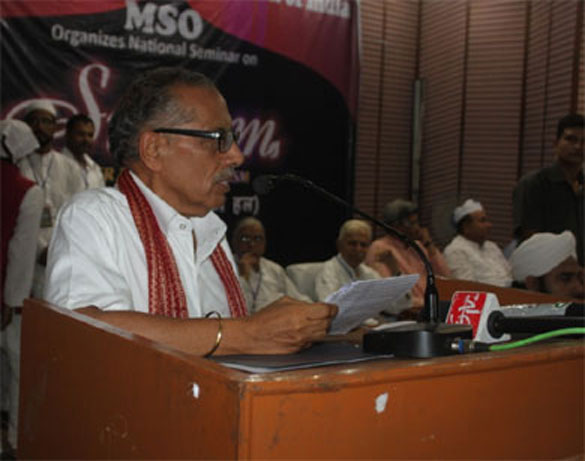 ETV Head Jagdish Chandra speaking in Seminar
---------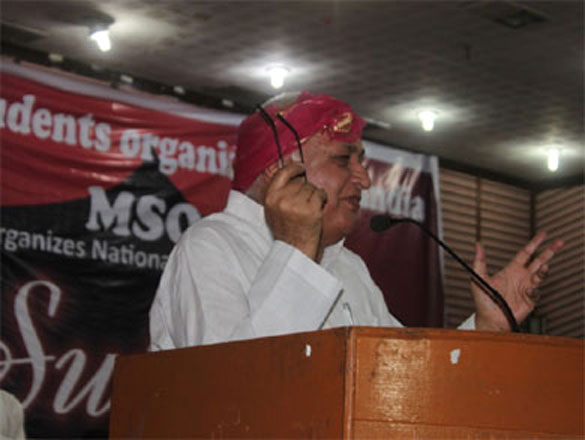 Former Union Minister Arif Muhammad Khan
-------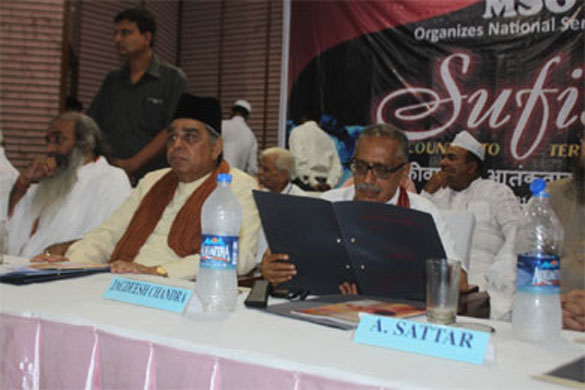 In the Middle MSO patron Sufi Scholar Dr. Liaqat Hussain Moini Gaddi Nasheen Ajmer Shareef Dargah
----------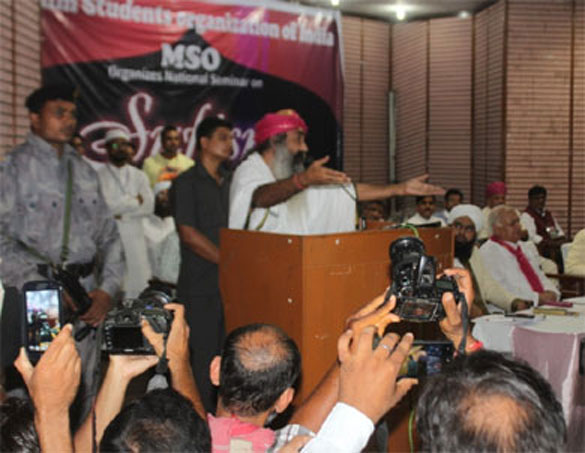 Acharya Promod Krishnan Ji addressing audiences
-------
Mr. Panchsheel Jain & Mr. Murshid Ahmed, activist and social workers were awarded "Sufi Sammaan 2014" by MSO.
The well attended assembly also unanimously passed the following resolution which is called Sufi Resolution
Sufism:-
The ideology of Sufism is actual counter to Terrorism and Extremism. Sufism is above the barriers of religion, caste creed or regions. It teaches and preaches Love the Humanity. The message of Peace and communal Harmony are backbone of the ideology of Sufism. The bond of brother hood and communal harmony in the society was formed due the tireless efforts of the Sufi Saint, their disciples, their followers and leaders of Bhakti movements. India was and is strong from within due this bond of love and peace.
Terrorism teaches hate and violence while Sufism teaches Love and nonviolence. Majority of Indian Muslims and Non-Muslims love and respect Sufism and Sufi teachings.
India learnt these messages from great Sufi personalities like Hazrat Khawaja Ghraib Nawaz (R.A), Hazrat Nizamuddin Aulia, Delhi Sabir Pak Kaliyari, Roorkee, Sarkar Waris Pak Deva Shareef Lucknow, Shah Barkatullah, Marehra Etah, Hazrat Gesu Daraz Banda Nawaz South, and Imam Ahmed Raza Qadri Bareilly among others.
Terrorism has actually targeted these peace loving people and their Sufi Institutions every Where in the world. Thousands of leading Sufis, Sufi scholars have given their lives in fighting with terrorism all over the World. Several hundred of Sufi Dargahs have been destroyed by these terrorists but despite it, the Sufism is still most powerful ideology standing in front of extremism, radicalization or terrorism.
The Sufism is still most powerful ideology standing in front of extremism, radicalization or terrorism.
We are of the view that it is only alternative left before the world which can establish a peaceful society.
Recent Al-Qaida Declaration:
MSO condemns in highest terms the recent propaganda of Al Qaida chief Al Zawahiri against India and his mala fide intentions to establish bases in India. His organization Al Qaida is a terrorist group spreading violence every here, they will utterly fail to recruit Indian Muslims. Indian Muslims follow teachings of Hazrat Khawaja Moinuddin Chishti of Ajmer Shareef who gave the message of Love and communal harmony to the humanity. His followers will never allow hard core extremist elements to spread their poisonous ideology in India and are ready to fight them to save our country.
Recent incidents of Communal Violence in the country:-
Peace is the basic requirement of the development and until society is peaceful no progress and development is possible. Government of India should adopt zero tolerance policy towards hate mongers and against those who spread communal violence. No methodology of Peace and communal harmony can work in such a society where hate mongers are allowed to work and to disturb the basic fabric of peaceful society.
Nation can't progress if its various sections are living under fear. Its minorities must have assurance to live in peace and prosperity only then they will become part of nations' development. Government must take action against Perpetrator of various communal violence in recent days.
Iraq Violence:-
MSO is against all form of violence and atrocities committed against whole Iraqi and Syrian population by terrorist forces like ISIS/Free Syrian Army or by Syrian government against innocent civilians. MSO view ISIS as a terrorist group which is going on devils path by killing and torturing innocent Civilians, Women and Children. We are of the view that Islam forbids killing of innocent citizens and treats the murder of an innocent as the murder of entire humanity. Islam disallows and prohibits killing, abducting, converting forcibly or displacing common civilians. In Islamic Societies life and liberty and rights of people of all faith and religions were protected whether they were Jews or Christians.
The charter of guarantee given by Prophet Muhammad (Peace and blessing be upon him) to Christians living in Islamic rule expressly declares the protection of their life, liberty, property, protection of sanctity of their religious places like Churches and Temples, their honour and dignity.
Sufis and their disciples their followers have always lived with people of all faith in peace throughout the world.
There is an urgent need of propagating and establishing hall marks of Sufism i.e the message of communal harmony, mutual understanding and brotherhood. MSO and its associates have always worked to spread this awareness among Indian youths and will continue doing it in order to stop
Gaza/Palestine Issue:-
M.S.O appreciates the bold stand taken by India at International level in U.N voting. This has been the approach of the country from the starting of Palestine freedom struggle. India must come out openly in support of weak and developing nations to lead them.
A Memorandum of demand addressed to Mr. Shri Narendra Modi was also passed which was related to various demands from Sufi Community.
MSO demands through this Memorandum from the Government of India
1. To promote and establish communal harmony and peace in the country, the Govt. must promote and strengthen the Sufi Ideology by establishing Sufi Centres in various Cities, introducing Sufism in school books, and by establishing Sufi study Chairs in Various Universities.
Sufi Community Should be given adequate representation in Central Waqf Board, State Waqf Boards, Haj Committees, Central Waqf Council and other govt. bodies.
3. There are authentic news and information with regard to the threat to the blessed grave of Holy Prophet Hazrat Muhammad (peace and blessing upon him) from Saudi government expansion plan. This Plan has capacity and effect to cause mega Protest in retaliation all over India.
Therefore, M.S.O demands from Indian Government to call Saudi Ambassador to ensure the safety and security of Prophet's (peace and blessing upon him) Green Dome and his pious cemetery.
4. Indian Govt. should pass a Law in the Parliament for the protection and proper management of Sufi properties like Cemeteries, Dargahs, Sufi Shrines and Sufi (Barelvi) Masajid.
The control and management of these properties should only be given to Sufi Barelvi Institutions to stop misuse of these important places by Waqf Boards.
5. Government should work for the welfare of backwards in general and for backward Muslims in particular especially for small scale industries, in providing bank loan and should introduce welfare schemes for handlooms, handy crafts, should open special training centres, vocational centres.
6. A Central University in the name of popular Sufi Saint Khawaja Ghraib Nawaz which was proposed by former government should be established as early as possible at Ajmer Shareef.
7. The benefit of P.M's 15 pint Programme is not reaching to needy people of the minority community. The govt. must check and monitor the corruption in these schemes; especially the Minority Scholarship schemes must be distributed directly in the account of students.
8. Central govt. must act to confirm the Minority Character of Aligarh Muslim University AMU.
Reception committee includes Mr. Surendra Sharma IPS (Rtd. DIG), Scientist Dr. Nasir Khan, Mr. Mahesh Sharma (Director Nehru Yuwa Kendra), Mr. Faruq Afridi (Ex. OSD to Chief Minister of Rajasthan), Mr. IC Srivastava (President Transparency International Rajasthan), Dr. Narendra Sharma Kusum, Mr. Salawat Khan (Ex. Chairman Wakf Board), Mr. Irfan Chaudhry, Mr. Amin Pathan (Vice President, RCA), Haji Rafat Khan, Father Vijay Paul
Organizing Committee includes Mr. Muzaffarullah Khan Bhuri, Mr. Mustafa Tanzenite, Mr.Saeed Alvi, Ansarul Qadri, Wahid Yazdani, fariduddin Ansari, Yunus Chaupdar, Muhammed Husain, Azeez Gauri, Iqbal Mansuri, Muzaffar Husain, Inshad Sisodiya, Dr. Muhammed Ali Ashrafi, Habib Rahman. Convener of the Programme Er. Shujaat Ali Quadri read out the Memorandum
Source: http://kohram.in/conference-sufism-as-a-counter-to-terrorism-held-at-jaipur-by-mso-of-india/
URL: https://www.newageislam.com/islamic-society/a-report-by-kohram/sufism--as-a-counter-to-terrorism/d/98967