By Suzan Fraser
April 15, 2013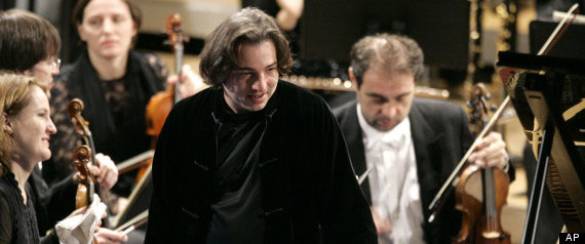 ANKARA, Turkey — A Turkish court on Monday convicted top Turkish pianist and composer Fazil Say of denigrating religion through comments he made on Twitter and handed down a 10-month suspended prison sentence, his lawyer said.
The 43-year-old musician who has played with the New York Philharmonic, the Berlin Symphony and other world orchestras was on trial for sending tweets last year, including one that joked about a religious leader and some Islamic practices.
He is the latest in a series of intellectuals and artists to be prosecuted in Turkey for expressing their opinions and his case has raised further concern over rights and freedoms in the country, a democracy with a mostly Muslim population that seeks membership in the European Union.
Say has also been a strong critic of the Islamic-rooted government of Prime Minister Recep Tayyip Erdogan, a devout Muslim who expounds conservative values, alarming some secular Turks who fear the government plans to make religion part of their lifestyle.
In one tweet, Say joked about a call to prayer that he said lasted only 22 seconds. Say tweeted: "Why such haste? Have you got a mistress waiting or a raki on the table?" Raki is a traditional alcoholic drink made with aniseed. Islam forbids alcohol and many Islamists consider the remarks unacceptable.
The charges against Say also cited other tweets he sent, including one – based on a verse attributed to famous medieval poet Omar Khayyam – that questioned whether heaven was a tavern or a brothel, because of the promises that wine will flow and each believer will be greeted by virgins.
Emre Bukagili, a citizen who filed the initial complaint against Say, said in an emailed statement that the musician had used "a disrespectful, offensive and impertinent tone toward religious concepts such as heaven and the call to prayer."
Lawyer Meltem Akyol said the pianist's sentence has been suspended for five years, which means he would have to serve the sentence if he reoffends in that time.
The lawyer said Say has not yet decided whether to appeal the verdict. He has closed his Twitter account, however.
In a statement, Say called the verdict "a sad one for Turkey."
"The fact that I was given a sentence despite my innocence is cause for concern with regard freedoms of expression and belief," he said.
The government meanwhile, appeared to distance itself from the verdict.
"I would not wish anyone to be put on trial for words that have been expressed. This is especially true of artists and cultural figures," Culture and Tourism Minister Omer Celik said. "But... this is a judicial decision."
Sevim Dagdelen, a German lawmaker who has campaigned for Say, called his conviction "a scandal," and said that Turkey's attempts to join the EU should be frozen. She also accused the court of making an example of Say to silence critics of the government.
Turkey has a history of prosecuting its artists and writers.
Turkish Nobel laureate Orhan Pamuk was prosecuted for his comments about the mass killings of Armenians under a law that made it a crime to insult the Turkish identity before the government eased that law in an amendment in 2008.
In 2007, ethnic Armenian journalist Hrant Dink, who received death threats because of his comments about the killings of Armenians by Turks in 1915, was shot dead outside his office in Istanbul.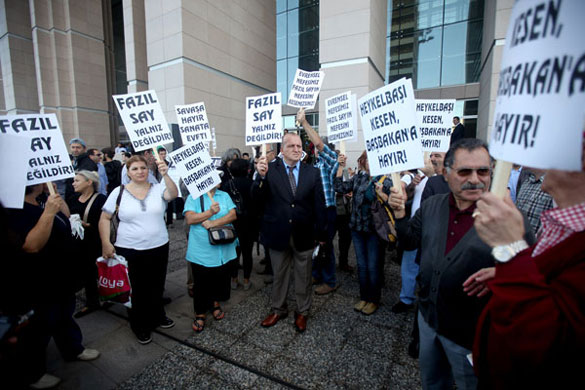 Associated Press writer Frank Jordans in Berlin contributed to this report.
Source: http://www.huffingtonpost.com/2013/04/15/fazil-say-jailed-turkish-pianist-receives-suspended-jail-term-for-twitter-comments_n_3083849.html
---------
Turkish Pianist Receives Suspended Sentence for Blasphemy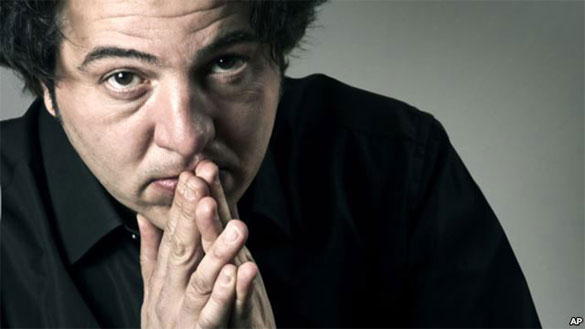 Fazil Say, an internationally known Turkish pianist, during a concert in Istanbul, Turkey, in 2012.
By Reuters
April 15, 2013
ISTANBUL — A world-renowned concert pianist was given a suspended jail sentence in Turkey on Monday for insulting religious values on Twitter, a case which has become a cause celebre for Turks alarmed about creeping Islamic conservatism.
Fazil Say, also a leading composer, went on trial in October for blasphemy - a crime that can carry an 18-month sentence - for a series of tweets including one citing a 1,000-year-old poem.
"The fact I've been convicted for an offense I didn't commit is less worrying for me personally than it is for freedom of expression and faith in Turkey,'' Say said in emailed comments.
His case has stirred up passions about the role religion should play in Turkish public life and highlighted how much has changed since Prime Minister Tayyip Erdogan's AK Party, which has roots in Islamist politics, swept to power a decade ago.
A judiciary once renowned for defending the secular republic against Islamist influence - notably jailing Erdogan himself for reciting a religious poem - now finds itself in hock to religious conservatives, government opponents say.
"The verdict is unacceptable, and an indicator of the AK Party's vengeful conception of the law,'' Ilhan Cihaner, a lawmaker from the main opposition CHP party, told Reuters.
Say retweeted a verse in April last year in which 11th-century Persian poet Omar Khayyam mocks pious hypocrisy. It is in the form of questions to believers: "You say rivers of wine flow in heaven, is heaven a tavern to you? You say two houris await each believer there, is heaven a brothel to you?''
In another tweet, he poked fun at a muezzin, someone who makes the Muslim call to prayer. "The muezzin finished the evening prayers in 22 seconds ... Why are you in such hurry? A lover? A raki table?'' he asked, referring to the aniseed-flavored spirit popular in Turkey.
The series of more than half a dozen tweets led prosecutors to accuse the 43-year- old pianist of "explicitly insulting religious values''.
An Istanbul court gave him a 10-month prison sentence but suspended it by five years on condition that he does not commit the same crime again in that period.
"Say did not repeat the words of a poet, but attacked religion and the holy values of religion, completely with his own words,'' said plaintiff Ali Emre Bukagili, a civil engineer and follower of a prominent Turkish creationist, who has brought a series of such cases against public figures.
Divided opinion
Say, who has performed with leading orchestras from Tokyo to Berlin, as well as the Israel Philharmonic and the New York Philharmonic, denied the charge.
"Fazil Say'' became a top trending topic on Twitter immediately after the ruling was announced, with comments reflecting Turks' strong but divided opinions on the role of religion in public life.
"Scandalous and disgraceful,'' one tweet said of the ruling. "I wouldn't be surprised if a witch hunt for non-believers starts.''
Another disagreed: "Finding religious values silly is one thing, provoking people through insults another. The court ruling is not wrong.''
Erdogan's AK, its initials spelling out the Turkish word for purity, was elected in 2002 by a landslide. A decade since then of unprecedented prosperity is admired among Western allies keen to portray NATO member Turkey as a beacon of political stability in a troubled region.
But Erdogan's opponents accuse him of posing a threat to the modern, secular republic founded by Kemal Ataturk on the ruins of the Ottoman empire 90 years ago.
The courts have helped silence opposition and emasculate a military which was long the self-appointed guardian of Turkish secularism. It pressured an Islamist-led government from power in 1997 but has since been forced into retreat under AK rule.
Erdogan himself served time in prison in 1998, when military influence still held sway, for reciting a poem that a court ruled was an incitement to religious hatred.
The poem Erdogan had read contained the verses, "The mosques
are our barracks, the domes our helmets, the minarets our bayonets and the faithful our soldiers.''
Source: http://www.voanews.com/content/tweeting-turkish-pianist-receives-suspended-sentence-for-blasphemy/1641598.html
---------------
Turkey's Shameful Prosecution of Pianist Fazil Say
By Marc Champion
April 15, 2013
If only it were a shock. A Turkish court today convicted the country's best-known classical pianist and composer, Fazil Say, for inciting hatred and insulting Islam.
Say, who is a regular guest with the New York Philharmonic and Vienna Symphony among other orchestras, was given a 10-month suspended sentence in absentia, for a series of mischievous tweets he sent to his 44,000 followers. More accurately, he was gagged for 10 months: The point of his suspended sentence is that he goes to jail if he repeats the offenses.
There are several things to make clear here. The first is that the charges against Say areridiculous. He made jokes about Imams and Muezzin, who are fallible humans and not gods or prophets; he joked about what booze will be available in which part of the afterlife (the world's jails would overflow if that were a crime elsewhere, no blasphemous pun intended); and he forwarded a controversial rhyming couplet from a 12th century Persian polymath, concerning the garden of Eden, wine and sex.
You don't have to like these jokes, and you don't have to follow Fazil Say on Twitter. But the only way these tweets can rise to the level of inciting hatred is if you accept that arguments made widely and for centuries are legitimate causes for a violent response, rather than disagreement.
A second point is that this use of the courts to suppress free speech has a long history in Turkey. The old fiercely secular regime used the judicial system to supress criticism of the Turkish Republic's founder, Mustapha Kemal Ataturk, among other nationalist taboos. The current government has merely re-targeted the repressive laws it inherited, rather than eliminating them.
Thirdly, Turkey's Islamic-leaning government is far from unique in the region in its use of the courts to punish "insults," whether these are against Islam or the country's leaders. The first fully empowered Islamist leaders of both Turkey and Egypt have made more use of these insult laws than all of their predecessors combined. Both Prime Minister Recep Tayyip Erdogan and President Mohamed Mursi have prosecuted comedians for laughing at them.
Finally, don't listen to arguments that the governments have nothing to do with these prosecutions, which are purely matters for the courts. The people who make those arguments don't believe them. In some countries, with independent courts, that separation may be real. Neither Turkey nor Egypt, however, has genuinely independent courts -- they were deeply politicized under previous regimes, and they remain so today, in part because the new regimes purged old regime judges and replaced them with their own loyalists. They know exactly what they are doing.
In any case, governments are not powerless before the judiciary, because their job is to make the law. The role of any government that claims to espouse democracy should be to eliminate bad legislation such as "insult" laws, the sole purpose of which is to suppress the free speech. That's especially true for Turkey, if it genuinely wants to join the European Union one day. Without free speech, no healthy democracy can develop.
(Marc Champion is a member of Bloomberg View's editorial board. Follow him on Twitter.)
Source: http://www.bloomberg.com/news/2013-04-15/turkey-s-shameful-prosecution-of-pianist-fazil-say.html
URL: https://www.newageislam.com/islamic-sharia-laws/suzan-fraser/fazil-say-jailed-for-blasphemy--turkish-pianist-receives-suspended-jail-term-for-'anti-islam'-twitter-comments/d/11152