By Sadia Dehlvi
Jan 28, 2015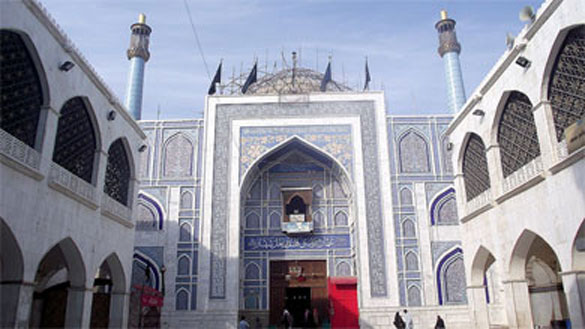 Shrine of Sindhi Sufi Lal Shahbaz
----------
One of the most popular Qawwalis of the subcontinent, Dama Dam Mast Kalandar, Ali Da Pahla Number… Sindhri Da, Sehwan Da, Sakhi Shahbaz Qualandar, invokes the name of the Sindhi Sufi Lal Shahbaz. The verse demonstrates the mystic's deep love for Imam Ali, which is inscribed on his grave: "I am a slave of Ali Murtaza".
Lal Shahbaz's name was Syed Usman Shah. He later acquired the title of Lal, red, due to his habit of wearing red garments, and Shahbaz, Royal Falcon, for his soaring divinity. Born to the mystic Syed Ibrahim Kabiruddin, Lal Shahbaz's family drew their lineage from Imam Jafar Sadiq, a descendant of Imam Ali. The family came from Sistan, an Iranian province that borders Afghanistan and Pakistan.
Overwhelmingly adored alike by Hindus and Muslims of Sind, Lal Shahbaz arrived in Multan in 1263, eventually settling in Sehwan, a famous centre of learning. The earlier name for Sehwan was Sivistan, the city of Lord Shiva. Lal Shahbaz settled on the outskirts of the town for six years during which he provided spiritual guidance to thousands of people.
Lal Shahbaz resided at the site of an old Shiv temple on the west bank of the Indus. He made his home in a hollow tree trunk where he performed his ascetic exercises. The area, now a walled garden, is known as Lal Bagh, whose sweet water springs that irrigate it are attributed to the miracles of Lal Shahbaz. He encouraged his followers to use dance as a way of achieving spiritual ecstasy, a tradition still followed at his Dargah, accompanied with Dhamaal and drums.
Lal Shahbaz lived during the age of the famous Sufis including Baba Farid of Ajodhan, Shaykh Bahauddin Zakariya of Multan, and Jalaluddin Bukhari of Uch. They remained close friends and came to be called "Chaar Yaar", the four companions.
Lal Shahbaz claimed to be the spiritual disciple of Mansur Hallaj, the 10th century martyred mystic poet of Baghdad. An erudite scholar, Lal Shahbaz was fluent in Arabic, Persian, Sanskrit and Sindhi. Several books in Persian and Arabic poetry and on philology are attributed to him. Later, Sindhi mystics, including Shah Abdul Latif Bhittai, Makhdoom Bilawal, Sachal Sarmast and Qadir Bakhsh Bedil, were devout followers of Lal Shahbaz Qalandar. He died in the 1274 AD and a stunning mausoleum with Sindhi tiles, mirror work and gold plated doors stands over his grave.
The Hindus lovingly address Lal Shahbaz as "Jhule Lal", Lord of the Indus River. Even now, at the annual Urs, one of the old caretakers, a Hindu, performs the inaugural ritual for the annual festivities. Despite the Partition of India, the environment of Sehwan Sharif is an extraordinary demonstration of Hindu-Muslim syncretism of the subcontinent.
Sadia Dehlvi is a Delhi-based writer and author of Sufism: The Heart of Islam.
Source: http://www.asianage.com/mystic-mantra/shahbaz-kalandar-640
URL: https://www.newageislam.com/islamic-personalities/sadia-dehlvi/shahbaz-qualandar--adored-alike-by-hindus-and-muslims/d/101226