By KK Khullar
23 February, 2016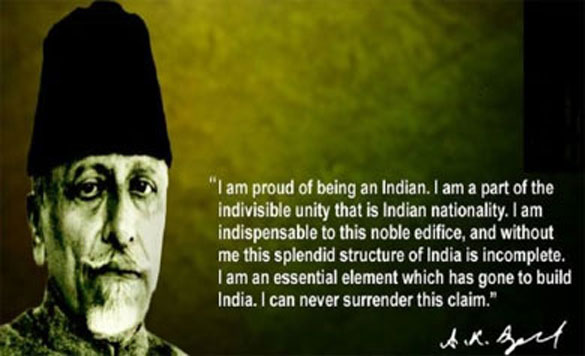 Maulana Abul Kalam Azad
-------
If an angel were to descend from the heavens and proclaim from the heights of Qutub Minar: Discard Hindu-Muslim unity and within 24 hours Swaraj is yours, I will refuse the preferred Swaraj but shall not budge an inch from my stand. The refusal of Swaraj will affect only India while the end of our unity will be the loss of our entire human world". It is a fact of history that while other leaders accepted partition of the country on the basis of the Two-Nations Theory of Jinnah, Maulana Abul Kalam Azad, whose death anniversary was on Monday, stood firm and steadfast.
In his famous book 'India wins Freedom' he wrote: "It is one of the greatest frauds on the people to suggest that religious affinity can unite areas which are geographically, economically and culturally different".
His mastery over history was unparalleled. Born in Mecca on 11 November 1888, his father Maulana Khairuddin was a noted scholar, a sufi and a strict disciplinarian. His mother Alia was the daughter of Shaikh Mohammad Zahir Vatri of Medina. His original name was Feroze Bakht but he became Abul Kalam and the name stayed. Educated within the four walls of his house in Calcutta he was well-versed in Persian, Arabic, the Holy Quran and later in English and French.
His early influences were Maulana Shibli Naomani and Altaf Hussain Hali, the two great pillars of Urdu literary criticism. An ardent votary of freedom from a very young age, Azad often quoted Lok Manya Tilak who said 'Freedom is my birthright'. Allama Iqbal inspired him whom also he quoted:
"Bandagi Mein Ghut Key Reh Jati Hai Ik Joo-i-Kam-Aab Aur Azadi Mein Behr-e-Bekaran Hai Zindagi" (In servitude life is reduced to a tiny stream while in freedom it becomes a boundless ocean).
Azad made his debut in politics when the British Government partitioned Bengal in 1905 on religious grounds. The Muslim middle class supported the partition but Azad rejected it outright. He took active part in the agitation, joined secret societies and revolutionary organisations came in contact with Sri Aurobindo Ghosh and Shyam Sundar Chakravarti. He stood for a united India and never deviated from his resolve. He was firmly of the view that India has kept its unity by its composite culture and liberal education.
At the age of 20 he went on a tour of Iraq, Syria and Egypt and met the young Turks and Arab nationalists including Christian radicals. The tour proved very useful to crystallise his thoughts on neo-colonialists who were exploiting those countries and how India could help them. On return he started a journal in Urdu named Al-Hilal in 1912. It was this journal where he aired his liberal views.
"Rationalist in outlook and profoundly versed in Islamic lore and history, wrote Nehru in 'Discovery of India', he interpreted scriptures from the rationalist point of view. Soaked in Islamic tradition and with many personal contacts with prominent Muslim leaders of Egypt, Turkey, Syria, Palestine, Iraq and Iran, he was profoundly affected by the political and cultural developments in these countries. He was known in Islamic countries probably more than any other Indian Muslim".
The journal Al-Hilal became extremely popular and in two years its circulation rose to 30,000 while the British Government watched with suspicion. The inevitable happened when in 1914; the Government confiscated the press and banned the publication of the journal under Defence of India Act. Azad was arrested and sent to Ranchi jail where he suffered untold hardships.
Released from jail he resumed his educational and cultural writings which were formerly confined to the editorials of Al-Hilal. "He spoke in a new language", wrote Nehru. It was not only a new language in thought and approach, even its texture was different for Azad's style was tense and virile though sometimes a little difficult because of its Persian background. He used new phrases for new ideas and was a definite influence in giving a new shape to Urdu language as it is today.
The older conservative Muslims did not react favourably to all this and criticised Azad's opinion and approach, and yet not even the most learned could meet Azad in debate and argument, even on the basis of scriptures and tradition. Azad's knowledge of these happened to be greater than theirs. He was a strange mixture of medieval scholasticism, 18th century rationalism and modern outlook. There were a few among the older generation who approved of Azad's writings, among them being Shibli and Sir Syed Ahmad Khan of Aligarh Muslim University.'
After the confiscation of 'Al-Hilal', Azad brought out a new weekly called Al-Balagh but that too came to an abrupt end when Azad was interned in 1916. He remained in jail for four years. When he came out he was an acknowledged leader and took his seat with the great and mighty of the Indian National Congress. In 1920 he met Tilak and Gandhi which was the turning point of his life. "Meeting them", he said, "was like meeting Himalayas".
Gandhi had launched the 'Khilafat Movement' under the Deoband School. In Firangi Mahal, Lucknow, Gandhi and Azad met almost daily. His popularity was so high that at 35 he was elected as President of the Indian National Congress, the youngest ever to hold that august office. In 1942 during the Quit India Movement he was elected as chief spokesman of the Congress, a distinction he also had during negotiations with the cabinet Mission in 1946 at Shimla.
But his most glorious period came when in 1947 an Interim Government was formed with Azad as a Member for Education and Arts. On 15 August 1947 when India attained independence he became free India's first Education Minister with a cabinet rank where he achieved a number of distinctions and established many institutions of excellence to promote education and culture.
Among the new institutions were Indian Council of Cultural Relations (1950), the three National Akademis viz Sangeet Natak Akademi (1953), Sahitya Akademi (1954) and Lalit Kala Akademi (1954). The Maulana felt that the cultural content in Indian education was very low during British rule and needed to be strengthened through a curriculum which should be enriched in as many manifestations as possible. Children should be enabled to develop sensitivity to beauty, harmony and refinement. Education must bring out the fine synthesis between change-oriented technologies and the country's continuity of rich cultural traditions. In 1956 he was responsible for the establishment of the UGC (University Grants Commission) for disbursement of grants to Indian Universities and maintenance of standards by them. He believed, like any great educationist that if universities discharged their functions well, all will be well with the nation.
Apart from being a great scholar in Urdu, Persian and Arabic he wanted the retention of English language for educational advantages and national and international needs. However primary education should be imparted in the child's mother-tongue, in particular of the linguistic minorities as guaranteed in the Constitution of India. On the technical side he established the IITs, at Kharagpur in 1951 followed later by those at Bombay, Madras, and Delhi. A school of planning and architecture came into existence in 1955. He stood for the Common School System, the Neighbourhood Schools and School Complexes to remove segregation in Education.
As Chairman of the CABE (Central Advisory Board of Education) he stood for free universal elementary education for all children irrespective of caste, colour, creed, sex and location upto the age of 14 which became a cardinal principle in the National Policies of Education 1968, 1986 and 1992. He often said that the benefits of education and the penalties of ignorance run concurrently. But there should be no compulsion on parents in education, it should be persuasion, by motivation, by incentives or what is being called today as Inclusive Education. In his vision of education compulsion should be on the Government to provide enough schools to accommodate the challenge of over-population.
But he was always worried about students' unrest. Secular to the marrow of his bones, Maulana's advice to students was "Bury communalism once for all". Presiding over the meeting of the CABE on 7 February 1954 he said: "What worries me most is the extent and magnitude of student unrest and the fact that it is very often without any relation whatsoever with the supposed cause. Such unrest among the students strikes at the root of our national culture. The student of today is the potential leader of tomorrow. He will have to sustain the social, political and economic activities. If he is not properly trained and does not develop necessary resources of character and knowledge he cannot provide the leadership which the national will need".
As an orator Azad had no equal among his contemporaries. When he spoke the audience listened to him spell-bound. Recalling the memories of the Roman and the Greek orators, there was magic in his words; his language was chaste, civilised, and dramatic. Words came to him as in a fountain. In October 1947 when Delhi Muslims were leaving for Pakistan, tens of thousands of them, he spoke from the ramparts of Jama Masjid like an ancient oracle: "Behold, the high towers of Jama Masjid are asking you: Where have you lost the pages of your history? Only yesterday your caravans had performed 'Wazu' (Ablutions) on the banks of Jamuna. And today you are afraid to live here. Remember that you have nourished Dilli with your blood. Now you are afraid of tremors. Time was when you yourself were an earthquake. You fear darkness while you yourself symbolised light only recently. The clouds have poured only dirty water and you have raised your trousers for fear of being drenched. Your forefathers had dived deep into the seas, cut across the mighty mountains, laughed away the lightning, answered the thunder of the skies with the velocity of your laughter, changed the direction of the winds and turned the typhoons that they have been misled to a wrong destination. It is an irony of fate that those who played with the destinies of kings are victims of their own destiny today. And in doing so they have become so forgetful of their God as if it never existed. Go back, it is your home, your country". It looked as if a teacher was reprimanding his students for doing something wrong and was putting them on the right path. the teacher in him was always alive whether it was a cabinet meeting, a dining table, an office file.
The effect of this speech was dramatic. Those who packed up their baggage to migrate to Pakistan returned home with a new sense of freedom and patriotism. There was no mass migration thereafter. In the history of oratory, the Jama Masjid speech of Maulana Azad can only be compared with the Gettysburg address of Abraham Lincoln, Birla House speech of Nehru on Gandhi's assassination and Martin Luther's speech 'I have a dream'.
Azad was a voracious reader and a prolific writer, in Urdu, Persian and Arabic. 'India wins freedom' (1960), his political biography was translated from Urdu to English. His translation of the Quran from Arabic to Urdu in six volumes was published by Sahitya Akademi in 1977. Till today it is considered as the best translation of the Holy Book of which several editions have come out. Titled 'Tarjuman-e-Quran' continues to be his 'Magnum Opus'. His other books include 'Gubar-e-Khatir', 'Hijr-o-Visal', 'Hamari Azadi', and 'Mera Aqeeda'.
At the time of his death he had neither any property nor any bank account. No AC, no fixed or unfixed deposit, no car, no fridge. In his personal almirah were found some cotton 'Achhkans,' a few Khadi kurtas and pyjamas, some Desi Chappals, two pairs of sandals, an old dressing gown and a used brush but there were hundreds of rare books which are now the property of the nation.
KK Khullar is a former Director, Ministry of HRD, Department of Education.
Source: thestatesman.com/news/opinion/remembering-an-extraordinary-man/125412.html#WjWBbIXgv5xtYBAe.99
URL: https://www.newageislam.com/islamic-personalities/kk-khullar/remembering-an-extraordinary-man--maulana-abul-kalam-azad/d/106439