By Kim Arora
Nov 7, 2012
Exiled by the British to Rangoon for fighting for his land, Bahadur Shah II died lamenting the fact that he could not be buried in his own country. Today, 150 years after the last Mughal died in the country of his exile, his last wish remains unfulfilled.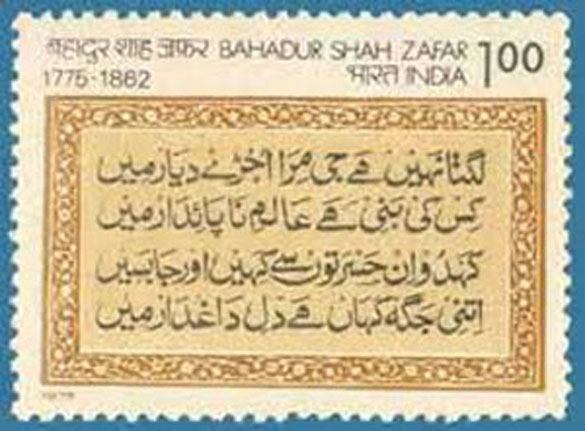 A Postal Stamp on Bahadur Shah Zafar
-------
Zafar Mahal, a Mughal monument that stands in present-day Mehrauli, holds the tombs of the predecessors of Bahadur Shah II, more widely known with his pen name appended to his given name - Bahadur Shah Zafar. It was here, that Bahadur Shah Zafar marked a spot for himself, wishing to be buried there. But that was not to be. "Kitna hai badnaseeb Zafar dafn ke liye/ Do gaz zameen bhi na mili koo-e-yaar mein" (How unlucky is Zafar, to not even find two yards to be buried in the land of his beloved) - is how he concluded the ghazal he wrote as a British captive in what is now Myanmar.
It is said that when Subhash Chandra Bose launched his INA campaign from Rangoon (now Yangon), he invoked Bahadur Shah Zafar. His grave in Yangon is frequently visited by Indian dignitaries.
However, his descendants today live in obscurity, with some even struggling to make ends meet. Columnist Firoz Bakht Ahmed met Bahadur Shah Zafar's granddaughter-in-law Sultana Begum in 1988 living in what he calls "a dingy tenement" in Kolkata's Howrah area. The 60-year-old runs a tea stall. Speaking to TOI over phone, Sultana appeared bitter and even furious about the government's failure to have the remains of the last Mughal brought back to India. She cited the example of Udham Singh, who assassinated the Lieutenant Governor of undivided Punjab, and was hanged in 1940. Singh's remains were brought back to India from England in 1974.
"Indira Gandhi was alive then. She welcomed this move. Was Bahadur Shah Zafar a traitor that the government has done nothing to bring his remains back?" she asks, her voice quavering. Her current living conditions notwithstanding, she is concerned about keeping the dignity of the Mughals intact. "If I am called to any event, I cannot go without verifying who the people are. I don't care how rich or influential they may be. I am concerned about the esteem of Bahadur Shah Zafar," she says.
Bakht Ahmed, while congratulating the efforts of the government for acknowledging Bahadur Shah Zafar's contribution in the cultural space, says the Mughal emperor's descendants deserve better. "They lead a piecemeal life. The government should protect the family of those who fought for India's freedom," he says.
In May 1857, soldiers from Meerut marched into the Red Fort. They appealed to Bahadur Shah Zafar, who became the Mughal emperor in 1837, to lead their rebellion against the British. Opinion is divided on how readily he agreed to the soldiers' demands. But he was declared Shahenshah-e-Hind, following which a bloody war for control began. The rebellion was soon quelled and contained. In September of the same year, the Mughal emperor, then 82, was taken prisoner and was subjected to what is often viewed as an unfair trial. After being exiled to Burma, then a newly acquired colony of the British, his health worsened towards a slow and certain death on November 7, 1862.
One can't be entirely blamed for the historical date. Assuming that there have been efforts to revive his memory, there has been very little visibility of the same, at least in the capital.
Six volunteer organizations working in the field of communal harmony have planned a march in the evening from the Red Fort to Khooni Darwaza in old Delhi, in remembrance of the ruler. "People like Bahadur Shah Zafar who could bind religious communities together need to be more prominent in public consciousness," says Faisal Khan, one of the organizers of the march.
There is a cultural event lined up too. After all, it was under the poet emperor that the Delhi saw the rise of iconic literary figures like Ghalib, Zauq and Momin. A play featuring noted theatre actor Tom Alter as the late emperor is in the offing near the Red Fort. Besides this, there is little buzz around the anniversary. "He has been written out of historical records, he is 'nobody's hero'. He was a remarkably athletic man. Few 82 year olds can jump over barricades and lead a movement like he did," says William Dalrymple, author of 'The Last Mughal'.
Source: http://timesofindia.indiatimes.com/city/delhi/Remembering-Zafar-the-last-Mughal/articleshow/17122864.cms
URL: https://www.newageislam.com/islamic-personalities/kim-arora/remembering-zafar,-the-last-mughal/d/9237