By Dr A Q Khan
June 29, 2015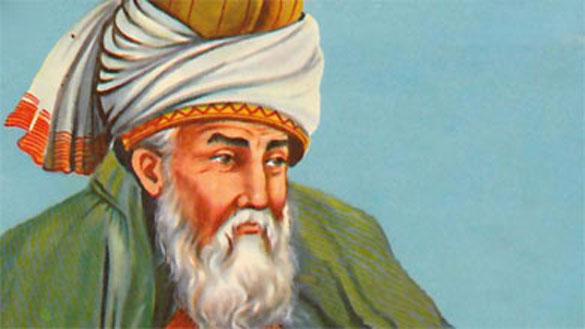 Maulana Jalaluddin Rumi's work is well known to those who speak Urdu and Persian. His Masnavi is world famous and has been dubbed as "the Quran in the Persian Language".
----------
Maulana Rumi and Omar Khayyam are the two Persian poets/writers who are extremely popular in the west and whose works have been translated into a number of European languages. Omar Khayyam's work (Rubaiyat) consists of romantic poetry while Jalaluddin Rumi's work is spiritual and highly instructive.
There are many translations of Rumi's Masnavi into Urdu, a few of which I am familiar with. These are: 1) Shibli's Biography of Maulana Rumi; 2) Qazi Sajjad Hussain's Urdu Poetic Translation of Rumi's Masnavi; 3) Sqd. Leader Waliuddin's Subak-e-Sel, Masnavi and 4) Maulana Shah Hakim Muhammad Akhtar's Marif-e-Masnavi.
Because of the sanctity of the holy month of Ramazan, I don't feel like writing about the dirty politics prevailing in the country. My last few columns on ablutions, bathing, namaz, zakat and the benefits of Namaz on health have all led up to the strictures of Ramazan. Because Rumi is a highly respected personality and is famous for the divinely inspired Masnavi, I would like to quote from his works for the benefit of those who are not very familiar with his work.
First Some Information on the Life Of Rumi
He was born Muhammad Jalaluddin, but was commonly known as Maulana Rumi. He was born in 1207 in Balkh and belonged to the family of the first Prophet, Abu Bakr. He was the grandson of King Khwarism Shah and his father was Shaikh Bahauddin. In 1213 the family migrated to Neshapur and there Rumi met the most famous, illustrious religious scholar of his time, Shaikh Fariduddin Attar, who presented his famous book, Asrar Nama, to him. Rumi married at the age of 18 and when he was 25 they migrated to Damascus for higher learning and from there to Konia. It was here that he met the famous saint, Shams Tibriz, and became his disciple. His famous Masnavi was written in 1263 and he died in 1273 in Konia at the age of 68 and was buried there.
Rumi's style of writing in the Masnavi is very interesting and captivating. His descriptive essays are highly instructive and laced with invaluable comments, suggestions and advice. According to Maulana Shah Hakim Muhammad Akhtar, no other book in Persian contains such complicated and difficult matters, yet these are dealt with in simplicity and lucidity. It is not only a book of philosophy, but also one of learning, faith and spirituality. Those who are familiar with the works of Shaikh Saadi will notice a certain resemblance between the writings of these two great saints.
While the Masnavi contains old stories retold in a simple way, these have been illuminated with instructions and guidance. Here follows one such story: A companion of the Holy Prophet (pbuh) became seriously ill. The Prophet (pbuh) went to enquire after his health. He found him to be extremely sick and weak, almost dead. The Prophet (pbuh) showed great concern and affection, which made the patient relaxed and happy. He praised his sickness, saying that it was because of it that the Prophet (pbuh) had come to see him.
After having enquired about his health, the Prophet (pbuh) asked him whether he remembered what he used to pray and ask for from the Almighty when he was healthy. He replied that he always prayed to Allah to punish him in this world and in the hereafter for his wrongdoings. Now he was in such a condition that he could not even offer regular, normal prayers. The Prophet (pbuh) showed visible signs of displeasure and anger and instructed him never to pray in that fashion again. He called prayer of that kind a negation of Allah's Greatness and Magnanimity, a Kufr to ask Allah for trouble while giving the impression that he was strong enough to face the wrath and chastisement of Allah.
Then he advised that one should always pray to Allah to be Kind, Magnificent and Beneficent to gain the best in this world and in the hereafter. With this anecdote as background, Maulana Rumi advised that one should always pray to Allah for safety and tranquillity in both worlds while expressing one's weakness and helplessness and should never ask for Allah's wrath and punishment. If someone is unwell, we should pray for that person's recovery and, at the same time, seek out a good physician for proper treatment. One should never wish for death when seriously ill, but should beseech Allah to forgive one's sins and give health and tranquillity.
Another story goes that once an aged person was praying in the sun when shade was available. A religious scholar saw him and reprimanded him by saying that he was going to land himself in trouble by doing so. The moral of the story was that when something could be done conveniently and comfortably, inconvenience and discomfort should not be opted for. Maulana Rumi mentioned a Hadith-e-Nabvi in this respect saying that whenever the Prophet (pbuh) had a choice of two options, he always chose the most convenient and comfortable one, provided it was not sinful or forbidden.
This is the holy month of Ramazan, about which it is said that, during this month, all the doors of Jannat are opened and all the doors of Dozakh are closed. However, it should be remembered that this does not mean that one can indulge in all sorts of wrongdoings like corruption, hoarding, illegal increase of prices, adulteration, hypocrisy, fighting, etc. without fear of punishment. No one will escape the wrath of Allah. The Almighty has clearly ordained that He is a great Forgiver, Kind and Benevolent, but that His Wrath and Chastisement is awful and extremely painful.
Tailpiece: The scorching heat and load shedding has taken its toll. Almost a thousand people have died, greatly because of load shedding and subsequent heat stroke. I'm sure we all remember how, before the last elections, Shahbaz Sharif boasted that the problem would be solved within six months and that he later camped at Minar-e-Pakistan to ridicule the Zardari government.
The situation is now even worse. The money spent on showpieces like the metro-bus could have been more usefully utilised for energy production. Then we also witnessed the false promises of 50,000MW power for the next 500 years with Rs1 billion revenue per day to come from the Reko Diq mines. Unfortunately, our country is full of liars and cheats with no accountability to make them pay for their misdeeds. Allah's wrath is truly terrible and will fall on the wrongdoers, even if they seem to have respite for the time being.
To be continued
Source: http://www.thenews.com.pk/Todays-News-9-326161-The-indomitable-Rumi
URL: https://www.newageislam.com/islamic-personalities/dr-a-q-khan/the-indomitable-rumi-(part---i)/d/103687