By Danish Raza
Jun 21, 2012
New Delhi: It was the summer of 1995. "Papa, it is Hizbul Mujahideen," said a panicking Juhi handing over the phone to her father Sultan Shahin. It was a death threat to Shahin, who had written in a national daily, countering Hizbul's call that the war against India was validated by Quran.
For Shahin, it was one of the numerous encounters with extremists. "I invite such people to discuss the differences over tea. I tell them please intimate me before you kill me so that there is no collateral damage," says Shahin, laughingly.
He is serious about sorting out differences though. In 2008, Shahin launched newageislam.com— a website to prompt Muslims to 'rethink' Islam and challenge the petro-dollar funded Wahabi ideology.
More than one lakh readers visit the site every day and the electronic newsletter reaches out to around 2.5 lakh people.
Earlier this month, Delhi High Court ruled that a Muslim girl could marry as per her choice at the age of 15 if she attained puberty. New Age Islam published articles highlighting two aspects to this judgment: Muslim girl can marry as per her own choice, is a welcome step; allowing the girl to get married at the age of 15 years may not be a good idea.
New Age Islam hosts news articles and columns on a gamut of political and theological issues which hardly find space in the mainstream media and which are seldom debated even among liberal or enlightened Muslims. The idea, says Shahin, is it to provide an alternative to the opinions propagated by clerics who seem to have hijacked Islam.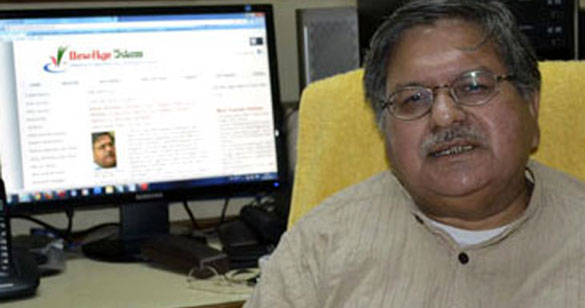 Sultan Shahin at his East Delhi office Danish Raza/First post
----
"Take any contemporary issue regarding Islam. You will find that by and large, the only view point circulated will be that of Mullas. Why can't an educated person, who has not attended a madrasa and has a private job, speak on behalf of the community? On the website, we allow an open debate on matters. All schools of thought can have their say on," says Shahin.
"Islam, in the New Age avatar, is pluralistic, inclusive and cohesive. It promotes belief with reasoning."
Recently, New Age Islam hosted debates on the politics around Salman Rushdie's India visit, Madrasas and Right to Education, the practice of female circumcision in Bohra community and Islamophobia. Debates concerning Islam, conducted on different forums across the world also find a place on the site along with articles from Urdu press in India and Pakistan.
On the website, Niyaaz Fatehpuri, editor of Urdu periodical Nigaar is featured as a better personality than Mumbai based televangelist Dr Zakir Naik because the former is considered rational and the latter as someone who promotes Islam's supremacy over other religions.
Roughly, 50 percent of the readers of New Age Islam are based in India. Rest is spread across Pakistan, the Gulf, United States, United Kingdom and Australia.
However, Shahin is aware of the fact a website has its limitations and it may not transform ideologies. "Debates cannot influence people with vested interests. But it can certainly help one who is seeking answers and has an open mind," he says, referring to the urban Muslim professionals, majority of whom end up getting exposed to Wahabi literature on the Internet, while seeking alternatives to traditional Islamic practices of their forefathers.
Ironically, Shahin grew up among the very people whom he lambastes now. Son of a Maulvi, Shahin spent his childhood in Aurangabad where he gave tuitions and worked in local Urdu dailies. In 1972 he joined Radiance — the weekly magazine of Jamaat-e-Islami, in Delhi. This was followed by a seven years long stint with the weekly called Asian Times in London where Shahin got exposed to divergent Islamic views prevalent in the West. "That was early 1980s. This preacher called Omar Bakri used to propagate radical Islam. He had a great influence on youth. He was a phenomenon in London at that time. He used to openly recruit youngsters for jihad," recalls the 60-year-old. "Lately, these radicals have attracted followers in the East."
In 2005, Shahin shifted base to Suriname, South America where his wife Pragya (Yes, she is a Non- Muslim) got posted as Indian cultural attaché. As a house husband, Shahin launched New Age Islam while in Suriname.
The website is run by a team of nine, including Shahin, from a flat in East Delhi's Patparganj area on a shoestring budget.
Before and after the launch of New Age Islam, Shahin has rubbed the fanatics in the wrong way more than once. He says he has received death threats twice on the website in the form of comments. On various occasions, clerics told him the website is his short-cut to hell. Opponents, who are often in majority, have silenced him during various talks and conferences. His lecture in Meerut, Uttar Pradesh, was cut short and he drew flak from various quarters. "I was asked to remain quiet if I were to return home. I realise that radicals in India don't open their cards. There is hardly any scope for argument."
Source: http://www.firstpost.com/india/cant-a-muslim-who-hasnt-attended-a-madrasa-speak-for-the-community-351816.html#disqus_thread
URL: https://www.newageislam.com/islamic-personalities/danish-raza/cant-a-muslim-who-hasnt-attended-a-madrasa-speak-for-the-community-asks-new-age-islam-founder-editor-sultan-shahin/d/7921
-------
Sultan Shahin: A Life Positive Magazine Profile: The Universe Is A Manifestation Of The One Universal Consciousness
Transformation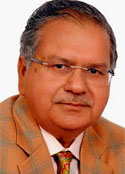 Sultan Shahin, A Journalist, Spoke to Praveen Chopra
21 April 2010
Is this man for real, you wonder. He has the temerity to write that Muslims in India should have no qualms in claiming their Vedic heritage. Or that Muslims' prayers remain unheeded because they have forgotten how to pray effectively, to meditate that is. He calls the Babri mosque demolition an opportunity for Muslims to learn some lessons and to feel grateful to God for making it possible.
They can, for example, exert their right to forgive and thus set both parties to the dispute free of the karmic debt. This is provocative stuff. But Sultan Shahin, son of a maulvi (Muslim priest) and married to a Hindu, is an unusual man. His journey of transformation has been atypical too. He was attending a barbecue party in England about eight years ago where one face-reader told Sultan that his birthday must be on October 26. For Sultan, this was too close to reality (October 27) for comfort.
Starting with astrology, Sultan went on to delve into spirituality. One of the things he tried was the Hasidic Jewish prayer about forgiving all people who might have hurt one physically, psychologically or financially in the past. For him, this brought back memories: the experience of hurt and living through the accompanying pain again. It wasn't just a load off his shoulders metaphorically; the pain he used to suffer in his shoulders and back disappeared, too. This demonstrated for him the relationship between experience and the body, which is a store-house of experiences. Growing in knowledge, he becomes aware that all that is is energy. Sultan believes that the less conscious we are of the density of things, the freer we are of illusion.
In retrospect, Sultan says, he had faintly realised such truths even as a teenager. Born in a village in Bihar, he used to take the cattle out for grazing which gave him ample time to reflect. The thinker in him made him argue with his father: "Why do you want me to pray to a God I don't understand?" He stopped doing namaaz (prayers) but promised his father that he would study all religions, particularly Islam, and choose the one that most convinced him.
Meanwhile, his father died and being the eldest son, he had to shoulder the responsibility of supporting a large family. He learnt lessons from both hard work and adversity. He improvised in his own way—akin to creative visualization—which helped him to relax within seconds by imagining that he was flying on clouds. Adversity, Sultan believes, is a great boon. "Only when he is in a loving mood, God gives you a problem. The bigger the problem, the more confidence he has in you."
Sultan believes that there is a logical progression in the history of religion. He gives an example: "While Islam is absolutely monist, people wonder why the Quran rarely gives arguments in support of that standpoint. The reason is that God had already taught that through Vedanta and yoga. So, the Quran is specific that you cannot be a good Muslim unless you respect the earlier prophets of whom there were 1,24,000." Sultan extends the argument to assert that the New Age has synthesized the knowledge from various spiritual traditions as well as science. The bottom-line: there is only universal consciousness, the universe is a manifestation of that: and we are all spirit beings.
Courtesy: Life Positive, June 1997
URL: http://www.newageislam.com/spiritual-meditations/sultan-shahin--a-life-positive-magazine-profile--the-universe-is-a-manifestation-of-the-one-universal-consciousness/d/2731
New Age Islam, Islam Online, Islamic Website, African Muslim News, Arab World News, South Asia News, Indian Muslim News, World Muslim News, Women in Islam, Islamic Feminism, Arab Women, Women In Arab, Islamophobia in America, Muslim Women in West, Islam Women and Feminism