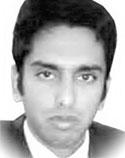 By Yasser Latif Hamdani
December 15, 2011
The poison of ignorance and extremism that Bhutto and General Zia jointly fathered during their dictatorial regimes has fully indoctrinated even those who otherwise describe themselves as educated.
This week the Large Hadron Collider at the CERN inched closer to the discovery of Higgs Boson or the God Particle as it were. In this extraordinary story of human achievement, Dr.Abdus Salam is a key player who put Pakistan on the map of theoretical physics. In his homeland though, a group of self-styled champions of Islam have started a posthumous campaign of scurrilous slander claiming that Dr. Salam was giving out nuclear secrets. Forget that even a confirmed bigot like General Zia held a ceremony in our only Nobel Prize winner's honour or that no one ever accused Dr. Salam of any such thing; in Pakistan to be a hero you have to actually transfer technology to Iran, Libya and North Korea.
Now consider the case of 11 year old Sitara Akbar. Every Pakistani and his mother in law are citing her as a crowning national achievement, blissfully oblivious of the fact that she is an Ahmadi. To them her religion is suddenly unimportant or irrelevant or is it? How many Sitara Akbars have been expelled from our schools for being Ahmadis? How many productive citizens of this republic have been killed and maimed for believing differently?
Zulfikar Ali Bhutto's National Assembly imagined itself the Islamic equivalent of the Council of Nicea. Just as that ancient bastion of Christian orthodoxy excommunicated Unitarian Christians for not believing in the trinity of the father, son and the Holy Ghost, the National Assembly saw it fit to – primarily at the instigation of the Prime Minister and his law minister- declare an entire sect non-Muslim. Just like the post hoc elevation of the principle of trinity at Nicea, Pakistan's National Assembly located Islam in the principle of the finality of Prophet hood.
This act of our sovereign legislature stood in sharp contrast to the view of this nation's founding father. On 5 May, 1944, in response to demands of the orthodox Vis a Vis Ahmadis, Jinnah made it absolutely clear that anyone who professes to be a Muslim is a Muslim and welcome in the Muslim League and that those who were raising the issue were trying to divide the Muslims. Here I am forced to say that I am inclined to accept Jinnah's view and reject the collective wisdom of our sovereign legislature. There are several reasons which may be cited in this regard:
1. First and foremost Pakistan is bound by the United Nations' charter. Therefore Pakistan is bound to ensure freedom of religion for all its citizens and freedom of religion means freedom of religion according to the definition of the subject of the said freedom.
2. Identity is subjective not objective. The state of Pakistan or any other state cannot tell an Ahmadi that he is not a Muslim because it is intrinsic to the faith of an Ahmadi. This is an inviolable, inalienable right as part of right to life which every state in the world is bound to protect. If Ahmadis say they are Muslims they ought to be accepted as such.
3. Pakistan is a signatory to the ICCPR and without reservations since June 2011. Therefore every piece of legislation that discriminates against Ahmadis or forces a label upon them is ultra virus the ICCPR.
4. The Islamic argument: According to the Holy Prophet (PBUH) anyone who utters the Kalima Shahadah is a Muslim. None of the Kalimas, including the Primary Kalima Shahadah contains any reference to the principle of the finality of Prophethood as understood by the Muslim majority today.
5. Finally because by conduct and promise, Pakistani state is stopped from claiming otherwise. In 1947, Pakistan laid claim to Qadian as a Muslim holy place, a counter-blast to Sikh claims on Nankana Sahib and Hassan Abdal. Similarly in 1946 elections which is the basic referendum on the question of Pakistan, Ahmadi votes were instrumental in getting Muslims Pakistan. These are undeniable facts of history.
Therefore- fully aware of the stigma attached to this statement- I concur with Quaid-e-Azam Muhammad Ali Jinnah, the founding father of Pakistan that Ahmadis are Muslims, if they say they are Muslims and no one, not even the sovereign legislature, has the right to say otherwise.
Source: pakteahouse.net/2011/12/15/are-ahmadis-non-muslims/
URL: https://newageislam.com/islamic-ideology/i-concur-with-quaid-e/d/118748