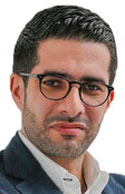 By Faisal J. Abbas
21 February 2015
Whether or not you believe the Earth orbits the Sun, it almost seemed like the planet stood still a few days ago when this website broke the story in English about the cleric who infamously doubted the long-held astronomical belief.
Indeed, global news outlets- all the way from Japan to the United States - quoted the story and embedded thevideo showing this cleric using a plastic water cup as a prop and explaining that a plane leaving an airport in the UAE would never be able to reach China, because – if the Earth was truly rotating all the time – then China's geographical location would keep changing as well.
Now, let us get one thing straight; there are highly-questionable beliefs all over the world and each person is entitled to his/her own view. In fact, a recent ABC News report reveals that a quarter of Americans are actually convinced that it is the Sun that revolves around the Earth, not the other way around!
However, when people in positions of power or authority make such statements, then in my opinion, they should most definitely be held accountable for them; particularly in this cleric's case, where he was commenting on astronomy, an area we can fairly assume he has little knowledge in whatsoever.
A Bigger Story Eclipsed!
It is a pity that the above-mentioned Earth rotation story has eclipsed a much more important story relating to a much more important Saudi cleric.
Very few media outlets paid attention to a statement by Saudi Arabia's Grand Mufti Sheikh Abulaziz al-Sheikh. According to Saudi daily, al-Watan, he advised the Kingdom's religious clerics to stay away from "murky" politics and focus on Islamic preaching.
Such a remark, coming from the most supreme religious figure in Saudi Arabia (the Grand Mufti is also the head of the Kingdom's Council of Senior Scholars), should be applauded and taken seriously given all the damage political Islam has caused both the region and the religion itself.
I believe clerics should go back to their role of focusing purely on religious/spiritual matters, which resembles the way they used to be before new agendas, ideas and political aspirations sought to take advantage of them. The result of the intermarriage of the purist Salafist ideology with the more modern political/militant ideologies was the birth of the likes of al-Qaeda and ISIS.
Of course, one wishes that the Grand Mufti had reminded the clerics of the famous Arabic saying "He who speaks in an area outside of his specialty, will create astonishment" and added to his guidelines that it would also be preferable if clerics didn't venture into giving their profound views on scientific matters, such as astronomy or biology (e.g. the cleric who infamously declared that driving harms women's ovaries two years ago.)
Without forgetting that absurd edicts are not exclusive to the Muslim faith, one could also suggest that some sort of new regulation or peer-review mechanism should be introduced at the likes of al-Azhar and the Council of Senior Scholars to prevent un-carefully thought-through Fatwas from emerging, and to guide scholars on how to preach more carefully.
Faisal J. Abbas is the Editor-in-Chief of Al Arabiya English, he is a renowned blogger and an award-winning journalist. Faisal covered the Middle East extensively working for Future Television of Lebanon and both Al-Hayat and Asharq Al-Awsat pan-Arab dailies. He blogs for The Huffington Post since 2008, and is a recipient of many media awards and a member of the British Society of Authors, National Union of Journalists, the John Adams Society as well as an associate member of the Cambridge Union Society.
Source: http://english.alarabiya.net/en/views/news/middle-east/2015/02/21/The-Earth-revolves-around-the-Sun-and-absurd-Fatwas-too-.html
URL: http://newageislam.com/islamic-ideology/faisal-j-abbas/the-earth-revolves-around-the-sun…-and-absurd-fatwas-too!/d/101665