By Raheel Raza for New Age Islam
7 Oct 2012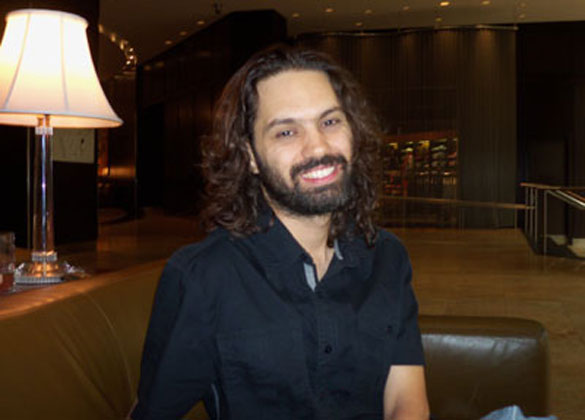 Shye Ben Tzur
------------
On a beautifully clear, full moon night a few Sundays ago, an incredible event took place at the Harbour front Theatre in Toronto.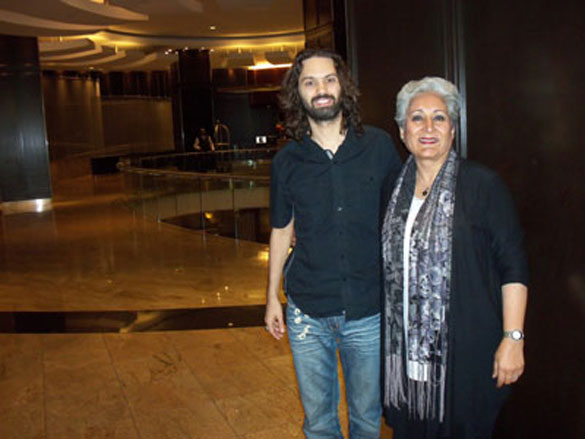 Shye Ben Tzur and Raheel Raza
----------
An Israeli born musician alternately played the acoustic guitar and a Bansuri (flute) accompanied by two gypsy folksingers who played the Harmonium, Table and traditional Rajasthani instruments called Khirtal, Bhapand & Morchang . This was Shye Ben Tzur with Kutle Khan and Chugge Khan straight from the deserts of Rajasthan singing Quawwali (a form of Sufi devotional from South Asia) in Hebrew and Urdu as they performed for the Ashkenaz Festival in Toronto – their first performance in North America.
How did this come about? I was so fascinated by the fusion and passion of this eclectic group that I took time to meet the main composer and musician Shye Ben Tzurand a fascinating story emerged.
Tzur, 35grew up in Tel Aviv composing and playing rock music and heading a band called Sword of Damocles. He was only 19 when he attended his first Indian concert as Pandit Hari Prasad Chaurasia and Ustad Zakir Hussain performed in Jerusalem and he fell in love with the sound of the flute and Tabla. Tzur says he was always fascinated by mystical poetry and had read the works of Rumi and Attar (Sufi poets) but he felt an urge to find out more about Indian music. "The music was calling me".
He left home with no idea where he would go and took a flight to Benares, India. "I didn't know anything about India but for some reason I thought this was a city full of music and I will find a teacher here". He found India but not a music teacher and feeling depressed one day he went into a bookstore looking for poetry "to uplift my heart" he says. He bought a book on mystical music by HazratInayat Khan, founder of The Sufi Order of the West (http://www.hazrat-inayat-khan.org) and it made him even more committed to his search for a teacher of mystic music. Continuing his search, Tzur came to Delhi and was directed to the Dergah of HazratNizamuddinAulia (www.nizamuddinaulia.com) a famous Sufi Saint. Tzur says "I know Sufis loved music so I came here looking for teacher because I naively thought everyone is a musician and they would know!" From here he was guided to continue his search in Ajmer, Rajasthan.
Tzu ended up in Ajmer at the Dargah (shrine) of Hazrat Khwaja Moinuddin Chishti and had a strange encounter. He says "someone there pointed to a man and said this is the person to talk to. So I went up to the man but he would not speak and I just sat there and told him what I was searching for. We sat in silence for a few days and then he motioned me to follow him and he took me to a teacher. That was 15 years ago, and I'm still in Ajmer - learning!"
Tzur discovered that Ajmer was the place he was looking for where almost every other person was a musician who had inherited the art from his ancestors. Tzu later married a young girl from Ajmer, made it his second home and started learning about Sufi music, the language and the people. "I had always written poetry but now I was learning a new language, culture and an absolutely magical kind of music – Sufi music and I was entranced by the depth of the poetry and music." Tzur worked with a variety of poets and musicians and started translating some of the Sufi poetry into Hebrew. "My own heritage came into play and I realised that I could express myself in my native language and find beauty in it knowing that the essence is the same."
To bring his art closer to home, he taught a few Gypsy musicians Hebrew and they formed a group travelling across India performing Sufi music in Urdu and Hebrew. "We are nourished by what we know and what is around us" says Tzur as he embraces the best of both worlds – Israel and India. His family came to visit him in India and supports his work.
His first concert in Israel was called "Heeyam" and got great reviews so Tzur and his troupe of eight musicians and singers started travelling between Israel and India bridging the gap between the two countries and cultures with music. He has another album called "Shoshan". In 2004, he performed at Jahan-e-Khusru, the prestigious international Sufi music festival held in New Delhi in the spring annually since 2001.
When Tzur is on stage wearing traditional Indian Sherwani with a Rajasthani scarf, he blazes with fire and passion; his words resonate as he translates from Hebrew to English and from Urdu to Hebrew for his audience without missing a beat. Yet in person backstage he is shy, humble and soft spoken – a true mystic at heart. He is inspired by Hazrat Khwaja Moinuddin Hasan Chishti popularly known as Khwaja Gharib Nawaz and he says "I'm a musician and Khwaja Gharib Nawaz brings me to life, teaching me about 'onenesses as the essence of life".
Today he makes his home in two countries and plans to "keep on finding new and different ways to present Sufi poetry in both languages".
Raheel Raza is a Toronto-based social activist.
URL: https://www.newageislam.com/islamic-culture/raheel-raza-for-new-age-islam/all-this-singing-just-one-song!/d/8907