New Age Islam News Bureau
27 Feb 2017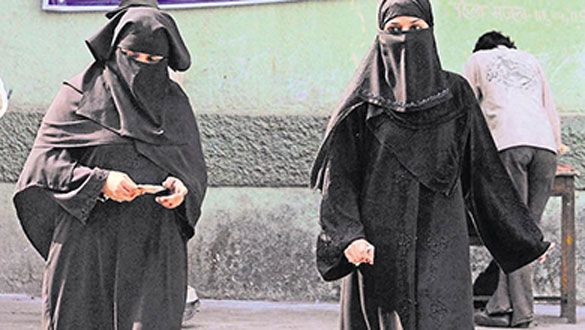 Photo: Shamael al-Nur had written an article about how the state is imposing dress codes for women and how people should pray. (Representative Photo)
-------
• Hijab Is Not a Symbol of Misogyny
• Woman Are Caned In Indonesia after Violating Strict Sharia Law
• Pakistan's Torchbearers: Women Who Carved Space for Themselves and Others
• Sunderland Man Who Abused Muslim Woman Has Sentencing Delayed
• Beaten Until They Collapse For The Crime Of Having Sex Outside Of Marriage: Man And
Compiled by New Age Islam News Bureau
URL: https://newageislam.com/islam-women-feminism/woman-journalist-says-being-targeted/d/110226
-----------
Woman journalist says being targeted by Sudan Islamic hardliners
Feb 26, 2017
Shamael al-Nur had written an article about how the state is imposing dress codes for women and how people should pray. (Representative Photo)
A Sudanese female journalist and critic of government policies said on Sunday that she is under fire from hardliners who have accused her of "insulting Islam" in one of her columns.
Shamael al-Nur said she has become a target of a radical Islamist and a section of Sudan's hardline media for criticising government public health policies in a column published on February 2 in Al-Tayar newspaper.
Nur, 36, wrote that Islamic regimes were increasingly busy with "matters of virtue and women's dress rather than health and education issues".
"It is easy to cut spending on health in the state budget, but it is very difficult for the ministry of health to distribute condoms," she wrote in the column on a sardonic note.
Less than 3% of Sudan's budget was usually allocated for health and education, according to Nur.
Nur said she has written several articles criticising the government but that this particular column had triggered a campaign against her.
"I wrote an article about how the state is imposing dress codes for women and how people should pray," Nur told AFP at her newspaper's offices in Khartoum.
"Because I am a woman, the attacks have increased."
"In the Sudanese community it becomes a problem when a woman speaks of such issues or criticises Islamic scholars," said Nur, dressed in a leather jacket and jeans.
A Khartoum-based radical Islamist, Mohamed Ali al-Ghazouli, said Nur's writings were against Islam.
"What Shamael al-Nur has written is insulting to Islam and Islam's main virtues," Ghazouli, wearing a business suit, told AFP.
"She says that those who pray can't build modern states... Such writings are also against Sudanese law and the constitution," said Ghazouli.
hindustantimes.com/world-news/woman-journalist-says-being-targeted-by-sudan-islamic-hardliners/story-bvJMdysI56AKARlMSh1ZpI.html
-------
Hijab is not a symbol of misogyny
On a recent trip to Iran to negotiate economic deals, 11 Swedish female politicians, including Trade Minister Ann Linde, wore hijabs.
The Washington Post, U.N. Watch and the International Business Times were among the multitude of publications that attacked Linde's hijab in reports and commentaries, saying that by doing this, Linde and Swedish government in general had betrayed Iranian women and feminist values.
Interpreting the donning of a hijab in this way is thinly veiled propagation of a Eurocentric and misogynistic perspective on the Islamic world. In the western world, the hijab has become a colloquial symbol of oppression, essentially the antithesis of feminism. However, many Muslim women view the hijab as empowering when they choose to wear it.
"The hijab has liberated me from society's expectation of women," "My hijab doesn't oppress me, it empowers me," and "My personal decision to wear the hijab has nothing to do with me being oppressed," are just a few headlines of commentaries from Muslim women about their choice to wear hijabs.
The empowerment of the hijab comes from being able to choose to wear it. The law in Iran does dictate what is and what is not appropriate for women to wear when they go out in public, and while the law is oppressive, the hijab itself is not.
Linde wearing a hijab was not, as some suggested, a betrayal of feminist values. Linde's reasons for wearing the hijab could be interpreted in a number of ways, but the attention to what she and the other female leaders were wearing in the first place is unnecessary. She was there to do a job—an important one, at that—and her attire has nothing to do with the work she was there to do. Too often what women wear is given more attention than what they do.
Instead of attacking the hijab with hypervigilance, women's rights activists' from other countries that want to improve the lives of Iranian women should focus on other oppressive laws that limit women's rights.
Iranian women still face legal barriers when it comes to inheritance and ownership of property, custody of children, serving in government and the judiciary, and educational opportunities, according to a March 8, 2013, report from the Iran Human Rights Documentation Center.
While the focus of those fighting for equality should be on the aforementioned laws, that does not mean laws like the one in Iran regarding women's attire should be completely ignored.
The law regulating the attire of women in Iran should be abolished so women are free to wear the hijab and dress modestly or not, but this should not be considered the most important fight or issue for women's rights and human rights in Iran and other countries with similar issues.
Stigmatizing the hijab and making it a symbol of oppression and misogyny does very little to help Muslim women in Middle Eastern countries, but it also does not help Muslim women in the rest of the world.
Many Muslim women in the U.S. who are not subject to laws like the ones in Iran still choose to wear the hijab, but because of the perception of the hijab in western culture, they may be judged.
Islamophobia is an extremely prevalent issue in the U.S. and around the world, and misrepresenting and perpetuating a misunderstanding of the Islamic world does nothing but harm.
columbiachronicle.com/metro/article_5c9eb336-fafb-11e6-8590-bfc5aeaae537.html
-------
Woman Are Caned In Indonesia after Violating Strict Sharia Law
27 February 2017
Shocking photographs have emerged of young Indonesians being whipped until they collapse for having sex outside of marriage.
The barbaric caning was handed down by Islamic legislators after eight locals were deemed to have broken strict Sharia law which condemns any sexual contact between a man and a woman if they are not married.
The beatings occurred in Aceh, which is the only province in the country which implements Sharia law in full.
Herizal bin Yunus, 27, fainted after being caned eight times in front of a crowd in Aceh, the only province of the world's most populous Muslim-majority country that imposes sharia law.
Officials carried him off stage after he collapsed during the punishment outside a mosque in the provincial capital Banda Aceh, which was carried out by a religious official dressed in an all-encompassing, hooded cloak.
But once he came to, a doctor examined him and said he was in good health, and he was taken back up on stage to be flogged another 14 times.
A local religious court had sentenced him to be caned a total of 22 times.
The man had broken Islamic laws that forbid people in Aceh from spending time in close proximity with members of the opposite sex who are not their husband or wife.
He was one of eight people publicly caned on Monday for breaking the province's Islamic regulations.
Public canings take place regularly in Aceh, and people can be punished for offences ranging from gambling, to drinking alcohol, to gay sex. However it is rare for someone to collapse.
The province began implementing Sharia law after being granted autonomy in 2001 – an attempt by the government in Jakarta to quell a long-running separatist insurgency.
Islamic laws have been strengthened since Aceh struck a peace deal with Jakarta in 2005.
People are flogged for a range of offences including gambling, drinking alcohol, gay sex or any sexual relationship outside marriage.
More than 90 per cent of the 255million people who live in Indonesia describe themselves as Muslim, but the vast majority practice a moderate form of the faith.
The three young Indonesians were whipped on Monday and can be seen grimacing in pain before collapsing.
The man, who was caned in front of a huge crowd, was carried unconscious from the podium by four men.
Their supposed crimes range from spending time in 'close proximity'to men or women who was not their spouse to having sex before marriage.
It is the latest beating in a series of similar public punishments which have generated widespread condemnation.
Back in September 2014, Aceh approved an anti-homosexuality law that can punish anyone caught having gay sex with 100 lashes.
After a three-decade-old separatist movement, a peace agreement signed in 2005 granted special autonomy to Aceh, at the northern tip of Sumatra, on condition that it remained part of the sprawling archipelago.
As part of that deal, Aceh won the right to be the only Indonesian province to use Islamic sharia law as its legal code.
Anybody caught engaging in consensual gay sex is punished with 100 lashes, 100 months in jail or a fine of 1,000 grams of gold.
The law also set out punishment for sex crimes, unmarried people engaging in displays of affection, people caught found guilty of adultery and underage sex.
Religious police in Aceh have been known to target Muslim women without head scarves or those wearing tight clothes, and people drinking alcohol or gambling.
Over the past decade, the central government has devolved more power to regional authorities to increase autonomy and speed up development.
Engaging in homosexual acts is not a crime under Indonesia's national criminal code but remains taboo in many conservative parts of the country with the world's largest Muslim population.
dailymail.co.uk/news/article-4263356/Beaten-collapse-sex-outside-marriage.html#ixzz4Ztn31n4E
-------
Pakistan's torchbearers: Women who carved space for themselves and othersSHARE TWEET
By Shanel KhaliqPublished: February 27, 2017
Feminism and Islam have been considered at odds for a while, especially in this part of the world. While academic research in this area has attempted to accommodate the two, the on-the-ground realities for women remain unexplored in most Muslim majority countries. Pakistan's case is no different.
The country is home to many women who are struggling in their own ways to create space for themselves and for other women. Here, were speak to three such inspiring women – Fouzia Saeed, Zubaida Jalal and Abia Akram – to reflect on how things have changed for this gender and what more needs to be done.
'These immoral NGO women'
Saeed is a well-known name among supporters of gender equality. She started her career with the United Nations Development Programme in 1994 and has been a vocal opponent of violence against women ever since. She currently heads Lok Virsa – the National Institute of Folk and Traditional Heritage in Islamabad.
Saeed grew up in Peshawar, long a stronghold of conservative values. In her early teens, she realised that certain activities were suddenly out of bounds for her as a woman. Physical training was one of them. The other was boys.
"If you go out and socialise in a group, it's acceptable for your family," she says. "But if you go out with one guy, it's not."
She accepted these restrictions and carved out freedom in other ways. Saeed says that wearing a chador was not something she had a problem with since she would much rather save her energy for substantive issues such as mobility and education.
In 1987, after completing a doctorate in education from the University of Minnesota, Saeed returned to Pakistan and began her journey towards female emancipation. Her second and most popular book Working with Sharks recounts her own as well as her colleagues' experiences of encountering sexual harassment while working at the UN. All efforts to voice concerns to the higher management at the UN proved futile, and so Saeed began a humble campaign to acquire justice, along with a group of ten women, which later gained ground.
After that, she focused on the agents that would help her get the legislation passed. "I learned the jargon. I never used the word 'gender' or 'women's rights'. I needed to speak the language of my people."
Instead, when travelling across provinces for consultations with the provincial governments for the passage of the bill prohibiting sexual harassment at the workplace, she made sure to call it the "Code of Conduct for gender justice" and not "the bill prohibiting sexual harassment" because "sexual harassment" was too "sexual" for the government. She made sure that she reviewed the Holy Quran and went armed with references from the Prophet's life to support her cause and to explain that what she was asking for was not 'un-Islamic'.
The backlash was inevitable. Even though she and her organisation avoided media attention and street protests, preferring to pursue their cause in a less confrontational way, they had to at some point, meet the extremists.
The climax took place in the Senate in 2010. The fundamentalists rallied in opposition to the bill. "These immoral NGO women, they go around and sleep in hotels," one of them remarked.
No government in Pakistan has ever wanted to take on the religious circles, and so, Saeed and her peers were determined, yet anxious.
Female participation in Pakistan's work force has increased over the years but remains staggeringly low. In 2012, it stood at 28% according to the World Development Report by the World Bank. Saeed observes that expectations regarding women's status shot up when Pakistan had a female Prime Minister in Benazir Bhutto, but just because you are a woman does not mean your priority will be women's rights.
"Benazir was a leader and she happened to be a woman," Saeed says, but she never campaigned as a feminist.
Even in countries such as Pakistan, women who are economically independent have more opportunities and increased mobility. But Saeed feels that the discourse on class undermines a lot of the efforts made by educated women who use their relative privilege to change the system. She notes that rape and domestic violence happen to all women.
'In Balochistan, you walk behind me'
The passage of The Protection against Harassment of Women at the Workplace Act is only the first step towards acquiring a safe environment for the women of Pakistan to step out, pursue their dreams and attain economic independence. There is still a long way to go.
But away from the federal capital, things might be murkier.
Zubaida Jalal Girls High School stands boldly among the date trees and rough sands of the far-flung Kech District in Balochistan as the symbol of female education and change. Kech has long been at an important crossroads; according to historical records, Alexander the Great passed through it on his way to India. Today, however, it is a name that many people in Pakistan would not even know due to its remote location.
The village of Mand in Kech District is a quintessentially tribal society dominated by the Rind tribe. The majority of the population is involved in farming and life is as communal as one can imagine. School enrolment rates for girls are comparatively higher than the rest of the province but still low compared to the rest of the country, so for a school to be named after a local woman is unusual.
Jalal may be considered an anomaly. Fair skinned, delicate and wrapped up in a chador, she comes across as the typical shy Baloch woman. However, once you read about her and meet her, you can only conclude that she must have nerves of steel.
Jalal was born in Kuwait in 1959, where she attended primary school. In 1976, she moved to Pakistan with her family on the death of her paternal grandfather. Jalal wanted to enrol in the high school in Mand, but there was only one high school, and it was boys-only. So instead, private tutors came to teach her at home until she could appear for the final exams at the high school.
In 1982, her father started the first girl's school in Mand in their sitting room. Thirty-five girls showed up on the first day. Since girls in the village often marry at age 10 or 12, many were already married. What began in the sitting room eventually became the first girls' high school.
In spite of her father's stance on education, Jalal was bound by certain customs, so when she went to university in Quetta she was still not able to stay in a hostel. There were certain things that she denied herself so that it would not inhibit more girls from following her footsteps. Up till the 1990s, there was only one university in the province.
To be selected as the federal minister for Education sounds easier than it was. In a communal and patriarchal system, it is the father who becomes the subject of condemnation for his daughter's actions. Some accused him of sending his daughters to study and then work because he wanted money. "Some of the local clerics said he had opened the doors to hell," she adds.
Her mother warned her that she would have to watch her back. "I was a happy-go-lucky person, with my own nature, laughing loudly, but then there came a time when I had to change myself personally. She told me the man in front of you can misunderstand your smile".
She got married one month after she was chosen as a minister. While she was pregnant, she went from village to village along barren mountains and coastal areas campaigning to male audiences. Three days after winning the elections, she had her first child, breaking dichotomies of the 'working mother' and the 'homemaker'.
Jalal fought hard to prove herself during her tenure as education minister, introducing a number of reforms, the most revolutionary being removing religion from the education curriculum.
"The whole issue was putting more emphasis on human rights in Social Studies. We do not have to follow the Quranic version word-by-word because there are other children studying, and not all of them are Muslim."
After marrying a Baloch man, the son of a politician, Jalal did not have to abandon politics or public life like most women in the country, but she did have to conform to some old behaviours.
"He told me, no matter where we go in the world or in Pakistan, do as your position requires. But when we reach Quetta, remember that you're in Balochistan. The minute we get off the plane, I am in front and you're behind. And that has been an agreement always," she says with a laugh.
She thinks that Balochistan has changed quite a bit since 1999 when she started in politics. Girls are now studying sciences and enrol in co-educational institutions, but much still needs to be done.
'Oh no! You have a disability'
In many circles, the debate on gender equality in Pakistan has become redundant. Women are faring better than their predecessors.
Millennial women are hopeful and determined, yet confused. For most girls, despite rising levels of education, settling down and marrying continues to be their ultimate goal. While women in Pakistan drive their own cars, vote, run for office, dress the way they want within cultural boundaries and even mix with the opposite gender, every girl still has to battle with deep rooted and repressive norms.
Abia Akram is a woman who has won that battle with even greater odds than most women face. Like many girls hailing from educated, upper-middle class families in Islamabad, she attended the Islamabad Model College for Girls, a state-owned girls' college. Later she went on to do a graduate degree in Islamic history from the National University of Modern Languages. Now 32, Akram holds another graduate degree in gender and policy from the University of Warwick, which she attended on the prestigious Chevening Scholarship.
Unlike most girls, however, she did it all from a wheelchair. Akram was born with a genetic form of rickets that left her unable to walk.
"I felt very uncomfortable when I was growing up, people stared at me often but disability is about diversity in a way: some people are taller, some are shorter, some are fairer and some are darker. So why can't disability also be accepted as a form of diversity in society?" she says.
Her experiences made her want to challenge attitudes towards people with disabilities. In 1997, while still a student, she started an organisation called the Special Talent Exchange Program (STEP), along with her brother to discuss issues faced by people with disabilities.
Living in the UK was also an eye opening experience as she had to manage everything on her own. Because of the facilities and infrastructure available, it did not seem as hard as she expected. What particularly transformed her was the fact that she was no longer a spectacle for others around her, but just someone in the crowd.
"I thought why people here are so comfortable with their disability? People would say 'astaghfirullah' (God forgive us) when they'd look at me back home," she remarks with a smile.
The low social acceptance and awareness on disability has a lot of consequences for people like Akram. She says that there are only two perspectives on the issue, both of which are detrimental to her cause. One perspective is that people think disability is a punishment from God, so it entails the need to be confined at home, which leads to social isolation. Another perspective is that disability is something very close to God and so a person with a disability is someone 'special' in the eyes of God.
"People would go as far as asking me for prayers, thinking I am very 'special' in a way. I felt very uncomfortable when someone would ask me to pray for them," says Akram.
When she first began to work on starting STEP, she decided to get in touch with her peers from the Special Education Centre and to bring them on board. However, when she went to their families, she received the distressful news about their deaths. Most had passed away and the reasons were shocking.
"They were not drinking enough water and urinating properly. Their parents told me that if they drink water they find it hard to use the washroom on their own so they have to take assistance from their family members which felt like compromising dignity and respect so they would not drink enough," she tells.
So when she returned from the UK, she decided to increase her efforts to spread awareness. Through her organisation, 45 women with disabilities from Pakistan were able to go to various exchange programs abroad to learn and discuss their challenges at an international forum. Her main focus has been to change attitudes towards people with disabilities and bring greater acceptance.
But after working with so many organisations and global partnerships, she realised that women with disabilities were not well-represented in the disability movements all over the world. So she established the National Forum of Women with Disabilities.
Her dream is far from complete. For Akram, the lack of accessibility is one of the major hurdles she continues to face. Most public places in Pakistan are not at all conducive to people with disabilities, with neither ramps nor accessible washrooms. "It's all about our infrastructure," she says.
Akram feels her life changed when she became a part of the global disability movement and realised that her disability was not something to be ashamed of. She now wants to share this understanding with her country. So besides campaigning for better infrastructure, her organisation aims at tackling the attitudinal barriers head on.
During the course of her work, she has met with women with disabilities from far-flung areas of the country who were contemplating suicide. She has tried to engage with them and sent them on exchange programs to help them live a better life. "If I have been able to influence one woman, it is enough for me. I feel fulfilled," she says.
Shanel Khaliq is a lecturer at Iqra University; she is interested in issues related to gender, race and social
tribune.com.pk/story/1337511/pakistans-torchbearers-women-carved-space-others/
-------
Sunderland man who abused Muslim woman has sentencing delayed
27 February 2017
A man who pulled a niqab off a Muslim woman in a shopping centre and yelled racial abuse has again had his sentencing delayed.
Peter Scotter, 55, of Beach Street, Roker, Sunderland, was due to appear at Newcastle Crown Court today after he admitted racially aggravated assault by beating and a separate charge of racially aggravated harassment at a previous hearing.
Both offences were based on Scotter's hostility towards a particular religious group, namely Islam, the court heard.
Last week, Scotter was due to undergo surgery after he was diagnosed with a serious cancerous tumour under his tongue.
Judge Stephen Earl adjourned sentence to allow cancer specialists to assess his condition.
Today, sentencing was again adjourned, as Scotter is still undergoing treatment.
A previous hearing at Sunderland Magistrates' Court heard how Scotter left his victim terrified when he attacked her in July.
Laura Lax, prosecuting, told the hearing the woman was waiting with her nine-year-old son for her husband outside a store in Sunderland's Bridges shopping centre when a man "purposefully" walked towards her and grabbed her niqab.
The force he used almost threw her to the ground, and the niqab came away from her face, exposing her and causing pain to her neck.
She remembered being scared but was so shocked she could not remember what was said, magistrates were told.
The niqab was damaged, but she has since repaired it herself.
Ms Lax told the court the victim said afterwards: "This incident has left me scared to go out and I don't want to go into town again.
"I am disgusted my nine-year-old son had to witness this."
When a police officer arrived, Scotter was being spoken to by a security guard and the defendant tried to walk away.
Scotter was heard to say: "Our Britain, you live by our ******* rules" before coming out with more racist abuse.
He continued to make derogatory comments when he was being interviewed after his arrest, Ms Lax said.
He has 66 previous convictions for 157 offences, including actual bodily harm, breaching a football banning order and racially aggravated criminal damage.
sunderlandecho.com/news/crime/sunderland-man-who-abused-muslim-woman-has-sentencing-delayed-1-8411090
-------
Beaten Until They Collapse For The Crime Of Having Sex Outside Of Marriage: Man And
Feb 27, 2017
A MAN and woman were publicly caned for having sex outside of marriage, breaking Sharia Law.
The man was beaten by masked religious police so badly he collapsed in agony and had to be carried off a stage in the brutal punishment.
The pair were subjected to the barbaric practice in Banda Aceh, the only province in Indonesia that carries out Sharia law.
Moments before the man collapsed he was seen closing his eyes in pain as he was caned across the shoulders.
Men and women are banned from having sex outside of marriage, with a penalty of 100 lashes for those caught breaking the law.
The woman was seen covering her face and crying as a religious police officer lashed her with a cane for violating the law which forbids sexual contact between unmarried couples.
A crowd armed with phones and cameras took photos and video of the ordeal.
Humans Rights Watch says authorities in Aceh caned 339 people in 2016 with the Institute for Criminal Justice Reform warning the practice will "continue to rise" in 2017.
express.co.uk/news/world/772653/man-woman-caned-indonesia-sharia-law-sex-outside-marriage
URL: https://newageislam.com/islam-women-feminism/woman-journalist-says-being-targeted/d/110226
New Age Islam, Islam Online, Islamic Website, African Muslim News, Arab World News, South Asia News, Indian Muslim News, World Muslim News, Womens in Islam, Islamic Feminism, Arab Women, Womens In Arab, Islamphobia in America, Muslim Women in West, Islam Women and Feminism