New Age Islam News Bureau
9 May 2013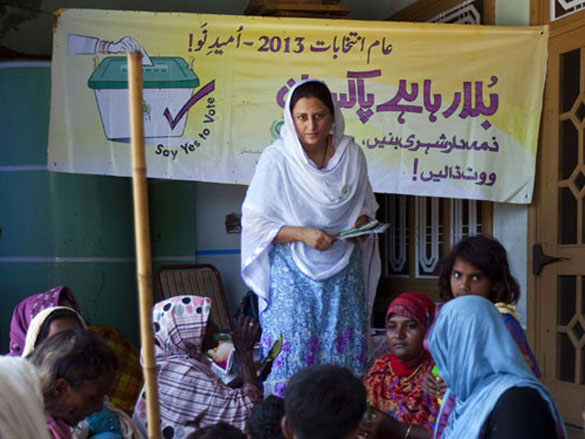 An activist from the Association for Gender Awareness & Human Empowerment delivers a lecture about the benefits of voting in Pakistan. Rebecca Santana / The Associated Press
---------
• White House 'Racism': Seema Jilani Claims Bigotry at the Correspondents Dinner
• Afghan Minister Vows Punishment for Girls Feigning Illness from Alleged "Poisonings"
• U.N. Says Girls as Young as 6 Raped By Congo Troops
• Pakistani Tribal Women Warned Not To Vote, by Unknown Group
• Most Political Parties in Pakistan Miss Out On Women Issues in Manifestoes
• In Egypt, Some Women Fight Sexual Harassment with Karate Chops
• Al-Yamamah University Launches Website for Women
Compiled by New Age Islam News Bureau
URL: https://newageislam.com/islam-women-feminism/white-house-racism-seema-jilani/d/11479
------------
White House 'Racism': Seema Jilani Claims Bigotry at the Correspondents Dinner
May 08, 2013
A shocking claim of racism has come out of the White House Correspondents Dinner. Seema Jilani, who is Muslim, has written about the experience in the Huffington Post.
Jilani, who attended as the wife of a journalist who was a guest, claims that the White House security staff applied double standards to her when she was trying to get keys from her husband. As she tried to enter the area where her husband was, without possession of a ticket, Jilani claims several white women without tickets were allowed to pass through as she watched in tears.
Spouses "who are not participating in the hideous schmooze-fest that is this evening are relegated to attending the cocktail hour only, if that," Jilani wrote.
The incident occurred after the cocktail hour was over, when Jilani was at the ticket taking area because she realized that she'd forgotten her keys.
"[White House security] abruptly responded, 'You can't go down without a ticket.'" Jilani wrote. "I explained my situation and that I just wanted my keys from my husband in the foyer and that I wouldn't need to enter in the ballroom.
"They refused to let me through," she continued. "I watched as they let countless other women through - all Caucasian - without even asking to see their tickets."
Upset by this, Jilani confronted the security, asking them why the other women were allowed to go through.
"'Well, now we are checking tickets,'" the security guard answered. She said he then rolled his eyes at her and checked the next woman's ticket. "His smug tone, enveloped in condescension, taunted, 'See? That's what a ticket looks like.'"
Jilani has a more disturbing claim about the response she received after asking a security staffer about the double standard.
"We have to be extra careful with you all after the Boston bombings," he said.
Jilani then claims that the security guards accused her of crashing the event last year. Her claims have not yet been corroborated.
http://www.travelerstoday.com/articles/6197/20130508/white-house-racism-muslim-woman-claims-bigotry-correspondents-dinner.htm
------------
Afghan Minister Vows Punishment for Girls Feigning Illness from Alleged "Poisonings"
May 9, 2013
KABUL: Afghanistan's education minister has threatened to punish schoolgirls who claim to suffer from alleged "poisonings" that many officials believe are actually temporary psychological illnesses.
Scores of girls' schools over recent years have seen mysterious mass fainting, nausea and similar symptoms that are often blamed by police and the local media on poisoning by Taliban insurgents or toxic gas leaks.
But no laboratory evidence of poison or other toxins has ever been found at schools and no deaths have occurred, with the girls often released from hospital after only a few hours.
In the latest case, 200 girls were reported to have been "poisoned" at a school in Kabul on May 1, causing an outbreak of screaming, stomach aches and vomiting.
"From now on, if I find anyone saying 'I'm poisoned' and the poisoning is not proved by the hospital, I will punish the student," Education Minister Ghulam Farooq Wardak told a press conference on Tuesday.
"I will punish the teacher, I will punish the head teacher and I will punish the school director," he added.
The education department said the government was determined to crack down on the causes of outbreaks of psychological illnesses among young girls.
"When one student faints, it spreads around and everyone might think it's poisoning," Mohammad Kabir Haqmal, spokesman for the ministry, told AFP.
"If tests prove it is mass hysteria or any other natural cause, of course no one will be punished. What the minister said was that we will pursue those who disrupt the classes."
Wazhma Frouqh, a female education activist, criticised the minister's stance and said that previous cases of "poisonings" had dissuaded families from sending their daughters to school.
"The minister should not have said that he will punish schoolgirls," she told AFP. "His job is to find out what has happened and protect schools."
Girls were banned from going to school under the Taliban, but numbers have risen since the extremist regime was ousted in 2001 and the government says 40 per cent of pupils are now female.
http://dawn.com/2013/05/08/afghan-minister-vows-punishment-for-girls-feigning-illness/
------------
U.N. says girls as young as 6 raped by Congo troops
8 May 2013
Congolese troops fleeing the M23 rebels last November raped at least 97 women and 33 girls, some as young as 6, a U.N. report released Wednesday said.
The U.S. Africa Command trained one of the units involved, Commando Battalion 391, in 2010 to be "a model for future reforms within the Congolese armed forces," according to the AFRICOM web site.
The U.N. report covered "mass rape, killings, and arbitrary executions and violations resulting from widespread looting," U.N. spokesman Martin Nesirky told reporters.
A report by the U.N. Joint Human Rights Office says most of the rapes took place over Nov. 22-23 in the eastern Congo town of Minova.
The report says that "One or two of the soldiers would leave with the looted goods and at least one would stand guard as the remaining (Congolese) soldiers raped women and girls in the house. Victims were threatened with death if they shouted; some were raped at gunpoint. Most victims were raped by more than one soldier."
"The victims included 33 girls aged between 6 and 17," Nesirky said.
During their occupation of Goma and Sake, "M23 combatants perpetrated serious violations of human law and gross human rights violations," Nesirky said, including at least 59 cases of sexual violence.
The mass rapes occurred in November, 2012, after the Congolese army was defeated by the M23 rebels who seized the provincial capital of Goma, in eastern Congo. The national army retreated in disorder.
Commanders lost control of their troops, or were unwilling to impose discipline over their men who regrouped some 50 kilometers (30 miles) south of Goma, in Minova.
A small, dusty town on the shore of lake Kivu, Minova is home to several thousand people. For days, the Congolese army raped, killed and looted in anger and disarray after their defeat, before discipline could be re-established by army commanders.
The report says 11 Congolese soldiers have been arrested by the Congolese military prosecutor's office, "including two for murder, but only two for related cases of rape." The other charges were not specified.
The commanding officers and deputy commanding officers of the two main battalions suspected of committing these acts, as well as officers of eight other units, have been suspended, the U.N. said.
The report specifies the Congolese units involved in the Minova attacks as the 41 and 391 battalions. The 391 battalion was trained by the U.S. Africa Command in 2010.
Military magistrates from both North Kivu and South Kivu, U.N. peacekeeping and humanitarian agency staff travelled to Minova and surrounding villages from Feb. 6-13, and "military investigators took testimony from several hundred victims, including a large number of victims of sexual violence," the report said.
Roger Meece, head of the U.N. mission in Congo, said the investigation "should be pursed in an independent and credible manner."
"Those responsible for such crimes must know that they will be prosecuted," U.N. High Commissioner for Human Rights Navi Pillay said in a statement, calling the sexual violence outlined in the report "horrifying" in scale and systematic nature.
http://english.alarabiya.net/en/News/africa/2013/05/08/U-N-says-girls-as-young-as-6-raped-by-Congo-troops.html
------------
Pakistani Tribal Women Warned Not To Vote, by Unknown Group
May 9, 2013
MIRANSHAH: An unknown group on Wednesday warned that women in a restive tribal region should not vote in Saturday's general election, threatening punishment.
"The people of Waziristan are hereby warned that they should not allow their women to cast votes and shouldn't let any candidate influence them", said the pamphlet, a copy of which was obtained by AFP.
Signed by 'Mujahedeen', the leaflets were thrown from vehicles into shops in Miranshah, the main town of North Waziristan tribal region near the Afghan border, an AFP reporter said.
"Take our words, this kind of disgraceful act will not be tolerated and anyone influencing women to cast a vote will be punished," the pamphlet said.
North Waziristan is one of seven tribal districts on the rugged border with Afghanistan which are a haven for Taliban and al Qaeda-linked militants.
In tribal communities women live in Purdah, confined to women's-only quarters at home. They do not go shopping, they do not work outside the house and they only go to hospital in a dire emergency.
Out of a population of 180 million in Pakistan, 37 million women and 48 million men are registered to vote in the May 11 polls in a country that has been ruled by generals for half its life and where military coups have repeatedly interrupted democracy.
But in the conservative northwest Khyber Pakhtunkhwa province, adjoining tribal areas on the Afghan border and south-western province of Balochistan, few women voted at the last election and officials fear it will be the same again.
In 2008, not a single vote was cast at 564 of 28,800 women's polling stations, officials said. In the most conservative areas, officials estimated women's turnout at 10-15 percent of those registered. afp
http://www.dailytimes.com.pk/default.asp?page=2013\05\09\story_9-5-2013_pg7_18
------------
Most Political Parties in Pakistan Miss Out On Women Issues in Manifestoes
Myra Imran
May 09, 2013
Islamabad
An in-depth review of party manifestoes, through gender perspective, conducted by Aurat Foundation, shows that most political parties contesting Election 2013 have missed out on some vital women related issues in their party manifestos.
It shows that most political parties have failed to affectively include women issues as cross-cutting theme in their party manifestoes, a demand of women rights activists for long. The demand was basic argument of a booklet "Suggestions on Women's Empowerment for Election Manifestoes of Political Parties," compiled by eminent women right workers Naheed Aziz and Tahira Abdullah and published by Aurat Foundation after a long process of consultation.
The booklet suggested that in order to create a supportive environment for the fulfilment of the rights of all citizens, and in adherence of Pakistan's binding commitment as a state party to the Human Rights and other conventions, all aspects of political party manifestos need to be mindful of, and explicitly responsive to, the gender perspective.
It demands that party manifestos need to focus on gender-related concerns in the articulation of their vision statement, goals, objectives and in the sections dealing with human rights, structural issues such as governance, economy, poverty reduction, environmental sustainability, disaster management, among others, and not simply focus on the social sectors such as education, health, population and social welfare to which girls' and women's concerns have traditionally been relegated almost exclusively, though often only on an incomplete, piecemeal basis.
The review of manifestos shows that most political parties did not affectively articulated gender-related concerns in vision statement, goals, objectives and in the sections dealing with structural issues but a few get the credit of touching upon issues being highlighted by women rights activists for long and have never been given much importance in party manifestoes.
The review reflects that though every political party dedicates certain space for women in their manifesto ranging from separate detailed sections by Mutahida Quami Movement (MQM) and Pakistan People Party (PPP) to a few lines by Jamiat Ulema Islam (JUI), the focus of most manifestos is to provide access to justice, education and health facilities for women and legislate on violence against women.
The organization has converted the review into a matrix providing a quick look of the commitments made by political parties in their manifestoes:
On the positive side, the mentioning of women issues in all part manifestoes was termed a positive sign by activists who conducted the review. "It shows that women empowerment is on the agenda of every political party," opined the AF representatives, Mahpara Shakil Ghuri and Zainab Ali, who conducted the review.
The review also mentions that certain parties go out of the box to protect women rights. For example, besides mentioning many vital steps for women's empowerment, the Awami National Party (ANP) has committed to prohibit deals between local elders and political parties that bar women from exercising their right to vote and/or contest. It also promises to "review and revise identification policies to ensure that citizens are identified by parentage and not spouse so that their national identity cards do not change with a change in marital status. Remove the need for a male guardian for adult women when applying for National Identity Cards."
Pakistan Muslim League (F) manifesto mentions to improve medico legal facilities in case of rape and violence and commits to take effective measures towards redressing the current huge imbalance in gender parity in police recruitments, postings and transfers, promotions, award and training courses for career path development, making them part of the solution. It also talks about establishing women rights awareness program in association with civil society organisations.
The PML manifesto talks about many other policy initiatives for women as well dealing with population control, health, security and economic empowerment of women. Awami Workers Party touches upon very basis of discrimination against women and promises to eliminate male dominance in current economic, social and political structures, which are based on women's exploitation. If they come in power, the AWP vows to provide equal opportunity for women in all walks of life as well as ensure equal representation at social and household level.
Full report at:
http://www.thenews.com.pk/Todays-News-6-176238-Most-political-parties-miss-out-on-wome
------------
In Egypt, Some Women Fight Sexual Harassment With Karate Chops
DOMINIQUE DEANGELO
MAY 8 2013
On January 25, during protests commemorating the two-year anniversary of the revolution that toppled former president Hosni Mubarak, human rights organizations received 19 reports of violent sexual assault. Attackers used blades to cut victims in at least two of these attacks, including on or near their genitals.
Although these attacks were unusually severe, a vast majority of Egyptian women face other forms of sexual harassment every day. A report published in April by the United Nations Entity for Gender Equality shows that 99 percent of Egyptian women have experienced some form of sexual harassment. The most common manifestation of harassment came in the form of touching, with 96 percent of women saying they've experienced it. These figures have risen since 2008, when a similar study reported that 83 percent of women experienced harassment.
Now, some anti-harassment organizations are beginning to turn to martial arts as a way to help cure Egypt's sexual harassment epidemic.
Tahrir Body Guard, an organization that formed in response to the widespread reports of sexual assault in Tahrir Square, is centered on the belief that women have the right to protest safely in the square just as men do. They have organized anti-harassment patrol groups to rescue and protect women in the square. In February, they began an initiative that aims to help women protect themselves through self-defense, not only in the square, but throughout Cairo. Every other week, Tahrir Body Guard offers a free class for women in Samia Allouba Gym and Fitness Center in Mohandiseen, Cairo. Trainees learn simple techniques that target vulnerable areas and require little strength, such as finger twisting and windpipe striking.
Harassmap is another organization that seeks to end the social acceptability of sexual harassment. It uses online mapping and reporting technology to raise awareness: Women who have experienced harassment can use Harassmap to report details of the incident and receive support. The organization also recommends that women receive self-defense training and lists a number of martial arts studios on its website. Rebecca Chiao, co-founder and project leader of Harassmap, says that self-defense training reduces trauma experienced by victims of sexual harassment. She has noticed a significant increase in the number of self-defense classes available over the past three years. "Many people have told us that they feel safer, more confident, and more intimidating to harassers after taking self-defense," Chiao said.
Later this summer, Harassmap will work with Lina Khalifeh, the founder of a group called SheFighter to organize a public women's self-defense seminar in Cairo. SheFighter is based in Jordan and is the only women's self-defense studio in the Middle East designed for women, by women. Khalifeh founded the organization when she found out that her friend was beaten almost daily by her brother and father, who then confiscated her paycheck. "Arab women face many challenges every day. Men often have a controlling attitude towards women sharing their opinions or even starting their own businesses," Khalifeh says. SheFighter's main goal is to empower women through self-defense skills. Khalifeh has received many emails requesting she open a SheFighter branch in Egypt, as Egyptian women are increasingly eager to acquire these skills.
Researchers in the United States who have studied the psychological effects of self-defense training found that it does tend to empower women. In a review of twenty such quantitative studies, Leanne R. Brecklin of the Department of Criminal Justice at the University of Illinois concludes that self-defense training needs to become a priority of the anti-rape movement in the United States. "Self-defense training can provide an alternative view of women as independent, strong, and capable and may undermine violence against women and gender inequality," she argues . In addition to enhancing rape prevention strategies, self-defense training also provides women with many physical and psychological benefits, such as increased self-esteem, confidence, perceived control, and assertiveness.
***
Rampant sexual harassment is a relatively new phenomenon in Egypt. In the 1960s, women would wear short sleeves and skirts without fear. But today, high unemployment has created a surplus of men without an income with which to purchase an apartment, furnishings, and jewelry -- items necessary to marry in Egyptian culture. Because they are marrying later, many men claim they are sexually frustrated and easily aroused by women's immodest dress.
Many Islamic scholars say these are nothing more than excuses. In an article titled "It's the harasser who's responsible for harassment in Islamic Law," Sheikh Musa Furber explains that people who have embraced the belief that women are at fault in harassment cases are violating Islam's jurisprudence: "Indeed, a man who is even leering at a woman, without touching her, is guilty of a sin, regardless of how she may or may not be dressed...Provocation is not an excuse for shirking one's responsibilities and denigrating another human being's dignity. Even if a woman were to go naked in public, demand men on the street grope her body, and threaten them with death should they fail to comply, it would be prohibited for any male to do so."
Although Islamic law is clear on this point, fear of harassment is a fact of life for women in Egypt, even those whose dress adheres to Islam's standards of modesty. Activists acknowledge that the root of the problem is not deficient policy, as sexual harassment and assault are technically illegal. Rather, the issue lies with prevailing social norms that subjugate women and stigmatize those who speak out. For years, human rights and feminist organizations in Egypt have been confronting these norms with social and political activism, yet the situation has worsened.
Full report at:
http://www.theatlantic.com/international/archive/2013/05/in-egypt-some-women-fight-sexual-harassment-with-karate-chops/275642/
------------
Al-Yamamah University Launches Website for Women
RIYADH: SHAHZEEN ERAM
Thursday 9 May 2013
Al-Yamamah University has launched the website www.theshiftsa.com, which is a freelancers' business portal, in the display area of the women's campus.
It has been named The Shift, as it aspires to shift people from "non-working units" to "productive units" and also because it promotes the idea of working in shifts according to convenience.
The Shift aims to give people a chance to use the portal to showcase and promote their business ideas. It also aims to provide a platform for Saudi youth, especially women, to use their talent for productive purposes.
Huda Al-Jeraisy of the Ministry of Higher Education, who was guest of honor on the occasion, said that she was proud of the students for launching the website to serve society. She shared her business experience and how she got success even though suffering from poliovirus.
Maha Taiba said that the students are the future of the country and that they should use their energy to introduce more such productive initiatives.
Reem Omar bin Saddik, head of the Internet business course at the faculty of business administration, said, "Students have come up with a brilliant project. I encouraged students to be motivated to embark on the project not only for their grades but for introducing something that of use to society."
Full report at:
http://www.arabnews.com/news/450955
------------
URL: https://newageislam.com/islam-women-feminism/white-house-racism-seema-jilani/d/11479