New Age Islam News Bureau
20 Apr 2014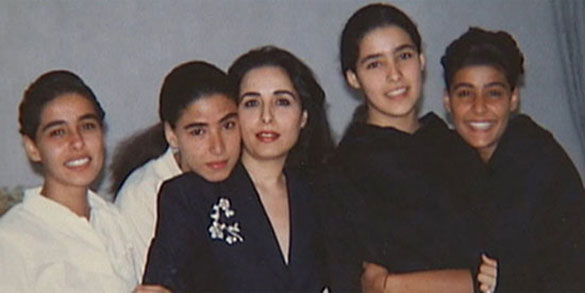 Kings Family: Maha, Hala, mom Alanoud Al Fayez, Sahar and Jawaher in the 1980s
------------
• Campaigners Warn Of 'Breast Ironing' In the UK
• Female Orphans Studying Abroad Not Exempt From 'Mahram' Rule
• Qatif Woman Penalized for Driving Husband's Car
• In Pakistan, Feeling Free To Leave the Burqa Behind
• Female candidates fight for rights in Iraq campaign
• Many Qataris Frown on Marrying Foreigners
• 14 More Nigeria School Girls Escape Militants: Official
• Turkish Women Form 'Only A Quarter' Of Work Force
• Child Marriage and Domestic Violence A Curse For Afghan Society
• Women Need To Be Aware Of Basic Laws
• Rate of Christian Girls Abducted and Attacked By Extremists on the Rise in Egypt
• President Hassan Rouhani: Women Are Not Second Class Citizens
• KP Still Unwilling to Allow Launch of Malala's Book
Compiled by New Age Islam News Bureau
URL: https://newageislam.com/islam-women-feminism/'we-hostages'-saudi-princess-reveals/d/66645
------------
'We Are Hostages': A Saudi Princess Reveals Her Life of Hell
Apr 20, 2014
It was a life out of a fairy tale — until it became one they couldn't escape.
Sahar, Maha, Hala and Jawaher Al Saud are daughters of King Abdullah bin Abdulaziz, the Saudi Arabian monarch who is worth an estimated $15 billion.
With such riches, the sisters, when younger, would take ski trips to luxurious resorts in Europe and go on endless shopping sprees, buying silk robes and jasmine oil, while their doting father bought them parures — matching jewelry sets — topped with jewel-encrusted tiaras.
The women roamed elegant tents, filled with fresh fruits and treats, on an 85-acre, $740 million compound that included a helipad emblazoned with the king's initials.
Each of them desired a normal, albeit privileged life: To study abroad, travel the world, and eventually marry and have children.
Now they are prisoners.
Not only has the 89-year-old king forbidden any man to seek his daughters' hands in marriage, he's confined them, against their will, in separate dark and suffocating quarters at his palace.
The king's eldest daughter, 42-year-old Sahar, spoke with The Post in a rare and surreptitious phone call.
"We are cut off and isolated and alone," she says. "We are hostages. No one can come see us, and we can't go see anyone. Our father is responsible and his sons, our half-brothers, are both culprits in this tragedy."
Why are the princesses being held captive?
Because they believe women in Saudi Arabia, one of the most oppressive Islamic nations in the world, should be free. Their mother, Alanoud Al Fayez, long ago fled to London.
When the sisters openly spoke in opposition to women being illegally detained and placed in mental wards, the king had enough and no longer considered them his daughters.
"That was it for him. It was the end for us," Sahar says.
"They once had a normal life for Saudi Arabia, but they are free thinkers, and their father hates that," mom Al Fayez says. "They are compassionate about the plight of women in Saudi Arabia and throughout the Arab world. The injustices that we see are terrible, and someone must say something."
Punished for having daughters
Al Fayez, a descendant of a well-to-do Jordanian family, recalls the first time she saw Abdullah. It was 1972. She was 15, he was 48, and she was told that he would be her husband.
"I was being given to him in marriage," she says. "It was arranged."
Despite the riches and the servants and the pampering, life quickly became "monotonous," she says. Almost immediately, she got pregnant.
"After I was forced to marry him, Abdullah would come to my room as a visitor for a few hours every now and then," Al Fayez says. "And then he'd go to his other wives, so you don't even fight, you don't even matter."
Within four years of the wedding, Al Fayez had given birth to four girls. This was unacceptable: She was, in the king's eyes, incapable of producing a son, and so she was worthless.
Abdullah, who has had 30 wives and fathered more than 40 children, finally divorced Al Fayez sometime in the 1980s — but she didn't find out until two years later, through an intermediary. In Saudi Arabia, a husband can divorce his wife without her knowledge.
"Really, he had divorced me a number of times and he'd abuse me, beat me and had me beaten by guards," Al Fayez says. "And the more I took the abuse, the more I was abused."
"The last straw, if you want to call it a last straw, really was that when my daughters got real sick, they wouldn't let me supervise their care or participate in soothing them in any way.
"So that sparked my desire to break away and get to the West and tell the world about the abuses of women in Saudi Arabia."
When it comes to the rights of women, Saudi Arabia has one of the worst human-rights records in the world. Women don't have a say in raising their children. They can't go to school, travel, open a bank account, conduct any kind of business or get medical treatment — especially gynaecological surgery — without male permission.
In public, everything except the eyes and the hands must be covered, and the slightest infraction can result in a death sentence.
With the help of one of Abdullah's security guards, Al Fayez fled the compound in the dark of night to Jeddah airport, where, with the help of a women's rights group, she eventually flew to London.
It was an agonizing decision. Al Fayez says she would have fled with her daughters, but Abdullah had already confiscated the women's passports and separated them from Al Fayez.
She also said she thought he'd eventually release them to spare the embarrassment of Al Fayez going public with her charges. At the very least, she thought their lives would be better than hers — that he would not mistreat his own children.
"Leaving my daughters was very difficult, but I never thought they'd be subjected to this," she says. "After all, they are [the king's] daughters too."
Prisoners in his home
Al Fayez was wrong.
In 2002, less than one year after her escape, Abdullah began tormenting his daughters. They are in intermittent phone contact with their mother and have told her that he's drugged their food and water to keep them docile.
"They had felt some oppression before I left, but when he found that I had gone, he vowed that he would kill the girls, slowly," Al Fayez says. "At one point, he tried to get me to come back, saying that he would take away the divorce and release them, but that wasn't true and I know that I couldn't do it. I couldn't trust that."
It was then, about 2005, that she first began to fear for her daughters' safety, she said. "That's when I thought, now he'd do anything, even punish them till they die, which is exactly what he's trying to do now."
The king locked Sahar and the youngest, Jawaher, now 38, in one area of the palace, while confining Mahar, 41, and Hala, 39, to yet another closet-sized and unkempt room.
Doctors aren't even allowed in for checkups.
"The rooms they are locked in are so hot, they wilt from the desert heat," Al Fayez says. They suffer from dehydration, nausea and heat stroke.
Her daughter, Sahar, says the king is starving them all to death. They haven't had a full meal in more than a month, she says, and are forced to eat canned goods that they pry open with nail files.
"We are not angels dropped from the sky as a gift to our father," Sahar says, "but I assure you that we didn't commit a crime or do anything to deserve this."
Power, running water and electricity are shut on and off at random, sometimes days or even weeks at a time. Their rooms are overrun with bugs and rodents.
"Our energy is quite low, and we're trying our best to survive," Sahar says. Their "gilded cage" is only gilded on the outside. "We live amid ruins. You hear 'palace,' but we don't feel like we're in a palace at all."
An official at the Saudi embassy in London tells The Post that the women are free to move about, but because they are royalty they must be accompanied by armed security guards.
Al Fayez says that's a lie.
"That place was once a home," she says. "Now it's a cage . . . The king wants them dead and he wants them to die in front of the world, yet he will deny any of this ever happened."
All four women are routinely tortured, sometimes by their own relatives.
"They come in, the men, our own half-brothers, and they beat us with sticks," Sahar says. "They yell at us and tell us we will die here."
Marriage isn't an escape
Each daughter, says their mother, once dreamt of marrying a prince. But with no chance to meet men on their own, and with their father indifferent, they remained single.
"He won't let anyone take them in marriage, and he's threatened to kill anyone who would ask," Al Fayez says. "It's about psychological warfare and breaking them down."
Al Fayez said she feels every bit of her daughters' pain, yet she tries to remind herself of how strong and special each of her girls are.
"Sahar is very bright and has always made us laugh. She's the eldest, and she's an artist and a free-thinker," Al Fayez says.
"Maha is sensitive but has a penchant for business and politics. Hala is compassionate and brilliant; she majored in psychology and graduated at the top of her class. She loves to play the piano and compose music. Jawaher, my youngest, is very similar in character to Maha. She also loves music and hopes to earn a degree in sound engineering."
Her daughters, she says, have much to offer. She says she taught each of her them to be strong, to stand up to their powerful father, and now that has backfired.
"My children have been living in agony," Al Fayez says, "And this is far too great to bear. They are wasting away."
Curiously, Abdullah has other daughters from other wives who are treated far, far better.
Princess Adila, for example, is married to a well-to-do Saudi businessman; she often speaks on behalf of her father. Abdullah appointed another daughter, Aliya, to the lead post in a Jeddah social-service program.
Princess Maryam, says Al Fayez, "is a doctor in Europe and she stays away." The king's youngest daughter, Sahab, 21, was given in marriage to Bahraini King Hamad bin Isa Al Khalifa in 2011.
Why are these four different?
"His hatred stems from their outspokenness," Al Fayez says. "But from the beginning, even when he paid attention to them, he was angry that I didn't give him sons. The fact that they are like me bothered him."
Al Fayez says she's had little help in trying to secure her daughters' release. She's hired British and American lawyers, but Abdullah has refused to be questioned.
"We know that the daughters have gone for 30 days without any food or water," says Ali Al-Ahmed, the director of the human-rights group Institute for Gulf Affairs and a former Saudi political prisoner himself.
"They've been resourceful, putting away a little food here and there," he says. "They are in survival mode."
Sahar tells The Post that she's constantly threatened by her father and has been told that death is the only way out.
"My father said that after his death, our brothers would continue to detain us and abuse us," she says.
Al Fayez is frantic. Time, she says, is running out.
"My daughters want the right to see their mother, and I want to see my daughters," Al Fayez says. "They are just trying to hold onto their sanity.
They are suffering . . . with no hope for salvation."
http://nypost.com/2014/04/19/a-saudi-arabian-princess-reveals-her-life-of-hell/
-----------
Campaigners Warn Of 'Breast Ironing' In the UK
Apr 20, 2014
While attention is finally turning to FGM, campaigners warn that breast ironing, which involves placing hot objects on girls' chests, is also happening in the UK. Channel 4 News speaks to one victim.
Breast ironing is a hidden form of abuse where young girls have their chests pressed with hot objects to disguise the onset of puberty and deter male attention. The idea driving this mutilation is that it could prevent pregnancy and rape, and is a practice rooted in Cameroon, often carried out by mothers.
But charities and victims have told Channel 4 News that breast ironing is happening here in the UK, among the West African diaspora and they say the UK authorities need to take action.
One victim, who does not want to be named, described to Channel 4 News how she was subjected to the custom as a young girl in Cameroon. "Carine", not her real name, showed us scars on her breasts - one was significantly smaller than the other. But she says the greatest damage done to her self-esteem.
"I remember my dad kept going on and on about the fact my breasts were coming out: 'men are going to be looking at her,' and my mum thought it's time for us to do it," she said.
"They put the spatula on the fire... It's like warm and you feel - it's like body temperature, but a little bit warmer. You put it on the breast."
While widespread in Cameroon, similar customs have been documented in Togo, Republic of Guinea, South Africa and Côte d'Ivoire. The UN estimates that some 3.8 million teenagers are affected.
It exposes girls to many health problems including tissue damage and cysts. It can even cause one or both breasts to disappear.
Dr Sian Morgan, a community paediatrician in Lewisham, has organised training around breast ironing for health professionals. She told Channel 4 News that she knows one doctor in London who has already seen a victim of the practice.
The charity, CAME Women's and Girl's Development Organisation (Cawogido) is working in Cameroon and the UK to tackle the issue of breast ironing.
The co-founder, Margaret Nyuydzewira, says that the authorities need to take action and work faster than they have in stopping female genital mutilation in the UK.
Extent of practice unknown
There have been no prosecutions related to breast ironing and there are no figures available for the number of teenage girls who might be affected. It is also unclear what might motivate people to practice it here in the UK. One FGM campaigner told me she thought it is more likely to be connected to wider ritualistic abuse, rather than the fear of unwanted male attention driving it in Cameroon.
However, The Association of Chief Police Officers (Acpo) says that they too are concerned and are working with communities to encourage people to come forward to report the crime. Acpo's Commander Mark Chisty told Channel 4 News:
"Breast ironing is something that we are acutely aware of, sensitive to, and it's something that we're working with communities to make sure, A - we educate it, but B - there's also a very hard message that we will prosecute people who attempt to do it."
http://www.channel4.com/news/breast-ironing-fgm-victim-girls-chest-cameroon-uk
------------
Female Orphans Studying Abroad Not Exempt From 'Mahram' Rule
Apr 20, 2014
Latifa bint Sulaiman Abu Nayan, assistant undersecretary for family affairs at the Ministry of Social Affairs, has recently announced that orphan female students are not exempt from the need to have a male guardian (Mahram) accompany them on scholarships abroad.
She noted that a number of orphan female students are currently studying abroad, accompanied by their adoptive families or husbands.
The assistant undersecretary's statements came on the sideline of the first forum for university girl students lodging in the ministry's social care institutions.
She explained that Saudi social norms and traditions apply to orphan girls, as they are applied on the rest of society. She pointed out that in some exceptional cases, women supervisors are sent as escorting guardians with the orphaned female students.
"Orphan female students are educated either on scholarships at public universities or in private universities at the ministry's expense," said Abu Nayan, adding, "We also give them priority in terms of employment, with the assistance of the Civil Service Ministry."
She said the proportion of orphan girls who acquired university degrees during the past ten years has increased, while thousands have graduated and entered the job market and risen to prominent positions.
She noted there are defined mechanisms to unify social services at the GCC countries through social programs.
"The Kingdom has taken great strides in the social programs it offers citizens, a number of countries are seeking to replicate the Saudi model for orphans and individuals with special needs," she said.
Abu Nayan said the ministry is considering a project to turn orphans' shelters to villas and residential apartments across the Kingdom.
She also noted that procedures have been facilitated for orphan girls to obtain personal identification cards and passports, with the help of their adoptive families.
She assured that the monthly financial subsides offered to orphans will continue, in addition to a sum of SR3,000 provided by the social insurance. The ministry, she added, is developing new programs to further assist orphans.
Regarding the issue of violence orphans are subjected to in shelters and foster families, Abu Nayan assured that such cases would be dealt with decisively.
http://www.arabnews.com/news/557916
------------
Qatif Woman Penalized for Driving Husband's Car
Apr 20, 2014
QATIF – The Traffic Department in the Qatif governorate fined a 28-year-old Saudi national SR900 and impounded his vehicle for seven days after he allowed his wife to drive his car, Alsharq daily said Saturday.
Security patrols caught the woman driving along Al-Nassirah Corniche in Al-Shubaili district of Qatif Thursday evening.
Informed sources said the woman, aged 23, was also penalized for driving her husband's 2004 model Honda Accord.
The couple had to sign an undertaking that they would not repeat the offense before they were released on bail. A traffic violation was registered against the woman for driving without a license.
http://www.saudigazette.com.sa/index.cfm?method=home.regcon&contentid=20140420202478
------------
In Pakistan, Feeling Free To Leave the Burqa Behind
Apr 20, 2014
Sahar Majid
As soon as I stepped out of my house in Karachi and started to walk toward the bus stop, I felt something weird. People seemed to be taking notice of me more than usual, staring at me as if I were a new person in town. "Something is definitely wrong," I thought.
When I boarded the bus - in the women's compartment - my Burqa-clad sisters began to look at me in an offensive way, making me feel more uncomfortable. Finally, a middle-aged woman whose patience had clearly run out asked me sarcastically, "My child, are you a Muslim?"
I said, "Yes, I am. Why?"
She pointed at my skin-tight jeans and above-the-knee tunic, and at the thin scarf I had wrapped around my neck. "Look at all the girls and women in the bus," she said. "All of them are wearing Hijab or long veils . . . their heads are covered."
Of course. My Western attire was the reason everyone was staring at me.
I was stunned, as well as annoyed. "Who is she to comment on what I should wear?" I thought. That first day when I changed the way I dressed was tough for me. That woman wasn't the only one who commented. I heard such remarks from many people while travelling on public transport, walking through town, or shopping in local markets. After a few days, I even became accustomed to those critical eyes and annoying comments.
It's difficult for a woman to go against the norms in an Islamic country like Pakistan. Wearing Western clothes in public is one way to raise people's ire, but there are many other things for which a woman faces criticism, discrimination, and, in some cases, physical abuse.
Honor killings and domestic violence are some of the most horrific and shameful examples of physical abuse. Men beat the women in their families in the name of Sharia law and justify it by saying that they must learn to obey. However, Islam never favours such inhuman behaviour from its followers. Yet it continues. From January 2012 to September 2013, according to a recent report to parliament by the Ministry of Law, Justice, and Human Rights, there were 860 honor killings (mostly of women), 481 incidents of domestic violence, 90 cases of acid burning, 344 cases of rape/gang rape, and 268 incidents of sexual assault/harassment.
Two years ago I wore traditional Pakistani clothes (Shalwar-Quameez and Dupatta), not because I was a typical Muslim, but because I was slightly overweight and didn't want to look funny in skinny jeans. But even then I didn't cover my head. After I joined a gym and mastered the art of hunger management, I reached my desired weight and began to wear what I always wanted to.
I'm not the only woman in Pakistan who wears Western clothes. Among the elite class of Pakistan, it's common. But members of the upper class in big and modern cities like Karachi, Lahore, and Islamabad don't use public transportation, and they are never seen walking on the roads. So they don't have to face the same criticism as those who can't afford their own conveyance.
The root of my problem that first day on the bus was twofold: I was not only going against the norms of being a woman in Pakistan, but of a middle-income woman, as well. These are things that many people cannot accept, but I was raised to be independent and think for myself.
My father was a progressive person who belonged to the Communist Party in India before he migrated to Pakistan in 1971. His father died six months after my father's birth, so my grandmother supported her family as a seamstress, working from her home. She worked hard to provide my father and his sisters with a good life and an education. When they were older, my aunts worked, too, following their mother's example. One of them taught in a school. My father, then, did not grow up in a traditional household. When it was his turn to be a parent, and he and my mother had two daughters, he never regretted not having a boy, as many men in the subcontinent would. He granted my sister and me privileges normally reserved for sons: We could work late, join our friends in school or college for picnics, and make important decisions about our life on our own. My mother also supported and encouraged us, fighting the traditions of society that prevent girls from being successful.
The sense of empowerment and independence our parents instilled in us became even more important after my father's death in 2008. Today, we are an all-female household, an unbearable thought for many in Pakistan. My mother and I, as well as my sister - who is divorced - and her two daughters, ages 5 and 3, live together. Our society believes that a male presence is a must in a family and that only a man can protect a woman. But it is my mother who looks after us, and I am financially responsible for my family. We don't feel insecure at all. Yet there are always those who are prepared to make us feel otherwise.
I work late at night in the newsroom of my publication, often not returning home until 2 a.m. That alone is another matter of concern for many people. I don't have to ride the bus home, because my office provides me with a transport service at night. Some of my neighbours can't stop themselves from staring at me when I step out of the van. They even try to get a close look at the driver. There are different ones, depending who is on duty that night, which gives my dear neighbours the impression that I am coming home with a different man each night. This behaviour drives me mad sometimes. It doesn't hurt me, but I feel bad for the daughters and sisters in these families. They will never become independent while surrounded by this mentality.
Being myself is my right. Living the life I want is my right. No matter what my religion or nationality, neither society nor the so-called religious police in my homeland are permitted to judge the way I dress, the hours I work, or the way I live.
Allah sent me in this world as a free individual. Only He has the power to decide if I am right or wrong.
http://www.philly.com/philly/opinion/20140420_In_Pakistan__feeling_free_to_leave_the_burqa_behind.html#gbMlz7ir5SLEoTo5.99
-----------
Female candidates fight for rights in Iraq campaign
2014-04-20
With fears that women's rights are being eroded in Iraq, prospective female lawmakers are determined to push women's issues to the fore of campaigning for this month's elections.
Despite a constitutional requirement that a quarter of all MPs be women, Iraq lags on key indicators such as female employment and literacy, while a recent bill submitted to the parliament threatens to curtail dramatically curtails women's rights.
Also at issue ahead of April 30 elections are high levels of violence against women, discrimination at the workplace, and poor school attendance.
"I did not expect that we will fight for women's rights in this country," said Inam Abdul Majed, a television news presenter and an election hopeful running in Baghdad.
"I wanted to fight for better education, better services, better life conditions... But we are in this big trouble now, and it is a primary problem to be solved."
Decades ago, Iraq was seen as the most progressive country in the Middle East for women, but now-executed dictator Saddam Hussein rolled back many of those advances in the 1990s, and the rampant bloodshed that followed his ouster in 2003 has led to further restrictions.
Now, more than a quarter of women over the age of 12 are illiterate and only 85 girls attend secondary school for every 100 boys, according to a May 2013 U.N. fact sheet.
Among the most troubling indicators is the fact that only 14 percent of Iraqi women are either working or actively seeking employment.
"It's a serious issue, because it affects women's financial independence and, without financial independence, women have very few choices in their lives," said Frances Guy, the Iraq representative for U.N. Women.
According to analysts and would-be lawmakers, the near-daily violence that plagues much of Iraq is largely to blame, but other key factors such as domestic abuse, workplace discrimination and problems with the education system are also crucial.
More than half of women aged 15-49 believe that a husband has the right to hit his wife in certain instances, but violence against women also occurs at markets, on the street and while using transportation.
Key to changing the situation, UN Women notes, is altering male perceptions in a country where nearly half believe they are justified in preventing their wives from working, and around half say they have a right to beat their wives in some circumstances.
Elections overshadowed by Jaafari bill
Potentially making matters worse is a bill before parliament that regulates personal status among Iraq's majority Shiite community, which critics say would mark a dramatic step backward for women's rights.
The potential law - which analysts have dismissed as politicking ahead of elections - would allow girls to marry after the age of nine and require a wife to have sex with her husband whenever he demands it, along with a litany of other restrictions.
In an effort to ensure women receive a guaranteed level of representation in parliament, Iraq's constitution requires that a quarter of all lawmakers be female.
No such requirement is enforced on the government, however, and all of Iraq's 31 cabinet-level positions are held by men, with the sole exception of the minister of state for women's affairs.
The number of women cabinet members has declined from previous governments, according to Intisar al-Juburi, a female lawmaker from the northern province of Nineveh.
"If we look at election programmes put forward by the parties and political blocs, we see that they have focused on women's rights," she said.
"But when male MPs win a seat in the election, they forget about women or their programme for women."
At a recent forum debating women's issues ahead of the election, hosted by outgoing MP Safia al-Suhail, several speakers criticised the performance of female lawmakers and suggested that the parliamentary quota is having a negative impact by pushing unqualified politicians into positions of power.
Most, however, noted that it remained necessary in what is still a male-dominated society. "Although the quota has many negative sides to it ... it is more positive than negative," said Maysoon al-Damaluji, an MP from Baghdad who is campaigning for re-election.
"At least it has introduced women to political life, and made them a reality within the political life."
As for the quality of candidates, Damaluji said: "Yes ... but also, were the men as good as they should have been?"
"I think you will find that most people agree that neither men nor women were up to the responsibility."
http://www.hurriyetdailynews.com/female-candidates-fight-for-rights-in-iraq-campaign.aspx?pageID=238&nID=65281&NewsCatID=352
--------------
Many Qataris Frown on Marrying Foreigners
Apr 20, 2014
Instances of Qatari men marrying foreigners have once again brought to the fore the debate about the effect of such marriages on families.
Many Qatari nationals believe that such marriages reduce marriage prospects for Qatari women and even lead to social problems for the children of such couples. Others argue that nationality should not be taken into consideration for marriage.
Many reasons are cited for Qatari men marrying foreigners. These include the "restrictive" traditional way of choosing a bride, the expenditure involved in giving 'mehar,' and the difficulty of finding a bride. Others say Qatari men marry a foreigner as their second wife because Qatari women don't like to be in that position.
The issue has been widely debated in the social media and other platforms by citizens.
The debate is going on against the backdrop of the fact that Qatari women, who once used to get married in their teens, are now putting off marriage to their late 20s or early 30s to focus on education or pursue a career, as a study has found.
Only one percent of Qatari women now marry between 15 and 19 years of age. At the same time, figures from the Ministry of Development Planning and Statistics say that 66 of the 106 husbands who got divorced in January 2014 were Qataris. The number of Qatari wives who got divorced that month was 56, as against 50 non-Qatari wives. A total of 341 marriages were registered in January.
Children of Qatari men married to foreign women get Qatari citizenship and the benefits that come with it, but children of Qatari women married to foreigners do not.
Qatari columnist Faizal Al Marzouqi wrote in a recent article that he was shocked when one of his friends decided to marry a lady from a South Asian country.
"I didn't discuss the reasons behind the marriage or insist that he marry a Qatari, but what came to my mind was the future of the children," wrote Al Marzouqi.
He argues that Qatari society is not yet ready to accept children of foreign mothers, whose appearance would be different from that of most Qataris.
"Taking into consideration the fact that our society is not yet mixed like others, we still think about skin colour, hair.… It will affect the children's psychology and they will feel that they are discriminated against and will hate society," says Al Marzouqi.
He has urged Qatari men to marry Qatari women, saying: "Your fellow Qatari girls are the best and most beautiful and suitable for you. And don't let your children hate you when they differ from the society they live in."
Several others have expressed their opinions on Twitter and Qatari social media in favour of or against Qatari men marrying foreigners. Some have also said that children of Qatari women married to foreigners should be given citizenship.
"There are many reasons behind Qatari men marrying foreigners, including the high expenses on 'Mehar', living standards, accommodation and marriage requirements, and the marriage becomes a kind of competition. But when it comes to marriage with a non-Qatari, the expenses are less," said a commentator on a popular Qatari social media.
Another said, "When a man thinks of marrying a Qatari girl, the first thing that comes to his mind is money, to get a loan and spend long years repaying it."
Also, some claim that Qatari men marry foreigners only as their second wives.
"Many people (Qatari) marry a foreigner as their second wife. Anyhow, marrying a foreigner has positive and negative aspects. But Islam never mentions tribe or nationality regarding marriage," said a commentator.
"Some men want to marry a second time, but Qatari women don't like to be the second wife," said another commentator.
Yet another said, "Marrying a foreigner is better than having an illegitimate relationship."
Some claim that the traditional method of finding a bride in Qatari society is among the reasons for men preferring a foreign bride.
"It's better to get married to a Qatari woman. But sometimes there are too many restrictions. It's easy to see foreigners, talk to them and get to know them. It's easier than with a Qatari girl. In this case, the husband and wife come to know each other. Lack of understanding before marriage is one of the negative aspects leading to divorce," said a commentator.
Some say the reasons behind Qatari men marrying foreigners should be considered seriously.
"People should really understand the reasons behind Qataris marrying foreigners," urged a commentator.
Some are of the opinion that children of Qatari women who marry foreigners should be given citizenship rights.
"I hope the doors open for Qatari women to marry GCC nationals or others. Their children should be given citizenship and all privileges," said a commentator.
However, many strongly reject this and argue that Qatari men marrying foreigners can have negative consequences for society.
"Some children are being insulted due to the origin of their father or mother," said a commentator on Twitter.
"Not all families ask for too much money and because of money if they marry foreigners, who will marry Qatari girls?" asked a commentator on social media.
"Look at our homes: there are many who have passed the age of marriage," he said.
"The minimum cost of a simple marriage in Qatar is QR400, 000. This is my experience with my brother's marriage, so why should someone take a loan for a marriage," read another comment.
"Who said it's less expensive to marry foreigner? One will have to spend his whole life for the foreigner and her family for travelling and others expenses," argued a commentator.
"People have the right to take a decision on their lives but it shouldn't affect their children in future," said another comment.
Law number 21 of 1989 regulates the marriage of Qataris to foreigners. According to the law, a committee, now led by Abdul Al Maal as chairman and with members from different government institutes and ministries, including the Ministry of Awqaf, receives applications for such marriages. It examines them and gives its recommendation to the Ministry of Interior. The final decision is taken by the Minister of Interior.
"The problem of Qataris marrying foreigners became an issue after people started travelling to foreign countries. Then a law was introduced to address the problem in 1989," said a senior Qatari lawyer, Muhsin Ziab Al Suwaidi.
"This law doesn't prevent anyone from marrying a foreigner, but it regulates and helps to maintain the Qatari family fabric as a core of the Qatari society," he added.
The Qatar government has asked all Arab and Muslim countries not to give their citizens to Qataris in marriage without government approval.
Children of Qatari men who marry a foreigner without permission from the government do not get Qatari citizenship. Also, in such cases the foreign wife will not get a residence permit in Qatar.
Some issues are taken into consideration when the ministry grants permission for a Qatari man to marry a foreigner, said Al Suwaidi.
He said the bridegroom should be above a certain age, shouldn't have more than one wife, and shouldn't be involved in any crime or immoral activity.
However, the law makes an exception for those wanting to marry someone from another GCC country.
Applications of people with special needs are usually accepted as finding a life partner is difficult for them. Also, Qatari men are granted permission to marry relatives in other countries, according to Al Suwaidi.
But getting government approval to marry a foreigner is not easy for others.
"Qatari law restricts marrying foreigners by making it mandatory to get approval from a special committee and have it signed by the Ministry of Interior. It may take years to complete this procedure and one of my friends waited for four years," said a commentator on social media.
http://thepeninsulaqatar.com/news/qatar/280351/many-qataris-frown-on-marrying-foreigners
------------
14 More Nigeria Schoolgirls Escape Militants: Official
Apr 20, 2014
MAIDUGURI: Another 14 Nigerian schoolgirls kidnapped by Boko Haram militants in the northeast have escaped, leaving 85 missing on Saturday after an attack that has sparked global outrage, an official said.
The unprecedented mass abduction of 129 teenage girls from the Chibok area of Borno state has been described as among the most shocking ever by Boko Haram, a group blamed for killing thousands since 2009.
"I am glad to say that 14 more students have escaped from their abductors," Borno's education commissioner Inua Kubo told journalists.
"With this development, we have 44 out of our 129 students."
It was not immediately clear how this latest group managed to flee, although Kubo said 11 had been found after running to a town on the Damboa road which connects Chibok to Borno's capital Maiduguri.
They have since been sent to their family villages, while the three others had returned to their school in Chibok and were being cared for there, he said.
"We are hopefully expecting the return of our 85 students as intensive search and rescue efforts continue," Kubo said.
Some of the girls who escaped within a day of the April 15 attack said the militants had taken the hostages to the Sambisa Forest area of Borno state, where Boko Haram is known to have well-fortified camps.
The military said it had launched a major search and rescue operation, but some in the region say they have lost confidence in the security forces after the defence ministry issued an erroneous report claiming that most of the girls were safe.
That statement, issued late Wednesday, said all but eight of those abducted were free, but defence spokesperson Chris Olukolade was forced to withdraw the report on Friday after it turned out to be inaccurate.
Boko Haram, whose name loosely translates as "Western education is forbidden", has repeatedly attacked schools during its five-year uprising.
The attack on the girls' school came just hours a bomb blast at packed bus station on the outskirts of Abuja killed 75 people, the deadliest attack ever in the capital.
President Goodluck Jonathan held an emergency meeting with his national security council on April 17 to review the latest unrest, with another meeting set for next week.
http://tribune.com.pk/story/697706/14-more-nigeria-schoolgirls-escape-militants-official/
------------
Turkish Women Form 'Only A Quarter' Of Work Force
Apr 20, 2014
Turkish women constitute only a quarter of the country's 27 million-strong working population, new figures have shown, prompting calls for a change in social attitudes.
According to a nationwide report released in Istanbul, just over 25 percent of the workforce is female and many women have experienced discrimination and unfair treatment compared to male colleagues.
The findings are based on a survey conducted across Turkey by POLLMARK and published by the Women and Democracy Association, an NGO based in Istanbul.
The report, entitled "Insight into the Socioeconomic, Political and Cultural Situation of Women in Turkey," has led some female campaigners to criticize existing attitudes in Turkey toward women in the workplace.
A founding member of the Intellectual Perspective Association, Sema Gül, said the problem was not only the poor status of working women but the domestic values Turkish society demands of women.
"The perspective toward women in society should be changed. Their value at home, school, the political area and daily life should be enhanced," she said.
With the report finding that an overwhelming majority of women – almost 90 percent – are employed in the private sector, the president of the Woman Entrepreneurs' Association of Turkey said the rate of working women in Turkey was too low, declaring it a loss for the Turkish economy.
"It means we are not making use of the female workforce in Turkey. Only 7 million women work in Turkey. There are many reasons behind this low rate; women are not encouraged or helped to participate in working life," Gülden Türktan said.
"The Turkish government should help to pay for childcare for working women" she added. The Family and Social Policy Ministry was unavailable for comment.
The report, which surveyed over 5,000 women across 13 regions, also examined women's attitude toward marriage and divorce, education, and political and religious views.
http://www.hurriyetdailynews.com/turkish-women-form-only-a-quarter-of-workforce.aspx?pageID=238&nID=65262&NewsCatID=347
------------
Child Marriage and Domestic Violence A curse For Afghan Society
Apr 20, 2014
The rights of women and girls, including freedom from child marriage and domestic violence, have generated emotionally charged debates in Afghanistan over the past decade. Such debates often focus on personal opinions and experiences, or on the varied interpretations of religious teachings on marriage. But not much has been achieved on the ground regarding these issues. Child marriages still remain common phenomena in Afghan society. According to the recent Afghan Ministry of Public Health's Mortality Survey, conducted in all 34 provinces of Afghanistan including a nationally representative sample of 24,032 households, 53% of all women in the 25-49 age group were married by age 18, and 21% of the women were married by age 15. A 2012 global study by the United Nations Population Fund put Afghanistan among 41 countries in the world that reported 30% or more of its women in the 20-24 age group married by age 18. Child marriages expose girls to early pregnancy and childbirth, which entail significant risk of damaging health consequences for girls and their children. Afghanistan has one of the highest levels of maternal deaths in the world. The World Health Organization and other UN agencies estimate that at 460 pregnancy-related deaths for every 100,000 births Afghanistan has the second highest level of maternal deaths outside sub- Saharan Africa. The recent Afghanistan Mortality Survey found that of every five Afghan women who died in their reproductive years, two deaths were pregnancy-related. One Afghan woman will die every two hours from pregnancy-related causes and one in every 50 Afghan women will die because of pregnancy. The study also found that adolescent pregnancy and motherhood pose serious health concerns.
Afghanistan's minimum age of marriage for girls is 16, or 15 with the permission of the girl's father or a judge, well below the internationally recommended standard of 18. A number of countries with large Muslim populations, including some in Afghanistan's region, have taken steps to set a minimum age of marriage of at least 18, with some allowing exceptions in narrow circumstances. These include Bangladesh, India, Egypt, Iraq, Libya, Tunisia, Morocco, Jordan, Oman, Algeria, and the United Arab Emirates. Several Muslim countries had even done so before UN bodies had called for an 18 minimum age for marriage. Afghanistan is a member of the Organization of Islamic Cooperation (OIC), which in 2008 adopted the Plan of Action for the Advancement of Women. The Plan of Action stresses the importance of special legislation to ensure effective participation by women in all fields of life. It calls for the elimination of all forms of discrimination against women, including preventing early and forced marriages by all possible means. And it recognizes that early and forced marriages are an impediment to improving the health, education, political participation, social justice, and well-being of women. It's a proven fact that the risk of domestic violence is particularly heightened in cases of child marriage. The case of Sahar Gul, an Afghan girl forcibly married in 2011 at age 13 or 14, received global attention when her in-laws were convicted for beating and torturing her after she resisted being forced into prostitution. The case returned to the news when a court threw out their 10-year sentence after just one year. Child marriage and domestic violence are related phenomena.
In Afghanistan, the threat of prosecution for the "moral crimes" of zina (sex outside of marriage) or running away pose a barrier to those seeking help for forced marriages and domestic violence. When women and girls try to leave abusive relationships or run away to escape forced marriage, their parents, brothers, fiancés, and husbands frequently accuse them of zina or running away. Male family members, knowing that their own behaviour will not be subject to legal scrutiny, can easily use such accusations as a weapon. They can accuse a woman of zina or running away, and have her arrested by authorities willing to accept the allegations at face value. Afghan judges, prosecutors, and police continue to treat running away as a crime, despite the absence of this offense in Afghan statutory law, sometimes charging it as "attempted zina." A number of studies outside Afghanistan have also shown a direct relationship between the age of marriage and domestic violence. For instance, according to the World Health Organization, women and girls especially those aged 15 to 19 years are at higher risk of physical or sexual violence by their partners.
Child marriage and domestic violence threaten the health and rights of Afghan girls and women, and puts their children's lives at risk. So integrated efforts are required from all the sections of the society to tackle this issue. Number of steps can be taken like – Reinforce and expand efforts to implement the Elimination of Violence Against Women (EVAW law), including protections against child marriage and domestic violence. Develop new initiatives to improve recruitment and retention of female police officers, and ensure that all police Family Response Units are staffed by female police officers. Set the minimum age for marriage at 18 for both girls and boys. Launch a country-wide awareness campaign about the negative impacts of child marriage including information about the risk of maternal death, fistula, and infant death or poor health. Revise Afghanistan's zina laws to harmonize them with Afghanistan's international legal obligations, and clarify through an administrative decree that running away should not be treated as a crime under Afghan law. Until Afghan law is reformed, impose an immediate moratorium on prosecutions for moral crimes.
http://www.khaama.com/child-marriage-and-domestic-violence-a-curse-for-afghan-society-6010
------------
Women Need To Be Aware Of Basic Laws
Apr 20, 2014
Female participants in a women's seminar held at Okaz Organization headquarters agreed on the importance of increasing awareness among women about their rights and their role in carrying out their duties within the sphere of Shariah. The seminar, in which a number of female academics, social activists and lawyers participated, also addressed many of the daily problems women face in the Kingdom.
Female speakers criticized both men and women; the former for misusing the guardianship law to control women and the latter for submitting to the demands of men. The seminar also dealt with the obstacles facing women in courts. They said more laws were needed to help women defend their rights and called for setting up additional women's departments that can help them prepare for court dates.
Social activist Nujood Adawi said most women are unaware of their rights and duties, and as a result, are not able to defend themselves in court. Adawi said if every woman possessed a book on alimony and custody rights, Saudi women would have made big strides in understanding many legal requirements, information and laws.
"Women lack a fundamental understanding of many of the legal procedures in the Kingdom. In the case of annulment of the marriage contract (Faskh) or getting a divorce through the court judge (Khula) she must understand that the case might be that of Faskh and not Khula. The powers granted to women are limited. She has to return to the male administration so a final decision can be issued on the matter even if it is a simple one," she said.
Adawi disclosed that every court in the country will soon have a department with female employees in which there will be consultant psychologists, legal consultants, Shariah experts and sociologists that women can consult.
Psychologist and family consultant Nawal Othman Al-Zahrani said the Kingdom's Islamic values, traditions and the authorities have protected women's rights. They have also urged people to be kind to women but the problem lies in the method in which verdicts are issued.
"I believe that the shortcoming is in women themselves. They need greater awareness because if women are not adamant and remain silent about their rights, their suffering will only increase. There needs to be greater awareness and comprehension of basic laws on the part of women who need to be stronger in their thinking. They should not imitate Western women," she said.
Nawal Bazar'ah, a training consultant, agreed with Al-Zahrani and said the Shariah has granted women full rights, but the authority that carries out court verdicts sometimes poses an obstacle for women. "This is aside from the family burdens and responsibilities that might prevent women from demanding their rights. An example is children's objection to their mother filing a lawsuit against their father in the courts. Therefore, women must have greater awareness of their rights. They should not concede their rights no matter what," she said.
Bazar'ah added: "We are not demanding excessive freedom nor are we hankering for matters like women being allowed to drive. We only demand our rights guaranteed by the Shariah. These rights are there and they should be implemented, but there is a problem in implementation. When a woman goes to court she needs to be granted her full rights."
Meanwhile, Saleha Al-Ghamdi, a media studies graduate from King Abdulaziz University, said women play an important role and there is no so-called marginalization.
"There are many decisions granting women their rights and they have a priority. Women must understand the Shariah and its meanings. They must carry out their duties before demanding their rights. It is true that we are suffering from a problem. There are no special courts for women. We have heard earlier about the formation of special courts. These courts will play an important role in helping women and men who are seeking justice. The special courts will solve many of the problems and matters will be flexible and clear if these courts get established," she said.
Female education and family consultant Aisha Adel accused women who call on others to not keep silent about their rights of encouraging rebellion against local customs and traditions. "Such calls have forced men to limit women's legal rights and some even resort to verbal and physical violence against women. The themes women spoke on have caused many family breakups," she said.
Bayan Zahran, a female lawyer and legal consultant, said the right to an education and the concept of guardianship among men were the main reasons for tensions in many households.
"Men consider guardianship to be a tool to control and hold influence over women. Men grow up without realizing that the meaning of guardianship is care. It is an assignment and not a privilege. As a result, problems occur. In many executive authorities, men dominate and women are not there in large numbers. Therefore, the services provided to women are by men. From this standpoint, women ought to be present in the judges' offices. Also, there should be a department for guidance of all kinds. It is true that there are women working in the courts, but there is no guidance or a guidebook explaining to women what they should do when they arrive in courts. Women are unaware of their rights because most are raised in an environment that prevents them from even speaking of demanding their rights."
http://www.saudigazette.com.sa/index.cfm?method=home.regcon&contentid=20140419202387
------------
Rate Of Christian Girls Abducted And Attacked By Extremists On The Rise In Egypt
Apr 20, 2014
Young Christian women are facing a greater risk of being kidnapped by extremists, tortured, and even forced to convert to Islam since the Arab Spring ended in 2011.
This year already has seen a spike in the incidents, according to a report by the non-profit advocacy group International Christian Concern. It has been estimated by the ICC and other watchdog groups in the region that there have been 500 reported cases of young women being attacked by Muslim men since 2011, but unreported cases could send the figure much higher.
The girls are often assaulted, raped, kidnapped, forced to change their faith and sometimes killed, the ICC said. Making matter worse, nothing is being done by local authorities to prevent it in provinces across Egypt, according to officials from both the ICC and the Clarion Project, a US-based non-profit think tank and advocacy group.
"Not only are they turning a blind eye, they are often compliant," Issac Six, a spokesman for the ICC told FoxNews.com, citing one incident in which a father was assaulted by an officer for asking too many questions about efforts to have his abducted daughter returned.
"It's pervasive; police at the local level are not stopping the abductions. There needs to be more pressure from the top," he added. "We have seen cases before where we've seen victims returned when the police put pressure on the kidnappers. We know it's possible, unfortunately, the police are often complacent."
Six added that the problem is largely ignored by the international community and that the U.S. needs to be more vocal about the issue in its dialogue with the Egyptian government.
One reported incident occurred in the city of Luxor as recently as February when 15-year-old Amira Hafez Wahib attended a Morning Prayer service at a local church, according to the study from ICC. Amira had asked her mother if she could go to a store near the church to buy an item. Her mother let her go but urged her to hurry right back.
But Amira never returned and is still missing.
The next day, Amira's family went to the local police to report she had vanished.
"We received promises from the police here that they would arrest the accused and return Amira to her family, but there is not any positive step from them till now," Rafla Zekry Rafla, an attorney handling the case, was quoted as saying.
The girl's family believes that they know who her kidnapper is-- a Muslim man, named Yasser Mahmoud, a soldier who was at one time assigned to protect their church. Mahmoud had tried to abduct Amira a few months earlier at a Christian store near the church where she worked.
The family immediately tracked down where the man lived with his family. Relatives told Amira's parents that they had not heard or seen from Mahmoud since the same day that their daughter disappeared.
Another recent incident occurred on March 9 when a young girl was abducted in front of her school. The family went to the local police for help in locating her.
A few days later, the father was returning home when he was approached by two masked men on a motorcycle. He was stopped by the pair, who attempted to convince him to give up the search for his daughter.
He was told to "just forget her" and had his life threatened. The two men said they would also abduct his other daughters if he continued his search.
Things got worse for the family, whose identities have not been made public due to safety concerns, when the father went to the Civil Status Authority to get a copy of her birth certificate only to discover that her name had been changed and her religion had been changed to Islam.
The ICC report also suggests that more minor incidents are on the rise as well, such as young Christian women wearing crosses in public having them violently ripped off their necks.
Experts point out that the rise in the abuse against young Christian women is likely due to societal misogyny and Islamist indoctrination as well as the recent loss in government power by the Muslim Brotherhood.
"There's a huge conflict between the Islamist and Christian populations in Egypt right now," Ryan Mauro, a National Security Analyst with the Clarion Project, said to FoxNews.com. "The Coptic Christians are supporting General el-Sisi because of the military's efforts to take the Muslim Brotherhood out of power."
"The radical Islamists are angry. So they are retaliating," he added.
The Brotherhood is not helping matters," Mauro said. "They incite the people to carry out these aggressive acts, but when the people carry them out, they denounce it."
"They know full well what they are doing."
http://www.foxnews.com/world/2014/04/18/rate-christian-girls-abducted-and-attacked-by-extremists-on-rise-in-egypt/?utm_source=feedburner&utm_medium=feed&utm_campaign=Feed%3A+foxnews%2Fworld+(Internal+-+World+Latest+-+Text)
------------
President Hassan Rouhani: Women Are Not Second Class Citizens
New Straits Times
Apr 20, 2014
TEHRAN: Iran's President Hassan Rouhani admitted Sunday that women in his country still face discrimination and cultural barriers but he insisted they are not universally treated as second-class citizens.
In a speech marking Women's Day in Iran, Rouhani, seen as a moderate reformer, indicated more had to be done but he said the West did not offer a model that had to be followed.
"I, as the head of the government, confess there are still so many deficiencies with regards to the vindication of women's rights," Rouhani told a conference attended by members of Iran's female elite, in remarks that were warmly applauded.
"Based on the Islamic criteria, we neither consider men as the first sex nor the women as the second sex ... they both have the same human dignity and none is superior," he added.
Iran's civil rights record is regularly criticised by international rights watchdogs and Western governments.
Among the criticisms levelled at the Islamic republic is a ban on women travelling abroad without official permission. Within the country, many hotels will not allow a woman to check into a room if she is alone.
And under the Islamic Sharia law practised in Iran, a woman's evidence is considered to have only half the value of a man's, which Amnesty International says leads to discrimination in divorce proceedings, child custody disputes and inheritance.
Rouhani's remarks are consistent with his promise of more social freedoms, a cornerstone of the campaign that gave him a surprise victory last June in the country's election.
The softly spoken president has the backing of reformists, moderates and some conservatives in the Islamic republic.
Arguing that it was misguided to think a woman's place should be limited to the home, he questioned why "some people think the presence of women is a threat?" noting that women are the guardians of their own moral standards, not men.
"Is that possible to corner and marginalise the role of half of the society? Women should enjoy equal opportunities, security and social rights," he said.
"We will not accept the culture of sexual discrimination especially for women.
http://www.nst.com.my/latest/rouhani-women-are-not-second-class-citizens-1.573806#ixzz2zNsryWym
------------
KP still unwilling to allow launch of Malala's book
2014-04-20
PESHAWAR: The Taliban militants' fear continues to hinder the launch of girls education campaigner Malala Yousafzai's book in Khyber Pakhtunkhwa.
The government had stopped the launch of 'I am Malala' in Peshawar two and half months ago in the wake of the outlawed Tehreek-i-Taliban Pakistan's threat of attacks against bookshops selling the book.
"We'd reached the relevant people in Pakistan Tehreek-i-Insaf government for permission to launch the book, but to no avail. PTI chairman Imran Khan had tweeted he was at a loss to understand why the book's launch had been stopped in Peshawar. However, the PTI government in the province isn't ready to allow us to launch the book," Khadim Hussain, director at the Bacha Khan Education Foundation, told Dawn on Tuesday.
The Malala's book was slated to be launched at the Area Study Centre of the University of Peshawar in January but stopped.
"We have been in contact with University of Peshawar, Abdul Wali Khan University and private universities to hold the launching ceremony on their premises. However, their response is painfully slow," he said.
According to him, Malala is unfearing.
"We need to arrange the launch and benefit from Malala's worldwide recognition as an education and human rights campaigner. The people are getting Malala scholarships, so why our girls and boys should not get their right," he said.
Malala shot by the Taliban in her hometown, Swat, in October 2012 had challenged militants and therefore, became a symbol of courage for young generation.
Mr Hussain said Malala needed respect and acknowledgement at home but the provincial government was opposed to her book's launch fearing the Taliban's attacks.
"We are asking the government and universities to allow us to launch the book on their campuses," he said.
Sources at University of Peshawar say the government is not allowing the event to take place.
They quoted a senior leader of the provincial government as saying first glorifying Malala was not allowed in universities, which were a place of learning, and second, Malala was not 'our heroine' after all.
The Area Study Centre of the university was slated to host the event.
Since then, the organisers' efforts to hold the event on campus have failed.
The sources said nobody was responding to the requests to hold the function as both bureaucrats and varsities' vice chancellors didn't want to anger the provincial government by doing so.
Mr Hussain said he was awaiting government's response to several requests for hosting the launch.
"We will hold the launching ceremony at all costs," he said.
A provincial minister, who wished not to be named, said the government couldn't put the universities at risk by allowing the launch of Malala's book.
"Militants can target universities if we continue to showcase their enemy, Malala, as a champion. Therefore, we don't want to create such a situation," he said.
The minister said the event should take place in places other than universities.
He said the launch of Malala's book was 'purely a political issue' and should be tackled as such.
"We know the Taliban are not happy with her (Malala's) popularity, so they could target her supporters," he said.
The minister said it had been conveyed to the organisers that a university wasn't a proper place for such events and that they should hold events, which could benefit students.
"The organisers shouldn't draw political gains at the cost of education," he said.
http://www.dawn.com/news/1101094/kp-still-unwilling-to-allow-launch-of-malalas-book
-----------
URL: https://newageislam.com/islam-women-feminism/'we-hostages'-saudi-princess-reveals/d/66645