Age Islam News Bureau
10 Dec 2012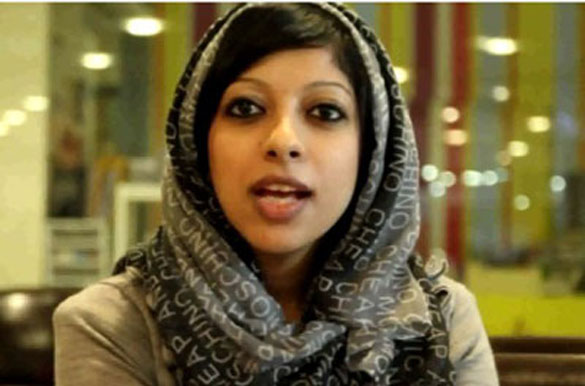 • Kareena Has Not Converted To Islam: Mother in Law
• Egypt Anti-Harassment Initiatives Move to Presidential Palace
• Rock Climbing For a Cause: Pakistan Girls Challenge Stereotypes against Women
• In Pakistan, Moves to Ban a Tribal Marriage Custom
• Afghan Woman Official Assassinated: Police
• Bahrain Sentences Opposition Activist's Daughter to Jail
• UAE Cabinet Approves Quota for Women Law on SMEs
• Wounded Swedish charity worker flown out of Pakistan
• Academic Woes: In Swat, a School for Girls in Ruin
• PR Women Teachers Protest for Service Regularisation
• Libyan Women Losing Rights
• Empowerment Comes Via Education: Social Activist Banu Mushtaq
Compiled by New Age Islam News Bureau
Photo: Bahrain Sentences Opposition Activist's Daughter to Jail
URL: https://newageislam.com/islam-women-feminism/uproar-cm-function-ban-girls/d/9616
------------
Uproar in CM's Function over Ban on Girls Wearing Burqa, Jeans and Jewellery
By Ashish Tripathi
Dec 10, 2012
LUCKNOW: Even as district magistrate (DM) of Bijnore, Uttar Pradesh (UP), Sarika Mohan, withdrew her order restricting girls from wearing wear black clothes, including Burqas, or jeans at a function attended by chief minister Akhilesh Yadav following widespread protest, the controversy continues with Muslims organisations and opposition parties criticising state administration for the bizarre diktat.
The DM Bijnore had on Saturday issued orders that the girls who have been listed as recipients of cheques under the Kanya Vidya Dhan Yojana and Hamari Beti Uska Kal from state chief minister at a function in Rampur on Monday to refrain from wearing black dresses or jeans with tops.
"No girl will go there in black dresses, dupatta or cardigan. They will also not be allowed to wear jeans or top. All parents must send their wards in simple dresses. They will also not wear jewellery," the DM had stated in the order. This led to widespread protest in Bijnore. Muslim leaders even asked girls to boycott the function. ""The DM issued a diktat that all the girls those are going to Rampur would not wear black clothes including burqas, which is not acceptable to us," Maulana Anwar-ul-Haq, Imam, Jama Masjid, Bijnor, told media-persons.
On the other hand, women organisations have pulled up the governor on restriction to wear jeans describing it as a regressive step.Opposition parties have also slammed the state government.
"The government was earlier afraid of black flags, but now it's also afraid of black clothes," Mukhtar Abbas Naqvi, senior BJP leader, told reporters in Delhi, while reacting to the development.Naqvi belongs to Rampur and has been MP from the constituency once. Rampur is also the bastion of the ruling Samajwadi Party (SP) leader and cabinet minister Azam Khan. Wearing black clothes were banned in official functions of the state government when some people used it as a mark of protest during Mayawati regime. The order continues in the Akhilesh Yadav government.
The DM withdrew the order on Monday following controversy saying that it was misinterpreted.
"We have not decided any dress code. We had only asked girls to simple and sober dress. Our directive has been misinterpreted. We asked participants to avoid black clothes because it would have not been suitable for the auspicious occasion," she told media perons. said. Interestingly, chief minister and all other senior leaders whjo took part in the function were wearing black khadi jackets. Under the 'Kanya Vidya Dhan Yojana', the state government gives financial assistance of Rs 30,000 to a girl, from below poverty line family, after she clears class 12th for pursuing higher education.
The 'Hamari Beti Uska Kal' is a special financial assistance scheme in which state government gives Rs 30,000 to a Muslim girl student for her future plans including marriage. These two 'vote-catching' schemes targets socially and economic backward classes and Muslims. While Kanya Vidya Dhan scheme was launched during previous tenure of the SP, Hamari Beti Uska Kal has been introduced this year. In fact, the scheme for Muslim girls was launched by the chief minister on Monday in Rampur. Hundreds of Muslim girls from Rampur and adjoining districts of west UP including Bijore were shortlisted for the scheme and invited to attend the function. The chief minister chose Rampur for the launch of the scheme because it is a minority dominated district with over 40% Muslim population. The adjoining districts also have substantial Muslim populace. The Muslims voted overwhelmingly for the SP in the assembly elections bringing it to power with absolute majority earlier this year.
http://timesofindia.indiatimes.com/india/Uproar-in-UP-over-ban-on-girls-from-wearing-burqa-jeans-and-jewelry-in-CMs-function/articleshow/17556483.cms
--------------
Kareena Has Not Converted To Islam: Mother in Law
Bharati Dubey
Dec 9, 2012
"Kareena has not converted to Islam, but she is the Begum of Pataudi," says mother-in-law Sharmila Tagore
Why did Saif and Kareena not attend the Marrakech film festival that you were a part of?
Saif is shooting with Tigmanshu Dhulia in Lucknow for Bullet Raja. They are trying to finish it in one go and then take a break. I am glad, because coming for the Moroccan fest could've been a distraction. You come here, drink and party... the film that Saif is doing is very intense. It is set in a rural background and he has worked on the accent. Also, Kareena's film Talaash has just released.
How is Kareena, the daughter-in-law?
Nothing has changed. She is the same person and I like her a lot. She is very calm. I saw her during Tiger's illness in the hospital. It was very easy to be with her. She is gentle and quiet and not intrusive. I get along very well with Babita and Karisma also. Karisma is a lovely person. I shared the platform with her at a recent event. She speaks so well. She is actually coming into her own. I saw Dangerous Ishhq; she is a good actress, but the film was awful. English Vinglish is a good film; films don't run because you are a star. If films could run because of performances, everybody's films would do well. It is the director who makes the film.
Has Kareena converted to Islam?
She hasn't converted, but she is now the Begum of Pataudi. He is the Nawab, so Kareena is the Begum. Saif is not comfortable with it. But I say why shouldn't one take traditions seriously. He says people may mock at him saying, 'kahaan ki riyasat' and all that. I understand that, but when you go to Pataudi, there are people who follow it. You are who you are, why should you deny your past? Maybe he feels that his father was so well known as the Nawab of Pataudi and filling in his shoes will be difficult. But slowly, he will get used to it.
What is the status of the letter you wrote to The Board of Control for Cricket in India (BCCI) on the Pataudi trophy?
I never got any reply, but the letter was leaked to the press. They also made a statement that when India and England play in the UK, it will be called Pataudi trophy and in India, it would be the Vincent D'Mello trophy.
Are you okay with that?
It is their prerogative. Marylebone Cricket Club had instituted a trophy in 2007 to commemorate 75 years of India and England playing together. Since Tiger's father played for England and India, the England and Wales Cricket Board also recognised it and invited Tiger. He went despite his ill-health to give the trophy, but I don't know what happened behind the scene — it was not announced. In November, I wrote to the BCCI, requesting them to make it official. Mr (N) Srinivasan, the BCCI president, wrote back saying he had told the people concerned to take it forward. When it became clear that the match was going to take place and nothing had happened, I wrote a letter to them, but there was no reply. You cannot force anybody to honour somebody. You can only ask.
You must miss him a great deal...
It is difficult to talk about him. I am not ready and feel unable to explain. Life has changed; he is not there, but his presence is very much with us. I am calmer and have an enhanced confidence; may be because he is not there. Otherwise, I would've argued with him. Now, I see the wisdom of what he used to say and I am following that; my life is simpler. Tiger has been my mentor in a way, especially regarding behaviour. I didn't care about time, but he brought punctuality into my life. Earlier, I would say 'I don't want you, professor', when he said something about some action of mine. He was also my spellcheck. When he was in the hospital, I would sit with him and take down each and every detail for the invites — of Saif's wedding — to be sent out. Now, I have to take the help of a dictionary. Correctness was important to him.
http://articles.timesofindia.indiatimes.com/2012-12-09/news-interviews/35689434_1_pataudi-trophy-saif-and-kareena-marrakech-film
----------
Egypt Anti-Harassment Initiatives Move to Presidential Palace
9 DECEMBER 2012
Egypt's Women Initiatives against harassment announced on Sunday holding a sit-in in front of the presidential palace to protect women from systematic harassment and document violations against women.
Fouada Watch coordinator Fathi Farid said that sit-ins of anti-harassment initiatives continue in Tahrir Square, referring to the movement of some of the group to the presidential palace protests to form groups of young people to address and monitor violations against women."
Assaulting the political activist Shahenda Maqlad, and member of the Popular Alliance Party Ola Shohba proves that they target activists particularly and women generally", Farid said.
Farid added that girls were subjected to harassment by the Muslim Brotherhood youth, some of them wear Islamic headscarves, according to testimonies.
"Women give importance to protests", one of the protesters said confirming that women are routinely targeted in marches and demonstrations.
She added that "Political Islamists prey on ladies in the street to force them to stay at home."
"Any attack on women is an attack on the revolution", said another protester who considered women the defense line in confrontations, noting that they were in the front line of marches carrying white sheets to symbolize the material muslims wrap their dead bodies in.
She added that the first intense assault on women in marches began immediately after the revolution during their participation in a march commemorating International Women's Day to announce their demands in Tahrir Square.
Women were harassed during clashes, injuring dozens, participants in the march then raised banners calling for women rights and social equality but a counter crowd of men responded with hostile chants and attacks.
Also, hundreds have attacked women participated in a march to end sexual harassment earlier in July.
One protester had a different view, saying that women are not precisely targeted but all what is non-Islamic is, be it men or women.
"There are attempts to provoke fear and intimidate women in order to prevent them from participating", said a 60-year-old resident of Heliopolis who confirmed that she was not assaulted during the demonstrations.
"We are not afraid", she said pointing out that these practices are not fruitful and will not prevent women from participating in all forms of protest. Noting that supporters of the decree at the presidential palace had no women among them, considering it "abnormal."
http://allafrica.com/stories/201212100357.html
------------
Rock Climbing For a Cause: Pakistan Girls Challenge Stereotypes against Women
December 10, 2012
ISLAMABAD: As many as 50 young girls got engaged in daylong activities of rock climbing, camping and cooking to challenge stereotypes about gender roles, like women cannot undertake any strenuous tasks.
The students of leading universities and colleges climbed the Margalla Hills trail in the morning as a symbol of their strength and commitment to challenging the taboos and stereotypes, said a press release.
The event was organised by the 'We Can' under its End All Violence against Women campaign, which was initiated as a South Asian campaign by Oxfam Gb in 2005.
`We Can' Pakistan chapter is an alliance member of `We Can' global network that consists of 14 countries around the globe where campaign is operational.
In Pakistan, `We Can' works through a core group of four provincial implementing partner organisations and a network of change makers (persons who pledge not to commit any violence against women).
'We Can' organisation marks 16 Days of Activism and other international days through a number of events and celebrations and rock climbing was also part of the 16-days activism.
It was a multi-purposed activity that not only focused on attitude change but also provided a forum for youth engagement and awareness.
"These participants will carry a good name from this event in their respective universities and will be `change-makers' in their respective spheres, motivating and encouraging others to take the lead in their lives," said `We Can' Pakistan head Hajra Pasha.
She said the campaign included the activity of rock climbing in the campaign as it not only involved strenuous exercise and physically strength but also challenged mental capabilities. "It teaches a person how to strategise in order to achieve his/her targets, consolidates belief on will power and capacitates on endurance.
These lessons are very relevant to daily life learning and are geared towards gender empowerment, from a behaviourist perspective."
Prominent women from civil society, academia and other spheres of life participated in the event and shared their stories and experiences with the younger girls.
Other highlights of the event included the screening of `We Can' documentaries based on real life stories of change maker, interactive games, cooking completion and motivational talk by Sirmad Tariq and Zehra Kamal. staff report/app
http://www.dailytimes.com.pk/default.asp?page=2012\12\10\story_10-12-2012_pg11_3
------------
In Pakistan, Moves to Ban a Tribal Marriage Custom
December 10, 2012
Gul Ghotai has bitter memories of the day her suitor proposed marriage.
The reason? This was no ordinary proposal but one made under an ancient Pashtun custom called "ghagh" that entitles a man to force his marriage proposal on a woman.
Once invoked, ghagh -- which means "a call" -- can have various outcomes, none of them happy for the woman. She might end up being married against her will, or stay single for life, or see her family drawn into a dangerous, lingering feud.
Full report at:
http://www.rferl.org/content/pakistan-tribal-marriage-custom-ghagh/24791048.html
------------
Afghan Woman Official Assassinated: Police
10 December 2012
Gunmen assassinated an Afghan women's affairs official on Monday just months after her predecessor was blown up by a bomb, police said.
Nadia Sidiqi, the acting director of the women's affairs department in the eastern province of Laghman, was shot dead by two unidentified men while on her way to work in a motorized rickshaw.
"We have launched an investigation and we have sealed off the area where the attack took place and we will very soon capture the attackers," Laghman police Chief Ahmad Sherzad told AFP.
Full report at:
http://english.alarabiya.net/articles/2012/12/10/254269.html
------------
Bahrain Sentences Opposition Activist's Daughter to Jail
Dec 10 2012
DUBAI: A Bahraini court on Monday sentenced the daughter of prominent opposition activist Hadi al-Khawaja to one month in jail for taking part in an unauthorised demonstration, her lawyer said.
Zainab al-Khwaja, the eldest of the Shia rights activist's daughters, was found guilty of entering the "prohibited area" of Pearl Square, the main symbol of 2011 protests crushed by security forces, on Feb 12, the lawyer said.
Full report at:
http://dawn.com/2012/12/10/bahrain-sentences-activists-daughter-to-jail-lawyer/
------------
UAE Cabinet Approves Quota for Women Law on SMEs
December 9, 2012
UAE Cabinet approves law on small and medium enterprises and stipulates quota for women to be represented on all boards of government companies and entities
Dubai: Women will be represented in the boards of all government bodies and corporations, according to a resolution issued by the Cabinet on Sunday.
Full report at:
http://gulfnews.com/news/gulf/uae/government/uae-cabinet-approves-law-on-smes-1.1116368
------------
Wounded Swedish charity worker flown out of Pakistan
December 10, 2012
LAHORE: A Swedish charity worker who was critically wounded in a gun attack in Pakistan last week was flown home on Monday for specialist medical treatment, officials said.
Bargeeta Almby, 72, was coming home from work when she was shot in the chest in Lahore.
She was working in Lahore for the US-founded Full Gospel Assemblies, which describes itself as a "church fellowship" with congregations all over the world.
Full report at:
http://tribune.com.pk/story/477693/wounded-swedish-charity-worker-flown-out-of-pakistan/
------------
Academic woes: In Swat, a school for girls in ruin
By Fazal Khaliq
December 10, 2012
SWAT: The Government Girls Primary School in Sar village is one of the many schools destroyed during the militancy. These schools are yet to be reconstructed, despite numerous reassurances by the government.
The Khyber-Pakhtunkhwa Education Department has reassured the residents of the Sar village a number of times that the school will be reconstructed. The department, however, is yet to make good on its promise.
Full report at:
http://tribune.com.pk/story/477408/academic-woes-in-swat-a-school-for-girls-in-ruin/
------------
PR women teachers protest for service regularisation
December 10, 2012
LAHORE: The Railway Schools Lady Teachers Association on Sunday held a protest demonstration, demanding regularisation of service of women teachers.
Carrying placards and shouting slogans against railway authorities, the protesters appealed to Chief Justice of Pakistan Iftikhar Muhammad Chaudhry to take suo motu notice of their plight.
"It is a matter related to the fundamental rights of downtrodden Pakistani lady teachers who cannot afford to engage a professional lawyer to fight their case in the court of law," they said.
Full report at:
http://www.dailytimes.com.pk/default.asp?page=2012\12\10\story_10-12-2012_pg13_3
------------
Libyan Women Losing Rights
December 9, 2012
By Lawrence Davidson
When rebels challenged Libyan dictator Muammar Gaddafi in 2011, the West and its media adopted a "good-guy/bad-guy" dichotomy, hyping dubious claims about Gaddafi and ignoring troubling extremism among the rebels. Now, the new Libya is clamping down on women's rights, says Lawrence Davidson.
On Dec. 3, BBC News reported on the plight of Libyan activist Magdulien Abaida, who played an important part in developing a positive image of last year's Libyan revolt among European audiences and helped arrange material aid for the rebel forces.
Full report at:
http://consortiumnews.com/2012/12/09/libyan-women-losing-rights/
------------
Empowerment Comes Via Education: Social Activist Banu Mushtaq
By Rashmi Terdal
Dec 10, 2012
Noted Kannada writer and social activist Banu Mushtaq grew up in an atmosphere where Muslim girls attending schools other than the Urdu schools was vehemently opposed. A fighter all along, Banu strongly feels that education is the only way out for women for realization of their rights.
Full report at:
http://timesofindia.indiatimes.com/city/bangalore/Empowerment-comes-via-education/articleshow/17551157.cms
------------
URL: https://newageislam.com/islam-women-feminism/uproar-cm-function-ban-girls/d/9616