New Age Islam News Bureau
10 Jul 2014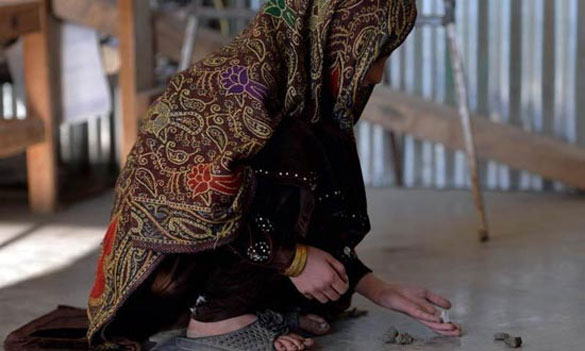 The 13-year-old girl also appealed to the chief justice and the government to take measures against domestic violence in the region.—File photo
----------
• Young Pakistani Girl, Forcibly Married Seeks Protection against Violence
• Algeria Appoints Four Female Army Generals
• Iranian Woman Journalist Sentenced To Two Years and 50 Lashes
• Saudi Women Volunteer To Serve Makkah Pilgrims during Ramadan
• 400 Saudi Women Ready for Mobile Maintenance Jobs
• Englishman Used His Militant Ties to Wed 12 Women
• Ofsted Inspectors Praise Muslim School for Girls
• Muslims Launch 'Colorued Abayas' Campaign to Alleviate Fears among Sinhala
• 4 more Indian nurses on way back from Iraq
Compiled by New Age Islam News Bureau
URL: https://newageislam.com/islam-women-feminism/twin-schoolgirls-ran-away-syria/d/98021
-------------
Twin Schoolgirls Who Ran Away To Syria Named As Star Pupils
July 10, 2014
Two British schoolgirls who ran away to Syria have been identified as star pupils who had 28 GCSEs between them.
Twins Salma and Zahra Halane sneaked out of their home during the night while their family slept two weeks ago.
The 16-year-old college students then boarded a flight to Turkey before crossing into Syria where they are feared to have joined their brother, believed to be fighting with Isis.
The Muslim sisters called their family from Syria to inform them they were safe and well but had "no intention" of coming home to Britain.
They are thought to have flown out to the war-torn state in response to the call to British Muslims to join 1,500 young British men already in Syria preparing to wage jihad.
The sisters' mother and father only discovered their daughters' night-time departure the next morning at 8am when they went into their room and found their beds empty.
After checking they had not gone to college early, the family contacted the police to report the girls missing.
Officers were able to trace the girls onto a flight to Istanbul in Turkey.
Days later the twins contacted their family from Syria and counter-terrorism investigators were alerted.
"The family have been trying to encourage the girls to come home but they have suggested that they have no intention of doing so," intelligence sources told The Sun.
"The case has been picked up by Counter Terrorism Unit who believe there is no purpose for them to be in Syria other than terror purposes.
"It is confirmed that they are in Syria and being dealt with by CTU, who are investigating how they got there and what they are doing out there."
Questions have been raised over how the girls found the cash to pay for their lengthy journey while still in full-time education.
Counter-terrorism officers are investigating whether they were "recruited" and bankrolled by jihadists in Syria.
Just last month the girls, from Chorlton, Manchester, took part in a university information day at Connell Sixth Form College, which they both attend.
An image of one of the twins working at a laptop was posted on the college's Twitter page but later removed.
After the girls disappeared, a source told The Sun: "The girls travelled to Syria after an older brother, who is believed to be an Isis fighter, travelled to the country. The girls were not on the radar. They've gone abroad as they wanted to be with their brother."
Neighbours expressed shock at the twins' departure.
"How do two young girls afford to fly out of the country without anyone stopping them?" One said.
"There are eight or nine kids in the house but I only normally see the boys going in and out. The girls are kept indoors. They don't socialise with the rest of the estate."
Another added: "My son goes to the same school as the younger kids, they seemed nice enough but they don't really mix with everyone.
"What is the world coming to? You would never imagine it happening on our doorstep."
Both girls, thought to be of Somali origin, have been described as "extremely religious".
Some friends claimed the girls were not allowed to be seen talking to boys.
Their family, who moved to Britain about ten years ago, have no far made no public comment.
A spokesman for Greater Manchester Police confirmed they had received a report about the girls disappearing.
He said: "The girls flew from Manchester International Airport to Istanbul. Since their departure the girls have been in contact with their family.
"We are attempting to confirm their current location and secure the well-being of both girls.
"Officers are also providing regular support to the family."
http://www.telegraph.co.uk/news/uknews/terrorism-in-the-uk/10955630/Twin-schoolgirls-who-ran-away-to-Syria-named-as-star-pupils.html
-------------
Young Pakistani Girl, Forcibly Married Seeks Protection against Violence
July 10, 2014
QUETTA: A 13-year-old girl, who claims to have been forcibly married to a 40-year-old man, has approached the police to save her from domestic violence.
Noor Khatoon, a resident of Maulana Mor area in Jaffarabad district, lodged a complaint against her husband Mohammad Hayat Pahore and in-laws.
"She said she was forcibly married to the man last month and he, his brother and her other in-laws had been torturing her," police said on Wednesday, adding that the complainant would be presented before a court.
The girl also appealed to the chief justice and the government to take measures against domestic violence in the region.
Jaffarabad and other parts of eastern Balochistan dominated by tribal custom are said have a high ratio of domestic violence and honour killings and perpetrators often escape punishment because of poor investigation by police.
http://www.dawn.com/news/1118199/cvc
---------
Algeria appoints four female army generals
July 10, 2014
Algeria has appointed three women army Generals, therefore becoming the Arab country with the biggest number of high-ranking female army commanders, Al Arabiya News Channel reported on Tuesday.
The nomination of the three generals, whose names were not revealed, come as part of a move seen as a sign of the liberalization of Algeria's closed military organization.
A fourth general was appointed by the Algerian President Abdel Aziz Bouteflika in Nov. 2010 as the first general of the Armée Nationale Populaire (ANP) or People's National Army.
Since 2005, Bouteflika has been under pressure to enact more changes in favor of women's rights.
Despite women's increasing roles in the Algerian professional world, under the Family Code they remain legally vulnerable.
http://english.alarabiya.net/en/News/africa/2014/07/09/Algeria-appoints-four-female-army-generals-.html
-------------
Iranian Woman Journalist Sentenced To Two Years and 50 Lashes
July 10, 2014
Iranian journalist and blogger Marzieh Rasouli reported to Evin prison to serve a two-year sentence and receive 50 lashes over charges of spreading anti-government propaganda, sources close to the journalist said.
On Monday she wrote on her Twitter account that she was convicted of publishing "propaganda against the establishment and disruption of public order through participation in gatherings," in a case that dates back to January 2012.
Shortly after she was arrested that year, the Islamic Republic's state television accused her of having ties with foreigners, according to a Facebook page dedicated to her case.
Rasouli had previously worked for reformist daily newspapers, including Shargh and Etemad, where she covered arts, music and wrote book reviews.
The case has angered some Iranian journalists, who had hoped that the election of a moderate president, Hassan Rowhani, last year would bring greater political and cultural freedoms at home, a development that has yet to materialise.
Rowhani has been preoccupied with trying to shore up the Iranian economy, in part by pursuing a nuclear deal with the West to lift crushing financial sanctions, as well as civil wars raging in Tehran's regional allies Syria and Iraq.
http://english.alarabiya.net/en/media/print/2014/07/08/Iranian-journalist-sentenced-to-two-years-and-50-lashes-.html
-------------
Saudi women volunteer to serve Makkah pilgrims during Ramadan
July 10, 2014
A total of 500 young Saudi women and girls from various parts of the Kingdom have joined the Saudi Red Crescent Society as volunteers to provide paramedic, rescue and emergency services to pilgrims inside the Grand Mosque during the holy month of Ramadan.
Long before the start of Ramadan, the Red Crescent advertised in the local newspapers asking for women volunteers to work as paramedics and rescuers in the Grand Mosque during the fasting month.
The society was specifically looking for doctors, pharmacists, nurses and technicians to join its teams at the Grand Mosque.
Spokeswoman of the Red Crescent, Mashaiel Al-Shamrani, said women volunteers were deployed in 15 locations inside the Grand Mosque. "Each location will have a medical doctor, a pharmacist and a nurse," she said.
She said women volunteers will obtain practical experience from their work with the Red Crescent.
"They will be able to deal with sick people and hence add practical experience to their theoretical studies," she said.
Al-Shamrani said each volunteer should have experience in first aid and attended a training course in basic life support. "The volunteer should also obtain the approval of her male guardian," she added.
Raghdah Al-Mihmadi, a student of pharmacology at King Abdulaziz University in Jeddah, said she considers her volunteer work with the Red Crescent as a charity deed. "I will provide paramedical services to the emergency cases and will thus gain reward from Allah," she said.
Hadeel Khoj, a medicine student at KAU, said most of the diseases the pilgrims complain about are arthritis, headaches, dizziness, fever, high blood pressure, diabetes and others. She said they will try to treat patients inside the Grand Mosque but if their conditions do not improve they will be transported to the nearest hospital in Makkah.
Rahma Bukhari, a medicine student at Al-Batarjee Medical College, said she volunteered for humanitarian and spiritual reasons to serve the guests of God.
"The little medicine we give will make thousands of Umrah pilgrims happy during the fasting month," she added.
Suhaila Binaimin, a nursing student, said she comes every day from Jeddah to Makkah to serve the guests of God.
"I also use the opportunity to pray at the Grand Mosque," she said.
She said these pilgrims have crossed long distances to arrive in the Kingdom so it is her duty to serve them. She added that many of them would not have the money to get treatment in private hospitals.
"Therefore, we provide them with medication right inside the Grand Mosque," she added.
Hala Salma, a medicine student at Umm Al-Qura University in Makkah, said they have a communication problem with some of the pilgrims who do not speak Arabic or English.
"We often try to use sign language to understand their problems," she said.
http://english.alarabiya.net/en/perspective/features/2014/07/09/Saudi-women-volunteer-to-serve-pilgrims.html
-------------
400 Saudi women ready for mobile maintenance jobs
July 10, 2014
JEDDAH — Some 400 young Saudi women who have completed training in programming and maintenance of mobile phones are getting ready to enter the Kingdom's job market.
The women, who form the first group of graduates of a program tailor-made for them, celebrated their success at an event held in the presence of officials from the Ministry of Labor, the Technical and Vocational Training Corporation (TVTC) and various charitable organizations.
Executive General Manager of Corporate Communications Mobily Hamood Al-Ghobaini said the program, which is sponsored by Mobily in cooperation with the National Institute of Women in Jeddah (nist.edu.sa), provides an opportunity for women to enter the labor market with qualifications in a vocation where no women are available.
"Mobily has sponsored the program in all its specializations, as it believes in the importance of vocational training of women, especially as it allows them to establish their own businesses," he said.
He stressed the importance of providing women with opportunities for development and to create a suitable work environment for them, complying with the Islamic norms and the country's traditions.
Director General of the National Institute of Women's Training Amani Al-Zaylaei said the female trainees were nominated by seven charitable organizations and neighborhood centers.
"The women were trained in programming, maintenance of mobile phones during the past few months in a manner that is far from the traditional way. Their training included three advanced courses, consisting of an introduction to the skills of mobile phone maintenance and programming of mobile devices and hardware maintenance skills," she said.
She explained that the female trainees were divided into groups where they received highly skilled training, which will allow them to join the institute under the supervision of the TVTC, which has provided all support and advice for the success of the program — considered the first of its kind in the entire Gulf region.
She pointed out that the training, which was held for 402 females, included specialized courses under the supervision of the TVTC. The courses were prepared taking into account the technical developments witnessed by the mobile phone industry, Al-Zaylaei said.
She said the institute aims to train 1,000 Saudi women in programming and maintenance of mobile phones over the next three years.
http://www.saudigazette.com.sa/index.cfm?method=home.regcon&contentid=20140710211071
-------------
Englishman used his militant ties to wed 12 women
July 10, 2014
Englishman Robert Andrew Scott, who claimed to have fought with militant groups in Bosnia, lured 12 women into marrying him. Five of them were said to be Malaysians, Berita Harian reported.
Using the Muslim name Jamaluddin Mustafa, the 43-year-old, married women of several nationalities, including those from Bosnia-Herzegovina, Indonesia, France, Morocco, Germany and Britain. He recently divorced two of his Malaysian wives.
Special Branch (Operations/Counter Terrorism division) assistant director-general Datuk Ayob Khan Mydin Pitchay said most of the women targeted by Scott were professionals such as bank officers and university lecturers. He said reports suggested that he was once involved in a tariqat (missionary) movement in London and joined a mujahiddin (freedom fighters) group in Bosnia.
He was said to have been held for the murder of a doctor in Bosnia but his family successfully filed an application for his release.
Ayob Khan said while Scott had been involved in militant work in Bosnia, he had not shown such tendencies while in Malaysia.
"We are monitoring his marriages and what his real motives are," said Ayob Khan, relating incidents of Scott deserting his wives and taking their money.
With longer daylight hours during summer, Muslims in the northern hemisphere observe the Ramadan fast for up to 19 hours a day, Kosmo! reported.
On the other hand, in the southern part of the globe, such as in Australia where it is now winter and the nights are longer, Muslims fast for only about 10 hours a day, the paper said in interviews with Malaysians aboard in its Jurnal section.
Meanwhile, in Sweden, where the summer daylight lasts for about 22 hours a day, fasting from dawn to dusk is indeed a challenge. However, the Islamic authorities used their discretion to allow Muslims to break their fast before the sun sets.
In Melbourne, couple Muhammad Fuad Salim, 29, and Nadia Mohd Yatim, 28, observing their first fast in Australia, said while they enjoy the shorter hours, they missed the festive air of Ramadan back home during this time of the year.
Found in Translation is compiled from the vernacular newspapers (Bahasa Malaysia, Chinese and Tamil dailies). As such, stories are grouped according to the respective language/medium. Where a paragraph begins with this ' >'sign, it denotes a separate news item.
http://www.thestar.com.my/News/Nation/2014/07/07/Englishman-used-his-militant-ties-to-wed-12-women/
-------------
Ofsted Inspectors Praise Muslim School for Girls
July 10, 2014
OFSTED inspectors who were sent into a Muslim state school to investigate concerns about its safeguarding of pupils have praised it for preparing girls well for modern life in Britain.
The visit to Feversham College, an all girls academy in Bradford, was prompted by a complaint the watchdog received.
Ofsted said the concerns related to safeguarding pupils and leadership and management of the school but declined to give more details.
The watchdog's letter to the school following its inspection does not make any criticism about either the school's safeguarding or leadership and management.
The visit to Feversham took place in the wake of the Trojan Horse row in Birmingham, where claims of Muslim governors attempting to take over schools had been made.
This led to Ofsted investigating schools in the city and placing five in special measures.
At the time Ofsted said it would visit other areas of the country where concerns were raised about schools failing to develop tolerant attitudes towards other faiths and cultures or allowing governors to exert inappropriate influence.
Ofsted would not say whether the Feversham inspection was linked to similar concerns.
However, its findings, published in a letter yesterday, make no mention of any such issues at the school.
The only area of concern raised was school recruitment.
The school operates an all-
female staff but Ofsted noted that the Department for Education (DfE) was in talks with Feversham about its recruitment policy.
A DfE spokesman said: "All schools must comply with equality law. The Education Funding Agency is working with Feversham College to make sure their recruitment processes are fully compliant."
The Yorkshire Post was unable to contact anyone at Feversham College yesterday for comment.
http://www.yorkshirepost.co.uk/news/main-topics/education/inspectors-praise-muslim-school-for-girls-1-6716474
-------------
Muslims Launch 'Colorued Abayas' Campaign to Alleviate Fears among Sinhala
July 10, 2014
Colombo: A leading Muslim organization in Sri Lanka, Muslim Council of Sri Lanka (MCSL) has launched a campaign aiming to alleviate fears among the majority Sinhala community against the Abaya and Niqab worn by Muslim women covering most of their bodies.
The MCSL is conducting a campaign to persuade Muslim women to give up black Abayas and instead wear colorued ones to make the Islamic sartorial custom more acceptable to the Sinhalese majority in the country.
The campaign, called 'Bring your black Abayas, we will give you colorued Abayas', is implemented in the hope of making the Abayas - the loose outer garment worn by Muslim women as a cloak to cover the body from the shoulders to the feet- more acceptable to the majority community.
"When everybody is in black, it gives the impression that we are a uniformed force. And the Niqab has raised security concerns," says an advisor to the All Ceylon Jamiyyath ul Ulema.
The black Abayas and the Niqab have been heavily criticized by the Bodu Bala Sena (BBS) and other Buddhist extremist organizations attributing the garment to Islamic extremism.
President of MCSL says that new Abayas will be obtained and distributed soon under this project.
http://www.colombopage.com/archive_14B/Jul09_1404927477CH.php
----------
4 more Indian nurses on way back from Iraq
Express News Service | New Delhi | July 10, 2014
Four Indian nurses, belonging to Kerala, were rescued from "zone of conflict" in Iraq Wednesday, days after a group of 46 nurses were safely brought back to India last week.
While their identities are not known, Ministry of External Affairs spokesperson Syed Akbaruddin said, "Four more Indian nurses from strife torn areas of Iraq are on the way home."
Several Indians had got trapped in the conflict areas following sudden attacks and capturing of several cities in northern and central Iraq by the ISIS, beginning 8 June.
"The Government of India is making every efforts and taking all steps to secure their release as well," External Affairs Minister Sushma Swaraj told Lok Sabha Wednesday, in response to a written question.
http://indianexpress.com/article/india/india-others/4-more-nurses-on-way-back-from-iraq/
-------------
URL: https://newageislam.com/islam-women-feminism/twin-schoolgirls-ran-away-syria/d/98021