24July 2022
• Tunisia: Doxxing - a New Tool of Repression Against Arab Women
• Gaza's women and girls see no escape from violence
• 'The law of the jungle': Afghan women live in terror after US withdrawal
• Nagpur: Widow, daughters asked to vacate house for embracing Islam
• Taliban claims closure of girl's school "temporary", says not a "permanent ban"
• Meet Kuwaiti woman in UAE on a mission to end stigma against mental illness in the Arab world
Compiled by New Age Islam News Bureau
URL: https://newageislam.com/islam-women-feminism/tunisia-doxxing-arab-women/d/127556
--------
Tunisia: Doxxing - a New Tool of Repression Against Arab Women
By Menna A. Farouk
24 JULY 2022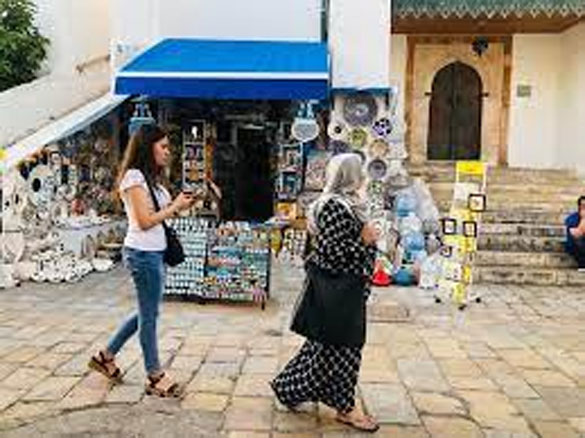 As Tunisia votes in a controversial referendum, rights campaigners say more must be done to protect women from online abuse and harassment
-------------
Cairo - When dozens of Tunisian judges went on strike last month to protest the sacking of 57 of their colleagues, lurid posts containing damaging allegations about some of the female jurists began appearing on Facebook.
One said police had ordered a virginity test to be carried out on one of them in 2020, attaching an image purporting to be the medical report. Another targeted judge Khaira bin Khalifa, saying falsely that she had once been charged with adultery, a crime in Tunisia.
"I was destroyed, and my family was defamed for the sake of settling personal scores," Bin Khalifa told an emergency meeting of the Tunisian Judges Association.
The judges' strike began after the mass sacking of judges in early June by President Kais Saied, who called Monday's referendum over a new constitution that would formalise his sweeping seizure of powers.
In Tunisia and other Arab states, the malicious posting of personal information on social media - known as doxxing - is increasingly being used to harass and intimidate women, anti-government protesters and LGBTQ+ activists.
"Doxxing is a repressive tactic, especially when used against the most vulnerable in society such as women and queer activists," said Marwa Fatafta from Access Now, a digital rights group.
"Essentially, your personal information is turned into a weapon pointed against you," said Fatafta, the organisation's policy manager for the Middle East and North Africa (MENA) region.
The increasing presence of women online and the rising popularity of social media platforms such as Facebook and Twitter has made doxxing and other forms of online harassment such as so-called revenge porn and sextortion more widespread.
A U.N. Women survey last year of eight Arab nations including Jordan, Lebanon, Morocco and Tunisia found about half of female internet users felt unsafe due to online harassment.
"Online violence represents a serious threat to the women's physical safety and mental wellbeing," the report said, adding that many women who were targeted opted for self-censorship or withdrew from online spaces altogether.
A 2017 Tunisian law addressing violence against women contains a broad definition of violence, including economic, sexual, political and psychological abuse.
Egypt, Lebanon and Saudi Arabia also penalise harassment on social media platforms, while Morocco's Penal Code refers to various types of online violence.
"The authorities do not enforce the laws," said El-Saeed, noting that many women were too scared to report online sexual abuse - fearing social stigma and protracted legal proceedings that often lead nowhere.
During the last year, two Egyptian teenagers died by suicide after being blackmailed with threats to post intimate photographs online.
Several women journalists and activists in the region had their intimate photos and chats leaked online last year after their devices were hacked with Pegasus spyware.
The doxxing attacks on the protesting judges were the latest such incidents in Tunisia since Saied moved against parliament last summer, giving himself the right to rule by decree.
Pro-government groups shared the photos, phone numbers and home addresses of dozens of women and LGBTQ+ protesters in a bid to silence them, said Fatafta.
In some cases, however, doxxing has been used in the region to hold public officials to account. Activists in Lebanon shared the personal details and real-time locations of politicians they blamed for the country's financial collapse.
But in lieu of effective state measures to tackle harmful doxxing, digital rights groups and local activists are leading efforts to clamp down on the practice.
Access Now has a digital security helpline to support activists and journalists, and flags doxxing cases to social media platforms - lobbying them to make it easier for victims to report.
The nonprofit - which has about 980,000 followers on Facebook and 10,000 followers on Instagram - receives hundreds of messages every day from women who are being blackmailed or abused online, said founder Mohamed Elyamani.
Source: All Africa
https://allafrica.com/stories/202207240002.html
-----
Gaza's women and girls see no escape from violence
AFP
July 24, 2022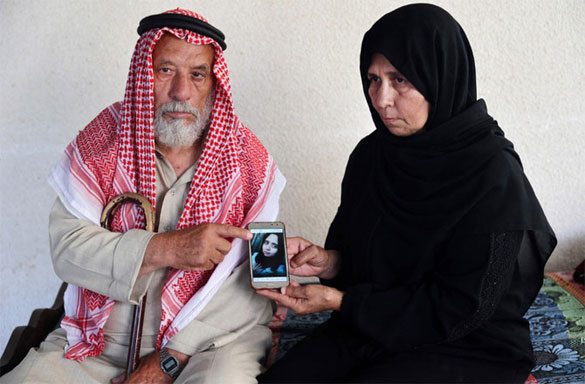 Palestinians Suleiman and Nazmiya Baraka show a picture of their slain daughter Istabraq Baraka, who was killed by her husband last year, on June 27, 2022 in their home, in Khan Yunis in the southern Gaza Strip. (AFP)
-----------
ABASSAN, Palestinian Territories: Seventeen-year-old Istabraq Baraka fell pregnant soon after her wedding in the Gaza Strip. Three months later her husband killed her.
Sitting with her husband Suleiman in a garden in Abassan, near the city of Khan Yunis in the south of the Palestinian territory, the 53-year-old talks at lightning speed about last year's killing of one of her two daughters, as well as the loss of an unborn grandchild.
Sitting with her husband Suleiman in their garden in the south of the Gaza Strip, Nazmiya Baraka talks about last year's killing of her pregnant 17-year old daughter. (AFP)
He laments the slow pace of legal proceedings since his daughter's husband handed himself in to the police shortly after the killing.
Femicide is on the rise in Gaza, according to figures from the Women's Center for Legal Aid and Counselling, a Palestinian civil society group.
The organization registered six killings and suspicious deaths related to domestic violence in 2019, a figure which rose to 19 the following year.
UN Women said the situation worsened at the onset of the coronavirus pandemic in 2020, which resulted in the "lockdown of survivors of violence with their abusers."
Ayah Alwakil, a lawyer from the Palestinian Center for Human Rights, said women can consider violence from their husbands normal behavior in Gaza's patriarchal society, which has been controlled by the Hamas Islamist group since 2007.
The Palestinian Central Bureau of Statistics said 38 percent of women in Gaza faced physical or psychological violence from their husbands in 2019, but Alwakil estimated the true figure to be far higher.
Men convicted of killing their wives can be jailed or face the death penalty. But the sentence is reduced if they commit a so-called "honor killing," in which a relative is murdered because they are deemed to have brought shame to the family.
"Her husband tied her up and left her at home so that she couldn't escape and get out. When he returned she was dead," said her brother Abdelaziz, who shares his sister's green eyes.
"We feel satisfied with the death sentence ruling against the husband, five months after the heinous crime, but we demand the sentence be enforced quickly," said the 28-year-old.
Fifteen years since the Israeli-led blockade of Gaza began, it is almost impossible for women fleeing violence to leave the Palestinian enclave.
When AFP visited one of them, a woman with bruises covering one side of her face sat in a corner. She was about to return to her husband, rather than risk losing access to her children.
"The law is not on women's side all the time in the Gaza Strip," said Aziza Elkahlout, a spokeswoman for the social development ministry which runs one of the refuges.
"We thought of opening the safe house because of the injustice women are exposed to," she added, blaming the Israeli blockade for Gaza's dire living conditions.
Source: Arab News
https://www.arabnews.com/node/2128261/middle-east
-----
'The law of the jungle': Afghan women live in terror after US withdrawal
By Hollie McKay
July 23, 2022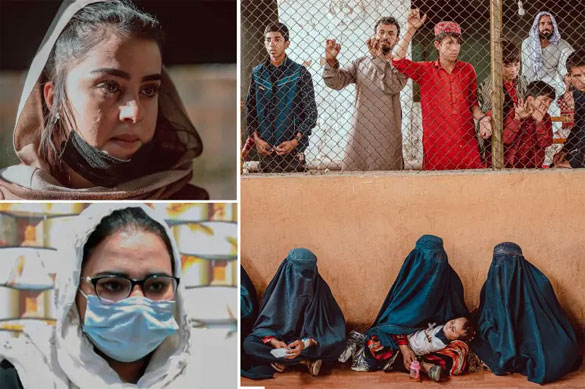 Women sheathed in Talban-required head-to-toe coverings wait for food relief in Kabul this month. Asyeah Jassor (above left) and Saira Saleem told The Post how their lives have changed after the US withdrew from their country last year.
--------------
Saira Saleem, a 23-year-old journalist from Jalalabad, divides her life into two parts: before and after America's 2021 pullout from Afghanistan. Her voice cracks with grief as she confesses that many people in her country have expressed suicidal thoughts — a concept deeply frowned upon in Islamic societies.
Before the US left, "life was good. We participated in the government, and we worked in every field. Now, it is very hard to work outside [without harassment]," said Saleem, who no longer works as a journalist but as a mental health-counselor for an NGO. "Women can't attend university unless they wear a full burqa. And the humanitarian situation is so bad."
It's been almost a year since the US finally withdrew from Afghanistan on Aug. 30 after occupying the country for more than two decades. The Biden administration's hasty removal of US troops led to chaotic scenes at Kabul's international airport, with Afghans clamoring to leave before the Taliban took over. At least 170 people and 13 American service members were killed by twin ISIS-K suicide bombs at the airport's gates. And while more than 100,000 Afghans were airlifted out of the country, it is believed that up to 80,000 Afghan allies who worked in some capacity to support the US mission are still left in limbo.
Now, for the millions of women and girls left behind, the place no longer feels like home. Their nation has been plunged into antiquity, back to a time when women were relegated to a dank basement, their faces buried beneath a sea of burqas. In May, the Vice and Virtue Ministry of the Taliban ordered all women in the country to cover themselves head to toe, including female TV news anchors.
Taliban leaders have also banned girls from going to school beyond grade six. Although they say they believe in women's rights and want to return girls to education, they claim they must first ensure that females are transported to school separately and safely from males, and appropriate uniform policies are established. None of this has happened yet.
Asyeah Jasoor, a 22-year-old human rights activist from the once heavy-resistance enclave of Panjshir, said her existence has been upended since the takeover last August.
"[The Taliban] stop you and ask you where is your mahram [escort], and women cannot go out freely after 8 p.m.," she said. "Previously, we were going to supermarkets during this time, but now the Taliban stops you and wants to know where you are going."
Before the withdrawal, "I had a job. I was going to university for my studies, and all my brothers and sisters had jobs and were studying," she said. "Now, everything has stopped. Right now, the life cannot be called a life. Yet somehow, we are forced to live it."
Afghanistan has around 40 public universities, and while most have reopened, not all cater to both genders. And the universities that have dared to remain open to women have implemented a variety of restrictions, Jasoor said.
"They changed our class times" to too early mornings and alternating days, "and most of us could not go all the time so most of the girls have stopped going," she said. "They enforced the black hijab on us — a black hijab in this hot weather and also the burqa."
Source: Ny Post
https://nypost.com/2022/07/23/afghan-women-live-in-terror-one-year-after-us-withdrawal/
-----
Nagpur: Widow, daughters asked to vacate house for embracing Islam
Jul 24, 2022
NAGPUR: Relatives and several members of the Hindu community have asked a widow and her two daughters to vacate their home in Kamptee, after news of the trio embracing Islam a month ago came to light. An unfounded fear of mass conversion has gripped the sensitive area, in the outskirts of Nagpur, after the development.
Kamptee had earlier witnessed a flare-up after derogatory posts targeting a community had surfaced on social media, followed by a post supporting BJP's expelled spokesperson Nupur Sharma. Weeks after the communal tension, the latest incident has left security agencies on tenterhooks.
Sources from Kamptee said the woman's husband had suffered a paralytic attack and eventually passed away around a couple of years ago, leaving the economically weak family in dire straits. With her daughters in college, the woman was struggling to make ends meet.
The family began depending on the support of a young Muslim shop owner in front of their house, whom she started calling her 'son'. The youth also allowed the family to use his shop premises, before shifting elsewhere to a bigger facility.
When the woman and her daughters decided to embrace Islam, all hell broke loose. The youth was squarely blamed for the family's religious conversion. "We have a family-like bond which has nothing to do with Islam. Until someone has a deep-rooted affinity and attraction for Islam, the religion doesn't accept such a conversion," said the businessman.
"I share a mother-son relationship with the woman and call her daughters my 'sisters'. All I did was to extend some moral support to the family," added the youngster, who got married in December last year in his community.
The shop owner said the widow's relatives wanted her to vacate her home, and that there was a daily influx of visitors who asked her to return to Hinduism. "Some adult citizens have chosen a faith as their constitutional right. Why should anyone ask them to choose something else," asked the young man, who is still supporting the family, earning the wrath of the Hindu community there.
Meanwhile, radical right-wing Hindu activists said religious conversions were rampant in Kamptee. "We had to convince a few youths to remain affiliated to their native community and not convert," said an activist, attracting the attention of security agencies.
Old Kamptee police station senior inspector Rahul Sire, who initiated peace talks and negotiations between members and leaders of both communities, said cops had been seeking names and details of the people who had converted and the ones who were motivating them to, but nothing had come to fore so far.
Sire said that repeated meetings and negotiations between the two communities had helped the police to maintain peace. "We are closely monitoring the locality where the woman and her daughters stay," he added. "There is a property dispute between the widow and her relatives who live in a neighbouring plot, but police will not interfere unless there is a complaint," the senior inspector said.
Source: Times Of India
https://timesofindia.indiatimes.com/city/nagpur/widow-daughters-asked-to-vacate-house-for-embracing-islam/articleshowprint/93080470.cms?val=3728
-----
Taliban claims closure of girl's school "temporary", says not a "permanent ban"
24 July, 2022
Kabul [Afghanistan], July 24 (ANI): The Taliban on Saturday claimed that the closing of girls' schools above sixth grade was "temporary" adding that it was not a "permanent ban."
In an interview with CGTN TV, the spokesman of the Foreign Ministry, Abdul Qahar Balkhi said, "this suspension is a temporary suspension, and it is not a permanent ban, it has never been called a ban."
Defending the Taliban, he said that the strict views of most Afghan people on the issue of education and women caused the girls' schools to remain closed, reported Tolo News.
"There is a large percentage of society that has very strict ideas of what women can do and what they cannot do, and for that reason, the government is trying to take an approach that is gradual, it takes those people that do not understand some of the basic Islamic rights of Afghan citizens or of any human being, and the human rights, to try to convince them. It is due to lack of knowledge of that part of the society," he said.
Meanwhile, girls who have been prevented from going to school for more than eleven months are asking the Taliban to reopen schools for them, reported Tolo News.
"If a government wants to have a progressive and developed society, there is no other way except with education and interaction with the community," said Waheeda Adalatjo, university lecturer.
It has been over 300 days since girls' schools have been closed, Kabul's officials have said that it depends upon the order of the leader of the Taliban.
The Taliban regime in Afghanistan has drawn heavy criticism across the world for a decree banning girls from school above grade sixth.
Meanwhile, the United Nations Assistance Mission in Afghanistan (UNAMA) report highlighted that women's rights have eroded in Afghanistan since the Taliban takeover.
The report stated that the erosion of women's rights has been one of the most notable aspects of the de facto administration to date. Before the Taliban came to power, women and girls had progressively had their rights to fully participate in education, the workplace and other aspects of public and daily life.
However, these rights have been restricted and in many cases completely taken away following the takeover of Afghanistan by the Taliban.
A decision taken by the Taliban prevented girls from returning to secondary school which meant that a generation of girls will not complete their full 12 years of basic education. At the same time, access to justice for victims of gender-based violence has been limited by the dissolution of dedicated reporting pathways, justice mechanisms and shelters, it added.
Source: The Print
https://theprint.in/world/taliban-claims-closure-of-girls-school-temporary-says-not-a-permanent-ban/1052699/
-----
Meet Kuwaiti woman in UAE on a mission to end stigma against mental illness in the Arab world
Anjana Kumar
July 24, 2022
Dubai: A Kuwaiti woman in Dubai is on a mission to remove the stigma around mental health issues in the Arab world.
Latifah Al Essa, who is a cognitive psychologist with a career spanning over a decade, has founded a platform called Ayadi (which means helping hands in Arabic) to help people in need of mental healthcare in the region.
"Mental health is a widespread concern in our region, and a highly stigmatised topic that is inadequately discussed and addressed. Within the GCC alone, approximately 15 per cent of the population is believed to suffer from mental health problems at any given time, and the numbers continue to increase. This is a conservative figure considering the stigma surrounding the topic and the difficulties people face when opening up about mental health."
She added: "I have been on both sides of the spectrum – coming to mental health from the perspective of both a therapist and as an individual seeking support. I created Ayadi in the wake of my grandfather having to come to terms with Alzheimer's disease. This was life-changing for him and my family, but beyond the disease itself, a huge challenge was finding therapists who could offer support."
Latifah said that everyone touched by mental health issues is affected in different ways and has their own story, but there are times when all need help to navigate life's challenges.
"Sometimes friends and family are enough, but at other times, the confidential, non-judgemental support of licensed experts may provide a safer space for individuals that otherwise feel uncomfortable with opening up, or who may very well face stigma in doing so," she added.
Before founding Ayadi, Latifah spent six years working as a cognitive psychologist at the Kuwait Centre for Mental Health, where she provided individual and group therapy sessions for children and adolescents. She conducted monthly workshops related to eating, mood and neurodegenerative disorders. During her tenure, Latifah said she founded the first psychoeducation programme for adult patients with depression and bipolar disorders, and introduced group therapy sessions for addiction.
Latifah also worked at Fawzia Sultan Healthcare Network and Soor Centre for Professional Therapy and Assessment, where she additionally provided individual counselling for autistic children.
It was when she volunteered for Ataa Relief in Syrian refugee camps that she began to think of an app for mental health care. At the camp she delivered group therapy sessions for adolescents and assisted with art therapy for children.
Ayadi connects people with a network of licensed and bilingual mental health experts through an easy-to-use web and mobile app via video, voice and text-based sessions. The platform's mental health experts "understand the region's social and cultural nuances", and provide a HIPAA-compliant therapy service that the users can trust.
"Through a combination of online therapy and community support, the platform offers a safe and secure space for people to talk about mental health and the challenges they face in their daily lives," Latifah said.
"Ayadi brings down the barriers to seeking support by making the experience easier and more convenient for users. To start with, our community is a safe space for people to talk freely, connect with others with similar experiences. The platform helps to learn about mental health, and ask experts for advice. Users can also book video or voice sessions with over 50 bilingual mental health experts – all from the convenience of their own space."
Essa said when she started work on Ayadi, she first began with informal groundwork, researching how to create a start-up, educating herself on the mechanics of running a business, learning about product development, and speaking to potential users and partners. Ayadi was officially launched in October 2020.
"In the last few years, there has been a clear shift though in the perception of the traditional gender roles and a drive towards empowering women in the region, but there is still a big gap to be bridged," said Latifah, who also volunteered for the UK charity Attend, where she coached rehabilitated patients with non-progressive brain injuries on transitioning back into employment.
"The fundraising challenges for female entrepreneurs are prevalent not only regionally but globally. This is an ongoing obstacle to progress, and change will only occur once awareness of the institutional and social biases at work leads to tangible action and the creation of more equitable financing frameworks – including better support for female-led ventures," she said.
Source: Gulf News
https://gulfnews.com/uae/meet-kuwaiti-woman-in-uae-on-a-mission-to-end-stigma-against-mental-illness-in-the-arab-world-1.89182616
-----
URL: https://newageislam.com/islam-women-feminism/tunisia-doxxing-arab-women/d/127556
New Age Islam, Islam Online, Islamic Website, African Muslim News, Arab World News, South Asia News, Indian Muslim News, World Muslim News, Women in Islam, Islamic Feminism, Arab Women, Women In Arab, Islamophobia in America, Muslim Women in West, Islam Women and Feminism