By Emma Barnett
Women's Editor
21 Nov 2012
Phoebe Greenwood was frantically filing her latest piece for The Telegraph in Gaza City earlier this week when she noticed something.
Sat in the main lobby of the Al Deira Hotel, which has become effectively become a big newsroom in the war-torn strip of land, Greenwood observed that all of the correspondents of the American, Australian, Spanish and British broadsheets writing around her were women.
Jodi Rudoren (New York Times), Ruth Pollard (Sydney Morning Herald), Harriet Sherwood (Guardian), Ana Carbajosa (El Pais), Abeer Ayyoub (freelance Palestinian journalist) and Rolla Scolari (Sky Italia) have all been Greenwood's comrades during the latest troubles in the Middle East. On the job she has also been accompanied by Heidi Levine, whom she describes as a "ridiculously tough war photographer" and worked alongside Eman Mohammed Darkhalil, an award-winning and heavily pregnant photographer.
At the start of the latest Israel-Gaza conflict last week, Greenwood, a freelance reporter based in Jaffa, Tel Aviv, said the majority of the correspondents first on the ground were women and what's even better, it's no longer remarkable.
"I think this high number of female correspondents in a conflict zone is as a result of gender-equality finally filtering down – making it totally normal for women to report from the front line," she explains.
"Obviously there were the superstars who paved the way such as Kate Adie, Marie Colvin and Olga Guerin but now we are on a total equal footing to the men when it comes to reporting in conflict zones."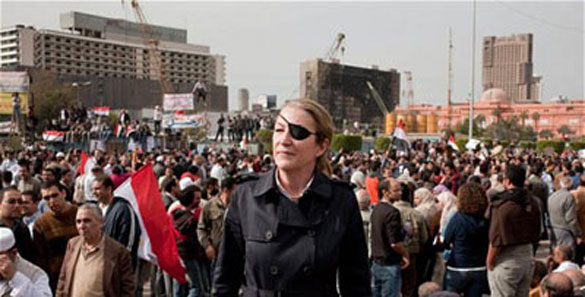 Marie Colvin paved the way for female war correspondents
-----------
This reality couldn't have been more clearly on show than during the Libyan revolution last year - when the first three reporters into Green Square, Tripoli, were all women: Alex Crawford of Sky News, Sara Sidner, of CNN, and Zeina Khodr, of al-Jazeera English.
That unique advantage: the third gender
However, interestingly, Greenwood reveals that women war correspondents do have a unique advantage because of their gender when reporting in Muslim countries.
"We sort of become a third gender and in some ways are safer because we are women," Greenwood discloses. "The Muslim men treat with us a kind of deference and actually talk to us about the war, their strategy and their weapons – which they wouldn't do with the women of their country. At the same time they would very rarely harm a female journalist as most Islamic militants don't want to behead a woman or kidnap them."
Moreover, in war-torn Muslim countries, the majority of the women and children only feel comfortable opening up to women reporters as they are not allowed to be seen talking to men outside of their families. Greenwood says this means female journalists can often get better access to the whole story.
"It's very difficult for the male journalists in Muslim countries to talk to the women and children. As a result women can often get more colour about a conflict or the latest situation with greater ease."
She describes the feeling amongst the women reporters in Gaza City as very collegiate and compares it to a "sisterhood".
Being a mother and a war correspondent
And yet despite all the progress on the equality front, balancing motherhood with a career reporting from the front line is still understandably really difficult.
Obviously starting a family proves very tough for both men and women working in warzones – says Greenwood who is not yet herself a mother. However, she does disclose, from watching her female journalist comrades who do have children, it is "just different and harder" for mothers.
"My female colleagues who have children really do struggle with their kids being so worried about them while they are working in a conflict zone. It is really tough for dads too but there is just something different about potentially losing your mother on the front line of reporting. I know that being a mother and having that parental responsibility informs some of my journalist friends' decisions about where they place themselves during the conflict. Some will take fewer risks."
Greenwood says the key to mothers being able to continue being war reporters is a really understanding partner – someone "who gets their job" and all it entails.
When asked why she left her magazine-writing days behind her and headed for conflict zones, Greenwood doesn't miss a beat.
"Why would you want to be anywhere else other than in the eye of the storm? There is nothing better than reporting on the critical moments of our era."
And on that note – her Gaza mobile phone crackles a little – and she needs to go. There's a new explosion to write about.
Source: http://www.telegraph.co.uk/women/womens-life/9692810/The-unique-advantage-of-female-war-reporters-in-Muslim-countries.html
URL: https://newageislam.com/islam-women-feminism/the-unique-advantage-female-war/d/9392