New Age Islam News Bureau
23 Dec 2015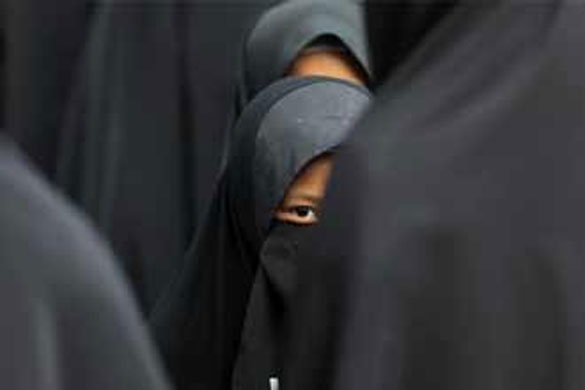 Photo: A pro-Barisan Nasional NGO today protested against DAP's Taiping MP, Nga Kor Ming, for allegedly insulting Muslim women wearing the niqab. — Reuters pic
----------
• Muslim Group Rails At DAP MP Over Alleged Niqab Jibe
• The Case against Wearing Hijab to Support Muslim Women
• U S Muslim Women Becoming Increasingly Harassed for Wearing Hijab
• Malala Meets Up Again With Syrian Schoolgirl Campaigner in Britain
• Transgender Muslims Find a Home for Prayer in Indonesia
• ILO Trains Journalists on Working Women's Day
• Senior Sabah Cop Sentenced To 100 Years' Jail for Raping, Sodomising Minor
• Saudi Women to Get a Better Sporting Chance, While Rankings System Changes Schedule
Compiled by New Age Islam Edit Bureau
URL: https://newageislam.com/islam-women-feminism/teaching-boys-respect-females-resist/d/105707
----------
Teaching Boys to Respect Females Can Resist Child Marriages
December 23, 2015
Boys should be addressed and taught in schools as well as at family levels to treat women with respect, and that will be a fruitful measure to resist child marriages, said speakers at a roundtable in the capital yesterday.
The issue of addressing boys came up as inadequate social security had been cited by parents as one of the main reasons for marrying off their daughters before they reach 18, they said at the roundtable on "Safe Environment to Resist Child Marriage" organised by Brac and the daily Prothom Alo at the latter's Karwan Bazar office .
"When a boy grows up seeing his father beating his mother, he fails to act positively towards a female child," said Farzana Brownia, chairman and CEO of Swarnokishori Network Foundation, a platform of empowered girls.
Abul Bashar Md Fakhruzzaman, upazila nirbahi officer of Keraniganj, mentioned how families' firm stance in favour of child marriage often makes it difficult for them to resist such practices. "A lot of unregistered marriages take place in villages and unfortunately local representatives still issue false birth certificates," he said.
Farah Kabir, country director of ActionAid, Bangladesh, stressed the need for parents' counseling and career counseling of young children.
Rasheda K Choudhury, executive director of Campaign for Popular Education, and Tania Nusrat Zaman, deputy chief of party, Plan International Bangladesh, both suggested scaling up of awareness programmes by the government and non-government bodies."We should also stop aggression of harmful foreign culture in our media which do not teach us how to respect women," Rasheda said pointing to Hindi serials.
Sarah Hossain, honorary executive director of Bangladesh Legal Aid and Services Trust, and Prof Sadeka Halim, who recently assessed Brac's programme Meyeder Jonno Nirapod Nagorikotto (safe citizenship for girls) being implemented in 405 secondary schools of 13 districts, also spoke.
According to a study titled "Effectiveness of Social Protection Programme in Preventing Child Marriage" by Disaster Management Watch for Save the Children Bangladesh, parents consider the insecure social environment as the main rationale for child marriage. The research findings, disseminated at Cirdap building yesterday, showed that social safety net programmes, such as school stipend, have largely failed to create incentives among parents to delay marriage of their daughters.
Stipend covers less than 10 percent of the education cost of a child and the cash provided is inadequate and irregular, showed the research conducted in a union in Bhola in September 2015, on 224 households, where marriages took place between October 2014 and September 2015.
http://www.thedailystar.net/city/teaching-boys-respect-females-can-resist-child-marriages-191347
----------
Muslim group rails at DAP MP over alleged niqab jibe
BY SYED JAYMAL ZAHIID
December 23, 2015
KUALA LUMPUR, Dec 23 — A pro-Barisan Nasional NGO today protested against DAP's Taiping MP, Nga Kor Ming, for allegedly insulting Muslim women wearing the niqab (face mask) in a Facebook post made earlier this month.
The group gathered at the DAP's headquarters here at about 2pm, where they submitted a memorandum to criticise the post in which Nga purportedly called women in niqab as "sakit otak" or "brain damaged" in Malay.
The post showed a picture of a Malay man in a songkok and a Malaysia Airline stewardess juxtaposed with a photograph of three women dressed in niqabs and captioned, "Do they look like stewardess?"; it was accompanied by a cartoon with a speech bubble saying "sakit otak".
"This is clearly an extreme form of provocation and utterly rude... it is a form of insult that we cannot accept," the group's spokesman, Zulkarnain Mahdar, told reporters outside DAP's main office.
The offending post could not be found on Nga's Facebook page while attempts to contact the Taiping MP were unsuccessful.
It is believed that the post, supposedly made on December 13, was intended to mock an Umno delegate who recommended during the party's annual general assembly earlier this month that Muslim female flight crew with local carriers be made to wear the veil.
http://www.themalaymailonline.com/malaysia/article/muslim-group-rails-at-dap-mp-over-alleged-niqab-jibe
----------
The Case against Wearing Hijab to Support Muslim Women
December 22, 2015
Last week on this program, we heard from a professor at an evangelical college who wore a Hijab in solidarity with Muslim women. Now we have a different perspective. Asra Nomani co-wrote an op-ed in The Washington Post titled in part "As Muslim Women, We Actually Ask You Not to Wear the Hijab." Earlier today, we invited her into our studios to discuss the piece.
ASRA NOMANI: Well, what we argue in the piece is that the headscarf has become a political symbol for an ideology of Islam that is exported to the world by the theocracies of the governments of Iran and Saudi Arabia. Just like the Catholic Church in the 17th century did religious propaganda to challenge the Protestant Reformation, these ideologies are trying to define the way Muslims express Islam in the world.
SHAPIRO: Are you urging Muslim women who feel most comfortable wearing hijab not to wear one or are you just saying to well-intentioned non-Muslims please don't do this as a sign of solidarity?
NOMANI: Well, very interestingly in a movement that I call now the hijab lobby, sadly promulgated by women that some of us refer to as Muslim mean girls and their friends, are trying to put out this meme that we are denying women their choice. But of course in this world everybody should have their choice. What we are saying is we have to be smart about the ideology that is putting this idea into the world that a woman must be defined by her idea of modesty, that she is the vessel for honor in a community. And I believe that we have to be very pragmatic, too, about the consequence of this. Women in Iran and Saudi Arabia are jailed, punished and harassed if they don't cover themselves legally, according to the standard of those countries. So the consequences for many women is oftentimes very dark.
SHAPIRO: Now, you use the word headscarf. But in the piece, you say it is not actually appropriate to refer to the Hijab as the headscarf. What is that distinction? Explain.
NOMANI: It's a really important one. You know, I was born in 1965. When I grew up in India, there was no expectation that a good Muslim woman wore the headscarf. But what happened when I came here to the U.S. and the emergence of the Saudi and Iranian theologies in the world is that the headscarf became the hijab and the hijab is now the idea that is synonymous with headscarf.
SHAPIRO: And how do you distinguish between those two? You say literally translated hijab means curtain.
NOMANI: Right, and so the hijab or a variation of the word shows up eight times in the Quran. And it never means headscarf. And so what's happened is that the identity of a Muslim woman especially is being equated to this piece of cloth on her head. And in that ideology there's a very fundamental assumption that people need to think very deeply about, which is do you believe that a woman is too sexy for her hair?
SHAPIRO: (Laughter).
NOMANI: We don't believe we are too sexy for our hair.
SHAPIRO: I see certain parallels between the debate over feminism where some women argue that women should not be forced to stay at home and take care of children. And there are other women who are saying you are criticizing my decision as a free liberated women to stay home and take care of my children.
NOMANI: Right, but at the end of the day here what we're talking about is choice. And we're talking about everybody's free right to have choice. And so what we're also getting are interesting messages like you really need to obey the command of Allah and put a scarf on your head. And what we caution well-intentioned Americans and others to think about is whether the scarf matches their own values related to issues of honor and shame.
SHAPIRO: Asra Nomani - she is the author of the book "Standing Alone: An American Woman's Struggle For The Soul Of Islam." Thanks for joining us.
NOMANI: Thank you so - thank you very much for having me.
http://www.npr.org/2015/12/22/460729859/the-case-against-wearing-hijab-to-support-muslim-women
----------
U S Muslim Women Becoming Increasingly Harassed for Wearing Hijab
By LaMonica Peters
December 22, 2015
WILLIAMSVILLE, N.Y. -- Since the terrorist attacks in San Bernardino, California, Muslim women in the U.S. who wear a scarf or a Hijab have been the target of harassment and attacks.
A Brooklyn, New York man was recently charged for spitting on a Muslim woman and shouting obscenities towards her. Tehmina Rahman is the Women's Coordinator at the Masjid Mahdi mosque in Niagara Falls and believes these acts of fear are isolated incidents.
"I would just suggest people not to get scared. Even the Muslim communities, not to be scared because this is one country where we can stand up, make ourselves known, and we communicate. I am not scared of anything here. I go out, meet with people and I am confident that people are very accepting and forgiving," said Rahman.
Rahman works in Williamsville restaurant Kabob & Curry. Though she says she hasn't experienced any obvious discrimination because of her Hijab, Muslim women in several cities have decided to take self defense classes to protect themselves if necessary.
"As a woman that lives in the United States part of living in the United States is being able to express yourself in any positive way. We have freedom of speech, we have freedom of religion. I feel it's important whether you're a man or a woman to be able to wear whatever you feel comfortable in," said customer Renee Obringer.
Rahman, who's lived in the United States for more than 30 years, says one of the great privileges of being an American is religious freedom.
"If we all could follow our own faiths. Regardless what it is, whether we are Jews, Muslims, Hindus, Christians, Buddhists. Whatever faith we are, if we follow that, we wouldn't be fighting. We would be sitting together because that's what every faith teaches us," said Rahman.
The Council on American-Islamic Relations says the vast majority of harassment cases handled are against Muslim women at work, in school or the public in general while wearing a hijab.
http://www.twcnews.com/nys/buffalo/news/2015/12/22/muslim--women--hijab--masjid-mahdi--mosque.html
----------
Malala meets up again with Syrian schoolgirl campaigner in Britain
REUTERS — 23 12 15
NEWCASTLE TYNE: Nearly two years after they met in a dust-blown refugee camp in Jordan, Nobel laureate Malala Yousafzai welcomed Syrian fellow schoolgirl activist Muzoon Almellehan to her friend's new home in rainy northern England on Tuesday.
Malala, who moved to Britain in 2012 after being shot in the head in Pakistan by the Taliban for refusing to quit school, won acclaim for her advocacy of women's right to education and becoming the youngest winner of the Nobel Peace Prize.
Reuniting at a gleaming public library in the northeast English city of Newcastle, 18-year-old Malala and Muzoon, 17, pledged to campaign together for access to education for Syrian refugee children.
The setting was a far cry from the sprawling lines of tents comprising the Zaatari camp for Syrian refugees in the Jordanian desert, where the pair first met in early 2014.
Malala now lives in England's second city, Birmingham, where she was treated after being shot, and Muzoon is among the first Syrians from refugee camps in the Middle East to have come to Britain.
Since the two first met, the number of registered Syrian refugees has doubled to almost 4.4 million people, according to the United Nations High Commissioner For Refugees (UNHCR).
More than 250,000 people have been killed since the Syrian civil war began in 2011.
Appeals for funding from the world's governments have fallen far short of targets. With only days before the end of the year, the UNHCR's $4.3 billion appeal for Syria in 2015 has raised just $2.2 billion.
United Nations children's agency (UNICEF) estimates 2.6 million Syrian children are no longer in school.
Muzoon, often dubbed the "Malala of Syria", made her name encouraging girls to stay in school, rather than being married off at a young age.
Malala and Muzoon met again in July this year to open a school for Syrian refugees in Lebanon, and have kept in touch through Skype and email.
Despite being occupied by school exams and plans to attend university in the next couple of years, the pair will be keeping a close eye on an international summit due to be held in Britain in early February, focused on Syria's humanitarian crisis.
Britain said in September it would resettle up to 20,000 Syrian refugees through to 2020.
Germany was the world's biggest recipient of new asylum claims at 159,000 during the first six months of 2015 alone, according to the UNHCR.
http://www.dawn.com/news/1228308/malala-meets-up-again-with-syrian-schoolgirl-campaigner-in-britain
-----
Transgender Muslims Find a Home for Prayer in Indonesia
By JON EMONT
DEC. 22, 2015
YOGYAKARTA, Indonesia — As the call to prayer boomed over this midsize university town on a recent Sunday evening, rows of conservatively dressed Muslim women laid out their prayer mats, bowed toward Mecca and murmured prayers in Arabic. As dusk fell, it was a ritual being carried out in mosques and prayer academies across the city.
What set this academy apart is that most of the worshipers here had been born as men.
Tucked away behind a large mosque on a side street in Yogyakarta, Al Fatah Pesantren is, according to its leader, the only Muslim academy or madrasa for transgender people in the world.
Shinta Ratri, the school's 53-year-old director, founded it with other transgender women in 2008, two years after a major earthquake convulsed the city. "It was a time of suffering, and transgender people needed a way to pray," she said. "We needed a place to worship together and learn about Islam."
Transgender women have few opportunities to worship, as their defiance of strict gender categorization challenges conservative Muslim views about gender.
Yuni Shara, 48, a former office worker who serves as Al Fatah's secretary, said she found an acceptance here that she did not at local mosques. "People would stare at me at mosque," she said. "They would point and say, 'She's transgender.' "
She said it was hard to focus on prayers when people gawked or stared, or when other worshipers would refuse to sit with her.
Sitting on the school's front porch before a prayer ceremony, she used a hand mirror and tweezers to pluck hair from her chin. "Here," she said, "it's very comfortable."
In Indonesia, transgender women are known as waria, a portmanteau of the Indonesian words for man and woman. Though waria have long been part of Javanese culture, they are shut out of most formal work opportunities and live at the margins of society.
They can become hairdressers at salons, dancers in risqué shows, occasionally even pop stars. Many, though, work the streets, begging during the day and engaging in prostitution or other sex work at night.
"I've always been devout," said Edo, a 39-year-old sex worker who uses only one name, as she sat on the school's front steps, adjusting her green hijab, which she wore with a conservative black gown. After going out on Saturday evenings to meet clients, she will often head to the school for Sunday worship.
"There's no contradiction," she said, crediting this realization to her study at the pesantren, the Indonesian word for madrasa. Like other women here, she goes by a name she chose for herself after transitioning genders.
Such a student body has its challenges. Transgender women often live in poverty with unstable family lives.
The school's 40 or so students tend to be older than those at a traditional madrasa, who are usually in their teens or early 20s. Some are as young as their late teens, but mostly they are middle-aged and have missed traditional Islamic education because they were expelled from home as teenagers.
"Many students come and go," Ms. Shinta said.
She wants to bring waria from the edges into the center of Indonesian life. And in this increasingly religious country, that means bringing them into the center of Islam.
While the primary goal of the academy is to provide a place of worship for transgender women, she said, another goal is using Islam to advocate transgender rights. "We have to educate the public about who transgender women are, and we have to push the government so that it acknowledges that we have equal rights," she said.
Though some transgender Indonesians have succeeded in getting the state to recognize them, Indonesian law offers no protection against workplace discrimination or harassment. Many waria report having been dismissed from their jobs when they expressed their true gender identity, compelling them to select work outside the formal sector, like prostitution, instead.
The school's students meet during the week to plan trips to local universities, where they speak about Al Fatah's mission, and to plan religious ceremonies. To raise money for Arabic lessons, Ms. Shinta and many of the students study traditional Javanese dance, which they perform at weddings and other ceremonies.
Their efforts have been championed by progressive Muslim leaders, who embrace the school as a symbol of tolerance at a time when there is widespread worry that Indonesia's historically tolerant Islamic tradition is being eroded by more doctrinaire forms of Islam imported from the Middle East.
"The pesantren is important for persuading Indonesians that transgender women, as well as L.G.B.T. more generally, are not necessarily sinners or deviants," said Musdah Mulia, a prominent feminist theologian and chairwoman of the Indonesian Conference on Religion and Peace, an organization that promotes religious tolerance.
Such open support, however, comes exclusively from Indonesian Islam's most progressive voices. Conservative Muslims, including Indonesia's Ulama Council, which advises the national government on religious issues, do not acknowledge transgender rights.
Ms. Shinta had hoped that the faculty of Sunan Kalijaga State Islamic University in Yogyakarta would work with her school to develop guidelines for leading a proper Islamic life for transgender people, but the partnership foundered on theological differences.
"In the Quran there are only men and women," said Fuad Zein, a professor in contemporary Islamic law at the university.
Still, the country's largest Muslim organization, Nahdlatul Ulama, or N.U., has been "extremely supportive" of the school, Ms. Shinta said.
N.U., which has an estimated 50 million members across Java, follows traditional Javanese Islam, with its generally relaxed interpretations of Islamic law and emphasis on tolerance.
Institutions affiliated with the organization have provided the school with Muslim teachers and connected Ms. Shinta with sympathetic religious leaders and faculty members throughout Java, the island where more than half of Indonesia's people live.
The irony that a transgender prayer academy is supported by Indonesia's most prominent traditionalist Muslim group is not lost on Ms. Shinta. "It's because Javanese culture is far more open to gender issues, because Javanese people were already introduced to transgender women well before Islam arrived," she said.
Jeremy Menchik, an assistant professor in the Pardee School of Global Studies at Boston University and the author of "Islam and Democracy in Indonesia: Tolerance Without Liberalism," says that Indonesia challenges common assumptions about where tolerance comes from. "The general idea is the more tolerant individuals will be the more urban, educated, liberal and secular," he said. "What's interesting about Indonesia is among the organizations I study, N.U., the traditionalist one, the rural one, the conservative one, is the most tolerant."
Ms. Shinta, who wears a traditional gamis — a gown worn by observant Muslim women — and a head scarf, in many ways embodies that strain of tolerant conservatism.
Asked about the place of transgender people in Islam, she gives a broad smile and pulls out a Quran, pointing out passages that, she says, prove that Muhammad cared about transgender people. "It's proof! He cares about us!" she exclaimed, tapping her finger on a passage about a man who does not desire women. "That's transgender, that's gay!"
Get news and analysis from Asia and around the world delivered to your inbox every day with the Today's Headlines: Asian Morning newsletter. Sign up here.
http://www.nytimes.com/2015/12/23/world/asia/indonesia-transgender-muslim.html
----------
ILO trains journalists on working women's day
December 23, 2015
Islamabad - The International Labour Organisation (ILO) marked the International Working Women's Day in Pakistan yesterday by launching a special training programme for electronic media journalists from Punjab, Khyber Pakhtunkhwa and Islamabad on narratives of empowerment for working women in Pakistan.
The two-day training which concluded in Islamabad on Tuesday brought together over two dozen young and mid-career reporters and producers, half of them women, of more than 15 TV channels based in these regions. The training is part of an ILO project titled "Gender Equality for Decent Employment (GE4DE)" aimed at ensuring that Pakistani women have greater access to equal employment opportunities and decent working conditions in selected economic sectors; and that stakeholders have increased understanding of and favourable attitudes towards working women's issues.
The training was the first in a series of two workshops – the second will be held next week in Islamabad for electronic media reporters and producers based in Khyber Pakhtunkhwa, Punjab and Islamabad. The training was showcased by the presence of Shamim Bibi, Pakistan's first female truck driver who recounted her experiences in making headway in what is considered as a 'man's world' of truck drivers.
Among the topics covered in the training included: the gender lens and women in the world of work; women in news media; mainstreaming women and work in current affairs; women as stories in the world of work; women's stories in the world of work; and viewing and reporting positively – empowerment narratives.
In the training, conducted by media trainer Adnan Rehmat and gender expert Salman Asif, the media practitioners were introduced to the concept of GE4DE, how women in Pakistan have been making strides in their economic, professional and self-empowerment as well as the factors that promote this empowerment.
A mix of the theoretical and the practical, the training workshop also included interactive sessions and exercises aimed at utilizing modern journalistic principles, tools and techniques to improve professional reporting on women and economic rights, challenges and progress.
The ILO training series includes a small-grants programme to assist reporters and media practitioners participating in the trainings to do research-based quality reporting based on the quality of their story ideas.
Hundreds of journalists have been trained so far in the last few years in Pakistan, mostly print media practitioners, under this programme with journalists excelling in reporting on GE4DE issues taken by ILO to its offices in Italy for advanced global trainings.
Now exclusive trainings are being held for electronic media by ILO. All of Pakistan's leading national and regional TV channels, radio stations and online media are attending the trainings workshops.
http://nation.com.pk/islamabad/23-Dec-2015/ilo-trains-journalists-on-working-women-s-day
----------
Senior Sabah cop sentenced to 100 years' jail for raping, sodomising minor
BY JULIA CHAN
December 23, 2015
KOTA KINABALU, Dec 23 — A senior police officer was sentenced today to a total of 100 years in jail and 15 strokes of the rotan after a Sessions Court here found him guilty of raping and sodomising a 13-year-old girl.
Deputy Superintendent Rohaizat Abdul Ani, a one-time Setiu OCPD and former vice cop at the Sabah police headquarters, was charged with four counts of raping and one of sodomising the minor between February 1, 2012 and May 6, 2012.
Sessions court judge Ainul Shahrin Mohd said the prosecution had proven the case beyond reasonable doubt and found the 54-year-old accused guilty of all five charges.
When seeking a more deterrent sentence, deputy public prosecutor Azeezi Nordin pointed out to the court that the accused, as a high ranking senior police officer, should be setting an example for the police force instead of destroying its image.
"He should be a guardian to the public, not otherwise," he said.
The DPP also pointed to the huge age difference of 40 years between the victim and the accused and said it was clear that the latter never considered this when carrying out the offences.
"The repetitious act of the accused in the three month period from February to May 2012…. he raped the victim four times and sodomised her one time.
"It shows that the accused never considered the victim's age, emotions and consequences of his action in the eyes of law," said Azeezi.
In rebuttal, defence counsel Zahir Shah reminded the judge that this was Rohaizat's first offence but added that he would leave the matter to the discretion of the court.
The charges, under Section 376(1) of the Penal Code for rape, and Section 377 B for sodomy all carries a maximum jail term of up to 20 years and whipping on conviction.
For the first two charges of raping and sodomising the victim on February 1, 2012 between 4.30pm and 5.30pm in a room at Tang Dynasty Hotel, Ainul sentenced Rohaizat to 20 years imprisonment and three strokes of the rotan. This sentence, however, is to run concurrently, the judge said.
The judge subsequently sentenced the accused to 20 years' jail and three strokes of the rotan each for the third, fourth and fifth rape charges, which took place on February 2, 2012 between 12.30pm and 1.30pm in the same hotel, and between May 1 and 6, 2012 at 8pm and 3am. The judge ordered these sentences to run consecutively.
This means Rohaizat will have to serve a total of 80 years in prison and be given 15 strokes of the rotan.
Judge Ainul, however, granted the senior police officer a stay of execution pending his appeal to the High Court.
Rohaizat was also ordered to post a RM100,000 bail before 3.30pm today with one surety and surrender his international passport to the court. Ainul also ordered him to report to the Bukit Aman police headquarters every 1st and 5th of the month.
Rohaizat, who was in a dark coloured jacket, was accompanied by his wife in court today. Both showed little emotion during the proceeding.
Rohaizat shielded his face with newspapers to prevent himself from being photographed by reporters when exiting the court house.
http://www.themalaymailonline.com/malaysia/article/senior-sabah-cop-gets-100-years-jail-for-raping-sodomising-minor
----------
Saudi Women To Get A Better Sporting Chance, While Rankings System Changes Schedule
December 22, 2015
Dubai: An enhancement in sports activities for women at clubs and the hosting of the sports events ranking system once every two years were among the decisions taken at the board of directors' meeting of the Dubai Sports Council (DSC) on Monday.
The recommendation to have a greater scope for women's sports at local clubs was floated by the Women's Sports Committee of the DSC and the board of directors under Mattar Al Tayer, Vice-Chairman, DSC, who agreed to the suggestion that there ought to be a bigger understanding between the clubs and the committee.
The decision should see women more able to join in activities that are held locally at the five clubs in Dubai.
The DSC women's sports committee has already put in place several memorandum of understanding with various schools in Dubai so that their playing fields can be utilised by women. The committee also accepted the recommendation to have a weekly television programme produced by Dubai Sports Channel to promote sports among women.
The DSC board of directors also accepted the recommendation that the sports events ranking system be held once every two years instead of hosting it every year.
At the first edition of the sports events ranking system held in November, the Dubai World Cup horse race, the Dubai Duty Free Tennis Championships, the DP World golf and the Dubai Tour cycling were the four sports events that ended with a top-class rating of five stars.
A total of 87 events organised under the aegis of the DSC participated in the system that is operated on judging each event on 70 Key Performance Indicators (KPIs).
"It is important for us to attract and host international sports events that have a certain standard and calibre that suits the growing aspirations of Dubai. Even if we do stage smaller events, we need to stick to a certain high standard so that Dubai further enhances its reputation of being the best sporting destination of the world," Al Tayer said after the meeting.
Backed by Shaikh Hamdan Bin Mohammad Bin Rashid Al Maktoum, Crown Prince of Dubai and Chairman of DSC, the ranking system saw 29 other sports events get a four-star ranking, while 53 events received the three-star sign. The next sports events ranking system will be held in November, 2017.
http://gulfnews.com/sport/uae/more-uae/women-to-get-a-better-sporting-chance-while-rankings-system-changes-schedule-1.1642213
URL: https://newageislam.com/islam-women-feminism/teaching-boys-respect-females-resist/d/105707
New Age Islam, Islam Online, Islamic Website, African Muslim News, Arab World News, South Asia News, Indian Muslim News, World Muslim News, Womens in Islam, Islamic Feminism, Arab Women, Womens In Arab, Islamphobia in America, Muslim Women in West, Islam Women and Feminism