24 April 2022
• Taliban Separate Weekdays for Male, Female University Students
• Afghan Women Players Make Football Debut In Australia
• 'Whether We Wear A Headscarf Or Not, We're All Afraid': The Views Of French Muslim Women
• Women And Children Beg For Help In Video From Besieged Mariupol Steel Factory
• Haj Yatra 2022: 79,237 Pilgrims Including 2,000 Indian Women Without Mehram To Attend
Compiled by New Age Islam News Bureau
URL: https://newageislam.com/islam-women-feminism/taliban-male-female-students/d/126852
--------
Taliban Separate Weekdays for Male, Female University Students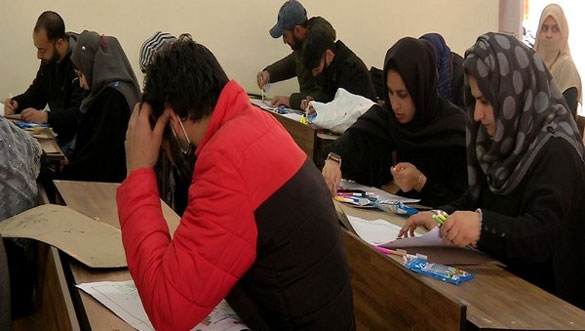 Representative Photo/File Image
----
By Najibullah Lalzoy
24 Apr 2022
Ministry of Higher Education of the Islamic Emirate of Afghanistan separated weekdays of male and female students of universities in Kabul University and Kabul Polytechnic University in a bid to further end co-education.
Based on the new timetable for the universities, three days of the week are allocated for all-female students during which no boy will be attending classes while the remaining three days will be given to boys with no girl presence.
Spokesperson of the ministry Ahmad Taqi in a video clip said the decision was made after the academic council of the University of Kabul suggested to so that the students have enough time for practical activities and scientific research.
The timetable will only be implemented at the University of Kabul and Kabul Polytechnic University at the moment and will be in effect in May.
Previously, the Taliban had ended co-education in universities and had separated their times as girls would attend morning classes and boys were given the afternoon shift.
This comes as secondary schools for girls across Afghanistan are yet to be reopened.
Source: khaama Press
https://www.khaama.com/iea-separates-weekdays-for-male-female-university-students-%db%b67658756/
-----
Afghan Women Players Make Football Debut In Australia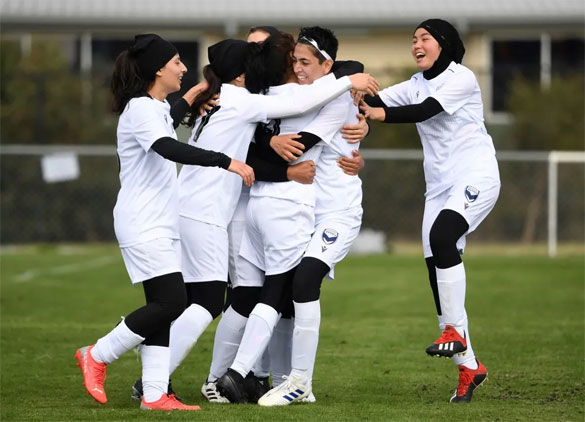 William West/AFPMelbourne Victory Afghan women's team player Manozh (2nd R) and teammates celebrate during their first match in a local league against ETA Buffalo SC in Melbourne, Australia, on April 24, 2022.
------
April 24, 2022
Players from Afghanistan's national women's football team competed in a local league match in Australia on Sunday for the first time since fleeing the Taliban.
The result was a scoreless draw after an Afghan goal was disallowed for being offside in a lower league amateur match in the eastern state of Victoria.
But for the Afghan women it was a powerful, symbolic victory as they returned to the pitch together after leaving their homeland to rebuild their lives in Australia.
The game showed that the Taliban could not stop the players, said team captain Nilab, who like her teammates did not give a family name so as to protect relatives living in Afghanistan.
Australia helped dozens of Afghan national women's team players and their relatives to escape when the Taliban swept back to power eight months ago.
The Taliban have since severely curtailed the freedoms of women, banning girls' education and preventing women from even boarding planes without a male relative.
But many settled in and around Melbourne, capital of the eastern state of Victoria, where professional A-League Women's side Melbourne Victory helped them to return to the field.
Goalkeeper Fatima said people who had seen social media images of Afghanistan after the Taliban's return could understand something of the courage required by players to leave their homes.
Team coach Jeff Hopkins praised their performance against amateur Melbourne side ETA Buffalo SC — a club established in 1982 by friends who had migrated from East Timor — in the Football Victoria State League 4 West competition.
"These young women, all they want to do is to be given the chance to just be treated equally, to be able to play the game they love," Hopkins told AFP.
A few days ahead of Sunday's match, Melbourne Victory presented the Afghan Women's Team with their new predominantly red kit, complete with shirts showing off the Afghan national flag.
Source: Dawn
https://www.dawn.com/news/1686575/afghan-women-players-make-football-debut-in-australia
-----
'Whether we wear a headscarf or not, we're all afraid': the views of French Muslim women
BY RACHIDA EL AZZOUZI
APRIL 23, 2022
For more than 30 years an obsession with the wearing of the headscarf has dominated public debate in France, and this presidential campaign has been no exception. The far-right candidate Marine Le Pen has even suggested she might ban its wearing in public places if she is elected head of state this Sunday, April 24th. Here Mediapart speaks to French Muslim women at the centre of this incessant and damaging debate, to hear their point of view. Rachida El Azzouzi and Faïza Zerouala report.
A piece of cloth separates them. That, at any rate, is what the two contenders in this Sunday's decisive round in the French presidential election would have us believe. When, on the campaign trail recently, he was tackled about his stance on feminism by a young woman wearing a headscarf, Emmanuel Macron asked her if she had been forced to cover her hair. She responded that she wore a scarf of her own volition. He then stated that it was "great" that a woman could ask him such a question. "It's the best response to all the nonsense I've been hearing," said the centrist president, during the encounter at Strasbourg in north-east France.
Source: Mediapart
https://www.mediapart.fr/en/journal/france/230422/whether-we-wear-headscarf-or-not-were-all-afraid-views-french-muslim-women
-----
Women and children beg for help in video from besieged Mariupol steel factory
Luke Harding
23 Apr 2022
A video has emerged from inside the besieged Azovstal steel factory in Mariupol showing women and children who say they are "running out of strength" and need to be urgently evacuated to Ukrainian-controlled territory.
The film was recorded on Thursday. The women say 15 children are living in tunnels beneath the plant, ranging in age from babies to teenagers. They are trapped together with their families and other civilians, including factory workers.
The video shows several children, one apparently doing homework in a colouring book, surrounded by clothes and makeshift beds. A boy says he is desperate to see sunlight again and to breathe fresh air outside after weeks living in a dungeon.
An unnamed woman says she has spent 50 days underground, since 25 February, the second day of Vladimir Putin's invasion of Ukraine. Others say they took refuge in the plant in early March, as Russian forces pounded their apartments with artillery and airstrikes.
Food and water are almost finished, the woman said, with people "on the edge of hunger". "All the provisions we brought with us are running out. Soon we won't even have enough food for the children."
She added: "We are here and need help. We are at the epicentre of events and we can't get out. My child needs to be evacuated to a peaceful area and others too. We beg for guarantees of safety for our kids."
The woman continued: "We worry for the lives of our children and [elderly] parents who require medical care. They are running out of strength and life power. There isn't a single day without shelling. They are scared even to go to the toilet."
The Ukrainian government has been trying to establish a humanitarian corridor which would allow civilians inside the plant to safely exit. The sprawling factory is a base for Ukraine's Azov battalion, a part of the national guard, which shot the video.
Under cover of darkness, Ukrainian forces managed to deliver weapons to the encircled soldiers via helicopter, Oleksiy Danilov, secretary of the national security and defence council said, adding: "We have a difficult situation, but our army is defending our state."
About 80 civilians escaped from Mariupol on Wednesday in four buses. Ukraine says subsequent attempts have failed because Russian troops keep shelling the meeting place. They add that Moscow has forcibly removed 40,000 residents to Russian territory.
On Thursday, Putin declared victory in Mariupol. He said his forces, which control the rest of the city and have hoisted a flag on the TV tower, would not seek to enter the plant. They would instead seal it off so "not even a fly could escape", he told his defence minister Sergei Shoigu.
In reality, Moscow has resumed airstrikes and is trying to storm the steelworks, Ukraine's presidential adviser Oleksiy Arestovych said on Saturday. He told national TV: "The enemy is trying to strangle the final resistance of the defenders of Mariupol in the Azovstal area."
Russian units continue to hide evidence of their crimes by removing bodies from the city's rubble, Ukrainian officials said. Satellite images show two new mass graves next to an existing cemetery in the village of Manhush, 15km west of Mariupol. Between 3,000 and 9,000 civilians are buried there, they suggest.
Victims include civilians killed on 16 March when a Russian war plane flattened the city's drama theatre. Ukraine's president, Volodymyr Zelenskiy, has said 300 people died in the strike. The theatre was being used as a shelter by about 1,500 women and children.
Since failing to capture Kyiv, the Kremlin has amended its war plan. The current goal is to "liberate" the eastern Donbas region. On Friday, a Russian general said a second objective was to create a land corridor linking the separatist so-called Donetsk and Luhansk people's republics with Crimea and the breakaway republic of Transnistria in Moldova.
In its latest intelligence update, the UK Ministry of Defence said Russian tactical battalion groups, which have massed in and around Donbas, had made "no major gains in the last 24 hours". "Ukrainian counterattacks continue to hinder the efforts," it said.
Further north, the Ukrainian army clawed back some territory. It liberated three villages around the city of Kharkiv, according to regional governor Oleh Synehubov. Troops had secured positions in Bezruky, Slatine and Prudianka villages, he said.
Ukraine's general staff said it had repelled eight Russian attacks, destroying nine tanks, 18 armoured units and 13 vehicles, a tanker and three artillery systems. "Units of Russian occupiers are regrouping. The enemy continues to launch missile and bomb strikes on military and civilian infrastructure," it said.
The Luhansk governor, Serhiy Haidai, said on Saturday two people were killed by Russian shelling in the city of Popasna. He said an evacuation train for residents of the Donetsk and Luhansk areas was expected from the eastern city of Pokrovsk bound for the western city of Chop, near Ukraine's border with Slovakia and Hungary.
"In addition to the fact that street fighting continues in the city for several weeks, the Russian army constantly fires at multi-storey residential buildings and private houses," Haidai wrote on Instagram.
Ukrainian authorities said that a series of Russian TU-95 missiles fired from the Caspian Sea on Saturday killed at least five people in Odesa, including a three-month-old baby, and wounded 18 others.
"Five Ukrainians killed and 18 wounded, and those are only the ones that we were able to find," said the head of Ukraine's presidential office, Andriy Yermak. ''It is likely that the death toll will be heavy."
In a press conference on Saturday evening, Zelenskiy confirmed that a three-month-old baby was among those killed. "They killed a three-month-old baby," he said. "The war started when this baby was one month old. Can you even imagine what is happening? They are just bastards. Just bastards. I don't have any other words to use in this context. They are just bastards."
On another front, near Kherson, a city in the south of Ukraine under Russian military occupation, two Russian generals have been killed while another is in a critical condition, the Ukrainian ministry of defence's intelligence directorate has said. The Russian generals were allegedly killed after the Ukrainian military hit the command post of Russia's 49th army near Kherson on Friday, according to the statement.
Ukrainian authorities on Saturday urged those celebrating Orthodox Easter, one of the biggest celebrations in Ukraine, to follow religious services online and to respect curfews amid fighting with Russian troops, despite a holiday that usually attracts crowds.
Both Russia and Ukraine celebrate Orthodox Easter on Sunday, but hopes for a ceasefire faded on Saturday, with Ukrainian officials reporting the deadly strike on Odesa and fighting in the east.
"No crowds!'', said the governor of the Poltava region south-west of Kyiv, Dmytro Lunin, "There should not be situations where believers gather outside churches," he said.
Source: The Guardian
https://www.theguardian.com/world/2022/apr/23/women-and-children-beg-for-help-in-video-from-besieged-mariupol-steel-factory
-----
Haj Yatra 2022: 79,237 Pilgrims Including 2,000 Indian Women Without Mehram To Attend
By Megha Rawat
23rd April, 2022
The Haj pilgrimage will resume this year following a two-year hiatus amidst the COVID-19 pandemic, informed the Saudi administration on Friday. However, in view of the advancing COVID tally across the world, the headcount of pilgrims is expected to be lower when compared to the two lakh who attended the Haj Yatra in 2019. India will be sending 79,237 pilgrims to perform Hajj this year. The Haj Committee of India will send 56,601 pilgrims whereas Hajj Group Organizers (HGO) will send 26,636 pilgrims.
According to information from the Ministry of Minority Affairs, a total number of 87,194 applications for Haj Yatra were received this year. Male applicants account for 44,121, while female applicants account for 43,073. Kerala has sent the maximum application with 11,449 applications followed by Maharashtra with 10,125 applications. The Union Territory of Jammu and Kashmir sent 9,993 - the third-highest number of applications. The Saudi government has approved a quota that will be distributed through a lottery system.
Meanwhile, it is pertinent to mention here that India will be the first country in the world to permit women to go on Haj unaccompanied by a male companion or Mehram. This year, the Hajj committee has received applications from around 2,000 women for Hajj without Mehram.
In 2020 and 2021, more than 3,000 women applied for Hajj without the Mehram category. However, they were unable to travel due to COVID-19 restrictions, so their application will be examined this time, revealed a report by ANI. The lottery procedure will be waived for all women who do not fall within the "Mehram" category.
"We have met all the arrangements and all the officers who will be traveling have been trained well in the procedures. We are making sure that all COVID protocols are followed including the mandatory COVID negative RT-PCR certificate before 72 hours of arrival so that there is no inconvenience to anyone," Minority Affairs Minister Mukhtar Abbas Naqvi told ANI.
Naqvi added that a total of 11 Haj embarkation points have been identified for this year, including Chennai, Lucknow, Mumbai, Delhi, Hyderabad, Ahmedabad, and Kochi.
"We had received requests from many states to ask for increasing the number of points for Haj embarkation but this year, with the restrictions continuing with the COVID-19, we have not been able to add any more locations to the list," Mukhtar Abbas Naqvi added.
It is pertinent to note that the Haj Committee of India has elected a woman as vice-chairperson for the first time. The Haj Committee has elected Munnawari Begum, a member of the Central Waqf Council, and Mafuja Khatun, the vice president of the Bengal BJP.
India withdrew the Haj subsidy in 2018 under the Modi government, and that money, which was close to 400 crore per year, was utilized to finance education for girl children. Haj 2022 will commence on May 31. The first flight will be flagged off by the Minister Mukhtar Abbas Naqvi.
Source: Republic World
https://www.republicworld.com/india-news/general-news/haj-yatra-2022-79237-pilgrims-including-2000-indian-women-without-mehram-to-attend-articleshow.html
-----
URL: https://newageislam.com/islam-women-feminism/taliban-male-female-students/d/126852
New Age Islam, Islam Online, Islamic Website, African Muslim News, Arab World News, South Asia News, Indian Muslim News, World Muslim News, Women in Islam, Islamic Feminism, Arab Women, Women In Arab, Islamophobia in America, Muslim Women in West, Islam Women and Feminism