New Age Islam News Bureau
2 Aug 2012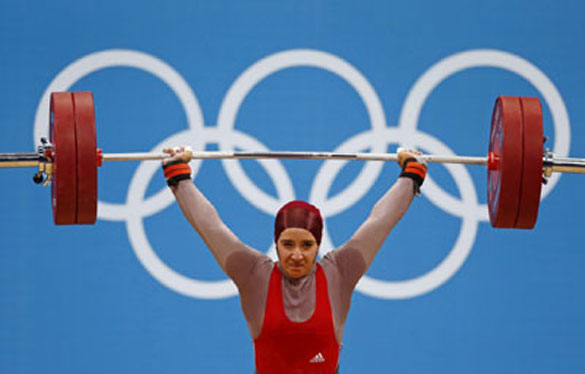 • Shackled Sudan Mother Sentenced To Stoning For Adultery
• Nawal El Moutawakel: The First Female Muslim Olympic Champion
• Tunisian Muslim Female Weightlifter First To Wear Hijab In Olympics
• Mutilated Pakistani Woman Rebuilds Her Life
• Three Cheers, And One Hijab, For A Female Saudi Olympian
• Pakistani Acid-Attack Victim Enjoys New Life In Texas
• Teaching Feminism: When You're Not A Feminist
• Hijab No Hurdle For Muslim Sportswomen As Bans Eased
Compiled by New Age Islam News Bureau
Photo: Ghada Hassine, 19, First to Wear Hijab in Olympics
URL: https://newageislam.com/islam-women-feminism/shackled-sudan-mother-sentenced-stoning/d/8130
--------
Shackled Sudan Mother Sentenced To Stoning For Adultery
2 August 2012
Death by stoning is the sentence a Sudanese woman accused of adultery has been issued, activists said on Wednesday. She is reported to be shackled with her six-month-old baby in jail.
President Omar Hassan al-Bashir said last month that Sudan would adopt a "100 percent" Islamic constitution, prompting concerns the country would apply Islamic law more strictly after the secession of mostly non-Muslim South Sudan a year ago.
A court in the capital Khartoum sentenced 23-year-old Laila Ibrahim Issa Jamool on 10 July to death by stoning for adultery, said Sudanese human rights activist Fahima Hashim, who has been following her and other such cases.
The Strategic Initiative for Women in the Horn of Africa (SIHA), a women's rights group, said it had assigned lawyers who had appealed against the conviction and sentence. Jamool's husband had accused her of adultery, it said.
"The appeal is understood to take not less than one-and-a-half months before a response can be got from the court of appeal. During all this time, Mrs Jamool will still be shackled in Omdurman [near Khartoum] women's prison together with her six-month [old] child," SIHA said in a statement.
The baby is in poor health it said, without giving further details.
Officials in Sudan's justice and information ministries were not available for comment.
Second stoning case
Amnesty International said the conviction did not meet international legal standards and also violated Sudanese criminal law.
"The stoning sentence was imposed ... after an unfair trial in which she was convicted solely on the basis of her confession and did not have access to a lawyer," Amnesty said in a statement.
In April, a Sudanese court handed out a stoning sentence for adultery against Intisar Sharif Abdalla, who activists said was in her 20s.
She was released on 3 July after her lawyers successfully appealed because she had been denied a lawyer in her trial, according to Amnesty and local activists.
Floggings in Sudan
Floggings are a common punishment in Sudan for crimes such as drinking alcohol and adultery. But sentences of stoning are rare.
Following a 1989 coup, Sudan introduced laws that took Islamic law, or sharia, as their main source and the country hosted Islamist militants including Osama bin Laden.
While the government has since sought to improve its image internationally by distancing itself from radical Islamists, it is still one of only a few countries to list death by stoning in its statutes.
In 2010, the case of Lubna Hussein, a Sudanese UN official, sparked international furore when she was sentenced to flogging for wearing trousers. She challenged the sentence in court and was instead fined.
http://www.rnw.nl/africa/article/shackled-sudan-mother-sentenced-stoning
---------
Nawal El Moutawakel: The First Female Muslim Olympic Champion
02 August 2012
Author: Katie Stanton
n celebration of London 2012, Left Foot Forward will be running a series of profile features on Olympic heroines past and present, and potential female stars of the future. London 2012 is the first year that all teams have a female competitor yet women are still severely under-represented in sport, especially when it comes to coverage and sponsorship. The success of female athletes in this year's Olympics needs to trigger cultural change.
For all the publicity that the International Olympics Committee (IOC) receives, did you know that one of its members was the first female Muslim to win an Olympic gold medal?
Nawal-El-MoutawakelNawal El Moutawakel is a Moroccan hurdler who not only achieved a historic moment for Muslim women, but also won the first ever 400m Women's hurdles event in 1982 and was the first Moroccan athlete to win an Olympic medal.
Interviewing Nawal recently, the FT said (£):
El-Moutawakel believes her win helped change the lives of thousands of Muslim women across the world.
Previously, it was thought women couldn't do well in sport, but after her triumph athletics became a possibility for a whole generation. In fact, el-Moutawakel became such an iconic figure for Muslim women that she used to receive letters addressed simply: Nawal el-Moutawakel, Morocco.
El-Moutawakel was quoted as saying:
"King Hassan II called me right after I crossed the finish line… Someone took me into a special room and said 'The King is on the phone.'
"He said: 'I am so proud of you. The entire country is going wild. This victory has made us all so happy and proud of you.' I was speechless. I couldn't believe he was awake and watching. It was in the early hours in Morocco."
The success of legendary female athletes always tends to stem from supportive parents; Nawal's parents especially believed in equality and she and her sisters were given the same sporting opportunities as her brothers. Iowa State University noticed how talented Nawal was at hurdles and offered her a scholarship, to which she accepted but begrudgingly left her family.
Eight months later, Nawal won the gold medal that would firmly put her in the history books.
Nawal is now secretary of sport for Morocco and sits on the IOC. She started a 5km run in Casablanca called Courir pour le plaisir, which she hopes will encourage women feel "the power of sport".
One website commented:
El Moutawakel's victory was a surprise to most—running the event in 54.61 seconds, she beat her personal best by 0.76 seconds. But in that moment, the enormity of her accomplishment weighed down her tiny 5-foot-3 frame.
The win wasn't just for herself or even for her country; as the first woman from a Muslim nation to win an Olympic gold medal, she smashed stereotypes and proved human potential is limitless, even for women.
Since she won the gold medal in 1984, Muslim women from around the world have competed in the Olympics and won medals. El Moutawakel has closely followed the careers of many, including Ruqaya Al Ghasara, a Bahraini woman who defied Muslim fundamentalists in 2004 when she competed in the Athens games and became the first female athlete to wear a full hijab at the Olympics.
http://www.zaratustra.eu/?lang=_en&type=specialists&detail=153
--------
Tunisian Muslim Female Weightlifter First To Wear Hijab In Olympics
By UMBERTO BACCHI
August 1, 2012
The Olympic spirit has been enhanced with a new - and unusual - record being set with the first weightlifter in the Games' history being allowed to compete with most of her body covered in accordance with her religious belief.
Tunisian athlete Ghada Hassine, 19, a Muslim, lifted a total of 220kg wearing a newly approved "unitard" costume under the traditional weightlifting outfit and with a hijab covering her hair.
Hassine finished 10th in the women's 69kg category after clearing 102kg in the snatch and 120 in the clean and jerk.
The competition was won by North Korean Jong Sim-rim followed by Rumanian Roxana Cocos and Belarus's Maryna Shkermankova.
In 2011, the International Weightlifting Federation modified the rules requiring weightlifters to compete with their arms and lower legs uncovered to allow Muslim athletes to participate in the games.
Saudi female judoka cleared to compete
Follow us
Wojdan Ali Seraj Abdulrahim Shaherkhani, a female Saudi judo fighter, has also been allowed to compete with her head covered.
The decision came after several days of talks between the International Olympic Committee (IOC), the International Judo Federation and the Saudi Olympic Committee, as the latter threatened to pull Shahrkhani out if she was not allowed to wear a hijab.
Headscarves were banned under judo rules as contrary to the sport's principles and for safety reasons.
Shaherkhani is one of the two first Saudi female athletes ever to participate in the Olympic Games.
The other is Sarah Attar, a 17-year-old, California-raised 800-metre runner, who studied at Malibu's Pepperdine University.
http://www.ibtimes.co.uk/articles/369279/20120801/tunisian-muslim-female-weightlifter-wear-hijab-saudi.htm
--------
Mutilated Pakistani Woman Rebuilds Her Life
2 August 2012
A Pakistani woman whose nose was cut off by her husband 32 years ago says she has been brought back from the dead after surgery which gave her a new nose. Allah Rakhi hid her face for decades after the attack. Orla Guerin went to central Punjab to meet her.
Thirty-two years ago a teenaged mother of two set off through the lush fields of central Punjab with one thought in her mind - escape.
She was slim and spirited and famed as the beauty of her family.
Her name was Allah Rakhi, and she had just endured another beating by her husband, Ghulam Abbas.
She made it to the edge of their village, the hamlet of Thatta Pira, before he caught up with her. Within minutes the rich brown soil was running red with her blood. Ghulam Abbas had hacked off her nose.
Three decades on, still spirited but now a doting grandmother, Allah Rakhi took me to the spot at the edge of the rice fields, where she was robbed of her looks, and much of her life. Dry-eyed and animated, she relived the attack.
"He told me to sit down and listen to him," she said. "I told him he had destroyed my life, beating me every day and that I was going to my parents' house. He sat on my chest, and reached into his pocket for a blade. As he slashed my nose off, blood poured into my eyes. Then he cut my ankle, from one side to the other."
Drenched in blood she was carried back home, rather than to the hospital, so she could not make a police report. Eventually Ghulam was arrested, and spent six months in jail. Allah Rakhi agreed to his release, for the sake of their young children. When he came home he divorced her, and threw her out.
Then the gregarious and garrulous Allah Rakhi began what amounted to her own prison sentence - condemned to isolation, avoiding mirrors and hiding her face - even from her own son and daughter. "It would have been better if he had cut my throat, instead of cutting of my nose," she says.
Sitting on a traditional woven bed inside her modest home, she recalls her lost years - when she kept a piece of fabric permanently tied around her face, and shrouded herself in a veil.
Deep scar
"That's how I spent 32 years," she said.
"I never removed that fabric because it hurt to look at myself. I couldn't attend weddings or funerals, because people would keep asking what happened. If any local children came and saw me they started screaming in fright. I thought of myself as one of the dead."
Nowadays a cream scarf covers her hair, but she has no need to cover her face.
She has a ready smile and a deep scar running the length of her forehead, leading to her new nose.
It was fashioned from her ribs by Pakistan surgeon Professor Hamid Hassan, who treated her free of charge in March.
Allah Rakhi's physical and mental scars are healing, but her torment is not over yet.
She is back under the same roof with the man who mutilated her, her ex-husband Ghulam, a brooding presence with a bushy grey beard, and an incongruous floral scarf, forming a turban on his head.
As she tells me her story he sits right outside in the courtyard, listening intently. He is gnarled by age, but untouched by remorse.
When I ask about the attack his responses are prompt, and chilling.
Threatened with eviction
"What can I say about this now?" he said, in a low voice, devoid of emotion. "It's better if you don't ask. It's all her fault. Whatever happened was because of her crimes. It didn't happen for no reason." He refuses to elaborate on her alleged wrongdoing.
Allah Rakhi hears his replies, but says little in return.
"I have never punished him," she said. "I have left that to God."
Her attention is focused on the labourer, building a wall next door, under a scorching sun.
This softly spoken man in worn clothing is her son, Azhar, who is struggling to get by. Her love of him has brought her back, but it is a fraught homecoming.
"It pains me a lot to be here," she says. "I die every minute, but my son wants me here. My children are everything to me. I am happy when I see son and my grandchildren."
But Allah Rakhi may be at risk again. She says Ghulam has been harassing her since her return and threatening to evict her again. "He tells me either live as my wife or go away," she says. " I am willing to go. I am also willing to die, but I am not willing to be his wife again."
As Allah Rakhi struggles to rebuild her life, human rights campaigners here warn that other women could share her fate.
In many parts of Pakistan men still make the rules and women can be killed or maimed for breaking them. Almost 900 women were killed last year for so-called honour crimes, campaigners say, and nine women had their noses or other body parts amputated.
As the sun sets in Thatta Pira, Allah Rakhi's son Azhar is hard at work, finishing the wall brick by brick. She draws water from the well and brings him a drink.
"God will hear our prayers," she says, stroking his forehead.
And if God does not provide, then Allah Rakhi will. Now that she can show her face again, she is looking for work, so she can help her son.
And this indomitable woman has another plan. She wants to pierce her new nose.
http://www.bbc.co.uk/news/world-asia-18595834
---------
Pakistani Acid-Attack Victim Enjoys New Life In Texas
Greg Flakus
HOUSTON, August 01, 2012, Among the new U.S. citizens sworn in at a ceremony in Houston Tuesday was a 26-year-old woman from Pakistan who came to the United States after she had acid thrown in her face 10 years ago. Doctors in Houston performed more than a score of surgeries to restore her face and, although still scarred, she is moving on with her life and trying to help other victims of violence back in her homeland.
After taking the oath of citizenship, Julie Aftab celebrated.
"I have waited eight-and-a-half years to hear those words, and those words mean so much to me," she said.
Ten years ago, when she was 16, two men in Pakistan threw acid in Julie Aftab's face because, she says, she is a Christian.
She says her attackers then spread a false rumor that she had insulted Islam, and mobs threatened her and her family.
"All my friends turned against me, and they set my house on fire," Aftab explained.
She has lived for the past eight years with Lee and Gloria Erwin, whom she calls her uncle and aunt.
"We have been blessed having her in our home," Erwin said. "We really have been blessed."
"My parents gave me birth, but both of them brought me to this world. He spent many nights sitting with me and teaching me English," explained Aftab. "People say they do not see angels, but I see angels around me every day."
She still misses her homeland and her family, but Julie Aftab feels estranged from Pakistan. "I am not ashamed of being Pakistani, but Pakistan is ashamed of me. They did not want me, I think," she said.
Although she is now safe, Aftab aids efforts in Pakistan to help abused women.
"They are women. That does not mean they are not human beings," Aftab explained. "They are somebody's daughter, somebody's sister."
One man, a Pakistani Muslim who also became a U.S. citizen at the ceremony, apologized for what happened to her.
But she says she does not blame all Muslims, and, as a Christian, believes she must forgive the men who attacked her.
"If I hate them, then I will create more hate, and I do not want to do that," she said.
Another new citizen from Pakistan, Nawaid Isa, says he hopes fanatics in his birth country will stop misusing Islam as a pretext for violence against people of other faiths.
"People do not understand what our religion teaches, they do not know about the Quran. They do not know that the Quran teaches respect for everybody, respect for other religions," Isa added.
Pakistani lawmakers have tried to curb acid attacks with tougher sentences, but they continue, with Muslim women being the most frequent victims.
Aftab attends a local college, while working full time and taking part in church activities.
As is no doubt true for other people who were sworn in as citizens Tuesday, Julie Aftab is not thinking so much about the past, she is focused on the future.
http://www.voanews.com/content/pakistani-acid-attack-victim-enjoys-new-life-in-texas/1452590.html
--------
Three Cheers, And One Hijab, For A Female Saudi Olympian
By the Editors Aug 2, 2012
At the same time as Islamist extremists in the African nation of Mali were stoning a couple to death for having sex (and children) outside marriage, a young Saudi Arabian woman found herself the object of a dispute over whether she could compete at the Olympic Games wearing a headscarf. The two are connected; we'll get to that.
In the case of Wojdan Ali Seraj Abdulrahim Shaherkani, reason prevailed -- a compromise reached Tuesday will allow her to take part in Friday's heavyweight judo competition. A spokesman for the International Judo Federation declined to elaborate on the deal, but it appears that Shaherkani will wear a specially designed headscarf. This makes her and teammate Sarah Attar, an 800-meter runner, the first women the conservative Saudis have sent to the Olympics.
Shaherkani will undoubtedly lose her contest against Puerto Rico's Melissa Mojica, ranked 13th in the world. Shaherkani, at 16, has only a beginner's blue belt. But the Olympics committee and the International Judo Federation accepted her lack of experience. They invited her because they wanted to get Saudi women into competition. Besides, it's not the only time Olympic standards have been lowered: The U.K. sent the less than stellar Eddie "The Eagle" Edwards to ski jump at the Calgary Winter Olympics in 1988, and Jamaica famously sent a bobsled team with just a year's training.
The judo federation, however, balked at Shaherkani's headscarf. A blue belt was fine, it reasoned, but wearing a headscarf on the mat would be unsafe -- she might be choked. Plus, it was against "the principles and spirit of judo." These arguments were surely undermined by the participation of women in headscarves at international judo competitions in Asia.
Barring Shaherkani would have detracted from what should count as an achievement for the 2012 Olympics: For the first time, every participating nation has allowed its women to compete, with Brunei, Qatar and Saudi Arabia finally joining the rest of the world and ending their bans. (It's worth noting that the Olympic Charter describes gender discrimination as incompatible with being a member of the Olympic Movement.)
Feelings about headscarves are immaterial. To many non- Muslims and secular Muslims alike, the headscarf represents a tool for the suppression of women. But to prevent women who wear them from taking part in sports events, working or going to college -- as was the case until recently in Turkey -- is simply wrong. The goal is not the symbol, the goal is to win the right for women to govern their own lives and participate fully in society. Shaherkani wanted to compete.
Saudi Arabia is a country in which women are still not allowed to drive cars and where the female participation rate in the workforce is just 17 percent. Girls are not taught sports in public schools. Women aren't allowed to play competitive sports outside licensed clubs, and yet no licenses have been granted for women's sports clubs. The regime set strict conditions on its female Olympic hopefuls, including a requirement to have with them the male guardians that all Saudi women are obliged to have by law.
Yes, there's a long way to go. But every step taken to relax restrictions on women in Saudi Arabia should be welcomed and not rebuffed. Saudi women are beginning to demand more rights; the sight of their fellow citizens marching in the Olympic stadium (albeit behind the men) may inspire them. Long before the headscarf controversy, the decision to send women to compete in London was a cause celebre in Saudi Arabia's blog- and Twitter-spheres. Most celebrated the move, but others attacked Attar and Shaherkani as prostitutes.
Such attitudes, presumably, were shared by Mali's Islamist extremists, who last weekend took Shariah law to mean that adulterers should be stoned to death. As recently as 2007, a woman was sentenced to death in Saudi Arabia for adultery, and last year one was beheaded for "sorcery and witchcraft." Although Saudi Arabia has not carried out the death sentence for adultery in many years, the country's record on women's rights remains among the worst in the world.
This is why Shaherkani should consider herself victorious, even if she loses her contest. For any Saudi woman to walk into the ring at the Olympics, with or without a headscarf, is to land a long-overdue blow against inequality and oppression.
Read more opinion online from Bloomberg View. Subscribe to receive a daily e-mail highlighting new View editorials, columns and op-ed articles.
Today's highlights: the editors on what the ECB must do to save the euro; Susan Antilla on Wall Street's efforts to stymie new regulations; Caroline Baum on monetary policy getting off track; Michael Kinsley on Romney's zero tolerance for the unsuccessful; Peter Orszag on ways to keep lowering health-care costs; Handel Reynolds on the shaky foundation of the mammogram economy.
http://www.bloomberg.com/news/2012-08-01/three-cheers-and-one-hijab-for-a-female-saudi-olympian.html
---------
Teaching Feminism: When You're Not A Feminist
by Ashley Lauren
July 27, 2012, Welcome to Teaching Feminism, a series about equality in the classroom. Teaching feminism is about so much more than teaching girls. We need to teach all of our students to respect everyone, no matter what. Teaching feminism talks about just that. Have your own story about these issues? Share it here.
How does someone teach feminism if they are not a feminist?
Through my years of teaching and activism, I've been asked this question quite a bit. It seems that most people, whether they consider themselves feminists or not, understand the importance of teaching typically marginalized voices and areas of history. There is a huge movement in history classes to teach primary source documents as supplements to — or sometimes instead of — the textbooks because textbooks rarely give space to marginalized people throughout history.
Textbook makers have historically quite literally shoved information they deem unimportant into boxes in the margins of larger articles. The message there is that while this huge war was going on that you are reading about in an entire chapter, women were doing just enough to fit into this tiny little box on one of the pages. In fact, women were the backbone of society in many cases, fighting the good fight on the home front, and often charged with keeping the family alive.
It's no secret, then, that women's voices need to be heard and women's participation in history needs to be studied. Most teachers understand this; however, relegating the history of women to a unit or an extended mention within a larger section of history isn't enough. The study of women needs to be integrated within the curriculum, but how does one incorporate feminism into the classroom outside of a unit on the history of women if he or she is not a feminist?
Many people do not consider themselves feminists. Whether it is because of an aversion to the f-word because of past images of bra-burning man-haters circulating pop culture or because many believe that feminism only serves middle-class, white women, there is a significant portion of the population that avoids describing themselves as feminists. As one who embraces feminism, I would like to open up the definition of the term a bit. Do you believe that women deserve a voice? Do you believe that women should be treated equally to men? Then you are a feminist.
Whether you embrace the term or not, a belief that all students should be treated equally and equitably is vital. The demographic makeup of our classrooms is changing rapidly, and a teacher who discriminates will not succeed. One of the basic tenants of public education is that every student deserves an education, regardless of gender, race, sexuality, or any other factor. Recognizing that all students deserve to be treated equally is the first step to incorporating feminism in the classroom.
The second step is the most crucial. Incorporating feminism into teaching is not necessarily about designing units around the accomplishments of women; it is much more about making a conscious effort to be aware of what you say between the lines of your curriculum. Treating students equally is so much more than just giving each student the same opportunities in the classroom. Kids are extremely adept at picking up on a teacher's attitude from the seemingly innocuous things we say.
When a teacher teases two male students who are goofing off in the back of the classroom by saying something like, "You two can hold hands after class, if you like, but not now," we may see this as amusing classroom management, but students see this as a clear stance on sexuality. When teachers turn the other way when they see boys whistling at girls in the hallway, students see this as a comment on how women should be treated. One doesn't have to be a feminist to be a role model for students when it comes to how people should be treated. Leading by example, in cases like these, is far more important than explicitly commenting on gender issues. Hopefully, even if teachers don't feel comfortable teaching feminism, they are able to show students what equality truly is.
http://www.care2.com/causes/teaching-feminism-when-youre-not-a-feminist.html
---------
Hijab No Hurdle For Muslim Sportswomen As Bans Eased
By Mohammed Abbas
LONDON | Thu Aug 2, 2012(Reuters), Headscarf-wearing Muslim women are making strides at the Olympic Games, a year after the Iranian women's soccer team broke down in tears at having to withdraw from a qualifying match because they wore hijabs.
Worn under a fencing mask, wrapped tightly in an elasticated bun for weightlifting or styled into a cap for shooting, the controversial headgear is finally winning acceptance from sporting associations.
This week judo sports authorities and the Saudi Olympic Committee confirmed they had reached an agreement allowing a Saudi judoka to compete with her hair covered, and last month soccer's rule makers also lifted their ban on the hijab.
The International Judo Federation had initially said Wojdan Ali Seraj Abdulrahim Shaherkani could not compete in a headscarf, which would have been a huge blow to aspiring Saudi sportswomen: she and runner Sarah Attar are the country's first women to compete at any Olympics.
"This agreement shows that being a modest Muslim woman is no barrier to taking part in sport. It shows the inclusiveness of the Olympic spirit," said Razan Baker, spokeswoman for the Saudi Olympic Committee.
Islamic states Brunei and Qatar have also sent female athletes to the Games for the first time.
The modest forms of dress demanded by more conservative societies or chosen by more pious women have long been a brake on female participation in sport, not only for Muslims but also for women of other faiths.
"Many Muslim women both in Britain and around the world are excluded or discouraged from taking up sports owing to their desire to maintain stricter standards of modesty than sports clothes allow," said Emma Tarlo of the department of anthropology at Goldsmiths, University of London.
"And Muslims are not alone. A number of women from Hindu, Sikh, and orthodox Jewish backgrounds as well as people with weight issues are put off swimming by the skimpiness of most existing styles of swimwear," she added.
ISLAMIC SPORTSWEAR
Luckily, a number of designers are turning their attention to women keen to take part in sport while wearing modest attire.
In the Netherlands, designer Cindy van den Bremen has designed a range of headwear for sporty Muslim women dubbed "capsters".
"The concept is based on the idea to give Muslim girls and their gym teachers in the Netherlands a safe alternative for the traditional hijab to wear during gym class," Bremen says on her website.
Online vendor thehijabshop.com carries capsters under its "sporting range" under the categories "skate", "aerobics", "outdoor" and "tennis", and touts the headgear as designed not to shift or tear during physical activity.
British-based Modestly Active's line of Islamic sports gear includes swimwear and martial arts, basketball and soccer kits, which the company says have been specially designed with the latest sports technology to be breathable and durable.
Ismail Sacranie said he and his wife founded the company in 2007 after designing special clothing for their sports-mad daughters. Since then the response had been "phenomenal", with orders from all over the world.
"We saw the restrictions that were faced by our own children. I have three daughters of my own, they're just like any other teenagers, and why should a piece of fabric restrict them?" he said.
"My daughters were outraged and annoyed beyond comprehension at the fact that simply because somebody's covering their hair they're alienated," he added.
Now one of his daughters, inspired by the British Olympic female soccer team's wins over New Zealand and Brazil, is determined to join the national soccer team herself, where she will be able to wear her headscarf.
"It's a huge statement for mankind to overcome these kind of barriers, and let the enthusiasm and professionalism of a person speak, rather than what they're wearing," Sacranie said.
http://in.reuters.com/article/2012/08/01/olympics-hijabs-idINDEE8700JP20120801
---------
URL: https://newageislam.com/islam-women-feminism/shackled-sudan-mother-sentenced-stoning/d/8130