New Age Islam News Bureau
8 Jun 2012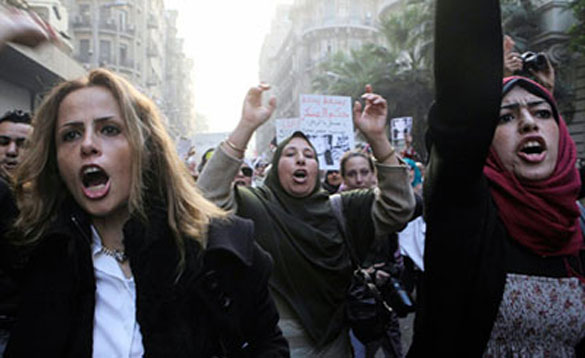 • Pakistan Coming clean about child sexual abuse - or not
• Islamists trying to rid women of attained rights in compliance with Sharia
• Asks to dress according to Sharia law, 9/11 Defendant Mocks the American Justice System
• U N appeals to guarantee women's right in Afghanistan
• 'Oppressed Afghan Women' Desperate to tell their stories, find a voice
• Today I Will Become a Muslim: A German Lady Finds Islam in Dubai
• Egyptian women fear fewer rights, more harassment after elections
• Egypt: Are women being targeted for sex assaults?
• Stigmatizing violence against Timor women by Indonesian Army during war of Independence
• Child Marriage among Muslims Being Promoted by Delhi HC
• Afghan girls' long road to education
Complied by New Age Islam News Bureau
Photo: Islamists trying to rid women of attained rights in compliance with Sharia
URL: https://newageislam.com/islam-women-feminism/sexual-exploitation-white-girls-'particular/d/7562
---------
Sexual Exploitation of White girls 'particular problem in Asian communities' in UK
Jun 08 2012
London: Sexual exploitation and grooming of young vulnerable white girls is a 'particular problem in Asian communities', one of Britain's top prosecutors has claimed.
Nazir Afzal, Chief Crown Prosecutor for North West England, said the status of women among some Asian men led to cases of white girls being sexually abused.
The remarks came after two Asian men Mahfuzur Rahman and Abdul Hannan were convicted of raping or sexually assaulting four young women after they were picked up and plied with alcohol.
Following the case, Afzal said it should not pass unnoticed "that the perpetrators were Asian and the victims were not".
"Cultural baggage and the status of women among some men in these communities contribute to their disrespect for the rights of women," The Telegraph quoted Afzal, as saying.
"Exploitation happens in every community but these cases demonstrate that group grooming is a particular problem in Asian communities. I will not turn a blind eye to crimes in any community," he added.
According to the paper, the case of Rahman, 25, and Hannan, 36, has raised concerns that their victims, all from Rochdale, Greater Manchester, were failed by police and prosecutors when they first reported they had been attacked.
Two of the four victims gave videotaped interviews, in 2009 and 2010 respectively, in which they described being raped by Rahman, but criminal investigations were abandoned, leaving the rapist free to strike again.
http://www.indianexpress.com/news/sexual-exploitation-of-white-girls-particular-problem-in-asian-communities-in-uk/959545/
---------
Pakistan Coming clean about child sexual abuse - or not
7 June 2012
LAHORE, 7 June 2012 (IRIN) - Sidra Bibi*was a young girl living with her parents and siblings in the Pakistani city of Lahore when she suffered sexual abuse, and the trauma has lived with her over the years.
"My mother, my father, my aunts and my uncles all connived to protect my paternal grandfather, who was abusing me, my sister and our female cousins since we were six or seven years old," Sidra, now 30 and married, told IRIN. The grandfather, she added, asked the girls to masturbate him, and then committed anal penetration on Sidra and her cousin.
"We were asked to keep quiet as the truth would destroy the family," said Sidra, who is certain the matter was discussed among the adults in the family, but no action taken as "my grandfather was a respected elder". Sidra has also never told her husband what she experienced, but says she is "very protective" of her own small daughter.
Sidra is just one victim. According to media reports, sexual abuse is not uncommon in Pakistan and ranges from harassment to incest.
Some traditional leaders, however, deny that sexual abuse happens. "Look, these things don't happen here. It is all Western propaganda. Muslim women here are safe at home, and I always advise people to ensure their daughters, wives and sisters stay home - except for school, or maybe to visit a close relative. They are unsafe beyond their homes," said Maulvi Abdul Haq, a prayer leader at a local mosque.
However, Sahil, an anti-child abuse NGO based in the capital Islamabad, says 2,303 cases of child sexual abuse were reported in the national press in 2011, including 56 cases of incest.
Cover-ups
Saad Ahmed Khan, programme officer (media) for Sahil, told IRIN: "Even now, this is an issue people cover up because of the social stigma and pressures involved… We are certain many, many more cases occur than are reported, sometimes because they occur in remote areas where the media cannot reach, and in other cases because people prefer not to speak out."
Aliya Abbas, a head teacher at a private school in Lahore, recalled a seven-year-old pupil who complained about sexual abuse inflicted by her older brother. "Her mother insisted the child was lying, and when I told her there were signs of abuse in terms of her behaviour, she removed her from my school. I often wonder how that child has fared and if she ever spoke of her experience again," he said.
Experts say the effect of this forced silence can be traumatic. "Sexual abuse, especially incest, can leave very deep scars - even though these may on the surface be invisible," Ghazala Sumair, a psychiatrist, told IRIN. "I have treated traumatized adult women, who are unable to articulate what happened to them even 20-30 years after the incest they suffered. This bottling up of a deeply emotional event just makes matters worse."
"I have never spoken to anyone about what happened. Even my mother never mentions it. The events were too shameful," said Sidra.
Obstacles to justice
In 2011, a study by the international human rights monitoring NGO Equality Now!, found that victims of sexual violence faced "numerous obstacles in their pursuit of justice".
The study said the police, medical examiners and others were reluctant to believe stories about incest, which means even those who report cases struggle to obtain support. "Societal stigma presents obstacles at the family and community level as well as the justice system," the study noted.
"To be associated with such a crime is considered a source of shame, and families cover up the incident to protect themselves. Upon trying to seek justice rape victims are often treated in a dismissive manner, accused of lying or having somehow brought the crime upon themselves."
Pakistan, according to the UN Children's Fund (UNICEF), has the second largest number of out-of-school children in any country - nearly 25 million. Of these, seven million are of primary school-age and 60 percent are girls.
http://www.irinnews.org/Report/95595/PAKISTAN-Coming-clean-about-child-sexual-abuse-or-not
---------
Islamists trying to rid women of attained rights in compliance with Sharia
08 June 2012
The head of Egypt's state council for women has accused resurgent Islamists of seeking to roll back female rights on such issues as divorce and custody and undermine the council as a discredited remnant of the Hosni Mubarak era.
"They are trying to take away rights that women attained in compliance with Islamic Sharia," said Mervat Tallawy, head of the National Council for Women, adding that criticism of the council was an attempt to erode female rights.
The Muslim Brotherhood, whose Freedom and Justice Party (FJP) dominates parliament, has dismissed the council as an institution that was "a weapon of the former regime to break up and destroy families" in a statement on its website.
Association with ousted leader Mubarak and his first lady Suzanne, an outspoken but disputed advocate of their cause, has made it harder for women's rights campaigners to counter what they see as a threat from newly empowered Islamists.
Tallawy, named to head the council in February by the army-backed interim government, accused the FJP of smearing the council by depicting it as a tool of Mubarak's administration used to further foreign interests.
"They do not want a national institution for women," Tallawy told Reuters in an interview. "They have said that the international (women's) agreements are imperialistic and part of a foreign agenda."
The council was founded by presidential decree in 2000 and was overseen by Suzanne Mubarak until her husband's overthrow in a popular uprising in February 2011.
Its role is to propose public policies on women and implement international agreements that Egypt has joined such as the United Nations Convention on the Elimination of All Forms of Discrimination Against Women (CEDAW), which Egypt ratified in 1981.
Banned under Mubarak, the Brotherhood has emerged as a major force in Egyptian politics, its FJP party sweeping more than 40 percent of seats in parliament in election between November and January. The ultraconservative Salafi party came second.
The Brotherhood is now eyeing the presidency, with a June 16-17 run-off vote pitting its candidate Mohammed Mursi against Mubarak's last prime minister, Ahmed Shafik.
Mursi has pledged that, if elected, he would uphold women's rights including the ability to work and choose what they wear.
The FJP's written program promises to "enable women to attain all their rights in so much as they do not contradict the basic values of society, and achieve a balance between their duties and rights."
Liberal Egyptians and many in the Christian minority fear the Brotherhood is hiding an intention to suppress individual freedoms and force its conservative brand of Islam upon society.
Tallawy said she was in a battle with Islamist MPs calling for the repeal of laws such as the "khulu", which allow a woman to divorce her husband if she returns money and belongings she received from him.
The MPs only backed down last month, she said, because of coordinated pressure from her council, the ministry of Justice and al-Azhar, Egypt's highest authority on Sunni Islam.
Tallawy said she had also intervened against attempts by MPs to revise a law that allows women custody of their offspring until the children reach 15.
"There are many quarrels between me and parliament," she said.
FJP officials have said their party supports the khulu and custody laws.
But Tallawy says interpretations of Islamic text pushed forward by the FJP and other Islamist groups in Egypt derail women's progress. She accused the Brotherhood of failing to recognize treaties that Egypt has ratified on women's rights.
"My message to parliament: if you want a modern Egypt, you have to push for modern legislation that ensures empowerment of women, half of your human resources," she said.
She said she was battling for women to secure proper representation in a body that will write a new constitution.
The 100-member assembly selected by parliament earlier this year was dissolved by a court in April after lawyers and activists filed lawsuits saying it was dominated by Islamists and did not represent Egypt's diversity. Talks are under way to form a new constituent assembly.
"Women's rights must be set down in the constitution so they are not merely a gift bestowed by a president or parliament that is then taken back when they leave," Tallawy said.
She said Egypt needed to reinstate a quota system, or amend its electoral laws, to ensure women were properly represented in parliament. Egypt previously had a quota of 12 percent of legislature seats but the law was repealed and women currently hold less than 3 percent.
"Our actual representation in the parliament does not reflect the true status of women in Egypt, their history, their struggle, their culture, their education," said Tallawy. "We have to push for our rights. We cannot keep silent."
http://english.alarabiya.net/articles/2012/06/08/219281.html
---------
Asks to dress according to Sharia law, 9/11 Defendant Mocks the American Justice System
By Brooke Goldstein and Skylar Curtis
June 7, 2012
Can an attorney demand that every woman in the courtroom dress in an "appropriate" way? What if "appropriate" means adhering to a conservative version of Sharia, or Islamic law? At the May 5 arraignment of the alleged 9/11 masterminds, defence counsel asked for just that.
Cheryl Borman, representing defendant Walid bin Attash, asked the court to order the women in the courtroom to dress "appropriately" as a show of "respect" for her client's religious beliefs. That is, Borman insinuated, women in an American courtroom should dress according to Sharia law because the defendant is a Muslim. Defence counsel stated that simply looking at the prosecution team's female members could cause him to "sin" and lose his "focus" on the trial.
In a show of passive-aggressiveness and dramatic flair, Borman accused "someone" in the courtroom of dressing improperly. While she didn't define what attire would indeed be "appropriate," Borman herself wore a black hijab and long black robe, showing only her face. Curiously enough, Borman is not a Muslim. However, bin Attash's other lawyer boasted that "[o]ur client has never seen Ms. Bormann's hair, he's never seen her arms, he's never seen her legs." Coming from Borman, an accredited attorney, not only is the request to limit the garb of another legal professional to what is acceptable under sharia law in an American courtroom insulting, but it flies in the face of American values.
To his credit, Judge James Pohl didn't honor the request with a response; instead, he simply reminded defence counsel that all members of the prosecution team were qualified and sworn and thus eligible to be present in the courtroom. At a press conference, chief military prosecutor Brig. Gen. Mark Martins stated, "The women on the prosecution team are dressed in an appropriate and professional manner."
The arraignment, which should have been routine, ended up becoming a 13-hour-long circus. The defendants refused to respond to the judge's questions, refused to enter a plea, refused to use the court's translation system, read magazines, shouted at the judge, whispered among themselves, and demanded that the 20-plus-page indictment be read aloud. Most shockingly of all, defence counsel James Connell defended the distraction tactics, labeling them "peaceful resistance to an unjust system." It's one thing for an attorney to put forward legal arguments with a low probability of success; it's another thing altogether for a lawyer, as an officer of the court, to publicly declare the American justice system as a whole "unjust."
Given these circumstances, it seems painfully clear that defense counsel are participating in a subversive form of lawfare, mocking the American legal system in order to demonstrate their clients' belief that the court holds no legitimate power over them, alleged mass murderers of innocent American citizens. The 9/11 terrorists have already declared war on our values; now they show their disdain for our sense of fairness, justice, and equality before the law, with the help of their attorneys.
Islamist terrorist groups hate America for, among other things, the rights and freedoms our women possess. A request by an officer of the court that women dress in accordance with sharia law, which assumes that they are dressed "inappropriately," seeks to bring extremist Islamist rhetoric into the American courtroom, purporting to extend control over the bodies of women as though the court were an Islamist enclave. Further, the request to censor the women's appearance amounts to gender discrimination.
"They're engaging in jihad in a courtroom," said Debra Burlingame, sister of the pilot of the plane that struck the Pentagon. If defense counsel want to accuse the military court of illegitimacy, they should do so directly instead of using passive-aggressive and childish tactics to exhibit disdain for our legal system and the rights of females in this country. Mocking the process is the least effective way to challenge substantive charges of mass murder, particularly when the death penalty is on the line, and leads one to question whether the attorneys are representing their clients' best interests. http://www.americanthinker.com/2012/06/911_defendants_lawfare_mocks_the_
---------
U N appeals to guarantee women's right in Afghanistan
June 6, 2012
United Nations Afghanistan helps regiment to announce a pronouncement on the 12th, Afghanistan female of the future express a misgiving and appeal that everyone takes action and guarantees the right of Afghanistan women and little girl. The U.N. General Secretary's Afghanistan problem special generation gives public recognition ·the database compare Shi to say in the pronouncement:"The positive that time waits to defend(Afghanistan of) Jacksonville Jaguars Adjustablea long-term safety and protects Afghanistan female who suffer the war molestation now.""Be Afghanistan militia and police's troops prepare to take over the safe activity leadership power, toward the female provide special protection should be(Anne protects) the center of project." Moreover, United Nations Afghanistan helps regiment to rebuke the behavior of illegally armed raid school on that day and appeal an everyone guarantee Afghanistan child, especially the little girl is subjected to educational right. "United Nations Afghanistan helps the regiment at the past one yearses, observes, anti- government armed personnel to the school, educate the violent raid level of organization and its member can not make people accept."Buy hello kitty hats This organization appeals that Afghanistan government and NATO halt international safety in Afghanistan to help the troops"ensure to adopt effectively safe measure, protect school, student and teacher". NATO summit settles to convene in city Chicago, the United States on the 20-21th and withdraw troops progress and pullout of troops after to help the discussion focus that will become officials in all countries.Some United Nations organization appeals this summit in times before how protect female right in Afghanistan to reach unanimously.
http://egdfafafd.jimdo.com/2012/05/31/united-nations-appeals-to-guarantee-women-s-right-in-afghanistan-search-fox-news/
---------
'Oppressed Afghan Women' Desperate to tell their stories, find a voice
04-08-12
Women in Afghanistan are desperate to tell their stories and communicate with other women, but speaking out is dangerous and potentially fatal. Kabul-born BBC World Producer Zarghuna Kargar championed their cause in Afghan Woman's Hour, broadcast from London, and has compiled the most poignant and harrowing tales in her book Dear Zari: Hidden Stories from Women of Afghanistan
Broadcaster Zarghuna Kargar's life story reads like a profile of a typical Afghan woman. The daughter of a former government minister, with five sisters, the family was forced to flee over the border in a truck during the Mujahideen resistance to the Soviet occupation of Afghanistan. Her new home in Peshawar, Pakistan was even more restricting for women than Afghanistan. Having been accustomed to wearing jeans in Kabul, she suddenly had to dress in a black hajib when she went to school.
The family later moved to Britain where Kargar lives and works now. At the start, she lived an Afghan life even in England. A marriage was arranged for her but after three uncomplaining years, she left. 'I had too many liberal dreams to stay in that unhappy marriage,' she says, 'but I had never told my mother and father so they were shocked and thought I was having a "mad attack".'
Full report at:
http://news.hayfestival.org/post/24400164958/oppressed-afghan-women-find-a-voice
---------
Today I Will Become a Muslim: A German Lady Finds Islam in Dubai
06 June 2012
I was looking for something, but I couldn't find it for so many years.
I was confused.
I felt out of place with my friends because for my friends it was always "Ah, it is weekend, we need to party. Let's open the first bottle of beer, and let's get dressed."
While I thought "Why?"
Yes, a difficult year.
And then all of a sudden, the world had changed.
A Job Offer in Dubai
I used to travel a lot, and then it was that I turned 30 when I said "Oh, I have to settle now."
So I went back home and I was looking for a job and I couldn't find a job. Nevertheless, I thought "OK, I'm going on vacation now, and I'm going to Dubai."
So I came here, and after two weeks I had a job offer. My mum and dad were really scared. My parents, the same as myself, we were all very prejudiced about a western woman going to an Arab country.
Of course everybody was like this because we used to hear stories and it was the end of 2001. And, you know, there was 9/11 and all these incidents that happened, and of course everybody was just expecting something bad.
Full report at:
http://www.onislam.net/english/reading-islam/my-journey-to-islam/contemporary-stories/457434-european-convert.html
---------
Egyptian women fear fewer rights, more harassment after elections
08 June, 2012,
As Egyptian run-off presidential elections approach, fears are mounting over the protection and rights of women amid prevalent sexual harassment and political repression. Egyptians fear returning to the female oppression of a distant past.
The run-off elections are to be held on June 16th between Ahmed Shafik, the last Prime Minister under ousted President Hosni Mubarak, and Mohamed Morsi, Chairman of the Muslim Brotherhood's Freedom and Justice Party.
The Freedom and Justice party holds a majority in parliament, and is known for its conservative Islamic values. These include having women work from the home as a good wife and mother and dress in the traditional headscarf. A Muslim Brotherhood ideal would be for Egypt to be under Sharia law, but they say they will not implement it unless the people of Egypt want it.
Women say they would be better off under the rule of Mubarak since rights are being taken away, such as the right to divorce, instead of more being given. Parliament is also discussing proposals to reduce the marriage age for a girl to 14 and a custody law that will give children over eight to fathers.
Full report at:
http://www.rt.com/news/gloom-future-egypt-women-284/
---------
Egypt: Are women being targeted for sex assaults?
Jun 7, 2012
Her screams were not drowned out by the clamor of the crazed mob of nearly 200 men around her. An endless number of hands reached toward the woman in the red shirt in an assault scene that lasted less than 15 minutes but felt more like an hour.
She was pushed by the sea of men for about a block into a side street from Tahrir Square. Many of the men were trying to break up the frenzy, but it was impossible to tell who was helping and who was assaulting. Pushed against the wall, the unknown woman's head finally disappeared. Her screams grew fainter, then stopped. Her slender tall frame had clearly given way. She apparently had passed out.
The helping hands finally splashed the attackers with bottles of water to chase them away.
The assault late Tuesday (local time) was witnessed by an Associated Press reporter who was almost overwhelmed by the crowd herself and had to be pulled to safety by men who ferried her out of the melee in an open Jeep.
Full report at:
http://www.nzherald.co.nz/world/news/article.cfm?c_id=2&objectid=10811384
---------
Stigmatizing violence against Timor women by Indonesian Army during war of Independence
5 June 2012
(IRIN) - When Indonesian forces invaded Timor-Leste in 1975, Maria De Fatima Kalcona hid in the jungle with resistance fighters, but after years on the move, and hobbled by a gunshot wound, she was eventually captured in 1979.
The punishment that she and other women in her position received is hard to justify, or even discuss, she says. "We were abused by Indonesian soldiers in every way."
But uncomfortable truths about rape, often perpetrated with the utmost brutality, should not stop history from being told. "We want the young generation to know about our history. Usually they know only about the male fighters, the male heroes."
Timor-Leste was colonized by Portugal for centuries and then occupied by Indonesia before it achieved independence in 1999 and, after a period of UN administration, self-rule in 2002.
Many current national leaders were key figures in the guerrilla fight against the Indonesian army, which was responsible for the deaths of an estimated 180,000 Timorese during its 1975-1999 occupation.
Full report at:
http://www.irinnews.org/Report/95583/TIMOR-LESTE-Women-are-also-resistance-heroes
---------
Child Marriage among Muslims Being Promoted by Delhi HC
Jun 8, 2012
Mumbai, June 8: Shiv Sena chief Bal Thackeray Friday expressed concern over a recent Delhi High Court judgement allowing Muslim girls attaining puberty the right to get married.
"This is nothing but promoting 'balika vadhus' among the Muslims, while the same (child marriage) is illegal among the Hindus," Thackeray said in an editorial in the party mouthpiece Saamna.
Elaborating, Thackeray said that as per the Indian laws, no girl below the age of 18 and no boy below 21 are legally permitted to marry.
Moreover, any kind of physical relationship with a girl below 18 is treated as "rape", even if that relationship is with her consent. This law applies equally to all Indians, irrespective of caste, creed or religion, he said.
"In this scenario, what will be the status of a Muslim girl who attains puberty and is less than 18 years old? When the law applies equally to all Indians, how can there be a difference only where it concerns a Muslim woman attaining puberty? After all the constitution and laws do not pass their judgements taking into account people's caste or religion," Thackeray said.
Terming the development as yet another attempt to appease the minority community, Thackeray said it was strange how Muslim clerics and intellectuals have maintained silence over such regressive developments concerning marriage, divorce and other personal issues.
http://www.ianslive.in/news/HC_order_promotes_balika_vadhus_among_Muslims-386966/NATION/1
---------
Afghan girls' long road to education
06 June 2012
By NADIA MAYEN
Like any girl around the world, Afghan girls want the freedom to pursue an education and gainful employment - but for many of them, that is not possible without threats to their lives.
Recently, over 400 Afghan girls fell prey to acts of violence in their schools across the country.
More than 160 school girls and teachers were poisoned in their school last month with a toxic substance that was sprayed in the air of their classrooms in the Takhar province alone.
Officials have pointed the finger at the Taliban but the group denies responsibility.
It remains unclear as to who is responsible for attacking these young students.
When the Taliban was in power in 1996 to 2001, girls were forbidden from attending school and some from working. Parents would home school their daughters just so they would not fall far behind in their education. It was only after the 2001 U.S. invasion were girls allowed to attend school.
Full report at:
http://english.alarabiya.net/articles/2012/06/06/218985.html
---------
URL: https://newageislam.com/islam-women-feminism/sexual-exploitation-white-girls-'particular/d/7562