New Age Islam News Bureau
9 Aug 2016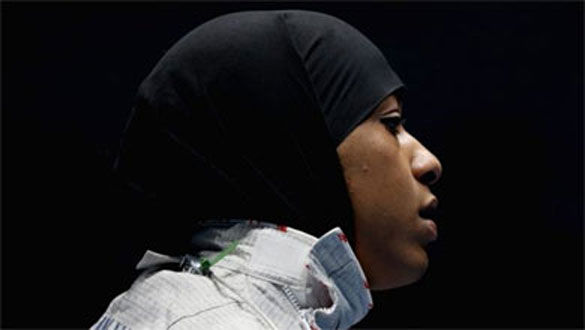 Ibtihaj Muhammad turns heads, and wants to change minds. Photo: Getty Images
---------
• Saudi Woman Can't Travel with Her Father without Hubby's Nod
• Muslim Women in France Cause Controversy with Upcoming 'Burkini Pool Party'
• Petition to Allow Women Basketball Players to Wear Hijab on Court Reaches 89,000 Signatures
• Emerging From Slavery, Yazidi Women Struggle To Recover
• ISIS Executes Pregnant Woman, Kidnaps Four Children Attempting To Flee Terrorist Group
• 'Killed Sisters to Protect the Family Honour, Not Property': Pakistani Killer of Two Sisters
• French Girl, 16, Charged With Allegedly Supporting Islamic State
• Ibtihaj Muhammad - A Muslim Woman - Fences In Hijab at Rio Olympics for USA
Compiled by New Age Islam News Bureau
URL: https://newageislam.com/islam-women-feminism/saudi-woman-can't-travel-with/d/108222
---
Saudi woman can't travel with her father without hubby's nod
Aug 9, 2016
DAMMAM — Saudi women still need the permission of their husbands to travel even with their fathers.
Senior Scholars Council member Sheikh Abdullah Al-Munai said that husband is the legal guardian of a woman. She is not allowed to go out or travel without her husband's permission.
"If a husband prevents his wife from travel for no legitimate reason, the case can be taken to court and a judge can intervene," said Al-Munai.
Eastern Province Passports Department spokesman Col. Muallah Al-Otaibi said once a woman is married she is registered under her husband's guardianship.
"A woman has to have her husband's permission for travel even if she is traveling with her father. The legal guardian of a woman is her husband and his permission is needed regardless of who she is traveling with," said Al-Otaibi.
The guardian can issue or cancel a travel permit through the e-portal Abshir, he added.
"The Passports Department is open to receive any inquiries through its Twitter account. We interact with users and answer their inquiries regularly," said Al-Otaibi.
Lawyer and legal consultant Abdulrahman Al-Lahim said the charter of travel documents does not enlist that the guardian must give the woman permission to travel.
"A woman who is financially independent and manages her own affairs is her own guardian. There is no legal or religious justification for a travel permission from the husband or the father. The permission of guardians on many of the affairs should be annulled," said Al-Lahim.
The permission of a guardian is only applied to minors and people classified as mentally ill, he said, adding that adult women do not fit any of these descriptions.
Former judge and legal consultant Saleh Al-Shabramy said every woman has the right to sue her guardian if he abuses her in any way.
"The Islamic Shariah protects women's rights. If a woman is oppressed or abused by her guardian, she has the right to sue him," said Al-Shabramy.
Saudi Arabia gives all the needed freedom to women. They are granted the right to work without male permission.
Under the Kingdom's ambitious economic reform plans, women are encouraged to enter the workforce and companies are given incentives to boost female employment.
Other reforms have included granting Saudi women the right to obtain national identity cards without male permission.
Recently, the government issued a directive allowing divorced and widowed women to obtain family cards, which grants them the ability to enroll their children in school, for example
A law was passed in 2013 that criminalizes domestic abuse, and women can seek protection in shelters without the approval of a male guardian.
http://saudigazette.com.sa/saudi-arabia/saudi-woman-cant-travel-father-without-hubbys-nod/
--
Muslim Women In France Cause Controversy With Upcoming 'Burkini Pool Party'
AUGUST 8, 2016
*Women from Smile 13, a Muslim Association based in Marseille, France, are causing quite a stir because they want to host a private gender-specific event in Les Pennes-Mirabeau and have rented out the Speedwater Park Aquatic Center for a Burkini Pool Party.
The women, who are asking all who attend to respect the "awrah" (Islamic translation: parts of the body that are considered not permissible to show in public 'for modesty'), appear to be piggybacking on an event that Muslim men hosted in Luton, London on July 29th with no problems. Yet, the mayor and other lawmakers in the city where this event is set to take place is trying to block it.
There is a large Muslim population in the city of Marseille, and Smile 13 has block-ordered Burkinis on their Facebook page, which advises the body be covered "from chest to knees…the minimum is a one-piece suit with short-shorts or sarong."
Though the event is for women only, many of these women are undoubtedly mothers, which is probably why boys up to 10 years old will also be allowed to swim.
But unlike the Luton event, where the men had their day-only "cultural event" without disturbance, lawmakers are claiming the Burkini pool party would be "an affront to French values, the Republic, and gender equality."
http://www.eurweb.com/2016/08/muslim-women-in-france-cause-controversy-with-upcoming-burkini-pool-party/
--
Petition to allow women basketball players to wear hijab on court reaches 89,000 signatures
AUGUST 8, 2016
Pressure is mounting on basketball authorities to allow Muslim women players to wear a hijab on the court as a petition in support of their cause has reached close to 90,000 signatures.
The Change.org petition, started by Asma Elbadawi, a player and coach from Sudan and now living in West Yorkshire, has gathered just over 89,000 names.
Ms Elbadawi argued that the International Basketball Federation (Fiba) should follow football authority Fifa in removing restrictions on hijabs, turbans and other religious headwear as she claimed was no correlation between the item of clothing and players' safety.
Fiba will announce its decision this month as to whether it will permanently allow players to wear hijabs and turbans following a two-year provisional period.
Bosnian-American basketball player Indira Kaljo said in a recent YouTube video that she was still not allowed to play professionally because she wore the hijab.
"Everyone that has supported my petition two years ago, thank you so much," she said, referring to another petition that also reached more than 89,000 signatures.
"The struggle is still real. I still cannot play."
Bilqis Abdul-Qaadir, the first Muslim woman in a hijab to play basketball at a collegiate level, said at a Rise Against The Odds! conference in December 2015 that the restriction "broke her heart".
"I've been dreaming to play pro my whole life," she said.
"Little did I know that my hijab, the same thing that made me accomplish things that I've accomplished so far, like meeting the president of the United States, was the same hijab that was going to prevent me from reaching my dream."
If Fiba rules in support of these women, basketball players in hijab could play at future Olympic games, a prominent issue as the 2016 Olympics kicks off in Rio Janeiro.
Another woman and basketball player to join the campaign is Kike Salihu Rafiu, a Nigerian American and Georgetown University graduate.
The National Collegiate Athletic Association allows women to play in headscarves but not in the full hijab, which they say is designed to prevent injury.
Fiba could not be reached immediately for comment.
http://www.independent.co.uk/news/world/americas/muslim-women-basketball-hijabs-turbans-fiba-fifa-olympics-injury-equality-a7179456.html
--
Emerging from slavery, Yazidi women struggle to recover
09 Aug 2016
KHANKE, Iraq – "Do not blame me for repeating my story, as what happened to me is the unforgettable story of my life," Golleh*, a Yazidi woman, said. She had been abducted by the Islamic State in Iraq and the Levant (ISIL, also known as ISIS or Da'esh), and enslaved for eight months.
The horrors she and other kidnapped women have experienced can scarcely be imagined.
ISIL sells Yazidi women and girls on slave markets, treating them as property. Many women are subjected to repeated rape. Some are forced to perform domestic labour. Brutality is commonplace.
A United Nations human rights panel has determined that the ongoing campaign of violence against the Yazidis amounts to genocide.
"ISIS has sought to destroy the Yazidis through killings, sexual slavery, enslavement, torture and inhuman and degrading treatment, and forcible transfer causing serious bodily and mental harm," among other cruel measures, said a recent report of the panel
"I was sold more than once"
Golleh, 50, was taken in August 2014 when ISIL overtook the northern Iraqi district of Sinjar. Two years later, she says the experience remains fresh.
"Even those who were liberated from the hands of Da'esh, like me, are still suffering," she said. "…I still cannot believe that I am alive."
She wants the world to know about the slave markets, trafficking and torment, hoping her story will help galvanize action that might save her 5-year-old grandson, who was captured by ISIL and whose whereabouts are unknown.
"I want my voice to be heard by the whole world," she told a social worker in the Shanaz Women's Social Centre in Khanke, in northern Iraq.
These sentiments were echoed by Resalah*, 35, another Yazidi woman who frequents the UNFPA-supported centre.
"I was sold more than once," Resalah said, explaining that she was moved from Iraq to Syria, where she was forced to work from dawn until dusk without rest. Sometimes, she went for days without a meal.
Sharing my experience with social workers here, the way they respond and support me, keeps me stronger.
She was bewildered when the spouse of a man who had purchased her decided to help her escape. "His wife sympathized with me, and helped me run away," she said.
Resalah managed to cross over the border from Syria to Turkey, and from there she was helped to return to Iraq, ending up in Khanke. Still, her nightmare is not yet over.
Her daughter was abducted and is still missing. "I heard she is in Syria now, but [I have] no further details," she said. Her 12-year old son was also taken; Resalah fears he may have been forced to fight, or that he may have been killed.
"I tried to commit suicide more than once… I do not want to keep remembering that bitter experience," she said.
Today, what keeps her going is her youngest son – the only family member now with her – and the support she receives at the women's centre.
"Sharing my experience with social workers here, the way they respond and support me, keeps me stronger," she said.
Finding the strength to go on
Resalah and Golleh are among dozens of Yazidi women who regularly meet with social workers at the Shanaz Women's Social Centre, said Zhiman Deham, the centre's director.
In the first five months of this year, some 30 survivors of gender-based violence visited the centre for consultations and psychosocial support. "The majority of them were abducted by IS," said Ms. Deham, using another abbreviation for ISIL.
Survivors of ISIL need continuous support, she added.
In addition to one-on-one psychological support sessions and referrals to further care, the centre also provides training courses, which can help women learn a new trade, such as hairdressing or sewing. More than 1,000 displaced women have received skills training at the centre.
The centre also holds awareness sessions, teaching women about their human rights and how to obtain legal assistance. Women also receive UNFPA-provided dignity kits, which contain clothing, soap, sanitary napkins and other items needed to maintain good health and hygiene.
"I cannot afford buying [these items] if they would not have given to me," Resalah said.
The social workers, instructors and other women at the centre have had an enormous impact on her, she emphasized.
"They receive me with a smile, listen to me over and over again… This gives me energy to go on."
http://www.unfpa.org/news/emerging-slavery-yazidi-women-struggle-recover
--
ISIS Executes Pregnant Woman, Kidnaps Four Children Attempting To Flee Terrorist Group
Aug 08, 2016
The Islamic State terrorist group executed a pregnant woman and took away her four children after they tried to flee their village in Iraq, a horrific new report has revealed.
Last week, the Daily Mail revealed that the woman was spotted guiding her children out of al-Marir, a community held by the terror group close to the city of Mosul, Iraq's second-largest city.
However, before she could reach Iraqi forces at a nearby military base, she was stopped by jihadists who executed her after taking her children to another village under ISIS control. The Abna news agency notes that the fate of the children is unknown.
Mosul, formerly home to thousands of Christians, has been occupied by ISIS since June 2014 and is considered to be the main stronghold of the terror group in the region. Reuters notes the group has routinely carried out vast atrocities against women and girls, prompting US Secretary of State John Kerry to class such atrocities as "genocide."
Like Us on Facebook
In April, it was revealed that after overtaking Mosul, ISIS militants began selecting women and girls, forcing them into "temporary marriages." However, hundreds of women refused to comply with the fighter's demands, and were subsequently executed, along with their families.
"At least 250 girls have so far been executed by the IS for refusing to accept the practice of sexual jihad, and sometimes the families of the girls were also executed for rejecting to submit to IS's request," Kurdish Democratic Party spokesman Said Mamuzini told London-based Kurdish news agency 'AhlulBayt.'
Another official from the Patriotic Union of Kurdistan (PUK) party Ghayas Surchi said that human rights were being widely violated in all IS-held territories, particularly the women's rights as they are seen as commodities. Women in such regions are not permitted to go out in public, and have no choice in choosing their spouses.
Last August, 19 women in Mosul were slaughtered for refusing to have sex with IS fighters. A year prior, up to 500 Yazidi women and girls were kidnapped and sexually abused by the militants, and October, more than 500 Yazidi women and young girls were abducted by the ISIS when they stormed the Sinjar region in northern Iraq.
Meanwhile, British Defense Secretary Michael Fallon said that IS continues to lose ground in 2016, a claim that the U.S. government has also been repeating.
"Daesh has been losing followers and territory for months, and emphatic strikes like this show that we and the coalition will not waver," Fallon said, using an alternative name for IS.
"Daesh fighters, both foreign and home-grown, can see that they are targets inside this cult," he added.
http://www.gospelherald.com/articles/65824/20160808/isis-executes-pregnant-woman-kidnaps-four-children-attempting-flee-terrorist.htm
--
'Killed Sisters to Protect the Family Honour, Not Property': Pakistani Killer of Two Sisters
Aug 08, 2016
VEHARI: The alleged killer of his two sisters sits remorseless in the Mitro police lock-up.
When asked why he killed them, Nasir Husain says he killed his sisters to protect the family honour for they wanted to marry the men of their own choice. He ruled out the property factor in the killings.
Nasir allegedly killed his sisters -- Gulzar Bibi, 22, and Kausar Bibi, 20 -- days before their formal wedding ceremony at home in mauza Sargana on July 29. He was arrested on Aug 3.
This Dawn correspondent met Nasir in the police station, where he along with his another brother, Jaffar, is being held. Their third brother, Saeed, was released by the police after interrogation on Sunday.
He said his family was well aware of his opposition to his sisters' love marriage. He shot them dead with a 30-bore pistol, which he says, he had bought for Rs4,000 from the Sakhi Sarwar area in Dera Ghazi Khan a few days before the shooting. The pistol is in police custody.
Nasir belongs to a lower-income class, and owns two kanals.
Sargana area patwari Muhammad Iqbal told Dawn deceased sisters did not own any land, while their other family members had some land.
Jaffar owned three kanals, Saeed one kanal and their divorced sister Saeeda Bibi six kanals.
Atta Muhammad, father of Nasir and deceased girls, said that Kausar and Gulzar were working as maids in Karachi, and their monthly income was Rs8,000 to 10,000 each. He said his sons had bought 12 kanals in the last four years. Lumbardar of the Sargana area Tahir Haider Khichi said that according to the area people, a majority of the family members were opposed to love marriage plans of the girls.
Police, however, are trying to find some other aspects in the killings.
Mailsi Deputy Superintendent of Police Shabbir Warraich told Dawn they had yet to conclude the case.
According to source, police also detained various relatives of the family for interrogation.
http://www.dawn.com/news/1276364/killed-sisters-for-honour-not-property
--
French girl, 16, charged with allegedly supporting Islamic State
AUGUST 9 2016
A judge has handed a 16-year-old French girl preliminary terrorism charges for allegedly supporting the Islamic State group and trying to perpetrate an attack, prosecutors have said.
The girl was using a social media app to spread calls by Isis to commit violent acts, the Paris prosecutor's office said on Monday.
The judge charged the teenager with taking part in a "criminal terrorist association" and "inciting to commit terrorist acts through an online communication medium". She has been placed in custody.
The investigators said the girl was "extremely radicalised" and was the administrator of a chat group dedicated to Isis propaganda on the Telegram app, which has been used by suspected jihadis to communicate, deputy prosecutor Laure Vermeersch said. Vermeersch said no specific targets had been mentioned by the teenager, who had no prior criminal history. Her name wasn't released.
Investigators are now trying to trace other participants of the chat group and know whether the girl had possible accomplices in her alleged attack plot or in spreading Isis propaganda.
The girl was arrested on Thursday in the Melun region, a southern Paris suburb, during a police operation. It is not the first time a girl has been detained in France under suspicion of trying to commit an attack. In March, two girls aged 15 and 17 were charged with taking part in a criminal terrorist association for allegedly plotting to attack a target – possibly a Paris concert hall – in a copycat action of November's Bataclan attack in the capital. But investigators acknowledged the plot was not in an advanced stage.
France has lived under a state of emergency for nearly nine months, since the deadly attacks in November in Paris that killed 130 people. Parliament has extended the measure for six more months after a truck attack in the southern city of Nice on Bastille Day (14 July) that killed 85 people and was claimed by Isis.
https://www.theguardian.com/world/2016/aug/08/french-girl-16-allegedly-islamic-state-paris-telegram-app
--
Ibtihaj Muhammad - a Muslim woman - fences in hijab at Rio Olympics for USA
AUGUST 9 2016
Rio De Janeiro: As Ibtihaj Muhammad walked towards the piste for her opening fencing bout on Monday, a telling message blared across the public address system at Carioca Arena 3.
"We would also like to remind you that the Olympic spirit means to respect diversity," the crowd was told.
Those in attendance did more than obey. The uncultivated chants of "USA!, USA!, USA!" could just have easily been heard at the swimming, the basketball or at a Donald Trump rally.
But the commotion at this round of 32 women's sabre duel was significant. The American fans were cheering on Muhammad - a Muslim woman who was making history as the first US Olympic athlete to compete in a hijab.
Muhammad, 30, has become a celebrity in recent months, meeting amongst others Michelle and Barack Obama, while Trump's White House charge and divisive views on Islam have only fuelled the interest in the Duke University graduate, who recently told CNN that Trump's views "are very dangerous."
The US is about as familiar with fencing as it is with universal healthcare, but the American media were out in force for Monday's competition.
"At a normal fencing competition we don't have to deal with this many people," Muhammad said after being eliminated from the individual event where she was watched by a large group of family members.
"Or this many press," she added.
"We actually don't have press."
Having beaten Ukrainian Olena Kravatska in her first bout, Muhammad's run ended after she gave up an early lead to Frenchwoman Cécilia Berder in the last 16. Initially overcome with emotion, Muhammad made the media wait more than an hour before talking after the loss. But once she started, the words flowed freely. "I realise that this moment is bigger than me," she said.
"Anyone who has paid attention to the news at all would realise the importance of having a Muslim woman on Team USA. "
Not only there to turn heads, Muhammad wants to change minds. "How can you not see that Muslims are like any other group? We are conservatives and we are liberals. There are women who cover and women who don't. There are African-American Muslims, there are white Muslims, there are Arab Muslims.
"It's not just to challenge the misconceptions outside the Muslim community, but also within the Muslim community."
She is irked by the way Muslim women are perceived, and was inspired by meeting fellow female Muslim athletes from Kuwait and Saudi Arabia during the opening ceremony, at which she walked out near the front of the US contingent. "That was a beautiful experience - to see other women from around the world, also wearing hijabs."
It was a night she described as "one of the best moments of my life."
Asked what the biggest misconception about her, Muhammad answered: "That someone is forcing me to wear hijab, that I'm oppressed, that I don't have a voice. Anyone who knows me knows me that I'm very vocal, very verbal and very comfortable expressing myself and I've always been like that."
Primarily however, Muhammad remains a sportsperson. She celebrated her early win by raising the sabre in a manner that would make David Warner or Steve Smith proud. She was disappointed to have lost too, and is eager to make amends in the team competition that awaits. "I think the hardest thing about today was trying to remember the game plan in this moment and also execute it," she said.
"[But] I feel proud to represent team USA even in defeat."
Still, her faith is never far away. "I always end every single match with the same sentiment and that's 'I'm faithful to God for the experience."
http://www.smh.com.au/sport/olympics/rio-2016/ibtihaj-muhammad--a-muslim-woman--fences-in-hijab-at-rio-olympics-for-usa-20160808-gqnzxf.html
--
URL: https://newageislam.com/islam-women-feminism/saudi-woman-can't-travel-with/d/108222
New Age Islam, Islam Online, Islamic Website, African Muslim News, Arab World News, South Asia News, Indian Muslim News, World Muslim News, Women in Islam, Islamic Feminism, Arab Women, Women In Arab, Islamophobia in America, Muslim Women in West, Islam Women and Feminism