New Age Islam News Bureau
8 May 2016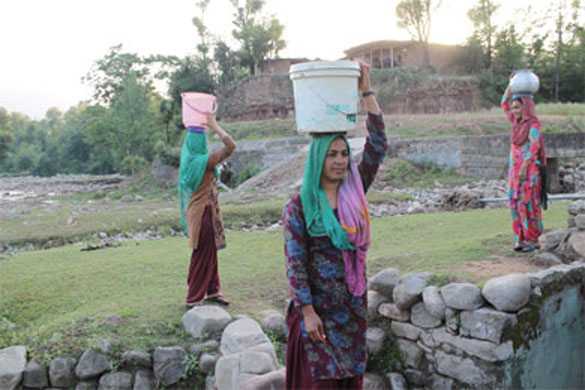 Carrying heavy loads of water on treacherous mountain paths is dangerous for women.
--------
• Reverse Love-Jihad: Muslim girl tie the knot with Hindu boy in Hassan, India
• Forty Percent Saudi women resort to caesarean births
• Two Women Sarpanchs Fight the System to Make Safe Drinking Water Accessible in Kashmir
• India: Hyderabad girl tortured to Death in Saudi Arabia
• Pak Actress Veena Malik now wants to study Islam
• Woman shot dead by unknown gunmen in Herat province of Afghanistan
• Sister of Parramatta shooter was 'top Isis recruiter', says Pentagon
• Video shows Afghan woman's 'Taliban execution'
• Diving is a journey for discovery and an important form of relaxation especially women: Saudi female diving coach
Compiled by New Age Islam News Bureau
URL: https://newageislam.com/islam-women-feminism/reverse-love-jihad-muslim-girl/d/107230
----
Reverse Love-Jihad: Muslim Girl Tie The Knot With Hindu Boy In Hassan, India
May 7, 2016
Hassan: Just weeks after a Hindu girl marries Muslim boy in Mandya with the saffron outfit crying hoarse over the inter-faith wedding and called it a case of "love jihad", a Muslim girl married a Hindu boy in the Hassan on Wednesday.
The couple identified as Neha Anjum and Pradeep were in love since past five years and made up their mind to tie the knot as they faced opposition from both their families.
Both hailing from Chitradurga finally get married at Ramadevarahalla temple with the help of their friends.
Pradeep, working at the APMC godown in Chitradurga fell in love with Neha working at the same office. Later Neha got a job at a textile showroom and left her previous job.
The couple after getting married met Superintendent of Police Rahul Kumar and sought protection.
http://www.siasat.com/news/reverse-love-jihad-muslim-girl-tie-knot-hindu-boy-hassan-955496/
-----
Forty Percent Saudi Women Resort to Caesarean Births
Arab News | 7 May 2016
ABHA: The acceptance among Saudi women for caesarean section births has increased to about 40 percent without any medical need. Globally, 30 percent of births are through the caesarean section due to scientific advancements in this area, revealed obstetrics and gynecology consultant Dr. Maher Rustom.
He said the main four reasons for the increasing demand for C-sections is the unwillingness to experience labor and the pain of natural childbirth; unnecessary fear; significant developments in the medical field; as well as not having to restore the genital tract to its original state after C-sections.
He said C-sections have many pros, namely reducing labor pains and shorter labor times of up to 30 minutes, while some of the many cons include high surgery costs.
Socialogist Fatma Al-Qahtani said most Saudi women resort to C-sections due to the fear of labor pain in natural deliveries, especially if it is the first pregnancy or following a previously painful delivery. "Women today do not want to experience natural labor pain," she said. "Part of these births may be simply a matter of tradition among women and nothing more."
Makkah topped the list in the number of caesarean deliveries at 39 percent, followed by Al-Qurayat with 18 percent. The Eastern Province recorded 6,849 C-sections, while the total number of these deliveries at the Ministry of Health's hospitals around the Kingdom reached 262,173 births, of which 27 percent were unnatural and C-sections, according to the latest statistics from the ministry.
According to reports from government hospitals for 2015, C-sections may now be related to the embryo as its location and positioning may lead to resorting to C-sections, noting that reasons for this include "minimal movement of the mother and not paying attention to the benefits of light walking for pregnant women over spaced intervals."
http://www.arabnews.com/news/40-saudi-women-resort-c-section-births
----
Two Women Sarpanchs Fight the System to Make Safe Drinking Water Accessible In Kashmir
Women's Feature Service May 7, 2016 Jammu and Kashmir
Women in certain remote parts of rural Kashmir have to walk for miles before they can reach a safe drinking water source. Trying to ease their burden and ensure they have easy access to safe potable water are Kulsooma Begum and Raja Begum in Baramulla district.
Ensuring safe drinking water for her "sisters" in the village and, consequently, easing their workload has, so far, been 'mission impossible' for Kulsooma Begum, 37, the Deputy Sarpanch of Hamray-Pattan in north Kashmir's Baramulla district. Despite her best efforts, in the last four years since she came to power, she has only managed to get the water pipelines laid under the local Wussan water scheme.
According to Kulsooma, overcoming the inactivity and poor coordination among the various concerned government departments has been a tough challenge.
Although the sarpanch did accompany her once as she tried to reach out to the officials, their general indifference was not palatable to him and he decided to leave the task in a very determined Kulsooma's capable hands.
"At times officials rebuked me," she says, adding that they had to approach them several times before making any real progress. "I know it's difficult but then getting anything done in the remote rural areas is anyway an uphill task," she adds.
Of course, there's a lot that still needs to be done before the women can enjoy the basic right of access to drinking water at their doorstep but Kulsooma is hopeful that very soon she would be able to fulfil her poll promise.
"The Public Health Engineering (PHE) department had laid the water pipes a year back but nothing has moved since then. I have been following up with the authorities but my efforts have not yielded any concrete results yet. I am highly concerned because this issue is mostly related to us (women)," she says candidly.
Women in her village have to travel a few kilometres everyday to collect water. "It's very tedious, time-consuming and takes a toll on the health," she says. Women set off on their daily water errand very early in the morning. Though there are a few tube wells and dug wells in the vicinity the water from these sources is reportedly contaminated.
"Under compulsion, people also consume water from the kul (stream) nearby but it is dirty as it has become a dumping ground for the waste," explains Kulsooma.
As water is needed for several household activities like bathing, cleaning and washing, besides consumption, the women have to sometimes make more than one trip to be able to get what they need.
Unfortunately, more often than not, children, especially girls, have to be roped in to help out with this tiresome chore before they go to school. Consequently, they end up wasting precious time and losing out on their studies. "They reach school late and their studies suffer," points Kulsooma, adding that till date, there have been no visits conducted by the district officials to their area to assess and address their concerns.
So far, success has eluded her but, amazingly, this has not eroded the local women's faith in her abilities to make things happen. Indeed, they are willing to back her up 100% when it's election time next year.
Several kilometres away, Raja Begum, Sarpanch of Palhallan 'D' is facing a similar situation. Popularly known as aapa (elder sister) in her village, Raja Begum reveals that she has been fighting for the availability of safe drinking water in her area for many years. She has tapped nearly every power centre she could get access to but she has not been able to resolve the issue up till now.
"One may think that a sarpanch has many powers but that's not really the case. Development work happens when block officials are ready to work together. My experience has not been good. No one listens to us. We are an ignored lot," she emphasises, while sharing that a few years back they had managed to get a water reservoir built near their village but not a filtration plant, which is an essential facility. "What is the use of having a reservoir when the water is unusable?" she asks.
The absence of a filtration plant in the area is a serious setback. According to Raja Begum, there is lot of iron in the water, which renders it unsafe for drinking or cooking. However, they make use of it for various domestic activities.
"There have been some fatalities in our area due to consumption of this unsafe water," she informs gravely, adding that people do face several other related health problems including hair fall and skin problems. "Even the utensils in which we collect the water get discoloured; there is kind of coating of iron. Just imagine what it would do to our bodies? We have approached everyone who we thought could be helpful, but to no avail."
The residents resolutely confirm that the contaminated water has an adverse impact on them and they face innumerable health concerns on account of the lack of potable water. They further attributed government apathy and negligence responsible for it.
"Many a time we have come out on to the roads to press for our demands. Though the authorities have promised us action, nothing concrete has been done on the ground till date," rues Abdul Jabbar Wani, a resident of Palhallan 'D'. He adds dejectedly that the government hardly bothers about them even though the condition there is so grave that they have to "think twice even before taking bath with this water."
As is the case in the rest of the country, in Jammu and Kashmir too, it's the Halqa panchayat, or the gram panchayat as it is referred to in the state, which acts as a bridge between the administration and the people. Its eight-odd members – the numbers vary between 7 and 11 – are not only responsible for implementing state welfare schemes but also for providing competent guidance and governance. Elected women representatives like Kulsooma Begum and Raja Begum are trying to make a difference in spite of the many hurdles that come in their way.
Nasir Ahmad Lone, Block Development Officer (BDO), Pattan, concurs, "Women Panchayati Raj representatives are very active and they work more efficiently than their male counterparts." Referring to Raja Begum, he says that she has played a big role in the development of her village, particularly in the construction of vital infrastructure such as roads, drains, toilets, and so on. He adds, "She is not hesitant to approach me for some work or the other nearly everyday."
Hakim Tanveer, District Panchayat Officer (DPO), Baramulla, points out, whereas grassroots women elected representatives do approach and interact with him it's not all that frequent. Nonetheless, when they do, it's all about assisting people to secure their entitlements.
"Usually, they discuss various local issues confronting them and are keen to solve problems related to schemes like the Mahatma Gandhi National Rural Employment Guarantee Act (MNREGA), Indira Awas Yojna (IAY) and Nirmal Bharat Abhiyan," he elaborates.
Today, Kulsooma and Raja may be greatly regretting their unfulfilled promise – after all, they had come to power in the village on the basis of the assurance of providing potable water – but the women in their hamlets are not ready to give up on their aapas because they believe that it's their best chance at being heard and considered by the powers that be.
thebetterindia.com/54671/kashmir-baramulla-women-safe-drinking-water-source-kulsooma-begum-sarpanch/?utm
----
India: Hyderabad Girl Tortured To Death In Saudi Arabia
May 7, 2016
A 25 year old girl Asima, a resident of Shah Colony in Dabeerpura Hyderabad, had left for Riyadh in December 2015 on a 'house maid' visa procured via an agent. She was allegedly tortured to death. She died while undergoing treatment at King Saud Chest Diseases Hospital in Saudi Arabia.
The family members of the Asima Khatoon were informed about the death on Thursday, three days after the chief secretary of Telangana made a request in writing at the behest of the deceased's family to rescue her from the clutches of her employer and repatriate her back to Hyderabad.
Asima, a resident of Shah Colony in Dabeerpura, had left for Riyadh in December 2015 on a 'house maid' visa procured via an agent.
Where as, government had stopped issuing 'house maid' about two years ago, she was, in fact, sent to Riyadh on a business visit visa for 90 days and was illegally kept there in confinement.
Though there was no information from her since her departure, she telephoned home about two months ago informing the family about the instances of torture she has been meted out in the hands of her employer, Abdul Rahman Ali Mohammed.
On phone, she told her mother that she was harassed mentally and physically and requested her family to make arrangements for her return at any cost.
http://www.siasat.com/news/hyderabad-girl-tortured-death-saudi-arabia-955740/
-----
Pak Actress Veena Malik Now Wants To Study Islam
May 8, 2016
Veena Malik, whose appearance in the Indian TV show "Bigg Boss" sparked a row in Pakistan, is now going to devote herself to the study of Islam.
Dawn News says she will do this under the guidance of Mufti Naeem of madrassah Jamia Binoria and ensure that her children also receive Islamic education.
The one-time model and actress, who has spent the past few years abroad, said this to the media in Karachi. Her husband and Mufti Naeem were on her side.
"In my two years in America, I read a lot of literature recommended by Junaid Jamshed sahib," she said.
"My life was turned upside down a while ago and my elders cautioned that it's very hard to stay on the right path in times like this.
"Indeed, in the past three years, I have been tempted to stray several times. Thankfully, I have had Mufti Naeem, Maulana Tariq Jamil and Junaid Jamshed sahib to guide me," she added.
In 2011, after Veena appeared on the controversial reality show "Bigg Boss" hosted by superstar Salman Khan, members of the religious community in Pakistan criticized her harshly.
Veena also shot to relevance when she appeared topless on the cover of Indian FHM magazine sporting an 'ISI' tattoo on her arm.
Over the past few years, Veena has withdrawn from the public eye and given birth to two children.
ttp://www.siasat.com/news/veena-malik-now-wants-study-islam-956243/
----
Woman Shot Dead By Unknown Gunmen In Herat Province Of Afghanistan
By KHAAMA PRESS - Sun May 08 2016
A woman was shot dead by unknown gunmen in Herat province in west of Afghanistan, local official said Sunday.
Provincial police spokesman Abdul Rauf Ahmadi said the woman who was believed to be her 50s was shot dead in Herat city.
He said unknown gunmen riding a motorcycle opened fire on the women in the 4th police district of the city late on Saturday afternoon.
Ahmadi further added that the assailants managed to flee the area and a search operation is underway to detain the perpetrators.
The main motive behind the murder of the woman is not clear so far but the local officials have said at least 11 target killings have taken place in Herat in the past 2 months.
The Chief Prosecutor of the Appellate Court of Herat Samiuddin Raheen was also shot dead by unknown gunmen near his residence in Herat last week.
Meanwhile, the local residents are concerned regarding the growing criminal activities in the city, specifically the target killings and kidnappings.
According to a report, an Iranian national was also kidnapped from the vicinity of Herat on Saturday.
http://www.khaama.com/woman-shot-dead-by-unknown-gunmen-in-herat-province-of-afghanistan-0871
----
Sister Of Parramatta Shooter Was 'Top Isis Recruiter', Says Pentagon
Australian Associated Press
8 May 2016
The Sydney woman whose teenage brother shot dead police accountant Curtis Cheng reportedly became a high-level recruiter for Islamic State in Syria before she was killed in a US airstrike.
Former Parramatta resident Shadi Jabar, 27, helped plan attacks on the west and used the encrypted messaging application Telegram to urge fighters and women to go to Syria, according to News Corp.
She fled Sydney on 1 October 2015. The next day, her 15-year-old brother Farhad Jabar shot Cheng dead outside Parramatta police headquarters before he was shot dead by police.
Shadi Jabar and her husband, Sudanese fighter Abu Saad al-Sudani, were killed in a US airstrike on the Syrian city of Al-Bab on 22 April, according to the US government.
According to a Pentagon spokesman, Jabar and Al-Sudani were "active in recruiting foreign fighters in efforts to inspire attacks against western interests".
Pentagon press secretary Peter Cook said Al-Sudani was actively involved in helping plan attacks on targets in Canada, the United States and the UK. "There was an effort specifically to target western interests and we took this strike because we believe that this was in America's national security interest and that they did pose a threat to the US," Cook said.
Using the name Umm Isa al Amrikiah, Shadi Jabar posted messages spreading Isis ideology and criticising men who didn't join the fight and appeared to have risen to senior ranks in Isis's propaganda wing.
Her account contained pictures from Syria, including one of a pistol and what she said was a suicide belt along with the words "May Allah ... grant me the opportunity to use it soon".
Australian federal police assistant commissioner Neil Gaughan said about 15 Australian women are believed to be in Syria, including five who went there from Melbourne to become jihadi brides in the last nine to 12 months.
Most of the women were between 19 and 25, and Gaughan warned Syria was not the glamorous destination it was portrayed as on social media.
http://www.theguardian.com/world/2016/may/08/sister-of-parramatta-shooter-was-top-isis-recruiter-says-pentagon
-----
Video Shows Afghan Woman's 'Taliban Execution'
7 May 2016
A video has emerged showing the public killing of a woman after her alleged conviction by an informal Taliban court of killing her husband.
The video was shot in Jowzjan Province a month or two ago, officials say, and has just surfaced on social media.
A crowd listens as the verdict is given before the woman, sitting on the ground in a burqa, is shot in the back of the head. The Taliban have not commented.
Similar killings in the past were widely condemned.
The Taliban used to publicly execute women - usually over adultery - in the main stadium in the capital Kabul when they were in power in Afghanistan in the 1990s.
Last year, a young woman was stoned to death in Ghor province in central Afghanistan after being accused of adultery.
In August 2011, a woman and a man she had eloped with were stoned to death in the district of Dashte Archi in Kunduz province.
A Taliban spokesman defended the 2011 incident at the time saying: "Anyone who knows about Islam knows that stoning is in the Koran, and that it is Islamic law.
"There are people who call it inhuman - but in doing so they insult the Prophet. They want to bring foreign thinking to this country."
Mob killings are not uncommon in Afghanistan.
In March, a woman called Farkhunda Malikzada was savagely beaten and set ablaze in central Kabul after being falsely accused of burning a copy of the Koran.
The murder triggered protests across the country and led to global condemnation of the treatment of Afghan women.
http://www.bbc.com/news/world-asia-36236567
----
Diving Is A Journey For Discovery And An Important Form Of Relaxation Especially Women: Saudi female diving coach.
ARAB NEWS | 7 May 2016
JEDDAH: Diving is a journey for discovery and an important form of relaxation, and more and more people, especially women, are taking up the sport, says Nofa Al-Osaimi, a female diving coach
She said her love for diving started by chance when she visited Sharm El-Sheikh for participation in a sea tour — the first of its kind in the world of diving.
"At that time, I was studying in Britain. The diving urge remained in me and I wanted to finish my studies quickly so that I could pursue diving licenses," Al-Osaimi was quoted as saying by local media on Friday.
"Afterwards, I went to Sharm El-Sheikh and got the first license as a diver, followed by a permit as an advanced diver. I still ensured that I got more licenses to become a trainer," she said.
According to Al-Osaimi, diving has many benefits like hope and happiness, objective energy that revives a person in addition to getting a better perspective about saving the sea from plastics and other bad material and just to ensure the beauty of the blue waters as the sea is considered as a soruce of food for humans.
Al-Osaimi wants to establish a diving center for women that is secure and safe, and to make people more aware of the importance of the marine environment.
http://www.arabnews.com/news/saudi-woman-coach-started-diving-sea-%E2%80%98-chance%E2%80%99
----
URL: https://newageislam.com/islam-women-feminism/reverse-love-jihad-muslim-girl/d/107230