New Age Islam News Bureau
06 May 2022
• After Qandeel Baloch Another Pakistani Model, Sidra, Murdered By Brother For 'Honour'
• Dubai Hosts A New Cricket Tournament To Grow The Women's Game
• Why Arab Schoolboys Are Getting Trounced By Girls
• Group on Mangalore Police Radar for Threatening Muslim Girls Against Removing Burqas, Taking Selfie
• BSF Helps Bangladeshi Relatives Bid Adieu To Indian Woman Who Died
Compiled by New Age Islam News Bureau
URL: https://newageislam.com/islam-women-feminism/qandeel-baloch-sidra-honour/d/126945
--------
After Qandeel Baloch Another Pakistani Model, Sidra, Murdered By Brother For 'Honour'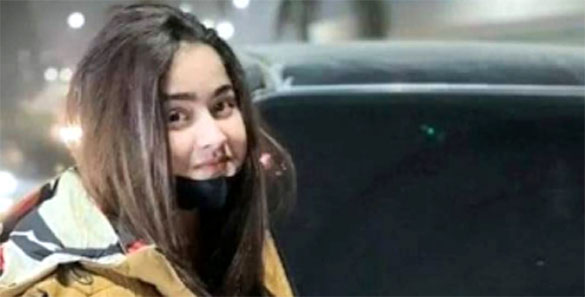 Sidra was killed when she visited her hometown to celebrate the Eidul Fitr
-----
5 May, 2022
OKARA – A model was allegedly murdered by her brother for 'honour' in a village of district Okara on Thursday.
Sidra (22) was killed by her brother in village 51R of Okara when she visited her hometown to celebrate the Eidul Fitr.
Local police told the media outlets that the body of the slain woman was shifted to the hospital for a post-mortem while the investigation was underway.
The reason behind the killing is believed to be a heated debate between the siblings as the girl was not willing to leave her modeling career. Meanwhile, the law enforcers have yet to arrest the murderer.
The South Asian country remained in limelight after the brutal murder of social media sensation Qandeel Baloch who was killed at the age of 26 by her brother in July 2016.
Human Rights Watch claimed that violent attacks against women remained a serious problem in Pakistan and more or less 1,000 such cases were reported across the country every year.
Source: Daily Pakistan
https://en.dailypakistan.com.pk/05-May-2022/another-pakistani-model-murdered-by-brother-for-honour
--------
Dubai Hosts A New Cricket Tournament To Grow The Women's Game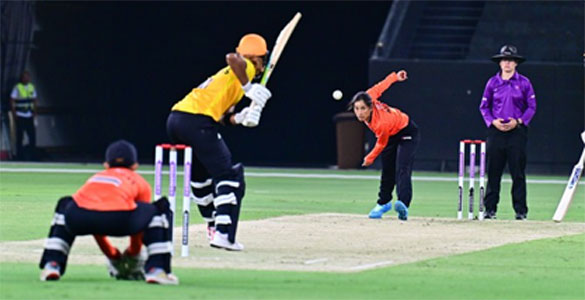 Six teams consisting of 90 players from 35 countries will compete across 19 matches. (Source: FairBeak)
-----
Jon Pike
May 05, 2022
While the Board of Control for Cricket in India (BCCI) shakes its predominantly men-only Indian Premier League (IPL) money tree, the world's first privately funded tournament in the history of women's cricket opened in Dubai on May 1.
Entitled the SDG FairBreak Invitational 2022 Tournament, it is sanctioned by the International Cricket Council (ICC).
Six teams consisting of 90 players from 35 countries will compete across 19 matches until the Final on May 15. The inaugural tournament, organized by Cricket Hong Kong, was due to be held there, but the location had to be moved owing to COVID-19 restrictions.
The players are from a mixture of Full Member and Associate Member countries. There was no players' auction. Instead, an organizing committee invited cricketers and then allocated them to one of the six teams.
This provides a welcome opportunity for associate players to play against and alongside some of the world's best female cricketers. It also enables players from Full Member countries to gain an understanding of the challenges faced by associate players, as well as appreciating their skill sets.
Most national cricket boards have been delighted to allow their players to take part. Cricket South Africa's CEO regarded the involvement of six players as "another sign that South African women's cricket is a force to be reckoned with," while four players from the US women's national team will participate. Five English contracted players were invited to play and, despite the tournament clashing with the start of a domestic cup competition, three of them will be playing in Dubai.
Unfortunately, for obvious reasons, there will be no Afghan players featuring in the tournament, nor any Indian players. The BCCI did not grant any No Objection Certificates, which players are required to have from their national board in order to participate in a domestic league in another country. The cited reason was that the Senior Women's domestic T20 Trophy did not end until May 4. Since the opening match of the FairBreak tournament is not until that day, it is hard to resist the feeling that the invited Indian players have not had a fair break.
Furthermore, there is no clash with the BCCI's IPL women's sideshow, a three-team T20 Challenge, set for its fourth edition between May 24 and 28. Pressure to grow this event has met with stonewalling by the BCCI, which judges that there is not enough depth in the women's game in India to justify further investment at this stage. Others in Indian cricket do not share this view.
The lukewarm attitude of the BCCI does provide the opportunity for others to take the initiative. Prior to standing down as chair of the Pakistan Cricket Board, Ramiz Raja was promoting the idea of a Pakistan Women's T20 Super League. The introduction of the Hundred in England in 2021 notably enhanced opportunities for women, while the Women's Big Bash League in Australia has completed seven editions.
Earlier than that, in 2013, a few individuals formed a Women's International Cricket League (WICL). Its initial aim was to provide more opportunities and improved remuneration for women cricketers by attracting the world's best players in similar fashion to the IPL for men. This proposal met with no approval from either Cricket Australia or the England and Wales Cricket Board and was not endorsed by the ICC. Instead, they emphasized that they each were enacting plans to professionalize and develop women's cricket.
Over the last seven years, cricket's authorities would argue, no doubt, that a structured set of competitions and progression pathways have been implemented. Yet, a gender remuneration gap remains. Rebuttal of the WICL's proposals by cricket's establishment caused its founders to re-think and reset. The WICL concept was dropped and out of this impasse a vision was developed whereby people have fair and equal access to succeed in their chosen endeavor, independent of gender or geographical location. Under the FairBreak concept, cricket is the primary vehicle for pursuing the objective of equality on a global scale.
FairBreak has organized individual matches in which women cricketers from both Full Member and Associate Member countries have been brought together. Prior to the pandemic, a four-match tour of England took place in 2019, while annual fixtures had been established at the Sir Paul Getty ground at Wormsley in England and at the Sir Donald Bradman ground at Bowral in Australia. The latter match was claimed to be the first ever women's T20 match to be screened live worldwide. Resumption of these fixtures is set for 2022.
Comprehensive live coverage of the SDG FairBreak Invitational 2022 to 142 countries is in place through 14 selected broadcast partners. A combination of traditional TV broadcasters, new over-the-top media sources and digital-only platforms will maximize distribution and the availability of content to fans of all ages. In the host territory of the UAE, coverage will be secured via Etisalat who will broadcast every match live via eLife and STARZ Play. Spectators can also attend the tournament live at Dubai International Stadium.
In late March 2022, the SDG Impact Fund was announced as the title sponsor for the tournament. The Fund focuses on regenerative philanthropic impact in line with the UN's 17 Sustainable Development Goals. The fund is US-based and is a good strategic fit with both FairBreak's aims and current efforts to grow the game in the US for both men and women. Healthcare company Gencor will continue as lead sponsor.
The 2022 tournament represents an important milestone for both FairBreak's growth and its efforts to generate more funding, more expertise and more opportunities for women to play cricket. Its focus on equality in sport provides a different angle on the development of women's cricket by integrating players from ICC Full Member and emerging countries. It seems that it is finding a way to co-exist alongside the institutional bodies vested with cricket's governance.
All of them ought to share a common goal of expanding women's cricket on an equal footing.
Source: Arab News
https://www.arabnews.com/node/2076081/sport
--------
Why Arab Schoolboys Are Getting Trounced By Girls
May 06, 2022
MUHAMMAD ADMITS he was not an keen pupil. The younger Emirati says he slept via faculty, if he turned up in any respect. When he was 17, determined academics organized for him to spend someday every week in courses placed on only for disaffected males. These aimed to lift ambition and to seize him with extra sensible sorts of schoolwork. Now 20 and finishing navy service, Muhammad says this last-ditch intervention saved him from flunking. A profession as a military officer appears potential. Even coaching to be a physician. Perhaps.
Muhammad is a graduate of Hands-on-Learning, a modest mission aiming to drive down drop-out charges in Ras al Khaimah, one of many scruffier of the seven statelets that make up the United Arab Emirates (UAE). It is however one native effort to unravel a sweeping regional drawback. Across the Arab world, girls are much less doubtless than boys to be in school. But within the classroom girls vastly outperform their male friends—to a level unmatched anyplace else on the planet. Boys' shockingly dangerous faculty marks are a giant drag on Arab economies, as is the persevering with oppression of females. Shoddy boys' colleges are turning out insecure younger males who are extra prone to really feel that their livelihoods rely on conserving better-educated girls out of labor.
The area's boys and girls each carry out badly in worldwide checks. This makes Arab boys' failings all of the starker. The World Bank says two-thirds of ten-year-old boys within the Middle East and north Africa can't learn a easy story, in contrast with greater than half of girls (see chart). Eight Arab faculty programs have the world's widest gender gaps in science, in keeping with worldwide checks of 12-year-olds in 40-odd nations in 2019: in all of them boys rating worse. Arab girls nearly all the time outperform boys in high-profile checks of 15-year-olds carried out each three years by the OECD, a membership largely of wealthy nations. In Jordan, Qatar and the UAE the hole in 2015 was equal to girls having had an additional 12 months of education in science and two further years in studying.
Segregated education is a part of the issue. Single-sex colleges are frequent in Arab nations, particularly within the Gulf, the place boys' failures relative to girls' are worst. Boys' colleges are typically crummier than girls', partially as a result of hiring male academics is tough. Whereas a job in girls' colleges can simply entice ten candidates, a gap in a boys' faculty may get three or 4, says an official in Saudi Arabia. An tutorial research of six males who had been coaching to be academics within the UAE discovered that 4 didn't notably desire a job in a faculty and solely three favored working with kids. Men in Gulf nations can typically earn extra money and standing working within the military or the police. Thus many colleges depend on immigrant academics from poorer Arab neighbours, who battle to win native pupils' respect.
Bullying additionally drags down faculty marks and will increase drop-out charges. Polling analysed by UNESCO discovered that greater than 40% of the youngsters within the Middle East and north Africa are bullied not less than as soon as a month, in contrast with 32% in North America and 25% in Europe. The area's boys had been extra prone to be bullied than girls, whereas globally boys and girls are bullied at about the identical price. Moreover, the bullying was more likely to contain violence. Around 60% of boys additionally report getting into fights in school.
Many boys see little level in working onerous, says Natasha Ridge of the Al Qasimi Foundation, an Emirati think-tank. Hidebound economies don't reward strivers. In the richest nations younger males can anticipate a share of oil cash, nonetheless badly they flunk. In different locations, boys with poor scores can nonetheless hope for jobs in bloated civil companies: 1 / 4 of jobs in Egypt are within the public sector; in Saudi Arabia in 2014 the share was over twice as excessive. For girls the advantages of swotting are a lot clearer. Education is without doubt one of the few methods to achieve independence from husbands and fathers.
Parents contribute to this disparity, too. Muhammad in Ras al Khaimah says he usually stayed out gallivanting with buddies on faculty nights, whereas his sisters, stored indoors by their mother and father, spent extra time learning. Arab mother and father are much less doubtless than these elsewhere to say they "often" learn to their kids, and fewer prone to learn with sons than with daughters—regardless that analysis means that boys' literacy tends to endure greater than girls' when mother and father don't nudge them in direction of books.
In idea preschools may help iron out these variations. But lower than a 3rd of kids within the Middle East and north Africa go to 1, which is about half the worldwide price. Prejudice complicates issues. "Boys are smarter than girls, but they can't settle down," says Andjy, an Egyptian instructor and mom in Alexandria.
Women are nonetheless largely locked out of workforces, regardless of having higher faculty grades. Across the Middle East and north Africa solely round a fifth of ladies have jobs. Poorly educated males are in no hurry to vary that. Research outdoors the area confirms that less-educated males are extra prone to maintain sexist views, and that males who don't full a secondary training are extra doubtless than others to abuse a spouse or associate.
Reforms below manner in some nations may drive up requirements and profit left-behind boys. More Arab nations are selecting to participate within the massive worldwide checks which have helped make the area's woeful education so plain. In 2019 Saudi Arabia's authorities let girls educate boys within the first three grades of state major colleges, although in single-sex courses. Today 45% of these boys have feminine academics. In 2018 the UAE started creating mixed-sex courses in state major colleges. It can also be nicely on its strategy to making pre-primary training common.
Yet only a few nations have conjured up insurance policies or tasks, akin to Hands-on-Learning, that expressly purpose to assist boys shut the hole. More have to be finished for girls, too, to make sure that they go to highschool: since 2012 progress in direction of equal enrolment has stalled. But tackling the boy drawback is retro, says Ms Ridge. Reform-minded leaders within the Arab world desire to speak up their efforts, nonetheless meagre, to enhance the lot of ladies. They concern that spending extra on lads will make governments appear to be dinosaurs—even when the info present that boys are in sore want. ■
Source: 123hindinews
https://123hindinews.com/why-arab-schoolboys-are-getting-trounced-by-girls-more-united-arab-emirates-news/
--------
Group on Mangalore Police Radar for Threatening Muslim Girls Against Removing Burqas, Taking Selfie
MAY 05, 2022
An unregistered organisation called the Muslim Defence Force has come under the scanner in Mangalore for allegedly threatening Muslim girls against taking selfies or being seen with boys without burqas. The group, which is mostly active on WhatsApp and Instagram, has also warned parents of Muslim girls of "action from the MDF".
The Mangalore Police took note of the group's activities after some Muslim organisations gave representations against the MDF. Mangalore Police Commissioner N Shashi Kumar said no FIR has been registered against the group, but the social media cell is monitoring the MDF closely.
"Few Muslim organisations have given us a representation about the Muslim Defence Force 24/7. This organisation has said few girls who walk with boys and take selfies removing burqa must be warned by their parents. 'If not we will take an action' and 'we have to save our culture' kind of messages are being circulated on WhatsApp and on Instagram. We are monitoring this very closely. No FIR has been registered so far," said the commissioner.
Community leaders, too, have spoken out against the activities and threats of the group.
"Muslim girls who are pursuing education know how to behave. Their parents too have taught them the morality of how to behave. This kind of Taliban culture will not work in our country. India is a constitution-based country and not a country based on Sharia. If you want to stay in this country, then you will have to follow the law and order of the country," said Muslim leader Rahim Uchil.
The Mangalore Police had previously registered an FIR against the Facebook page 'Mangalore Muslims', which was accused of sharing controversial content on social media on the murder of Bajrang Dal worker Harsha. It had claimed that the murder was carried out in retaliation over derogatory content posted against the Prophet Muhammad in 2015. Investigation revealed that the Facebook page was being operated from abroad.
Source: News18
https://www.news18.com/news/india/group-on-mangalore-police-radar-for-threatening-muslim-girls-against-removing-burqas-taking-selfie-5118067.html
--------
BSF helps Bangladeshi relatives bid adieu to Indian woman who died
06th May 2022
KRISHNAGANJ: The family of Ila Mandal, who died at a border village in West Bengal's Nadia district, wanted her relatives on the other side of the barbed wires to see her for a last time.
Her dying wish was fulfilled as BSF arranged to take the body to the Zero Point on the border where her relatives from Bangladesh were waiting for a last glimpse of the 70-year-old woman.
Mandal, a resident of Matiari village in Krishnaganj police station area, died on Thursday.
Many of her relatives live in Chuadanga on the other side of the border in Bangladesh.
Mandal's family reached out to the border force, requesting permission so that their Bangladeshi relatives manage to pay homage to her body before it is cremated.
The BSF soon got in touch with the Border Guard Bangladesh (BGB), which arranged for the relatives to visit the Zero Point.
The BSF helped the family in bringing the body to the spot where they paid their last respect.
"Besides guarding the border, BSF also stays with the people in their pain and pleasure," said Desh Raj Singh, the BSF commanding officer of the area.
Tens of thousands of families were split when India was partitioned in 1947, leading to the creation of East Pakistan -- which subsequently became Bangladesh.
West Bengal shares a 2,217-km-long border with Bangladesh, besides language, culture and culinary habits.
Source: New Indian Express
https://www.newindianexpress.com/nation/2022/may/06/bsf-helps-bangladeshi-relatives-bid-adieu-to-indian-woman-who-died-2450483.html
--------
URL: https://newageislam.com/islam-women-feminism/qandeel-baloch-sidra-honour/d/126945
New Age Islam Islam Online, Islamic Website, African Muslim News, Arab World News, South Asia News, Indian Muslim News, World Muslim News, Women in Islam, Islamic Feminism, Arab Women, Women In Arab, Islamophobia in America, Muslim Women in West, Islam Women and Feminism