New Age Islam News Bureau
16 May 2016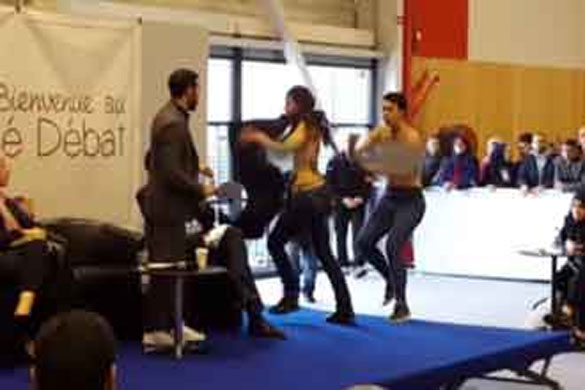 Photo: Masquerading in Islamic clothes, four Femen activists surprised the scholar in Islamic affairs Tariq Ramadan with their naked breasts during a lecture he gave in Le Bourget, France.
----------
• Topless Femen Activists Attack Muslim Scholar Tariq Ramadan
• Turkey's International Modest Fashion Week: haute couture for Muslim elite
• See young British Muslim women like never before at Stratford Circus
• Council of Saudi Chambers, ICCIA prepare for Forum for Businesswomen in Islamic Countries
• Equal facilities for men, women at Betim mosque, dargah
• Young, American Muslim Women Break New Ground In Florida With Modest Wear Store
• When A Respected Author Becomes An Accidental Feminist
• Boko Haram leaders arrested; dozens of captives freed
• Cases of Muslim women being ill-treated, harassed by husbands
Compiled by New Age Islam News Bureau
URL: https://newageislam.com/islam-women-feminism/pakistani-woman-gets-indian-citizenship/d/107318
-----------
Pakistani woman gets Indian citizenship after 13 years
May 15, 2016
GURDASPUR: After a long wait of 13 years, a Pakistani woman was granted Indian citizenship.
Deputy commissioner Pardeep Sabharwal handed over the certificate of Indian citizenship to Tahira Hazoor on Saturday evening, officials said here on Sunday.
Tahira had got married to Maqbool Ahmad, a resident of Qadian, Gurdaspur, in 2003.
33-year-old Tahira, who hails from Faisalabad in Pakistan had applied for Indian citizenship in March 2011 after completing the mandatory 7 years of stay in India.
Even the Punjab government had recommended her case to the Union Ministry of Home Affairs but she was neither granted Indian citizenship nor a temporary visa for Pakistan.
In the absence of citizenship, for last 13 years she was not allowed to move out of Qadian, she said.
She has two daughters and a son from her marriage, all of them have Indian citizenship and are free to move to any place, Tahira said.
Elated over getting Indian citizenship, Tahira said she will first go to Pakistan to see her mother who has been unwell for last the five years. She said she will also apply for Indian passport soon.
Her husband Maqbool and her daughter Sumayala are currently in the UK to attend the wedding of a relative.
She could not accompany them because she did not have Indian citizenship and passport.
timesofindia.indiatimes.com/india/Pakistani-woman-gets-Indian-citizenship-after-13-years/articleshow/52281311.cms
---
Topless Femen Activists Attack Muslim Scholar Tariq Ramadan
Sunday 15 May 2016
The video of the incident shared by Femen Movement has gone viral on social media. It shows the activists disguised in Islamic clothes ascending to the symposium stage and then stripping their clothes in front of the scholar.
FEMEN, as the movement defines itself, is an "international women's movement of brave topless female activists painted with the slogans and crowned with flowers." They protest by disrupting official events with their naked attack against "male economic, cultural and ideological occupation."
The protesters used the poster "Allah is not politician."
"FEMEN protest against the visit of fundamentalist preachers at a rally to politicize Muslims in France under the aegis of the Muslim Brotherhood!" the movement said on its webiste.
"FEMEN claims that political Islam is totalitarianism, and a face of fascism," it added.
This is not the first time Femen activists attacks a Muslim scholar, interrupt an event where Islam is being discussed, or even engage in provocative actions.
In Jun 2015, two French Femen activist kissed topless in front of the Tour Hassan in Rabat, Morocco's capital.
The move caused a wave of protests in Rabat, with thousands of Moroccans protesting in front of the French embassy in Rabat denouncing the group's "attack on Morocco's sacred values."
moroccoworldnews.com/2016/05/186634/topless-femen-activists-attack-muslim-scholar-tariq-ramadan/
---
Turkey's International Modest Fashion Week: haute couture for Muslim elite
Sunday 15 May 2016
A woman sashays on to the stage, immaculately preened, swathed in green silk. From head to stilettoed feet, little flesh is on show.
"I like to keep my outfits simple and then use accessories," she says, showing off her gold bangles. The audience, women in designer sunglasses, jewels and headscarves, snap photographs on their mobile phones.
This is a showcase of "modest" haute couture aimed at Turkey's growing conservative Muslim elite and the first event of its kind in a country that has long clung to its secularist foundations.
"Turkey was a nation of primarily pious, conservative Muslims ruled by a secular elite minority," Jenny White, of the Stockholm University Institute for Turkish Studies, said. "Now pious Muslims have gained power and wealth and are confidently pushing the boundaries of what it means to be Muslim. For the first time in the Turkish republic's history, Islamic dress is associated with upward mobility."
Designers from Indonesia to Azerbaijan have converged on Istanbul for International Modest Fashion Week. The setting is the Ottoman splendour of Haydarpasa railway station, the westernmost terminal of the line that once took the faithful to Mecca.
In the Islamic fashion industry Turkey is big business, the world's largest consumer of Islam-friendly clothing with a market worth dollars 25 billion a year. "Most of our customers come from Turkey," said Ulviya Hassan, who set up Hijab Queen in Azerbaijan with her cousin, Farida Efendiyeva. "There are a growing number of women wearing the hijab in Azerbaijan, but the number is still small. We set up this business out of necessity: my cousin started covering her head, and couldn't find anything fashionable."
About 45 per cent of Turkish women wear the headscarf but the issue has long been a flashpoint between secularists and conservatives. For almost 90 years, covered women were banned from attending universities or working in public office, according to the rules laid down by Mustafa Kemal Ataturk, founder of the republic and architect of its secular constitution.
When the ruling AKP, a party founded on conservative Islamic principles, lifted the ban in 2013 secularists were outraged, seeing it as a betrayal of Ataturk's legacy. But as events like Modest Fashion Week show, Turkey's conservatives can no longer be pushed to the margins.
Across town, another high-society event took place on Saturday: the wedding of President Erdogan's daughter Sumeyye to the business heir Selcuk Bayraktar. It was less a family event than a showcase of Turkey's influence across the Islamic sphere. Guests included Nawaz Sharif, prime minister of Pakistan, and Saad Hariri, the former prime minister of Lebanon. The bride was dressed in white silk and rhinestones from head to ankles. It was a scene that would have been unthinkable 20 years ago.
In the 1990s if you were devout in Turkey and wanted to be stylish you had to get a tailor," Professor White said. "Modest Fashion Week shows the self-confidence and creativity of the industry and the women it dresses. Elite Muslim fashion is a billboard for the AKP's success."
theaustralian.com.au/news/world/the-times/turkeys-international-modest-fashion-week-haute-couture-for-muslim-elite/news-story/85e52b5630777558f9933c7cfe2f5917
---
See young British Muslim women like never before at Stratford Circus
Sunday 15 May 2016
Referring to a new generation of young, fiesty, Muslim women who are grappling with family expectations and modern city life, the tag has been claimed by Ambreen Razia for her inaugural play Diary of a Hounslow Girl.
The 23-year-old writer and actress said she learnt of the term after her friend made a remark about a girl outside Kingston College one day.
"'Oh my days', my friend said, "that is a Hounslow Girl'," explained Ambreen.
It transpires that a Hounslow Girl is someone with "big hoops, a hijab, who is blinged up and on her phone", yet is also a dutiful family member who visits the mosque.
Amreen wrote her critically-acclaimed, one-woman, show two years ago having been inspired by the incident – effectuated only after a frustrating post-university period when she could not find work as an actress.
The play, which also stars Ambreen, is narrated by 16-year-old Shaheeda, who she describes as being "very strong and inquisitive".
We are introduced to her character as she returns from her sister's wedding in Pakistan to Hounslow, subsequently struggling with her identity and relationships.
"Shaheeda is a character who is very bold," said Ambreen. "That voice has to come out. Sometimes when you see British Muslim girls on TV, they are quite tame or quiet.
"It is important to show an aspect of what they are like. Just because Shaheeda is a British Muslim girl, she still has the same hormones as everyone else."
Teenage pregnancy and drugs both feature and Ambreen states that the coming-of-age tale came from the experiences of her friends and other Muslim girls growing up in the UK today.
"I wanted to create a play that did not have a political image," she said. "It comes from really wanting to get the story out there.
"It is comical, it is funny, it is kind of dark. There are provocative moments that audiences may not necessarily experience."
The South Londoner, who recently starred in the BBC3 drama Murdered By My Father about an honour killing, says she "can't wait" for the play to arrive in Stratford and thinks it will resonate well with the area's audiences.
"For young people they really love it because it taps into the vocabulary that they use that perhaps older people would not understand," Amreen said.
"The play is important because it gives young people a voice."
newhamrecorder.co.uk/news/see_young_british_muslim_women_like_never_before_at_stratford_circus_1_4535778
--
Council of Saudi Chambers, ICCIA prepare for Forum for Businesswomen in Islamic Countries
Sunday 15 May 2016
The Council of Saudi Chambers (CSC) and the Islamic Chamber of Commerce, Industry & Agriculture (ICCIA) will host the ninth Forum for Businesswomen in Islamic Countries at the CSC location in Riyadh.
The event takes place May 25 and happens concurrently with the 15th trade fair of member states of the Organization of Islamic Cooperation (OIC), organized by the Ministry of Commerce and Investment.
The forum will tackle topics such as the institutional role in building investment opportunities through the private sectors in Islamic countries and enhancing the role of women in Islamic countries. There will be B2B sessions as well as speakers representing ICCIA, Federation of GCC (FGCCC), OIC, General Union of Chambers of Commerce, Industry & Agriculture for Arab Countries (GUCCIAAC), Islamic Development Bank, and the Committee on Economy and Energy at the Shura Council.
The ICCIA started organizing the first forum in 2005 to help provide opportunities for businesswomen to interact and discuss challenges they face in the business world. The forums take place in a different country each year, in cooperation with the Islamic Development Bank, national chambers of commerce and various women's business organizations.
gulfnewsjournal.com/stories/510723940-council-of-saudi-chambers-iccia-prepare-for-forum-for-businesswomen-in-islamic-countries
--
Equal facilities for men, women at Betim mosque, dargah
May 16, 2016
PANAJI: The Hazrat Mohammad Hamza Shah complex at Betim, Porvorim which houses the Masjid-e-Hamza and a dargah of the Sufi saint is open to all irrespective of the gender and faith. Here, men and women are provided with the same facilities to fulfil their aspirations of reverence, prayers and worship as well as learning opportunities.
However, going by the religious injunctions of not to allow commotion at the place of worship, separate spaces for men and women to revere the Sufi saint as well as prayer halls to perform namaaz have been constructed.
Shaikh Bashir, president of the Sunni Jamatul Muslameen which owns and manages the properties, informed that the faithful as per the religious practices have been provided with all the necessary facilities. "We have tried our best to provide equal facilities for both, men as well as women, from all spheres. We are further trying to improve the infrastructure and provide the best for the people who visit the mosque and the shrine", he added.
During the last decade the complex has been renovated and beautified and has received more tourists then the other shrines in the state. Bashir states that the influx of people is due to the reverence and belief of the people on the Hazrat. He further said that the proactive response and optimism of the people have been the force to deliver the facilities at the complex.
Contrary to tradition followed by majority of the mosques in the state as well as the country where women are not allowed to pray in the mosque, Masjid-e-Hamza in the Hazrat Mohammad Hamza Shah complex has separate prayer hall for women. Alongwith main hall to perform namaaz, a wuzu khana (ablution chamber) is also provided separately. The complex has a library with Islamic literature including the Holy Quran and other religious books alongwith a reading room with facilities for both the genders. A maktab, traditional Islamic elementary school primarily imparting knowledge of the Qur'an, has been established. There are separate maktabs for males and females, with respective tutors teaching twice daily.
Apart from Islamic teachings at the maktabs, the committee has appointed tutors to help students with their academic education. Hence, any student who wishes to receive Islamic teachings will also receive help with regular academics of the school and spends more time within the premises of the mosque.
Pointing at the plaque placed at the tomb of the Sufi saint, Hazrat Mohammad Hamza Shah, which reads 1197 in Arabic numerals, Bashir said that this is the only plaque that has been found, that indicates that the burial grounds and the mosque existed here since the last 240 years. The current calendar year of the Islamic Al Hijri calendar is 1437.
Located on the plateau of Betim on the Northern banks of the river Mandovi, the complex has been used by the locals for performing namaaz, revering and celebrating the Urus of the Sufi saint, seeking Islamic education and a burial ground as the final resting place for the Muslims who leave for the heavenly abode.
navhindtimes.in/equal-facilities-for-men-women-at-betim-mosque-dargah/
---
YOUNG, AMERICAN MUSLIM WOMEN BREAK NEW GROUND IN FLORIDA WITH MODEST WEAR STORE
May 16, 2016
Women in colorful scarves called hijabs saunter through Orlando's Fashion Square Mall carrying black shopping bags that read VERONA in white. For many of them, this trip to the commercial hub just blocks from central Florida's largest mosque is no routine trip. It is a celebration of the grand opening of a store they have been buying many of their long flowing gowns and hijabs from for months. It is a moment to reflect on what many of the Muslim women say is long overdue: the existence of a store in a mainstream mall that caters to Muslim women and women seeking conservative wear.
"It's nice to have something like Verona establish a store in a mall because it's kind of like 'Hey, I'm out here.' You know? You're being represented as American," says 26-year-old Feena Quazi Abatti, a student at the University of Central Florida.
She says aside from online, there are few stores that cater to Muslim women.
Verona started out as an online store. Lisa Vogl, a Muslim convert and her business partner Nadine Abu-Jubara launched the company with a dress and a couple of scarves. In a market dominated by online retail, Vogl and Abu-Jubara gained clients from Florida to Dubai–many Muslims and others just looking for conservative wear.
Vogl and Abu-Jubara say they chose Orlando as home to their first physical store because it is a tourist hub with a growing Muslim community. Both expect the presence of the store in a mainstream mall to change perceptions of Islamic-wear fashion and its adaptability and what it means to be a Muslim woman in America.
"It is a hijabi Muslim-run, women-run business," says Vogl. "This is front in-your-face that we are exactly not who you think we are. We are strong, independent, business educated women."
Verona is one of few US-based companies catering toward Islamic and conservative wear. Experts predict the industry to grow to more than $300 billion dollars by 2019.
The founders plan to expand to Paris and London.
wmfe.org/young-american-muslim-women-break-new-ground-in-florida-with-modest-wear-store/60099
--
WHEN A RESPECTED AUTHOR BECOMES AN ACCIDENTAL FEMINIST
MAY 16 ,2016
That phrase of Virgina Woolf's to describe the conditions under which a woman must write — a room of one's own — has been run ragged by overuse. But it is the heart of the latest novel by an author who has, critics say, written the "first feminist novel" in her language.
Meet Ila Arab Mehta, a novelist from the north Indian state of Gujarat. Her mother tongue is spoken by over 50 million people worldwide, not all of them living in the homeland. Gujaratis are famously successful businesspeople who've migrated to the U.S. and the U.K. in droves. Their language also happens to be Gandhi's, and their state birthed India's current prime minister.
Mehta is one of the best-known and most respected authors working in Gujarati today; sales of her books are small but respectable in a regional language. She is "very gifted," says award-draped Gujarati poet Prabodh Parikh. At almost 80 years old (she won't tell me exactly, giving me a scolding look, her pretty, light eyes flickering), Mehta has gained some national attention for writing books that appeal to progressives hungry for literature that prioritizes women's stories, reconciles Hinduism with Islam and generally offers a counterpoint to the conservatism for which Gujarat is known. (See: Prime Minister Modi and the controversy that dogged his time as chief minister of the state, over whether he allowed communal violence between Hindus and Muslims.)
Fifteen days after Mehta's husband died, her children brought her a chair and a table and a pen and said, "Pick up your life and write."
Dressed in a sari and clasping my hands in a grandmotherly fashion, she tells me, "I have written the first feminist novel in Gujarati!" I ask if that was intentional. She throws her palms up in the air and shrugs with a bit of delight. I've just heard her speak on a panel with a whip-sharp modern writer from Mumbai a few decades younger than her. Well-meaning, she noticed aloud that his male protagonists were very "strong and aggressive," whereas the main character of her latest novel, a woman, is "very calm." He bristled. "Let's not use such gender binaries, OK? Just because you have a dick doesn't mean you're a dick." It wasn't clear whether Mehta absorbed the impact of those words, their academic whiff or their crudity.
But her latest accoladed novel, Fence (Vaad in Gujarati), is acclaimed in part because of what its readers see as revolutionary: It follows the story of a young Muslim woman, Fateema Lokhandhwala, who just wants her own home. And not one that's wedged into a Muslim ghetto; one that allows her independence and self-respect, religion aside. "I'm not wanting to upset anyone," Mehta tells me. "Just to tell a story. I'm not wanting to create any kind of controversy."
Mehta's translator, Rita Kothari, says that although gender politics are at the heart of Mehta's writings, she falls prey to a "certain kind of bourgeoisie ethos which is not comfortable claiming its own feminism." Gujarati readers, Kothari says, are not readers who are "comfortable asking very difficult questions." Mehta's familiar writing style, which is not very demanding on the reader, as Parikh puts it, isn't a bad thing. It allows Mehta to reach more people, to entertain. But still, she operates within limitations: Parikh bemoans the lack of a literary culture out of Gujarat, unlike the northern state of Bengal or Kerala in the south: "Gujaratis don't read much," he says. "They're comfortable making money, eating good food and traveling all over the world."
Yet Mehta is asking very real questions: She was inspired to write Fateema's story when she read a piece from a Muslim woman who wrote to a Gujarati magazine about how difficult it was for her to find a house. From there, Mehta, who lives in Juhu, a posh neighborhood in Mumbai, rather than her home state, began reading about Islam, asking "Why this prejudice?" As the novel grew from a short story, she incorporated more elements of the real world, as when Fateema's brother is drawn to radical Islam.
Mehta, the daughter and sister of well-known novelists, began writing in college and was a literature professor until marriage and two kids pulled her out of the workforce. She says she never wrote about "the usual Gujarat things." She is well-traveled and has penned works on Israel, Bangkok and London; her daughter lives in Antwerp, she brags. A story set in London smells deeply modern: A woman emigrates to the U.K., following her new husband, only to find that he is already living with someone. She stays on "to struggle."
She does know the experience of some struggle, having paid her way through college by writing radio dramas and tutoring. And, of course, motherhood is its own limitation on writing. But her children were supportive, she says. When she was two chapters into writing Fence, her husband passed away, "peacefully, of age-related problems." Fifteen days later, her children brought her a chair and a table and a pen and said, she recalls, "Pick up your life and write."
Now, it's clear she's enjoying the gaze of the approving feminists a bit. I ask what she wants to write next. She says she's interested in the Mahabharata, the Hindu epic, and what it says about women. And also: "This question of Alpha Woman. Who is she?"
ozy.com/rising-stars/when-a-respected-author-becomes-an-accidental-feminist/67495
---
Boko Haram leaders arrested; dozens of captives freed
2016-05-15
Yaounde - The multinational forces fighting the Islamic extremists of Boko Haram have arrested five of the group's leaders and freed dozens of captive women and children, Cameroon's government announced on Saturday.
The raids targeting Boko Haram bases in the northern Madawaya forest earlier this month freed 28 children and at least 18 women, government spokesperson Issa Tchiroma said.
Boko Haram had set up camp in the forest after fleeing another military operation in neighbouring Nigeria and had been training captive young girls and women as suicide bombers, he said.
The news came as French President Francois Hollande joined several West African leaders at a summit in Abuja, the Nigerian capital, where they discussed progress in the fight against Boko Haram and how to resolve the humanitarian crisis it has created. The extremist group has forced more than 2 million people to flee their homes, some across borders.
"We have to make sure they can get back to their homes," Hollande said after meeting with Nigerian President Muhammadu Buhari before the summit, noting the need for "the right development policies." Marginalization and corruption has allowed the Islamic extremists to flourish in northeast Nigeria.
Both leaders stressed the success of a multinational force of Nigeria and its neighbours - helped by training, intelligence and information-sharing by France, Britain and the United States - that has recaptured territory where Boko Haram had declared an Islamic caliphate. British Foreign Secretary Philip Hammond was at the summit along with US Deputy Secretary of State Antony Blinken.
"Now our main problem is the rehabilitation of infrastructure destroyed - educational, health, bridges blown, etc," Buhari said.
But many refugees say they will not return home until it is safe and there are doubts Nigeria's military can secure the vast rural areas where Boko Haram now roams. The extremists have turned to using suicide bombers, often women and girls, to hit soft targets like mosques and marketplaces.
The nearly 7-year insurgency, which has spread beyond Nigeria's borders, has killed at least 20 000 people, according to Amnesty International.
news24.com/Africa/News/boko-haram-leaders-arrested-dozens-of-captives-freed-20160515
---
Cases of Muslim women being ill-treated, harassed by husbands
Saturday, May 14 2016
The Ministry of External Affairs assured the State Minorities Commission the Ministry to take steps to extradicate culprits who ill-treated the Muslim women From UAE and USA.
Recently, two complaints have been filed by two different Muslim women to the State Minorities Commission complaining that they have been harassed, physically tortured and demands of dowries made by their husbands and family.
After cases have been registered by the petitioners, the accused has fled to Foreign Countries to escape the Law
In response to the letter of State Minorities Commission, the Ministry of External Affairs has addressed letter to the Commission, vide their letter No.T-4410/26/2016 Dated April 13, 2016 setting in motion the process of Extradition.
news.webindia123.com/news/Articles/India/20160514/2860150.html
URL: https://newageislam.com/islam-women-feminism/pakistani-woman-gets-indian-citizenship/d/107318
New Age Islam, Islam Online, Islamic Website, African Muslim News, Arab World News, South Asia News, Indian Muslim News, World Muslim News, Womens in Islam, Islamic Feminism, Arab Women, Womens In Arab, Islamphobia in America, Muslim Women in West, Islam Women and Feminism