New Age Islam News Bureau
21 Sept 2015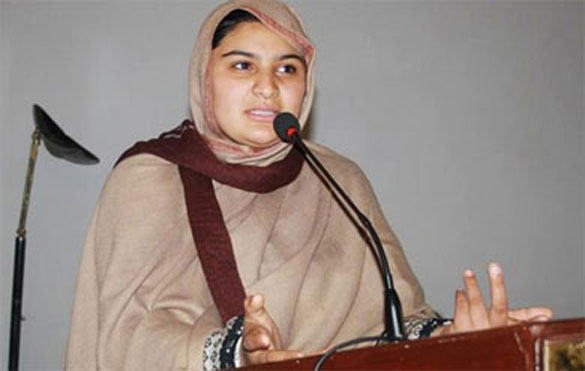 Pakistani girl Hadiqa Bashir, has been honoured with 'Mohammad Ali Interna­tional Humanitarian Award' in the US for her struggle against underage marriages. Photo: Dawn
-------
• Pakistani Teen Girl Honoured For Standing against Underage Marriage
• Hardline Muslim Students at Jihadi John's Old University 'Refuse To Speak To Women'
• Canadian Muslim Women's Group 'Disgusted' By Bloc Ad against Niqab
• Israeli Mother of 5 from Shfaram Indicted For Attempting To Join ISIS
• 50 Kerala Nurses Awaiting Nod to Return from Saudi Arabia
• Australian Designers Launch Muslim Collections in Indonesia
• Sisters in Islam Continues To Fight for Justice for Women
Compiled by New Age Islam News Bureau
URL: https://newageislam.com/islam-women-feminism/pakistani-teen-girl-honoured-standing/d/104664
-------
Pakistani Teen Girl Honoured For Standing against Underage Marriage
September 21, 2015
A 13-year-old Pakistani girl, Hadiqa Bashir, has been honoured with 'Mohammad Ali Interna­tional Humanitarian Award' in the US for her struggle against underage marriages, reports the Pakistani daily, Dawn.
Hadiqa belongs to Swat and she was honoured for raising voice and her struggle against the underage marriages in Pakistan.
After receiving the award, Hadiqa was quoted as saying that the award was for the people of Swat.
She was honoured for her conviction as the pioneer of Girls United for Human Rights with a mission to empower the disenfranchised girls in rural regions of Pakistan, eliminate socioeconomic inequality, facilitate self-reliance, enable local self-governance and promote people's advocacy.
http://www.thedailystar.net/world/pakistani-girl-honoured-standing-against-underage-marriage-146539
-----------
Hardline Muslim students at Jihadi John's old university 'refuse to speak to women'
By TOM PARFITT
Sep 21, 2015
Some of the hardline members even refuse to speak to female Muslim members of staff at the University of Westminster, the independent panel said.
But university officials underplayed this "sometimes hostile or intimidatory" behaviour towards women "for fear of appearing Islamophobic", they added.
The report was commissioned earlier this year after fears about extremism on its campuses.
In February the notorious killer known as Jihadi John was unmasked as former student Mohammed Emwazi, 27.
He studied Information Systems at the university between 2006 and 2009 but there is no evidence to suggest he was radicalised there.
After he was identified the university's suspended any Students' Union event deemed "sensitive".
Among the events was an address by controversial preacher Sheikh Haitham al-Haddad, who has reportedly referred to homosexuality as a "criminal act".
In 2013, Haddad gave a speech at the university and talked of a future in which Islam was "one of the superpowers of the world".
He added: "Everyone will enjoy the benefits of Islam."
The panel also revealed the society did not appear to hold democratic elections and was instead run by a "self-perpetuating in-group".
Members of this in-group acted as "apostles of a self-contained faith" and were concerned with "matters of religious orthodoxy and perceived heresy", they added.
Their report was made public just over a week ago but Express.co.uk revealed some of its most damning findings in June.
Fiyaz Mughal, one of the panel's four members, described the society as a "breeding ground for very ultra-conservative views".
He told the Guardian it was a mistake to let the "far too divisive" al-Haddad speak, but said staff were doing their best to balance the needs of a diverse student body.
The Islamic Society and Students' Union did not comment on the findings.
Geoff Petts, the university's vice-chancellor, said Westminster had tightened rules on external speakers.
http://www.express.co.uk/news/uk/606710/Islamic-Society-University-Westminster-Jihadi-John-report-panel-Mohammed-Emwazi-ISIS
--------------------
Canadian Muslim Women's Group 'Disgusted' By Bloc Ad against Niqab
Sep 20, 2015
A new ad by the Bloc Québécois targeting the Niqab "drives a wedge" between Muslims and other Quebecers and insinuates that Muslim citizens are foreigners in the country, a spokeswoman for a group of Muslim women says.
The ad released on Friday shows a drop of oil morphing into a Niqab and attacks the New Democratic Party's position on allowing Niqabs during citizenship ceremonies.
"I was disgusted," Samaa Elibyari of the Canadian Council of Muslim Women said. "Doesn't [Bloc Leader Gilles] Duceppe offer something more substantial in his program?"
Bloc Québécois targets NDP over Niqabs, pipelines in controversial new ad
The ad, which aims to win back support from the NDP, received swift criticism online, with NDP spokesperson Karl Bélanger comparing it to the rhetoric used by France's far-right Front National party.
Elibyari doesn't wear a Niqab herself, but believes Muslim women should be allowed to make that choice on an individual basis, depending on their beliefs and their own interpretation of Islam.
"Very few women wear the Niqab, but the ad chooses to take the niqab as a symbol for Muslims and identify them as something foreign," Elibyari said.
She said the province has changed since she first moved here, and the Bloc's ad is a sign of the growing fear and intolerance towards Muslims.
"I came to a Quebec that welcomed me with opened arms. I came to a Quebec that was curious about my culture and my religion," she said. "Whereas now I see a kind of exclusion, an aggressiveness being used as a political tool."
-----------
Israeli Mother of 5 from Shfaram Indicted For Attempting To Join ISIS
Sep 21, 2015
A mother of 5 from Shfaram was indicted in a Haifa court on Sunday, a few months after she travelled to Turkey as part of an attempt to realize her dream of joining ISIS and living under a state governed by Islamic Law.
The woman, Iman Kanji, 44, was charged in the Haifa District Court on Sunday with attempting to illegally leave the country and contact with a foreign agent. The indictment said that Kanji volunteered to teach classes on Islam to ISIS fighters in Syria "in order to increase their motivation to fight for the organization."
She also said she would do anything that ISIS asked of her, according to the indictment.
The Israel Security Agency (Shin Bet) said in a statement on Sunday that Kanji confessed that for years "she had desired to leave in a state governed by Islamic law", and that with the rise of the Islamic State in the past year she saw a possibility to realize this goal. The ISA said she then began posting clips and writings by the group on Facebook and Twitter, and through her postings she met members of the organization who promised to help her get into Syria.
In early August, she decided to travel to Syria via Turkey, reviewed possibilities online to cross the border and recruited her father to come with her. On August 19, they traveled to Turkey with $11,000 to cover their expenses while living in Syria and working for ISIS.
Kanji was arrested by Turkey and deported back to Israel where she was arrested on August 28, according to the Shin Bet. At the time of her arrest she was traveling with a group of women from Australia, Afghanistan, Turkmenistan, Chechnya, and other countries who had also traveled to Eastern Turkey in order to slip into ISIS-controlled areas of Syria. Though Kanji was originally arrested on August 28, her arrest, like many security offense-related arrests, was under gag order until the indictment was filed Sunday.
http://www.jpost.com/Middle-East/ISIS-Threat/State-indicts-Shafaram-woman-for-joining-ISIS-416674
-----------
50 Kerala nurses awaiting nod to return from Saudi Arabia
September 21, 2015
nurses, Kerala nursesThiruvananthapuram, Sep 21 : Around 50 nurses from Kerala are awaiting a nod from authorities in Saudi Arabia and the Indian embassy to return to India, as they also want issues related to their work experience and certificates to be taken care of.
These nurses were evacuated on Sunday night from the troubled region of Samtah in Saudi Arabia, very close to the Yemen border, to Jizan that is about an hour's drive from Samtah.
T. Thanu, a nurse from Kerala who has been working abroad for the past four years, told IANS on phone on Monday from Jizan that they all were waiting for the permission to return.
"We have been living in fear for the last three days at the 150-bed Samtah general hospital attached to Saudi Arabia's health ministry due to mortar firing and shelling around us. About 50 nurses have decided to return to India. Sunday was our last day at work," said Thanu.
"We want the Indian embassy to ensure that we get our experience certificates while a few new nursing recruits get their certificates back from the agency that recruited them," said Thanu, who hails from Thrissur in Kerala.
These nurses were ready to continue working in Saudi Arabia, provided they were posted in trouble-free area, away from the Saudi-Yemen border.
"If it is not possible, we want to return to India at the earliest," she added.
Meanwhile, Chief Minister Oommen Chandy has assured these nurses that he had taken up the issue with External Affairs Minister Sushma Swaraj. An official from the Prime Minister's Office called them up and assured of safe return.—IANS
http://muslimmirror.com/eng/50-kerala-nurses-awaiting-nod-to-return-from-saudi-arabia/
-----------
Australian Designers Launch Muslim Collections in Indonesia
Zoom Out Zoom In Normal
TEMPO.CO, Jakarta - Four of Australia`s most talented Islamic fashion designers launched their latest collections in Jakarta at the Indonesia International Islamic Fashion and Products exhibition being held from September 9 to 13 at the Jakarta Convention Centre.
Amalina Ama, and Eisha Saleh (Baraka), and Howayda Moussa and Hanadi Chehab (Integrity Boutique) are Australian designers, whose beautiful ready-to-wear collections combine simple cuts and comfortable styles for day to evening occasions, the Australian Embassy said on its official website on Thursday.
Their styles vary from the classy to feminine and the dramatic and mesh perfectly with this years theme Ethnic Urbanovative.
"Australia is very proud of its Muslim community, which comes from a wide variety of backgrounds, including the Middle East, South Asia, Eastern Europe and South East Asia," said Alison Purnell, Counsellor, Advocacy and Outreach.
"These Muslim communities have brought with them a wealth of different ideas, skills and talents. Our four designers are an example of this," Ms. Purnell said.
The event will allow the designers to explore their creativity further with their Indonesian counterparts.
In conjunction with the Indonesia International Islamic Fashion and Products 2015, Women-In-Global-Business Indonesia (WIGBI) will hold a workshop on Friday, September 11, to provide technical assistance to established female business owners or female directors in the fashion industry, who are working towards becoming export-ready.
http://en.tempo.co/read/news/2015/09/19/114702005/Australian-Designers-Launch-Muslim-Collections-in-Indonesia
-----------
Sisters in Islam continues to fight for justice for women
Sept 19, 2015:
"Not just defending the institution of families, but also to seek justice for women."
This was the assertion of non-governmental organisation (NGO) Sisters in Islam (SIS) in holding a Islamic Family Law Islam Workshop with the media today.
SIS executive director Ratna Osman said they would continue to fight for women's rights in accordance with Islamic family law even though they were the subject of a fatwa (ruling) by the Selangor Islamic Religious Council (Mais).
"Although we are deviant according to a fatwa, we have 733 cases involving households, women and children which need to be referred.
"We are still invited by the Institute Islamic Understanding Malaysia (Ikim) to meet with the Attorney-General to discuss Islamic family law," she said during her presentation.
However, she said cases related to Islamic family will be discussed clearly during the National Convention of the Islamic Family Law to be held on Oct 18.
The convention, she said, would be shared with more than 800 single mothers as well as Members of Parliament and experts in Islamic law.
http://www.therakyatpost.com/news/2015/09/19/sisters-in-islam-continues-to-fight-for-justice-for-women/
-------
URL: https://newageislam.com/islam-women-feminism/pakistani-teen-girl-honoured-standing/d/104664