New Age Islam News Bureau
23 Apr 2016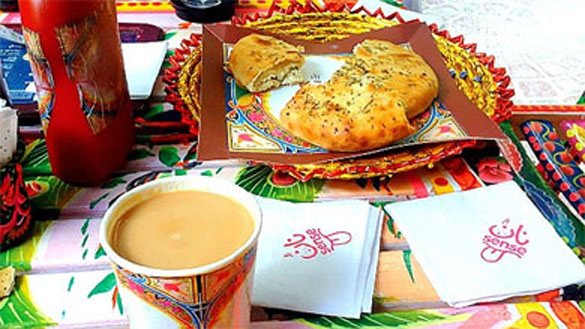 On the menu are Racket Naan (stuffed with cheese and corander) and Dumper Naan (nutella-filled)
--------
• Pakistan Islamists Step Up Call for Asia Bibi's Execution
• Over 100 School Girls Poisoned In Western Afghanistan
• Returning Home: A Mixed Blessing for Boko Haram's Sex Slaves
• Peshawar's Newest Dhaba Is Run By a Woman, and She's Called It Naan Sense
• Haji Ali Row: Trupti Desai Would Be Welcomed With Slippers If She Enters Dargah, Says Shiv
• 7 Ways to Support Women and Girls Who Escape Abductions
• Ethiopia: The Shadow Early Marriage Casts On Women's Life (From The Horse's Mouth)
• Bold and Beautiful: A Look at the 2016 Muslimah Fashion Show
• The Most Well-Known Women in the World Are the Leaders, Dignitaries, Celebrities And Moguls
Compiled by New Age Islam News Bureau
URL: https://newageislam.com/islam-women-feminism/pakistan-islamists-step-up-call/d/107083
------
Pakistan Islamists Step Up Call for Asia Bibi's Execution
April 18, 2016
Islamist hard-liners angry at the execution last month of the assassin of Punjab Gov. Salmaan Taseer have stepped up calls for Asia Bibi, a Catholic woman sentenced to die for blasphemy, to be put to death.
Hundreds of supporters of the Islamist group Pakistan Sunni Tehreek staged rallies across Pakistan on April 16 calling for Bibi's execution and the deaths of other blasphemers.
The rallies in Karachi, Rawalpindi, Lahore and other cities were organized by Sunni Tehreek head, Sarwat Ijaz Qadri, as part of the group's response to the execution of Mumtaz Qadri.
Qadri, Taseer's bodyguard, shot the former governor for speaking out against the country's controversial blasphemy laws.
Bibi, a Catholic mother of five, was convicted of blasphemy and sentenced to death after being accused of insulting the Prophet Muhammad by a group of Muslim women who were angry Bibi drank from the same water container as them.
If executed, Bibi would become the first woman in Pakistan to be executed for blasphemy. Pakistan's Supreme Court is due to hear an appeal by Bibi against her sentence.
"We will protect the sanctity of Holy Prophet at every cost and will not sit idle if Asia Bibi Masih is freed," Pakistan Sunni Tehreek said in a statement read out at all rally sites.
"The whole nation will take to the streets … if any blasphemer was sent abroad," the group warned.
If Bibi wins her appeal it is expected she will be forced to go into exile.
The group also said authorities had deliberately tried to weaken blasphemy laws by executing Mumtaz Qadri.
"A conspiracy is being hatched. ... We will not let it happen. The rulers have begun a war with religious forces by hanging Mumtaz Qadri," the statement concluded.
ucanews.com/news/pakistan-islamists-step-up-call-for-asia-bibis-execution/75789
---
Over 100 School Girls Poisoned In Western Afghanistan
Sat Apr 23 2016
Over 100 school girls have been poisoned in western Farah province of Afghanistan during the school hours.
According to the local officials, the incident took place in the central city of Farah in a girl's school.
Provincial governor's spokesman Mohammad Nasir Mehri confirmed that 106 school girls were poisoned mysteriously and an investigation is underway to find out the cause of the poisoning.
The provincial public health officials have confirmed more than 100 school girls were admitted to the hospital after they were poisoned.
The officials further added that the students were suffering from fever and shivering when admitted to hospital.
The circumstances surrounding the poisoning of the school girls have not been ascertained so far.
This is not the first time the school girls have been poisoned during the school hours but numerous incidents have taken place in the past, specifically in northern provinces of the country.
The last incident took place in central Maidan Wardak province of Afghanistan late in the month of August last year where 31 students were poisoned.
http://www.khaama.com/over-100-school-girls-poisoned-in-western-afghanistan-0737
-----
Returning Home: A Mixed Blessing for Boko Haram's Sex Slaves
23 APRIL 2016
Yola, Nigeria: "Bring Back Our Girls," say the placards in the park and the tweets read around the world. But for thousands of girls and women who've escaped Boko Haram's clutches, the message they've sometimes encountered at homecomings has been "Stay Away."
As U.S.-backed African governments make military advances against the Islamic extremist group and rescue more and more of the kidnapped and enslaved, aid groups and activists say a new challenge is mounting: rehabilitation.
Perhaps no group is as stigmatized as those abducted, raped, forcibly married or otherwise mistreated by the militants. Sometimes they are called "Boko Haram wives" or even "epidemics" in their native communities, and few organized services are available for their care. Sometimes even fewer people are willing to embrace them as survivors.
"No one helped me, just one person who got me these clothes," said Maria Saidu, a 32-year-old woman who was held by Boko Haram for more than a year before escaping three months ago.
Finishing up a weeklong tour of the Boko Haram-affected countries of West Africa, Samantha Power, America's U.N. envoy, highlighted efforts to assist the victims of Boko Haram.
In the eastern Nigerian city of Yola, where displaced people far outnumber native residents, Power met Friday with several people from the group of Chibok schoolgirls whose kidnapping two years ago sparked the world-famous "#Bring Back Our Girls" social media campaign.
While 219 remain in captivity, the ones Power lauded for their courage are now receiving free education at the American University of Nigeria. They speak of becoming doctors or chemical engineers or undertaking other careers.
Few who were once in their shoes have been so lucky.
"There is nothing we can hold onto," said Monica, a 22-year-old from northern Nigeria, whose monthlong captivity ended in a long flight through Cameroon on to Abuja, leaving a dead child in the bush along the way. "We are just here. We are alive but not living."
As with others interviewed for this story, Monica knew of other women who had been raped, some by 15 different men each day. But like everyone else, she told a story of good fortune or an opportune escape or rescue that allowed her to avoid a similar fate. She didn't want to give her full name.
Monica has no job, which causes her to cry. But after receiving little initial help, she has reunited with her husband and has a baby due in September. And she has rediscovered a cousin and another family member in Nigeria's capital, and they are helping her.
At a dusty displacement camp outside Yola, where kids kick a soccer ball behind wicker-roofed huts, 51-year-old Fatima Hassan has even less.
She recounted her sufferings over four months in 2014 when she ate and drank little while being forced to cook for Boko Haram's fighters. She now cooks for refugees.
By Hassan's understanding, Boko Haram doesn't rape.
"If they see a lady they like, they just force her to marry," she said, explaining that she was too old for any of the fighters.
A militant helped her flee, but now she has nothing in her hometown of Lassa to go back to.
"My house is burned to ashes," she said. "If I go back home, I have nowhere to sleep. I have a husband, but I don't know anything about him."
Family and community reactions to returnees vary greatly, according to a recent report by UNICEF and International Alert, a peace-building group.
Some women, believed to have joined Boko Haram voluntarily, are seen as deserving of the brutal treatment they received. Some communities shun them, worried about the contagion of radicalization in their midst.
Fears of violence are pervasive after two kidnapped girls blew themselves up at a refugee camp last year, killing 60 people. A third girl with explosives strapped to her body backed out at the last minute after spotting her mother at the settlement.
"Suddenly people who have been with terrorists are back in the neighbourhood," said Obiageli Ezekwesili, a former Nigerian minister who leads the Bring Back Our Girls campaign.
"You can't simply kiss the person and hold them. There has got to be mechanisms that deal with the criminal intents and actions, and then there are mechanisms that deal with the redemptive aspect."
But for the victims, Ezekwesili said, much more assistance is needed. Those who've suffered sexual violence are a particular problem "because of the stigma and the sense that it would be hopeless to go forward and be known as a rape victim."
The courts often engage in "victim bashing," she explained. And religious leaders don't always do better by them.
Across the border in the northern Cameroon state of Maroua, Bakary Yerima Bouba Alioum, a Muslim tribal leader with the title of paramount chief, said assisting women and girls who were forced into marriages is a responsibility of authorities.
In his community, he said bluntly, "rape is still a taboo."
http://www.deccanchronicle.com/world/africa/230416/returning-home-a-mixed-blessing-for-boko-haram-s-sex-slaves.html
------
Peshawar's Newest Dhaba Is Run By a Woman, And She's Called It Naan Sense
Sat, 23 Apr 2016
PESHAWAR: It is not a new concept, but in a place like Peshawar when a woman becomes first to open up 'dhaba' style open-air café called 'Naan Sense', it is talk of the town.
The small café called 'Naan Sense' located amid shopping malls and cafes run by male owners in the University Town stands out not only because of colourful truck art painted on the exterior, but also because of the fact that it is the only café in the locality with open-air seating where families and youth enjoy the snacks and chit-chat till it remains open in the night.
"I brought my family, especially women and girls, to the opening first," said Laila, a young woman hailing from Punjpir village of Swabi district who has opened the Dhaba-style café.
The colourful exterior, the chairs and tables painted with funny sentences or verses from unknown folks usually seen on trucks amuse one as one waits for the strong tea (Karak Chai) and Naan (bread) which come in different sweet, salty and savory fillings. Ataullah Esakhelvi's song 'Qamees Teri Kaali' and Pashto tunes often keep the clients calm as they wait for their hot cup of tea and Naan.
"My brother said it won't run, but I have proved him wrong so far. Girls and families are coming," said Laila who herself manages the kitchen, the staff and clients.
"Cooking is my passion and I thought why not open up a café and let people enjoy my recipes especially the ones whom village-folk and young would love alike," said Laila who feels 'Naan Sense' food and beverages is a fusion of western and eastern cuisine.
She makes the marinades or stuffing of the Naan herself and improvises her recipes from time to time. Not only the Naan taste great but the catchy names like Racket (Paneer and coriander), Dumper (nutella), and many such flavours cater to young and old alike.
"The best thing about this place is the disposable colourful cups and plates. One doesn't need to bother much about if it is clean or not," said a regular client Sana who is a hygiene freak when it comes to eating out in a restaurant with family and friends.
Laila said that some people complain about the prices, but providing food in disposable utensils ensures they get clean, unadulterated food.
"My top priority is to keep the kitchen clean and follow all the SOPs of keeping cleanliness," she said.
Laila, being a single parent, feels it is important for women to follow their passion like her and become independent financially. She feels pride in opening up a small food and tea outlet to provide youth to come out and have a cup of tea and chit-chat with friends.
Students from the University of Peshawar were regular visitors due to the friendly youthful atmosphere of the café. It has been only a few months, but Laila feels it her success that women despite it being a male-dominated society are coming in great numbers to the café. She is planning to introduce other traditional food and beverages in summer that is part of village life and not available in restaurants of the city.
http://images.dawn.com/news/1175207/peshawars-newest-dhaba-is-run-by-a-woman-and-its-called-naan-sense
-----
Haji Ali Row: Trupti Desai Would Be Welcomed with Slippers If She Enters Dargah, Says Shiv Sena leader Haji Arafat
Sat, 23 Apr 2016
Over 20 outfits including NGOs have come together to reclaim the 'equal rights to pray' at Mumbai's Haji Ali Dargah
As women rights activist Trupti Desai is all set to lead the movement to Haji Ali Dargah next week, a Muslim leader of the Shiv Sena has said that Bhoomata Ranragini Brigade leader would be hit by Chappals if she attempts to enter the Dargah.
After the successful right-to-pray campaign centred around the Shani Temple in Ahmednagar district, and Trimbakeshwar Temple in Nashik district, a similar public-backed movement has been launched to seek entry of women into the core area of the Haji Ali Dargah in Mumbai.
Over 20 outfits, NGOs and human right activists in last week announced formation of 'Haji Ali Sabke Liye' to peacefully campaign against the ban on entry of women into the interiors of the 15th century Sufi shrine, located on a small islet in the Arabian Sea and visited by hundreds of people every day.
"Trupti Desai says will enter and touch Mazaar at Haji Ali, we strongly condemn this. If she makes an attempt then she would be welcomed with 'prasad' of chappals," reported ABP quoting Haji Arafat Shaikh, a Muslim leader of the Shiv Sena.
Arafat, who joined the Shiv Sena after leaving the Maharashtra Navnirman Sena in 2014, said that the attempt by Desai to enter the Haji Ali Dargah is a conspiracy meant to disturb Mumbai's peaceful environment.
"I will become the voice of my religion and won't let her touch the Mazaar. Many Muslim women are also opposing her," Shaikh added.
The Bombay High Court is hearing a petition challenging the Haji Ali Trust's decision to ban the entry of women into the sanctum of the shrine. The Maharashtra Government had in February supported the entry of women to the Haji Ali Dargah. The government had told the Bombay High Court that the entry of women cannot be prohibited.
http://www.dnaindia.com/india/report-haji-ali-row-trupti-desai-would-be-welcomed-with-slippers-if-she-enters-dargah-says-sena-sena-leader-haji-arafat-2205240
--
7 Ways to Support Women and Girls Who Escape Abductions
22 April 2016
Nongovernmental organizations working in Nigeria have called for renewed focus on supporting women and girls who escape abduction, as the country marked the second anniversary of the Chibok school kidnappings last week.
Two hundred and nineteen of the 276 girls abducted on April 14, 2014, from their secondary school in north-eastern Nigeria by Muslim militant group Boko Haram are still missing. But aid organizations working in the country say concentrating on their rescue is not enough. Boko Haram has abducted at least 2,000 women and girls in the country since 2012, according to estimates from charities International Alert and Amnesty International. Those who return from abduction also need support.
Boko Haram characteristically forces captive girls to marry its members. Many are raped and become pregnant as a result. Devex spoke to Kimairis Toogood, International Alert's senior peace-building adviser and The Wellbeing Foundation Africa's Nigeria Country Director De Luther-King Fasehun about the best ways to support the women and girls who survive such ordeals.
1. Reintegrate girls as soon as possible to help them and their children avoid stigma.
Research published in February by International Alert and UNICEF found women and girls released from captivity by Boko Haram are often rejected by their husbands, families and communities. Those around them fear the girls have been radicalized and their children, born of sexual violence, have tainted blood.
"While they are happy to have survived, returning home to their loved ones and community members who treat them with disdain has been another challenge for them to overcome," said Too good. "Add to this the fact that many are returning with children born of sexual violence by Boko Haram, and their husbands divorcing them as a result of that child, and we can see how the plight of survivors is harrowing to say the least."
International Alert and UNICEF have worked with 240 survivors so far targeting girls living in formal state-administered camps for internally displaced persons. The project runs workshops where women and girls that have survived Boko Haram-related sexual violence can discuss their experiences. It also holds workshops for community members in IDP camps to address why released captors are stigmatized.
"These issues are very pressing and it is in everyone's interests to try to address them as soon as possible," said Toogood. "When we talk of stigma, the mothers are clear that they are being stigmatized, but they show great concern for the 'bad blood' stigma assigned to their children ... If we do not act now and comprehensively, as the child gets older, this stigma may inhibit their ability to go to school, to play with other children or even get married."
2. Work with religious leaders.
Toogood said using religious officials when challenging community stigma has proved a successful approach.
"Religious leaders were the most tolerant and accepting of the women and girls and children born of sexual violence, even to the extent that they are counselling husbands to not divorce their wives over their survived captivity," she said. "Whether it is a Christian or Muslim religious leader, they tend to understand the position from a compatible position, as [does] the international community, and are good to leverage for sustainable change and high project impact."
3. Ensure the safety and security of beneficiaries.
Previous abductees interviewed by International Alert have described being abused by other women in IDP camps when they have discovered their connection to Boko Haram. Too good said agencies supporting such women must be wary not to encourage divisions between community members.
"For example, if giving food aid, do not simply give it to the IDP camp members," she suggested. "Giving aid to only a small proportion of those in need can set up competition between the groups that is unhealthy for the overall success of social cohesion."
4. Listen to victims.
The Wellbeing Foundation Africa focuses on maternal, newborn and adolescent health. Among the girls it supports, three — aged between 15 and 19 — escaped Boko Haram's Chibok abduction by jumping off a moving truck.
Fasehun said although the girls have escaped the stigma attached to those who are held by Boko Haram, the incident has caused them "deep stress." He recommended NGOs and aid organizations working with similar beneficiaries "take time to patiently listen" to the girls.
"This is the first and most important step," he insisted. "Such individual-based communication should be maintained throughout the course of any intervention."
5. Reassure previous victims that efforts to save other kidnapped girls are ongoing.
"Psychologically, they seem to be struggling with the reality of the loss of their friends and classmates," Fasehun said about the girls his organization supports, adding that any intervention must include constant reminders that efforts to save their friends are continually in place. "They look up to us at the foundation, to do what we can, including advocating to the government, to ensure freedom for their friends who are still in abduction."
6. Work in partnership with other agencies on the ground.
Both WBFA and International Alert agree partnering with local charities strengthens work among groups of returned abductees. International Alert delivers its workshops with the Federation of Muslim Women's Associations in Nigeria and the Herwa Community Development Initiative. Toogood said these partnerships helped the charity gain access to the IDP camps and their target beneficiaries.
"The State Emergency Management Agency manages the camps and the leverage that those organizations provided to allow us access to the camp was fundamental," she explained.
Fasehun said development organizations should "tap into the network of existing organizations, in order to share learning," adding that this has helped WBFA approach each woman and girl as an individual rather than pursuing interventions that may not suit each case.
Joining networks has also helped the organization provide other support to the victims, such as health kits, and help girls back into education. One former victim, for example, has gained an opportunity to finish her education in the United States.
7. Be aware of typical development and humanitarian assistance challenges.
Toogood said that organizations should be aware that raising funding for such work is no easier than for other issues. International Alert's work with UNICEF has received $75,000 from the United Kingdom, funding that expires at the end of April.
She was also keen to remind development professionals that the culture of silence around sexual violence is a global phenomenon.
"Women and girls have legitimate fear about reporting incidents of sexual violence in Nigeria, and when these incidents involve Boko Haram it further complicates their abilities and desires to identify themselves and discuss what has happened to them," Toogood said.
https://www.devex.com/news/7-ways-to-support-women-and-girls-who-escape-abductions-88043
--
Ethiopia: The Shadow Early Marriage Casts On Women's Life
22 APRIL 2016
It was 6 o'clock early in the morning. Along with her relatives, a beautiful lady had stood by the roadside in a small town called Chifra in Afrar State. This writer met her while she was begging a vehicle driver, heading north, to take her to Woldiya Town of Amhara State. Woldiya is 100 and so km away from Chifra. Her name is not mentioned in this article for the sake of anonymity. I was amazed when I saw her early in the morning. She was in a haste to go to Woldiya. And as such she was waving her hands again and again to shuttling vehicles. Anxiety was stamped on her face.
The driver and passengers, this writer inclusive, allowed her to come on board. Then the vehicle began to hit the road to Woldiya Town. When asked why the need to hurry, she told us "I received a phone call at the middle of the night. They told me my son is fatally ill." After a minute of a silence, discussion ensued among passengers.
Except her fire-ball eyes, her body were covered by Hijab (it is a veil that covers the body specially head and chest. Mostly it is worn by some Muslim women past puberty in the presence of adult males, not in their immediate family.)
Hanan was born and raised in Woldiya Town of Amhara State. In the course of the journey, passengers asked her, the importance of wearing Hijab, aside from its religious value. Dilating on the matter, she said that wearing Hijab is a religious dogma. A woman, who is a Muslim faithful, should not expose her body with the intent of arousing concupiscence in somebody else. The other advantage is that, it helps keep one's face clean, neat and free from any sort of speck or dirt. But as to the dogma of Islam, women have a green light to show their face to the husband. She went on saying that previously, I did not strictly observe such must dos. But now I see to such things to make my husband happy. Most of the time men feel discomfort when another man cast an affectionate look towards their wives.
Passengers kept on bombarding her with questions. To "Do you have a husband?" she responded "I do have two sons from my ex-husband." Her response triggered an interest in me to raise another question. I asked the reason for her divorce. As she speaks a fluent Amharic, she said; there are two main reasons for the divorce. One is the absence of communication in our love. A driver by profession, many were the times my ex-husband failed to drop at home for three and some times six months. The other reason is jealousy. He did not allow me to engage in any sort of job.
My parents handed me over to the ex-husband when I was 14. The early marriage had impacted my life negatively, because as a bride I had no inkling about marriage and social life. Due to the marriage, I was forced to stop my education. After I gave birth to two children, I convinced my husband to continue my education. Now I am a 10th grader. As I told you before, my husband was a driver. Ferrying various goods, he shuttles from Djibouti Port to Addis Ababa. Often my husband was absent in my life--he was absenting himself for half a year as I told you earlier. When the time went by, no change for the better was observed in my life. But, when I saw the life of my friends, they were enjoying life together with their husbands and children. I became jealous and upset comparing the life of my friends and that of mine. Boldly, I challenged my husband how long must our life continue distance and a prolonged time gap driving a wedge between us. I also asked him to allow me to engage a certain type of job. I remember I did seriously challenge him trice. In between, she kept on clashing with her husband. Time and again there were to dos. This also was bothering her day and night.
One day, she decided to undo their marriage. She convinced him about the divorce and received her share of their wealth before the marriage was dissolved. She then tried to engage in some income generating work together with her older sister. But the work couldn't satisfy her. And her friends advised her to remarry another person. Accordingly, she decided to have another husband. Currently, the 28 years old beautiful lady is got married with a wealthy merchant. It was to her ex-husband she left her two sons.
As to her, her second husband is more prone to jealousy than the previous one. Even he did not allow her to move from place to place in the absence of his relatives. This made her to be more upset. He tells her that he do so because he loves her most. Hanan could not get freedom as a criminal guarded by a Police. But she is more interested to do her own job.
Even one day, she said, when my ex-husband called me to talk about the health condition of our son my second husband slapped me on the face no sooner I switched off the phone. A to do flared up. Sensing her second husband is nothing but a heart sickness , instead of having a second child from him, she has decided not to give birth to the second husband. Rather she chose to communicate with her previous husband, return home and raise her two child. She did send elders to him to convince him about the reunion. But the elders returned with bad news. Her ex-husband refused to accept the remarriage.
She learnt her ex-husband has married a girl and has began living in Addis Ababa lately. He was hoarding money without her knowledge. Now he has bought a vehicle. "What would be the fate of your two children?" I asked Hanan. She said her ex-husband has hired a housemaid for the two children in Woldiya. She, as a biological mother, could not raise her two children giving an unconditional maternal affection. This has become a source of anxiety to her.
Previously, when she got divorced with her ex-husband, she did try in vain to tend her children receiving from him 2,000 birr per month alimony supposed to cover additional expenses.
She curses her beauty that drew many men to make her a slave. I have no other enemy worse than my parents and relatives, who gave me for a matured adult before I come of age. I was neither mentally and emotionally matured nor physically developed. Hanan regrets and laments her lot nonstop. If I get some sort of decent work that pays, I could raise my unlucky children mother and father single handed.
She has no idea what the future has in store. Life continues.........like this.
http://allafrica.com/stories/201604221086.html
------
Bold and Beautiful: A Look at the 2016 Muslimah Fashion Show
Apr 21, 2016
With a mixture of bold textures, bright colours and high fashion, the Muslim Student Association took the Fordham community by storm. MSA hosted their 2016 Muslimah Fashion Show on Monday, April 18th as the kickoff event to celebrate Muslim women here and around the globe. Titling this week 'Muslimah Appreciation Week,' their goal is to highlight the many contributions of strong Muslim women to the community, society, and the world.
The show was a welcome mix of modern and traditional, backed by the stylish minds of Hijabis – or, women who wear Hijabs – on campus. With two walkthroughs displaying a variety of outfits, the show received positive feedback from the audience members. Those able to attend, were able to experience the beauty, grace, and empowerment of both Muslim women and others who wanted to aid in their endeavor by showing their support and love. Syeda Sanjida, FCLC '16 , and president of MSA spoke happily about the outcome of the show, "the purpose of the event in general was to represent all the different representations of Muslim women in the world … we're doing all things surrounding Muslim women and all things appreciating them."
The first walkthrough on the runway had multiple models walking in traditional Muslimah attire, with flowing fabrics and elegant colors. A mixture of styles from different countries helped to further diversify, and simultaneously unify, the image of not just different women from different places, but instead the image of a powerful, strong, and confident Muslimah. But the beauty wasn't just in the fashion.
Thania Hussain, FCLC '19 , raved about her experience as a model in the show, being able to walk down the runway and feel confident in both her culture, her femininity, and status as a Fordham student. "I just feel like events like this always brings us as Fordham, as a family, together," Hussain stated, "and events like this can definitely make [students] feel like they have a place."
The second walkthrough was a modern and edgy take to the Muslimah style, incorporating traditional pieces with a contemporary flair. By mixing the old and the new, they were able to break through any lingering doubts about the ability for Hijabis or Muslim women to feel fashionable or chic. The models were the image of confidence, and seeing girls appreciate cultures apart from their own was a huge point of success for MSA's executive board.
"We had some girls who never wore the Hijab before and they felt confident when they wore it too, and they were able to break that stereotype that just people who wear Hijabs can't be fashionable or pretty … we like it when people share that experience because that's how we feel every day," Hussain said.
Sanjida also spoke about a larger issue that she hoped the show would spread wisdom about, which is the generalization of and bias against Muslim women and Hijabis. "We were trying to dispel stereotypes I guess, because you have this image of what a Muslim woman looks like based on the news and whatnot," she stated. The show tried to highlight the prejudices many Muslim women experience on a day to day basis largely due to misunderstandings that many people have about the choices they make. The idea of enlightening others and showing them how to appreciate the Hijab and traditional pieces in the sense of fashion was at the heart of the show, and their efforts to do so were praised with standing ovations. Sanjida is proud to say that "to do things like this where everyone is appreciating the fashion behind it and they love it and it's something new but also beautiful to them, it really strengthens my own confidence." And with the introduction of more events like these in the Fordham community, their hope is to not only strengthen confidence in themselves or in one another, but in those with open minds who are willing to learn.
http://www.fordhamobserver.com/bold-and-beautiful-a-look-at-the-2016-muslimah-fashion-show/
------
The Most Well-Known Women in The World Are The Leaders, Dignitaries, Celebrities And Moguls
Apr 23, 2016
There are women like Nicki Minaj, Caitlyn Jenner, Hillary Clinton and Angela Merkel, who are on this year's TIME 100.
However, influence and fame are not synonymous.
Here is a list of 5 women whose influence exceeds their fame.
Yayoi Kusama is the 87-year0old Japanese artist who was a contemporary of Andy Warhol. Known for her abstract expressionist art, Yayoi's work often includes polka dots, patterns, and nets.
She's considered one of Japan's most prominent contemporary artists. Her works include painting, sculpting, drawing, film and installation, says The Japan Times.
Ibtihaj Muhammad is the first Muslim woman to observe "Hijab" and qualify for the U.S. Olympic Fencing team.
She is drawing political risks towards herself by taking on anti-Muslim rhetoric. However, she is being held high by American Muslims, for her upcoming appearance at the Olympics, wearing Hijab, says IBI Times.
One of the most influential Indian women, Narain is the director of the Center for Science and Environment. She is known as India's most prominent environmentalists and has been in the field for a long time, says Time Magazine.
She was the person who led a mission against Coke and Pepsi, claiming that these companies use high levels of pesticide in their sodas. Her environmentalism has a great deal of social awareness.
Pei is known for amazing designs inspired by the Chinese Imperial Court. She is one of China's most bold and creative fashion designers.
She has stormed the international fashion scene by her talents. Rihanna's eminent fur-lined yellow gown with the enormous train was designed by Pei, says New York Times.
Dukureh is one of the world's most influential women leaders. She is a Gambian activist and leader in the fight to cease female genital mutilation.
It is global practice that devastates more than 200 million girls worldwide, says CNN.
Dukureh herself was cut when she was just about a week old, in Gambia. Now she is a mother of three, providing awareness about the practice in the United States.
The Obama administration declared that it would order a report to study the problem.
http://www.australianetworknews.com/times-influential-women-2016-five-leaders-not-know/
---
URL: https://newageislam.com/islam-women-feminism/pakistan-islamists-step-up-call/d/107083