New Age Islam News Bureau
29 Jun 2015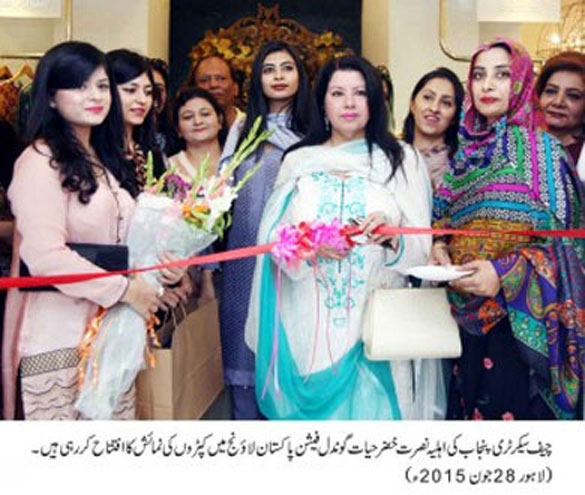 Wife of Chief Secretary Punjab Nusrat Khizar Hayat inaugurating the exhibition of women dresses at Fashion Pakistan Lounge
---------
• UAE Woman Sentenced To Death for Killing US Teacher
• 24 Female Bangladesh Jamaat Activists Arrested With Bombs
• LHC Rejects Pak Model Ayyan's Second Bail Plea
• 50,000 Poor Bangladesh Women Become Self-Reliant In Rajshahi City
• Foster Mother Named Suspect in Engeline's Brutal Murder
• Saudi Women-Owned Restaurants on Facebook Do Roaring Business
• Saudi Women Chefs in High Demand
• British Chemist 'Groomed' Western Woman into Radical Islam
• Former CJ of Malaysia Fears Same Sex Marriages Next
• Children in Conflict Zones Need $2.3 Billion To Go To School: UNESCO
Compiled by New Age Islam News Bureau
URL: https://newageislam.com/islam-women-feminism/pak-punjab-chief-secretary's-wife/d/103696
-----------
Pak Punjab Chief Secretary's Wife Lectures Women on Dress Code
June 29, 2015
Lahore: Punjab Chief Secretary's wife Nusrat Khizar Hayyat has said that women should be more careful in their selection of dresses and take care of religious and moral values while adopting fashion.
"The dress reflects the personality, therefore, women should select their dresses carefully," she remarked while talking to media on the occasion of inaugurating an exhibition of women dresses at Fashion Pakistan Lounge, Mini Market, Gulberg, on Sunday.
On this occasion, wife of Minister Bait-ul-Maal, Mrs Haroon Sultan, Mrs Maria Habib, Mrs Basit Bukhari, Mrs Ijaz Munir, Mrs Hamid Yaqub, Mrs Khalid Masood, Mrs Sobia Abid, Mrs Sobiya Wasim, Mrs Dr Aamir, Mrs Saeed Wahla and Mrs Samra Ali Tahir were also present.
Nusrat said she was happy to know that the dresses had been designed for women of every age in this exhibition. She said that besides taking care of eastern values, attention has also been paid to the quality of the dresses.
She was told that variety of lawn and other formal dresses will be available to the women under one roof at Fashion Pakistan Lounge. She also visited various stalls and lauded embroidery work.–Staff Reporter
http://nation.com.pk/lahore/29-Jun-2015/cs-s-wife-lectures-women-on-dress-code
-----------
UAE Woman Sentenced To Death for Killing US Teacher
AFP — 29 June, 2015
ABU DHABI: A United Arab Emirates court sentenced an Emirati woman to death on Monday after convicting her of the jihadist-inspired murder of an American teacher, Abu Dhabi newspaper The National reported.
Alaa Bader al-Hashemi, 30, was found guilty of stabbing to death teacher Ibolya Ryan, 47, in a shopping mall toilet, as well as "creating a handmade bomb" she placed in front of an Egyptian-American doctor's home, the paper said.
The attacks took place within hours of each other in the UAE capital on December 1. Tracked down using CCTV footage of her going into and out of the restroom where the teacher's murder took place and near the doctor's building, Hashemi was arrested 48 hours later.
She was dressed in black from head-to-toe as she carried out both attacks.
Hashemi was arrested at her home where her car was found with blood on the steering wheel and bomb making materials inside.
Hashemi "was also found guilty of sending money to Al-Qaeda in Yemen, knowing the funds would be used in terrorist acts," The National said.
The ruling was made by the Federal Supreme Court in Abu Dhabi, which means it cannot be appealed. Hashemi, surrounded by four police officers, "showed no emotion as the verdict and sentence were announced," the daily said.
The president can, however, decide to overturn the sentence or reduce it.
International media have been denied access to her trial, which began on March 23.
Hashemi had asked the court to provide her with psychological help, saying she had "unreal visions" and would see "ghost-like people" due to a chronic mental illness.
The court ordered psychiatric tests which it said showed she was aware of her actions.
In March, Attorney General Salem Saeed Kubaish said that investigators found she had listened to lectures by late Al-Qaeda leaders Osama bin Laden and Abu Musab al-Zarqawi, watched video clips of killings and beheadings, among other similar activities.
"She embraced takfiri and jihadist ideology and then engaged in terrorist acts in support of the terrorist organisations Al-Qaeda and Daesh," Kubaish said using an Arabic acronym for the self-styled Islamic State group. The convict was also said to have created an Internet account to promote the "ideas of a terrorist group".
The judge on Monday "ordered the confiscation of all evidence and the shutting down of the online account Hashemi had used," The National said.
Kubaish has said that Hashemi had confessed "in detail to investigators to have committed these crimes," but during the court hearings, the woman denied all charges and alleged that she was mistreated during interrogation and forced to confess.
Hashemi had been dubbed the "Reem Island Ghost" after the location of the mall where the stabbing of Ryan, a mother of three, took place.
As she was led from court she smiled and waved at her father and brother, who were in court to witness the proceedings.
Violent crime is relatively rare in the UAE, home to millions of foreign workers. And while capital punishment is legal in the UAE, executions are rarely carried out.
http://www.dawn.com/news/1191190/uae-woman-sentenced-to-death-for-killing-us-teacher
-------
24 Female Bangladesh Jamaat Activists Arrested With Bombs
June 29, 2015
Police arrested 24 Jamaat-e-Islami female leaders and activists at Koyra upazila in Khulna yesterday.
They also seized three bombs and bomb making materials from their possession in the house of Jamaat leader Abdul Hye at Gobra village while they were holding a secret meeting. A case was filed.
http://www.thedailystar.net/city/24-female-jamaat-activists-arrested-bombs-104548
-----------
LHC Rejects Pak Model Ayyan's Second Bail Plea
IMRAN GABOL | HASEEB BHATTI June 29, 2015
LAHORE: The Lahore High Court (LHC) on Monday rejected supermodel Ayyan Ali's bail plea in a case pertaining to charges of currency smuggling.
A single-member bench of the LHC, headed by Justice Abdul Sami Khan, had earlier reserved its decision on Ayyan's plea.
Earlier during the hearing of the plea, customs officials had contended that Ali was caught attempting to smuggle over $500,000 to a foreign country within Islamabad airport limits, in light of which her bail plea should be rejected.
Sardar Latif Khosa, the counsel for the accused, had argued that Ayyan did not have a boarding card. He said the model, who had received the money after selling some of her properties, was attempting to hand it over to her brother at the airport when she was detained by customs officials.
The court, which had earlier reserved its decision subsequently rejected her bail plea, but a detailed order has not yet been released.
Speaking to the press, Khurram Latif Khosa says they will apply for bail again.
Ayyan had filed a bail plea in the LHC against her detention by customs officials in the ongoing currency smuggling case in a Rawalpindi customs court.
http://www.dawn.com/news/1191176/lhc-rejects-model-ayyans-second-bail-plea
-------
50,000 Poor bangladeshWomen Become Self-Reliant In Rajshahi City
June 29, 2015
More than 50,000 women especially from the poor and disadvantaged communities have become self-reliant after ending their long-lasting poverty and hunger in Rajshahi city.
Currently, all of them have changed their lot through multifarious income-generating activities like paper bag making, sewing, embroidery and block boutique and they attained knowledge on how to cut poverty and hunger and to contribute the society to some extent.
"Nowadays, our work pressure has been enhanced to a greater extent as there is no shop and service-delivery centre where the paper-bags aren't being used at present," said Radha Rani Halder of the fishermen community.
Like Radha Rani Halder, many of her neighborhood women are now passing their sleepless night as their works were enhanced remarkably ahead of the forthcoming Eid-ul-Fitr.
Taking advantage of the situation, most of the housewives of the community are making paper-bags along with their family members for some extra income.
According to demand of the owners, they make bags of all sizes with much sincerity and eagerness but their earning is very scanty. "We got 15/20 taka after making every 100 bags and we hardly make 300 bags per day," said Basanti Rani Halder.
"First of all, I got a grant of 4,500 taka from a development project of Rajshahi City Corporation around two years back and since then I have been doing the work with assistance," she added.
In addition to uplifting her skills, she has learnt the means of eradicating poverty and hunger in the days ahead.
RCC has implemented the "Urban Partnership for Poverty Reduction Project (UPPRP)" aimed at improving the living and livelihood condition of around three lakh poor and extreme poor people, especially women and girls, of the metropolis.
Razen Mardee, UPPRP community organiser, said various measures of extending supports were adopted to free the disadvantaged community from the vicious circle of poverty under the project.
"We have formed Jelepara Community Development Committee with 985 people of the community including
353 women and 210 children under 168 families in a bid to mainstreaming them," he stated.
They, so far, saved around Tk 47,000 from their daily incomes, disbursed Tk 63,000 as loan among 13 small business women and recovered Tk 23,000 against the disbursed money.
Grants of Tk 1.12 lakh were disbursed among 25 women for operating small-business while another grant of Tk 67,500 were disbursed among 15 students to facilitate their academic activities under the socio-economic fund.
Urban food production inputs and some other necessary supports were extended to 25 families to ensure their food security. In addition to commissioning two deep tubewells, 15 community latrines were constructed for ensuring their safe drinking water and hygienic sanitation under the settlement improvement fund.
"We have earned some successes in different livelihood aspects like safe drinking water, sanitation, education, health, reduction of violence against women and reduction of early marriage with the financial and infrastructural support but totally failed to say no against dowry," said Anita Rani Halder, secretary of the CDC.
http://www.thedailystar.net/city/50000-poor-women-become-self-reliant-rajshahi-city-104560
-----------
Foster Mother Named Suspect in Engeline's Brutal Murder
By Nyoman Mardika
Jun 29, 2015
Denpasar. Bali Police have named the foster mother of a murdered 8-year-old girl as a suspect in her killing.
Margaret Christine Megawe, who has already been named a suspect for child neglect, was on Monday accused of involvement in the brutal murder of her stepdaughter, Engeline (previously reported as Angeline).
"Based on Saturday's investigation, the evidence and testimonies collected by the investigators, we have a new suspect, Margraret," a source within Bali police said Monday.
Nearly a month after Angeline disappeared, police found the little girl's body buried in the backyard of her foster mother's home in Denpasar, Bali on June 8.
A former domestic worker for the family, Agus, 25, confessed to sexually assaulting the 8-year-old before killing her and disposing of her body, police said.
But after questioning more than 30 witnesses in the investigation, police say they have found enough evidence to further implicate Margaret in the crime.
Bali Police chief Isnp. Gen. Ronny F.Sompie confirmed that Margaret had been named a suspect on Monday, telling the Jakarta Globe the decision was based on "sufficient initial evidence."
Police have also not ruled out naming more suspects in the case.
Angeline's murder has gripped the nation, inciting anger and regret over Angeline's tragic life before her violent death. There have since been numerous calls for a review of Indonesia's child protection laws.
http://thejakartaglobe.beritasatu.com/news/foster-mother-named-suspect-engelines-brutal-murder/
-----------
Saudi Women-Owned Restaurants on Facebook Do Roaring Business
29 June 2015
DAMMAM: Several women in Qatif started to sell food and sweets through social media websites in a step to supplement their income and utilize their free time.
Fatima Al-Nasir owner of the "Tasty and Delicious" store said she prepares the meals with her sisters and sells them through social media websites.
She confirmed that people order her meals for various occasions inside and outside Qatif. She said they prepare open buffets for weddings and engagement parties.
Women prepare various meals and sweets to improve their financial situation and prove themselves. She confirmed that women are ambitious and active.
Fawziya Baqir Al-Nimer said she owns the Flowersun2009 store on Instagram. She started her project two years ago and people continue to interact with her during Ramadan. "My husband supported me financially since the start, until I was able to depend on myself," she said.
Mahad Al-Shourafa owner of the uzsweets store on Instagram said her project started two years ago and noted that demands increase during Ramadan on a daily basis. She pointed out that one of the obstacles she faces is the increased orders especially since her place isn't fully equipped. Her family and husband support her financially and morally.
Fatima Mahmoud, 27 owns the Cakeparty5 store which she started her two years ago. She said orders during Ramadan aren't high in comparison with other months. The main difficulty was in choosing a name that would be popular among people.
She said that she perfects her work and offer a good product for her customers. She commended her husband's support and her goal is to open a female coffee shop.
Um Hassan, 41, said she makes falafel mixtures in her house and puts them up for sale. She started her mixtures 15 years ago and began freezing goods about a year ago. She said people buy a lot of these mixtures during Ramadan.
Naeema Al-Qanbar said she has dealt with the "Tasty and Delicious Stores" since they started, saying they are developing in their work by offering various dishes. She said that these women are experts in dealing with customers and are careful to offer dishes that meet customers' needs by taking the orders very efficiently.
Shareefa Ahmad said the idea of establishing stores that sell sweets and meals is wonderful, and it proves that the ambitions of Qatif women are boundless and the work isn't shameful.
http://www.arabnews.com/saudi-arabia/news/769046
-----------
Saudi women chefs in high demand
June 28, 2015
AL-KHOBAR — With the tourism season starting, hotels are requesting the Ministry of Labor to allow them to employ Saudi women as chefs, Al-Riyadh reported.
Eastern Province Ministry of Labor Recruitment Director Omair Al-Zahrani said the ministry always encourages and supports women employment in various fields as long as her work does not contravene Islamic teachings and her nature as a woman.
He said: "The ministry has constricting regulations on women working in hotels because there has been a record of hotels violating the ministry's regulations on women employment.
"Hotels have employed women as receptionists, forcing them to interact with men."
He said women may work in places where they are not obliged to constantly deal with men, they have their own entrances and exits to the workplace and they have their own rest rooms and facilities.
"The ministry's regulations do not prohibit women working as chefs at a hotel as long as her work environment is clear of men and she has the freedom to use the rest rooms available for her," said Al-Zahrani.
Gulf Tourism Committee member and former Eastern Province Chamber of Commerce and Industry tourism committee head Abdullah Al-Qahtani said the chambers of commerce and industry always support women's employment.
He said: "The role of women in society and the labor market has become vital. Women entering the hospitality industry is a good move toward social development.
"With the right training and exposure, women's involvement will raise the quality of our hotels to an international standard. However, hotels must cooperate and abide by the ministry's regulations."
Al-Khobar InterContinental Hotel services employee Hisham Al-Shammary said they have never received applications from Saudi women wanting to work as chefs.
He said: "Our current chef is a foreigner with many years of experience. He can cook dishes from various parts of the world and not just local dishes. "This is important to us as 75 percent of our guests are foreigners who may not like local dishes.
"That's the only advantage our chef has over Saudi women who are talented in the kitchen.
"We might need Saudi chefs whenever we have a particular occasion where we need local dishes."
He added they do have a Saudi event planner working for the hotel. "The criteria for a chef in our hotel are very challenging for most Saudi women.
"If they want to become chefs at InterContinental they must be able to produce various dishes from all around the world because our employment policy is the international employment policy of the hotel."
Rihan said she runs her own homemade food business in Dammam and would like to work in hotels as a chef.
She said: "I prepare a variety of dishes for my customers. I would like to expand my outreach as I mainly cater to my neighborhood.
"I didn't know that hotels were looking for Saudi women chefs so I never really applied."
She added with the right training Saudi women have the potential to be more qualified than foreign chefs as they understand the tricks of the trade already and they just need to be exposed to a variety of ingredients and tastes.
Samar Mohammad said she also runs a homemade food business but would like to join the job market and work at a hotel.
She said: "I have applied to many hotels and places. There is a stigma against Saudi women working as chefs in hotels.
"They always believe more in the foreign chef who has exotic taste and years of experience.
"Hotels do not want to put in the time and effort to train us when I have the right to be employed as a citizen."
She added that her profits from her home business are good enough to provide her with a decent living but she wants to make a career out of her hobby.
She said: "If we were able to work in hotels, especially international ones, the national cooking industry will leap in quality and experience. "Saudi society will have better food quality in any other services such as school cafeterias."
http://www.saudigazette.com.sa/index.cfm?method=home.regcon&contentid=20150629248725
-----------
British chemist 'groomed' Western woman into radical Islam
By David Barrett, Home Affairs
28 Jun 2015
A British man who has been linked with a series of terrorism-related offences played a key role in converting a young Western woman to Islam and tried to persuade her to travel abroad, it has emerged.
Dr Faisal Mostafa, a chemist from Stockport, Manchester, has been exposed as an online "groomer" who sent strict Muslim texts to a 23-year-old American woman to convert her from Christianity and lure her to a "Muslim land".
• Britain's youngest suicide bomber: Our son was 'groomed' by Islamic State, says family
The woman, identified only as Alex, was offered tickets from her home in rural Washington state to Europe to meet a 45-year-old potential husband.
Alex, who is emotionally immature and vulnerable after suffering foetal alcohol syndrome, believes Mostafa ultimately wanted her to travel to Islamic State in Iraq and the Levant (Isil).
The case provides new insight into how Muslims based inside Britain are using the internet to draw young Westerners into extremism.
Experts said it provided valuable new evidence of how radicals in Britain may be playing a larger role than previously thought in recruiting young followers for Islamic State.
Mostafa, 51, has been linked with a series of terror charges spanning almost 20 years.
• Battle-hardened and vengeful, 300 jihadists are back in Britain
• Parents of three runaway British 'jihadi' brides beg them to come home
In 1996 he was acquitted of planning to cause explosions with other Manchester University students, but found guilty of illegally possessing a firearm and jailed for four years.
In 2000 he was charged with Moinul Abedin, a fellow Bangladeshi, of planning to cause explosions.
Police in Birmingham recovered a large cache of chemicals and detonators but Mostafa was cleared when it was accepted he was planning to open a fireworks shop. His co-defendant was jailed for 20 years.
In 2010 the Foreign Office helped secure his repatriation from Bangladesh following his arrest at an Islamic school, or madrassa, run by his UK-registered charity Green Crescent which the authorities claimed was a terror training camp.
The New York Times newspaper reported how Mostafa, a married father of three, would stay online through the night talking to Sunday school teacher Alex about Islam.
In techniques which mirrored Isil recruitment manuals, he wrote: "If you need money I can get some. Don't be shy, just keep it quiet."
He acted as a witness for Alex's conversion to Islam at the end of December last year and within weeks gift packages, sent by Royal Mail, began arriving at Alex's home.
They included a strict Muslim text, The Rights and Duties of Women in Islam; a hijab; and Lindt chocolate – the brand signifying the siege of the Lindt café in Sydney, Australia, in December last year in which two people died.
He dissuaded her from attending a mosque near her home, claiming it had been infiltrated by the US Government.
Mostafa emphasised that it was a sin for Alex to remain in a Western country and their conversations increasingly turned to her travelling to "a Muslim land".
He offered to pay for a flight to Austria to meet a potential suitor, who was "45, bald but nice Muslim".
• What is luring Western women to Syria to join Isil?
Alex's grandmother eventually got wind of her grand-daughter's activities online and challenged Mostafa, who promised never to contact the young woman again.
Even after she was supposed to have ceased all communication with her Muslim contacts online, Alex said: "I don't think the Islamic State is as bad as everyone says. I think that their atrocities are exaggerated."
Hannah Stuart, a terrorism expert at the Henry Jackson Society think-tank, said: "This is a huge concern. This man has been in the security services' radar for more than 15 years."
Charlie Winter, of the Quilliam Foundation counter-extremism group, said: "It would make sense for the security services to keep track of what individuals like this are saying online."
At Mostafa's modern semi-detached family home a woman, believed to be his wife, said: "He is not here and he does not want to talk to anyone.
"He does not wish to give any interviews.
"Please go away and leave our family alone."
http://www.telegraph.co.uk/news/uknews/terrorism-in-the-uk/11704486/British-chemist-groomed-Western-woman-into-radical-Islam.html
-----------
Former CJ of Malaysia Fears Same Sex Marriages Next
June 29, 2015
KUALA LUMPUR: When it comes to the interpretation of human rights, some local judges are too influenced by western standards, leading them to give judgments that interpret the rights guaranteed by the Federal Constitution "too liberally", laments former Chief Justice Abdul Hamid Mohammad.
He said he feared that such liberal thinking would lead ultimately to the legalisation of same sex marriages.
Abdul Hamid was commenting on the recent United States Supreme Court ruling legalising homosexual marriages in all 52 states. He linked it to the recent Malaysian Court of Appeal's invalidation of the Negri Sembilan Syariah Criminal Enactment which criminalised cross dressing.
In an interview with Utusan Malaysia, he said the "liberal judges" ignored the provisions in the Federal Constitution that "acknowledges violations that are against Islamic laws".
According to him, "what's even more troubling" was that the opinion given for the judgement "contradicts the Federal Constitution".
"They are using the 'reasonableness' principle, which was brought forth by the Supreme Court of India, which gives authority to the judges to declare laws made in Parliament invalid on the basis that they are not reasonable," he said.
"The constitutions of those countries are not the same as ours. Their constitutions do not have provisions about Islam, like ours. Their values aren't the same as ours."
According to him, the implications of the ruling against the Negeri Sembilan enactment is vast, making it possible for any syariah legislation to be declared contradictory to the Federal Constitution based on a "liberal interpretation" and "Western standards" of human rights.
Thus, he added, there might come a time when the civil court would invalidate other syariah rulings, such as on zakat, polygamy, fornication and sodomy.
http://www.freemalaysiatoday.com/category/nation/2015/06/29/former-cj-fears-same-sex-marriages-next/
-----------
Children in conflict zones need $2.3 billion to go to school: UNESCO
June 29, 2015
The 34 million children who are out of school in conflict-affected countries need $2.3 billion to get them all schooling, ten times the amount education currently receives in aid, the United Nations' education agency UNESCO said on June 29.
"Returning to school may be the only flicker of hope and normality for many children and youths in countries engulfed in crises," said UNESCO Director General Irina Bokova. "Education must be seen as part of the first response when crisis hits."
suggested target in place since 2011 is that four percent of humanitarian aid be directed to education, but last year education received just two percent of aid, a UNESCO statement said.
"Present targets are hugely insufficient and diverting attention from the true needs of children and youth on the ground," Aaron Benavot, director of UNESCO's Education for All Global Monitoring Report (EFA GMR) said.
Children and adolescents in conflict-affected countries, particularly girls, are far more likely to be out of school than their counterparts in other countries, the EFA GMR said in the statement.
Even if the four percent target had been met in 2013, 15.5 million children and youths would still have had no humanitarian help with education, UNESCO said.
Just four percent of education appeals worldwide received half of all humanitarian funding for education, the report said, with Chad and the Congo faring particularly badly. Haiti, Sudan and the countries affected by the 2005 Asian tsunami did well.
"Media attention unfairly prioritizes some countries over others," UNESCO said, adding that many appeals did not cover all those in need.
In 2013, 21 million people in conflict areas needed help with education, eight million of them were included in appeals, but just three million got help when funding was distributed, UNESCO said.
http://www.hurriyetdailynews.com/children-in-conflict-zones-need-23-billion-to-go-to-school-unesco.aspx?pageID=238&nID=84687&NewsCatID=359
-----------
URL: https://newageislam.com/islam-women-feminism/pak-punjab-chief-secretary's-wife/d/103696