New Age Islam News Bureau
8 Aug 2016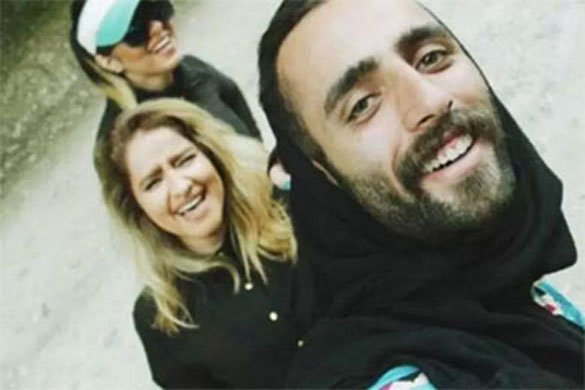 Several Iranian men are posting images of themselves wearing hijabs online in protest of the strict dress codes women in Iran have to abide by. My Stealthy Freedom/Facebook
--------
• Ban Muslim Veil in Public Places in Britain, Says UKIP Leadership Hopeful
• Female Pakistani Star Rises from Poverty, Is Killed Defying Norms
• How American Muslim Women Could Take Down Trump
• Burkini Swimsuits Spark Anti-Muslim Outrage—and Fast Sales
• Why Iranian Men Are Wearing Hijab
• The First Dedicated Book Club For Women In Arab World Launched
• Ibtihaj Muhammad: America's Olympic Game Changer
Compiled by New Age Islam News Bureau
URL: https://newageislam.com/islam-women-feminism/we-were-converted-forcefully,-claim/d/108216
--------
We Were Not Converted Forcefully, Claim Group of Indian Muslim Women
New Delhi, August 8, 2016
Ayesha Rodriguez, previously Monica Rodriguez was a Christian before and recently converted to Islam.
"Rizwan helped me in getting married and kept in touch with us because I was facing difficulties after reverting. I don't think there is any wrongdoing in this act."
"Women Rights In Islam Attracted Me"
One of these women identified herself as Sana Ansari, previously Rupali Parmar. She converted 22 years ago and now works as a businesswoman along with her husband. Her case was ironic because according to her, women rights in Islam attracted her towards the religion. She is of the belief that most women are not educated enough to be aware about their rights.
"I converted in 1994. Rights given to women is what brought me towards Islam. I had to leave my house and look for a hostel which was a difficult journey. Over the years my family has accepted me. I think the perception that conversions are forceful is not true. There is process followed to get converted officially which involves an affidavit."
These women were part of a session on converions by All India Dawah Centres Association (AIDCA) on Sunday at Nariman Point. AIDCA is an umbrella organisation for all NGOs who invite people towards Islam and regularise it. The event was attended by Zafar Sareshwala, Chancellor of Maulana Azad University.
"We kept this programme to address misconceptions about Islam and conversions. We have invited people from law enforcement agencies and right wing groups to have a discussion. We don't support forceful conversion and will disassociate ourselves if someone is found to be doing it," said Ashaque Motlekar, Executive Committee member.
indiatoday.intoday.in/story/muslim-reverts-say-they-were-not-converted-forcefully/1/734852.html
--------
Ban Muslim Veil in Public Places in Britain, Says UKIP Leadership Hopeful
8 Aug, 2016
UKIP leadership candidate Lisa Duffy is calling for Muslim veils to be banned in public places, in a bid to make women who wear them feel more "British."
During a speech in London, Duffy is expected to state that her proposal is aimed at pushing for increased integration, arguing that "Muslims who were simply born in this country...are as British as I am and I simply want them to feel as British as I do," PA reports.
While stopping short on a complete ban of the veil, Duffy will say: "On our public transport networks, in public buildings, banks, stores and shopping precincts - all those places where teenagers are told to take their hoodies down and where motorcyclists are expected to remove their helmets – it is only reasonable to expect everyone to show their faces."
"Again, it is about making sure there is one law for all, rather than making an exception for a community because we are frightened of causing offence. There is no offence to be taken if all are treated equally."
The rule should apply "just as much to the retinues accompanying Middle Eastern princes to London as it will to Muslim women living in Britain," Duffy is expected to say.
She will say it should not be regarded as Islamophobic for someone to politely request that a woman remove her veil in public.
"I have a positive vision for British Islam where girls can grow up with equal rights to men and be given the rights of self-determination the rest of us take for granted."
She will add: "Why should I, as a white, Christian woman, effectively enjoy greater civil and human rights and freedoms than others?"
"My ambition is that everyone, from every community, should be able to enjoy the same rights and have the same independent control over their lives and their bodies as I do."
Duffy is also expected to demand the closure of Islamic faith schools until the issue of Islamic terrorism is addressed, as well as a "complete and comprehensive ban" on Sharia courts in Britain.
Launching his own leadership campaign in Manchester, UKIP MEP Bill Etheridge will position himself as the "unity candidate," and will warn the party against focusing its efforts on issues such as Islam, stating that UKIP risks being seen as "small-minded."
The Dudley borough councillor is expected to say:"I am proposing that as a party we focus on our policies, cementing libertarianism into our DNA."
"That means not focusing on small issues like Islam which make us look small-minded - I'm not chasing the bigot vote."
He will add: "I do not want the party to scurry to the centre and abandon the values we as a party are supposed to promote, like a small state, low taxes and individual liberties. It is our difference which is our strength."
However, in a recent manifesto pledge, Etheridge called for a ban on women wearing the burqa, describing them as a "security risk."
Etheridge has been caught on film suggesting that young activists copy Hitler's "magnetic and forceful manner" on public speaking.
He also wrote a book celebrating 'golliwogs' after he was suspended by the Conservatives in 2011 over a Facebook picture holding one of the toys, which are frequently associated with racism.
Duffy and Etheridge are among six candidates vying for UKIP leadership.
Others on the final ballot are MEPs Jonathan Arnott and Diane James, and activists Phillip Broughton and Elizabeth Jones.
Ballot papers will be issued to party members on September 1. Votes will be counted and the winner announced on September 15.
rt.com/uk/355060-muslim-veil-ban-ukip/
--------
Female Pakistani star rises from poverty, is killed defying norms
August 8, 2016
In this June 28, 2016 file picture, Pakistani social media star Qandeel Baloch speaks during a press conference in Lahore, Pakistan. She escaped poverty and an abusive marriage but was killed in July defying Pakistan's conservative norms. (M. Jameel/Associated Press)In this picture taken on July 22, 2016 shows, a family member shows pictures of slain fashion model Qandeel Baloch, in Shah Sadderuddin, Pakistan. Baloch grew up in a poor farming family but "always wanted more, had different ideas" her sister says. After escaping her childhood poverty and an abusive marriage to find online fame, she was killed by her brother for refusing to live a life dictated by repressive tribal and religious traditions.(Asim Tanveer/Associated Press)Qandeel Baloch takes a selfie in this image posted online and released by her family. Baloch grew up in a poor farming family but "always wanted more, had different ideas" her sister says. (Qandeel Baloch family via Associated Press)Social media star Qandeel Baloch's official Twitter account as released by her family. Baloch grew up in a poor farming family but "always wanted more, had different ideas" her sister says. .(Qandeel Baloch family via Associated Press)Social media star Qandeel Baloch takes a selfie in this image posted online and released by her family. Baloch grew up in a poor farming family but "always wanted more, had different ideas" her sister says.(Qandeel Baloch family via Associated Press)
SHAH SADDERUDD, Pakistan — Like most of the men in this village of mud homes and wooden carts pulled by water buffalo, Muhammed Azeem cannot read or write. Like the other fathers, he raised a family of six boys and three girls on whatever he could coax out of a soil baked by the searing Punjab sun.
But in a culture where a family's worth is tallied in the number of males it can produce and girls are second-class citizens at best, Azeem was different.
He valued his daughters as much as his sons.
He raised them to be independent young women. When one of the girls married, she refused to take her husband's name. Another changed hers to Qandeel Baloch and became famous, shocking this conservative Islamic country with risqué dance videos that showed her in skin-tight clothing grinding against men.
Azeem didn't care. He loved Qandeel - whose new name meant "torch" in their native language.
Photo published for No one gives me any credit for speaking about girl power: Qandeel Baloch
No one gives me any credit for speaking about girl power: Qandeel Baloch
In this candid interview, Qandeel tells all about her marriage controversy, her past, and 'that' music video
"I supported everything she did," Azeem says, tears glistening on his weather-beaten face. "I liked everything she did."
Her father's love helped make Qandeel a role model to a generation of young Pakistani women. But it also may have planted the seeds of her destruction.
Her younger brother Muhammed Wazeem seethed. It was bad enough that he couldn't compete with his sister for their father's affections, and lived in a home that she paid for. But even worse was the relentless sniping from villagers. Storekeepers would show him her Facebook posts on their phones, criticizing his family for allowing her to make the videos.
He decided he had to save the family's "honor." Last month, he drugged Qandeel and then, as their parents slept downstairs, strangled her.
In most so-called honor killings, families close ranks around the killer. But Qandeel's father wants his son punished.
"My son was wrong," Azeem said. "I will not forgive him."
A STAR
A social media star, who was abused by a husband who burned and beat her, Qandeel paid with her life for refusing to live a life dictated by repressive tribal traditions and religious edicts defined by clerics who espouse a narrow and repressive brand of Islam. Qandeel Baloch, provocative media star, who was killed by her brother was born Fauzia Azeem, to a dirt poor farming family, raised in a mud house baked by the searing sun of Pakistan's Punjab province.
This is the story of a girl from one of the poorest, most backward areas of Pakistan who emerged to transfix a nation - and then was killed for her role in its clash between tradition and modernity, between Islamic fundamentalism and secularism.
It is a paradox of today's Pakistan, a deeply religious country where 4G service and social media have arrived in even the most isolated communities, that one family could produce a wildly untraditional daughter and a son so traditional he felt compelled to kill his sister for her 21st-century ways.
Qandeel's home village, Shah Saddaruddin, is a seven-hour drive from the capital, Islamabad, a journey through sugar-cane and mango fields, often on roads that are no more than dirt tracks. Murky streams and canals flow through a vast countryside owned by feudal landlords who keep their workers deep in debt.
Most girls are hidden away once they reach puberty, and many are married shortly afterward to a boy chosen by their parents. Occasionally, women are exchanged to pay off a debt, or to settle a dispute.
"Women here are strictly controlled," Qandeel's sister Munawar Azeem says. "It's our tradition, but Qandeel was stubborn, she always wanted more, had different ideas."
NO FORGIVENESS
She says she'll never forgive her brother for killing her sister, who was only 26 when she died.
Her father loved the girls "too much," Munawar says, as if sensing that his esteem was too great for their deeply traditional society.
The girls lived in a country that sees 1,000 honor killings a year, most of them targeting women. A woman can even be punished for something a male relative may have done. In a nearby village in 2002, a young woman named Muktar Mai was gang-raped by four men and then paraded naked through the village.
The ordeal, it turned out, was retribution for alleged sexual advances her 12-year-old brother had made toward a girl.
Mukhtar Mai stunned villagers and inspired Pakistan when she stood up to her rapists and public humiliation. She went to court, demanded their punishment and started a charity to educate young girls. Her courage became legendary.
In her own way, Qandeel was just as revolutionary, thumbing her nose at tradition with her provocative videos that amassed millions of views - and thousands upon thousands of thumbs-down.
Her rebellion began long ago, when she was still a little girl named Fauzia.
One day she saw her older brother practicing karate and judo. Every day after that, the 8-year-old could be found outside working on her martial arts moves.
SHE NEVER CARED WHAT ANYONE THOUGHT
Her mother, Anwar Bibi, smiles at the thought of her daughter.
"I don't know why she was the way she was, but she never cared what anyone thought," Bibi says. "She was always brave."
Fauzia thought maybe she'd join the army. Or no, she'd be a pilot.
"She would look at the sky and she would say: 'Papa, I want to fly. I want to be like a bird,'" her father says.
Eventually Fauzia settled on becoming a star. She watched Indian soap operas on television and read fashion magazines. She told her mother she'd be famous one day.
After becoming Qandeel, her first public performance was in 2012 on "Pakistan Idol," a local offshoot of "American Idol." It was a disaster.
Judges cringe as she sings, finally pleading with her to stop. Her appearance ends with her being escorted off the stage and sobbing backstage. The video went viral.
STRIP-TEASE FOR THE PAKISTANI CRICKET TEAM
Her notoriety grew when she posted a seductive video earlier this year offering to strip-tease for the Pakistani cricket team captain if Pakistan won its match against rival India. (The team lost.)
Her tweets were sometimes titillating - "Am I Looking Hot? 3 Yess I Know M Looking Damn Hot 3 3." But self-empowerment was a recurring theme: "I am Special..I will Remain Special.I will Dare to do different things which people will never Dare to do."
Torrents of condemnation inundated Qandeel's Facebook page. One user wanted her arrested for "spreading vulgarity." One with a rudimentary grasp of English wrote, simply, "We hete you."
But she inspired many others. One wrote: "You are strong like men," and another said: "Fabulous style and confidence. U r such a superstar my QB."
FROM FAME-HUNGRY CELEBRITY TO FLEDGLING FEMINIST
Qandeel's transformation from fame-hungry celebrity to fledgling feminist may have its roots in her short marriage, one she said was marked by abuse.
It seemed like a love match at first. Unlike many here, it wasn't an arranged marriage. She fell for a family friend.
Ashiq Hussain, her ex-husband, lives in a village called Mozza Tarryaie, where a single buffalo is tethered outside the mud house he shares with his four brothers, their wives and 15 children as well as his elderly parents.
As Hussain tells it, Fauzia would pursue him, writing him letters.
"Even sometimes she would use her own blood to write," he says.
"There was no Qandeel then. She was Fauzia."
During their marriage of less than two years, he recalls, she was obsessed with moving to the city, buying a house and wearing pretty clothes.
FAILED MARRIAGE
"Maybe in her heart she was already thinking of being a star," recalls Hussain. "But I told her before marriage: 'I am a poor man, a very simple man. You knew I could not give you more.'"
After a year they had a son, Mishal. He resembles his mother, sharing her round brown eyes and full lips. But he doesn't remember his mother, and he is quiet, almost sullen.
Qandeel fled the marriage, accusing her husband of beating and torturing her — a charge he denies. She was widely condemned for abandoning her son, but she said their families forced her to leave Mishal behind.
During her sensation-filled life, many critics dismissed Qandeel's claims of abuse. But when Qandeel's body was bathed before being buried, in keeping with tradition, her mother saw the scars, says her neighbor Saba Munir.
Munir gestures to her own hip to show where Qandeel had been badly burned. The scar, she says, was very large.
SITTING ON THE LAP OF MUSLIM CLERIC MAULVI ABDUL QAVI
If any moment captures Pakistan's earthshaking clash of cultures, it is the selfie Qandeel took with her ever-present phone two months ago, in the middle of the holy month of Ramadan.
In it, she is almost sitting on the lap of Muslim cleric Maulvi Abdul Qavi in a Karachi hotel room. She wears his pointed cap perched above her arched brows and flaring eyeliner. Her mouth forms an exaggerated "O" of surprise and sexuality.
As outrage exploded over the photos, the two engaged in a furious round of he-said-she-said. The cleric said Qandeel had asked for the meeting, and he agreed because they both came from south Punjab. Qandeel said it was Qavi who had sought the meeting — and had insisted it be in a hotel room.
DEATH THREATS
Qandeel's parents say she began to get threats on her life after the notorious selfie.
"Before that everything was stable, but after that everything changed," her mother says.
On a recent day, Qavi sits cross-legged on the floor of his office in Multan, the Punjab city where Qandeel was killed in the home she had rented for her parents and her 22-year-old brother. Members of his entourage surround the chubby mufti; one of them fans the cleric, trying to protect him from the oppressive 113-degree heat.
Leaning against a cushion, Qavi wears the indulgent smile of a parent with a misbehaving child as he's asked about Qandeel's accusations that he drank juice in daylight hours during Ramadan, when the devout are meant to fast from dawn to dusk. But when asked about police promising to investigate his possible involvement in inciting violence against Qandeel, he struggles for composure.
"The main thing is, it is condemnable," he says, referring to her killing.
Not everyone, however, has condemned the killing.
"A girl who decides to publish her naked pics for sake of publicity…what her brother is sppose to do???" one tweet said.
In addition to Wazeem, police have arrested a cousin in connection with Qandeel's death, and are looking into the possibility that other brothers may have encouraged him in the killing.
Multan police officer Muhammed Azam Akram thinks the growth of social media is threatening Pakistani society, and the government must do something to regulate posts like Qandeel's.
"She was hungry for fame," he says. "She became popular, but not in a positive means."
Qandeel belonged to the first generation of Pakistanis who are truly connected, tapping little hearts on their smartphones to "like" Instagram and Twitter posts. They want to be part of the modern world, with the freedom to challenge the older generation's restrictive interpretations of how they should live according to Islam.
Social media gave Qandeel a platform to push the envelope on tradition, but it also left her vulnerable to radicals who troll the internet, inciting hate.
"Saw some photos/clips of Qandeel Baloch… what a slut! Disgusting," one tweet said, going on to use a deeply misogynistic word.
The day before she was killed, Qandeel tweeted: "As a women we must stand up for ourselves. As a women we must stand up for each other…As women we must stand."
WHEN SHE WAS ALIVE, EVERYONE SAID HORRIBLE THINGS NOW THEY COME AND PRAY
At Qandeel's grave in Shah Sadderuddin, her sister Munawar points to half a dozen young men who have gathered there to praise the dead woman.
"Look at them," she says. "When she was alive, everyone said horrible things about her, and now they come and pray at her grave. See what hypocrites we are."
The brother who killed Qandeel was more hotheaded than devout, police officials and family members say. Wasi, as everyone called him, even had a girlfriend, one police official said. But he couldn't bear the public ridicule, and finally said he either was going to kill his sister or himself.
He chose his sister.
Qandeel's father is devastated by her death.
His daughter, he says, "was more of a son" than any of his six sons, providing for the family.
"We were never short of anything. We had everything," he said.
Now he holds his son's fate in his hands. If he refuses to forgive the boy, Wazeem may be given the death penalty, and a father who weeps for his daughter also will lose a son.
"I am ruined today," he says.
"I miss her face. I miss how she looked. I miss the way she would speak. I miss everything of her. You were my daughter. God gave you fame. May God bless you."
reviewjournal.com/news/nation-and-world/female-pakistani-star-rises-poverty-killed-defying-norms
--------
How American Muslim Women Could Take Down Trump
August 8, 2016
Fresh off the Ghazala Khan wave of support, now's the time for Trump-targeted American Muslim women and immigrants to fight back through political activism. An icon of U.S. Jewish feminism could be their guide.
How American Muslim Women Could Take Down Trump
Fresh off the Ghazala Khan wave of support, now's the time for Trump-targeted American Muslim women and immigrants to fight back through political activism. An icon of U.S. Jewish feminism could be their guide.
Marisa Fox-Bevilacqua Aug 07, 2016 6:50 PM
Fallen Muslim soldier's mom accuses Trump of ignorance in Washington Post oped
Sanders cites family's Holocaust history in call to end racism against Muslims
After Khan vs. Trump, it's clear: This is America's first Muslim election
As Donald Trump crashed headlong into a week of disparaging comments he made about Ghazala Khan, mother of slain Muslim American soldier Captain Humayun Khan, I had a thought: What if it's a Muslim mother who's the catalyst to topple Trump? And what if the experience of U.S. Jewish women political activists could help this happen?
The Democratic National Convention played like a mega-love fest to women, crowned by the nomination of Hillary Clinton. It was a moment I had dreamed of ever since I was a girl weaned on the rebel-rousing rhetoric of New York's ultimate Jewish mother — Bella Abzug.
Growing up on Manhattan's Upper West Side in the late '60s and '70s, an ethnically integrated and liberal Jewish enclave, Abzug was a permanent fixture at my block parties. She was running for a seat in the U.S. House of Representatives in 1970, this firecracker of a woman in a wide-brim hat and loud prints, filling my ears with slogans like: "Women have been told to speak softly and carry a lipstick. Those days are over!"
At the time, Marlo Thomas released "Free to Be You & Me," a rainbow-colored ode to women's and racial equality. Of course, the reality for most women wasn't quite as rosy. We made 60 cents to a man's dollar — compared to today's 79 cents. Mothers rarely worked outside the home, and if they did, they were typists, nurses, actors and teachers. I knew no independently successful women. But I had Bella.
The first thing you noticed about Bella was her hat, which she wore not as a sign of Jewish Orthodoxy, but of unorthodoxy. Like Hillary, Bella was a lawyer first. Born Bella Savitsky to Russian immigrant parents in the Bronx in 1920, she aspired to fight for the downtrodden like so many other Jews who helped found the American Civil Rights movement. As a young lawyer and the sole woman in meetings, she was often told to fetch coffee. "So I wore hats," she said. "It was the only way they took you seriously."
She fought Jim Crow and Senator Joe McCarthy in equal measure and championed gay rights when no one else took note. But more than anything to me, she was an unapologetic Jewish mother, not in the cloying, overprotective sense, but in the lioness sense, in the "don't talk to me about waging war and endangering my children" sense. You can imagine how well she went over in the WASPy days of 1960s & '70s Washington. But that hardly cramped her style. If anything, it emboldened her. She famously boasted that she had "more complaints than Portnoy," a nod to Philip Roth's vilification of the Jewish mother, much in the way pundits paint Hillary Clinton as a modern day Lady Macbeth.
Aspiring for greater impact, Abzug threw that hat of hers into the political ring. Without women on the ballot, women's rights would never get their due, she argued. Her battle cry became: "A woman's place is in the house — the House of Representatives." She became one of 12 women in the U.S. Congress. She was immediately branded "Battling Bella," a moniker she proudly owned, saying: "I've been described as a tough and noisy woman, a prize fighter, a man-hater, you name it. They call me Battling Bella, Mother Courage."
My Republican father referred to Women's Lib (Liberation) as "women's lip," which only stoked the flames of my feminism. I cheered on Battling Bella as she struggled to retain her seat in Congress after her district was eliminated two years into her first run. But that didn't stop her. She reentered the fight, eventually winning her seat back.
She bravely pressed for the Equal Rights Amendment, and when it failed to pass, she founded the National Women's Political Caucus along with Gloria Steinem, Betty Friedan and Shirley Chisholm, vowing to knock down the very doors that shut women out. And she did. Within a year, she helped secure a whopping 35% of spots for women delegates to the national Democratic convention of 1972.
When U.S. President Obama declared at the DNC: "There has never been a man or a woman, not me, not Bill, nobody more qualified than Hillary Clinton to serve as president of the United States of America," I thought of Bella, who had traveled to China in 1995 for the United Nations Fourth World Conference on Women, where Hillary famously declared, "Women's rights are human rights,". She died three years later, having laid the groundwork for Hillary's historic nomination. But what of the women's movement she helped form?
Much has been said about the disconnect between second and third wave feminists, about Clinton's inability to get through to millennial women, but I don't think Bella would have fixated on intergenerational differences. Rather, she would recognize that bridging ethnic and cultural gaps would be the key to the future of feminism.
As I watched Ghazala Khan at the convention, I thought of all the other Muslim mothers and Trump-targeted immigrants. They may not shout over the Shabbat table but their dignity and conscience is a different and necessary voice, of a new era of women leaders in America in which the women's movement can find a new strength.
Already Muslim women have heeded the call, using the hashtag #CanYouHearUsNow to disarm the bigotry of Disgraceful Don and others who still view them as oppressed women. "As a politics professor, I lecture to many silent men because I'm the expert in the room," tweeted Dahlia Fahmy. Another academic, Marriam Durani tweeted: "I am a single mother who finished her PhD and am now an education researcher at Harvard. Didn't get here by being quiet."
It's time for our Muslim sisters to stride the path paved by Jewish political activist mothers like Battling Bella, one that's capable of supporting and including us all.
Marisa Fox-Bevilacqua is a New York based freelance writer and editor who has written for the New York Times, Haaretz, Elle, Billboard, InStyle, Cosmo and Redbook.
haaretz.com/opinion/.premium-1.735632
--------
Burkini Swimsuits Spark Anti-Muslim Outrage—and Fast Sales
BY LEAH MCGRATH GOODMAN ON 8/8/16
Yes, the burkini—a portmanteau for burqa, a robe-like garment popular with some Muslim women, and bikini, a two-piece bathing suit that made its debut 70 years ago at the fashionable Parisian lido Molitor.
Try Newsweek for only $1.25 per week
Like its predecessor, the Burkini is a two-piece swimsuit for women. But unlike the bikini, which scandalized for showing too much skin when it first appeared in 1946, the burkini consists of a long-sleeve top and full-length pants that cover the entire body, except for the hands, face and feet. (Women also have the option of concealing their hair with a covering redolent of a nun's headpiece, creating the look of a wetsuit with a hoodie.)
While the skin quotient of the two swimsuits could not be at further ends of the spectrum, both let women decide just how much skin they want to show at the pool or beach. And the introductions of both suits, although during different centuries, have been met with similarly strong reactions: fury, derision and international bans.
Yet the burkini, like its once-scandalous cousin, is fast gaining traction with a wide cross-section of women—not just Muslims but also women of other religious faiths, as well as those who simply wish to avoid a sunburn or not be ogled by passersby.
British retailer Marks & Spencer, which this year went mainstream with a line of burkinis in two shades—blue and black—tells Newsweek it's already out of stock. "This is the first time we're offering Burqinis in the U.K., as well as globally on our website, and they're already sold out," says spokeswoman Emily Dimmock. She says the retailer is now selling them "in many of the 58 countries in which we operate, including the Middle East, China and Hong Kong."
Bans, Outrage
The rising popularity of the burkini, however, hasn't stopped many from strenuously objecting on grounds ranging from the violation of personal freedom to social irresponsibility to hygiene concerns.
In early July, the Austrian town of Hainfeld was the latest to ban the burkini at its public pool. Peter Terzer, a town councillor and member of Austria's anti-immigrant and anti-Muslim Freedom Party, issued a statement saying he was "completely pleased" with the ban, as the burkini does not meet rules for acceptable swim attire and is "unsanitary." This would have been hard to believe, had it not already happened in June, when the German town of Neutraubling in Bavaria imposed a similar ban on burkinis, also citing hygiene fears and putting up signs stating that the use of its public pool is "only allowed in usual swimming costumes."
The mayors of both towns vociferously defended the bans, citing complaints from swimmers and fears that burkinis in the pool area might somehow taint the waters. Neutraubling's Christian Social Union mayor, Heinz Kiechle, went so far as to say wearing a burkini, "for me, is incomprehensible."
Burkinis have also been banned in parts of France, Italy and Morocco, with the wearers subject to hundreds of dollars in fines. Shabana Mir, a London-born Muslim who teaches cultural anthropology at American Islamic College in Chicago, says she finds the argument over hygiene laughable, since burkinis are made from ordinary swimsuit fabrics and cover most of the body, which would presumably reduce direct contact with the water and other swimmers. She noted in an online piece, "The Deadly Burkini, or, What Exactly Is an 'Islamic Swimsuit'?" that "it's extremely unfair and sexist to require women to dress in such attire" as bikinis or one-piece suits if it leaves them feeling overly exposed.
The burkini crackdowns echo the arduous path of the bikini, initially banned along the French coastline, as well as in Italy, Belgium, Spain, Portugal, Australia and parts of the U.S., and finally denounced by Pope Pius XII in the 1950s as sinful when the first Miss World winner was crowned in her bikini (which never happened again in the pageant).
This summer, just as burkinis hit stores, France's women's rights minister, Laurence Rossignol, condemned retailers such as M&S and high-end labels such as New York's DKNY and Italy's Dolce & Gabbana for offering full-coverage swimsuits and glamorous head-to-toe Islamic haute couture to women. She said the garments are not "socially responsible" and promote "the shutting away of women's bodies."
When the interviewer pointed out that certain women choose to keep themselves covered up, she replied, "Of course, they are women who make the choice," but then she likened Muslims wearing burkinis to "American negroes who were in favor of slavery." The minister's remarks touched off protests, demands for her resignation and a Change.org petition asking that she be publicly censured. Rossignol later apologized for use of the word "negro" but has maintained her position.
It is highly unlikely the political grandstanding will have much effect, because—boom!—math. Islamic fashion is now one of haute couture's hottest niches, with spending on clothing and footwear by Muslims expected to skyrocket an estimated 82 percent from 2013 to 2019, reaching $484 billion, according to Thomson Reuters and New York researcher DinarStandard.
Mir, who does not wear a burkini—instead favoring something more akin to a feminine surf suit—takes issue with the idea that a Muslim wearing a burkini is any different from a nun wearing a habit or a woman wearing high heels. With the exception of cases where women might be forced to wear Islamic garb against their will (which she emphasizes is very un-Islamic), it's all about personal choice, she says. "I have to go to work wearing this uncomfortable clothing, but it's our culture!" she says, adding that she grew up wearing a burqa but now wears typical business attire to work, like many Americans. "Somebody else wears high heels—they embrace it. It's uncomfortable. It's painful. It's expensive…. People can easily see it as offensive and oppressive, but some people choose to wear it. I am an anthropologist, so I see this as: We are all restricted, and we are all free. To say the burkini limits a woman's freedom is to forget that freedom is, first and foremost, about choice."
'I Got Orders Right Away'
Is it possible that the burkini embodies a loss of freedom? Newsweek caught up with the inventor of the burkini to find out.
Aheda Zanetti, a 48-year-old Lebanese Muslim woman who lives in Bankstown, Australia, near Sydney, says she began working on designs for the burkini after watching her 11-year-old niece struggling to play sports in a long, flowing hijab, or head scarf. "She looked like a tomato, her face was so red wearing all that clothing," she recalls.
She searched for Muslim swimsuits and sportswear online and found nothing. "When I thought back, I realized that we didn't really swim or play sports when I was growing up, not because we didn't want to but because we just didn't have the clothing!" she says. "So we never really enjoyed the summer life, the sports lifestyle that Australia has to offer."
She launched her burkini company, Ahiida Burqini Swimwear, 12 years ago. "It went bang. It did so well, I got orders right away," she says. "People went absolutely crazy. I wasn't prepared for it. Now we have sales all over the world, and whenever they ban it—like when they did in Morocco—it goes very well for me. People just buy more of them."
Zanetti, a married mother of three, says she and her two teen daughters all wear burkinis, but she notes 35 to 45 percent of her market is non-Muslim. "I have a lot of people who like them because they want the UV protection or prefer to cover more of themselves," she says. "Not all of us like to be naked. As for Muslims, wearing comfortable and flexible clothing for us is not something we are used to! Now we have Muslim women competing in swimming and marathons and becoming a lot more confident. I used to say, 'It's just a swimsuit for goodness sake!' but that's not true. It was confidence."
That said, Zanetti has detractors. "One Italian man wrote to me to say, 'I enjoy watching women in a bikini—why are you doing this to us?' And I wrote back, 'Use your imagination!'"
newsweek.com/burkini-swimsuits-spark-anti-muslim-outrage-sales-488138
--------
Why Iranian Men Are Wearing Hijab
AUG 7, 2016
Photos of men wearing hijab, the traditional headscarf worn by Muslim women, have flooded social media. It's more than just a trend or hashtag, though. It's a statement supporting women in Iran.
The country currently makes it mandatory for females to wear hijabs. As The Daily Dot notes, that law has received a lot of backlash. My Stealthy Freedom has lead the charge, starting a campaign encouraging Iranian women to share photos of themselves without a hijab.
"In Iran women have to cover their hair in public according to the dress rule enforced after the Iranian Revolution in 1979," the My Stealthy Freedom site explains. "My Stealthy Freedom is an online social movement where Iranian women share photos of themselves without wearing the hijab."
Men are now showing their support by donning hijab and sharing the #MeninHijab hashtag. The argument is that Iranian women should have the right to choose whether or not to cover their hair.
"We Iranian boys do not support compulsory hijab," one participant wrote.
Whether the movement spurs Iran to change its laws remains to be seen. In the meantime, it's a powerful display of gender equality.
refinery29.com/2016/08/119262/iran-hijab-men
--------
The first dedicated book club for women in Arab world launched
August 8, 2016
Dubai: Mohammed Bin Rashid Al Maktoum Foundation (MBRF) — a member of the Mohammed Bin Rashid Al Maktoum Global Initiatives — launches a new initiative titled 'Esteraht Sayedat', the first book club dedicated to women in the Arab world.
In line with directives from President His Highness Shaikh Khalifa Bin Zayed Al Nahyan the initiative is part of a series of activities whereby the Foundation strives to mark 2016 as the Year of Reading, complementing the National Strategy for Reading.
'Esteraht Sayedat' aims to promote reading on a daily basis among women of different social backgrounds. The idea is to create a reading club for women that holds regular meetings to discuss selected books in various fields and exchange the knowledge learnt from these books.
Jamal Bin Huwaireb, managing director of MBRF, said: "The goal of our efforts and projects is to develop a cultured and knowledgeable community. To that end, we launch a set of unique initiatives that focus on reading, and we support them with innovative practices, such as the Ladies Book Club, that catalyse the intellectual development of the female demographic in our society."
He added, "MBRF dedicates this initiative to the women of the Arab world, as directed by Shaikh Ahmad Bin Mohammad Bin Rashid Al Maktoum, chairman of the Foundation, to support all segments of society — especially women, given their vital role in building the future of the community. The Foundation strives to create an environment that facilitates acquiring and transferring knowledge to educate future generations."
The Ladies Book Club aims to draw in female participants in large numbers and from various backgrounds, by organising regular meetings and holding literacy workshops for participants in the UAE.
MBRF leveraged its social media outreach to spread the word regarding the initiative and communicate and engage with the target audience online, which facilitated the participation of Arab women from all around the world.
Members of the Ladies Book Club initiative will select books from a wide array of fields, written by UAE or Arab authors — in addition to foreign books translated into Arabic — to read and discuss during the meetings. Participants will vote on the books to read, as well as fix the dates for the sessions.
The initiative will organise meetings with authors and experts in human and personal development to discuss the books, exchange points of view regarding their topics, and work to spread them to the widest possible audience.
The Book Club, which will include participants from both the UAE and Oman, is set to host 64 events and discuss 77 books. The initiative has managed to attract 1,500 members and as many as 8,900 followers on social media.
gulfnews.com/news/uae/education/the-first-dedicated-book-club-for-women-in-arab-world-launched-1.1875561
--------
Ibtihaj Muhammad: America's Olympic Game Changer
"The honor of representing Muslim and black women is one I don't take lightly"
Why the Most Important Olympic Basketball Team Wasn't the Dream Team
They played for a country that doesn't exist anymore
Muhammad has been athletic her whole life, something her family encouraged, even as they made sure to make modest clothes out of athletic attire. "I'd make her outfits that covered her arms and legs, which allowed her to participate while still being true to her faith," her mother says.
She joined the fencing team at age 13, years after her mother first spotted some high school fencers practicing and thought her daughter could take it up. "I remember we drove by a high school where they were practicing and we didn't know what it was and my mother said, 'I want you to try that when you are old enough.' Later I remember looking up the top colleges and seeing if it was a way to get to college. All the top schools had fencing teams."
Recruited to go to Duke on an academic scholarship in 2003. There she became a three-time All-American and 2005 Junior Olympic Champion. She got dual Bachelor's degrees in International Relations and African and African-American Studies and also attended the School for International Training in Rabat, Morocco where she completed courses in Moroccan culture and intensive Arabic. On her Olympics profile page she lists "Politics, photography, language, football, culture and religion" as her interests.
A member of the US National Fencing Team for the past six years, she failed to qualify for the Olympics in 2012. Now, entering into her first Olympic Games, Muhammad is currently number two in the US, number 12 in world (she's made it to number seven before), hopes are high on her performance. "I didn't make it to the 2012 Olympics and people kept calling me an Olympian. I was with a friend once and this little girl came up and said 'Oh it's the Muslim Olympian' and my friend said 'you know, she wasn't in the Olympics' and from that point on I made it my goal. I would never have someone deny me that."
Muhammad stays quite busy as a public figure. She is a sports ambassador, where she serves on the U.S. Department of State's Empowering Women and Girls Through Sport Initiative. She speaks all around the world and loves to teach the sport. And in 2014, Muhammad launched her own clothing company, Louella, which aims to "bring modest, fashion forward clothing to the world," as her website states. "We felt we needed it because there was clothing that was either not very fashionable or too expensive and we wanted something we'd wear."
Still she is very proud to be recognized as a Muslim first and foremost. She always makes sure to still pray five times a day. "I just read about some new facilities for worship at the Olympics center—I'm excited to check it out."
This all comes even as she gets profiled, airport time always extended for her and her family. Muhammed is not surprised—she remembers 9/11 very clearly as a sixteen-year-old. "I remember the Muslim boys in our class were taken aside—who knows why it was just the Muslim boys—and I knew life would never be the same from that point on." But it's important for her to educate people about the fact that African Americans can also be Muslims. "I never felt connected to Arab culture but people always think I am. There is not much knowledge of African American Muslims. They always want to ask where I'm from, where my parents are from, where their parents are from. They never think we're from here."
The 2016 Olympics in Rio has a lot to live up to, especially where Muslim women are concerned. The 2012 Games marked the first Olympics where women participated in all 26 sports. And they were also the first time Saudi Arabia, Qatar and Brunei entered women athletes. All in all, several Muslim women stood out as hopefuls, and received international coverage: Afghan runner Tahmina Kohistani was the only woman from Afghanistan at the 2012 London Olympics. Zahra Lari was the first figure skater from the United Arab Emirates to compete in an international competition in 2012 when she performed at Italy's European Cup – she was also the first figure skater to compete at that level while wearing a hijab. Kulsoom Abdullah, a Pakistani-American weightlifter, was the first person ever to compete in the sport internationally while wearing a hijab. In 2012, judo fighter Wojdan Ali Seraj Abdulrahim Shahrkani became the first Saudi woman ever to compete in the Olympics (the match wasn't broadcast in Saudi Arabia, where her participation was forbidden). And Shinoona Salah al-Habsi was one of only four Omani athletes to compete in the London Olympics in 2012.
Fencing has been an Olympic sport since 1896 but this year with Muhammad representing the U.S. it takes on fresh and weighty significance. As Sean Gregory wrote in Time, this is an opportunity for the Olympic federation to make even more of this novelty, and elevate her in the public eye. "Like many of her American teammates, Muhammad is an inspiration to countless people. But choosing her as a flag bearer is a chance to signal something even greater about what America stands for. It would be a win for all Americans––and Team USA's first of the 2016 Olympic Games."
But Muhammad is just focused on the sport for now, even as the world watches, particularly fellow Muslim-Americans. Muslim activist Linda Sarsour speaks for many of us when she declares Muhammad is "not representing Muslim Americans. She's a Muslim representing the United States of America." When one asks Muhammad about her three layers of marginal identity—black, Muslim, female—and which is the most difficult to project, she almost laughs. "I don't think of any of them as hard. Growing up it was always an honor to be all of those things. Whatever was hard was what others brought to it. It's all really a big dream—I don't think it's hit me yet. The honor of representing Muslim and black women is one I don't take lightly."
rollingstone.com/sports/ibtihaj-muhammad-first-american-olympian-in-hijab-w432942
URL: https://newageislam.com/islam-women-feminism/we-were-converted-forcefully,-claim/d/108216
New Age Islam, Islam Online, Islamic Website, African Muslim News, Arab World News, South Asia News, Indian Muslim News, World Muslim News, Womens in Islam, Islamic Feminism, Arab Women, Womens In Arab, Islamphobia in America, Muslim Women in West, Islam Women and Feminism