New Age Islam News Bureau
24 September 2023
• Turkey's First Lady Emine Erdoğan's Message To Industry Leaders: 'Let Women Lead'
• Wearing A Hijab Has Brought Muslim Women, Around The World, Honour And Joy, But It's Also Attracted Abuse And Hate
• Intl Concerns Persist Over Women's Situation in Afghanistan
Compiled by New Age Islam News Bureau
URL: https://newageislam.com/islam-women-feminism/turkey-lady-emine-erdogan/d/130746
-----
Turkey's First Lady Emine Erdoğan's Message To Industry Leaders: 'Let Women Lead'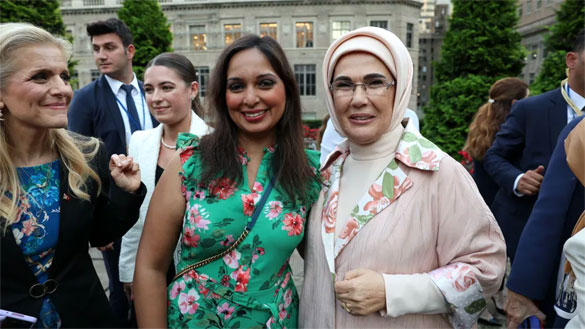 Devi E. Nampiaparampil, MD, MS (left) and First Lady Emine Erdoğan (right).
------
By Devi Nampiaparampil
September 23, 2023
NEW YORK - On Wednesday, September 20, Her Excellency Emine Erdogan, the First Lady of Turkey, joined TIKAD, the Turkish Business Women Association, at Rockefeller Center to address industry leaders about methods for promoting peace and global justice.
The non-governmental organization debuted the music video for "Let Women Lead," a song imbued with progressive ideas aimed at elevating women's status.
NiluferBalat, the President of TIKAD, described the "spread of war and conflict… the deep global poverty that will lead to unhealthy generations… [and] income inequality dividing societies."
In the garden atop Rockefeller Center overlooking Fifth Avenue, women leaders in artificial intelligence, healthcare, law, music, food, fashion, and politics discussed how they could collaborate to overcome various obstacles.
DeryaTaskin, the CEO of Taskin Bakery, and Megan Penick, a partner at Michelman& Robinson, LLP discussed the possibility of making her private bakery in Paterson, NJ, public.
Lindsay Davis, a former Miss Ohio who now lives in New York, talked to me about how we could help patients with heart conditions predisposing them towards brain injuries.
Even if they have great ideas that they execute effectively, and even if they network, people might not pay attention because they haven't had the right platform for people to pay attention.
If the First Lady is promoting these New York women entrepreneurs with her influence and helping them to make meaningful connections, then it is much more realistic for those women's great ideas to be recognized.
Source: Fox5ny.Com
https://www.fox5ny.com/news/turkeys-first-lady-emine-erdogan-let-women-lead
-----
Wearing A Hijab Has Brought Muslim Women, Around The World, Honour And Joy, But It's Also Attracted Abuse And Hate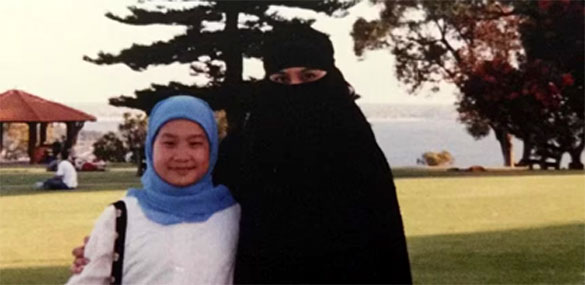 Novakovich, pictured right, eventually made the decision to remove the niqab she'd been wearing since she was a child.(Supplied)
------
By Zena Chamas
24-09-2023
The Islamic headscarf, also known as the hijab, is often worn by Muslim women as a symbol of honour in their faith.
For the hundreds of thousands of Muslim women around the world who wear the hijab, their religion is instantly identifiable. And as a result, they often end up becoming flag-bearers for their faith in the West.
She was already a symbol of strength for Muslim women around the world when in 2019 she became the first Nike running brand ambassador to wear a hijab.
"[In mainstream media], you see a woman [wearing the hijab] who is uneducated, you see a woman who's not approachable. You see a woman who's boring and uncool.
Mariam Veiszadeh is the CEO of Media Diversity Australia and the founder of the Islamophobia Register, a service collating reports of anti-Muslim abuse from across Australia.
She doesn't challenge the validity of the hijab in Islam. But she says there are unfair judgements made about how women wear it, including by some men in the Muslim community.
She would often face criticism from Muslim men in her community for not wearing her hijab "correctly". These included getting angry messages from men if her neck was showing.
According to some interpretations within Islam, the rules of hijab require women to wear clothing that covers their bodies, including the neck and hair.
"Do you call out some of the bad within your own community? Or do you overlook it because having that conversation publicly plays into Islamophobia?" she says.
"The public just cannot have a nuanced conversation about this. They see it in such a black-and-white way. If a Muslim woman is calling something out, they see it as, 'Wow, you guys must be oppressed'.
The Qu'ran prescribes that both men and women should observe modesty while also instructing "there is no compulsion in religion", meaning you can't force anybody to practise the rules of Islam.
For lawyer Aisha Nancy Novakovich, who wore the niqab for eight years, wearing the face covering was about "doing something extra" to express her spirituality.
Novakovich, who is also the founder of fashion company Modest Fashion Australia, first wore the hijab at the age of 12. Two years later, she covered her face by choice, despite criticism from her family.
She says by wearing the niqab she was "emulating the lives of the Prophet Muhammed's wives", who were known to sometimes cover their faces out of modesty, according to some narrations detailing their lives.
But Novakovich was forced to unveil her face by an abusive ex-partner, who felt uncomfortable about the Islamophobic comments she received while wearing the niqab when out in public.
"Either I used to get sworn at or called Osama bin Laden's wife [or] ninja, Ned Kelly, letterbox … I would get those comments all the time," she says.
"Slowly your defences get worn down. And then you go out for a little shopping trip to Coles and suddenly these comments start to grate on you," she says.
She helps other Muslim women feel empowered about their Islamic dress choices through her advocacy work and by designing stylish and modest fashion for them.
"You read the biography of the Prophet's wife [who often wore the niqab]. Was she not a leader? Was she not feisty? Was she not an intellectual? Was she not a public figure?"
Source: Abc.Net.Au
https://www.abc.net.au/news/2023-09-24/wearing-hijab-in-west-manal-rostom-mariam-veiszadeh-islamophobia/102884356
-----
Intl Concerns Persist Over Women's Situation in Afghanistan
By Fatema Adeeb
24-09-2023
Speaking at a meeting titled "Combating Gender Apartheid: The Situation of Women and Girls in Afghanistan" Amiri said: "When we talk to the Taliban ... we say you are not going to move in a way that you seek until you address these rights."
In the meeting, the UN special rapporteur for Afghanistan human rights, Richard Bennett, said that Afghan women and girls' "trust deficit can only be bridged by concrete actions not just by future declarations of sympathy or condemnation."
The UN special rapporteur in the meeting expressed concerns over Afghans' mental health and said that "recognition and normalization by the international community of the situation in which women and girls' rights have been decimated is now the greatest fear" for women and girls.
Richard Bennett said that "Afghan women must be meaningfully included with policy decisions ... made within Afghanistan or by the international community."
"Many in this room have helped to carry out, to call this action forward investigating and documenting the systematic erasure of women's rights in Afghanistan. There have been reports submitted to the human rights council. There have been pleas to the international criminal court to explore gender apartheid-- does not the international community have an obligation to uphold the human rights treaties which Afghanistan is a party and to pursue accountability for the perpetrators?" asked MelanneVerveer, Executive Director of the Georgetown Institute for Women, Peace, and Security.
The Chargé d'Affaires of the Afghanistan Permanent Mission to the UN, Naseer Ahmad Faiq, in the meeting also criticized the imposition of restrictions on women and girls in Afghanistan.
"We are deeply concerned about the current situation in my country, particularly the systematic erasure of women and girls in society and violation of their fundamental human rights in Afghanistan. It is a matter of far-reaching consequences not only for the individuals affected but for the progress and prosperity of our entire society," Faiq noted.
However, Zabihullah Mujahid, a spokesperson for the Islamic Emirate, said that there is no gender apartheid in Afghanistan and that the Islamic Emirate is obliged to uphold women's rights.
"Apartheid does not exist here at all. There is no gender discrimination in Islam. The Islamic Sharia has given rights to the citizens of Afghanistan, whether male or female, the Islamic Emirate is obliged to give these rights to the men and women of this country," Mujahid said.
Earlier, a number of representatives of world countries expressed their concern about imposing restrictions on women and girls in Afghanistan at the meeting called " Global Solidarity with Afghan Women and Girls" at the United Nations headquarters.
Source: Tolo News.Com
https://tolonews.com/afghanistan-185225
-----
URL: https://newageislam.com/islam-women-feminism/turkey-lady-emine-erdogan/d/130746
New Age Islam, Islam Online, Islamic Website, African Muslim News, Arab World News, South Asia News, Indian Muslim News, World Muslim News, Women in Islam, Islamic Feminism, Arab Women, Women In Arab, Islamophobia in America, Muslim Women in West, Islam Women and Feminism