New Age Islam News Bureau
22 Jan 2019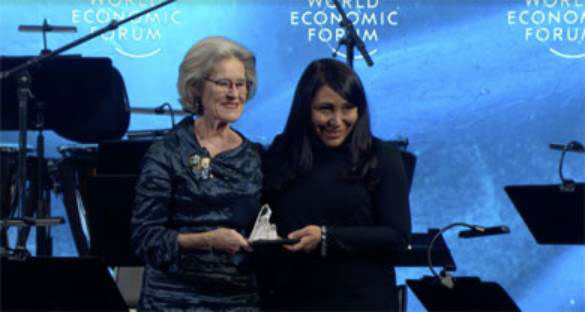 Haifaa Al-Mansour, the first female filmmaker in Saudi Arabia, has received a Crystal Award at the World Economic Forum's 2019 meeting in Davos. (Screenshot/WEF)
-----
• 33 Of 63 Female Diplomats Represent Turkey in Foreign Countries
• As Taliban Talks Gather Pace, Afghan Women Fear Turning Back Clock
• Women's March: Muslim Women's Contingent Calls for End to Muslim Ban
• Saudi Arabian Filmmaker Haifaa Al-Mansour Picks Up Crystal Award At Davos 2019
• Saudi Arabia Announces New Work Rules for Women
• Hindu Girl 'Forcibly Converted and Married Off' In Thar, Pakistan
• AIMPLB Mourns Demise of Its First Woman Member, Begum Naseem Iqtidar Ali
• 80 Turkey Women Severely Criticized – 'They Are Not Society Women'
• Iranian Female Entrepreneur Returns from U.S to Empower Rural Women
Compiled by New Age Islam News Bureau
URL: https://www.newageislam.com/islam-women-feminism/turkey-10-year-challenge-women/d/117529
--------
Turkey: 10-Year Challenge for Women - With or Without Veil
January 22, 2019
ISTANBUL, JANUARY 21 - The '10-Year Challenge' in Turkey has sparked debate on social media on the Islamic veil.
Many women have taken up the challenge of comparing their current image to a 10-year-old photo posting to twitter a picture of their face without the veil, something they didn't do in the past.
''Anyone can say what they want - but we are liberated and this has nothing to do with our family or our environment'', wrote a user named Busranur.
Another, who identified herself as Memnuniyetsiz Melek, wrote: ''As someone who graduated from a religious school, I fought for the right to wear a veil'', which was banned at university until a reform was introduced 10 years ago by President Recep Tayyip Erdogan. ''Then I fought for eight years to take it off'', she added.
The account 'Yalniz Yurumeyeceksin' ('you will not walk alone), supports women who don't want to wear the Islamic veil.
But the debate is open on social media because many others, like user Asik Bahrure, are defending the opposite choice: ''I don't accept that some are hailing with enthusiasm those who take off the veil as if they were 'illuminated people' and the only ones to have morals''.
http://www.ansamed.info/ansamed/en/news/sections/generalnews/2019/01/21/turkey-10-year-challenge-for-women-with-or-without-veil_f0b45d7b-fadc-4aca-9a8c-9237187204f2.html
--------
33 Of 63 Female Diplomats Represent Turkey in Foreign Countries
January 22, 2019
Turkey has given priority to boosting the presence of women and their level of activity in foreign policy. The country has increased the number of women ambassadors to 63, with 33 of them representing Turkey in foreign countries.
They were assigned to different parts of the world including Belarus, Chile, Kuwait, and Cuba. Respectively, Kezban Nilvana Darama took the Minsk office in 2015, Gülin Dinç was appointed to Santiago in 2018, Ayşe Hilal Sayan Koytak took the Kuwait office in 2017 and Ayşe Berris Ekinci was appointed to Havana in 2016.
Turkey appointed its first woman ambassador in 1982 when Filiz Dinçmen, 43 at the time, was appointed as envoy to the Netherlands. Since then, the number of women ambassadors has grown over the years.
Turkey also increases its diplomatic activity through new missions, ranking among the five countries with the number of its diplomatic representatives abroad.
According to the Lowy Institute global diplomacy index, Turkey and Japan shared the fifth spot with 229 diplomatic missions in 2017. However, Turkey recently expanded the number to 242, which stood at 163 when the Justice and Development Party (AK Party) came to power in 2002. "Turkey is expected to move up to fourth with the new embassies opened this year," Foreign Ministry Spokesman Hami Aksoy said on Friday while addressing reporters. Within the framework of Turkey's Africa initiative, the number of Turkish embassies throughout the continent rose to 42 in 2018, up from 12 in 2009. The goal of the ministry is to increase this number to 50. Regarding the same index, the U.S. is at the top of the list in 2017 with 273 foreign missions, followed by China with 268, France with 266 and Russia with 242.
https://www.dailysabah.com/diplomacy/2019/01/22/33-of-63-female-diplomats-represent-turkey-in-foreign-countries
--------
As Taliban Talks Gather Pace, Afghan Women Fear Turning Back Clock
January 22, 2019
KABUL: Eighteen years ago, at the height of the Taliban's power in Afghanistan, Roshan Mashal secretly taught her daughters to read and write alongside a dozen local girls who smuggled school books to her house in potato sacks.
Mashal's daughters have since gained university degrees in economics and medicine. But she now fears the looming prospect that the hardline extremist group, whose rule barred women from education, could once again become part of the government.
"They say they have changed, but I have concerns," she said in an interview in her office in Kabul. "There is no trust … we don't want peace to come with women losing all the achievements of the last 17 years."
As talks to end Afghanistan's long war pick up momentum, women such as Mashal fear the freedoms eked out since the US-backed Afghan forces overthrew the Taliban in 2001 are about to slide backwards and complain their voices are being sidelined.
An aide to Rula Ghani, the wife of Afghanistan's president, said the first lady had launched a survey of women in 34 provinces in a bid to amplify their voices in the peace process, with a report summarising their views slated for February.
"The war was started by men, the war will be ended by men," said the aide. "But it's the women and children who suffer the most and they have a right to define peace."
Almost two decades of war have implicated both sides in the suffering of women. The United Nations last year expressed alarm at the increased use of air strikes by the US and Afghan forces, which caused a rising death toll among women and children.
Changed times
Afghanistan is still not an easy place to be a woman, with forced marriages, domestic violence, and high maternal mortality rates prevalent nationwide, and particularly in rural areas, according to gender equality advocates.
But access to public life has improved, especially in cities such as the capital Kabul, where many women work outside the home and more than a quarter of the parliament is female.
But women lawmakers and some foreign diplomats fear enshrining gender equality may take a backseat in any peace deal to the intense international focus on ending the fighting and eliminating the country's potential as a haven for militants to launch attacks overseas.
"That is the threshold. The question is how much they will accept the position of women deteriorating in the process," said a senior Western diplomat in Kabul whose country funds projects to empower women. "There may be some backsliding, but hopefully not all the way back."
Between 1996 and 2001, under the Taliban government that called itself the Islamic Emirate of Afghanistan, women were banned from work, required to wear the full-length burqa that covered their faces, and not allowed to leave the house without a male relative.
The Taliban say they have changed, and that they would allow women to be educated, though they say schools should be segregated by gender and women required to wear loose clothing.
"We want Afghanistan to move forward with its present achievements and developments. But there are some reforms and changes the Emirate will struggle for," spokesperson Zabiullah Mujahid told Reuters last month.
That is not enough to assuage the fears of women such as Karima Rahimyaar. She is the main provider for her family after her first husband was shot and killed by the Taliban in Kunduz province in 1996 and her second was injured and left unable to work after being imprisoned by them around three years ago.
She regularly comforts her university-aged daughters, who feel sick when they hear gunshots or mention of the Taliban.
"It is very difficult for me," she said.
Like many Afghans, she is desperate for peace and wants an end to the near-daily attacks across the country, which claimed the life of her 32-year-old son, a police officer, in 2016.
But not, she says, at the expense of women's rights.
"If there are no agreements and commitments, women will be inside the home and they will be deprived of everything," she said.
Fighting for a voice
Wazhma Frogh, a member of Afghanistan's High Peace Council, tasked with negotiating with the Taliban, said that she and the 11 other female members of the group had to fight to have their perspective heard.
"To get access is difficult," she said, saying that at times women had to raise their voices in meetings to avoid being ignored and that gatherings were sometimes held late at night in venues women did not feel comfortable travelling to.
Though the Taliban are refusing to include the Afghan government in the formal talks, Frogh and other members have informally met with the insurgent group and with US special envoy Zalmay Khalilzad.
Meanwhile, young women such as Zuhal Babakarkhil, one of the fast-growing segment of the population who have reached adulthood since the fall of the Taliban, say Afghan society has changed.
"In Afghanistan, the women are no more the women from 20 years back," said the 28-year-old, who was in her first year of school when the Taliban took power and whose family fled overseas.
She now lives in Kabul, plays cricket, and promotes higher education among girls. She says that social media such as Whatsapp and Facebook gives women access to organizing networks at home and abroad that would be tough to curtail.
She said she has no intention to leave Afghanistan, despite her worries about the Taliban returning.
"We did it before … but certainly, this is not the way, to escape anymore," she said. "We are not leaving our home country. We will definitely stand up for our rights."
https://www.pakistantoday.com.pk/2019/01/22/as-taliban-talks-gather-pace-afghan-women-fear-turning-back-clock/
--------
Women's March: Muslim Women's Contingent Calls for End to Muslim Ban
PHIL PASQUINI
January 22, 2019
Unlike the previous two marches, the third annual Women's March in Washington, DC became mired in controversy surrounding a co-president of the organization who attended a Nation of Islam event when leader Louis Farrakhan made disparaging remarks about Jews.
Women's March national organizer Linda Sarsour responded to the claims of anti-Semitism by issuing a statement in which she said in part, "The Women's March exists to fight bigotry and discrimination in all their forms — including homophobia and anti-Semitism — and to lift up the voices of women who are too often left out. …Every member of our movement matters to us — including our incredible Jewish and LGBTQ members. We are deeply sorry for the harm we have caused, but we see you, we love you, and we are fighting with you. …Trying to dismantle oppression, while working within systems of oppression, is hard. We are deeply invested in building better and deeper relationships with the Jewish community. … We are trying to build an intersectional women's movement. That is a monumental task that is hard; it is messy."
Although the controversy has overshadowed the march in Washington, there were several Jewish groups that did participate in today's demonstration. Among them was the group Jewish Women of Color.
The march that originally came about as a reaction to Donald Trump's election, brought women together regardless of differences in ethnicity, sexual orientation, race or religion. It has become a powerful nationwide activity in January of each year that has helped put light on many women-related issues including running for public office, the result of which were the victories from last November's election in which many women candidates were elected for the first time.
This year saw an organized group of Muslim women forming a contingent group to create a "Muslim Women's Wave." The group's leaders asked participants to wear a blue hijab or, for those who do not cover, to wear a blue neck scarf in solidarity. Meeting across from the Washington Memorial, they marched several blocks to the gathering point at Freedom Plaza from where the march downtown would be departing. They announced their arrival by chanting loudly for an end to the Trump Muslim ban, which drew great support from the crowd.
Beyond calling for equal treatment for all women, they also carried signs to address solidarity for the Rohingyas and the Uyghurs, both Muslim minorities who have suffered greatly due to their religion.
After the march many demonstrators continued on their way to the White House to protest and pose for photos.
https://www.wrmea.org/human-rights/women-s-march-muslim-womens-contingent-calls-for-end-to-muslim-ban.html
--------
Saudi Arabian Filmmaker Haifaa Al-Mansour Picks Up Crystal Award At Davos 2019
January 21, 2019
DAVOS, Switzerland: Haifaa Al-Mansour, the first female filmmaker in Saudi Arabia, has received a Crystal Award at the World Economic Forum's 2019 meeting in Davos for her leadership in cultural transformation in the Arab world. Watch a recap of the award ceremony below:
"Wadjda", Al-Mansour's feature debut, was the first feature film shot entirely in Saudi Arabia and the first by a female director.
The success of her 2005 documentary "Women Without Shadows" was a breakthrough that was followed by a new wave of Saudi filmmakers and front-page headlines of Saudi Arabia finally opening cinemas in the Kingdom.
She was recently appointed to the Board of the General Authority for Culture to advise on the development of the cultural and arts sectors in Saudi Arabia.
She recently released "Mary Shelly" starring Elle Fanning, and "Nappily Ever After" starring Sanaa Lathan. Al-Mansour is the first artist from the Arabian Gulf region to be invited to join the Academy of Motion Picture Arts and Sciences.
In her speech after receiving the award, Al-Mansour reflected on the role her father played in her filmmaker dream, paying homage to the films he showed her as a child.
"Those films made me feel part of a bigger world, they made me love the world. They made me who I am," Al-Mansour said.
"I wanted to have a voice. I wanted to have a passion. I wanted to be happy," she added.
The other winners of the Crystal Awards at this year's Davos meeting are Marin Alsop, for her leadership in championing diversity in music and legendary broadcaster Sir David Attenborough for his leadership in environmental stewardship.
The Crystal Awards honour exceptional artists and cultural leaders whose important contributions are improving the state of the world and who best represent the "spirit of Davos."
http://www.arabnews.com/node/1439401/saudi-arabia
--------
Saudi Arabia Announces New Work Rules for Women
January 21, 2019
The Saudi Ministry of Labour and Social Development (MLSD) has launched an initiative to set new standards for work environment suitable for women, aiming to improve it and make it more attractive.
The new decision aims to open more work opportunities for women, Spa reported.
The proposed decision includes avoiding any measures that would curb the freedom of women that is in violation of the labour system and wage parity.
Female workers must be provided a suitable place to perform prayers and take rest.
The new initiative also proposes that all workplaces with women must include private toilets and separate work areas or counters.
The initiative also specifies working hours for women - ending latest by 11pm.
Those in industrial areas will only work till 6pm.
The ministry added that all work standards are detailed in a decree accessible here.
https://www.khaleejtimes.com/region/saudi-arabia/new-work-rules-for-women-announced
--------
Hindu Girl 'Forcibly Converted and Married Off' In Thar, Pakistan
January 22, 2019
Anusha Meghwar, a 16-year-old girl belonging to the Meghwal tribe in Salam Kot area in Tharparkar, was "forcibly married" after her "conversion" to Islam, it was reported.
According to the Sindh Child Marriage Restraint Act 2013, a "child" can be defined as a "female or male under the age of 18 years" and "whoever, being a male above 18 years of age, contracts a child marriage shall be punished with rigorous imprisonment which may extend to three years but shall not be less than two years" and is also liable to fine.
The incident incited anger in the Hindu community.
Kapil Dev, a Hindu activist, noted that it is because of such incidents that "Pakistani Hindus [choose to] leave their motherland".
Reham Khan also condemned the "disgusting" forced marriage and noted that "there will be no action taken as politics comes first for all players".
It is pertinent to note that this is not a standalone incident; the Hindu community in Sindh face persecution through "forceful conversions" and "child marriages". Last year, a court in Mithi had handed two-year sentences to four people over their involvement in marrying a 14-year-old to a 55-year-old man.
https://www.pakistantoday.com.pk/2019/01/21/hindu-girl-in-thar-forcefully-married-after-conversion-to-islam/
--------
AIMPLB Mourns Demise of Its First Woman Member, Begum Naseem Iqtidar Ali
Nelanshu Shukla
January 22, 2019
The All India Muslim Personal Law Board (AIMPLB) is mourning the demise of its first woman member, Begum Naseem Iqtidar Ali, who passed away at her residence in Lucknow due to prolonged illness.
Speaking to India Today, senior AIMPLB member Khalid Rashid Firangi Mehli said, "She was a well known scholar, writer and social activist. She used to always raise her voice strongly in the board meeting on women issues, especially to empower them economically and provide them good education."
"She died on January 19 and was cremated next day at her ancestral home in Shahjahanpur. A prayer meeting has been organised on Wednesday to pay tributes to her," added Mehli.
Another AIMPLB member, Zafaryab Jilani said, "She had been a member for more than three decades. It's because of her we were able to establish our women wing. She has worked tirelessly for social and economical upliftment of the Muslim women."
https://www.indiatoday.in/india/story/aimplb-mourns-demise-of-its-first-woman-member-1436362-2019-01-22
--------
80 Turkey Women Severely Criticized – 'They Are Not Society Women'
January 22, 2019
KUWAIT CITY, Jan 21: The wave of criticism of more than 80 women who were said to be women of the community continued to gather with the Turkish actor Burak Özçivit and many videos were circulated to women as they scrambled to take a selfie Sylvie with Kamal, the star of the famous Turkish series "Blind Love", reports Al-Seyassah daily.
Social media activist, Faisal Al-Basri, directed severe criticism and said these women cannot be described as women belonging to the society. He also posted a video on his personal account Instagram and said: "These are not Society Women" A society woman does not appear swollen because of injections and hug men, but she protects her husband and her family, and teach her children the Quran," he added.
Another citizen commented: "Eighty women from the country attended a dinner party for a handsome Turkish actor, and gathered around him like Harun al-Rashid, a group of slaves they are standing in the dark of in a maze, and look like onions, what a shame." Bader bin Fadhi commented on a picture of Burak next to a luxury car that was said to have been bought by the ladies: "Eighty attendees have a dinner party for Turkish actor Burak."
https://www.arabtimesonline.com/news/80-women-severely-criticized-they-are-not-society-women/
--------
Iranian Female Entrepreneur Returns from U.S to Empower Rural Women
January 21, 2019
"I always ask myself: What am I giving others instead of all I have gained?" she continued to say in a phone interview with the Tehran Times on Sunday.
Maria Saeedi is an Iranian crafter who preferred living in a small village in a desert area in her motherland instead of residing in the U.S. aiming to empower Iranian rural women.
Nine years ago, just as a tourist, she visited the region and then she selected that area to live temporary in a clam and relax area.
Garmeh is a village in Nakhlestan Rural District, in the Central District of Khur and Biabanak County, Isfahan Province, Iran. In 2006 census, its population was 244, in 69 families.
Few months later she received here U.S. Green Card. Maria left Iran for the U.S. but the glamor the U.S. could not satisfy Maria and fulfill her great wishes. She was enthusiastic to teach artworks to others and she was eager to empower Iranian women.
Nine years ago Maria selected the village of Garmeh as her residence. She managed to communicate well with the villagers through her good management and proper behavior. One year later she started Kilim weaving classes at her home. Then she held a local exhibition of women's handicrafts. Making the women more encouraged, she began with the early-return crafts like knitting, crocheting, making jewelry and pendants.
Further, during the eleven-year period, she was waiting for her U.S. Green Card when many of her family members were living in the U.S., she learnt massaging, traditional medicine, handicrafts, in an attempt to start a job in the U.S.
Maria, 49, got her high school diploma in applied sciences to fulfill her parents' wish on becoming a doctor. However, she changed her mind and began to learn artworks.
Maria, originally from the Iranian tribe of Bakhtiari, started with the art of painting with watercolor, miniature and leather painting.
Maria was aware that the small village of Garmeh is an attractive destination for tourists who visited there from more than 50 world countries.
In her first visit to Garmeh, Maria found that the only handicraft was basketry. Later, she understood that the art of weaving textiles were forgotten in that area and only 4 middle-aged women, knew the art of weaving towels.
Visiting the great number of tourists in the area and their interest to buy handicrafts, the idea sparks in Maria's mind and she began to take steps for helping people to earn more money out of the handicrafts.
Currently, about 50 people, mostly women, directly or indirectly, are earning their life under Maria's entrepreneurship.
All the women being trained and employed by Maria are the vulnerable rural women or breadwinner women being supported by State Welfare Organization of Iran and Imam Khomeini Relief Foundation, she explained.
The effect she made on desert area region of Khur and Biabanak is a fundamental effect, not merely in the surface, she believes.
The area is a tourist attracting area, however, in the last years no handicrafts were presented to the tourists visiting that field while today the most attractive handicrafts exhibitions are held by the people of the area, she stated.
"When I started to work on the handicrafts of the area not only the rural people, but the officials did not believe on the financial benefit of handicrafts," Maria explained.
Currently, designing clothes for the actors and actresses of Salman Farsi TV serial, Maria regretted she has never gained any revenues from tourism industry of the region but all from the handicraft.
Maria revived the old traditional outfit of women of that village teaching the needle works to women. She also creates dolls in the shape and dress of women of the area.
Comparing handicrafts to other industries of the area, Maria seriously believes that she has created a great change in the venue of people of the region.
Handicraft is the cultural indicator of people, as well as a source of revenue, she emphasized.
Maria believes that handicrafts creates no wastes and it is a safe at-home job for women.
Maria was aiming to introduce the culture of civilization of Iran to foreign tourists and to show the capabilities of Iranian women but she did not completely fulfilled her goal.
However, she gained a more important goal which was creating great positive change in life and viewpoint of women of the region.
The small number of women who already worked on handicrafts were embarrassed on selling their products while today the number of women working in this field has grown considerably and they proudly produce and sell their artwork, concluded Maria with great honor.
https://www.tehrantimes.com/news/432121/Iranian-female-entrepreneur-returns-from-U-S-to-empower-rural
--------
URL: https://www.newageislam.com/islam-women-feminism/turkey-10-year-challenge-women/d/117529
New Age Islam, Islam Online, Islamic Website, African Muslim News, Arab World News, South Asia News, Indian Muslim News, World Muslim News, Women in Islam, Islamic Feminism, Arab Women, Women In Arab, Islamophobia in America, Muslim Women in West, Islam Women and Feminism