New Age Islam News Bureau
24 Jun 2018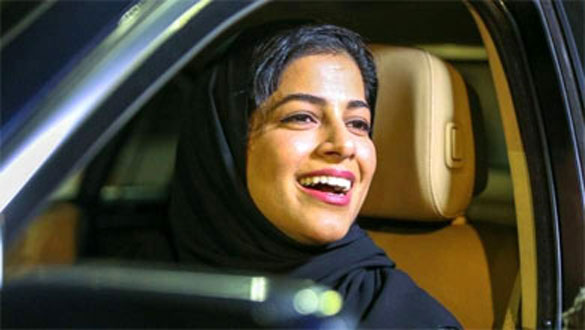 Scores of women drivers drove along busy Tahlia thoroughfare and other streets in the capital Riyadh.
-----
• Not Just Four-Wheelers, Saudi Women Want To Hit the Road on Two-Wheels
• Historic Day As Saudi Women Get Behind the Wheel to Drive
• Saudi Arabia's Jailed Trailblazers
• Bahraini, Saudi Women Filmed Crossing Borders After Driving Ban Lifted
• Malika Favre: Artist Who Put Saudi Women in the Driver's Seat
• Ban On Women's Entrance to Sports Stadiums in Iran
Compiled by New Age Islam News Bureau
URL: https://www.newageislam.com/islam-women-feminism/saudi-women-take-wheel-kingdom/d/115626
--------
Saudi Women Take the Wheel as the Kingdom Lifts the World's Last Remaining Ban on Females Driving
June 24, 2018
Saudi women are in the driver's seat for the first time in their country and steering their way through busy city streets just minutes after the world's last remaining ban on women driving was lifted on Sunday.
It's a euphoric and historic moment for women who have had to rely on their husbands, fathers, brothers and drivers to run basic errands, get to work, visit friends or even drop kids off at school. The ban had relegated women to the backseat, restricting when and how they move around.
But after midnight Sunday, Saudi women finally joined women around the world in being able to get behind the wheel of a car and simply drive.
"I'm speechless. I'm so excited it's actually happening," said Hessah al-Ajaji, who drove her family's Lexus down the capital's busy Tahlia Street after midnight.
Al-Ajaji had a US driver's license before obtaining a Saudi one and appeared comfortable at the wheel as she pulled up and parked. As for the male drivers on the road, "they were really supportive and cheering and smiling", she said.
In a few hours, she says she'll drive herself to work for the first time in Saudi Arabia.
For nearly three decades, outspoken Saudi women and the men who supported them had called for women to have the right to drive. They faced arrest for defying the ban as women in other Muslim countries drove freely.
In 1990, during the first driving campaign by activists, women who got behind the wheels of their cars in the capital, Riyadh, lost their jobs, faced severe stigmatization and were barred from travel abroad for a year.
Ultraconservatives in Saudi Arabia had long warned that allowing women to drive would lead to sin and expose women to harassment. Ahead of allowing women to drive, the Kingdom passed a law against sexual harassment with up to five years prison for the most severe cases.
Criticism against women driving has largely been muted since since King Salman announced last year that they would be allowed to drive.
Simultaneously, however, at least 10 of the most outspoken supporters of women's rights were arrested just weeks before the ban was lifted, signaling that only the king and his powerful son, Crown Prince Mohammed bin Salman, will decide the pace of change.
With state-backed support for the move, many Saudis now say they support the decision allowing women to drive and see it as long overdue.
Not all women are driving at once, though. The overwhelming majority of women in Saudi Arabia still don't have licenses. Many haven't had a chance to take the gender-segregated driving courses that were first offered to women only three months ago. There's also a waiting list of several months for the classes on offer in major cities. And the classes can be costly, running several hundred dollars.
Other women already own cars driven by chauffeurs and are in no rush to drive themselves. In many cases, women say they'll wait before rushing to drive to see how the situation on the streets pans out and how male drivers react.
"I will get my driver's license, but I won't drive because I have a driver. I am going to leave it for an emergency. It is one of my rights and I will keep it in my purse," said 60 year-old Lulwa al-Fireiji.
While some still quietly oppose the change, there are men openly embracing it.
"I see that this decision will make women equal to men and this will show us that women are capable of doing anything a man can do," said Fawaz al-Harbi. "I am very supportive and in fact I have been waiting for this decision so that my mother, my sisters will drive."
https://www.dawn.com/news/1415805/saudi-women-take-the-wheel-as-the-kingdom-lifts-the-worlds-last-remaining-ban-on-females-driving
--------
Not Just Four-Wheelers, Saudi Women Want To Hit the Road on Two-Wheels
June 23, 2018
RIYADH: As the clock struck 12 midnight, the decades-old ban on women driving was lifted in Saudi Arabia. What was unimaginable a few years ago has now become a reality.
Several women with foreign licenses have already obtained Saudi driving licenses and those who do not know driving are making full use of the infrastructure set in place to help them learn.
From Sunday onward, women behind the wheel will be a common sight on the Kingdom's roads. People should also prepare themselves to see women revving motorbikes as well.
Opting for the two-wheelers gives many women a sense of empowerment. Alia Abu Dhuhair, a Saudi banker from Tabuk, told Arab News that she had been passionate about bikes since her childhood.
"I love motorcycles because it reminds me of the good old days when we used to go to the beach. We used to ride them there."
"It made me feel happy and free. I wish to ride a motorcycle instead of a car. It is faster, without any parking hassles and one feels free and cool," she said.
Shahad Al-Harbi, a Saudi marketing student in Chicago, is also a bike lover, who finds biking an adrenaline-pumping activity. She said she had tried riding a bike with one of her friends in Chicago. "It was really an amazing experience."
Both the Saudi bike lovers agree that Harley-Davidson motorcycles are the best in the world. As a matter of fact, Harley-Davidson is the dream of every person passionate about motorbikes.
"The brand is also very popular here in Saudi Arabia. Harley-Davidson is special because of its unique design, strength and luxury," said Abu Dhuhair.
Both believe that their parents might not encourage them to ride motorbikes mainly because of safety concerns.
Al-Harbi said: "My parents are very protective and I do not think they will be supportive of the idea. They may feel uneasy because of the stories we hear about accidents involving motorbikes."
"I believe Saudi women will prove to be good motorcyclists because they drive cautiously and strictly follow traffic rules," she added.
In Saudi Arabia and many other countries, it is mandatory to obtain a license to ride a bike. Like elsewhere, there are training institutes in the Kingdom.
Wael bin Huraib, director of the Bikers Skill Institute, told Arab News about the institute and what programs it offers to women.
"We train people who are passionate about. All of our instructors are well experienced and certified," he said.
The Riyadh-based Bikers Skill Institute is considered the first institute to conduct structured motorbike training in Saudi Arabia. Established in 2011, the institute mainly focuses on safety through skills and offers courses, such as the Basic Motorcycle Riding, Smart Riding, Top Gun, Motogymkhana, Off-Road Trainings and Kids Motorcycle Schools. It not only offers training to males but has also designed special courses for women.
Huraib said: "The females' section is well equipped and has female trainers. The courses comply with international standards and generally consist of two parts — theory and field training."
Harley-Davidson has been operating in Saudi Arabia since 2004. Initially, it started operations from Riyadh but over time it has expanded to other cities such as Jeddah and Alkhobar.
The CEO of Harley Davidson in Saudi Arabia, Mishal Al-Mutlaq, said: "We care about the safety of our clients so we focus on the safety features of our motorcycles. These days, the number of women visiting our stores has increased. We have brought in feminine colors that will be appreciated more by females. A motorcycle is just like a car. Its features and engine have nothing to do with genders. Women can drive all kinds of Harley-Davidson motorcycles like their male counterparts."
Harley-Davidson is famous for organizing events like motorbike rallies, especially for its members.
When asked about the possibility of organizing such an event in the Kingdom, he said: "In the near future, we might consider a special event for females and hire females in our stores as trainers and in the sales department. We use to have female employees in the female accessories section. We are planning to focus on that more."
"Today the store does not only have motorcycles but also accessories, souvenirs and clothes for females so we are used to seeing females in the store buying things from us."
The Saudi Driving School in Princess Noura University also offers a motorbike driver's license. As its website says, the requirements for obtaining a motorbike license are simple. "The candidates must be 16 or older, unlike the private driver's license, where the applicants must be 18 or older. To obtain a motorbike driver's license, the applicant also needs to bring written permission from a guardian if she is under 18, along with official documents like IDs and photos.
http://www.arabnews.com/node/1326821/saudi-arabia
--------
Historic Day As Saudi Women Get Behind the Wheel to Drive
24 June 2018
Saudi women were officially able to drive at the stroke of midnight on June 24 as a royal decree granting them the right to drivers' licenses came into effect.
Traffic departments have begun implementing carefully planned procedures in preparation for the influx of cars expected to be on the roads. There is currently a 500 to 900 riyal imposed on women who drive before the ban is officially lifted.
"As a Saudi woman who has grown up with multiple expat drivers taking me around, it is empowering to know that I can soon explore my own country while in the driver's seat. I would be able to go to the pharmacy or buy groceries without waiting for someone to take me around," Saudi citizen Jasmine Bager told Al Arabiya English months ahead of the June 24 expected day when the decree would come into effect.
"I think Saudi women—and men—have been ready for this change for some time. But like most things in the Kingdom, it took time to shift the minds as well as the hearts and prepare for the logistics of this," she added.
"Today we are making history in the Kingdom. Our country was supporting the women and empowering them in the past decades and this one of the major steps in empowering the Saudi women. Now families can save the salaries of the drivers and benefit from it," another citzen, Shahd, told Al Arabiya English from Jeddah.
https://english.alarabiya.net/en/News/gulf/2018/06/24/-SaudiWomenDriving-officially-comes-into-effect-across-the-kingdom.html
--------
Saudi Arabia's Jailed Trailblazers
June 23, 2018
DUBAI: Saudi authorities have in the past two months detained at least 16 people, including several identified as women's rights activists, on accusations of treason.
The crackdown comes even as the kingdom breaks with long-held restrictions on women's lives, preparing to lift the world's only ban on female motorists on Sunday.
That was a goal some of the detainees had championed for decades, but credit for the policy change has gone to young Crown Prince Mohammed bin Salman, architect of an aggressively marketed reform package.
Some of those detained have since been released.
But for Saudi activists, their arrests confirmed that even if the monarchy dictates the easing of some social restrictions, it will resist granting any modicum of democracy.
Three of the most prominent figures who continue to languish in detention are Loujain al-Hathloul, Aziza al-Yousef, and Ibrahim al-Modaimegh.
Loujain al-Hathloul was among a group of women's rights activists arrested in mid-May.
The 28-year-old has long campaigned for women to be able to drive and an end to the kingdom's notorious guardianship system, which requires women to get permission from male relatives for many decisions.
This was not the first time Hathloul, from the conservative central region of Al-Qassim, has been behind bars.
Saudi authorities put her in juvenile detention in late 2014 when she tried to drive into the kingdom from the neighbouring United Arab Emirates.
Hathloul was freed 73 days later following an international campaign.
Her most recent arrest triggered a smear campaign in the pro-government press, which printed her photo along with those of fellow feminists, branding them 'traitors'.
Another activist, who declined to be named over fears for her family's safety, told AFP that Hathloul represented Saudi Arabia's modern feminists.
"Loujain is the young rebel woman from Al-Qassim who embodies global values… and calls out the (lies) of the state," she said.
On May 19, Hathloul's face was printed on the cover of Saudi Arabia's Al-Jazirah newspaper, alongside fellow activist Aziza al-Yousef, with the headline: "Your betrayal has failed".
If Loujain al-Hathloul represents Saudi Arabia's young, outward-looking feminists, fellow activists say Aziza al-Yousef embodies an older generation of trailblazers.
Yousef, 61, was one of a small number of women who responded to calls to defy the kingdom's driving ban in 2013 and again in 2014.
The retired university professor in 2016 attempted to deliver a petition to the Royal Court, signed by thousands of Saudis, demanding an end to the guardianship system that gives men control over their female relatives' rights to study, marriage and travel.
Yousef has also spoken out against domestic violence, condemning the "lenient" eight-year sentence handed to a Saudi preacher convicted of raping and killing his young daughter in 2011.
Unlike many of her younger counterparts, Yousef expresses her arguments for women's rights through the lens of Islam.
"Aziza is different. She's wearing her (head) scarf. She's speaking the language of the traditional. She represents a unique model that is tolerant to all," a fellow activist said.
"That's why the Saudi state is angry. She embodies both progressive and traditional norms."
While younger campaigners are dismissed by some as products of Westernisation, out of touch with their religion, Yousef maintains her religious credentials, the activist said.
"Aziza is very much committed to Islam," she added. "She talked about how Islam respected women."
Attorney Ibrahim al-Modaimegh has come out of retirement in recent years to defend his fellow feminists.
As a senior legal figure, he was long protected by his stature, other activists say.
He had served on the kingdom's top legislative councils and helped draft many of its laws.
"He retired about seven years ago, but he has taken on almost all of the activists' cases," a Saudi activist told AFP on condition of anonymity.
The respected lawyer worked particularly hard to defend women who defied the kingdom's notorious driving ban.
"That was one thing the government seems really angry about," the activist said.
In mid-May, he was swept up in the crackdown on feminists he had spent years defending, with the pro-government press branding him "the devil's advocate".
https://nation.com.pk/23-Jun-2018/saudi-arabias-jailed-trailblazers
--------
Bahraini, Saudi Women Filmed Crossing Borders After Driving Ban Lifted
24 June 2018
A group of Bahraini women could not hold their excitement at being the "first" to drive into Saudi Arabia since the kingdom lifted its ban on women drivers on Sunday.
The women filmed the moment they crossed the border.
Tweet reads: Nadia Fayez, first Bahraini to enter Saudi Arabia while driving after the ban was lifted.
They received documentation to prove they were the first Bahraini females to drive into the kingdom, according to the video.
Previously, Bahraini women would have to switch with a male driver before entering into Saudi Arabia.
Another video showed the first Saudi woman to enter the kingdom from Kuwait, according to the border officer who filmed the moment.
Tweet reads: Saudi women crossing into their country through Al-Khafji border, Kuwait.
Saudi women were officially able to drive at the stroke of midnight on June 24 as a royal decree granting them the right to drivers' licenses came into effect.
Traffic departments have begun implementing carefully planned procedures in preparation for the influx of cars expected to be on the roads.
https://english.alarabiya.net/en/News/gulf/2018/06/24/WATCH-Bahraini-Saudi-women-crossing-borders-for-first-time-after-driving-ban-lifted.html
--------
Malika Favre: Artist Who Put Saudi Women in the Driver's Seat
June 24, 2018
French artist Malika Favre has created iconic covers for "The New Yorker" magazine, with animations that have gone viral online. So she was the natural choice for Arab News to illustrate our souvenir edition commemorating the day when women are allowed to drive in Saudi Arabia.
As Faisal J. Abbas, editor in chief of Arab News, explained: "Our website and newspaper — which today features a striking cover illustration by artist Malika Favre — will provide comprehensive coverage of both the immediate impact and wide-reaching, long-term social benefits of this move."
From her base in London, Favre explained why the idea immediately appealed. "For me, it's exactly the kind of subject that I want to work with and tackle today. I've been increasingly involved with women's issues over the past few years, with The New Yorker as well.
"These stepping stones are extremely important, and they should be celebrated. It's also something that as a woman I feel very strongly about."
What made our global creative director, Simon Khalil, think that the in-demand artist would take his assignment on? "As a champion of women for years through her unique creative style, Malika Favre was the obvious choice," he said. "Her illustration brilliantly captures the significance of this moment on the day Saudi Arabia changed forever."
For the illustration, called "Start Your Engines," Favre began with the idea of "something quite subtle, not aggressive, something celebratory," coming up with an image of a "beautiful, Arabic woman" that tells a story within a story.
"So, basically, I had this idea of looking at the car from the point of view of the woman who is driving, and so maybe the first thing you see is a woman with a headscarf and quite a colorful image, but then on the second layer you see what's happening and you see that she is driving the car," Favre said.
The image of her hands on the wheel, and that iconic Gulf vehicle, a white SUV, are reflected in her sunglasses. These are animated online. "I really like the idea of this woman being on the road, because I think symbolically it's about going forward," she said. "That is also a positive element, to create a positive image of what this historic moment will change."
The topic also resonated with Favre because her mother, while she was born in France, is Algerian. "For her, she always wanted to have the same rights as everyone else. She was a big advocate for that. She raised me in that way as well. So for her it's also an important cover on a personal level."
When asked about her favorite assignments, Favre referenced "Operating Theatre" for The New Yorker's "Health, Medicine & the Body" issue last year.
"It was an extremely important project because it went totally viral."
In her illustration, female surgeons are arranged in a circle looking down, as if the viewer is on the operating table. In the animation, the image is viewed as if through a blinking eyelid. Women surgeons around the world started re-enacting Favre's cover, sharing more than 5,000 photos, with the hashtags #NYerORCoverChallenge and #ILookLikeASurgeon.
"For me, it was a very important moment," Favre said. "It reached out to an audience that wasn't design-focused. It was something very profound that spoke to these women, and they took it as a very strong statement of let's celebrate women surgeons."
Does Favre think the women of Saudi Arabia are up for such an assignment? "I think it definitely has the potential to do that as well," she said. Challenge accepted.
• Download our free #SaudiWomenCanDrive mobile phone background designed by renowned artist Malika Favre: https://startyourengines.21wallpaper.design
http://www.arabnews.com/node/1326996/media
--------
Ban On Women's Entrance to Sports Stadiums in Iran
21 June 2018
Ban on women's entrance to sports stadiums in Iran made headlines this week again in light of the FIVB Volleyball Nations League.
Rahmani Fazli, member of the mullahs' parliament (Majlis), announced that the Ministry of Sports is opposed to women's presence in sports stadiums. In response to a question on ban on women's entrance to sports stadiums, Fazli said, "The Ministry of Sports has announced in writing that 'we cannot accept the responsibility of women's security alongside men in stadiums." (The official IRNA news agency - June 21, 2018)
Tehran will be hosting the teams from Bulgaria, South Korea and Germany in the FIVB Volleyball Nations League from June 22-24.
An official of the Volleyball Federation talked to IRNA news agency on June 17, 2018, on condition of anonymity on the ban on women's entrance to sports stadiums. He said, "The conditions for the entry of women spectators is similar to last year and nothing has changed."
The tickets for the Nations League are sold on the internet, and interestingly enough, there is a separate section on the website for sale of ticket to women but once the option is chosen, the message reads, "The quota for this game does not include enough tickets for sale as requested." (The official IRNA news agency - June 17, 2018)
Last month, the Minister of Sports attended a meeting with the Sports Commission of Majlis on May 7, 2018, regarding the ban on women's entrance to sports stadiums. After the meeting, Ahad Azadikhah, member of the parliamentary Sports Commission, cited the minister as saying that the entry of women spectators to closed stadiums to watch volleyball, basketball and track and field competitions has been resolved. With the approach of the Volleyball Nations League, however, it has become clear that the ban is still in force.
The ban on women's entrance to sports stadiums and volleyball games has been officially enforced since 2013 by the State Security Force. Since then, the problem of Iranian women's entry to stadiums has remained unsolved.
https://women.ncr-iran.org/iran-women-news/5270-ban-on-women-s-entrance-to-sports-stadiums-in-iran
--------
URL: https://www.newageislam.com/islam-women-feminism/saudi-women-take-wheel-kingdom/d/115626
New Age Islam, Islam Online, Islamic Website, African Muslim News, Arab World News, South Asia News, Indian Muslim News, World Muslim News, Women in Islam, Islamic Feminism, Arab Women, Women In Arab, Islamophobia in America, Muslim Women in West, Islam Women and Feminism