New Age Islam News Bureau
24 Sept 2014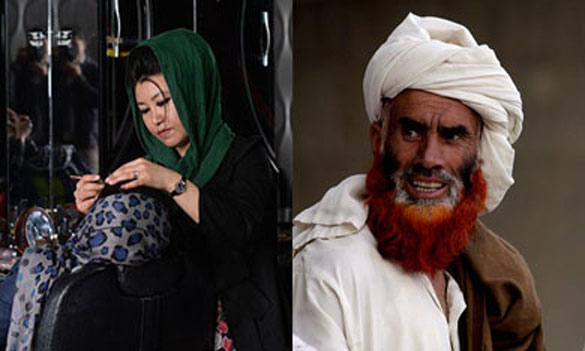 Imams, Beauticians to Help Motivate Mothers to Breastfeed
---------
• Saba Gul: A Family's Knight in Shining Armour Killed in Suicide Bombing in Peshawar
• Tribal Women Bear the Brunt of Military Operation in NW Pakistan
• Women at Pakistan Awami Tehreek Sit-In Eager to Go Home
• Turkey Lifts Ban on Headscarves at High Schools
• Makkawi Women Set For Haram Visit on Arafat Day
• Why Do Muslim Women Wear A Burqa, Niqab Or Hijab?
Compiled by New Age Islam News Bureau
URL: https://www.newageislam.com/islam,-women-and-feminism/new-age-islam-news-bureau/pakistani-imams,-beauticians-to-help-motivate-mothers-to-breastfeed-infants/d/99236
---------
Pakistani Imams, Beauticians to Help Motivate Mothers to Breastfeed Infants
September 24th, 2014
KARACHI: The provincial government plans to get prayer leaders (Pesh Imams) and beauticians involved in its future awareness campaign for mothers to convince them that it would benefit their own health as well as that of infants if they were breastfed, a media seminar was told on Tuesday.
Nasir Hussain Shah, a member of the Infant Feeding Board — also a member of the ruling Pakistan People's Party (PPP) — said the government had plans to engage imams across the province in its awareness campaign to encourage mothers to opt for breastfeeding as the only feeding source for their newborns.
Also read: Govt approves draft law on breastfeeding
It was the concluding session of the two-day workshop organised by Mishal, an advocacy concern focusing on healthcare issues for several international health organisations, in a local hotel.
Breastfeeding and neonatal problems were the key issues highlighted at the event to sensitise the journalists covering the healthcare sector.
Mr Shah, also a member of the Sindh Assembly, said the government's focus was on getting mothers and families sensitised on the fact that how breastfeeding was important for the newborns, particularly for the initial six months, as that protected them against many diseases and infections.
"We have plans to get mosque leaders in the loop through a rigorous media campaign to disseminate our message uniformly to all the mothers in Sindh," he added.
Dr Zafar Ijaz, director of health for Karachi division, agreed to the suggestion that beauticians should also be engaged in the awareness campaign.
Iqbal Detho of the Save the Children said vaccination in Pakistan was just 29pc and the situation was even worse in Sindh where just Rs100 million had been allocated in the budget for the current fiscal year for vaccination.
Dr Iqbal Memon of the Pakistan Paediatric Association said over 450,000 children died before the age of five of whom 300,000 children died every year in Pakistan because of malnutrition.
Journalist Mubashir Zaidi said the media was acting as an agent of change but seemed to be losing its direction by focusing more on politics and conflict areas than reporting on social issues, including health and education.
http://www.dawn.com/news/1133877/imams-beauticians-to-help-motivate-mothers-to-breastfeed-infants
-------------
Saba Gul: A Family's Knight in Shining Armour Killed in Suicide Bombing in Peshawar
By Riaz Ahmad
September 24, 2014
PESHAWAR: At just 20 years of age, Saba Gul, the sole bread earner of her family, had her whole life ahead. However, it was tragically cut short when she was at the wrong place at the wrong time on Tuesday just as a suicide bomber targeted an FC convoy near the Peshawar Press Club.
Saba, a resident of Kotla Mohsin Khan, was on the way to a hospital with her sister when the explosion occurred, killing her on the spot. Her sister, luckily, escaped unhurt.
"She worked as a helper in a government school and was the only earning member of the family," said 60-year-old Noor Muhammad, Saba's father.
"I have five sons and four daughters. Out of them, two boys are working—one as a watchman and the other has a pushcart. However, they both left us after marriage and it was Saba who took a job in a government school and supported the family," he said. Noor said both sisters were suffering from asthma and were heading to the hospital when the attack took place.
"She was better than any of my sons and bravely supported the family, including me and her younger siblings," Noor recalled. He said that the family owns two cows and sells milk but it would be difficult to make ends meet now without his daughter's salary.
While saying it was fortunate and almost miraculous that his other daughter escaped unhurt, the bereaved father explained that ball bearings pierced Saba's back, killing her.
"Good people die young. I am worried about my other children as I am an old man and they are only of school-going age," he added.
Her neighbours told The Express Tribune that Saba was an upstanding individual who worked hard to provide for her family. "They lived in a small five-marla house and had no other means of earning a living other than Saba's job," one of them said.
http://tribune.com.pk/story/766335/saba-gul-a-familys-knight-in-shining-armour/
-------------
Tribal Women Bear the Brunt of Military Operation in NW Pakistan
September 24th, 2014
ISLAMABAD: The ongoing military operation in North Waziristan has affected the tribal women the most.
According to many personal accounts presented at a seminar here on Tuesday, cultural barriers and the lack of documents were some of the hurdles in providing assistance to most of the women displaced by the operation.
"I saw a woman crying for help for her injured husband who got his ribcage broken while collecting ration. But the so-called social and cultural taboos did not allow her to move her husband to a nearby hospital," said Maryam Bibi, a social worker while sharing her experience of working at an internally displaced persons camp.
The seminar was organised by Women Action Forum on the premises of the National Commission on the Status of Women to highlight the issues pertaining women and children.
Also read: KP govt, WHO get together for displaced women's health
Maryam Bibi said during her visits to the IDP camps she noticed that the second wife was not allowed to get herself registered for aid because she did not have documents to show her the member of a particular family.
"In Fata, usually men have two or three wives, but they do not get their second and third wife documented."
In the IDP camps, there were hundreds of such women who were unable to get themselves registered for aid, she said.
Maryam said cultural restrictions did not allow women to move freely in camps or even at their native land in Fata.
"In their native land, Jirga, Hujra and Masjid decide their fate," she said.
The participants of the seminar were of the view that the ongoing military operation in North Waziristan and floods in various parts of the country had badly affected women and there was an urgent need to mitigate their sufferings.
Social worker Gulalai Ismail said disaster snatched identities of the people, leaving them with only one identity called "IDPs".
"It is extremely important to understand the issues of the displaced people, especially of women. The government should listen to their woes," she said.
Right activists Arifa Mazhar, Nasreen Azhar, Naseer Memon and others also shed lights on the sufferings of the IDPs who left their homes due to the military operation and floods. Mr Memon briefed the participants on the problems being confronted by the flood survivors.
In her concluding remarks, Dr Maimoona Rauf Khan of Women Action Forum urged the government to empower women, particularly those who were living in the camps.
"All stakeholders have to play their role in protecting and promoting the rights of women by countering all forms of oppression," she said.
September 24th, 2014
http://www.dawn.com/news/1133947/tribal-women-bear-the-brunt-of-military-operation-in-north-waziristan
-------------
Women at Pakistan Awami Tehreek sit-in eager to go home
By Irfan Haider
September 24th, 2014
ISLAMABAD: Twenty-two-year-old Rabia Saeed was looking forward to being home as her father reached Islamabad to take her back after she spent 40 days in the sit-in of Pakistan Awami Tehreek (PAT).
A resident of Shorkot tehsil of Jhang, Rabia attended the sit-in along with her fellow students and teachers from Minhajul Quran University in Lahore on the direction of PAT chief Dr Tahirul Qadri.
Know more: PAT chief refuses to allow sit-in participants to go home
"The PAT chief asked all students, his followers and supporters to reach Islamabad to bring a revolution in the country," Rabia said.
She said she also asked her parents to join her in Islamabad but they refused as her father, a farmer, could not leave his work.
"My father allowed me to join the sit-in but he did not expect me to be camping under the open sky for 40 days. These have been the most difficult days of our lives as living on the streets was not an easy task."
Rabia said she had contracted fever and throat infection for nearly two weeks because of the unhygienic conditions in the camps.
Saeed Chaudhry, Rabia's father, told Dawn that in retrospect he considered it to be a mistake to allow his daughter to participate in the sit-in.
"I was expecting the sit-in to be over in a week and for my daughter to be back. It is difficult to understand why the PAT chief failed to bring a revolution while the sit-ins added to the difficulties of the people of Pakistan," he said.
"Do you think it was easy for my wife and me to sleep comfortably while our daughter was sleeping under the open sky for five weeks?"
Like Rabia Saeed, Nabeela Jabbar, 29, a resident of Narowal district, was leaving the sit-in with her brother.
"I was only interested in getting a religious education which is why I convinced my parents to allow me to get admission to Minhajul Quran University in Lahore," Nabeela said.
After completing her education at the university, she started working as a teacher there.
"Though I believe that Dr Qadri's demands about the facilities of education, healthcare and job opportunities for the youth are genuine it is difficult for women to live under such difficult circumstances outside the Parliament House," she added.
Nabeela said her mother had been calling her on daily basis because she was worried when she heard about the clashes between the police and protesters.
Saad Jabbar, Rabia's elder brother, said it was unfortunate that religious scholars like the PAT chief were using women and children as pawns in pursuit of their agendas.
A resident of Lahore, 27-year-old Uzma Akhtar also reached Islamabad along with her friends on August 15.
"I am doing masters in Islamic Studies at the Punjab University, Lahore. My friend and neighbours asked me to join the sit-in of PAT in Islamabad," Uzma said.
"I thought that it was a good opportunity to be part of a movement to bring a revolution besides seeing the federal capital for the first time in my life." She said it was very difficult to be at the sit-in day and night and she had been telling her friends that she wanted to go home.
"My friends are teachers and students at the Minhajul Quran University and they told me that bringing a revolution would need some more days."
She said her mother had told her that she was coming to Islamabad to take her home.
"Some other young women from Lahore at the PAT sit-in told me that they also wanted to go home," she said.
According to the women participants of the sit-ins, hundreds of families and single girls had already left Islamabad during the last three weeks while dozens of others, including the students and teachers of the Minhajul Quran institutions, wanted to return to their areas as soon as possible.
When contacted, Umar Riaz Abbasi, the spokesman for PAT, said while the suffering of the people were increasing due to the prolonged sit-in, it was the responsibility of the government to overcome the political crisis through peaceful dialogue.
He said hundreds of families had left the sit-in due to their personal problems at home and it was also unfortunate that some people lost their homes and incurred damages to property in their native villages due to the flooding in Punjab and AJK. He said the PAT leadership had never forced anyone to stay at the sit-in but the participants were requested to spend maximum time at the venue.
http://www.dawn.com/news/1133946/women-at-pakistan-awami-tehreek-sit-in-eager-to-go-home
-------------
Turkey lifts ban on headscarves at high schools
September 24th, 2014
ANKARA: The Turkish government announced it was lifting a ban on female students wearing the Islamic headscarf at high schools, in a move denounced by opponents as undermining the basis of the country's secular society.
President Recep Tayyip Erdogan, who co-founded the ruling Islamic-rooted Justice and Development Party (AKP), has long been accused by opponents of eroding the secular values of the modern Turkish state.
Deputy Prime Minister Bulent Arinc, a close Erdogan ally, said that an amendment was made to the dress code regulations for female students to say they will not be forced to keep their heads uncovered.
"I know that some female students were longing for (this amendment) to high school regulations," Arinc told reporters after the cabinet meeting late on Monday.
Prime Minister Ahmet Davutoglu welcomed the amendment as an effort for "democratisation. "
"This should not only be seen as the lifting of the ban on the wearing of headscarf," Davutoglu told the private NTV television Monday.
"There has been an effort for freedoms and democratisation in every sphere."
Kamuran Karaca, head of the Egitim-Sen education union, said that the measures would provoke a "trauma" in Turkey.
"Turkish society is heading back to the Middle Ages through the exploitation of religion," he said.
Last year, Turkey lifted a long-standing ban on women wearing the headscarf in state institutions as part of a package of reforms to bolster freedoms and democracy – which drew the ire of secularists who denounced the move as an attempt to Islamise the staunchly secular country.
Women can already wear the Islamic headscarf – known as the hejab – in universities. The wives of most AKP ministers wear the hejab, as does Erdogan's wife Emine.
The founder of modern Turkey, Mustafa Kemal Ataturk, based the post-Ottoman republic on a strict separation between religion and state.
Critics accuse Erdogan, who last month moved to the post of president after over a decade as prime minister, of seeking to undermine Ataturk's legacy, charges he denies.
http://www.dawn.com/news/1133835/turkey-lifts-ban-on-headscarves-at-high-schools
-------------
Makkawi women set for Haram visit on Arafat Day
September 23, 2014
Saudi Gazette report
MAKKAH — Makkawi women have made it a habit for many years to visit the Grand Mosque on the Day of Arafat, when all pilgrims assemble on the plain.
On this day, the Haram is usually empty and women can easily do their Tawaf (circumambulation) and Sa'i (traveling back and forth seven times between Safaa and Marwah hillocks).
They usually stay in the Grand Mosque from early morning until late in the evening.
According to Makkah daily on Monday, the General Presidency of the Affairs of the Two Holy Mosques has prepared a special dawa (call) program for these women.
The presidency will deploy about 1,000 female preachers to extend religious guidance to women visitors and answer their religious queries.
The preachers, who are qualified and well trained on dawa matters, will also distribute religious books, pamphlets and CDs to the Makkawi women.
Meanwhile, the presidency's department for the distribution of Zamzam water said more than 110 of its personnel will be supervising the distribution of the sacred water inside the Grand Mosque.
Head of the department Ahmed Al-Matrafi said more than 6,000 thermoses containing cold Zamzam water have been placed in various parts of the Grand Mosque.
"There will also be 316 marble taps and 267 steel containers in the Grand Mosque that the pilgrims can use to drink the blessed water," he added.
Al-Matrafi said the daily water consumption during the Haj season is about 1,511 cubic meters.
He added that 293 cubic meters of Zamzam water are sent to the Prophet's Mosque in Madinah every day.
On the other hand, the National Water Company (NWC) said as of early September it has produced 78 million bottles of various sizes containing Zamzam water.
The company is the main operator of the project of Custodian of the Two Holy Mosques King Abdullah to provide Zamzam water to pilgrims.
The company also said it has contracted a specialized firm to package and transport the Zamzam water that the pilgrims will be taking home with them. It said 10 points of services have been established in the airports from where the pilgrims will depart.
http://www.saudigazette.com.sa/index.cfm?method=home.regcon&contentid=20140924219184
-------------
Why Do Muslim Women Wear A Burqa, Niqab Or Hijab?
September 24th, 2014
It has been called a security risk and a "flag of fundamentalism", there have been calls to ban it and it has been associated with terrorism.
So what exactly is the Burqa? And why do some Muslim women wear it?
Raihan Ismail is a lecturer in Middle East Politics and Islamic Studies at the Australian National University.
Dr Ismail spoke with 666 ABC Canberra to answer some common questions about the Burqa.
Why do some Muslim women wear Burqas?
The Koran calls for both men and women to 'cover and be modest'.
As with many other religious scriptures, the reference to dress is open to interpretation and has been shaped by centuries of cultures in different nations.
"The Koran does not explicitly say you have to cover yourself in this manner," Dr Ismail said.
"Some scholars argue that it is a religious obligation, particularly the more conservative factions within the Muslim world. There are many variations and interpretations."
Dr Ismail is a Muslim and has been wearing her Hijab since she was a child.
"I'm so comfortable wearing it that I can't imagine myself without it. I wear it for cultural reasons, but there are many women who wear it for religious reasons."
Is it a Burqa, Niqab or Hijab?
The use of the term Burqa in Australia is often confused with what is actually the Niqab.
The Burqa covers the entire body including the whole face, with a mesh window for the woman to see out of.
The Niqab covers the whole body including the face with the exception of the woman's eyes.
"The Niqab is more accurate; people rarely wear the Burqa in Australia," Dr Ismail said.
"In Australia people mostly wear the Hijab in lots of different styles."
The Hijab covers the hair and chest and is common among Muslim women in South East Asia.
Hijab is also a general term referring to the practice of wearing veils of all kinds.
Are some Muslim women forced to wear a Burqa or Niqab?
In Australia Dr Ismail said that the reasons women wear veils of all kinds vary widely and take in influences from culture, fashion as well as religion.
"Some women wear it because they strongly believe it is their religious obligation," she said.
Dr Ismail does concede that some women may be pressured into covering themselves.
"There is a possibility that some husbands would tell their wives 'please wear the Niqab, I don't want any other men to see you' which is possessive," she said.
"When it comes to that, the problem is not the Niqab; it is being married to someone who is possessive and oppressive."
Should the Burqa be banned?
Dr Ismail does not agree that banning the Burqa in Australia would solve the problem of oppression.
"By banning the Burqa or Niqab you are preventing some women in freely practising what they believe in," she said.
"You would probably isolate these women because they would not be able to go out."
Muslim women do not wear a veil in front of their immediate family, which usually means a Niqab or Hijab is not worn at home.
What is your personal experience of wearing the Hijab?
As a Muslim woman who wears the Hijab, Dr Ismail has had some negative experiences in Canberra.
"Once in a while, people call me a terrorist," she said.
"My first experience in Australia [involved] two women behind me who said 'they are everywhere, it's like a disease'.
"They pushed me a little bit and started laughing; I was so heartbroken."
Though confronting and upsetting, Dr Ismail said this kind of experience is in the minority.
"In Canberra people are so lovely, sometimes people just smile at me, and that is just so nice," she said.
http://www.abc.net.au/news/2014-09-23/why-do-muslim-women-wear-a-Burqa-Niqab-or-Hijab/5761510
-----
URL: https://www.newageislam.com/islam,-women-and-feminism/new-age-islam-news-bureau/pakistani-imams,-beauticians-to-help-motivate-mothers-to-breastfeed-infants/d/99236