New Age Islam News Bureau
22 Dec 2019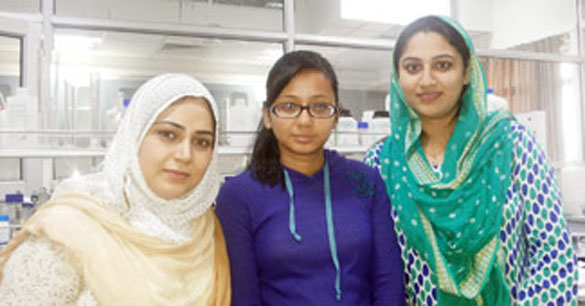 Right now all we want to do is fight against CAA and we are hopeful that the courts will listen to us and also investigate who all were responsible for injuring my friends in Jamia.
-----
• No Holding Back For These Jamia Girls Protesting Against Citizenship Amendment Act
• 629 Pakistani Girls Sold As Brides To China
• Hundreds Of Fatherless Brides Tie The Knot In A Mass Wedding Ceremony In India Funded By Diamond Tycoon Who Says He Feels A 'Social Responsibility' To Marry Off Single Women
• Yuletide: Muslim Woman Decorates CAN Chairman's House in Kaduna with Christmas Tree
• With Bid to Strengthening Muslims and Christians Relation
• False Claim: Muslim Woman Masquerading As Hindu During Anti-CAA Protest
Compiled By New Age Islam News Bureau
URL: https://www.newageislam.com/islam-women-feminism/no-holding-back-jamia-girls/d/120593
------
No holding back for these Jamia girls protesting against Citizenship Amendment Act
Dec 22, 2019
NEW DELHI: On any regular day, Nargis, a student pursuing Masters in Chemistry at Jamia Milia Islamia, would begin her day by attending classes, meet her friends after the class, go visit the Jamia Central library and then head straight to hostel campus.
Clad in a Hijab and worried about all the project deadlines for her masters, Nargis would often sit in the library to collect study material, hoard the best of books and sit outside the Zakir Hussain Library and discuss all things under the blue sky with her friends on winter afternoons.
"It was the best of times, we would sit over there and study for hours," Nargis says while pointing towards the building which has now been shut following Delhi Police's crackdown on the students of the university.
girl 2
The recent protests against the Citizenship Amendment Bill broke her heart.
On December 12, President Ram Nath Kovind gave his assent to the Citizenship (Amendment) Bill turning it into an Act. The controversial Act grants Indian citizenship to persecuted minorities belonging to Hindu, Sikh, Buddhist, Jain, Parsi, and Christian communities in Afghanistan, Bangladesh and Pakistan. The Act excludes Muslims. The passage of the Bill was vehemently opposed by opposition parties and resulted in widespread protests across the country. On December 15, Delhi Police stormed the campus of Jamia Millia Islamia University after a local protest against the Act took a violent turn.
The university administration alleges that the police vandalised the campus, fired tear gas inside the library, where students were studying, physically assaulted the staff and the students resulting in injury to dozens of students. The police also detained 50 students who were released the next day. The violence in the university sent shockwaves across the nation.
girl 4
The university has since then wore a deserted look. However, violence has failed to deter the likes of Nargis and her friends from protesting.
The new legislation which the government has announced that it plans to implement pan-India has, like so many other students of the University, made her insecure, angry and anxious.
Nargis, who hails from Uttar Pradesh, has been attending the protests against the Citizenship Amendment Bill since December 15, when the protests turned violent and many Jamia students were badly beaten up by the Delhi police. "I am coming to the protests every day. Many of my friends from West Bengal, Bihar who were living in hostels have gone back but since I have relatives here, I am coming each day. We will not stay silent and the protests will go on till our demands are met," she says.
girl 5
Nargis' parents, who have mostly been conservative and worried about their daughter living alone in a big city, are supportive of her to actively participate in the protests. "Earlier they asked me not to go anywhere but after they saw what happened with the Jamia university students, they did not stop me from joining the marches but also told me to be safe," she says.
Nargis along with her friends including Ayesha and Shehnaz is not in the mood to settle down with what they consider a discriminatory action of the government against a few communities.
Her friend Shehnaz, a student of B.Ed at Jamia Milia Islamia, is also concerned about her studies. She says that her mind is split into two things: The protest and the upcoming exams. "We keep watching the news. There were a lot of viral videos of Jamia students being attacked by Delhi police. We were very disturbed by all those visuals. We are unable to focus on our studies. How can we study in such tough times?" Shehnaz questions.
Another friend of the duo, Ayesha, who is also doing her masters in Chemistry, says she is deeply upset with the way the protest was dealt with. "Even JNU does so many protests, when did the police enter their campus?" She asks.
girl 1
Even Ayesha's parents are backing her in the dissent by Jamia students against the act. "My dad said go and join the protests and now I am not scared at all. I don't know why the students ran away. I am attending the protests since day one and I will come each day."
The parents have been immensely supportive. Sayyed Shakil, Ayesha's father, says that he is proud of her daughter's move and that the protest should be taken forward peacefully so that no student gets harmed. "There are hundreds of children taking part in protests. Why would I stop my daughter from participating?" he asks.
Fatima, a Jamia student from Kashmir is attending the protests across the city to voice her dissent against the Act and the atrocities against Jamia students. She says there has been a tremendous amount of pressure and the students have lived in fear. "So many of them left the hostel after what happened but we couldn't even go back because the tickets were expensive. For a few days, even the hostel authorities asked us to leave the hostel. We were deeply disturbed but we didn't leave. Now more students are coming back again," Fatima says.
Simi, a student of finance at the university says that she is very upset about how the whole protest was treated by the authorities but is optimistic that they will get justice.
"Right now all we want to do is fight against CAA and we are hopeful that the courts will listen to us and also investigate who all were responsible for injuring my friends in Jamia. This is not the time to back off but to go out and protest against the brutalities inflicted upon us," Simi adds.
https://timesofindia.indiatimes.com/city/delhi/no-holding-back-for-these-jamia-girls-protesting-against-citizenship-amendment-act/articleshow/72922664.cms
------
629 Pakistani Girls Sold As Brides To China
December 21, 2019
Page after page, the names stack up: 629 girls and women from across Pakistan who were sold as brides to Chinese men and taken to China. The list, obtained by The Associated Press, was compiled by Pakistani investigators determined to break up trafficking networks exploiting the country's poor and vulnerable.
The list gives the most concrete figure yet for the number of women caught up in the trafficking schemes since 2018.
But since the time it was put together in June, investigators' aggressive drive against the networks has largely ground to a halt. Officials with knowledge of the investigations say that is because of pressure from government officials fearful of hurting Pakistan's lucrative ties to Beijing.
The biggest case against traffickers has fallen apart. In October, a court in Faisalabad acquitted 31 Chinese nationals charged in connection with trafficking. Several of the women who had initially been interviewed by police refused to testify because they were either threatened or bribed into silence, according to a court official and a police investigator familiar with the case. The two spoke on condition of anonymity because they feared retribution for speaking out.
At the same time, the government has sought to curtail investigations, putting "immense pressure" on officials from the Federal Investigation Agency pursuing trafficking networks, said Saleem Iqbal, a Christian activist who has helped parents rescue several young girls from China and prevented others from being sent there.
"Some (FIA officials) were even transferred," Iqbal said in an interview. "When we talk to Pakistani rulers, they don't pay any attention."
Asked about the complaints, Pakistan's interior and foreign ministries refused to comment.
Several senior officials familiar with the events said investigations into trafficking have slowed, the investigators are frustrated, and Pakistani media have been pushed to curb their reporting on trafficking. The officials spoke on condition of anonymity because they feared reprisals.
"No one is doing anything to help these girls," one of the officials said. "The whole racket is continuing, and it is growing. Why? Because they know they can get away with it. The authorities won't follow through, everyone is being pressured to not investigate. Trafficking is increasing now."
He said he was speaking out "because I have to live with myself. Where is our humanity?"
China's Foreign Ministry said it was unaware of the list.
"The two governments of China and Pakistan support the formation of happy families between their people on a voluntary basis in keeping with laws and regulations, while at the same time having zero tolerance for and resolutely fighting against any person engaging in illegal cross-border marriage behaviour," the ministry said in a statement faxed Monday to AP's Beijing bureau.
An AP investigation earlier this year revealed how Pakistan's Christian minority has become a new target of brokers who pay impoverished parents to marry off their daughters, some of them teenagers, to Chinese husbands who return with them to their homeland. Many of the brides are then isolated and abused or forced into prostitution in China, often contacting home and pleading to be brought back. The AP spoke to police and court officials and more than a dozen brides — some of whom made it back to Pakistan, others who remained trapped in China — as well as remorseful parents, neighbours, relatives and human rights workers.
Christians are targeted because they are one of the poorest communities in Muslim-majority Pakistan. The trafficking rings are made up of Chinese and Pakistani middlemen and include Christian ministers, mostly from small evangelical churches, who get bribes to urge their flock to sell their daughters. Investigators have also turned up at least one Muslim cleric running a marriage bureau from his madrassa, or religious school.
Investigators put together the list of 629 women from Pakistan's integrated border management system, which digitally records travel documents at the country's airports. The information includes the brides' national identity numbers, their Chinese husbands' names and the dates of their marriages.
All but a handful of the marriages took place in 2018 and up to April 2019. One of the senior officials said it was believed all 629 were sold to grooms by their families.
It is not known how many more women and girls were trafficked since the list was put together. But the official said, "the lucrative trade continues."He spoke to the AP in an interview conducted hundreds of kilometers from his place of work to protect his identity. "The Chinese and Pakistani brokers make between 4 million and 10 million rupees ($25,000 and $65,000) from the groom, but only about 200,000 rupees ($1,500), is given to the family," he said.
The official, with years of experience studying human trafficking in Pakistan, said many of the women who spoke to investigators told of forced fertility treatments, physical and sexual abuse and, in some cases, forced prostitution. Although no evidence has emerged, at least one investigation report contains allegations of organs being harvested from some of the women sent to China.
In September, Pakistan's investigation agency sent a report it labelled "fake Chinese marriages cases" to Prime Minister Imran Khan. The report, a copy of which was attained by the AP, provided details of cases registered against 52 Chinese nationals and 20 of their Pakistani associates in two cities in eastern Punjab province — Faisalabad, Lahore — as well as in the capital Islamabad. The Chinese suspects included the 31 later acquitted in court.
The report said police discovered two illegal marriage bureaus in Lahore, including one operated from an Islamic center and madrassa — the first known report of poor Muslims also being targeted by brokers. The Muslim cleric involved fled police.
After the acquittals, there are other cases before the courts involving arrested Pakistani and at least another 21 Chinese suspects, according to the report sent to the prime minister in September. But the Chinese defendants in the cases were all granted bail and left the country, say activists and a court official.
Activists and human rights workers say Pakistan has sought to keep the trafficking of brides quiet so as not to jeopardize Pakistan's increasingly close economic relationship with China.
China has been a steadfast ally of Pakistan for decades, particularly in its testy relationship with India. China has provided Islamabad with military assistance, including pre-tested nuclear devices and nuclear-capable missiles.
Today, Pakistan is receiving massive aid under China's Belt and Road Initiative, a global endeavor aimed at reconstituting the Silk Road and linking China to all corners of Asia. Under the $75 billion China-Pakistan Economic Corridor project, Beijing has promised Islamabad a sprawling package of infrastructure development, from road construction and power plants to agriculture.
The demand for foreign brides in China is rooted in that country's population, where there are roughly 34 million more men than women — a result of the one-child policy that ended in 2015 after 35 years, along with an overwhelming preference for boys that led to abortions of girl children and female infanticide.
A report released this month by Human Rights Watch, documenting trafficking in brides from Myanmar to China, said the practice is spreading. It said Pakistan, Cambodia, Indonesia, Laos, Myanmar, Nepal, North Korea and Vietnam have "all have become source countries for a brutal business."
"One of the things that is very striking about this issue is how fast the list is growing of countries that are known to be source countries in the bride trafficking business,"Heather Barr, the HRW report's author, told AP.
Omar Warriach, Amnesty International's campaigns director for South Asia, said Pakistan "must not let its close relationship with China become a reason to turn a blind eye to human rights abuses against its own citizens"— either in abuses of women sold as brides or separation of Pakistani women from husbands from China's Muslim Uighur population sent to "re-education camps" to turn them away from Islam.
"It is horrifying that women are being treated this way without any concern being shown by the authorities in either country. And it's shocking that it's happening on this scale," he said.
https://indianexpress.com/article/pakistan/629-pakistani-girls-sold-as-brides-to-china-6178692/
------
Hundreds Of Fatherless Brides Tie The Knot In A Mass Wedding Ceremony In India Funded By Diamond Tycoon Who Says He Feels A 'Social Responsibility' To Marry Off Single Women
21 December 2019
Hundreds of fatherless brides have tied the knot in a mass ceremony in India.
The event runs from December 21-22 and has seen 271 brides married off in Surat, a large city beside the Tapi River in the west Indian state of Gujarat.
Among the girls chosen for the ceremony, five are Muslims and one is from Nepal. Two girls are from the state of Uttar Pradesh, five from Maharashtra and one each from Jharkhand and Odisha, according to local media.
The event which is held some 270 km from Ahmedabad has run for eight years in a row and is funded by diamond tycoon Mahesh Savani, who believes that giving away brides is a blessing from God, has been funding and organising mass weddings for fatherless women in Surat every year since 2010.
The event in 2012 saw just 23 girls getting married and has steadily increased since then.
Mahesh Savani told The Times of India: 'When we started this activity, we wanted to help Surti girls who have lost their father. Each year, the number kept going up and for the past two years, it has been economically feasible for us to do it alone.'
Weddings in India are expensive affairs with the bride's family traditionally expected to pay the groom a large dowry of cash and gifts.
Fathers in India also traditionally pay for their daughters' weddings, which can mean that if a bride's father has died or is extremely poor, her chances of getting married are almost non-existent.
Mahesh has said previously that he feels a 'social responsibility' to help the woman who can't afford their own weddings. He said he began his campaign in 2008 after a distant relative died, which left him responsible for organising his daughter's weddings.
So far, Mahesh has helped fund the weddings of 3,172 brides.
Indian brides sit for a mass wedding in Surat, western India, on Saturday, December 21
https://www.dailymail.co.uk/news/article-7817183/Hundreds-fatherless-brides-tie-knot-mass-wedding-ceremony-India.html
------
Yuletide: Muslim Woman Decorates CAN Chairman's House In Kaduna With Christmas Tree
…With Bid To Strengthening Muslims And Christians Relation
In an effort towards promoting peaceful co-existence, religious tolerance, love and better understanding among different faith-based organization in Nigeria, a Muslim woman, Hajia Ramatu has donated Christmas tree for the decoration of the residence of Kaduna State Chairman of Christian Association of Nigeria (CAN) Reverend John Joseph Hayap with the aims of boosting unity, love, and togetherness
Addressing the journalists shortly after decorating the house with Christmas tree, light, stocking, garment and, ornament, with the family of the C.A.N chairman and other members, she expressed her happiness coming to the house to donate her gift
According to her, Kaduna state C.A.N chairman is a man of peace, trust and integrity and this is the way to show him her appreciation toward what he is doing in peace building in entire northern Nigeria":
She said "| came to the house of the CAN chairman to decorate the house, in order to beautify the home with Christmas Tree, Light, wreaths, stocking, garment, ornament"
Ramatu said, "Christmas provides an opportunity for Muslims to demonstrate to their Christian neighbours that Islam is a faith of peace, love and unity.
She said she wants to use the season in spreading the message of love, peace, unity and togetherness between Muslims and Christians in the state.
She noted that both Muslims and Christians were children of Adam and Eve (biological parents). "Both Muslims and Christians believe in One God (Allah). Both Muslims and Christians have holy books, which are Bible and Qur'an. Both of them believed in life after death.
Ramatu who is a specialist in peace and conflict prevention in Nigeria says, in each and every year, she usually buys Christmas trees and donate to her friends and family in Nigeria and outside.
Stressing that every year, she donate foodstuffs to Christian widows and clothes for orphans in order to celebrate the season with joy and happiness like any other Christians across the planet.
"Christmas is season of sharing, giving, and that is what she loves doing on a season like this"
Adding that "The moment I entered a shop at the Central Market asking them of a Christmas Tree with my hijab, everyone was wondering and asking what would Muslim women got to do with the Christmas Tree?
So, many people were asking me of it, but I know its importance to every Christian in the world. That is why I bought it for my brothers and sisters to enable them know that Muslims are their brothers and sisters. We wish them Happy Christmas and New Year," she said.
She said she is planning cooking for Christian destitute and some inmates, in order to make them feel happy like any other Christian during Christmas.
"She said, I have many Christian friends, and family during Sallah they also use to send me plenty of gift, and goodies.
While wishing Christians across the planet merry Christmas and happy new year in advance, she equally called on marketers to offer Christmas bonanza, so as to enabled every one buys good in chap price.
She equally called on wealthy Christians to donate food to the IDPs and inmate while appealing to pastor to draw the attention of sensitizing their followers on the importance of visiting sick once at the hospital during the season.
She concluded by calling on wealthy individuals world-wide to help the needy during festivities like Christmas while calling on youth to shun all kinds of bad attitudes.
Responding the chairman Kaduna state Christians association of Nigeria C.A.N reverend john joseph Hayap who expresses his satisfaction over the good gesture by the Muslims woman.
Saying that she is a kind woman
Hayap thanks her for coming to his house and donate the Christmas tree,
He concluded by calling on Muslim and Christian to live in peace and harmony,
While calling on wealthy individual to support the needy during a period like Christmas.
https://www.nairaland.com/5593356/muslim-woman-decorates-hayap-chairmans
------
False Claim: Muslim Woman Masquerading As Hindu During Anti-CAA Protest
21st December 2019
Pooja Chaudhuri
Twitter user Piyush Singh, who is followed by the office of railway minister Piyush Goyal, tweeted two photographs – one where a woman is seen holding a placard against the Citizenship Amendment Act (CAA) and another where a woman has adorned a hijab. The placard read, "I am Swati." Singh wrote, "On Odd Day. Swati a Hindu. Even Day. Sabiha Khan Muslim" and claimed that both the women are the same person.
Another user @Being_Vinita who was recently featured on an Alt News fact-check for passing off old images as violence during anti-CAA protests also claimed the same She posted another image of Swati with a placard during a protest against Tabrez Ansari's lynching. The placard reads, "I am a Hindu and I love Muslims…You killed our Tabrez, we are all Tabrez."
FACT-CHECK: NOT THE SAME WOMAN
Alt News fact-checked this claim when Swati's images were viral after a protest against Tabrez Ansari's lynching. She is a Delhi-based student who had shared her driving licence with Alt News to confirm her identity. Alt News is withholding her full name at her request.
The woman wearing a hijab is Sabiha Khan, former leader of the Hyderabad-based political party, All India Majlis-e-Ittehadul Muslimeen (AIMIM). Khan has a dedicated Facebook page with a significant following of over 2 lakh.
The facial features of Swati and Sabiha Khan are markedly different.
It is noteworthy that Khan had posted Swati's image with the placard condemning Ansari's lynching which might have led to the earlier confusion of them being the same woman.
Alt News contacted Khan who said that she is a resident of Mumbai and as far as her knowledge, Swati is a Delhi-based student. "I don't know why they are misusing my picture. This is completely fake," she said.
Thus, a Muslim woman's image was passed off on social media as a protester who masqueraded as a Hindu woman during anti-CAA protest.
https://www.altnews.in/caa-protest-2015-video-of-bangladeshis-caught-with-fake-indian-passports-in-kuwait-revived/
------
URL: https://www.newageislam.com/islam-women-feminism/no-holding-back-jamia-girls/d/120593
New Age Islam, Islam Online, Islamic Website, African Muslim News, Arab World News, South Asia News, Indian Muslim News, World Muslim News, Women in Islam, Islamic Feminism, Arab Women, Women In Arab, Islamophobia in America, Muslim Women in West, Islam Women and Feminism