New Age Islam News Bureau
29 Sept 2015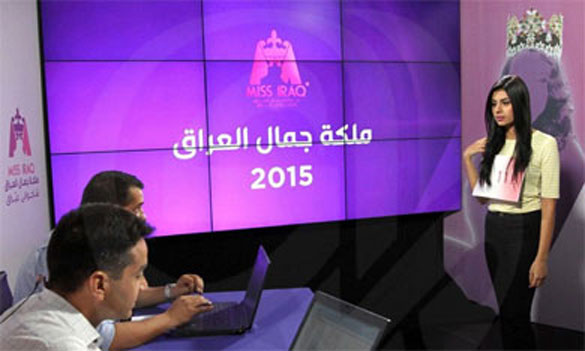 An applicant being interviewed at the auditions of Miss Iraq at Al-Mada TV studios in Baghdad Photograph: Mahmud Raouf / Al-Mada Newspaper
---------
• Miss Iraq Beauty Pageant Marred By Death Threats
• Denied By Guardians, 20 Saudi Women Win Marital Bliss through Courts
• Niqab Issue about What It Means To Be Canadian, Not About Islam
• New move by Islamic countries to improve women's health – but more needs to be done
• Kenya: Girls Recall Middle East Horror Stories
• China Angered By Hillary Clinton Tweet on Women's Rights
• Companies with Women on the Board Perform Better, Report Finds
Compiled by New Age Islam News Bureau
URL: https://www.newageislam.com/islam,-women-and-feminism/new-age-islam-news-bureau/miss-iraq-beauty-pageant-marred-by-death-threats/d/104747
-------
Miss Iraq Beauty Pageant Marred By Death Threats
Reuters in Baghdad, 28 September 2015
The first internationally recognised Miss Iraq beauty contest in more than 40 years was supposed to present a gentler, softer side to a country whose name has become synonymous with violence and bloodshed.
Instead, organisers are facing a backlash from religious hardliners and conservative tribal leaders who say such pageants are un-Islamic and threaten public morality.
At least two women have pulled out of the contest after receiving death threats. Organisers have dropped the swimsuit section of the competition and postponed the televised finale in an attempt to deflect some of the criticism.
However, the organisers and most contestants, backed by many members of the public, remain determined to press ahead with an event they see as a step towards normality in a society still deeply divided 12 years after the US-led overthrow of Saddam Hussein.
"There are many indications that Iraq is finished, but such contests give hope that life in Iraq goes on," said Senan Kamel, the pageant's spokesman and one of its judges.
Kamel said organisers had tried to tone down or adapt aspects of the contest out of respect for the taboos and sensibilities of a conservative Muslim country that frowns on the public display of women's bodies.
"We deliberately organised the competition according to standards appropriate to Iraqi society to prove to the world that Iraq is a civilised country with a civic soul and a spirit of life," he said.
For example, swimsuits have been replaced with a more conservative outfit, though a ban on Islamic headscarves remains, in keeping with the protocol of western pageants.
"If we don't stick to the standards, we will not receive approval to participate in international competitions, but for sure we are not at the stage of wearing bathing suits," Kamel said.
The pageant's televised finale, originally set for 1 October, has been moved back to at least December after threats by tribal leaders opposed to young women from their families taking part.
A pro-Shia Muslim television channel warned this month that the event would corrupt public morals and "create a base culture while our people face the danger of terrorism". It accused the organisers of being Freemasons, a loaded insult in the Middle East where the secretive, fraternal organisation is widely seen as pro-Zionist and hostile to Islam.
Baghdad's Shia-led government, formed last year with backing from Iran and the US, has so far steered clear of the controversy over the beauty pageant.
The outcry has not discouraged Miss Iraq contestant Lubna Hameed, a 21-year-old university student from Baghdad, who said she hoped to serve as a role model for Iraqi women.
"God willing, I will try to ignore [the criticism] because it is an honour to represent my country," she said after a screening interview at the studios of Al Mada television station, which is hosting the pageant.
Hamsa Khalid, an 18-year-old high school student, also said hostility would not deter her from taking part, saying the message she hoped to deliver as Miss Iraq could be summed up in one word: "Peace".
The first and last time Iraq participated in a major international beauty pageant was in 1972 when Wijdan Burhan al-Deen represented the country at the Miss Universe contest. Iraqi social clubs have since hosted occasional contests, but by widening the applicant pool and registering with the government, organisers of this Miss Iraq contest hope the winner will once again qualify for prestigious international pageants.
They plan to send representatives to competitions in Egypt and Thailand. Judges are whittling down an applicant pool of 50 finalists to 10.
The contestants will receive instruction in etiquette and public speaking and will volunteer to help some of the 3 million Iraqis displaced by fighting between the army and Islamic State.
Some Iraqis said they were disheartened by the controversy over the pageant. "We are glad to see more things like this. We Iraqis have been deprived of many things. Many young people are migrating. People are not comfortable here," said Ali, a 21-year-old soldier. "These are people who do not want Iraq to do well, to improve. These people want to go backwards."
Contestants hail from across Iraq, including Mosul, the northern city seized by Isis in 2014.
Kamel said contrary to accusations that the contest was undermining traditional values, it aimed to help revitalise Iraq's cultural scene, once one of the most dynamic in the Middle East.
"We are searching for a personality to represent Iraq, a woman to be a real ambassador," he said.
http://www.theguardian.com/world/2015/sep/28/miss-iraq-beauty-pageant-marred-by-death-threats
------
Saudi Arabia: Denied by guardians, 20 women win marital bliss through courts
Tuesday 29 September 2015
JEDDAH: Several courts across the Kingdom have overruled the guardians of 20 women, paving the way for them to marry their suitors.
A local publication reported that it has a copy of a Ministry of Justice report showing the rulings in favor of the women who had launched legal action against their guardians.
Family courts across the nation received complaints from 701 women claiming that their guardians refused them permission to marry, even though there were no Islamic reasons preventing them from tying the knot.
Forty-five women have filed complaints with the Human Rights Commission in Saudi Arabia over the last three years because their guardians would not let them marry.
Riyadh, with 12, recorded the most complaints, followed by 10 in Jazan, eight in the Eastern Province, seven in Jeddah, five in Madinah, and three in Makkah, the report stated.
Osama Al-Qahtani, a lawyer, said that only a judge can rule against a guardian, who is then forced to accept a suitor's proposal. He said these types of complaints make up the majority of lawsuits considered by the country's family courts. Al-Qahtani said that most of these cases involve guardians following outdated traditions, such as not allowing a woman to marry a man from another tribe. This was contributing to the increasing number of unmarried women in the country, he said.
He said women and girls are becoming increasingly aware of their rights. There are also several organizations working with the ministry to help women who find themselves in this situation. He said a judge has the right to remove a man's guardianship if he violates the rights of a woman under his care.
http://www.arabnews.com/saudi-arabia/news/812936
--------------
Woman saves child from crush by flinging him out
Tuesday 29 September 2015
MAKKAH: Mustering all her courage and power, a mother, who was caught in the stampede in Mina on Thursday, threw her young child into one of the adjoining tents to save him from being crushed.
Egyptian pilgrims saw her plight from the top of the tents but couldn't lend her a helping hand. "She was far away and she threw her child at us. His name is Ibrahim. He survived," the told a local newspaper.
"We saw her trying to stand up to save her child … She was not being able to breathe … She somehow threw him up at the tent and asked us to take care of him," they said.
They said they brought the child something to eat and provided him new clothes. "Later, we went in search for his mother or any other relatives, but we couldn't succeed," they said.
However, they were pleasantly surprised when the next morning someone turned up at the camp saying he is the uncle of Ibrahim. "When the child saw his uncle, he hugged him and so we passed on the child to him," they said. He said the mother survived and that it was she who told him about the child's whereabouts. "Umm Ibrahim is recuperating in hospital," the uncle added.
http://www.arabnews.com/news/812951
-----------
Niqab issue about what it means to be Canadian, not about Islam
SALIM MANSUR FOR THE OTTAWA SUN
SATURDAY, SEPTEMBER 26, 2015
The controversy surrounding the niqab, or full-face covering, worn by some Muslim women is not going away soon.
This controversy ironically has come to reflect more what it means to be Canadian and multiculturalism, than about Islam and women.
In the holiest sanctuary of Islam in Mecca women are not required to wear the niqab, nor are they separated from men when circumambulating the Ka'aba, the cubicle draped in black. The core dogma of Islam is simply the affirmation of the monotheistic creed, the worship of One God, and bearing witness that Muhammad is God's messenger.
The worship of One God in practice means, as the Quran – the sacred text of Islam – stipulates, to engage in prayers, to fast, to give charity, and to perform the annual pilgrimage. These practices, or rituals, together constitute Islam stripped to its bare essentials.
But any religion as an idea or revelation is embedded in the customary habits, traditions and politics of people where it is first revealed, as occurred with Islam in seventh century Arabia. What follows thereafter is the extent to which the core dogma becomes nearly inseparable from the culture of a people who have accepted that dogma.
The moral directive of Islam to women and men is live chastely, be virtuous, dress modestly, and strive towards moderation in all things. How the moral directive is put into practice has shaped Muslim culture, and in turn been shaped by it given the ever present tensions between those resistant to change and those accommodating change even as the world around them evolves at a dizzying pace.
Beneath the surface of contemporary violence in the Muslim world are tensions of traditional societies confronted with change.
If a Muslim woman wears niqab out of her own choosing and without coercion, she is then embracing a customary practice within her culture.
But when the ayatollahs in Iran, or the rulers of Saudi Arabia, demand women to be veiled in public, they are confronted with traditional customs in the name of religion coercively enforced by power holders. Religion then is inseparable from politics, and it turns into daily inquisition.
In Canada politics and religion are two separate realms and we can distinguish between religious belief on the one hand, and customs and conventions on the other.
When a society, or a segment of it, however, begins losing confidence in requiring its own customs be respected then confusion follows. This is what has been happening in Canada with multiculturalism as a doctrine that relativizes all cultures, and those Canadians who spurn the Anglo-French European culture in the making of Canada for being stained by the sins of "white man's" colonial-imperialist past. Or going further, when some among the intellectual elite wishes to strip Canada's conventions bit by bit and turn the country into a showcase of a multicultural "souk" or marketplace.
This is why so many Canadians are in a tizzy over the propriety of Canada's customs and conventions. They seem to lack confidence in requiring those who want to become Canadian follow our convention, as in not to obscure or hide their face during public oath-taking ceremony.
Hence, we have an irony here, some Muslim women practicing the custom of wearing niqab may discard it in the holiest sanctuary of Islam; however, when asked to respect certain convention in Canada the claim is made that this would be an infringement of their freedom of religion.
And then guardians of multiculturalism rush forth to defend a Muslim woman's right to wear niqab as an expression of religious freedom, when there is no such doctrinal requirement in Islam.
— Salim Mansur teaches in political science at Western University, London, Ontario.
http://www.ottawasun.com/2015/09/26/niqab-issue-about-what-it-means-to-be-canadian-not-about-islam
-----------
New Move by Islamic Countries to Improve Women's Health
September 28, 2015
Banner Icon WOMEN'S RIGHTS Islamic countries committed to strengthen women's health - a key component of it being sexual and reproductive health and rights of adolescent girls and young women - during a meeting at the United Nations headquarters on September 26.
Ahead of the annual General Assembly, they pledged to commit to the Global Strategy for Women's, Children's and Adolescents' Health. It is a blueprint to mitigate preventable deaths for women and children by 2030.
U.N. Secretary-General Ban Ki-moon launched the initiative at the Sustainable Development Goal summit in 2010. The Islamic Development Bank is one of the donors.
"It sends a very strong message that Middle Eastern countries are discussing (this issue) among their peers and learning from each other," said Nana Kuo, Senior Manager at the U.N. Secretary-General's Every Woman Every Child Initiative on September 27, during a gathering organized by the U.N. Foundation.
For instance, the Islamic Republic of Afghanistan plans to increase the use of contraception from 15% to 60% as part of its public spending on health by 2020.
Public health and development experts found that taking care of women and children is the cornerstone of a healthy society. Nevertheless, this is a challenge in most Muslim societies as sexual education for non-married adolescents, especially female, remains a taboo. The prevalence of religious laws, namely Islamic legislation, has hindered women and girls' sexual and reproductive health.
Yemen, for example, has the highest rate of maternal deaths in the Middle East, according to its National Population Council.
Over two third of Yemeni women give birth without the supervision of a medical specialist. Only a quarter of women bring their child into life in a hospital or a clinic, thereby exposing them to great risk.
Yet, with rapid population growth, Islamic countries are increasingly being aware of the importance of proper sexual education and family planning. Pakistan's not-for-profit Aman Foundation spent US$5 million in 2012 to boost family planning programs in Karachi, for example.
Improving girls and women's health is a crucial issue in a region - Middle East and North Africa - where about one in three people is aged 15 to 29 - or more than 100 million people, according to recent research by the Brookings Institution.
http://www.yourmiddleeast.com/culture/new-move-by-islamic-countries-to-improve-womens-health-but-more-needs-to-be-done_35305
----------
Kenya: Girls Recall Middle East Horror Stories
28 SEPTEMBER 2015
By Caroline Wafula
On a cool Friday morning of September 4, the EgyptaAir flight MS 848 is about to land at Jomo Kenyatta International Airport (JKIA) after a four-hour 40 minute journey.
On board are 18 women in their 20s. Immediately the plane touches down at 7.05, they burst into song and applause.
"Thank you God. Thank you my Lord," they say to one another.
They are from Lebanon where they have been working as househelps.
"I am in Kenya, Kenya, my motherland," one of them shouts over and over again.
For most part of the journey, they were talking about their experiences at the hands of their employers in the small Middle East country.
Sad Experiences
I sat behind two of them. Although she declined to talk to me then, one of them, identified only as Naomi, kept saying how her boss mistreated her until she could take it no longer.
"I cannot believe that I have arrived in Kenya," Naomi said.
She then paused for a few seconds and went on, "Hellen called me a devil."
I could hear the pain in her voice. At this point, I was beyond emotions, carried away by everything happening around me.
"I will call Hellen and tell her I am not a devil," she said, this time with force and a sense of finality, as if to reassure herself and cleanse her mind of the nightmare her employer subjected her to.
The women shared seats and their experiences when airborne. Only Juliet Chilali agreed to talk to me about most of what she had been through.
GOOD NEWS
She spoke freely and with some humour. She used to be a security guard in Malava where she earned Sh6,000 a month.
She was on duty one day when someone approached and asked her if she would want a better paying job overseas.
She would get a monthly pay of Sh20,000 with other benefits, she was told. She jumped at the offer. Ms Chilali immediately sought to find out the process.
She was told to get a passport, the other requirements having been explained to her. She set out for Kisumu and applied for the document and got it in two weeks.
Excited, she called her the man who approached her to inform him of the good news.
She was connected to an agent in Nairobi. Within three days, she bid her family bye and made a trip to the city where she had never been before.
Sleep Deprived
She was shown an agent who did most of the travel arrangements. She was picked from Beirut Airport and taken to her place of work.
Ms Chilali said her employers were very good to her initially.
With time, everything changed and the house mistress sought to put her in her place as a servant.
"There is no single day I slept for more than two hours," she said. She would go to bed at 3 am worn out and exhausted, only to wake up at 5 am to start another day.
Her bed, she went on, was broken and in a corner.
That was not all. She said she used to eat the previous meal's leftovers.
"One day, I decided enough was enough," she said. "I told her I was not going to eat leftovers," she said.
"She would ask me to go and help her mother and sister with work over the weekends in their rural homes and that was too much for me because I would still be required to house back in the house."
Poor Pay
She said her employer even threatened to kill her.
"She said killing me was a small matter. I was shocked. I asked her why she would want to take my life," she said.
It is after this incident that she demanded to go back home. She had barely been employed for a year by the time of her return.
She said she only received $100 dollars or just about Sh10,000 for the period she worked in Lebanon.
Another girl said she would be sneak and hide in the toilet to make calls back home. She was not allowed to talk to neighbours.
http://allafrica.com/stories/201509280075.html
------
China Angered By Hillary Clinton Tweet on Women's Rights
By Tessa Wong
BBC News
28 September 2015
From calling her a "big mouth" to making Monica Lewinsky jokes, China has reacted furiously at US presidential candidate Hillary Clinton's recent comments about China's record on women's rights.
Mrs Clinton said in a tweet on Sunday that Chinese President Xi Jinping was "shameless" for hosting a United Nations conference on women's rights that day.
Mr Xi has come under fire for hosting the summit as several women's rights activists were held earlier this year for planning a demonstration against sexual harassment on public transport.
Rights groups say several female human rights activists remain in detention.
Mrs Clinton has made women's rights a signature part of her campaign.
'Rabble-rouser'
Chinese state media have taken care to cultivate an affable and lovable image of President Xi Jinping. Calling someone "shameless" is also a particularly bad insult in Chinese culture, which abhors "losing face".
State media on Monday thus unsurprisingly reacted with fury, with a strongly-worded editorial by The Global Times put out in both English and Chinese and carried widely in other local media outlets.
It accused Mrs Clinton of aping Republican candidate Donald Trump - who has himself made provocative remarks about China - in an attempt to gain votes through China-bashing.
In its English editorial, Global Times called her "a rabble-rouser" engaged in "ignonimous shenanigans" - but in Chinese it was even blunter: "It looks like Hillary is in a panicked frenzy, her eyes have turned red... She has started to copy Trump's speaking style and allowed herself to become a fierce big mouth."
"She really has lowered herself. Chinese people aren't angry at her, but we now despise her a little."
In this 25 September 2015, file photo, Republican presidential candidate, businessman Donald Trump, speaks during the Values Voter Summit, held by the Family Research Council Action in Washington.
News outlets also widely covered a response by the Chinese delegation in New York, that said the women's rights activists "were not arrested because they were advocating women's rights issues, but because their behaviour flouted Chinese laws".
'Lewinsky's in your bed'
Online, the reaction was more divided. Riled-up patriotic netizens on microblogging network Sina Weibo called her "an old witch" and made references to Monica Lewinsky, the former White House intern who had an affair with Bill Clinton.
"Hillary you should quickly rush home, Lewinsky is already in your bed with Bill. Why don't you mind your own business instead of talking rubbish about China," said user Lewubianzhong.
Monica Lewinsky poses on arrival for the American Theatre Wing's 69th Annual Tony Awards at the Radio City Music Hall in New York City on 7 June 2015Image copyrightAFP
But others took her side, decrying the detention of the activists and the state of women's rights in China.
Said user wbxxxhhh: "Hillary wasn't criticitising the arrests of the activists, but instead was criticising their arrests on cooked-up charges."
"Chinese women don't even have the right to reproduce, let alone women's rights," said Te_leinijiangtui, in a reference to China's one-child policy.
It is not certain whether Mrs Clinton has taken note of the Chinese brouhaha yet - if she has, she has yet to give a direct response.
Her campaign team meanwhile continues to press on. One of their latest tweets stressed the importance of women's rights.
http://www.bbc.com/news/world-asia-china-34377406
------
Companies with Women On The Board Perform Better, Report Finds
29 September 2015
Companies perform better when they have at least one female executive on the board, a study of companies in the UK, US and India shows.
Publicly traded companies with male-only executive directors missed out on £430bn of investment returns last year, the accountancy firm Grant Thornton found in its report, Women in business: the value of diversity.
Only one in 10 of the companies surveyed had female board executives. The UK's share of the forfeited returns was £49bn or about 3% of GDP. In the US the amount was £373bn; in India it was £9bn.
The report sheds further light on the benefits of women in the boardroom as the government prepares a push to get women into top managerial jobs. Previous studies have found that female directors provide a different perspective on subjects ranging from what customers want to risky corporate ventures.
In March, women held 23.5% of board positions at FTSE 100 companies, close to the target set by Lord Mervyn Davies in his 2011 review. Though all FTSE 100 firms have female directors, women only make up 8.6% of executive directorships, up from 5.5% four years ago. The figures show a lag in the number of women running companies rather than overseeing them as non-executives.
Francesca Lagerberg, global leader for tax services at Grant Thornton, said: "There is a large opportunity cost for companies associated with male-only executive boards. Those businesses stuck in the past are not fully unlocking their growth potential. Like a world still addicted to fossil fuels, these companies are suffering now."
She called on shareholders to pressure boards to promote women into top managerial roles so that companies do not miss out on performance benefits. Governments also need to ensure companies perform to their highest potential to support the economy.
"In an era when productivity puzzles persist and economies trade within globalised markets, facilitating female participation at a decision-making level within companies might just give them a competitive advantage."
Davies, the former trade minister, last week criticised Hastings and Worldpay, two companies preparing for large flotations, for having no women on their boards. He said he was surprised that the owners of the two companies had not addressed the matter more seriously. Both companies have said they will look for female directors.
http://www.theguardian.com/business/2015/sep/29/companies-with-women-on-the-board-perform-better-report-finds
-------
URL: https://www.newageislam.com/islam,-women-and-feminism/new-age-islam-news-bureau/miss-iraq-beauty-pageant-marred-by-death-threats/d/104747