New Age Islam News Bureau
20 Jun 2017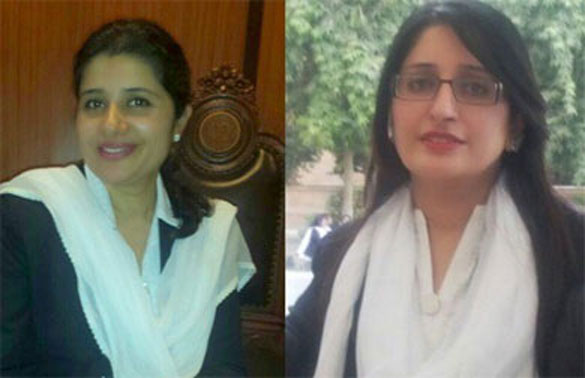 Ambreen Nawaz Chaudhry (left) and Aaliya Zareen Abbasi (right) began practising law in 2002. PHOTO: EXPRESS
----
• Five Female Suicide Bombers Kill 12 In Nigeria
• Muslim Women 'Assaulted In Belfast' After Manchester and London Terror Attacks
• Meet the Women Who Run Their Own Law Firm in Pakistan
• Teenage Muslim Girl Killed Near Virginia Mosque, Police Say Not Hate Crime
• Women in Dubai Jails Get Special Eid
Compiled by New Age Islam News Bureau
URL: https://www.newageislam.com/islam-women-feminism/madras-high-court-reverses-ruling/d/111610
--------
Madras High Court Reverses Ruling In Favour Of Muslim Woman's Husband
JUNE 20, 2017
Mohamed Imranullah S.
Though remarried, he sought restoration of conjugal rights
The Muslim personal law called Shariat may permit polygamy but that cannot be a ground for a court of law to compel a woman to live with her husband who has filed a petition for restitution of conjugal rights and yet married another woman within four months of filing the case, the Madras High Court Bench here has held.
Justice RMT. Teekaa Raman passed the ruling while allowing a second appeal preferred by Kamirunnissa (name changed) of Tirunelveli in 2006 and pending in the Bench since then. The judge reversed an order passed by an additional district court in February 2004 in favour of the woman's husband.
"This court, while bearing in mind the right of a Muslim husband to contract marriage more than once, should also bear in mind that the decision in a civil suit for restitution of conjugal rights does not entirely depend upon the right of the Muslim husband. The court should also consider whether it would be equitable to compel the wife to live with her husband." he said. "Our notions of law in this regard have to be held in a way so as to bring them in conformity with modern social conditions. There is no law or a rule which can compel a court of law to always pass a decree in favour of a Muslim husband in a civil suit preferred by him for restitution of conjugal rights." "A duty is cast upon to the court to find out whether it will be just and reasonable to grant the relief to the husband and whether the proved circumstances are such that it would be inequitable to do so for a Muslim woman," the judge said after concurring with the submissions made by the appellant's counsel D. Nallathambi. Further, pointing out that marrying another woman amounts to subjecting the first wife to cruelty, the judge said the rule would apply to Muslims too.
'Woman justified'
"In the said circumstances, it could not be unreasonable to hold that after the plaintiff husband contracted second marriage, the appellant wife is justified in staying away from her husband," the judge added.
Initially, her husband filed a guardianship petition seeking custody of their third daughter and withdrew it after the appellant agreed to return all household articles gifted by her father.
Thereafter, he had filed a petition for restitution of conjugal rights in 1999. The appellant's paternal aunt had deposed before the trial court in favour of the appellant.
Though a Principal District Munsif in Tirunelveli accepted the evidence and dismissed the husband's plea for restitution of conjugal rights in 2003, the Additional District Court had reversed the Munsif's decree on the ground that her aunt was an interested witness.
Disagreeing with the decision taken by the first appellate court, Mr. Justice Raman said: "In a matrimonial dispute, only the relative can be in a better position to depose about what had happenned inside the four walls of the house and the lower appellate court, in my considered view, has committed an error in brushing aside the evidence of the paternal aunt."
http://www.thehindu.com/news/cities/Tiruchirapalli/hc-reverses-ruling-in-favour-of-muslim-womans-husband/article19105745.ece
--------
Five female suicide bombers kill 12 in Nigeria
June 20, 2017
MAIDUGURI - Five female suicide bombers killed 12 people and wounded 11 in northeast Nigeria's Borno state, birthplace of the militant Boko Haram insurgency, police said on Monday. There was no immediate claim of responsibility for the attacks. But the use of female suicide bombers in public places is a tactic used by Boko Haram, which has focused on Borno during its eight-year-old insurgency aimed at creating an Islamic caliphate.
Borno state police spokesman Victor Isuku said the attacks occurred on Sunday at around 08:30 p.m. (3.30 a.m. ET) in the village of Kofa, 8 km (5 miles) from the state capital Maiduguri. "The first suicide bomber detonated near a mosque, killing seven persons. The second detonated in a house killing five persons," he said, adding that 11 people hurt in the attacks. Isuku said the other three bombers also died. Borno has been the state worst hit by the insurgency that has killed more than 20,000 people and forced some 2.7 million people to flee their homes since 2009.
Boko Haram killed 14 people in bombings and shootings in Maiduguri on June 7.
http://nation.com.pk/international/20-Jun-2017/five-female-suicide-bombers-kill-12-in-nigeria
--------
Muslim women 'assaulted in Belfast' after Manchester and London terror attacks
20 June, 2017
SEVERAL Muslim women have been assaulted on the streets following the Manchester and London terror attacks, the vice chairman of Belfast's Islamic Centre has said.
Edson Pina also said the Islamic centre has taken additional security measures and that police have been carrying out regular patrols.
He added that there would be fears around security following the recent Finsbury Park attack in which a van was driven into worshippers near a London mosque.
"Unfortunately especially in the last two or three weeks after the Manchester and London attacks, some Muslim women – and again they are the most visible presence in our street because a lot of them wear the headscarf – have been assaulted on the street," he said.
"A Somalian sister was physically assaulted at Tates Avenue, an Arab lady walking around with her toddler in the city centre was beaten on the head just a few days ago."
Speaking on BBC Radio Ulster's Talkback programme yesterday, he said most people are welcoming and friendly in Northern Ireland, but they have increased security following the attacks in Britain.
"We have had to take some measures already in place. What we have had to do at the Belfast Islamic Centre is put in place additional security," he said.
"We had some very constructive talks with the local area commanders in the PSNI and they are regularly patrolling the areas.
"We have taken steps because we do believe there is a threat there, but I think overwhelmingly it's nothing to panic about."
In Manchester, 22 people died and 116 were injured in a suicide bombing at an Ariana Grande concert on May 22, and on June 3 eight people died in a terror attack at London Bridge.
http://www.irishnews.com/news/2017/06/20/news/muslim-women-assaulted-in-belfast-after-manchester-and-london-terror-attacks-1061174/
--------
Meet the Women Who Run Their Own Law Firm in Pakistan
June 20, 2017
ISLAMABAD: It was their first day at Punjab Law College, Rawalpindi in 1999 and Ambreen Nawaz Chaudhry and Aaliya Zareen Abbasi were beyond themselves with happiness to have made it there, sitting among this group of future lawyers. When the lecturer asked who in the class had passed college in the first division, both their hands shot up in the air, not at all expecting what happened next.
The lecturer looked at them and said "you, get lost" – a command to leave the classroom. Confused and upset, both women stepped out, each wondering what they had done wrong as they took their punishment – an hour of standing out in the scorching sun.
When he finished the lecture, he brought them back into the class and asked what were they thinking when they made the choice to become lawyers. "Third division holders usually come into this profession," the women recall him as saying. "This is your mistake and you will have to suffer forever."
The professor could not have been more wrong. Some18 years on, not only are Abbasi and Chaudhry thriving in the profession, but they are also the proud owners of their very own law firm.
In an increasingly male-dominated profession, it is incredibly rare to find law firms in Pakistan that are owned and run by women. So, it is equally incredible that Abbasi and Chaudhry are breaking the glass ceiling and becoming an inspiration for hundreds of young Pakistani women.
Chaudhry and Abbasi have been practicing since 2002 and work in the lower and high courts. The journey to where they are today has been fraught with obstacles that they overcame in their stride.
Although Abbasi and Chaudhry are unrelated by blood, they share a more deeper bond as their foray into the field of law transpired from their personal and family circumstances, like a story straight out a Pakistani TV serial. Both have a similar family structure and back story – having only sisters and no brother in their respective families.
As it happens with a lot of women-only families in Pakistan, after the passing of their fathers, their properties and possessions were illegally acquired by other male family members. It was years later that they finally took their own cases into court after getting a law degree, and fought for their rights and won.
Chaudhry's property dispute ended in 2009 after an 18-year-long litigation. Abbasi, who had decided to join the legal profession because she was not satisfied by how their family's lawyer was handling their case, won her property case in 2006.
The duo has come a long way since they began their practice in 2002. They've established their own law firm – Muhammadans Advocates & Corporate Consultants – and take mostly corporate, family and criminal cases.
"Bringing a smile to an aggrieved person's face gives us extreme satisfaction," said Abbasi, who explained that resolving cases was more important to them than winning. "The law should excel. Don't look at who is speaking, focus on what is being said," she added.
Perhaps, the mark of a true leader is that they remember the criticism being hurled at them and instead of being discouraged, they learn from it. As such, Abbasi and Chaudhry vividly recall all the naysayers they encountered but didn't pay heed to.
"Our seniors used to make fun of us, telling us to focus on making money instead of looking for gratification from each and every case. But we decided to do otherwise," said Abbasi.
Chaudhry recalls one such case – a 73-year-old client who was involved in a property dispute. "We knew from the beginning that the lady would not be able to get her case resolved if it kept moving through the lower court and eventually higher court," she said.
She was entitled to Rs170 million, but Chaudhry said they advised her to settle the case for a lesser amount.
"Our mentors had taught us that a penny coming through settlement is far better than a rupee at the end of a lengthy litigation," said Chaudhry. "A bird in hand is worth two in the bush."
But not all cases have been that easy. The duo admits that there were some complicated ones that they worked at late into the night and sometimes cried out of frustration. And then there were security threats of course – property cases are known to become fatal too. The women have learned from all these experiences.
"Now, we feel we are more stable and know who to contact in such situations," said Chaudhry.
Speaking about the country's legal system, they said it is not the existing 18th century laws that are a problem. Instead it is the non-enactment of news laws or passing "weak laws" that do no good for litigants.
"The recently enacted cyber law is defective and toothless legislation," said Abbasi said, citing one example. She explained that the law does not address procedural technologies which are mostly used to argue cases.
"What benefit would you take from a provision of law when you know it is not effective at all?" she questioned.
The advice they give to women who are considering joining the male-dominated legal field is: "When you are in field, remove the tag of woman from yourself. Be practical and move on."
This thinking, for them, is essential for equality and women empowerment in not just law, but all fields.
Clients who have worked with the duo praise them for their persistence and dedication. "In our broken legal system, a majority of lawyers only work to line their pockets by prolonging cases instead of having their client's interest at heart," said one client who asked not to be named.
"But their passion and commitment towards their work and clients is impressive. All these qualities are rarely found in lawyers in Pakistan," she said. "For their line of work, their confidence, guts and bravery are unmatched."
Abbasi and Chaudhry take pride in their work, the friendship that they have developed since that 1999 day they stood outside a classroom in punishment together, and how far they have come.
"We two are equal to 11. Allah has made us in a way that we complement each other," said Abbasi with a smile.
https://tribune.com.pk/story/1438946/breaking-glass-ceiling-meet-women-run-law-firm/
--------
Teenage Muslim girl killed near Virginia mosque, police say not hate crime
Jun 20, 2017
A man accused of killing a teenage Muslim girl appeared before a Virginia court on Monday to face a murder charge, the court clerk's office said, as police said the killing was not being investigated as a hate crime.
Darwin Martinez Torres, 22, was in his car when he got into a dispute with the girl and a group of her friends before dawn on Sunday in Sterling, Virginia, about 30 miles (50 km) outside Washington, according to the Fairfax County Police Department. Martinez got out of the car and assaulted the girl, police said.
The girls and her friends had attended overnight prayers at the nearby All Dulles Area Muslim Society (ADAMS) in observance of the Muslim holy month of Ramadan, when many Muslims fast from dawn till sunset. They were walking back from a McDonald's restaurant when they encountered Martinez, said Tawny Wright, a Fairfax police spokeswoman.
"Something happened and he became upset," Wright said in a telephone interview, declining to describe what the dispute was about. "The group started separating a little bit. The victim happened to be closest to him and then he assaulted her."
Her friends sought help at ADAMS, the mosque said in a statement.
Police arrested Martinez an hour or two later after he was seen driving suspiciously, and found what they believe to be the girl's body later on Sunday in a nearby pond.
It was not clear whether Martinez had a lawyer and whether he had entered a plea to the charge of second-degree murder during the court appearance. The county prosecutor's office did not immediately respond to questions.
Neither the police nor the mosque confirmed the girl's identity, but the Washington Post named her as Nabra Hassanen. Police said she was 17, while the county prosecutor's office said she was 16, the Post reported.
The girl and her friends were dressed in abayas, the robe-like dress worn by some Muslim women, according to the Post, prompting fears the victim was targeted because she was Muslim.
Fairfax police said in a statement on Monday morning that they were not investigating the murder as a hate crime, defined in Virginia as a crime motivated by bias against someone's race, religion or national origin.
"Nothing suggests that this girl or the group was targeted because of who they are or what they believe," said Wright.
http://www.hindustantimes.com/world-news/teenage-muslim-girl-killed-near-virginia-mosque-police-say-not-hate-crime/story-FTob6KxJE77wFYwrqc2LqJ.html
--------
Women in Dubai jails get special Eid
Amira Agarib
June 19, 2017
The ceremony was attended by 56 children of women inmates in the Dubai Women's Jail.
Bringing smiles to women languishing in jails, the Dubai Police have organised a get-together and distributed Eid dresses to their children.
The general department of human rights, represented by the child and women protection section, launched the community initiative titled 'Asadtmouni' or 'You make me happy' in cooperation with the general department of punitive and corrective institutions. The ceremony was attended by 56 children of women inmates in the Dubai Women's Jail.
Lt.-Col. Saeed Rashid Al Hali, acting director of the department of child and woman protection, said that the initiative brought happiness to the children as well as their mothers "who are serving jail terms in a prison far away from their home countries".
He said the police are keen to promote values of human rights.
Lt.-Col Jameelah Al Zaabi, director of Dubai Women's Jail, said that the prison administration meets the requirements of children who are living with their mothers in the jail to help them experience "a family atmosphere".
http://www.khaleejtimes.com/nation/dubai/women-in-dubai-jails-get-special-eid
--------
URL: https://www.newageislam.com/islam-women-feminism/madras-high-court-reverses-ruling/d/111610
New Age Islam, Islam Online, Islamic Website, African Muslim News, Arab World News, South Asia News, Indian Muslim News, World Muslim News, Women in Islam, Islamic Feminism, Arab Women, Women In Arab, Islamophobia in America, Muslim Women in West, Islam Women and Feminism