New Age Islam News Bureau
15 Feb 2020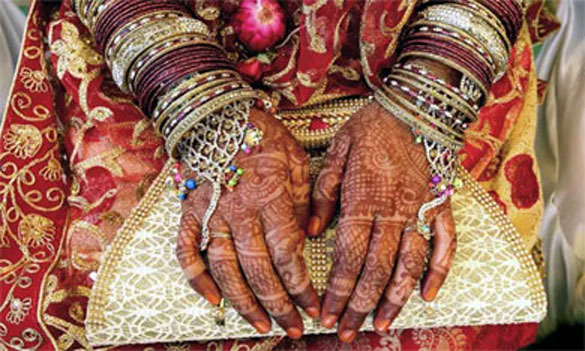 Almost two-thirds of married Muslim women in the UK have not had a separate civil ceremony. Photograph: Sanjeev Gupta/EPA
------
• Muslim Women Protesting In Shaheen Bagh to Meet Amit Shah on Sunday
• Maharashtra: Five of Family Booked In Triple Talaq Case
• Female Baloot Players Show off Their Skills at Saudi Championship
• 1st Women Turkish Commandos Break Gender Barriers
• Malaysia Appoints Female Bioterrorism Expert as Police Counterterror Chief
• Iraqi Women Lead Baghdad Protests Following Cleric's Calls For Segregation
• Nashik: Muslim Women Stage Protest Against CAA Near Golf Ground
• Ivanka Trump arrives in Dubai for Global Women's Forum
Compiled By New Age Islam News Bureau
URL: https://www.newageislam.com/islam-women-feminism/islamic-faith-marriages-valid-english/d/121072
--------
Islamic Faith Marriages Not Valid In English Law, Judgment Leaves Many Muslim Women Without Redress At End Of Relationship
Harriet Sherwood Religion correspondent
Fri 14 Feb 2020
14 Feb 2020
Islamic faith marriages are not valid under English law, the court of appeal has ruled, in a blow to thousands of Muslim women who have no rights when it comes to divorce.
The judgment, delivered on Friday, overturned an earlier high court ruling that an Islamic marriage, known as a nikah, fell within the scope of English matrimonial law.
The appeal court has confirmed that nikah marriages are legally "non-marriages", meaning spouses have no redress to the courts for a division of matrimonial assets such as the family home and spouse's pension if a marriage breaks down.
Many couples who undergo nikah ceremonies believe they are lawfully married. But their marriages are only legal if they additionally go through a civil ceremony.
A survey in 2017 found nearly all married Muslim women in the UK had had a nikah and almost two-thirds had not had a separate civil ceremony.
Responding to the appeal court judgment, Charles Hale QC, of the family law firm 4PB, said: "This means that many have absolutely no rights at the end of what they believe to be their 'marriage'. No rights to assets in the husband's sole name, and no rights to maintenance."
The appeal court had "upheld the existing concepts of what constitutes a lawful marriage … The law in these cases is not keeping up with society. These vulnerable women need better protection than the law currently provides."
The 2018 high court case concerned a couple, Nasreen Akhter and Mohammed Shabaz Khan, who had undergone a nikah marriage conducted by an imam in front of 150 guests at a restaurant in Southall, west London, in 1998.
The relationship had broken down, and Akhter petitioned for divorce. But Khan blocked the move, arguing the couple were not married under English law, only under sharia or Islamic law.
Akhter said she had seen Khan as her husband, and he had "always introduced me as his wife".
The high court heard the couple had intended to follow their nikah ceremony with a civil ceremony, but that Khan refused to go through with a legal process despite frequent efforts by Akhter to persuade him.
Mr Justice Williams, who heard the case in the family division of the high court in London, concluded the marriage fell within the scope of the Matrimonial Causes Act 1973.
Under the law, there are three categories of marriage: valid, void and non-marriage. Valid marriages may be ended by a decree of divorce; void marriages may be ended by a decree of nullity; non-marriages cannot be legally ended because legally the marriage never existed.
The high court ruled the Akhter-Khan marriage had been "entered into in disregard of certain requirements as to the formation of marriage. It is therefore a void marriage and the wife is entitled to a decree of nullity".
An appeal against the high court ruling was brought by the attorney general.
Three family judges sitting in the court of appeal concluded that to uphold the high court's ruling "would gravely diminish the value of the system of registration of marriages upon which so much depends in a modern community". It added: "It is not difficult for parties who want to be legally married to achieve that status."
The state did not have a human rights obligation to recognise religious marriage, the judgment said.
Daniel Jones, of the law firm BLM, said the appeal court judgment was "a real blow for all concerned".
He added: "The decision … will leave Muslim women in the UK in legal limbo, compelled to turn to sharia councils to pursue Islamic divorce. This often involves lengthy delays and does not afford women the same financial protections as would be granted if their ceremonies were recognised as a marriage under English law.
"This matter is of fundamental importance to Muslim women across the UK … leaving many women at great financial risk in unhappy relationships."
Anna-Laura Lock, a senior associate at the law firm Winckworth Sherwood, said: "Given the current law on marriage leaves parties to a religious ceremony so exposed financially following relationship breakdown, this will not be the end of the road for this issue. A change in the law is long overdue and must surely be on the horizon."
The law on marriage was "no longer fit for purpose in a modern, multicultural and less religious society", she added.
Pragna Patel of Southall Black Sisters, an organisation that has campaigned on the issue of nikah marriages, said: "Today's judgment will force Muslim and other women to turn to sharia 'courts', which already cause significant harm to women and children, for remedies because they are now locked out of the civil justice system.
"What we are seeing is the outsourcing of justice on family matters to unaccountable and fundamentalist-inspired community-based systems of religious arbitration. This is not about recognising religious marriages; it is about the state guaranteeing equality to all before the law."
In 2018, an independent review of sharia councils recommended that Muslim couples should undergo a civil marriage as well as a religious ceremony to give women protection under the law.
The review, instigated by Theresa May in 2016 when she was home secretary, found that a significant number of Muslim couples did not register their marriages under civil law, and "some Muslim women have no option of obtaining a civil divorce".
Raghad Altikriti, president of the Muslim Association of Britain, said many Islamic centres in the UK had made civil registration a condition of nikah marriage. The appeal court ruling provided an "opportunity to continue the discussion to ensure that everyone's rights are protected by facilitating a comprehensive system that incorporates the needs of all", she added.
https://www.theguardian.com/world/2020/feb/14/islamic-faith-marriages-not-valid-in-english-law-appeal-court-rules
--------
Muslim Women Protesting In Shaheen Bagh to Meet Amit Shah on Sunday
February 15, 2020
Muslim women who are protesting in Delhi's Shaheen Bagh against the amended Citizenship law will meet Home Minister Amit Shah on Sunday. They will meet the Home Minister at 2 pm. This decision came days after Union Home Minister Amit Shah said that he is open to discuss matters related to the Citizenship Amendment Act with anyone, including the protestors at Shaheen Bagh.
"I want to say that they [Shaheen Bagh protestors] should ask for time from my office," Shah said in an event in Delhi. "Within three days I will give time. I have said anyone I will meet, but nobody wants to discuss it. A discussion will have to be done on merits."
Since December 15, women in the predominantly Muslim locality have been sitting throughout the day to protest against the Citizenship Amendment Act and the proposed National Register of Citizens.
Shah also said that people have a right to protest peacefully but violence is not justified. Shah said he supported the Delhi Police on its action at Jamia Millia Islamia University in December. "Delhi Police had gone running after those that burnt buses," he added. "Nobody has the right to burn buses. The two things are different. Peacefully protesting, and burning buses, burning someone's scooty, burning a car. Even those who own the vehicles have rights. To protect their rights, this government only has to do."
https://www.indiatvnews.com/news/india/muslim-women-protesting-in-shaheen-bagh-to-meet-amit-shah-589114
--------
Maharashtra: Five of Family Booked In Triple Talaq Case
15.02.20
Five members of a family, including two women, were booked in an alleged case of triple talaq in Maharashtra's Thane city, police said on Saturday.
As per the complaint, the victim was allegedly harassed by her husband Sharique Shaikh and four in-laws for dowry since February 2019.
The accused demanded money from the victim's parents to buy a two-wheeler and a house and threatened to burn her alive, it said.
Fed up of the harassment when the woman prepared to leave for her parent's house, Shaikh allegedly said "talaq" thrice to her and divorced her illegally, the complaint stated.
The police on Friday registered a case under relevant sections of the Indian Penal Code and Muslim Women (Protection of Rights on Marriage)Act 2019, deputy commissioner of police (zoneII Bhiwandi) Rajkumar Shinde said.
https://www.telegraphindia.com/states/maharashtra/maharashtra-five-of-family-booked-in-triple-talaq-case/cid/1745490
--------
Female Baloot Players Show off Their Skills at Saudi Championship
February 15, 2020
RIYADH, JEDDAH: Female Baloot players have been taking part in the second day of a tournament being held in Riyadh Front, with the inclusion of women's rounds being seen as a boost for female enthusiasts of the card game.
Six rounds were played on day two of the Baloot Championship, 520 teams with two rounds for women.
The game is believed to have been brought to the Hijazi region from Indian immigrants through trading routes during the time of the Ottoman Empire. Its origins could also have come from France where it is known as Belote and migrated during the Ottoman expansion in the region. The objective is to outsmart and outplay your opponent.
Four players are divided into two teams, with two players on each. The rules are strict and straightforward. One player distributes 32 cards and each player gets five cards each. The two players facing each other work as a team to win as many high-ranking cards as possible. The main goal is to win the rounds in which high-ranking cards are played. The players collect cards by "eating" the cards of the opponent. Baloot uses 32 cards only, cards with numbers from 2 to 6 are excluded from the game.
Jawaher Al-Mansoour, a 24-year-old law student, said she was excited to be taking part.
"I've just completed the first round, I can say that the atmosphere is a very professional one, everyone is understanding and there are no tensions between players," she told Arab News.
She learned the game alongside her friend, Deema Al-Mutairi, six years ago and plays almost daily. "When we heard of the championship last year, we got excited but we weren't able to participate because there were no female teams at the time,"Al-Mansour added.
"We registered as soon as we heard that females were allowed in this year's championship and though we weren't taken that seriously by our friends and families, we made it to the next round and are looking forward to reaching the end, hopefully the SR2 million ($533,333) prize."
It took her two years to learn the game correctly, playing with her brothers and father to hone her skills. Al-Mansour is keen on helping to teach the game to other women who want to learn.
Her friend, Al-Mutairi, is also a law student. She learned baloot from her older sister who is an avid player and then continued learning the tricks of the game with school friends.
"I enjoy playing the game and especially with my group of friends," she told Arab News. "We're nine friends altogether and play rounds. This is how I perfected the game and I'm excited to participate in the championship. I'm striving for the SR2 million prize, it's what we're here for."
Both players said that many young women were keen to learn how to play the game, with the duo helping them out.
Baloot has been one of the most popular games in the Gulf for decades, and Saudi Arabia in particular.
https://www.arabnews.com/node/1627876/saudi-arabia
--------
1st Women Turkish Commandos Break Gender Barriers
Halil Fidan
14.02.2020
IZMIR, Turkey
Turkey's first batch of women commandos on Friday completed a vigorous 20-week training.
The training took place at the Foca Gendarmerie Commando School and Training Center in the Aegean province of Izmir.
The commandos ran 200 kilometers (124 miles) and walked 1,100 km (683.5 mi) in order to achieve top-notch physical fitness.
Notwithstanding harsh weather, they camped outdoors for two months.
They were taught to shoot, fire rocket-propelled grenade and hurl hand grenades.
They also learned how to assemble a pistol within seconds with their eyes closed.
The commandos were trained to read maps, defuse explosives and bombs, and survive without food for three days.
Now, they are qualified to serve in domestic security operations.
Conquering gender barriers
Staff Sergeant Merve Cetin told Anadolu Agency she was aware of the strenuous training sessions when she enrolled in the course.
"We are two sisters. My father's dream was to have a boy who could serve in the military. He couldn't have a boy.
"I wanted to show my father that this is not a matter of gender, but of guts and prove that not only boys but girls can also do this job successfully."
Another staff sergeant Su Yildiz said that they are always ready to serve the Turkish flag.
"In these trainings, we did not just learn how to be commandos, but also tactics and technical know-how to lead military units.
"Our goal is to carry out our duties come hell or high water -- and to play an active role in fighting terrorism," she said.
https://www.aa.com.tr/en/turkey/1st-women-turkish-commandos-break-gender-barriers/1734551
--------
Malaysia Appoints Female Bioterrorism Expert as Police Counterterror Chief
2020-02-14
A bioterrorism expert on Friday became Malaysia's first female counterterror chief, taking the helm of the Muslim-majority nation's agency in charge of fighting threats from Islamic State, al-Qaeda and other violent extremist groups.
Police Inspector-General Abdul Hamid Bador confirmed Normah Ishak's appointment as the police branch's new chief. She succeeds Ayob Khan Mydin Pitchay, her former boss who was promoted to chief of police in southern Johor state after heading the federal police's counterterrorist force since 2016.
Abdul Hamid described Normah as "a highly qualified, very experienced, [and] tough professional of high integrity, and an excellent commander."
"She is a gutsy officer and there is no doubt she will carry out the task given to her to the best of her ability," the national police chief told BenarNews late Friday. "On top of that, the division has dozens of equally determined and very experienced officers."
The appointment took effect at 11 a.m. Friday.
Abdul Hamid said one of Normah's first tasks would be to deal with the potential return of 56 Malaysians stranded in Syria, including families of fighters who had traveled to the region to join the Islamic State (IS) militant group. In January, Ayob said 19 men, 12 women, 17 boys and eight girls were living in refugee camps or were on the run in Syria after the military defeat of IS in the region last year.
Previously, the government reported that 120 Malaysians had traveled to Syria since 2014 to engage in terrorist activities.
Normah, who joined the police force in 1991, was appointed as Ayob's deputy in 2016, the year of the first attack claimed by IS in the Southeast Asian nation.
Malaysian IS terrorist Muhammad Wanndy Mohamed Jedi masterminded a grenade attack that injured eight people at a pub in the outskirts of Kuala Lumpur on June 28, 2016, officials said. A year later, Wanndy was killed in a drone strike near Raqqa, Syria.
While working under Ayob, Normah assisted in foiling terrorist plots by al-Qaeda in foreign countries with the arrest of foreigners, including five Egyptians, who were part of the Muslim Brotherhood in February 2019.
Normah could not immediately be reached for comment.
A source at federal police headquarters in Kuala Lumpur said she was the right person to lead the counterterrorism unit.
"She is a woman, but gender has nothing to do with how one executes the task given. She is capable of carrying out the task as counterterror chief. She is very strict but humble," the source told BenarNews, adding that the unit's officers would respect her.
https://www.benarnews.org/english/news/malaysian/counterterror-chief-02142020145337.html
--------
Iraqi Women Lead Baghdad Protests Following Cleric's Calls For Segregation
14 February 2020
Iraqi women were at the forefront of protests in Baghdad's Tahrir Square on Thursday, after a prominent political leader called for segregation during demonstrations earlier this week.
Shia cleric Muqtada al-Sadr on Sunday said that men and women should not mix in sit-in tents during demonstrations in a list of restrictions and rules posted on his Twitter page.
Hundreds of people gathered in the capital to denounce al-Sadr's statement, and call for women's rights and political reforms, videos shared on social media showed.
"With our souls, with our blood, we sacrifice for you Iraq," the women chanted.
Arwa Ibrahim
✔
@arwaib
Huge women's march through the streets of #Iraq today to call for women's rights + denounce Shia leader Muqtadaal-Sadr's calls to segregate men and women in protest hubs. #Iraqprotests
Embedded video
375
5:09 PM - Feb 13, 2020
Twitter Ads info and privacy
226 people are talking about this
Iraqi women, using the Twitter hashtag "We are the daughters of Iraq" in Arabic, also shared pictures and videos of themselves carrying posters on the platform.
Several videos showed men linking arms together around the women in order to protect them from other protestors.
Reaam ريام 🪐
@reaam_mh
Todays womens march in Baghdad. Today our womens voices echo across every province in Iraq. If you look closely- the men have created a wall surrounding the women as protection. #بناتك_ياوطن#IraqProtests
Embedded video
401
3:50 PM - Feb 13, 2020
Twitter Ads info and privacy
160 people are talking about this
Iraqis had launched a social media campaign ridiculing the cleric on Sunday, where they mocked al-Sadr by wearing hijabs and drawing on mustaches after his statement was posted on Twitter.
Since the anti-government demonstrations erupted in Baghdad and southern cities in October 2019, more than 500 Iraqis have been killed.
https://english.alarabiya.net/en/News/middle-east/2020/02/14/Iraqi-women-lead-Baghdad-protests-following-cleric-s-calls-for-segregation-.html
--------
Nashik: Muslim Women Stage Protest Against CAA Near Golf Ground
Feb 07, 2020
Several Muslim women staged protest against Citizenship Amendment Act (CAA) near Golf ground in Nashik on February 6. The demonstration was organised to express solidarity with Shaheen Bagh protesters. Meanwhile, the Supreme Court said it would hear the pleas against anti-CAA protests at Shaheen Bagh on February 10, as it did not want to 'influence' the Delhi assembly elections by hearing the matter on February 7. Assembly election in the national capital will be held on February 8 and the matter will now be heard on February 10.
https://timesofindia.indiatimes.com/videos/toi-original/nashik-muslim-women-stage-protest-against-caa-near-golf-ground/videoshow/74008508.cms
--------
Ivanka Trump arrives in Dubai for Global Women's Forum
February 15, 2020
Ashley Hammond
Dubai: Ivanka Trump, daughter and advisor to the President of the United States Donald Trump, was received by Mona AL Marri, Chairperson of Dubai Women's Establishment's Board of Directors in Dubai on Saturday, ahead of the American's participation in the Global Women's Forum.
Pictures were tweeted by Dubai Media Office's official twitter account on Saturday morning of Ivanka Trump being received by Al Marri.
Trump will attend the forum to take place at Madinat Jumeirah from February 16-17 along with former British Prime Minister Theresa May.
Organised by Dubai Women Establishment (DWE), GWFD 2020 is a leading global platform that actively engages leaders and experts from around the world in constructive dialogue to discuss improved policies based on international best practices, foster goal-driven partnerships, and shape sustainable communities.
In her role as advisor to the US President, Ivanka Trump will focus on the education and economic empowerment of women and their families, as well as job creation and economic growth through workforce development, skills training and entrepreneurship.
An entrepreneur herself, Ivanka Trump has spearheaded a wide range of initiatives and programmes to support women-owned businesses around the world, particularly in emerging markets. She has been instrumental in launching the Women's Global Development and Prosperity Initiative, an effort to encourage women in developing nations to participate in their economies. The initiative marks its first anniversary on February 12.
Ivanka Trump will also participate in the We-Fi MENA Regional Summit in Dubai, which takes place on the sidelines of GWFD 2020 for the first time in the Middle East and North Africa region. The Summit is co-organised by Dubai Women Establishment (DWE) and the Women Entrepreneurs Finance Initiative (We-Fi), a ground-breaking multi-national partnership launched in 2017 to unlock financing for women-led businesses in developing countries. The initiative is supported by the UAE government, which was among the first contributing donor countries.
May will share her perspectives on female leadership in government and the important contribution of women to political life. The session will be moderated by Lana Nusseibah, UAE Permanent Representative to the United Nations.
President of the UAE Gender Balance Council, President of Dubai Women Establishment, and wife of Shaikh Mansour Bin Zayed Al Nahyan, UAE Deputy Prime Minister and Minister of Presidential Affairs, said: "With an extraordinary political career spanning over two decades, which saw her rise to become one of the world's most influential women, Theresa May is a prime example of female potential and what women can achieve in traditionally male-dominated environments. As a role model for aspiring female politicians around the world, she has championed women and contributed to enhancing female representation within this field, famously stating that 'a woman's place is in elected office'."
Mona Al Marri, Chairperson of the Board and Managing Director of DWE, said: "It will be a pleasure to welcome Ivanka Trump to Global Women's Forum Dubai 2020 this year. As a strong advocate for women's empowerment, and a champion of female entrepreneurship, she has established effective partnerships and led a variety of initiatives that have furthered the positive impact of women across the world. Ivanka Trump will bring valuable expertise and insights into boosting support to women-owned enterprises and propelling female entrepreneurs across the region. We look forward to having her at GWFD 2020."
Ivanka Trump will join other high-profile international speakers, including David Malpass, President of the World Bank Group, and Kristalina Georgieva, Managing Director of the IMF, participating in Global Women's Forum Dubai 2020 this month.
Building on its theme, 'The Power of Influence', Global Women's Forum Dubai 2020 will highlight how effective policies and partnerships in four key areas – Government, Economy, Society, and the Future – can further women's positive impact for a better future.
https://gulfnews.com/uae/ivanka-trump-arrives-in-dubai-for-global-womens-forum-1.69728716
--------
URL:https://www.newageislam.com/islam-women-feminism/islamic-faith-marriages-valid-english/d/121072
New Age Islam, Islam Online, Islamic Website, African Muslim News, Arab World News, South Asia News, Indian Muslim News, World Muslim News, Women in Islam, Islamic Feminism, Arab Women, Women In Arab, Islamophobia in America, Muslim Women in West, Islam Women and Feminism