New Age Islam News Bureau
24 Jul 2020
• Iraqi Woman, Dr.Azhar Hussein Saleh, Receives the Arab Woman of Excellence Award
• Saudi Sports for All Federation Leads Surge in Local Women's Sports
• Pakistan's First Woman Firefighter Sets New Benchmark in Helping People
• Saudi Arabia Rules in Favour of Woman Living Independently Without Permission
• Iraq Forces Free German Woman Kidnapped in Baghdad: Officials
• UN Warns Too Few Islamic State Women Are Facing Justice
• Jewish and Muslim Women Come Together Against Hate
Compiled byNew Age Islam News Bureau
URL: https://www.newageislam.com/islam-women-feminism/how-coronavirus-pandemic-affects-saudi/d/122457
--------
How The Coronavirus Pandemic Affects Saudi Women
JULY 23, 2020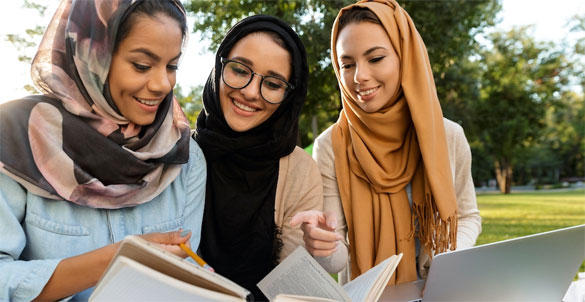 Saudi women have made huge strides over the last few years with increased labor force participation rates and private sector employment. (Photo credit: Dean Drobot/Shutterstock)
-----
Saudi women are playing a major part in the socioeconomic transformation under Vision 2030. The government of Saudi Arabia is implementing a broad program of gender reforms for which it received international recognition. It is ranked first in the GCC and second in the Arab World in the World Bank Business and Law Report (2020) for twelve regulations pertaining to women. Examples of new amendments to the laws include protecting women from discrimination in employment and in accessing financial services. The retirement age for men and women has also been equalized at 60 years, prolonging women's employment duration, earnings and contributions.
Along with the new policies, there has been a behavioral shift as many Saudi households realize the importance of women's contribution to their overall prosperity. Indeed, there has been a rapid and substantial improvement over the last few years in key economic indicators for women. According to the Saudi Arabia General Authority for Statistics, women's labor force participation rates increased from 19% in 2016 to 26% by the fourth quarter of 2019. Their employment also rose by around 9% during that period.
Nonetheless, many challenges remain. Half of young Saudi women are not employed, nor are they in education or training. Not all women can find jobs, especially first-time job seekers. Their unemployment rate had been 30.8% in 2019.
The recent outbreak of COVID-19 and the decrease in oil prices threatens the progress to date. The reduction in economic growth resulted in many layoffs and an increase in the pool of unemployed people. Since the majority of unemployed women do not have work experience or training, they will be at a disadvantage when competing with other Saudis, both male and female, who are not first-time job seekers, but who were laid off due to the ongoing crisis. The coronavirus crisis will amplify the challenges for first-time female job seekers and may stall their entry into the workforce.
Women who are employed in the private sector are particularly vulnerable. Private sector employment comprises a significant share of all employed females. However, they are concentrated in a few sectors and occupations such as retail and education which have been hit hard by COVID-19. As a result, female employment in these sectors is expected to face significant declines. On the other hand, women also work in the health and social work activities where they are on the front line of the crisis. Almost 45% of health care sector employees are women whose work demands have increased.
Furthermore, due to the crisis, schools and childcare facilities have remained closed since early March 2020. The demand for family and home related work, which falls primarily on women, has therefore increased. This may also discourage women from seeking employment or remaining in the workforce, thereby compounding their challenges.
Saudi women have made huge strides over the last few years with increased labor force participation rates and private sector employment. Notwithstanding these gains, the COVID-19 crisis underscored the challenges that women still face in today's economy and society. In addition to social norms and the economic burden of unpaid work at home, far too many women lack work experience and are concentrated in few sectors and occupations. The government has already implemented many measures to mitigate the impact of COVID-19 such as the provision of wage subsidies to Saudis in the private sector. Additional support will be needed during this crisis. This may entail re-skilling and upskilling job seekers and employees and providing more opportunities for remote and flexible work.
COVID-19 pandemic should not be allowed to disrupt the the government reforms efforts. On the demand side, they can create incentives for employers to hire women, such as subsidizing a portion of maternity leave. On the supply side, they can encourage female employment or entrepreneurship by increasing maternity leave durations and by providing adequate childcare support for all employed women and those seeking employment. COVID-19 should be seen as an opportunity to accelerate planned reforms that will make further inroads towards empowering women in the workforce.
https://blogs.worldbank.org/arabvoices/how-coronavirus-pandemic-affects-saudi-women
--------
Iraqi Woman, Dr.Azhar Hussein Saleh, Receives the Arab Woman of Excellence Award
23 July, 2020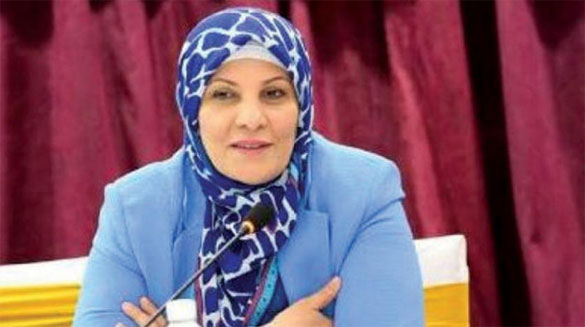 Dr. Azhar Hussein Saleh
-----
Dr.Azhar Hussein Saleh, Undersecretary of the Ministry of Planning and the head of Syndicate of Iraqi Engineers, received the Arab Woman of Excellence Award in the field of public service.
In an interview she gave to the Iraqi News Agency, Dr. Saleh said that she received this award, the first Iraqi woman to do so, as the only woman in the Arab region to head a syndicate of engineers, in addition to her other accomplishments. She added that she did not receive the award in person in light of the current circumstances. A ceremony that would allow her to officially receive it from Arab League will be held in Tunis early next year as part of Arab Women Week.
She goes on to say: "This major award is considered among the most prestigious honoring Arab women." She then emphasizes that she will continue to move along the same path and work to keep pace with technological development, in order to help her country grow and prosper.
Dr. Saleh then explained that this award honors the distinguished role Iraqi women play in the development and construction of Iraq despite the difficult circumstances.
Dr. Saleh holds a Ph.D. in engineering and has held many high-ranking administrative positions; before being an Undersecretary, she had been the General Director of the General Government Contracts Department and Director General of Sector Planning Department at the Ministry of Planning. She also represents Iraq in the World Federation of Engineering Organizations, and has many academic and social achievements to her name.
https://english.aawsat.com/home/article/2407001/iraqi-woman-receives-arab-woman-excellence-award
--------
Saudi Sports for All Federation leads surge in local women's sports
July 23, 2020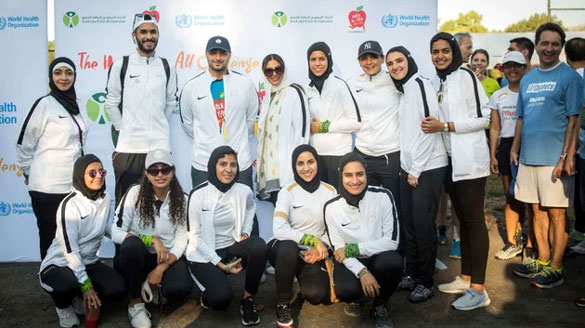 The Saudi Greens women's football team that placed second in the UN Global Goals World Cup in New York, under the auspices of the Saudi Sports For All Federation. (Supplied)----
----
JEDDAH: Women's sport in Saudi Arabia is flourishing, with Ministry of Sports estimates showing that female participation has increased by nearly 150 percent in the past five years.
From beginners to fitness fans, women are discovering and benefiting from the perks of an active and healthy lifestyle.
This surge in interest can be attributed to many factors, including better knowledge of healthy lifestyles, increased opportunities to take part in activities, and a growing number of inspirational role models.
Under Vision 2030, and specifically the Quality of Life program, the Saudi Sports for All Federation (SFA) is working to increase weekly sports participation to 40 percent by 2030, by introducing a more inclusive sports environment, and encouraging girls and women to take up a sport.
SFA President Prince Khaled bin Alwaleed bin Talal said: "Championing a healthy and active community means that we help to provide all members of Saudi society with access to high-quality opportunities to discover their love of fitness."
He added: "The SFA is mandated with increasing participation in physical activity, and with women leading this national drive we are well positioned to meet the goals outlined by Vision 2030, closely supported by the Quality of Life program, the Ministry of Sports and the Saudi Arabian Olympic Committee."
In February, the SFA inaugurated the Kingdom's first Women's Football League (WFL) to meet the need for community-level football.
"Having a women's football league is a huge boost for female football. We have been playing football, forming leagues and training since 2007, without any tangible support," said Rawh Abdullah Alarfaj, the SFA's special projects manager.
"This is an opportunity for players of every level who are looking for an organized league under an official umbrella, and for coaches and referees who need to be recognized. The league also offers a great structure for clubs who have been established for a long time but have struggled to run effectively due to limited access to equipment, a field or a proper system where they can compete fairly. This league will open doors for any woman who has an interest in football."
Football is the most popular sport across the Kingdom, and the WFL — the nation's first community women's football league to meet the need for grassroots football — is open to women aged 17 and above.
The launch of the WFL followed the success of the Saudi Greens women's football team, another initiative overseen by the SFA. Formed in 2018, the Saudi Greens competed in the UN Global Goals World Cup 2019 (GGWCP), where they claimed second place. It was the first time a Saudi women's community sports team had taken part in an international event.
On representing her country overseas, coach Maram Adel Albutairi said: "It was an awesome experience in terms of learning how to connect our passion for sport with goals that affect our society, country and the world. Being part of the first team to compete internationally was an honor and a dream come true."
Fellow coach LujainKashgari described her pride at Saudi Arabia's achievements, starting at the community sports level. "The SFA makes huge efforts to use sports as a power to encourage society to develop a healthy and fit lifestyle," she said.
RoaaQattan, Albutairi and Kashgari are the only three female Saudi football coaches certified by the AFC and have attended specialized training courses in football coaching. They have been selected to lead the Arabic training sessions as part of the international GGWCP Virtual Clubhouse, which ran online until July 9.
Qattan said the Virtual Clubhouse offers an excellent opportunity to join the Green Team in its current Arabic training sessions.
"Albutairi, Kashgari and I were selected and tasked with preparing content for the training sessions in a way that was easy to set up and using simple Arabic. I wouldn't be able to succeed without the support of the Green Team members and the SFA management, which is committed to achieving the General Sports Authority goals under Vision 2030."
Saudi women are starting to show what they can achieve in sports.
Osamah Saleh, SFA director of marketing and communications, said: "With investment at a local level, positive role models and continued support from the SFA in the form of innovative campaigns and events, the rise of female Saudi sports stars will be unstoppable.
"We know the sport is about much more than excelling. Everyone has their personal goal — from increasing their step count to committing to exercising three times a week — and the SFA is there to help women at the critical community and grassroots level."
To maintain momentum in the face of the coronavirus pandemic, the SFA promoted a "Your Home, Your Gym" campaign, aimed at encouraging people to get active while they stayed at home. Leading sports personalities were recruited as ambassadors, including leading female trainers to engage more women and offer home workout options.
The SFA also held the first Saudi Women's Fitness Festival (WFF) in June — a three-day virtual event with sessions on nutrition, fitness, virtual workouts and thought leadership discussions.
Yasmine Hassan from Jeddah, one of the new wave of Saudi fitness coaches building online followings, said that an invitation to become an SFA ambassadors meant a lot.
"Collaborating with entities such as the SFA means I can continue to grow and improve myself, both personally and professionally. I enjoy challenges and look forward to opportunities where I can
share my experience. Sport is a lifestyle and I want to encourage everyone, especially women, to get active."
HatoonKadi, a WFF panel moderator, blogger, scriptwriter and presenter of YouTube's "Noon Al-Niswa," said the festival provided a great opportunity for women and girls to hear directly from female sporting role models.
"Being active and playing sports is beneficial for both mental and physical well-being, but now it can also become a career. The Women's Fitness Festival provided the opportunity to hear first-hand how women who are already successful in their chosen sport combine fitness with motherhood, how they have overcome certain barriers, and how they got started on their fitness journey."
Najia Al-Fadl, head trainer at Jeddah's SheFit gym, also took part in a WFF panel discussion.
"There are more clubs for girls these days and more are on the way, which is good progress," she said. "We have to support women who want to take up a sport, whether it is a hobby, a lifestyle or a career. There have been so many changes in recent years and now there are a lot more opportunities, thanks to the SFA."
In March, the SFA launched Girls' National Sports Days (GNSD) in the Kingdom, which ran over a six-week period with 24,000 students from 499 schools taking part.
The program's lead coach has more 25 years' experience in delivering and developing the program globally, as well as the pilot project in Saudi Arabia in 2018.
Designed to achieve the Vision 2030 Quality of Life goals of enhancing girls' sports participation within schools and promoting female inclusion in sport, the program is designed to encourage students to improve their health, fitness and sports participation, while giving participants the chance to experience different sports.
"From the girls' smiles, laughter and chanting as they cheered on their teammates, it was clear that they all thoroughly enjoyed the Girls' National Sports Days," said Kirsten Butler, the project director.
By encouraging sports from a young age for girls, Saudi Arabia will become a healthier, stronger country, she said.
From these SFA-led initiatives, it is clear that women are eager to become more involved in sport. Whether providing opportunities at the community and grassroots level, establishing leagues, or working with female role models, the SFA is laying a solid foundation that encourages women from all walks of life to take up sport.
https://www.arabnews.com/node/1709056/sport
--------
Pakistan's first woman firefighter sets new benchmark in helping people
July 24, 2020
Zubair Qureshi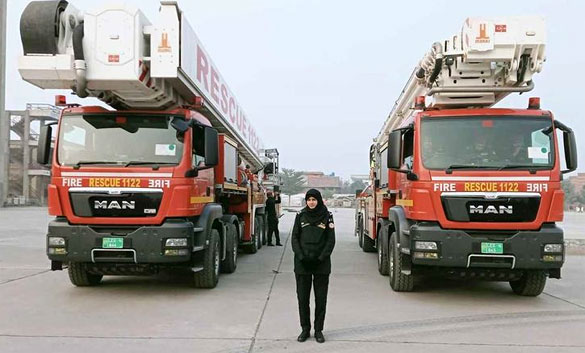 Shazia Parveen, Pakistan's first woman firefighter, says though her job is a risky one, it is fulfilling too.
Image Credit: Supplied
----
Islamabad: Shazia Parveen, from Punjab's Vehari district, has the distinction of being Pakistan's first female firefighter.
She joined the Rescue 1122 emergency service (Fire Wing) in 2010 and since then has taken part in a number of rescue operations and fire extinguishing expeditions — helping and rescuing people in difficult and dangerous situations.
Parveen says though it is a risky job, it is quite fulfilling as at the end of the day, one goes home with a feeling of satisfaction after helping people out in emergencies.
A profession by choice
While speaking to Gulf News, Shazia Parveen, 32, said girls and women are usually type-cast for professions such as teaching, nursing, medical sciences or some office work.
However, in Parveen's case, she was lucky to have the support of her father, late Rehmat Ullah, a former army man who had encouraged her to pursue her passion and be whatever she wanted to be. "When I told him that I wanted to join Pakistan's premier rescue service Rescue 1122, he fully supported me," said Parveen, whose father died last month.
Shazia, who is pursuing her Masters along with the job, said women in Pakistan are highly talented. They are physically strong and can make their mark in unconventional fields as well, apart from shining in traditional jobs.
When asked if she, as the only woman rescuer, ever faced any kind of difficulty or discrimination at work, she said she had the confidence and support of her entire team, particularly, Assistant Director (Fire), Ibrar Hussain. "We have an excellent work environment and I feel proud to be a member of the Rescue 1122 team," said Parveen.
She said like nursing and medical care, rescue services are also suited for women's aptitude and that they should not hesitate to join the profession.
From firefighter to fire instructor
Six years after joining Rescue 1122 in Vehari and taking part in various field operations, Parveen was promoted to Lead Fire Instructor and transferred to Lahore's Rescue department at Thokar Niaz Baig.
In Lahore, she is now training the new team members on the standard operating procedures for firefighting. "They include extinguishing fires, climbing high-rise buildings, rescuing and helping people in traumatic situations," said Parveen.
There are three wings under Rescue 1122: Rescue, Fire and Medical Wing. All of them are challenging and test the team members' physical and mental strength, commitment and resolve to take part in rescue operations, said added.
https://gulfnews.com/world/asia/pakistan/pakistans-first-woman-firefighter-sets-new-benchmark-in-helping-people-1.72611923
--------
Saudi Arabia Rules in Favour of Woman Living Independently Without Permission
By Halligan Agade
July 15, 2020
Public prosecutors had been pursuing the woman for being absent from her family's home and traveling to Riyadh without permission, court documents published by Abdulrahman al-Lahim, a lawyer in the case, showed.
"A historic ruling was issued on Wednesday, affirming that independence of a sane, adult woman in a separate house is not a crime worthy of punishment," al-Lahim said in a tweet. "I am very happy with this ruling that ends tragic stories for women."
The court ruled that the independence of the defendant in a separate home is not considered a punishable criminal act as the "woman is a sane adult who has the right to decide where she wants to live," according to the document.
In an interview with Al Arabiya, al-Lahim said that he considers this a historic ruling because it represents a significant change is underway within the Kingdom's judicial system.
"This shows the creation of a new generation of judges who coexist and live in the reality that the Kingdom of Saudi Arabia is living in, in alignment with the vision of Crown Prince Mohammed bin Salman," the lawyer told Al Arabiya. "A ruling that deals with reality, the reality of society and the reality of the entire world."
Al-Lahim also said the ruling is in line with global women's rights and human rights.
The woman involved later revealed her identity on Twitter in a response to comments made by al-Lahim.
"After long-suffering that has lasted since 2017, I managed today, along with the court hero Mr. Abdulrahman al-Lahim, to take back my freedom of movement, guaranteed by the Saudi constitution, which states that every citizen has freedom of movement and stability," Meriam al-Eteebe, the defendant, said in a tweet.
She also said that her experience was "not easy but worth it."
https://africa.cgtn.com/2020/07/15/saudi-arabia-rules-in-favor-of-woman-living-independently-without-permission/
--------
Iraq forces free German woman kidnapped in Baghdad: officials
July 24, 2020
BAGHDAD: A German woman kidnapped in Baghdad earlier this week was freed overnight, Iraqi officials said on Friday, without providing additional details.
"Security forces have freed activist Hella Mewis," Iraq's military spokesman Yahya Rasool said in a statement.
There were no details on the timing of the operation, the force that carried it out or who had kidnapped Mewis.
A spokesman for Iraq's Supreme Judicial Council, AbdelsattarBayraqdar, said the operation had been backed by a Baghdad investigative court.
"We are still investigating this crime," he said.
Mewis, who ran arts programs at Iraqi collective Tarkib, was kidnapped late on Monday as she was leaving her office.
"She was riding her bicycle when two cars, one of them a white pickup truck (of the type) used by some security forces, were seen kidnapping her," a security source told AFP.
Police officers at the local station witnessed the abduction but did not intervene, the source added.
Mewis's phone was still unreachable on Friday and her friends had not heard from her.
The German embassy in Baghdad had no immediate comment.
A friend of Mewis told AFP she had been worried following the killing of Hisham Al-Hashemi, an Iraqi scholar who had been supportive of anti-government protests last year.
"I spoke to her (Mewis) last week and she was really involved in the protests too, so she was nervous after the assassination," said the friend, DhikraSarsam.
Large demonstrations erupted in Baghdad and Iraq's Shiite-majority south last year, railing against a government seen as corrupt, inept and beholden to Iran.
Around 550 people died in protest-related violence, including two dozen activists who were shot dead by unidentified men, usually on motorcycles.
Dozens more were kidnapped, some of whom were later released near their homes. The whereabouts of others remain unknown.
Amnesty International has slammed the incidents as "a growing lethal campaign of harassment, intimidation, abductions and deliberate killings of activists and protesters."
This year has seen a worrying spike in abductions of foreigners, who had not been targeted in several years.
On New Year's Eve, two French freelance journalists were taken hostage for 36 hours and three French NGO workers were held for two months.
In both cases, neither the kidnappers nor the conditions of their releases were revealed.
https://www.arabnews.com/node/1709216/middle-east
--------
UN Warns Too Few Islamic State Women Are Facing Justice
By Jeff Seldin
July 22, 2020
WASHINGTON/PENTAGON - Efforts to deliver an enduring defeat to the Islamic State may be in danger because of difficulties with bringing the terror group's female members and associates to justice.
Describing the situation as dire, a new analysis from the United Nations' Counter-Terrorism Committee Executive Directorate [CTED] warns too few of these IS women are being held to account, as many countries have been reluctant to repatriate them.
"Women are the demographic group with the lowest overall rate of return from the conflict zone in Iraq and the Syrian Arab Republic," according to the CTED report issued Wednesday, based on a study of 80 U.N. member states.
"Within judicial systems, there is an urgent need for training and capacity-building on gender-sensitive approaches to investigations and prosecutions," the report added.
Exactly how many women members of IS have been prosecuted or could be charged with crimes is difficult to say.
The CTED analysis said for many U.N. member states, "accurate information on the fate of women returnees was either unavailable or only partially available."
Lack of repatriation
Many Western countries have consistently refused to take back anyone who traveled to join the Islamic State's self-declared caliphate.
Countries like Britain, Germany, Denmark, Australia and Indonesia, among others, have even gone as far as to strip nationals who traveled to join IS of their citizenship.
And repatriations of IS-linked women that have taken place have been piecemeal.
One study, by the London-based International Centre for the Study of Radicalization, estimated that by July 2019, perhaps as few as 609 women who had traveled to join IS had returned to their countries of origin.
At the same time, based on U.S. estimates, as many as 18,000 IS-affiliated women continued to languish in displaced-persons camps like the al-Hol camp in northeastern Syria, including 2,000 women who have renounced their previous citizenship.
Pleas by U.S. officials, as well as by the U.S.-backed Syrian Democratic Forces, for those women to be repatriated have largely been ignored.
Obstacles to collecting criminal evidence
And some analysts fear the longer they stay there, the harder it will be to ensure any of them answer for potential crimes.
"It becomes harder and harder to gather that evidence," said Devorah Margolin, a senior research fellow with George Washington University's Program on Extremism.
"People become less cooperative," she said. "Or memories aren't as strong as they were when incidents first happened."
And researchers like Margolin and those with CTED note that when it comes to IS, there is already a huge discrepancy in available evidence. While IS readily documented violence carried out by male fighters in its videos and other propaganda material, it rarely showed women in similar situations.
"There's a very big division of the sexes, and part of that, specifically for a group like the Islamic State, is a removal of women from images," Margolin said.
"That's not to say that under the Islamic State that there weren't atrocities also carried out by women," she added. "We know that women were part of the morality police, policing other women, and also part of the female sex trade of female slaves."
Further complicating matters, the U.N. researchers found not all countries are even willing to consider the possibility that some of the IS women need to face justice.
"The tendency to view women as passive followers of their husbands continues to prevail," the CTED analysis found. "[That], together with evidentiary challenges, contributes to low rates of conviction and/or shorter or suspended sentences."
The report found, in Western Europe and North America in particular, women linked to the terror group were likely to get more lenient sentences than IS-linked men.
Others seem to have escaped justice completely.
"In the Balkans, governments did not account for noncombatant support provided by female affiliates of the Islamic State, and most female returnees have avoided prosecution altogether," JamilleBigio, a senior fellow at the Council on Foreign Relations, told VOA in an email.
Other countries, though, like Germany and Iraq, have reacted to the difficulty in obtaining evidence by taking a much different, much harsher tack.
"There is evidence of women receiving disproportionately harsh sentences compared to men, including life sentences or the death penalty for mere 'association' with ISIL fighters," the U.N. analysis found, using another acronym for the terror group.
A return to extremism?
Yet whether IS-affiliated women entering the justice systems of various countries are treated too harshly or not harshly enough, there is concern that over the long term, the likelihood that they will cling to or return to their extremist beliefs is high.
The U.N. analysis found that with so few women being brought to their countries of origin to face justice, little has been done to develop programs that could help some of them eventually reintegrate into society once their sentences are complete.
Bigio, who served on the National Security Council under former U.S. President Barack Obama, agreed.
"Prison and rehabilitation programs designed for men fail to address the underlying causes of women's radicalization," she said, noting that women who join extremist groups have often reported that "membership provided greater freedom than could be found in traditional society."
And what many IS-affiliated women are being offered may not be a better alternative.
"Programs often fail to provide training in livelihood skills that could help women support themselves and their children, instead offering training in stereotypically feminine, low-wage activities such as hairstyling and sewing," Bigio said.
https://www.voanews.com/middle-east/un-warns-too-few-islamic-state-women-are-facing-justice
--------
Jewish and Muslim Women Come Together Against Hate
July 23, 2020
By Karen E.H. Skinazi
As my husband and I were taking our regular after-dinner walk in our city of Birmingham, England, I stopped dead in my tracks. My hand flew to my chest, like a character in an overly melodramatic play.
My husband turned his head to follow my gaze. There, spray-painted across a brick wall on the other side of the street, were the semi-literate and fully offensive words "DIE JEWISH."
Despite the profusion of anti-Semitism blasted across newspapers and social media every day, it's surreal to encounter it in your own neighborhood. This was the same street we traversed hundreds, if not thousands, of times in the past months, confined to the distance our feet could cover during the pandemic. Suddenly, this expanse of my telescoped world was defaced with hatred. And we were the target.
I called the police, but after long minutes of waiting, I gave up. We went home and I emailed my member of Parliament, trying to impress upon him the offensive nature of the graffiti. I received an auto-reply. My husband uploaded incident reports on the police and city websites. We waited to hear.
Then it occurred to me to contact some of the most helpful, proactive women I knew: fellow members of Nisa-Nashim, a UK network of Jewish and Muslim women. I opened WhatsApp and wrote to my local chapter. Within seconds, the support came pouring in.
The next day, I arrived at the scene to find Salma Hamid there. I met Salma through our Muslim-Jewish book club, a subgroup of our local Nisa-Nashim. As soon as I sent the photo to Nisa-Nashim, Salma offered to meet there as an active ally. We were quickly joined by a larger group: Jewish and Muslim women, bareheaded and headscarfed, pre-prayers and post, congregated in front of the offensive message.
We came equipped! We had signs and bunting, chalk and posters. We donned sashes, suffragette-style — only instead of "Votes for Women," our swathes of satiny pink fabric were adorned with the name of our group, "NisaNashim, Jewish Muslim Women's Network."
We were not alone for long. A police constable, Adrian Griffiths, soon showed up with a box of tools to remove the paint. Steve McCabe, the Parliament member for the constituency (contacted by one of the Nisa-Nashim women) appeared. So did a university student representing Citizens UK, and the rabbi of the Birmingham Progressive Synagogue.
Until the constable could remove the words, we covered them with bunting left over from the 2020 Great Get Together, a community event inspired by the murdered lawmaker Jo Cox who, in her first speech in Parliament declared, "We have more in common than that which divides us."
The bunting had words that encouraged goodwill: "Love More, Hate Less," "We are all part of one race — the human race," "We need to respect differences" and "I believe in the power of community."
Once the graffiti was removed, we wrapped the bunting around a nearby tree to stand testament.
As I walked home, buoyed by our shared efforts, I thought about a Friday night dinner at our synagogue that my husband and I attended in the fall. The speaker, a rabbi who leads Holocaust tours in Poland, told us he had met hundreds of survivors, and the message they had was not one of despair or revenge, but rather that love conquers all.
It was a nice message — but it didn't resonate. The message I grew up on, passed down from my Holocaust survivor grandmother who lost her parents, sisters, brothers, cousins, nieces, friends and her home, was a lot less rosy: Trust no one.
Yet when this anti-Semitic graffiti showed up on my doorstep, I found I could trust and depend on not only my Jewish sisters, but also my Muslim ones. It amazes me that in less than 24 hours, the anti-Semitic message was replaced by signs of love.
On the following evening, after dinner, my husband and I again set off for our evening walk. I suggested we head in the direction of the incident. By then I figured our chalk rainbow would be long gone, as it had drizzled pretty steadily. But I wanted to see the constable's handiwork; he had still been busily scrubbing at the paint when I left earlier.
As we approached, I saw ghostly traces of the anti-Semitic words on the wall — just barely there. Far bolder, in bright colors, not the least impacted by the rain, was our beautiful rainbow, and beside it, our monumental pledge to solidarity.
https://www.jewishexponent.com/2020/07/23/jewish-and-muslim-women-come-together-against-hate/
--------
URL: https://www.newageislam.com/islam-women-feminism/how-coronavirus-pandemic-affects-saudi/d/122457
New Age Islam, Islam Online, Islamic Website, African Muslim News, Arab World News, South Asia News, Indian Muslim News, World Muslim News, Women in Islam, Islamic Feminism, Arab Women, Women In Arab, Islamophobia in America, Muslim Women in West, Islam Women and Feminism