New Age Islam News Bureau
21 Jun 2015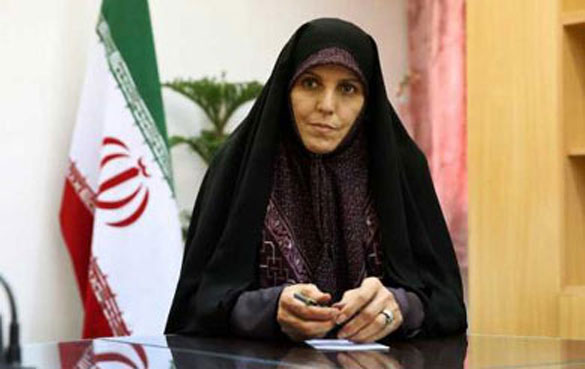 Vice President for Women and Family Affairs Shahindokht Molaverdi listens to a question during an interview at her office in Tehran. — AP
---------
• Female Iran VP scolds hardliners over volleyball ban
• Governor appoints first woman to head municipality in Egypt's Alexandria
• Shiekha Jawaher calls for efforts to help 51m refugees worldwide
• Few Bangladeshi women willing to take Saudi jobs
• Angelina Jolie visits camp for Syrian refugees in Turkey
Compiled by New Age Islam News Bureau
URL: https://www.newageislam.com/islam,-women-and-feminism/new-age-islam-news-bureau/female-iran-vp-scolds-hardliners-over-volleyball-ban/d/103591
-----
Female Iran VP scolds hardliners over volleyball ban
Saturday, June 20, 2015
TEHRAN — One of Iran's female vice presidents launched a furious attack Saturday on "sanctimonious" groups whose threats of violent confrontation at a volleyball match ultimately prompted a clampdown on women spectators.
The remarks from Shahindokht Molaverdi, whose brief covers women and family affairs, could inflame a weeks-long row between the government and conservative opponents of its plans to ease restrictions at sporting events.
Volleyball is highly popular in Iran and Molaverdi last week said a limited number of women would, in contravention of a ban, be allowed to watch two eagerly anticipated matches against the United States in Tehran.
But security officials later contradicted her. Streets surrounding the Azadi Sports Complex were heavily policed before and during Friday night's first match, with officers forbidding women from going anywhere near the venue.
And although 200 special tickets for women were printed, an Iranian volleyball official told AFP the accreditations had not been authorized by security officials at the arena, and were thus invalid.
A few women pictured on social media watching the match were not Iranian, the Fars news agency reported Saturday, but members of the Russian, Italian and Hungarian embassies in Tehran.
In the aftermath, Molaverdi, writing on Facebook, hit out at the ban, saying the government had respected the views of religious leaders while trying to respond to "the legal demands of another section of society."
She criticized groups who said they would spill blood if women were allowed into the stadium, suggesting such opposition came "from those who were denounced two years ago by voters, and who had crawled into their cave of oblivion for eight years."
The comments — confirmed by Molaverdi's office as genuine — suggested she was drawing a contrast between the plans of President Hassan Ruhani, regarded as a moderate, and the hardline two-term tenure of his predecessor, Mahmoud Ahmadinejad.
Before and after the match women took to Twitter and other social networks using the hashtag #LetWomenGoToStadium in protest, with the row casting a shadow over Iran's 3-0 victory.
A "crowd of sanctimonious people who published one notice after another denouncing the modest and decent girls and women of this land" who "talked of confrontation used obscene and disgusting insults that only befit themselves," Molaverdi wrote on Facebook.
"Even if one day our beloved girls and women forgive this crowd, they will never forget them and keep these days in their historical memory."
Unlike football and basketball, women were allowed to attend male volleyball matches until a few years ago, and there is no need to change the law, said Molaverdi.
A second match against the United States will take place on Sunday. — AFP
http://www.saudigazette.com.sa/index.cfm?method=home.regcon&contentid=20150621247883
-----
Governor appoints first woman to head municipality in Egypt's Alexandria
Ahram Online, Saturday 20 Jun 2015
The Governor of Alexandria Hani Meseiri appointed on Saturday the first woman to ever take over a municipality head position in Egypt's second city.
Soad Helmy is expected to take over her new position as the head of the city's central district on Saturday, Al-Ahram Arabic news website reported.
The most notable monument in the district is the Library of Alexandria. The modern library, which opened in 2002, is praised for its reading room, tilted toward the sea like a sundial and its extensive collection of books.
The neighbourhood's northern border begins by the cornice, opposite the area flanked between Delta Street and the old stock exchange, and bordered from the south by Lake Mariot Bank and the Meyah El-Shorb canal.
Helmy will be the second woman to fill this position in Egypt, following Azza Sherif who took the municipality head position in Cairo's middle-class district of Dokki in September 2013.
http://english.ahram.org.eg/NewsContent/1/64/133238/Egypt/Politics-/Governor-appoints-first-woman-to-head-municipality.aspx
------
Shiekha Jawaher calls for efforts to help 51m refugees worldwide
Saturday, June 20, 2015
SHARJAH — Sheikha Jawaher Bint Mohammed Al-Qasimi, wife of the Ruler of Sharjah, UNHCR Eminent Advocate for Refugee Children, has called for immediate international action to help the rising numbers of refugees fleeing war and arriving in neighboring countries, homeless and hopeless.
Sheikha Jawaher Al Qasimi said, "The real crisis in a war continues long after the fighting stops with families torn apart and people left stateless, homeless, and without hope.
"If the international community does not come together and take action on the world's refugee situation now the impact of war will effect generations to come.
"United Nations High Commissioner for refugees reports that, for the first time since World War II, the number of refugees exceeds 51 million people, more than half are vulnerable women and children. Some have been languishing in refugee camps for decades long after the crisis that drove them from their homes has been forgotten. Furthermore, there are now nearly 19.5 million registered refugees in the Middle East and this is a vast and worrying number of people who are displaced and in great need of basic care and support giving rise to a humanitarian crisis."
The call to action comes on World Refugee Day, established in 2001, by the UN General Assembly to renew commitment to end war and conflict, and to help the people who have been forced to flee their homes. World Refugee Day honours the strength and resilience of over 51 million people around the world who have fled war, persecution and human rights abuses. The UN Secretary General, Ban Ki Moon said, it is an opportunity for the international community to recognize the plight of millions of uprooted families across the globe.
Sheikha Jawaher Al Qasimi said, "The numbers of refugees are on the rise each day, and I am saddened to hear that this month has seen a new influx of over 23,000 refugees fleeing their homes to escape the conflict in Syria and arriving in Turkey, homeless and facing hopelessness and despair.
"Many of them are women and children who face an uncertain future, not knowing when, or even if, they can ever return home. It is the duty and responsibility of decision makers globally to help and support these innocent victims of tragic circumstance who find themselves far from home, with little else but the clothes they can carry. As United Nations High Commissioner for Refugees said, one family torn apart by war is too many. That is human cost of war and disasters," she added.
Through her initiative, the Big Heart Foundation is sponsoring a new project to help both Turkish and Syrian women fleeing sexual and gender based violence (SGBV). It is being launched to coincide with World Refugee Day. The project will run until the end of the year, with $500,000 being made available for specialist care for Syrian and Turkish women who have fled from, or are at risk of, sexual or gender based violence. — SG
http://www.saudigazette.com.sa/index.cfm?method=home.regcon&contentid=20150621247882
------
Few Bangladeshi women willing to take Saudi jobs
Saturday, June 20, 2015
Saudi Gazette report
DAMMAM — A Bangladeshi diplomat has said few Bangladeshi women are applying to work in Saudi Arabia as housemaids, Makkah daily reported.
Labor Attaché at Bangladesh Embassy in Riyadh Sirwar Alem said only 500 Bangladeshi women will be coming to work in the Kingdom during Ramadan.
"An average of 16 housemaids will arrive a day. Only 5,000 Bangladeshi women have applied to 100 different recruitment offices in various regions of Bangladesh. Not all of them will be qualified to come to the Kingdom as they still have to go through medical checkups, which could eliminate a great number of them," said Alem.
He said the Kingdom does not offer great incentives for Bangladeshi women in comparison to the other opportunities they have.
"They are only paid SR800 a month if they come to work in Saudi Arabia while they can earn SR1,875 working in Hong Kong. They can also earn up to SR1,125 working in Kuwait, Qatar and Oman. They also have better work opportunities in Jordan and Thailand," said Alem.
He also said after the Kingdom banned the recruitment of Bangladeshis for eight years, many are still apprehensive about applying because of fears that a similar ban may be imposed again.
"Also, some Bangladeshi women who have previously worked in the Kingdom have not portrayed a very positive image about the work conditions as a housemaid in Saudi Arabia. As a result, many women are afraid to go to the Kingdom," said Alem.
Aside from the general public's view on working in the Kingdom as a housemaid, the procedures required such as passport authentication and medical reports are time consuming in Bangladesh, he added.
Labor Ministry spokesman Tayseer Al-Mofarej said the Kingdom follows up with the countries that violate the ministry's regulations.
"We have a delegation from the ministry in India and Bangladesh to follow up with the recruitment of domestic workers. Its job is to address any hindrance delaying the process and urge recruitment offices there to complete their part of the contract," said Al-Mofarej
http://www.saudigazette.com.sa/index.cfm?method=home.regcon&contentid=20150621247950
-------
Angelina Jolie visits camp for Syrian refugees in Turkey
Saturday, June 20, 2015
ISTANBUL — Oscar-winning actress Angelina Jolie on Saturday called for more international action to help refugees as she visited a camp in southeastern Turkey housing thousands of Syrians who fled their war-torn country.
The Hollywood star and special envoy of the UN refugee agency visited the camp in Mardin on World Refugee Day with UNHCR chief Antonio Guterres, after meeting Turkish President Recep Tayyip Erdogan, who was also in the city.
"We are here for a simple reason: this region is at the epicentre of a global crisis," Jolie told reporters.
"We should call this what it is: not just a 'refugee crisis,' but a crisis of global security and governance, that is manifesting itself in the worst refugee crisis ever recorded -- and a time of mass displacement," she said.
Jolie and Guterres's visit came after the UN said Thursday that the number of people forced to flee war, violence and persecution has soared to a record 59.5 million, half of them children.
The huge tide of displaced people has grown by 8.3 million since 2013 -- the highest-ever increase in a single year.
"My first message is that it is due time for people to respect the plight of refugees and see their value. We must protect them, and invest in them. They are not a problem, they are part of the solution to this global crisis," Jolie said.
"I plead to the international community and leaders of the world to recognise what this moment in mass human displacement means. This is not just another day."
The mother of six, including three adopted children, thanked Turkey and other countries who have provided shelter to large numbers of refugees.
Turkey, which has taken in 1.8 million Syrian refugees since the conflict started in 2011, has repeatedly complained that it has been left to shoulder an unfair burden.
During her visit, Jolie met with Syrian refugees and heard how they had escaped their country. She was spotted earlier Saturday walking around Mardin and visiting local shops accompanied by her eldest daughter Shiloh.
On Friday, the pair had been in Lebanon, also to visit Syrian refugee camps.
Jolie has made several visits to countries neighbouring Syria since the war began more than years ago. — AFP
http://www.saudigazette.com.sa/index.cfm?method=home.regcon&contentid=20150621247965
------
URL: https://www.newageislam.com/islam,-women-and-feminism/new-age-islam-news-bureau/female-iran-vp-scolds-hardliners-over-volleyball-ban/d/103591