New Age Islam News Bureau
9 Jul 2020
• Women from Kenya And Nigeria In Running for WTO's Top Job
• Tuesday's Primary Features N. J's 1st Muslim Woman Candidate for Congress
• Afghan Women Spin New Careers by Reviving Ancient Silk Road Crafts
• Pakistani Female Footballer Abiha Haider Among 30 Most Powerful Muslim Women in Sports
• One Million Jobs for Saudi Women By 2030
• Hindu Family Cremates Muslim Woman as AIIMS Mixes Up Bodies Of 2 Covid Patients
• Pregnant Women in Saudi Arabia Warned to Take Special Care During Pandemic
• Qatar Expresses Concern Over Women Scribes Being Targeted in Arab World
• Kuwaiti Women Call to A Change in Citizenship Laws
• Justice for Sadaf Zahra Naqvi Will Prevail When A Man's Slap Is Considered A Legal Crime in Pakistan
• Wazeeran Bibi: Family Seek Justice After Pregnant Pakistani Woman Beaten To Death
Compiled ByNew Age Islam News Bureau
URL: https://www.newageislam.com/islam-women-feminism/female-cyclists-indonesia-forced-apologise/d/122328
--------
Female Cyclists in Indonesia Forced to Apologise For Violating Islamic Sharia Laws By Wearing 'Sexy' Clothes In A Team Photo In
8 July 2020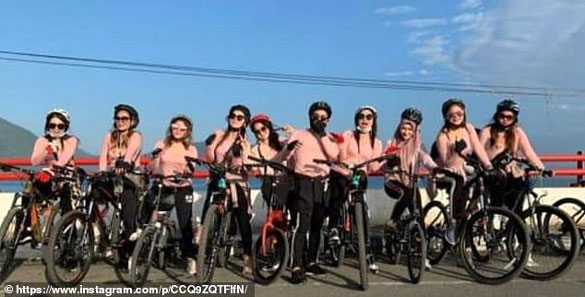 The government spokesman said the cyclists were allowed to go home after they apologised 'voluntarily'
------
A group of Indonesian female cyclists have been forced to apologise for violating Islamic sharia laws by wearing 'sexy' clothes in a team photo.
The nine women were summoned by authorities in the conservative province of Banda Aceh after a photo circulated online.
The women were pictured in long-sleeved pink t-shirts and dark trousers, and most were not wearing headscarves under their helmets.
The picture enraged the mayor who ordered officers to track the group down, and made the women undergo religious counselling.
'They have violated the Islamic sharia provisions in our province which forbid sexy clothing,' Irwan, a spokesman at the provincial government said.
He said the women, as well as one man, were summoned to the office.
'They have admitted their mistake, publicly apologised and said they would not do it again,' Irwan said.
Aceh, on the western tip of Indonesia, is the only province that practises sharia law.
People in the area have been publicly flogged for selling alcohol, adultery and for engaging in gay sex.
An Acehnese law, known as Qanun 11/2002, requires Muslims to 'dress modestly', but does not explicitly require all to wear Muslim-approved attire, Vice reported.
Many Acehnese support canings in public, while local religious police and vigilantes often raid homes and workplaces to detain people on suspicion of criminal behaviour, according to human rights groups.
The government spokesman said the cyclists were allowed to go home after they apologised 'voluntarily'.
He said the women were given counselling that they should dress modestly under Islamic teachings.
Local media showed video clips of the group apologising for their 'regrettable' act.
https://www.dailymail.co.uk/news/article-8502415/Female-cyclists-apologise-violating-Islamic-sharia-laws-wearing-sexy-clothes-team-photo.html
--------
Women from Kenya And Nigeria In Running for WTO's Top Job
08.07.2020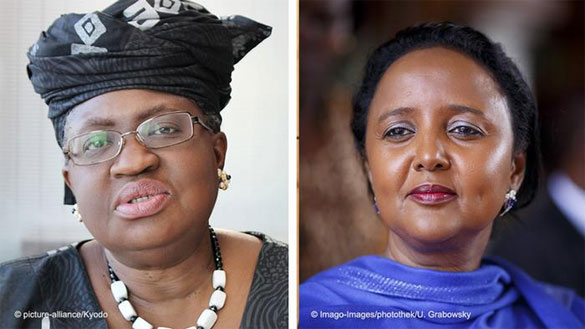 Nigeria's Ngozi Okonjo-Iweala, a development economist and former finance minister (left in photo), and Amina Mohamed, Kenya's sports, culture and heritage minister (right), are among seven candidates to be the next director-general of the World Trade Organization (WTO).
----
Nigeria's Ngozi Okonjo-Iweala, a development economist and former finance minister (left in photo), and Amina Mohamed, Kenya's sports, culture and heritage minister (right), are among seven candidates to be the next director-general of the World Trade Organization (WTO).
Okonjo-Iweala and Mohamed have been nominated alongside candidates from Egypt, South Korea, Mexico, Moldova and Britain. Nominations close July 8.
The Geneva-based organization is looking for a replacement for Brazil's Roberto Azevedo, who is stepping down in August — a year before the scheduled end of his four-year term.
Azevedo's successor will need to steer the WTO through reforms and negotiations in the face of rising protectionism, a deep recession caused by the coronavirus pandemic and growing trade tensions — notably between the United States and China.
There is broad support to pick a candidate from Africa and a woman, sources following the process told the Reuters news agency.
No African has been director-general since the formation of the WTO in 1948.
'Political heavy hitter'
Okonjo-Iweala is a development and finance specialist who spent a 25-year career at the World Bank as a development economist, rising to the position of managing director.
"Few doubt that Okonjo-Iweala is a force to be reckoned with," the US news site Politico reported in June, calling her a "political heavy hitter" in an article about her nomination.
Okonjo-Iweala was also Nigeria's finance minister twice, serving from 2003 to 2006 under President Olusegun Obasanjo and 2011 to 2015 under Goodluck Jonathan.
During her second term as finance minister, Okonjo-Iweala was "credited with developing reform programs that helped improve governmental transparency and stabilizing the economy," according to the US business magazine Forbes, which ranked her No. 48 among the world's top 50 "Power Women" in 2015.
The Harvard-educated economist, who holds a PhD from MIT, has also served as Nigeria's foreign minister.
The 66-year old sits on the board of the Twitter social media network and Standard Chartered bank, and chairs the board of Gavi, a global vaccine alliance.
"I'm interested in [the WTO] position because I believe in the power of trade to lead to a shared prosperity, to lift people's lives," Okonjo-Iweala told DW in a Facebook Live interview when her nomination was announced.
"Everybody knows that the WTO is going through a rough time," she said, speaking from Washington, DC.
"So I'll be looking to see what critical reforms members can subscribe to — either reforms to the dispute settlement system or in updating the rule book of the WTO, which will take time," Okonjo-Iweala said.
Okonjo-Iweala noted that Africa's share of world trade is only 3% — something that she believes she could help increase if she were to become the WTO's director-general.
"Going there, I will be working for all members," Okonjo-Iweala said. "But, of course, I'm African and I'll be interested to make sure that Africa also benefits from whatever the WTO has to give. There is absolutely no reason why I cannot make sure that Africa also benefits."
The Economic Community of West African States (ECOWAS) has supported Okonjo-Iweala's candidacy.
Mohamed: Skilled diplomat
Kenyan Sports, Culture and Heritage Minister Amina Mohamed is a lawyer, diplomat and politician who has vast public service experience at the national and international levels.
"She has been an important player in Kenya's multilateral negotiations in bodies like the Commonwealth and the World Trade Organization," according to the book Muslim Women in Postcolonial Kenya, which noted "her skills in economic and commercial diplomacy."
Mohamed, who is from an ethnic Somali family, also held the position of foreign minister from 2013 to 2018, becoming the first woman to hold this position and the first Muslim woman in Kenya's Cabinet.
Last Friday, she was officially admitted to the state bar.
The 58-year-old, who speaks English, Russian and Swahili, rose through the ranks in Kenya's diplomatic service to become Kenya's ambassador to the WTO and, in 2005, the first woman to chair the WTO's General Council.
Mohamed is a a former assistant secretary-general of the United Nations and deputy executive director of the UN Environment Program's Africa Office, in Nairobi.
She received a master's of law National University of Kyiv, in Ukraine, and later a postgraduate diploma in international relations at the University of Oxford.
Mohamed ran for the WTO director-general position in 2013, but lost to Azevedo. He was reelected in 2017 as the sole candidate.
https://www.dw.com/en/women-from-kenya-and-nigeria-in-running-for-wtos-top-job/a-54097484
--------
Tuesday's Primary Features N. J's 1st Muslim Woman Candidate for Congress
Jul 03, 2020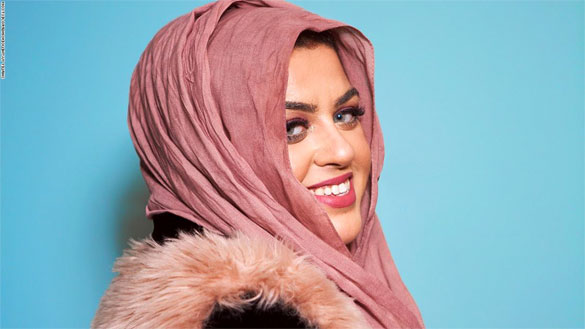 N.J. congressional candidate Amani Al-Khatahtbeh
-----
Like many challengers to sitting House Democrats in Tuesday's Democratic primary, writer Amani Al-Khatahtbeh supports Medicare for All and the Green New Deal and wants to end U.S. involvement in Iraq and Afghanistan.
What makes her different is that she is the first Muslim woman to run for Congress from New Jersey, according to Jetpac, a Cambridge, Massachusetts-based group that trains American Muslims to run for public office and become active in politics.
Al-Khatahtbeh is one of two progressive Democrats challenging Rep. Frank Pallone Jr. in New Jersey's 6th District. Also running is Russ Cirincione, a housing lawyer with the New York state government, who is on a slate of supporters of Vermont Sen. Bernie Sanders.
At a time when President Donald Trump ran on a platform of banning Muslims from entering the country and went all the way to the Supreme Court to impose restrictions on visitors from several Muslim majority nations, Al-Khatahtbeh said her candidacy was "a moral obligation to this moment in time."
"It's reclaiming our place here," she said. "We need more representation at the table. I grew up with my family's Arabic satellite at home. Most kids are saying, 'I want to be lawyer, I want to be a doctor.' The earliest notion of what I wanted to do was, 'I said to myself, I want to stop a war from happening one day.'"
In a 2017 Pew Research Center poll, 74% of Muslim Americans said Trump was unfriendly towards them, with only 12% saying he was friendly.
Al-Khatahtbeh celebrated her 28th birthday on the campaign trail. She grew up East Brunswick, graduated from Rutgers University with a degree in political science, and now lives in New Brunswick. She is the founder of the blog MuslimGirl.com and author of the book Muslim Girl: A Coming of Age.
She said she took inspiration from the first two Muslim women elected to Congress, Reps. Rashida Tlaib, D-Mich., and Ilhan Omar, D-Minn. She has talked to both of them during the campaign, considers them mentors, and it was "because of their fearlessness and support that I felt the courage to run for Congress."
"I always knew that I wanted to run for public office one day but I don't think I ever even imagined running this young," she said. "I felt empowered to do so because now we are breaking those glass ceilings."
https://www.nj.com/politics/2020/07/tuesdays-primary-features-njs-1st-muslim-woman-candidate-for-congress.html
--------
Afghan Women Spin New Careers by Reviving Ancient Silk Road Crafts
JULY 9, 2020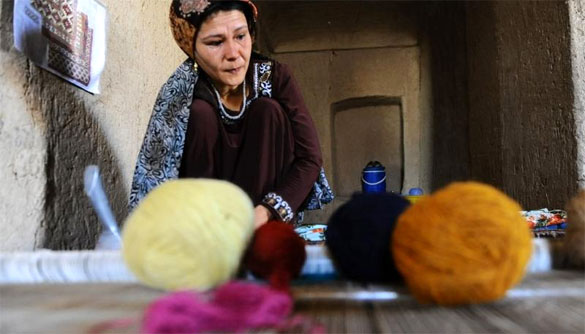 In this picture taken on June 26, 2014, an Afghan worker weaves a carpet at a traditional factory in Herat. (AREF KARIMI / AFP)
------
HERAT, Afghanistan (Thomson Reuters Foundation) - Once an important Silk Road trading hub, the Afghan city of Herat has long been a cultural centre, but decades of war have ravaged its ancient traditional crafts.
Now thousands of women are returning to the ancient practices, seeking to revive the traditions of a city where traders once came to haggle for silk in thick-walled houses and dome-shaped bazaars offering respite from hot summers.
On the outskirts of the ancient city, about 4,000 women work to cultivate silk, from raising silkworms, feeding them and harvesting their cocoons to spinning the yarn by hand - a month-long, labour-intensive process.
Mariam Sheikh, 30, was given a box of 20,000 silkworm eggs by a local aid group last year and has already produced about 40 kgs (88 lb) of silk, which sells at 300 Afghani ($4) per kg.
"My great-grandfather was a silk maker, so there is pride in picking up his work again," Sheik, who lives in Herat's Zinda Jan district, told the Thomson Reuters Foundation.
Her small village is surrounded by lush, green mulberry trees, planted years ago to feed the growing silkworms.
"Our community respects and encourages the silk trade and besides that, it has helped me gain financial independence," she added.
Once the cocoons are dried, the processing into yarn is traditionally done by hand, although the women hope to import a machine to help speed up the process.
At the moment there is only one old spinning machine in Herat city, with not enough capacity to process them all.
'PRIDE IN OUR ART'
Women have made huge strides in the conservative country since the Taliban rule of 1996 to 2001, when they were banned from attending school or work and could not even go outside without a male relative.
Growing numbers of women now complete education and work in previously male bastions, but they still face hurdles.
Four decades of war, from occupation to internal fighting, have destroyed the economy, rendering it among the poorest in the world, with few jobs - especially for young women, who occupy a particularly precarious place.
Many face cultural barriers and hostility not just from conservative family members, but also hardline Islamist groups, for pursuing financial independence and greater equality.
According to World Bank data, just over 20% of Afghan women work, up from about 15% in 2001, when the Taliban fell.
There are fears that a final withdrawal of U.S. troops, the winding down of international engagement and the re-emergence of the Taliban may reverse gains.
"Herat is a traditional province where few women are seen - or even allowed by their families - to work outside," said Mariam Zemoni, one of about 30 women who weave the silk into scarves and fabric.
"That's another reason why weaving silk is perfect for me," said the 23-year-old, who makes at least two scarves a day, selling them for 250 Afghani each.
Nazir Ahmad Ghafoori, head of the Rehabilitation Association and Agriculture Development for Afghanistan which has supported the women, said 70% of the cocoons were sold to Iran and Pakistan because of a lack of processing capacity.
He hopes to involve more women in Afghanistan's silk production, expanding to provinces beyond Herat.
"The tradition is thousands of years old, and we Afghans find pride in our art and culture - and the revival of it," he told the Thomson Reuters Foundation
Since working with the women in Zinda Jan, his organisation has set up the ethical fashion initiative, aiming to export silk produced under fair working conditions worldwide.
An executive board of 50 women in the district oversees and reports on each woman's working condition.
Sheik, who is on the board, said the business had boosted the economy throughout the district.
Whatever silk is not exported or sold in other parts of Afghanistan makes it to Herat's old silk bazaar, where vendors sit in small shops with high ceilings decorated with carved ornaments reminiscent of the Silk Road era.
"For the past years, our country has been known for war," said Sheik. "It's time the world knew Afghanistan for its arts and crafts, its culture, people - and its silk."
https://www.reuters.com/article/us-afghanistan-women-crafts-trfn/afghan-women-spin-new-careers-by-reviving-ancient-silk-road-crafts-idUSKBN24A19G
--------
Pakistani Female Footballer Abiha Haider Among 30 Most Powerful Muslim Women In Sports
09th July, 2020
Gulmeena Hamid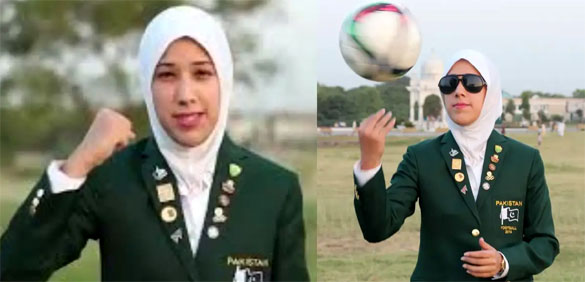 Abiha Haider, the young football player from Pakistan, just bagged another achievement. The young footballer is known for her immaculate performance and inspiration. She has made to 30 Most Powerful Muslim Women In Sports.
-----
Abiha Haider, the young football player from Pakistan, just bagged another achievement. The young footballer is known for her immaculate performance and inspiration. She has made to 30 Most Powerful Muslim Women In Sports.
This is not the first time she has outdone herself. Since 2010, Abiha Haider has been participating and representing Pakistan. This young athlete also wins a series of international and national honors for her outstanding performance and has made Pakistan proud.
The female footballer took to her social media and shared the good news. She wrote,
Abiha Haider has also succeeded in starting out as a quite influential person since she was just 14. She was invited to a Sports United Exchange program.
While giving an interview to a local newspaper, Haider expressed her love for sports and said,
"Sports are full of positive energy. It gives you a chance to know your inner abilities, to develop yourself, and to develop your character, it gives you the confidence which goes unbreakable throughout life."
She went on to say,
"'Never let your talent die because of the opinion of people. I have never done that. I have worked tirelessly; changed the opinions of people through my personality, my character, my ambition and now the same people hold their pride in me."
Actor Faysal Qureshi and other netizens have congratulated Abiha for brining another achievement to the country.
https://www.bolnews.com/sports/2020/07/pakistani-female-footballer-abiha-haider-among-30-most-powerful-muslim-women-in-sports/
--------
One Million Jobs for Saudi Women By 2030
July 7, 2020
GENEVA — Saudi Arabia's Vision 2030 aims to provide jobs for around one million Saudi women by the year 2030, according to Mishaal Al-Balawi, an official at the Permanent Mission of Saudi Arabia to the United Nations in Geneva.
He underscored the importance of the role of women in strengthening the Kingdom's economy, saying that women enjoy protection and empowerment with access to a large share of reforms and developments witnessed by the Kingdom, especially in the employment market.
Al-Balawi, head of the human rights division at the Kingdom's mission, made the remarks while attending the discussion on a report of the working group on the issue of discrimination against women at the Human Rights Council on Monday. The discussion mainly focused on women's rights in the changing global employment scenario.
He said that the Kingdom has taken several measures aimed at empowering women and enhancing their equality with men in the light of the provisions of Islamic Shariah. "The Saudi Vision 2030 and the National Transformation Program 2020 have put women empowerment among their most important priorities. The Kingdom has banned discrimination against women in jobs, and ensured equalization of women with men in their wages, and enhanced awareness about the importance of women's participation in the employment market."
Al-Balawi also highlighted the emphasis given in the Kingdom's Vision to end the structural patterns in the work of women and men. "The Kingdom seeks to encourage women to study various disciplines, especially science, technology, mathematics, and engineering as this provides a variety of opportunities for them in the labor market," he said while drawing attention to the recent royal decree issued by Custodian of the Two Holy Mosques King Salman to appoint 13 women to the Human Rights Commission Council, representing half of its members. "This is a continuation of what the Kingdom's government is doing to empower women to occupy key positions," he pointed out.
Al-Balawi said that Saudi Arabia is exerting all efforts to put an end to violence and harassment against women at their workplaces. "The Kingdom, through its regulations and agencies, is striving to address the phenomenon of violence against women at their workplaces as well as to enable them to work in a safe environment. This is through enacting laws to protect women and preserve their rights, such as the Anti-Harassment Law and the Law of Protection from Abuse," he added.
https://saudigazette.com.sa/article/595203
--------
Hindu Family Cremates Muslim Woman as AIIMS Mixes Up Bodies Of 2 Covid Patients
Tanseem Haider
July 9, 2020
Ashocking case of medical negligence has come to light from the country's premier medical institution, All India Institute of Medical Sciences (AIIMS), Delhi.
A resident of Kailash Nagar in Ghaziabad, 52-year-old Kusumlata was admitted to AIIMS-Delhi due to poor health. She died on Sunday evening, following which a body was handed over to Kusumlata's family the next morning.
Owing to her samples testing positive for the novel coronavirus, kin cremated the body handed over to them as per Hindu rituals at the Punjabi Bagh crematorium.
It was only on Tuesday evening that Kusumlata's kin received a call from AIIMS telling them that they were mistakenly handed over the body of another patient while Kusmlata's body was still at the hospital. Shocked and grieving, the family members went to AIIMS, collected Kusumlata's body and finally cremated it.
Officials later revealed that the body handed over to them earlier was that of Anjum, a resident of Bareilly.
Anjum's relatives had admitted her to the AIIMS Trauma Centre on July 4. She was tested and turned out positive for Covid-19. During the course of treatment, Anjum succumbed to the infection at 11 AM on July 6.
Her kin was informed by the hospital administration about her death at around 2 PM that same day. The family prepared to bury her at a cemetery in Delhi but realized that the body handed over to them was not Anjum's. Family members immediately alerted AIIMS-Delhi and came to know that Anjum's body had been mistakenly handed over to Kusumlata's kin who cremated it as per Hindu rituals.
Following the incident, the AIIMS administration has suspended two mortuary employees. Kin of both the deceased, however, claim that this negligence should be met with legal repercussions. A complaint has been given to the Delhi Police in this regard but an FIR is yet to be registered.
AamAadmi Party (AAP) MLA Somnath Bharti also arrived at AIIMS, Delhi and met with family members of the two deceased women. Bharti also discussed the negligence with the hospital administration and demanded an investigation in this regard.
https://www.indiatoday.in/india/story/covid-victim-cremated-by-another-s-family-as-2-bodies-swapped-at-aiims-mortuary-staffers-suspended-1698497-2020-07-09
--------
Pregnant women in Saudi Arabia warned to take special care during pandemic
July 09, 2020
JEDDAH: Pregnant women have been told to take special care in following precautionary measures related to the COVID-19 pandemic, the Saudi Ministry of Health has cautioned, as they are thought to be particularly at risk from complications.
The ministry's recommendations come as many have expressed concerns about the impact of the infection on their health. The ministry has reiterated the importance of practicing hand hygiene, maintaining social distancing to limit the spread of the virus and wearing a mask in public at all times, especially in areas where it's hard to observe social distancing.
The ministry announced a total of 3,036 new cases of in the Kingdom on Wednesday, bringing to 220,144 the number of people in Saudi Arabia have now contracted the disease.
There were 60,035 active cases, 2,263 of them critical.
37 percent of the newly announced cases are female, 63 percent are male. Of those infected, 86 percent were adults of working age, 5 percent were over 65 and 9 percent were children.
3,211 new recovered cases have been announced, taking the total number of recoveries to 158,050, while 42 new deaths were reported, raising the death toll to 2,059.
The ministry urges everyone to use the self-assessment service in the "Mawid" application or to visit Tataman clinics that have been set up by the ministry for those who feel they are displaying COVID-19 symptoms; there are 237 such clinics.
It also recommends calling 937, its central operator, for consultations and inquiries around the clock.
https://www.arabnews.com/node/1702051/saudi-arabia
--------
Qatar expresses concern over women scribes being targeted in Arab world
09 Jul 2020
Geneva: The State of Qatar expressed yesterday deep concern that journalists in the Arab world are being targeted for practising the profession of journalism and for being women, and subjected to death and kidnapping threats and defamed on social media platforms by the so-called social bugs of some countries.
This came in the speech that was delivered by Second Secretary of the Permanent Mission of the State of Qatar to the United Nations in Geneva Abdullah bin Khalifa Al Suwaidi, during the interactive dialogue with Independent International Commission of Inquiry on the violence against women, its causes and consequences.
Al Suwaidi expressed Qatar's strong condemnation that journalists, especially women, are being subjected to harassment, abuse, threats, defamation, and fabrication of false news, as well as violence that sometimes reaches the point of killing, with the aim of undermining their credibility.
Qatar pays great attention to the issue of freedom of expression as a basic human right, he explained, stressing the need to protect journalists and ensure their right of freedom of opinion and expression, and that no restrictions should be placed except within the framework permitted by international standards.
He also stressed the importance of ensuring that journalist and the media provide accurate news coverage to help raise awareness that can save many lives, especially at a time when the world is facing the coronavirus pandemic
https://www.thepeninsulaqatar.com/article/09/07/2020/Qatar-expresses-concern-over-women-scribes-being-targeted-in-Arab-world
--------
Kuwaiti women call to a change in citizenship laws
July 08, 2020
Yasmena Al Mulla
Kuwait City: An online petition has gained more than 17,000 signatures, calling on the National Assembly and the cabinet of ministers to grant citizenship to children of Kuwaiti women married to non-Kuwaitis.
The issue resurfaced due to many factors, ranging from the demographic imbalance to the benefits citizens received during the pandemic.
"For a lot of women who have families stuck abroad, this issue has become even more serious after the COVID-19 crisis," Al Anood Al Sharekh, director of Ibtkar Strategic Consultancy, told Gulf News.
Many families of Kuwaiti women are still stuck outside Kuwait as they are not able to return owing to the closure of airports.
"It is important to highlight that there are many children of Kuwaiti women who are working and volunteering on the frontlines during the pandemic," Gray Area, a social initiative focused on empowering children of Kuwaiti mothers, as well as raising awareness about the legal, social and cultural barriers they face, told Gulf News.
Kuwait is one of the 25 countries that does not permit women to pass on their nationality to their children or spouses.
"I think this issue exists because of a patriarchal idea that bloodline belongs to men," Dr Ebtehal Al Khateeb, a Kuwaiti academic and activist, told Gulf News.
As of 2016, there are 19,000 Kuwaiti women married to non-Kuwaiti men and with approximately 56,000 children, according to the Public Authority for Civil Information.
"Their lives are precarious especially as they get older because then you have to think of them as any other expat. You have to apply for a work permit or a way for them to stay in Kuwait and if you die [the wife] before them you have to figure out a way for how to keep their inheritance," explained Al Sharekh.
Children of Kuwaiti women married to non-Kuwaiti men face challenges from applying for a scholarship to obtaining a job. The government covers their education up to university level, plus their health care.
"Many of the legal rights of children of Kuwaiti women are dependent on their mothers. Thus, children of Kuwaiti mothers are never seen as fully independent," Gray Area explained. "Children of Kuwaiti women are treated like their fully Kuwaiti counterparts until the age of 21, but after that, their legal and social statuses are uncertain and unstable."
"This creates a mental and psychological strain on children and their families," explained Al Khateeb.
On the other hand, non-Kuwaiti women who are married to Kuwaiti men could qualify for citizenship after being married for five years, according to the Ministry of Interior.
"Just like we nationalise the wife of a Kuwaiti man, for the sake of the family, the husband and children of a Kuwaiti woman should be nationalised as well," said Al Khateeb.
Since 2018, Gray Area has been creating various videos, highlighting stories and initiating campaigns across social media to raise awareness on this issue and deliver it in a format that reaches as many people as possible.
"The campaign name was inspired by the fact that children of Kuwaiti women are neither categorised as Kuwaitis nor expats, thereby existing in a sort of grey area, both socially and legally," Gray Area said.
'Aware of the sufferings'
Other than Gray Area, there have been calls from various other civil societies, from Kuwait Women Without Borders to Kuwait's Women's Cultural and Social Society, to grant citizenship to children of Kuwaiti women married to non-Kuwaiti men.
"The youth are more aware of the sufferings that this group faces and there has been more dialogue recently around the issue," Al Sharekh clarified.
Upcoming parliamentary elections
"Given the upcoming elections, we are going to hear candidates speak about various issues concerning women, including nationalising the children of Kuwaiti women," explained Al Sharekh, "although campaign promises don't always translate into concrete actions in parliament."
Parliamentary elections are scheduled for November.
"After the petition, the buzz will have parliamentary candidates talking about this topic during their campaigns. Are they going to take it seriously? I do not have much hope," said Al Khateeb.
Stateless people
There are approximately 500,000 stateless people, otherwise known as Bidoon, in Kuwait. Kuwait is one of seven countries that have nationality laws that create a greater risk of stateless people.
"Many people try to separate the discussions regarding stateless nationals and children of Kuwaiti mothers, but these issues intersect. For example, there are many children of Kuwaiti mothers who are stateless for it is not uncommon for Kuwaiti women to marry stateless nationals for various reasons, including familial ties. With the current citizenship laws, however, there is little to no pathway to obtaining citizenship," explained Gray Area.
"There is an intersection between the children of Kuwaiti women married to non-Kuwaiti men and the Bidoon issue, both of which is regarding citizenship," explained Al Khateeb.
https://gulfnews.com/world/gulf/kuwait/kuwaiti-women-call-to-a-change-in-citizenship-laws-1.72475696
--------
Justice for Sadaf Zahra Naqvi will prevail when a man's slap is considered a legal crime in Pakistan
July 09, 2020
MehrTarar
Tina Turner, Christina Aguilera, Halle Barry, Madonna, Mariah Carey, Rihanna, Charlize Theron, Pamela Anderson, Whitney Houston, Diane Lane, Reese Witherspoon, Kerry Washington, Katy Perry, Robin Givens, Rati Agnihotri, Zeenat Aman, and TehminaDurrani.
What do all these very famous, some internationally, some regionally, women have in common, other than their uncommon brilliance, larger-than-life personalities, massive talent, and enviable physical beauty?
All these magnificent women were victims of domestic/spousal/relationship physical violence and abuse.
All of them left their abusive relationships, turning their unhappy, chaotic lives into beautiful, inspirational stories of reshaping their lives as the survivors of the worst. They became the icons of what could be.
Not all women are that fortunate. Millions of women are not. Some are not strong enough to leave their abusive husbands and partners. Some of them live with their abusers until the abuse ends for some reason. Some of them walk away from their abusive relationships. Some of them find strength within themselves to tell their stories of incredible bravery, superhuman patience, endless resilience. Many of them vanish without telling their stories. It is not that they don't have a story. It is because they are silenced.
They are killed. Or they are driven to kill themselves.
This world of ours resounds with their unheard wails, their muffled pleas, their soundless screams. They are all around us. They are our sisters. They are our friends. Some are names we hear. Some are faces we recognise. Their mascaraed lashes shade their unshed tears. Their despair is etched in their smiles. Their carefully dressed bodies are in premature decay, in a clumsy attempt to hide their wounds. Their careful words cover their jagged breaths. Their rational minds do a macabre tango with the memory of the latest beating, the last verbal assault, the newest attack on their character, their habits. Their lips are shaded in dark hues to hide the bruise of the slap that left a deep mark on the left side of their face. Their eyes are kohled in their pain.
They walk among us like ghosts. Most of us pretend they only exist in stories that don't touch us. We remain fearful of them haunting our idyllic notions of marriage, relationships, love that is forever, romance that nourishes our weakest bits. We downplay their tragedies to overcompensate our personal fears. We avoid eye contact with them, fearful they might break into smithereens the dream of our ideal relationship. As they live amidst us, carefully holding together the pieces of their broken hearts and shattered bodies, their destroyed dreams and fractured ribs, their damaged souls and black eyes, their traumatised minds and bruised legs, we console ourselves with clichés, in hushed whispers. That things are not as bad as they are.
Only that they are. Worse than what is perceptible, audible, conveyed, shared, discussed, lamented. Those who suffer in silence are often silenced forever. Their stories are buried with them. If it wasn't for the brave few who speak up, even if it is to a very few people very close to them, or those courageous ones who unable to trust their loved ones share their pain on social media in the world of technology that is invasive and inclusive, cruel and empathetic, judgemental and sincere, expansive and cosy, in equal measures, most of the stories of domestic abuse would remain what they are: a taboo. Forbidden. Private. Not to be talked about.
Pakistan is patriarchal. Unabashedly. Male dominance is unquestioned. So is male entitlement. Even in families that pride themselves on being non-discriminatory in their treatment of their male and female children, the binaries of the do's and the don'ts of the two genders are underscored in bold letters. The third gender is invisible in a patriarchal world.
Rules are made to protect the beloved daughter from harm, to keep her chastity, her purity, her perfection unblemished, un-creased, in a closet of impeccably stacked morality. Different yardsticks are applied in different families of varied sensibilities, financial standing, and societal clout, or lack thereof.
Religion, that teaches equality of genders in all the ways that matter, becomes a tool to mould a female child into a model woman, suitable for marriage and raising a family. Cultural ethos is the metaphorical whip to teach a female child what to do, how to behave, what to bear, how to adapt, what to change. Familial emotions come into play to convince a female child to make a promise not to let anyone be privy to her real self. It starts at home. It is based on rules made by the men of the family. It is taken forward by the female members of the family. It starts when a female child is born. It ends when that female is dead.
Fear of patriarchal punishment is the disciplinary stick in almost every Pakistani household. I'll tell-your-father is the common threat. The warning your-brother-will-break-your-legs-if-you-meet-that-boy hovers over young females like an unhinged drone. Ever present is the imminence of a physical punishment for "crossing of a line." A constant inculcation of lessons of "good behaviour", indispensable to a happy life, are a childhood staple. Log-kya-kahenge is a mandatory good girl tutorial.
Family's honour
The prevalence of subliminal, and even blatant acceptance, of violence against women in films and TV dramas is acting as systemic desensitisation towards the very real issue of domestic abuse. Violence is blind, but in a patriarchal society, even violence convolutes, mostly, into a gender-based show of strength.
"Honour" of almost every family in Pakistan, even in 2020, is umbilically tied to a woman's body, her character, her "goodness."
Despite assumptions that much has changed, loud proclamations that women rights are human rights, brave slogans that women are equal to men, progressive laws that vow to improve women's lives, and inspirational posts on social media celebrating how far women have come, suddenly, an incredibly painful event jolts your newfound confidence, pushing you into a corner where you want to hide and whimper. Or scream. Or punch a wall. Nothing has changed.
On June 1 was the news of the murder of the eight-year-old Zahra. She was, allegedly, beaten for freeing two parrots. She was beaten so mercilessly she died a few hours later. The entire month of June little Zahra's lifeless face haunted me.
In June the hashtag was "Justice for Zohra Shah." Pakistan's media thought that Zahra was Zohra.
On July 8, the news of another Zahra's death shook Pakistan's social media. Sadaf Zahra Naqvi, a lovely, bright woman with her whole life ahead of her, mother of a beautiful one-year-old baby girl, and wife of Ali Salman Alvi, a man known to countless Twitter users of Pakistan, "died" on June 29. The husband announced she had committed suicide. Her family suspected murder.
Without Alvi's knowledge, reportedly, a post-mortem was conducted, confirming their worst fears. Sadaf's sister found her hanging from the fan in her room. Her face and body had marks of violence on her. A suicide note was also found. The details of the post-mortem report are still unknown. Alvi is in police custody.
No one would have known what happened to Sadaf if her friend had not tweeted a thread about her married life and her alleged murder. For nine days, the news of the death of a woman was kept on mute. On Twitter where even a politically incorrect word becomes a huge deal, no one knew that a woman had died. Murdered. Killed. I'm waiting for someone to uncover the mystery of this unusual silence.
The life of the one-year-old baby girl, before even the enunciation of Mama and Baba, is turned upside down. Her mother is dead. Her father is the alleged killer of her mother. The sheer enormity of this tragedy is devastating. And heart breaking.
Not much changes on Pakistani Twitter.
In July the hashtag is "Justice for Zahra."
The thread posted by Sadaf's friend unravels a horrifying story – of a bad marriage, a cheating spouse, a patient wife, a painful miscarriage, the birth of a baby girl, constant lies, infidelity, betrayal, blackmailing and extortion of money from various women, Alvi's fake identities, Alvi's repeated violence on Sadaf, Alvi's womanising, and Sadaf's endless patience for the sake of maintaining the façade of a complete family for her little girl.
On Sadaf Zahra Naqvi's twitter timeline, her pinned tweet is a thread. It is on domestic violence. It is dated January 7, 2020.
Was it addressed to Alvi? Was anyone able to decode the personalness of that 11-tweet thread?
The details of the indescribable tragedy of Sadaf's alleged murder are imprecise, at the moment.
The outrage is predictable, understandable.
What will happen?
Nothing will change as long there is a familial, societal, cinematic and dramatic glorification of the "right" kind of woman. As long as mothers, in various tones, in different languages, in diverse scenarios, perpetuate the importance of "proper" behaviour, not many homes will be safe for females. Two other words are taught to, arguably, every female in Pakistan: compromise and sacrifice.
This is no way an incitement to break away from accepted norms. Neither is it an endorsement of any kind of disruption of religious boundaries. What I write is what I have experienced, observed, heard stories of, seen all around me. My belief is simple. It all starts at home. It starts with the mother. It is created by patriarchal ethos. It is propagated by maternal sensibilities.
The basic, the most important step for the creation of a violence-free world is to raise male children as good, decent, kind human beings. Teach your boys what to do, not your girls what not to do. The rest will be simple. Good, decent, kind human beings do not harm anyone–human or animal.
That overhauling of systemic rot in male attitudes is long term. The short term is achievable, even if it is in tiny ways. Tiny things, en masse, have the power to create a collective ripple to undo centuries of misguided patriarchy and inherent misogyny. It is not easy to walk out of a bad marriage. Parents find it traumatic, for myriad familial and societal pressures, to see their daughters ending a marriage. Despite religious and legal sanctioning, and its grudging acceptability, divorce is still commonly considered a social stigma.
When a woman opens up about physical abuse, parents react the way they should. They tell her to pack her things and come back to her first home. They console her, they give her strength. Sometimes, her parents and that of her husband, state that she "asked for it". She "deserved" what happened to her. When she is found blameless, lectures, from the woman's family and her in-laws, are given to the violent husband. Promises are made. The woman is convinced to return to her husband. Many women return without any parental pressure for the sake of their children. Broken families are considered incomplete families.
A number of women return to an abusive, a cheating, a lying husband, because of the deep feelings they have for him for having known him for a long time. Countless women do it to keep the idea of a home intact. In numerous immaculate homes, in middle class neat bungalows, in derelict little houses of the poor, there is a woman stuck in a dead-end marriage because of her financial dependence on her husband.
There is also a large number of women who forgive their men each time they find them lying or cheating, or when they are violent with them. Trivialisation of the spousal bad is commonplace. Stuck in a violent relationship, many women fear the idea of "alone-ness" of a divorce. The Stockholm syndrome-isation in an abusive relationship is a recurrent motif in today's world of overdependence on bonds that defy simple explanations.
Suffering in Silence
Lifelong conditioning to maintain silence, to not create a scene, to not "dishonour" the family, and to not let anyone into their "private" matters are neatly placed in the playbook of a good, strong, home-making woman. Physical, verbal or emotional abuse is not a private matter. Listen to your daughter, your sister, when she opens up about the painful parts of her apparently immaculate life. Don't shush her agony with a sub-theek-ho-jayega trope. Learn to read her words when she texts you or posts cryptic despair.
In certain scenarios, women also enable violence against women. It is a lamentable but a very real fact.
The worst swear words in Pakistan are threats of acts of sexual violence to mothers, sisters and daughters of the person being abused.
The debate is not about the "badness" of men. Happy marriages are not a hallmark card, they are as much a reality as the abusive ones. A good man is not a dream. He is around us in the unchanging love of amazing fathers, wonderful brothers, beautiful sons. He is the childhood friend who is always there, a cousin who is a phone call away, an acquaintance who is a great help in time of need, a complete stranger who surprises you with his kindness, a colleague who helps without being asked, an elder who gives brilliant advice, a teenaged nephew who makes you smile with his goofiness.
But…
All the good in the world is not an antidote for pain inflicted on anyone who is in any position of weakness – physically, materially, in a societal hierarchy. A violence-free world would be attainable when men stop "being men." When men and women, united, say: enough.
Think.
As long as there is even ONE woman facing domestic abuse, if there is even one woman dying because her husband or partner pushed her to death or killed her, there is redundancy in any celebration of female equality. One dead woman is a symbol of all that is wrong, all that is inhuman, all that is so horrific it makes all good things lose their sheen. Not for a day, not for a month, not for a year, but for as long as justice evades that dead woman.
One more dead woman is not a mere statistic in the data of violence against women. One more dead woman is an indelible stain on the very soul of a society.
There is one question, and that is the only one that matters today: will Sadaf Zahra Naqvi get justice?
Justice for Sadaf will be justice for every girl or woman who is a survivor or a victim of domestic abuse. Justice for Sadaf will be relevant when every female is safe with her husband, her partner. Justice for Sadaf will be celebrated when divorce is no longer a stigma in a relationship stuck in a cul-de-sac. Justice for Sadaf will matter when the life of a woman is more important than her marriage. Justice for Sadaf will be a reality when a family's honour is disassociated from a woman's marital success or failure.
Justice for Sadaf will be the truth when even a man's one slap, one kick, one punch, one push, one across-the-room dragging, one fistful of her hair in his clasp is considered a moral, a social and a legal crime.
Where is that justice?
https://gulfnews.com/world/asia/pakistan/justice-for-sadaf-zahra-naqvi-will-prevail-when-a-mans-slap-is-considered-a-legal-crime-in-pakistan-1.1594279448667
--------
Wazeeran Bibi: Family Seek Justice After Pregnant Pakistani Woman Beaten To Death
July 9, 2020
The family of a pregnant woman who was tortured and beaten to death in Pakistan have revealed that she was reluctant to return to her husband's home in the weeks before her death.
Wazeeran Bibi's murder in the Jamshoro district of southern Sindh province on June 28 sparked outcry online. Her body was dumped by the side of a motorway, the family and police confirmed to The National.
Police say the killing was linked to the practice of wattasatta - literally meaning give and take - wherein Bibi was matched with her husband Ali Bux in exchange for an agreement her younger brother would later marry into Bux's family.
Police alleged that when the deal began to go awry, 30-year-old Bibi was murdered by her husband and accomplices.
"The killers pretended it was an accident and the body was unrecognisable with severe head and face injuries," said Police Inspector Rasool Bakhsh Sheikh, who is investigating the murder.
A postmortem report seen by The National indicates Bibi died after "lethal injuries to the brain and face caused by hard and blunt substance," leading to accusations she was stoned to death. Bibi was 8 weeks pregnant at the time of her death, the report stated.
"I need the same punishment for the murderer and all should be hanged who killed my innocent daughter. If we do not get justice then we will take revenge by ourselves," Bibi's father Gul Mohammad told The National.
"My daughter's body was fully injured and her face was unrecognisable and women who bathed her for the last rites could not bear the scenes and fainted. It takes courage to see such a brutally injured body. It's like our blood has flown down in river Indus," Mr Mohammad, a livestock worker by profession, said.
The case caught the attention of social media users after a video showing Mr Mohammad sobbing at his daughter's graveside and begging for justice was posted on Twitter and viewed 150,000 times.
Social media users created a hashtag, #JusticeForWaziranChachar, to demand accountability and raise awareness of violence related to the practice of wattasatta.
Inspector Sheikh said Bibi's husband Ali Bux and his elder brother Kareem Bux had been arrested, but a third suspect, Abdul Qadir, is on the run. Police said the investigation will take some time.
In Pakistan's conservative interior and southern regions of Sindh and Punjab the exchange of girls between two families is a common tribal practice.
In 2015, surveys published in the Open Journal of Social Sciences found that 92 per cent of respondents in southern Punjab who were married by wattasatta were wedded to cousins.
Numerous studies and reports have found such exchanges often lead to violence being meted out against the women exchanged.
Bibi married five years ago on the condition that her brother Javed, who was 8 years old that time, would marry Ali Bux's niece, Zaira, who was then just 5 years old.
When the time came for Javed, now 13, and Zaira, now 10, to wed, the Bux family refused to hand the little girl over. The resulting row between the families led to Bibi's father bringing her back to the family home and Mr Bux threatening to divorce Bibi, Allah Waraya, a family member of Bibi's told The National.
The dispute was later settled by local chieftain Mohammad Ilyas in a jirga - assembly of local leaders - and Bibi was sent back to her husband.
Mr Waraya said that Bibi expressed her concerns about returning to the relationship and to her husband's family.
"Just two weeks before her murder, Bibi, the eldest amongst six siblings, told her concerns to her mother Meer, saying 'my husband and brother in law Kareem Bux are threatening me and please don't demand a girl for Javed, it will ruin my life'," said Mr Waraya.
Activists have long campaigned against the practice of wattasatta due to severe threat of retaliation and violence under this type of marriage settlement. It is a widespread issue - a survey conducted by Rutgers World Population Foundation in 2013 found that more than 77 per cent of marriages in Pakistan were settled under customary practices such as wattasatta and 66 per cent of married women had experienced violence in their marriage.
"The issue and the reason for the murder of Ms Bibi is not yet clear, but it is obvious that crime against women has reached such a brutal level that killers haven't spared single part of her body to be mutilated," women rights activist in Sindh, Amar Sindhu, told The National.
"This case has shown misogyny at work in many layers of society," she added, saying at the family, police and judicial levels, women are not protected and predicting Bibi's suspected killers would be released on bail soon.
"In between, there is society or the social norms which are also only to raise insecurities in women. Woman are easy prey for society," she said.
https://www.thenational.ae/world/asia/wazeeran-bibi-family-seek-justice-after-pregnant-pakistani-woman-beaten-to-death-1.1046290
--------
URL: https://www.newageislam.com/islam-women-feminism/female-cyclists-indonesia-forced-apologise/d/122328
New Age Islam, Islam Online, Islamic Website, African Muslim News, Arab World News, South Asia News, Indian Muslim News, World Muslim News, Women in Islam, Islamic Feminism, Arab Women, Women In Arab, Islamophobia in America, Muslim Women in West, Islam Women and Feminism