New Age Islam News Bureau
29 Sept 2014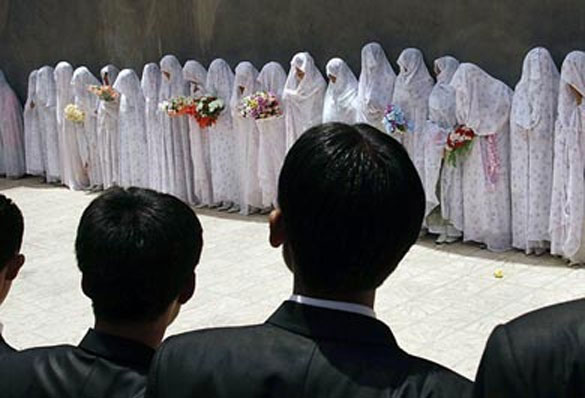 Photo: 100 Couples Marry In a Mass Wedding in Daikundi Province, Afghanistan
---------
• School Hijab Ban Angers Kenya Muslims
• UN Director Laud UAE Women's Status during Meeting
• Australia Prevents Suspected Jihadi Child Bride from Leaving Sydney
• Women as Breadwinners: A Role Reversal on the Rise in Malaysia?
• New Project for Businesswomen in Makkah
• Two Thirds of Women Do Not Exercise and One Third Are Obese, UAE Mall Study Finds
• 100 Couples Marry In a Mass Wedding in Daikundi Province, Afghanistan
Compiled by New Age Islam News Bureau
URL: https://www.newageislam.com/islam,-women-and-feminism/new-age-islam-news-bureau/eight-year-old-girl-in-australia-asks-muslim-youth-to-back-jihad/d/99315
-----------
Eight-Year-Old Girl in Australia Asks Muslim Youth to Back Jihad
September 29, 2014
Sydney: An incident has shocked not only the Australian security agencies who are chasing the Islamists on the ground, but also the entire world. According to a report in 'Australian', an eight-year-old girl has called the Muslim youths to back jihad. The worst fears have come true. The report says, "As Julia Gillard struggled to explain how Muslim children could be used to incite violence, eight-year-old Ruqaya yesterday fronted a congress of Islamic fundamentalists in Sydney to espouse her love for jihad. Addressing a 600-strong crowd at the Australian chapter of Hizb-ut-Tahrir in Bankstown in the city's west, the young girl urged all Muslim youth to fight for the restoration of the Islamic caliphate, a single global government for all Muslims established under strict Sharia law."
The girl said, "My dear brothers and sisters in Islam, as the world gathers against the believers in Syria...seeking to hijack our sincere and blessed uprisings, children in Sydney would like to send their message of hope and support to the Muslims of (Syria), especially to the children and mothers," she read from notes. "These uprisings have demonstrated that this Ummah (global Muslim community) is alive and well, her love is for jihad, she is unshackled herself from the fear which she held, and she yearns to once again live under the banner of (the Islamic state). Children as young as myself can be seen on the streets joining the uprisings, risking their lives to bring food, water and medicine to their wounded family members, some of them never returning to their mothers ... Nobody is too young," she said.
Ruqaya was the seventh of nine speakers at the "Muslims Rise" conference. Organisers of the event invited the media to report on her address. Julia Gillard on Sunday expressed her horror at images showing Muslim children carrying inflammatory placards at a protest in Sydney on Saturday, including one that read "Behead all those who insult the Prophet".
Another sign at the protest read, "Our dead are in paradise, your dead are in hell." "I do not want to see in the hands of anyone, particularly children, offensive signs that call for the killing of others," the Prime Minister said. "This is not the Australian way.
"We believe in freedom of religion and we believe that every religion should be treated with respect."
Hizb-ut-Tahrir is an international political movement devoted to restoring a caliphate, the last of which collapsed in the 1920s. The movement hopes Islamic fighters in Syria will replace the Assad regime with a caliph-led state that will eventually annex other Muslim countries and promote Islam in the West.
The caliphate would also threaten Western nations with jihad if they did not prevent their citizens from defaming the Prophet Mohammed or Islam. It would be established under the same constitution imposed under Mohammed, which could not be reformed.
Ruqaya said, "We must work hard to achieve victory. It is enough that your generation and your parents' generation were raised in the absence of the Khilafa (caliphate). Do not allow my generation to be added to that list."
Khaled Sukkarieh, the chairman of the Islamic Council of NSW, said images of children at the protest shocked many in his community. "Someone put that (banner) in the hand of a child. "That is a poor, innocent child. It is abhorrent and a very sad way of using children," Mr Sukkarieh said.
http://ibnlive.in.com/news/eightyearold-girl-in-australia-asks-muslim-youth-to-back-jihad/500944-2.html
-----------
School Hijab Ban Angers Kenya Muslims
September 29, 2014
CAIRO – A ruling by a Kenyan court to ban hijab in a church-sponsored school has outraged Muslim parents and scholars, who deemed the ruling a setback for the freedom of worship in the Eastern African country.
"In our religion, all girls who have reached puberty have to cover all their body except the face. This is to encourage self discipline," the Council of Imams and Preachers of Kenya Tana River chairman Sheikh Abdullahi Gudo told the Star.
The ban came in response to a request by the Methodist Church of Kenya (MCK), which claims to be the school's sponsor, to stop allowing Muslims students to wear hijab in the school.Gudo was commenting on an Isiolo court ruling on Tuesday, September 23, that barred Muslims students at ST Kiwanjani High School from wearing the Islamic headscarf, hijab, and long trousers.
"An order is issued restraining the Teachers Service Commission, Isiolo County director of education and district education officer from allowing Muslim students to wear hijabs at St Paul Kiwanjani Secondary, contrary to school rules and regulations," Justice Nzioki wa Makau was quoted by the Daily Nation last week.
Since last term, the school, which 80% of its students are Muslims, has been hit by several student protests over the hijab ban decision.
"The students, including KCSE candidates, did not even sit for their mid-year examination," a parent who requested anonymity told the Standard.
"There had been minimal lessons offered this year due to this problem."
Crisis Meeting
A crisis meeting gathered Muslim and Christian leaders under the umbrella of Interfaith Council of Isiolo at Al-Falah Islamic Centre on Thursday, September 25.
"The matter was a small problem blown out of proportion. Religion should not be mixed with education," Secretary Bishop Stephen Kalunyu of the National Christian Council of Kenya (NCCK) said during the interfaith meeting.
The Catholic Church in Kenya sponsors numerous private and public institutions, particularly in the countryside where many cannot easily access services.
Opposing the ruling, which was pushed by the church, Gudo, from the Council of Imams, said: "All schools must adhere to the same rules and regulations set under the ministry."
There are nearly ten million Muslims in Kenya, which has a population of 36 million.
Islam sees hijab as an obligatory code of dress, not a religious symbol displaying one's affiliations.
Scholars believe that it is up to women to decide whether to take on the veil.
http://www.onislam.net/english/news/africa/477975-school-hijab-ban-angers-kenya-muslims.html
-----------
UN Director laud UAE women's status during meeting
September 29, 2014
SHARJAH: Sheikha Jawaher Bint Mohammed Al Qasimi, Wife of His Highness Dr Sheikh Sultan Bin Mohammed Al Qasimi, Supreme Council Member and Ruler of Sharjah, Chairperson of the Supreme Council for Family Affairs, and Honorary Patron of Sharjah Businesswomen Council, has said that women in the UAE have an elevated status stemming from the respect and appreciation shown by the UAE's wise leadership for their effective presence in the community and significant role in all areas of the development process.
The statement was made during her meeting with Dr Phumzile Mlambo-Ngcuka, the Executive Director of UN Women at the entity's headquarters in New York, during the 69th session of the UN General Assembly.
She said that this approach has significantly contributed to enabling women to participate in decision-making processes and to attain the highest local and international positions.
She clarified that the historic approach adopted by the UAE in supporting and empowering women is based on true Islamic Sharia, which appreciates women, gives them full rights and instructs men to work in partnership with women.
She also stressed that those extremist groups which degrade the value and dignity of women, excluding women from the right of education, work and life, are not related to true Islam, a religion of justice and tolerance.
Sheikha Jawaher discussed the status of women at local, regional, and international levels, and how to advance their social and economic roles in order to enable them to be active partners in the development process in the regions where women's rights are restricted.
She discussed recommendations to enhance the status of women in the Arab region and provide access to education and healthcare, which are essential rights with an impact not only on women but also on the family unit and community.
Sheikha Jawaher also said that Emirati women have, in the last four decades, gained the confidence of their people, showing an outstanding contribution and creativity in all areas, and have been granted more rights and gains, thanks to the support of the country's leaders, adding that men and women in the UAE are working side by side as partners in the development process to create a better future for future generations.
"The UAE has offered every possible means to women to help them unleash their potential and reach new horizons with their families and people", she said.
Sheikha Jawaher added that the UAE ranks first in the Middle East region for treating women with respect, according to the Social Progress Index report, launched by the World Economic Forum's Global Agenda Council last April. This shows that the economic development in the UAE is based on a similar social development, with women's contribution playing a key role in this development.
With regard to women's status at the regional and international levels, she expressed confidence that the efforts exerted by international organisations, including UN Women, will help accelerate the women's empowerment process in communities where women's rights are not fully upheld. She also stressed the importance of making education a top priority and ending any restrictions to gender equality in higher education.
In her capacity as UNHCR Eminent Advocate for Refugee Children, Sheikh Jawaher was briefed by the Executive Director of UN Women about the entity's programmes and services for refugee women, particularly in the Middle East region, stressing the importance of providing education and rehabilitation to women in countries of asylum, enabling them to continue life with hope, financial independence and confidence.
Dr Phumzile Mlambo-Ngcuka welcomed the opportunity to discuss potential areas of collaboration.
"Sheikha Jawaher's contribution to women's leadership and to the economic empowerment of women in Sharjah and beyond is exemplary. I salute her passionate commitment to supporting women so that they are able to provide for themselves, their families and communities. I have been most impressed by the inspiring examples of initiatives in Sharjah under Sheikha Jawaher's leadership that have alleviated the suffering of women and fostered their empowerment. This is a strong and sustainable way in which to support the growth not just of individuals, but of society as a whole."
http://gulftoday.ae/portal/11e460ba-ab35-4602-b643-fe7e9588c753.aspx
-----------
Australia Prevents Suspected Jihadi Child Bride from Leaving Sydney
September 29, 2014
A child bride bound for Lebanon was intercepted by Australian authorities at Sydney airport last Sept. 26. Reports said the 14-year-old girl was saved from an arranged marriage in Lebanon at the last minute. The Daily Telegraph reported that the teenager was with her uncle when the authorities arrived. A joint investigation response team had learned about her plight.
After questioning that lasted for hours, the two were released but were given strict instructions not to leave the country, according to Immigration Minister Scott Morrison. The young girl's name is understood to be on an airport watch list as both the state and federal government keep track of children at risk.
The Australian government has been on the lookout for cases of arranged marriages following the social media campaign of Islamic State of Iraq and Syria extremists to lure young girls to marry terrorists. A spokesperson has confirmed that one male adult and a female minor were stopped from boarding their flight at Sydney airport. The claim that it was related to counter-terrorism was denied. To protect the privacy of the minor, no other details were revealed.
According to Dr Eman Sharobeem from the Immigrant Women's Health Service, ISIS' public appeal for young female jihadis as wives may leave young Australian girls at risk since they may be taken against their will in response to the terrorists' call.
ISIS-linked Abu Bakr Al-Janabi had posted on social media to appeal to women to join the extremist group. He encouraged the girls to find their future husband because at the end, the rest of the women will become slaves.
Morrison said arranged marriages are an "assault on Australian values" and described the involvement of children as an abomination. Michaelia Cash, Assistant Minister for Women, told News Corp that the government has taken a "zero-tolerance" regarding the issue of force marriage and the threat repeatedly posed by ISIS.
Sharobeem said one of the Australian schoolgirls referred to the service revealed that her parents told her she would be sent to Iraq to meet her husband. Sharobeem was also aware of reports of Muslim girls being told by parents to obey or else they will be sent off to Syria.
http://au.ibtimes.com/articles/567933/20140929/australia-jihadi-isis-child-bride.htm#.VCnK8mddU4U
-----------
Women as Breadwinners: A Role Reversal on the Rise in Malaysia?
September 29, 2014
MALAYSIA: News of husbands neglecting their duty to support their wives and families seems to be on the increase if we can judge by the number of cases we hear from daily news reports and also from first-hand experience. On the other hand more wives are now working and contributing to support their households.
This changing dynamics in family households has also been highlighted in the Harian Metro news daily. However, this evolving social dilemma has been brewing for some years globally as a women's place in a nation's economic development has also evolved over the years.
The involvement of women in the workforce and contributing to the nation's economy and development is set to increase even further in the future. Although the number of women in the workforce compared to men is still lower, the total number of women participating in many economic sectors is increasing.
According to Women, Family and Community Development Minister, Datuk Seri Rohani Abdul Karim, in a Berita Harian report recently, 68% of new students entering tertiary education in Malaysia for the 2013/2014 academic intake were women.
"This is clearly proof that the female population in Malaysia is increasingly highly educated and making an impact in many employment sectors,''she said.
UNICEFThis is further supported by UNICEF's findings in a statistics report that the number of women who worked has increased from 44.7% in 1995 to 47.3% in 2004.
In the same report, statistics show that government initiatives and the efforts of NGOs have created greater opportunities for a larger percentage of Malaysian women to access higher income employment.
Similarly, statistics from the 8th Malaysia Plan (2001-2005) show that the number of women lawmakers, executives and managers have also increased from 5% in 2000 to 5.3% in 2002.
This is encouraging news for a country that is trying to move towards a developed nation status by 2020 but there is also a flipside of the coin to this story. As women continue to play a larger economic role in society, there have been an increasing number of women who have found themselves as the sole breadwinner of their families. Is this an emerging trend in modern urban families today?
Who Should Be Responsible For Main Financial Support Of A Family?
Not everything in life can be solved by money but it is a fact in life that everything costs money, from food to lodgings, transportation and education which is a reality faced by all households daily.
In many couples and families, financial issues have the potential to trigger marital discord leading to separation and divorce in many cases.
Chairperson of The Muslim Women Consultative Council of Malaysia, Prof Madya Datin Noor Aziah Mohd Awal said that the financial planning module in the Pre-Marriage Course needs to be improved and given more priority given its increasing impact in marriages today.
"The Department of Islamic Development Malaysia (JAKIM) needs to take a more serious view of this issue and put more focus in educating prospective couples on the importance of financial planning and support to reduce the increasing divorce rates caused by financial problems," she said when contacted by Malaysian Digest.
The increasing number of divorces caused by financial problems was also highlighted in a recent Berita Harian news report that 60% of divorces in Malaysia are related to financial and economic factors.
The reality is with each divorce, another single mother who is the sole breadwinner of the family is added to the statistics.
In order to bring more attention to this situation, Malaysian Digest interviewed single mother, Farihan Yussof, 38, who lives in Bandar Mahkota Cheras, Kajang. She expressed how upset she was with her ex-husband's lack of responsibility.
Her 13-year marriage was abruptly ended when her husband divorced her.
"All the problems started with money; we didn't feel it was a problem when we first got married but after our second child, the increasing demands on our finances started to affect our marriage," she reflected,'' she said.
"We argued everyday about money; the money needed to cover food bills and the children's needs kept increasing and we could no longer agree on anything anymore so in the end we divorced," she explained.
In order to support her two children, Farihan has to eke out a living as a cleaner in a local school to earn the basic minimum wage of RM900 a month and feels financially stretched in trying to make a living for herself and her children.
"After the divorce, my ex-husband has completely abandoned us without a cent in financial support so I have to be the sole breadwinner as well as be the mother and father to my children," she further added.
Another sole breadwinner for her family is Rosnah Mohd. Tahir, 40 who found herself having to support a child and her family; she views facing the daily challenges as a test from God that she has to persevere.
"After my husband met with an accident and was paralyzed, he could no longer support our family so I have to be strong for everyone's sake," she explained.
The Growing Women Workforce In Malaysia
The traditional role of women in society has always been to nurture and care for the family, The sacrifices and contributions by women to the development of a nation is officially recognized and celebrated on Women's Day held on 8 March annually.
However, in modern developing societies like Malaysia where industrialization is a backbone driving economic progress, more and more women are finding job opportunities in the industrial sector compared to men.
This is the observation from Human Resource Manager, Tan Siak Er, 28 from an industrial corporation based in Johor Bahru.
Siak Er, when contacted, observed that in general he received more job applications from women compared to men, and more than 70% of workers in the industrial sector are women.
"If we look at factory jobs, many more women are employed in inspection, monitoring and managerial posts; men appear to be in a minority in this sector mostly employed in the machine operators sections only," she said.
The younger generation today have also become more open to the view that women can participate equally in the workforce like men according to a Universiti Teknoloji Mara student when contacted by Malaysian Digest.
Amira Ismail, 24, said that the majority of students currently pursuing further studies in tertiary institutions are women.
"Honestly, I have spent years studying and putting in a lot of effort in achieving my career so I should not let all that effort go to waste if my husband asks me to stop working after marriage," she explained.
Malaysian Digest ask her view of whether she was concerned about the increasing number of women who have found themselves as sole breadwinners of their families.
"Not all men are the source of the problem; there are many responsible men as well. It is just that it is a fact today that more women have the opportunity to progress further in their careers since they are highly educated. I would say that some women can accept that their husbands might contribute less financially to the family as long as they do not neglect their responsibility to their family completely," she further elaborated on her view,'' she added.
According to an employee of Jobstreet, Hasmah Morhibban, 38, she is of the opinion that it is more in the nature of women to be able to make sacrifices for her family's sake due to rising living costs so women take the initiative to compromise with their husbands for the sake of family unit's harmony and survival.
"Personally, I have been working for almost 10 years now, and I am thankful that my husband continues to fulfil his responsibility to our family as he knows that living in KL means that his income as the sole breadwinner is not enough," she said.
The Trend Of 'Breadwinner Moms' Is Set To Grow Globally
If we take a look at the many retail shopping malls in our country from MidValley, Sunway Pyramid to KLCC, as well as in commercial and industrial hubs in every city center, opportunities for employment for women are aplenty and necessary to keep driving the economy forward.
A woman as the main breadwinner of a family is a trend that is set to grow if we look at the phenomenon globally. Reports have emerged in US, Canada and the UK in 2010 to 2013 pointing to the rise in this trend.
In March 2013, USA Today reported a US Census Bureau data that a record 23% of US households in 2010 are supported by the working wife compared to just 6% in 1976.
Similar The Guardian in UK reported in March 2013 that the number of 'breadwinner moms' has increased over threefold in 50 years from just 11% in 1960 to 40% in 2013 according to data from Pew Research Centre.
In Malaysia, we are also increasingly feeling the impact of this shifting economic paradigm as more and more women are encouraged to enter the workforce or find themselves forced to become sole breadwinners of their families due to circumstances and poverty.
Going forward, our country has to urgently address this changing dynamics in the family unit as Malaysia moves ahead so that both economic and social development is kept in harmony.
http://malaysiandigest.com/frontpage/282-main-tile/520568-women-as-breadwinners-a-role-reversal-on-the-rise.html
-----------
New project for businesswomen in Makkah
September 29, 2014
JEDDAH — The Ministry of Labor will soon announce it's new project for Makkah region businesswomen, said Eman Rajkhan, director of Department of Female Workers' Affairs, Ministry of Labor, Makkah branch.
The project comes in line with the department's policy to provide facilities to businesswomen and encourage them to invest in the private sector.
"The ministry wants businesswomen to contribute to the private sector, which is a big sector and yields a lot of profit. We want them to participate in developing the nation's economy," said Rajkhan.
The ministry invites businesswomen to its meetings with the female owners of private and foreign schools, beauty salons, recruitment offices, and private-sector businesses in order to allow them to increase their participation in the private sector.
Rajkhan said the private sector provides workingwomen and businesswomen with a lot of opportunities that they previously did not have, thanks to the ministry's efforts. Businesswomen can focus on several fields to enhance female participation in the workforce.
Businesswomen and workingwomen can also benefit from the ministry's programs and workshops that shed light on the rights and duties of workers as per the Saudi Labor Law, which is accessible on its website.
http://www.saudigazette.com.sa/index.cfm?method=home.regcon&contentid=20140929219675
-----------
Two thirds of women do not exercise and one third are obese, UAE mall study finds
September 29, 2014
ABU DHABI // Almost two thirds of women take no exercise and are overweight, a new health-screening survey suggests.
Nearly a third of women screened were obese, more than a third had a family history of heart disease and half had family members who were diabetic.
The study of nearly 5,000 women consisted of a questionnaire and tests for the main indicators of heart disease, which include smoking, high blood sugar, cholesterol and blood pressure, and body mass index.
"In the UAE, unbalanced diets, smoking and decreased physical activity are all lifestyle factors that contribute to a population with one of the highest rates of obesity in the world," said Dr Tomislav Mihaljevic, head of the heart and vascular institute at the Cleveland Clinic Abu Dhabi.
Having a family history of risk factors that cause heart disease can also make people vulnerable to heart disease. The study found that smoking and diabetes were not big problem areas for women.
Only 7 per cent were smokers, 9 per cent had diabetes and 70 per cent of those with high blood sugar were healthy and controlled the issue with medication. Cholesterol levels were high in 11 per cent of the women screened. More than half of those did not manage their levels, and 43 per cent did so with medication.
Coronary heart disease was the world's single biggest killer in 2012, causing 7.4 million deaths, or 13.2 per cent of all deaths. Cardiovascular disease was responsible for 30 per cent of deaths in the UAE, and 39 per cent in Abu Dhabi.
The health screening was conducted by the retail conglomerate Majid Al Futtaim in partnership with the Ministry of Health, the American Heart Association and local health organisations across the region.
It took place at shopping malls in Dubai, Ajman, Fujairah and Sharjah, and in Bahrain, Egypt, Lebanon and Oman, and analysed health data from 4,742 women.
"The data collected can be used by the medical community in the Middle East to complement research efforts where data is scarce and costly to gather," said Fuad Mansoor Sharaf, senior director of Majid Al Futtaim.
arizvi2@thenational.ae
http://www.thenational.ae/uae/health/two-thirds-of-women-do-not-exercise-and-one-third-are-obese-uae-mall-study-finds#ixzz3Ek7sKSyS
-----------
100 Couples Marry In a Mass Wedding in Daikundi Province, Afghanistan
29 September 2014
Around 100 couples got married in the mass wedding in Neli, the central city of Daikundi province on Monday.
The wedding was organized by a charitable non-governmental organization, provincial women's affairs chief Zakia Rezaye told the Radio Free Europe (RFE).
Rezaye further added that the youths belong to various districts of Daikundi who were unable to finance their wedding ceremony.
In the meantime, a religious cleric in Daikundi has said the mass weddings are against the principles of Islam and should be immediately stopped.
This comes as Khairkhwah Foundation organized a mass wedding in capital Kabul on Thursday to help the engaged individuals who were unable to bear the wedding expenses due to weak economy.
An official from Khairkhwah Foundation, Abdul Rahim Rashid said they are expecting that similar wedding ceremonies are organized with the cooperation of businessmen and wealthy individuals to assist the youths who are unable to pay for their wedding ceremony.
The foundation also vowed that employment opportunities will also be provided for the youths who tied the knot today.
http://www.khaama.com/100-couples-marry-in-a-mass-wedding-in-daikundi-province-8739
-----------
URL: https://www.newageislam.com/islam,-women-and-feminism/new-age-islam-news-bureau/eight-year-old-girl-in-australia-asks-muslim-youth-to-back-jihad/d/99315