New Age Islam News Bureau
25 Jul 2019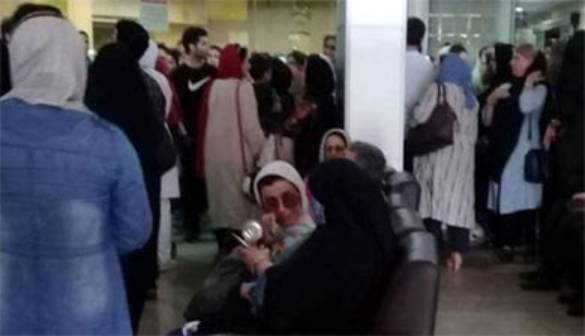 On Tuesday, July 23, 2019, women had active participation in seven protests throughout different parts of Iran.
------
• AL Urges Providing Funds for Setting up Arab Network for Female Peace Mediators
• More Than 11,000 Women and Children Related To Isis Suspects Held In 'Appalling Deadly Conditions' In Syria
• Boko Haram Abducts 5 Women in Troubled Nigerian Town
• Canada Grants Financial Support to 5 Afghan Organizations to Advance Women Rights, Democracy, Security
• After ISIS: How Kosovo Is Rehabilitating Women and Children Repatriated From Syria
• A School Board Member's Facebook Post Suggested His 'Life Would Be Complete' If Rashida Tlaib Died
• Afghan Women Fear Renewed Chapter of Sharia Law and Regression of Rights under Taliban's Thumb
Compiled by New Age Islam News Bureau
URL: https://www.newageislam.com/islam-women-feminism/active-participation-women-protests-different/d/119295
--------
Active Participation of Women in Protests in Different Cities of Iran
Jul 24, 2019
On Tuesday, July 23, 2019, women had active participation in seven protests throughout different parts of Iran.
The contractual teachers of Zarrin Shahr in Isfahan gathered on Tuesday, July 23, 2019, in front of the Education Department in Isfahan, protesting against their undetermined employment status. The active participation and presence of women were notable among the protesting teachers.
On July 23, 2019, 250 employees from the Aria-Shahr Hospital in Rasht stopped working and went on strike. The employees protested against the unjust reduction of between 500,000 to 700,000 tomans of their wages. "For more than a year, the salaries and other benefits have been discontinued and no payments are made to the hospital's personnel," said a staff member at the hospital.
The defrauded clients of the Caspian Credit Institution gathered in front of the institute's central office in Tehran on Tuesday, July 23, 2019, and demanded the return of their looted money. Women also had a strong presence and active participation in the protest gathering.
On the same day, the residents of Sadra city, in Shiraz, protested against several days of water outages. The deprived and angry women gathered in front of the city's water department holding empty buckets and dirty clothes in protest. One of the protesters said, "The water was supposed to be rationed for only two hours a day, but we have not had water in our houses for several days now."
The people of the Mazdak district of Boyer-Ahmad County gathered in front of the city's Governorate building in protest to the constant outages of drinking water. Women had significant and active participation in the protest.
The families of the victims of the accident at the Jahrom–Lar intersection also held a protest rally on Tuesday in front of the Road and Urban Department in Larestan, with the active participation of women. (The state-run Asr Iran website – July 23, 2019) https://women.ncr-iran.org/2019/07/24/active-participation-women-protests-iran/x
--------
AL Urges Providing Funds for Setting up Arab Network for Female Peace Mediators
Jul. 24, 2019
CAIRO, July 24 (MENA) - Arab League (AL) Assistant Secretary General Haifaa Abu Ghazala on Wednesday urged the member states to provide funds for setting up the Arab network for female peace mediators.
In her speech at a meeting allocated for discussing the proposal, she underlined the importance of merging Arab women into the peace-making process and mediation efforts.
She also underscored the necessity of women's participation in peace negotiations and mediation.
She lauded efforts for empowering women at the political level in the Arab region.
Today's meeting is held to enhance the role of the Arab League with its regional partners for empowering women to achieve security and spread the culture of comprehensive peace, she added.
https://www.egypttoday.com/Article/1/73157/AL-urges-providing-funds-for-setting-up-Arab-network-for
--------
More Than 11,000 Women and Children Related To Isis Suspects Held In 'Appalling Deadly Conditions' In Syria
Jul 25, 2019
More than 11,000 foreign women and children related to Isis suspects are being held in "appalling" and "deadly conditions" in a locked desert camp in northeast Syria, a leading human rights organisation has warned.
Human Rights Watch found overflowing latrines, sewage seeping into tattered tents, and inhabitants of al-Hol camp drinking wash water from tanks which contained worms.
The organisation, which carried out several visits to the part of the camp which holds foreign women and children last month, urged countries to take back the thousands of foreign women and children being held by the Kurdish-led Autonomous Administration for northeast Syria in the camp.
At least seven thousand of the children are under the age of 12, most of whom are survivors of heavy fighting and are highly vulnerable.
Human Rights Watch witnessed young children with skin rashes, emaciated limbs, and swollen bellies sifting through mounds of stinking garbage in the blazing sun or lying limp on tent floors.
The United Nations estimate at least 240 children have died en route or upon arrival to al-Hol.
Aid groups and camp mangers said children are "regularly" dying from acute diarrhoea and flu-like infections, but warned the exact number may not be known as children are dying in tents rather than in hospitals and so may not be recorded.
"Foreign women and children are indefinitely locked in a dustbowl inferno in northeast Syria while their home countries look the other way," Letta Tayler, senior terrorism and counterterrorism researcher at Human Rights Watch, said. "Governments should be doing what they can to protect their citizens, not abandon them to disease and death in a foreign desert."
She added: "The conditions in al-Hol annex are untenable and unconscionable. Abandoning citizens to indefinite confinement without charge will only make the problem worse."
Human Rights Watch carried out interviews with 26 foreign women confined to an annex of the camp from countries including Canada, France, Australia, the Netherlands, Trinidad and Belgium.
Guards from the Syrian Democratic Forces (SDF) at the camp are said to refuse to let the women and children leave unless they are escorted out for emergencies such as surgery which cannot be accessed in camp hospitals.
Ayisha*, a mother-of-five from Trinidad, who is 37 weeks pregnant, said: "Please, tell me, where are my sons? Please, let me visit them".
She said the SDF took her two sons, ages 14 and 15, and their father when the family fled Isis-held Abu Badran in January.
"First they said they would bring my boys to me in a month. Then they said two more weeks. Then they said they were sick in the hospital," Aisha said of camp officials. "Then for the past two months, nothing."
Officials from the Autonomous Administration told Human Rights Watch they do not have plans to prosecute the women and children. When pressed about their legal status, they said when the women and children left Isis-held areas, they were "transferred to al-Hol to work on delivering them to their countries given that they are from different nationalities."
The Autonomous Administration has repeatedly called on home countries to take back all foreigners in their custody.
Donor governments, the United Nations, and humanitarian agencies should immediately increase aid to all inhabitants at the camp, Human Rights Watch urged.
None of the women researchers spoke to said they had been taken before a judge to review whether she should be detained. Nor did any say they had been contacted by a representative of their government.
All but one of the foreign women who researchers spoke to said they wanted to return home. One woman from Uzbekistan explained she wanted to go to a third country due to worries of persecution if repatriated.
The report comes amid warnings of growing radicalisation at the facility. Western governments have displayed a lack of willingness to take back their citizens from the camps due to concerns they constitute a security risk.
The British government has refused to repatriate any of its citizens who went to join Isis - also citing security concerns. There are also legal questions around taking children from their parents.
Human Rights Watch say conditions are "dire" throughout al-Hol which holds 62,000 Syrians and Iraqis in the main camp sections - most of whom are also wives and children of men accused of Isis membership.
But the worst conditions are said to be in the annex holding the 11,000 non-Iraqi foreigners. Aid workers said the annex gets less aid from donors and its inhabitants must wait for armed escorts to bring them to the camp market, hospitals, and food distribution centre, which Syrian and Iraqi women and children can reach freely.
More than 7,000 foreign children and 3,000 foreign women from about 50 countries are held in the al-Hol annex according to officials from the Autonomous Administration.
Those children in al-Hol only constitute a fraction of a much larger group of children allegedly associated with armed conflict who are stranded in camps, detention centres and orphanages across Syria but particularly in the northeast. UNICEF estimates that in the northwest province of Idlib nearly one million children have been trapped for months on end amid heavy fighting.
https://www.independent.co.uk/news/world/middle-east/syria-isis-suspects-women-children-camp-human-rights-a9016991.html
--------
Boko Haram Abducts 5 Women in Troubled Nigerian Town
Olarewaju Kola
23.07.2019
MAIDUGURI, Nigeria
At least five women and girls have been abducted by Boko Haram in Nigerian troubled northeast town.
Multiple security sources and residents told Anadolu Agency that some Boko Haram insurgents in a 4-wheel vehicle attacked Dikwa town, some 90 kilometers (about 53.4 miles) to Maiduguri, the Borno State capital, on Tuesday morning.
"The insurgents came at about 8:30am (local time), abducted seven women but found out one of them was a lactating mother, another one also escaped, while five were forcefully taken away," a military source in the area said.
Ali Bulama, a resident, said the insurgents fired several shots while escaping the area. "The woman that ran away from the Boko Haram as they were going was hit with gunshot on her back," Ali said in a message.
Military did not immediately respond to request for confirmation from Anadolu Agency in Maiduguri. The General Officer Commanding (GOC) 7 Division of the Nigerian Army in Maiduguri could not be reached on his telephone.
Boko Haram which pledged allegiance to the Daesh has kidnapped nearly 500 women in its decade-long violent activities in the country's northeast region. The abduction of over 200 schoolgirls in Chibok town on April 14, 2014 and 110 others in Dapchi in February 2018 triggered international condemnation.
https://www.aa.com.tr/en/africa/boko-haram-abducts-5-women-in-troubled-nigerian-town/1539648
--------
Canada Grants Financial Support to 5 Afghan Organizations to Advance Women Rights, Democracy, Security
24 Jul 2019
Canada has granted financial support to five Afghan Civil Society Organizations to advance women rights, democracy and security in Afghanistan.
The Embassy of Canada in a statement said Wednesday it has granted financial support to Afghan Women Association for Rehabilitation and Development (AWARD), Canadian Women for Women in Afghanistan (CW4WA), Human Rights and Eradication of Violence Organization (HREVO), Physiotherapy and Rehabilitation Support for Afghanistan (PARSA) and Salam Afghanistan Media Organization (SAMO).
The statement further added that every year, the Canadian Embassy provides support to Afghan civil society organizations through the Canada Fund for Local Initiative (CFLI) to implement projects aligned with empowering women and girls and promoting gender equality, championing human rights, inclusive and accountable governance, democracy, peaceful pluralism and respect for diversity and promoting stability and security.
Furthermore, the statement said the Canadian Embassy sent an email to more than two hundred Afghan civil society organizations, inviting them to submit project proposals under one of the above-mentioned thematic priorities. The embassy received 64 proposals, of which five were retained following a competitive selection process.
The Canadian Embassy also added that the selected projects will have a direct impact in Afghan local communities and their implementation will be completed by the end of February 2020.
https://www.khaama.com/canada-grants-financial-support-to-5-afghan-organizations-to-advance-women-rights-democracy-security-03436/
--------
After ISIS: How Kosovo Is Rehabilitating Women and Children Repatriated From Syria
Sara Manisera
July 25, 2019
Visar never expected to see his grandchildren again after his daughter took them with her when she followed her husband to Syria to join ISIS in 2014.
Now, five years later, Visar – not his real name – stands watching his five grandchildren playing in the inner courtyard of his simple home surrounded by rolling hills and cornfields in a remote village 20 kilometres north of the Kosovan capital Pristina. "The youngest was six-months-old when they went to Syria and the last [grandchild] was not born yet", he says, lighting one cigarette after another.
If he had known of his daughter's plan to follow her husband, "I would have done everything to stop them," he says. "My daughter was threatened by her husband and she was forced to follow him. They made a mistake.
"Was it better to leave them in Syria or try to correct their path? If my daughter was wrong, she will pay for her mistakes, but my grandchildren are innocent creatures" he says.
Visar's daughter, Edina (also not her name), was married to Arbenin Demolli. He was one of the 316 Kosovars who joined ISIS but was killed in a US airstrike in Aleppo in a few months after their arrival.
After he was killed, his wife and children remained in Syria, moving across ISIS territories first to Hasaka in the northeast and then to Raqqa.
According to Visar, she was forced to marry a second husband, a Kosovar man who is the father of her youngest child. The couple lived in Raqqa until it was liberated in 2017, when they were arrested by US-backed Kurdish forces.
The husband went to jail while Edina and her five children were sent to Ain Issa camp and then moved to Al Hol camp alongside thousands of other former ISIS families.
After he was killed, his wife and children remained in Syria until the Kosovo government repatriated 110 people – mostly wives and children of ISIS fighters –in April this year. Edina and her children were among the group.
"I'm very happy to be at home", Edina says in Arabic standing by the front door of her father's house. "I'm lucky". Edina can't say much else as she isn't supposed to talk to journalists. She is under house arrest and will face a criminal trial, but her shy smile reveals her relief at being home.
Many other families of ISIS fighters have not been so lucky to get home. Most are still in camps like Al Hol in north-eastern Syria.
They now live in overcrowded and squalid conditions. "In Al Hol camp alone there are 75,000 people and approximately 12,000 are foreign women and children in a state of semi-detention, exposed to violence. It's a ticking-time-bomb", says Domenico Chirico, Syria Programme Director for the Italian NGO Un Ponte Per.
UN human rights chief Michelle Bachelet has urged the international community to repatriate families of ISIS fighters.
Most European governments – including France, Britain, Germany, and Belgium – have repatriated only small numbers of women and children, leaving most stuck in an unstable situation.
Kosovo, however – whose claim of independence from Serbia is recognised by around half the members of the UN and is considered the youngest state in Europe – has launched a unique rehabilitation project for repatriated ISIS families involving psychiatrists, family psychotherapists, imams and female preachers called "Mualime".
"I'm a kind of bridge between [the women] and society. I visit them and I help them to understand what is the real value of Islam and to live a normal life again", explains Sanie Gashi Mehmeti, a Muslim preacher from Lipjan, 20 kilometres south of Pristina. She has more than ten years of experience in women's prisons. "At the same time, I work with the society to help them accepting those women and children", she says.
Although Kosovo is 90 per cent Muslim, most of the population is deeply secular.
Kosovar society, therefore, stigmatizes the families of those who went to Syria. For this reason, part of the rehabilitation project includes regular meetings with neighbours and villagers in their communities.
"My colleagues and I work with the local population so that the community can accept and reintegrate these women and their children," says Ms Mehmeti. "It is not an easy process. If they have committed a crime they must be punished. If they have not, they must be helped and reintegrated.
"But if we leave them in those places or we abandon them, they can become even more dangerous. In life, we may commit a mistake but we must teach them the right direction and prevent children from growing up with wrong ideas about Islam", she says.
"This is a long-term process that changes according to the specific circumstances of individual cases", says Valbona Tafilaj, the coordinating doctor for mental health under the government's rehabilitation and reintegration programme for women and children in their homes.
"With some [women] it will take years, but since we started the initial psychotherapy sessions [we found] the most visible symptoms for everyone, women and children, are post-traumatic stress disorder (PTSD), backtracking and depression", she adds.
The psychiatric programme includes home visits, individual and family sessions, outdoor activities and a process of reintegration into society through school and training courses.
"With this programme, we first deal with the trauma then we try to work on ideology," says Ms Tafilaj.
"Many of [the families] did not choose to go to Syria but were forced by their husbands. Others have become radicalized. All, however, have lived four or five years under ISIS and under that ideology. Including children", the doctor says.
The repatriation and rehabilitation program, developed over more than two years, has no guaranteed result. But those involved say it's their best chance for the women and their societies.
"It is the best solution for this situation and is managed by the state", explains Mensur Hoti, director of the Public Safety Department of Kosovo.
"The main reason we are doing this project is the children. They are not guilty for being born there or because their parents brought them to Syria. If we leave them there, in ten years we will have another ISIS".
https://www.thenational.ae/world/mena/after-isis-how-kosovo-is-rehabilitating-women-and-children-repatriated-from-syria-1.890533
--------
A School Board Member's Facebook Post Suggested His 'Life Would Be Complete' If Rashida Tlaib Died
By Timothy Bella
Jul 25, 2019
On a Friday afternoon in April, Daniel P. Leonard, a 42-year-old school board member from Beachwood, N.J., posted an article to Facebook about Rep. Rashida Tlaib's (D-Mich.) support of hunger strikes to protest Immigration and Customs Enforcement.
"My life would be complete if she/they die..." he wrote in a since-deleted post saved by the Council on American-Islamic Relations.
The post was not an isolated incident for the Army veteran and supporter of President Trump. Earlier that month, Leonard had posted a video of Rep. Ilhan Omar (D-Minn.), who joined Tlaib as the first Muslim women in Congress, with the caption, "Terrorist . . . 100%." Later in April, he published a meme about "Sharia Barbie," a brown-skinned doll in a hijab with a black eye and a purple bottom lip. "Comes with jihab [sic], bruises, & Quran," the text read.
Now, the Toms River Regional Board of Education has announced that Leonard faces a potential ethics investigation over his anti-Muslim posts, as officials including New Jersey Gov. Phil Murphy (D) and Lt. Gov. Sheila Oliver (D) urge Leonard to resign.
Stephan R. Leone, the attorney for the New Jersey regional school board, condemned Leonard's comments on Tuesday, calling them "totally inappropriate, not condoned by the Board of Education," and adding they "do not reflect the board's attitude or opinions," the Asbury Park Press reported. He added that the group "will determine what school board ethics violations may have occurred, and we are going to take appropriate action."
A board meeting was held Wednesday night to discuss whether ethics violations took place and what action is needed if any, NJ.com reported. While it's unclear on Thursday morning if there was any resolution, Leonard refused to step down amid calls from concerned residents at the meeting, Patch reported.
"That was a threat to me," said one mother in reference to the post about Tlaib. "My daughters wear hijabs in school. How are they supposed to feel safe?"
The backlash comes less than two weeks after the president said in a racist statement that four minority congresswomen should "go back and help fix the totally broken and crime infested places from which they came." Days later, Trump supporters chanted "Send her back!" at Omar during a North Carolina rally. Three of those lawmakers — Tlaib, Reps. Alexandria Ocasio-Cortez (D-N.Y.) and Ayanna Pressley (D-Mass.) — were born in the U.S. Omar, a Somali refugee, became a U.S. citizen when she was 17.
Trump's vitriol has been echoed in other social media posts from public officials. Last week, a Louisiana police officer was fired for suggesting in a since-deleted Facebook post that Ocasio-Cortez should be shot. (Another officer was fired for "liking" the post.) On Sunday, the Illinois Republican County Chairmen's Association apologized for sharing a meme to its Facebook page calling the Democratic congresswomen "The Jihad Squad."
In an interview with The Washington Post, Leonard rejected the notion that he was anti-Muslim, calling the situation, "Total Nonsense." Describing himself as "Anti-Sharia Law," Leonard said his post was not about the congresswoman being Muslim but about him not caring whether people died during a hunger strike protesting ICE.
"This false narrative is because of Trump and politics. Sad," he said over Facebook Messenger. "It was on my personal page and taken out of context to fit the narrative . . . that any statement against a Muslim is BECAUSE they are Muslim. Not true."
He added: "I speak out against Radical Islam . . . Not Muslims."
Requests for comment to Tlaib, Leone and the Toms River Regional school board were not returned late Wednesday.
The New Jersey chapter of CAIR called for Leonard's resignation this week for his "racist and Islamophobic posts."
"The bigoted, hateful and threatening social media posts shared by this elected board of education official serve to disqualify him for any position that has responsibility for the safety, security and well-being of New Jersey's diverse student body," said James Sues, the executive director of CAIR's New Jersey chapter, in a statement. "This is just a painful reminder of the extreme divisiveness that characterizes the current political climate at the national level."
Muslim Advocates, another national civil rights organization, also called for the board member to step aside.
"The harmful, ugly content that Daniel Patrick Leonard regularly posts to Facebook exposes him as someone wholly unfit to work with the diverse school children in Toms River and the state of New Jersey," said Madihha Ahussain, a special counsel at Muslim Advocates, in a statement to NJ.com.
In New Jersey, the education commissioner can remove a board member if the ethics commission finds they violated the law, according to the Press. Leone, the school board's attorney, praised Leonard for his service to the community, but emphasized the damaging nature of his posts.
"It's reflective of the board, it's not a good leadership attribute for our school children," Leone said to the Press. "We regret that Dan, who has otherwise served well, has found himself in these kinds of situations."
A 23-year combat veteran who was a paratrooper in the Army's 82nd Airborne Division and served in Afghanistan, Leonard was elected to represent Beachwood, located in south New Jersey, on the school board in 2016. Both his personal and professional Facebook pages regularly feature posts directed at Muslims, an approach he calls "Discussion Provoking." Leonard acknowledged after the Wednesday night meeting that his posts on Tlaib, Omar and "Sharia Barbie" have "impacted the district," and vowed to "be more cautious going forward."
"I will never back down, but I vow to be more articulate in my approach so that the message I am trying to convey as a private citizen is clear and precise and in no way reflects the position of the Board," Leonard wrote in a post.
Still, Leonard, who is seeking reelection in November, reiterated that his intention was not to suggest he was wishing for the congresswoman's death based on her faith.
"I'm passionate," he told The Post, "but I am not a Racist."
More from Morning Mix:
'Sick and disgusting': A 15-year-old girl went missing, only to turn up in viral video of a brutal attack
'You had one job to do and you failed': His death was blamed on natural causes, until a funeral home found stab wounds
A$AP Rocky charged with assault by Swedish prosecutors
https://www.washingtonpost.com/nation/2019/07/25/daniel-leonard-rashida-tlaib-death-new-jersey-school-board/
--------
Afghan Women Fear Renewed Chapter of Sharia Law and Regression of Rights under Taliban's Thumb
Jul 25, 2019
With the possibility of the U.S.-Taliban peace deal looming in the very near future – which would likely see the withdrawal of almost all American troops – Afghans are bracing for the next chapter of life in the war-ravaged nation.
But with the Taliban in the driving seat, it's women who have the most to lose.
"This is not a good situation. Once there were good schools that had opened for girls and boys even in remote villages," Ziba, a 28-year-old mother, and former school teacher – who lives under Taliban control in Logar province – told Fox News. "But now many have been shut down (by them) to become Taliban prisons."
She added: "Now there is just madrassa to teach religious subjects and for the boys, they learn to fight and at the madrassas for girls, they are taught they must stay at home in the future."
Ziba stressed that women are no longer permitted to go out alone in areas controlled by the group – which she equated with her memories of being a little girl growing up the 1990's when the Taliban officially controlled the country before being usurped by U.S forces after the September 11, 2001 attacks.
"The only change I see is that they aren't destroying televisions anymore, but now music is allowed. I can't see any other change in their actions, they are punishing civilians as always," she continued. "We are forced to cook food for their fighters, but some pro-Taliban women here support that and say they are happy to cook the food and are upset because they lost their husbands and sons in this war."
Moreover, Ziba claimed that local leadership in the town is sometimes overheard boasting about their plans to take over the capital Kabul as soon as the U.S. exits.
"The U.S. brought freedom for half the Afghan citizens, but if they give up Afghanistan again, we will have no hope even for the most basic rights. They will bring Sharia law," Ziba lamented. "As a woman, I cannot trust the Taliban."
While the protracted 18-year conflict has claimed countless lives and littered the land with instability, frequent attacks and the rise of various militias and terrorist groups, perhaps the greatest pocket of progress has been in the form of women's rights and role in society.
Najia Nasim, the executive director of rights organization "Women for Afghan Women," underscored that gender inequality, domestic violence, and discrimination that skyrocketed during the Taliban reign led to Afghanistan's consistent ranking as one of the worst places in the world to be a woman. Yet since the 2001 intervention, which the U.S. partially predicated on releasing women from the repressive grip of the Taliban, Afghan women and girls have made phenomenal gains.
"They now have increased access to education, economic opportunity, and other human rights. Despite overwhelming challenges, girls have gone back to school; women are working as government ministers, judges, lawyers, doctors, police officers, and engineers; and a new generation is being raised in a country that recognizes women's rights as human rights," she said. "Furthermore, Afghanistan has created important legal protections for women, including the Afghanistan Constitution, which guarantees gender equality, the Law on the Elimination of Violence Against Women, and the Anti-Harassment Regulation. Afghan women today have a more pronounced presence in the society and a stronger presence on political stage than ever before."
While Nasim pointed out that any step toward peace in Afghanistan is "most certainly a welcome development as it is evident that only a political solution will bring an end to this long-running war," she expressed concern that the Taliban has not yet clearly articulated its stance towards women's rights and thus many fear that any diplomatic speak from the group's "savvy political operatives" in Doha might be all smoke and mirrors.
"Alarmingly, women's rights are being sidelined during the talks, heightening concerns that a potential power-sharing agreement or constitutional reform will facilitate a reversion to brutal Taliban rule and a contorted interpretation of Sharia law," Nasim observed.
Indeed, it remains unclear exactly what the rules and regulations for females will be once the deal is inked.
"The Taliban cannot be trusted to ensure women's rights. They have said women's rights will be protected under an 'Islamic System,' which is merely code for their ultra-harsh version of Sharia," asserted Bill Roggio, a Senior Fellow at the Foundation for Defense of Democracies (FDD) and Editor of FDD'S Long War Journal. "The U.S. is even considering allowing Afghanistan to be renamed the Islamic Emirate of Afghanistan, the name of the Taliban's government while the Taliban will not agree to a ceasefire."
According to Roggio's research, the Taliban already controls 16 percent of the 407 districts and contests a further 50 percent.
"Once the Taliban returns to power, women's rights will be a thing of the past," he cautioned.
Earlier this month – on the heels of widespread criticism directed toward all sides that women had altogether been excluded from joining the peace talks – Taliban representatives were seen mingling with Afghan female appointees at a Qatar and German-organized conference in Doha. Although the topic of women's rights was not explicitly on the docket, the act alone ignited some optimism that Taliban attitudes may have indeed shifted since their brutal treatment of females during their 90's reign.
Yet painting a predictable picture of Afghanistan's next phase has further been muddied by the notion that the Taliban still refuses to converse with the Afghan government, which it considers illegitimate, and has sat down only with U.S. officials.
Some Afghan men are also skeptical of any silver linings.
"The Taliban claims that they have changed, while we do not see any positive changes on the ground. It is hard to believe that the Taliban would respect the progress and the achievements of the women," noted Sanjar Sohail, publisher of the Hasht e daily newspaper. "They may allow some level of education for the women, but they will not allow women to be the half part of the society and to be in the decision-making levels. I think after withdrawal they will remove the current government and restore the Islamic Emirates; therefore, the withdrawal should be conditional."
Ahmad Muslem Hayat, a former Afghan military attaché in London, concurred that he finds it hard to believe that the Taliban will accept the gains made by women and "respect women's rights."
"Women are always victims of tradition and it's used against them in the name of religion," he said. "The U.S. invasion at least brought them some freedom and light, but if the U.S. leaves eighty percent of the women will be suffering all over again."
Despite the anxiety over what lays ahead, and concerns that the U.S. might be pushing too hard and broker a deal too fast – with the goal being to wrap up Taliban talks by September 1 ahead of the Afghanistan elections – U.S Special envoy to Afghanistan, Zalmay Khalilzad, earlier this month told lawmakers and experts that they are not simply "cutting and running."
"We're not looking for a withdrawal agreement. We're looking for a peace agreement. And we're looking for a long-term relationship and partnership with Afghanistan," he said.
Alice Wells, acting assistant of state for Central and South Asian Affairs, furthermore emphasized that no future Afghan government will receive international aid and support if it "restricts, represses or relegates Afghan women to second-class status," the Associated Press reported.
Khalilzad is due to return to Afghanistan, and then Qatar, for another round of Taliban talks tailored to ending the war.
"The future role of Afghan women in society depends on the way in which the United States leaves. If the U.S. opts for a precipitous withdrawal, the rights of Afghan women will likely be subverted and the substantive progress made will backslide dramatically," Nasim added. "U.S. abandonment would vitiate its commitment to Afghan women and children; who have borne a disproportionate cost of this war."
https://www.foxnews.com/world/afghan-women-sharia-law-regression-taliban
--------
URL: https://www.newageislam.com/islam-women-feminism/active-participation-women-protests-different/d/119295
New Age Islam, Islam Online, Islamic Website, African Muslim News, Arab World News, South Asia News, Indian Muslim News, World Muslim News, Women in Islam, Islamic Feminism, Arab Women, Women In Arab, Islamophobia in America, Muslim Women in West, Islam Women and Feminism