New Age Islam News Bureau
2 March 2016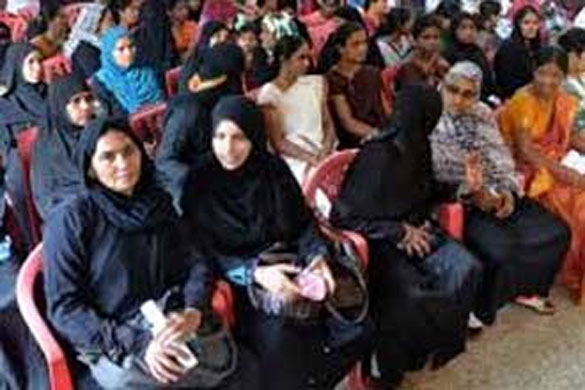 Photo: Muslim Women in India Fed Up With Second-Class Status
---------
• 'Allah Ordered' Child Beheading, Uzbek Woman Says In Moscow Court
• Man Murders Sisters in Latest 'Honour Killings' In Sahiwal, Pakistan
• More Women from Ethnic Minorities 'Likely To Believe Cancer Down To Fate'
• Pakistan Female Squash Champ Disguised Herself as a Boy to Compete
Compiled by New Age Islam News Bureau
URL: https://newageislam.com/islam-women-feminism/muslim-women-india-fed-up/d/106529
----------
Muslim Women in India Fed Up With Second-Class Status
BY CODI ROBERTSON Wed, March 2, 2016
A group of Muslim women and activists marched to Jantar Mantar to protest against the failure to implement the Rajinder Sachar Committee recommendations and to voice their views regarding conjugality and personal laws for Muslim women, and equal citizenship rights.
The women gathered from all over India at Sadak Se Sansad Tak--a convention--to discuss and debate issues that are relevant to Muslim women: discrimination, education, employment, religious extremism, violence, and other fundamental rights mandated by the Constitution.
"Education, employment and mobility of Muslim women are major casualties under [surveillance and moral policing]. It is obvious that the current situation in our country deserves immediate attention and much-needed deliberation related to lived realities of Muslim women," said a statement released by Bebaak Collective.
This protest occurred just a few weeks after heated discussion regarding the Jamiat-Ulama-i-Hind statement--an organization of Indian Islamic scholars-- that the Muslim personal law "flows from the Quran" and therefore cannot be srcutizined by the Supreme Court.
As one analyst notes, "The stand of the Muslim clerics' body has posed a serious challenge to the fight for gender equality for Muslim women."
To combat this, the Bharatiya Muslim Mahila Andolan, the Indian Muslim Women's Movement, signed the petition Muslim Women's Quest for Equality last year, and afterwards, sent a letter to Prime Minister Narendra Modi and other ministries demanding reform.
But, one may wonder where such inequality comes from within Islam, and the women of the BMMA are wondering this themselves.
According to Zakia Soman and Noorjehan Safia Niaz, both members of BMMA, this misogynistic attitude prevalent amongst many male members of the Indian Muslim communities, and the unjust treatment of women in said communities, is nowhere to be found within the teachings of Islam.
"The traditions and practices followed are often in direct violation of the Quranic spirit of justice. The stranglehold of patriarchal hegemony in India and in South Asia has got exacerbated by the arrival of Salafi-Wahhabi ideologies that now threaten to become the mainstream in Muslim society. This ideology has led to further strengthening of the hegemony of patriarchal mindsets in our community."
The origins of the patriarchal hegemony in India, and many global Islamic communities, remains a mystery, but it appears that many Muslim women in India have found their voice and will not stop until they have created a lasting change.
clarionproject.org/analysis/muslim-women-india-fed-second-class-status
-----
'Allah Ordered' Child Beheading, Uzbek Woman Says In Moscow Court
AFP | Mar 2, 2016
MOSCOW: A nanny accused of decapitating a young girl in her care then walking through the street brandishing the head, on Wednesday said "Allah ordered" the killing as she appeared at a Moscow court.
Suspect Gyulchekhra Bobokulova from Muslim-majority Uzbekistan — whom the press have dubbed "the bloody nanny" — was detained on Monday as she was waving the child's severed head outside a Moscow metro station. She was sent for psychiatric examinations.
"It was what Allah ordered," the 38-year-old told journalists as she was brought into the district court to have her arrest confirmed and extended.
Speaking in broken Russian from the suspect's cage, Bobokulova said: "Allah is sending a second prophet to give news of peace" and also complained that she was "hungry", had not been fed and would "die in a week".
"Hi to everyone," said the mother-of-three, waving at the crowd of journalists in the courtroom.
Investigator Olga Lapteva, who was clearly emotional, told the court that Bobokulova was suspected of committing an "extremely serious crime" and that she should face "a mandatory prison sentence of considerably more than three years."
The court confirmed the nanny's arrest and ordered her held in custody for two months as investigations continued.
Investigators said they were still trying to establish if Bobokulova had any accomplices.
Bobokulova has been undergoing psychiatric examinations since her detention over the murder of the girl, Nastya, whom the judge said was born in 2011. Investigators had initially estimated she was three or four years old.
She is suspected of butchering the girl, who had suffered from learning disabilities and epilepsy, at the family's apartment in northwestern Moscow, before torching it and fleeing the scene.
Witnesses reported seeing an agitated woman dressed in black who threatened to "blow everyone up" with one media report saying she shouted "Allahu Akbar" — Arabic for "God is greatest" — as she paced up and down outside a metro station.
The shocking incident has shaken usually hard-bitten Muscovites and people have flocked to the Oktyabrskoe Pole metro station to lay flowers and pray.
Russia's national television channels have, however, refused to cover the killing in a controversial move that the Kremlin defended as the subject was "probably too monstrous to be shown on television".
Many have questioned the professionalism of police after Bobokulova was allowed to pace up and down outside the metro station with the head for about 20 minutes.
A spokeswoman for the Office of the General Prosecutor said a probe would be launched into the matter.
The mass-circulation Moskovsky Komsomolets, citing Uzbek police, said the woman had suffered from schizophrenia for about 15 years.
Komsomolskaya Pravda, citing a close family friend, said the live-in nanny had recently become very religious, spent a lot of time online and had brought home a prayer mat.
timesofindia.indiatimes.com/world/europe/Allah-ordered-child-beheading-nanny-says-in-Moscow-court/articleshow/51223413.cms
-------
Man murders sisters in latest 'honour killings' in Sahiwal, Pakistan
March 2, 2016
LAHORE:Pakistani police were Wednesday hunting a man who shot dead both his sisters in an apparent "honour killing", days after a Pakistani director won an Oscar for a documentary on such murders.
Mohammad Asif had previously murdered his mother four or five years ago, according to police, before being pardoned at the time by his family and set free.
Pakistan reports new 'honour killing' after Oscars triumph
The latest killings occurred in the village of Noorshah in Sahiwal district, in the central province of Punjab
"Mohammad Asif, who is in his late twenties, shot his two sisters late last night because he doubted their characters and was against their lifestyle," local police official Allah Ditta Bhatti told AFP.
He said the sisters died on the spot while Asif fled.
"He had killed his mother around four or five years ago and was set free after his family pardoned him," Bhatti said.
The incident was confirmed by other officials at the local police station.
Honour killing issue would gain traction if film wins Oscar: Sharmeen Obaid
On Monday a father in the eastern city of Lahore shot dead his 18-year-old daughter because she could not account for where she had been for about five hours.
"A Girl in the River: The Price of Forgiveness" — a film telling the story of a rare survivor of such murders — won the Academy Award for best documentary short at the star-studded Hollywood ceremony on Sunday.
Director Sharmeen Obaid-Chinoy met Prime Minister Nawaz Sharif recently, turning a global spotlight on honour killings in the conservative Muslim nation.
Hundreds of women are murdered by their relatives in Pakistan each year on the pretext of defending family "honour".
Lahore court awards two brothers death sentence over honour killing
Pakistan amended its criminal code in 2005 to prevent men who kill female relatives escaping punishment by pardoning themselves as an "heir" of the victim.
But it was left to a judge's discretion to decide whether to impose a prison sentence when other relatives of the victim forgive the killer — a loophole which critics say remains exploited.
Sharif last week vowed to eradicate the "evil" of honour killings in Pakistan.
tribune.com.pk/story/1057716/man-murders-sisters-in-latest-honour-killings-in-lahore-police/
-------
More women from ethnic minorities 'likely to believe cancer down to fate'
2 March 2016
Women from ethnic minorities are more likely to believe cancer is down to fate and incurable than white women, research suggests.
A study of 720 women from white British, Caribbean, African, Indian, Pakistani, and Bangladeshi backgrounds was trying to find possible reasons why women from ethnic minorities are less likely to attend cancer screening or see their doctor about symptoms.
Almost a quarter of women from the Caribbean (23%), and at least half of Indian (50%), Pakistani (52%) and Bangladeshi (63%) women believed getting cancer was fate, compared to 6% of white British women.
Furthermore, at least a quarter of women from ethnic minorities believed cancer was incurable, but no white women thought the same.
Indian and African women were also more than twice as likely to fear cancer as those from Bangladesh.
Those women who had migrated to the UK as children were twice as likely to feel uncomfortable about thinking about cancer than women born in the UK (30% compared with 15%).
The same was true for those who did not speak English very well (31% compared with 19%) and those who found it difficult to understand health information (35% compared with 18%).
Promoted stories
The research was carried out at the Cancer Research UK Health Behaviour Research Centre at University College London (UCL) and was published in the British Journal of Cancer.
Lead author Charlotte Vrinten said: "We know that fearing cancer means some people avoid taking part in cancer screening or seeing their doctor with symptoms, and there's evidence that this is true for white women and those from ethnic minority backgrounds too.
"This may be especially true when women also believe that nothing can be done about cancer.
"Undue fear of cancer may cost some people their lives if it means they avoid cancer screening or seeing their doctor with symptoms, so it's important that we get the message out there that cancer outcomes are improving and that cancer doesn't have to be dreaded like it used to be."
Dr Julie Sharp, Cancer Research UK's head of health information, said: "Spotting cancer early is important as it means treatment is more likely to be successful.
"Symptoms are more likely to be caused by something much less serious than cancer, but if you spot something that isn't normal for you, getting it checked out promptly could save your life."
asianimage.co.uk/news/14311791.More_women_from_ethnic_minorities__likely_to_believe_cancer_down_to_fate_/?ref=ebln
-------
Pakistan Female Squash Champ Disguised Herself as a Boy to Compete
Tuesday 1 March 2016
Pakistan squash champion Maria Toorpakai disguised herself as a boy to pursue an outdoor life and sport she loved. She tells Hannah Stephenson how she dodged Taliban death threats, bombs and bullets on her road to freedom.
Most girls born in South Waziristan, known by locals as 'the most dangerous place in the world', are destined for a life of hardship, arranged marriages and oppression.
In this tribal region of Pakistan bordering war-torn Afghanistan, women stay indoors, aren't allowed an education and are forbidden to do sports. They can't venture out unless clothed in a burqa and accompanied by a male relative.
"They send girls like me to the crazy house - or simply stone us to death," says Maria Toorpakai, who has faced Taliban threats and escaped bombs and bullets to seek the freedom she has always wanted.
Now 25, Maria is Pakistan's number one squash player and ranked 49th in the world. She lives in Toronto with three girl friends and hopes to one day be a Hollywood actress.
Yet she disguised herself as a boy for around 10 years to give her at least some of the freedoms we in the West take for granted. Her story is charted in her memoir A Different Kind Of Daughter.
Promoted stories
Just before her fifth birthday, the feisty, headstrong child dumped all her stifling dresses, embroidered with beads and silk threads, into a cooking pit, dowsed them with kerosene and put a match to them.
Running back into the mud house which she and her family lived, she donned her brother's shirt and baggy trousers (shalwar kameez) and hacked off her long black hair with a sharp knife, adding the clumps to the flames.
From that point, with her liberal-minded father's consent, she became known as Genghis Khan.
"I started hanging out with boys, I could explore the area better than any girl could ever do. My sister was eight when she stopped going out, because that's the culture."
The family moved a lot when she was younger because of her father's outspoken pro-women's rights views, which met with disapproval from the tribal elders. He allowed his wife, a teacher, and daughters relative freedom and believed they should have a good education.
"Pretending to be a boy wasn't a pressure for my family until I was 12, when we moved to Peshawar," she recalls. "That's the age when being a girl is hard to disguise.
"My dad thought that making me become a girl in the local Islamic culture would destroy my personality and my health. He allowed me to keep going."
Channelling her energies into sport, she took up weightlifting, winning a boys' junior competition in Lahore.
Her real gender wasn't discovered until she decided to take up squash at around 15 and wanted to enrol with an academy at her local sports complex. For that, she had to present her birth certificate. She and her father decided there and then to come clean and, to their surprise, the academy accepted her and she became known as Maria.
Once her male opponents discovered her gender, they subjected her to a barrage of cruel taunts and lewd comments. But the scorn wasn't confined to the squash court.
"People who had been friendly before talked very disrespectfully to me. Shopkeepers wouldn't serve me. Even if I went out on my bike, people would kick me or whack me with sticks."
As Maria progressed in the game, turning professional in 2006, winning medals and trophies, so the Taliban increased its activities in Peshawar, blowing up schools, booby-trapping towns and targeting bazaars and crowds.
Maria saw the devastation and death caused by suicide bombers and gun-toting extremists.
"Every day I would hear bomb blasts. It was not once a month, it was every day. Our home sometimes shook from the explosions. I saw people dying and bodies after a bomb went off in the market. The only thing that kept me going was that light at the end of the tunnel - I believed that by training, I would find a way out."
Fearing she was being watched by the Taliban, Maria started taking different routes to and from the squash academy, but that fear intensified when she became Pakistan national squash champion and her picture appeared in the papers, which further drew her to the attention of the extremists.
As a professional female sportsperson who played without a veil and in shorts, she and her family were threatened as her actions were perceived as "un-Islamic".
Her father received a note from the Taliban warning him that if he didn't stop Maria from playing, he would suffer severe consequences.
The squash academy also received threats, there were sightings of strange men hanging around and subsequently undercover officers were assigned to protect Maria.
Eventually, fear wore her down, which led to her being virtually confined to her home for around three years, self-training, hitting a squash ball against the brick walls inside.
"I was tired of this society. There was no ending," she recalls. She realised she would have to leave the country if she wanted to play.
For three and a half years, she sent emails to clubs, academies, schools, colleges and universities in the West - everywhere she could find squash courts. By the time she was 18, she had sent thousands.
One of her emails reached Canadian squash legend Jonathon Power, who had set up an academy in Toronto - and took her on.
Moving to Canada has changed her life, she reflects.
"It's improved my understanding of human beings. I'm from Waziristan, the most dangerous place on earth, known for terrorism. I come from the same tribe as most of the Taliban.
"I wondered if people would accept me, but they didn't ask me for anything, who I am or where I come from. They just accept me as their daughter, their family member. Their love has changed me."
In Waziristan, she was a tomboy, with dusty hair, no shoes on her feet, a slingshot around her neck.
"Now I have really good clothes, I eat with a fork - we eat with our hands in Waziristan - and when I go back, people think I'm a westerner.
"I had a lot to learn. I've become more girlie. I put on a little make-up if I'm going out and I have feminine clothes now too."
Asian Image:
She returns to Pakistan frequently for squash tournaments, often staying in the capital Islamabad as it is considered safer, but visiting her family in Peshawar unannounced.
"There is always danger. My sister is in politics (she's a Pakistan parliamentarian) but she doesn't want security.
"It's much better at the moment over there. The Pakistani army are inside Waziristan and have been at war with the Taliban. In the last year and a half, I have seen a lot of change.
"Last time there was an attack on the Bacha Khan University close to Peshawar, the local people brought guns and started fighting the militants, alongside the army, so I think everyone is aware they should protect themselves."
"If death comes, then it comes. That's how we live," she shrugs. "The fight is going on, but people are tired of war and are starting to understand the importance of education.
"Today, every girl should stand up, stay strong and ask for their rights."
A Different Kind Of Daughter: The Girl Who Hid From The Taliban In Plain Sight by Maria Toorpakai, with Katharine Holstein, is published in hardback by Bluebird, priced £16.99. Available now
asianimage.co.uk/sport/14312124.Female_squash_champ_disguised_herself_as_a_boy_to_compete/s/?ref=ebmps
URL: https://newageislam.com/islam-women-feminism/muslim-women-india-fed-up/d/106529
New Age Islam, Islam Online, Islamic Website, African Muslim News, Arab World News, South Asia News, Indian Muslim News, World Muslim News, Womens in Islam, Islamic Feminism, Arab Women, Womens In Arab, Islamphobia in America, Muslim Women in West, Islam Women and Feminism