New Age Islam News Bureau
19 Jul 2015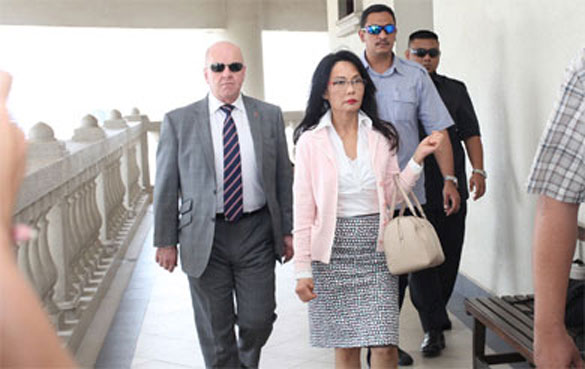 Former beauty queen Pauline Chai is challenging a court ruling that the wife's domicile is dependent on her spouse. – The Malaysian Insider pic, July 18, 2015.
-------
• Muslim Women Add Colour and Touch In the Celebrations of Eid-ul-Fitr
• Al-Qaeda Offers To Free Lebanon Troops for Female Prisoners
• Ex-Miss Malaysia's Domicile Challenge Affects Non-Muslim Women, Say Lawyers, Activists
• Azi Ahmed's Worlds Apart Describes Double Life as Muslim Woman in SAS
• Reburial of Woman in Native Ireland Highlights 183-Year-Old Murder Mystery
Compiled by New Age Islam News Bureau
URL: https://newageislam.com/islam-women-feminism/muslim-women-add-colour-touch/d/103944
-------
Muslim Women Add Colour and Touch In the Celebrations of Eid-ul-Fitr
18 July 2015
Muslims all over the world go through feverish preparations towards the end of the 30-day Ramadan (fasting) that ushers in the celebrations of Eid-ul-Fitr and the renewal of the Islamic calendar year.
The role of Muslim women, who roll up their sleeves to throw away the old, unwanted stuff, to organise the closets and cabinets, and to clean up the house in the final days of the month of Ramadan, in preparation of the New Year, cannot be overemphasised.
Cooking
Cooking special meals for the occasion and selecting the perfect outfit for children are two of the many traditions of the celebrations carried out by women.
More important is the role they play in keeping up with the new way of fashion that is either being characterised by the activities of that year or exclusively to the Muslim community.
From the selection of shoes, bags, makeup and even the perfect attire for their husbands and children, this task begins as soon as the month of Ramadan, one of the pillars of Islam, is observed.
They are glued to information on the latest trends of fashion so that they do not miss out on the colourful celebration at the end of the month.
Shopping day
On the last day of this year's Ramadan, on Thursday, a walk through the busy Wednesday Market of Nima, known in the Hausa parlance as Kasoa Lariba, showed women dominating all corners of the market either holding their shopping baskets or helping their children to select the proper shoe sizes.
Some of them, who were in the company of their husbands, were seen choosing Eid clothes which are usually ready-made clothes for infants and traditional fabrics for children and adults.
They also pick out veils, a head covering material, with particular interest in the names assigned to those veils and how modern they are - of course no one wants to appear in an old-fashioned outfit.
Holding her two sons, aged four and seven, and moving through the thick crowds in Nima, Auntie Mari said her main reason for being in the market was to find some shoes and clothes designed in the Arabian style for her sons because her seamstress had disappointed her.
"It is not easy my sister. If I don't get something done for them, you know how children are, they will feel disappointed and I will not be happy as a mother. I need to fix them something, and fast," she said.
She went on to say, "Even if I do not get anything to wear and the children are okay, I am happy."
Beauty and fashion
But unlike every year, this year's trend of fashion is different and requires a lot of precision to make the right selection from the numerous materials that would mark the celebrations.
From "Dumsor", "La Gata", "WhatsApp" and "President" lace, women have to make some tough decisions to outdo their other female counterparts during the celebrations.
Unlike boys who are interested in getting a new haircut, for girls like Rashidatu Hussein, it is important for her to get her dresses and make-up ready, in order to look splendid for the occasion, hence her interest to shop for make-ups and some wigs to braid her hair for the big day.
Others also plait their hair and usually apply 'henna' (a dye prepared from a plant and used for the art of temporary tattooing the body and nails) on their hands and feet. The mothers are not left out as they undergo all forms of beauty treatment from head to toe.
Businesswomen
Aside from those shopping for one item or the other, most women also chose to make sales during the season because according to them, everyone was out there buying items.
"You need to identify what people want and make sales, because Ramadan comes once every year so you need to use that period to make your money," Kadija Abdullah told the Daily Graphic.
She sells veils, Hijabs, make-up kits, and 'henna'.
She started making her sales during the last 10 days of the month of Ramadan and revealed that she had already made some huge profits from her short-term business.
Eid and women
In an interview with a cross-section of Muslim men on how they saw the role of women in the festivities, Alhaji Osman Nuhu, an Islamic school teacher, said women naturally had the extra sense of putting things together to make the home a welcoming place for visitors.
"When you ask a man to prepare the home for Eid, you have given him a task he can never accomplish. But for the woman, it is a normal task," he said.
For Moomen Seidu, women added colour and touch to the celebrations such that it was almost impossible to observe any event without them, adding, "Any Islamic celebration is worthless without women. The festivities may be held without men, but without women, never and impossible."
http://www.ghanaweb.com/GhanaHomePage/regional/Muslim-women-add-colour-and-touch-369499
------
Al-Qaeda Offers To Free Lebanon Troops for Female Prisoners
AFP, Beirut
Sunday, 19 July 2015
Al-Qaeda's Syrian affiliate has offered to release three Lebanese soldiers in exchange for an ex-wife of the leader of the jihadist Islamic State of Iraq and Syria (ISIS) group and four other female prisoners.
Al-Nusra Front, which along with ISIS has held 25 Lebanese soldiers and policemen hostage for almost a year, issued the offer in a statement aired on Lebanon's MTV television on Saturday night.
"If five of our sisters leave prison... we will hand over three soldiers in exchange," said Abu Malek al-Shami, Al-Nusra's "emir" in the Syrian region of Qalamun bordering Lebanon.
Among the five hostages he named was Saja al-Dulaimi, who was arrested in Lebanon in December and is a former wife of ISIS leader Abu Bakr al-Baghdadi, as well as a wife of an Al-Nusra leader.
Dulaimi's background is complicated as she reportedly belongs to a tribe that straddles Syria and Iraq and she was said to have been closer to Al-Nusra than her ex-husband's rival jihadists at the time of her arrest.
Shami's face was not shown in the interview, which MTV conducted as part of an arranged visit by family members to loved ones held by Al-Nusra in what it called "a cave in the Qalamun Mountains."
The channel showed footage of the three-hour reunion between parents, spouses and even children of the hostages, many of them unable to hold back their tears.
The hostages, all with long beards, appeared in healthy condition inside a tent.
Sixteen of the 25 Lebanese soldiers and policemen who were taken hostage near the border with Syria in August 2014 are in the hands of Al-Nusra.
The rest are held by Baghdadi's Islamic State group.
Since their capture, Al-Nusra and ISISل have repeatedly made demands for the soldiers' release, seeking the release of Islamist prisoners or the withdrawal of Lebanon's Hezbollah movement from the Syrian conflict.
The powerful Shiite militia, which is backed by Iran, is fighting alongside forces loyal to President Bashar al-Assad in the civil war that has claimed more than 230,000 lives since it erupted in 2011.
http://english.alarabiya.net/en/News/2015/07/19/Al-Qaeda-offers-to-free-Lebanon-troops-for-female-prisoners-.html
-------
Ex-Miss Malaysia's Domicile Challenge Affects Non-Muslim Women, Say Lawyers, Activists
BY V. ANBALAGAN, ASSISTANT NEWS EDITOR
18 July 2015 8:11 PM
Former beauty queen Pauline Chai is challenging a court ruling that the wife's domicile is dependent on her spouse. – The Malaysian Insider pic, July 18, 2015.
Former beauty queen Pauline Chai's bid to challenge a court ruling that the wife's domicile is dependent on her spouse, will allow the apex court to decide on constitutional issues of equality and whether legislation governing civil marriages discriminated against women, say family lawyers and a women's rights activist.
They said the decision of the Federal Court would provide guidance to the High Court in handling similar issues and also send a message whether the federal legislature needed to amend laws that were discriminatory to husbands and wives.
Family lawyer Ravi Nekoo said the existing legal precedent that the wife's domicile followed that of her husband was archaic as it has its origins in the Middle Ages some 900 years ago. During that era, a married woman was considered the property of the husband.
Domicile should now also take into account where the couple resided after marriage and where they earned their livelihood," said Ravi, a member of the Malaysian Bar Council.
Chai, who is estranged from her tycoon husband Tan Sri Khoo Kay Peng filed an appeal in the Federal Court on Thursday to challenge the apellate court's ruling that the wife's domicile is dependent on her spouse.
In the leave application, she submitted three legal questions for the judges' approval.
The questions are:
Whether the rule that a wife follows the domicile of her husband forms part of the common law of Malaysia after Merdeka Day,
Whether the common law rule is ultra vires Article 8(1) of the Federal Constitution, and
Whether the rule should be abandoned by Malaysian courts as being irrelevant due to local circumstances.
On June 19, the Court of Appeal ruled that a wife has no capacity to have her own domicile of choice as a married woman. The court said that the English common law rule on domicile was still applicable in Malaysia and thus it was not open for her to choose her domicile.
Ravi said obtaining leave to appeal against the appellate court ruling should not be a problem as the questions are to be decided for the first time which the apex court needs to decide for public advantage.
"Leave should be granted as it involves constitutional issues," he added.
Meanwhile, activist Ivy Josiah said the ruling against Chai showed how deeply the patriarchal system was rooted in Malaysia despite Parliament having amended Article 8 (2) of the constitution to remove discrimination against women.
"We need to amend family laws that do not accord equal protection to wives and mothers," said Josiah, former Women's Aid Organisation executive director.
She said the courts could set the agenda to bring about the desired change for the government to amend laws that affect women.
"The courts should spring into judicial activism, especially in recognising the rights of non-Muslim mothers and wives in matrimonial disputes," she said.
In Malaysia, matrimonial disputes involving Muslim women and couples are governed by Shariah laws.
Family lawyer Balwant Singh Sidhu said England, the country that gave us the common law principle, had abrogated a wife's domicile of dependence and so did Singapore.
"However our legislature in enacting the Law Reform Act (LRA) Act 1976 did not intend to give Malaysian wives an independent domicile," he said, adding that the spouse's domicile changed even if the husband move to another country.
The lawyer questioned whether the Federal Court was prepared to strike down as unconstitutional provision in the LRA and give Malaysian wives equality by way of judicial activism.
"Let us hope leave is granted by the Federal Court and that this last relic of a wife's servitude is removed, whether by judicial activism or amendment by Parliament," he added.
Lawyer Pushpa Ratnam said Chai had selected England to settle her matrimonial dispute as she had filed a case there.
"We must be cautious if a wife wants to choose a jurisdiction outside Malaysia Nonetheless, I feel every dispute should be decided on the facts of the case," she added.
ushpa said the legal fraternity would be watching closely how the Federal Court handles this case.
"Our apex court is also a constituional court of sorts and the judicial pronouncement will be eagerly waited to see how the judges approach the issue," she added.
Chai, 68, the former Miss Malaysia/International 1969, wanted the British court to decide on the divorce proceedings because she no longer domiciled in Malaysia since 1980 and currently lives in England.
She filed a divorce petition in a London court in February 2013, seeking a £500 million (RM2.75 billion) settlement.
The couple married in 1970 and have five children who were working and living outside Malaysia.
However, Khoo, 75, wanted the Malaysian courts to decide on their divorce proceedings because the couple was married here and had a matrimonial home in Kuala Lumpur.
Khoo's counsel Datuk Dr Cyrus Das had told the court that Chai did not enjoy gender discrimination protection under the constitution because she was no longer a Malaysian citizen.
He also said that Chai renounced her citizenship in November last year.
He said two provisions in the LRA recognised the common law rule that the wife's place of residence was dependent on her husband.
Chai's counsel Datuk Seri Gopal Sri Ram had argued that the common law rule was was ultra vires Article 8 (1) of the constitution because it violated Chai's right to be equal protection before the law. – July 18, 2015.
http://www.themalaysianinsider.com/malaysia/article/ex-beauty-queens-challenge-to-domicile-ruling-will-affect-non-muslim-women#sthash.lFZQljPi.dpuf
------
Azi Ahmed's Worlds Apart Describes Double Life as Muslim Woman in SAS
July 19, 2015
AZI Ahmed's mother never could understand why her daughter hadn't bagged herself a husband.
At 26, she was beautiful, eligible, and a great cook with a hearty appetite so she marched her down to the nearest marriage bureau to register her interest in finding her a husband.
"I put down I was 46, divorced with three kids. I knew no one was going to look at that profile," Azi told news.com.au, saying her mother, who couldn't read or write English, never knew any different.
"She posted them and said 'no one is coming forward, I don't know why!"
The deception was necessary for Azi, who was living a double life playing a good Muslim daughter while secretly training for the SAS — one of the most elite units in the British Army.
"I was living in two different worlds. On the one hand my parents had no idea I was in the army and my mother was trying to find me a husband."
"I'd have to change into these sparkly outfits, put a scarf on my head and my mother would be telling people I was a good cook. Then I would put my army boots on and I'd be out with the lads again training."
"Sometimes my feet would be pounding with blisters and my arms and legs would be bruised. Luckily in our culture you cover yourself from head to toe. I was limping but I just held it in."
"I'd lose my toenails and my mother couldn't see those …. I was eating like a horse."
Her book will be released in Australia in August.
Her time training with 200 men and 11 women in a London barracks is the subject of a new book, Worlds Apart, which documents her journey from the family kebab shop in Manchester in an experimental project which saw women admitted to the unit for the first time.
Having previously worked as an artist, Azi said she was planning on applying for an administration job with the territorial army when she saw a group of women signing up for the SAS and decided to do the same.
"Next minute I'm downstairs in my fitness kit and they're giving me a beasting around Hyde Park … I realised how unfit I was. The women I was with were so strong I was lagging behind, I was sick."
"I think the unit itself you've got to have a bit of screw loose. Perhaps I'm a bit crazy. I love challenges and felt that I wanted to do something different … It was a bit of naivete as well."
It was a taboo-busting time for the only Muslim woman in the group that was learning how to work together against a wider debate around whether women should be on the front lines at all.
Her experience saw her marching across the UK's tough landscape with non-halal ration kits and was complicated even further as the only Pakistani woman in the post 9/11 environment where she learned to hold her tongue because she 'couldn't win' either way.
Training meant marching across Britain's Brecon Beacons with a non-halal ration kit.
"We were treated just as bad as the men. We were put in the same boat as them, but it was a very difficult time because it was the first time men were training with women as well."
"If I hadn't done this training I could have just shouted out and been a bit of a feminist but having done the training there's a reason why they put men on the front line. If something happens to men they get aggressive. Women can get aggressive but it takes us longer. Physically, it goes without saying men are stronger. I believe there is a role for women behind enemy lines …. but that needs to be defined by the British Army."
Despite the punishing regimen, once the 11 women had dwindled to two she said they were tapped on the shoulder and told to leave without explanation.
"Two weeks before we were meant to finish they just told us to hand our kit in and told us the training course is no longer going ahead for women … They stopped it all of a sudden and all of the women coming in behind us they stopped as well."
"You kind of think 'oh thank god for that' but you hand your kit in and you think 'what are you going to do now?' It was a bit of a double edged sword for me."
While she was shocked at the sudden departure, she now looks at the experience as a "privilege" that made her who she is. Since then she has written a book, run for parliament and worked for the army's central command.
Her only regret is not being able to explain to her parents, who have now passed away, why she would insist on wearing trainers to hide her blackened toenails every day.
"I told my two brothers only recently. They couldn't believe it."
http://www.perthnow.com.au/entertainment/books/azi-ahmeds-worlds-apart-describes-double-life-as-muslim-woman-in-sas/story-fnhod23n-1227447687973
------
Reburial Of Woman In Native Ireland Highlights 183-Year-Old Murder Mystery
Jessica Glenza in Malvern, Pennsylvania
Sunday 19 July 2015
Catherine Burns will be buried in her native County Tyrone in Northern Ireland on Sunday, 183 years after her attempt to create a new life in the United States came to a grim end in a railroad shantytown outside Philadelphia.
The identification of her remains, their return home, and the insight her story has provided into the lives of Catholic Irish immigrants who sailed to the US fleeing prejudice is the result of a remarkable history research project.
That project ultimately revealed Catherine's murder more than a century and a half after it happened.
She was 29 years old and already a widow when she left home and sailed from Derry, County Derry, as one of 160 Catholic Irish immigrants bound for the US on a ship called the John Stamp. When they landed in Philadelphia, Catherine must have been hopeful. She soon found work with 57 other Irish Catholic immigrants at a railroad construction called Duffy's Cut, 30 miles outside the city in the town of East Whiteland.
But the immigrants were dead some six weeks after their arrival in 1832.
For years, memory of the deaths was little more than a ghost story, and the name Duffy's Cut had all but been forgotten. The place would be referred to as Dead Horse Hollow for many years. Newspapers at the time reported deaths along the railroad in the camp, but just eight, and all attributed to the cholera epidemic that seeped south from New York City that year.
Then, 12 years ago, twin brothers and PhD historians Frank and Bill Watson inherited a file that upended that history – on Pennsylvania Railroad letterhead, memoranda recounted the deaths of 57 Irish railroad workers, not the eight reported by newspapers.
After years of work to corroborate the file, the Watson brothers pinpointed where they believed the remains of the railroad workers lay. Soon, they uncovered an unmarked gravesite where seven skeletons were buried in wooden coffins along the Amtrak tracks.
The skeleton they would later identify as Catherine – and the others with it – had gashes in their backs of their heads. One had an apparent bullet wound.
'People panicked'
When the brothers found the remains, the impulse to disregard them was strong. Native American burial grounds were common in the area, and not two miles away, in Paoli, 52 revolutionary war soldiers were killed in a massacre during a British ambush.
At least one local historian mused that the bullet wound could have been the result of a musket accident.
But the Watsons persisted in their research over the years, drawing on more than half a dozen other disciplines ranging from geology to forensic dentistry in an effort to confirm their theory – that this was a mass grave of railroad workers from Philadelphia's industrial revolution.
Not all 57 workers are believed to have been murdered – the Watsons and their colleagues believe as many as 50 more died when cholera swept the east coast that summer, an epidemic that may have precipitated the violence that befell their countrymen as townspeople tried to stop the disease from spreading.
"We both believe that when the epidemic hit, people panicked," said Bill Watson. The epidemic had already killed 3,500 people in New York City, records from the time indicate. The Watsons are hopeful that the next phase of digging, on Amtrak property, will uncover more clues and, perhaps, remains.
Listed on the John Stamp's manifest, Catherine Burns is thought to have worked as a cook or laundress in the shanty where workers lived, in the woods near the tracks. The worksite, called Duffy's Cut, was named after Philip Duffy, a builder, himself Irish Catholic, who secured a contract with Pennsylvania to construct mile 59 of the Philadelphia-Columbia railroad.
A forensic dentist who analyzed Burns's bones said she would have been a giant in her day, nearing 6ft tall. Like those of an athlete, Burns's bones had grown accustomed to the burden manual labour placed on her body, growing dense as her muscles demanded greater fortitude with years of hard work. She is believed to have come to the United States with her father-in-law, a 79-year-old listed as a "labourer" on the John Stamp's manifest.
The only other worker to be identified was 18-year-old John Ruddy, a man with a rare genetic defect that causes a missing molar. That allowed researchers to track him to a family of Ruddys now living in Donegal, many of whom have the same one-in-100,000 defect. The Watsons are working to find a lab that can perform a conclusive DNA comparison between John Ruddy's genes and those of people believed to be his descendants.
But even as the Watsons and their close colleague and fellow historian Earl Schandelmeier III are embraced by Irish diplomats and Irish American organizations, the researchers' work remains a subject of contention among some historians.
"The part that's raw is the murder part," said Jim Jones, a history professor at nearby West Chester University. "This is an area that prides itself on its tolerance – Quakers, the underground railroad and all that – and the idea that there may be murderous discrimination against foreigners, Irishmen in this case, certainly makes some people uneasy."
Ghostly scene
The bodies of the workers found in the railroad fill would have remained there had it not been for the foresight of the Watson's maternal grandfather, Joseph Tripcian.
Tripcian was the executive assistant to the president of the Pennsylvania railroad, a trusted man interested in history who was permitted to take archives from the company's vault as he wished.
When the railroad went bankrupt in 1970, Tripcian took a file whose title betrayed its grim contents: "History of Duffy's Cut stone enclosure east of Malvern, Pennsylvania, which marks the burial place of 57 track laborers who were victims of the cholera epidemic of 1832."
The file had remained secret. Local newspapers of the time reported cholera deaths with the dry tone of a legislative summary, and reported that eight died along the tracks. Only a group of four nuns and one blacksmith nursed the men through their final hours, the newspaper reported.
Tripcian's grandsons, meanwhile, would both receive doctorates in history. Frank, older by 10 minutes, works as a Lutheran minister in Tom's River, New Jersey. Bill is a professor of medieval history at Immaculata University, a Catholic college not three miles from the dig site, where he secured a professorship years before he was acquainted with Duffy's Cut.
It was at Immaculata that Bill Watson saw what is best described as will-o'-the-wisp outside his second story college office window – the group of neon lights hovered in a far corner of the college's lawn, a phenomenon he didn't understand but didn't think of as suspicious. He would joke to a friend at the time that the lights were "somebody's idea of art".
Watson thought little of the odd sighting until Frank inherited his grandfather's file two years later. When Bill Watson read the file he was flabbergasted – contained in the file was a description from 1909 of the supernatural lore that many locals have retold about the site, including a strikingly accurate description of the lights that Watson had seen from his office window years earlier.
The file describes a ghostly scene at "the fill", where the tracks were built up by workers.
A sign at Duffy's Cut mass grave commemorates the deaths of Irish immigrant workers. Facebook Twitter Pinterest
A sign at Duffy's Cut mass grave commemorates the deaths of Irish immigrant workers. Photograph: Barney Quinn/PA
"So I trudged up between the stone blocks untill [sic] I got on to the fill, and there I say [sic] with my own eyes the ghosts of the Irishmen who died with the cholera a month ago," local historian Julian F Sachse quotes an "old man" as saying in his 1909 retelling, typed on Pennsylvania Railroad letterhead. "They looked as if they were a kind of green and blue fire, and there they were a hopping and bobbing on their graves."
As the years went on, the Watsons' interest in finding the shanty site grew. Geologist Tim Bechtel used sophisticated tools to locate "anomalies", and Schandelmeier built the findings into a map using complex software to pinpoint where the remains might be.
The Watsons went to the site with little more than shovels, some earnest Immaculata students and a small budget for pizza.
Now, after securing an analysis of the remains from University of Pennsylvania forensic anthropologist Janet Monge, the Watsons and their fellow researchers believe the seven men were killed when they attempted to flee the cholera-infected shanty.
The men were "held or tied up", said Frank Watson, and "buried by their unsuspecting colleagues in the fill". Their bodies were returned to the shanty in wooden coffins, each sealed with upwards of 100 nails to conceal the "bloody mess" inside. The brothers also suspect that an organization headed by some of the area's most prominent families and designed to deter horse theft, the East Whiteland Horse Company, may have had the means to perpetrate such an act.
"Nobody gave a damn until we started finding stuff," said Bill Watson, about digging up Barlow knives, the belly of a smoking pipe etched with "Derry", and finally remains.
At one point, to have a state historical marker placed nearby, Watson was required to prove the worthiness of the event. "I had to prove the statewide or national significance of the death of 57 Irish immigrants," he said, his indignation evident.
"Every single step of the way has been a battle."
Even airlines have been uncooperative – the Watsons said a "human remains" department at one stage declined to help them transport Burns's body.
The Watsons said they had to get a restraining order against one man when he insisted the researchers broke state grave laws. Eccentrics have claimed that maybe, perhaps, they are descended from families who came to Pennsylvania with the affluent quaker William Penn in 1682, but if there are any records of that grim day in 1832 they are certainly now destroyed.
The Pennsylvania Historical and Museum Commission refused to comment. A spokesman said the commission had no information about the incident. The Chester County Historical Society said it could draw no conclusions from the information it possessed.
Bits of wood remains from the coffin that once held Catherine Burns. On the right are bits of her bones, which will be returned to County Tyrone, Northern Ireland. Facebook Twitter Pinterest
Bits of wood remains from the coffin that once held Catherine Burns. On the right are bone fragments, which will be returned to Ireland. Photograph: Jessica Glenza for the Guardian
"I certainly buy that these seven guys were murdered," said Harvard sociologist Jason Kaufman, who studied vigilantism between the civil war and First World War. "It seems to be, like, a guess as to who did it."
Kaufman added, "Until well into the 20th century, the Irish are really second-class citizens, as are really Catholics … They were one tiny slice above blacks."
The Watsons believe there is another mass grave nearby in Downingtown, Pennsylvania, near railroad mile marker 48, and perhaps as many as 1,000 mass graves across the north-east where laborers of the industrial revolution were buried where they worked.
After many years without digging, the Watsons, Schandelmeier and fellow researchers are on the verge of extracting core samples from beside the Amtrak tracks. They expect to find pieces of bone in the clay and dirt – evidence, they believe, of the remaining 50 men the secret file said died at the site.
If the men do come upon another mass grave, it would be just feet from where the previous seven bodies were discovered, in a wooded area behind a trim housing development marked by a stone enclosure made of the Philadelphia-Columbia's first railroad ties.
Return home
Catherine Burns will be buried at St Patrick's Church in Clonoe, County Tyrone, on Sunday after a wake with music and dance.
"The people of the village have really connected with Catherine and there has been huge interest from parishioners in her story and the story of Irish emigrants," parish priest Father Benny Fee told the BBC.
http://www.theguardian.com/us-news/2015/jul/19/reburial-woman-ireland-murder-mystery-duffy-s-cut
-----
URL: https://newageislam.com/islam-women-feminism/muslim-women-add-colour-touch/d/103944