New Age Islam News Bureau
13 Apr 2018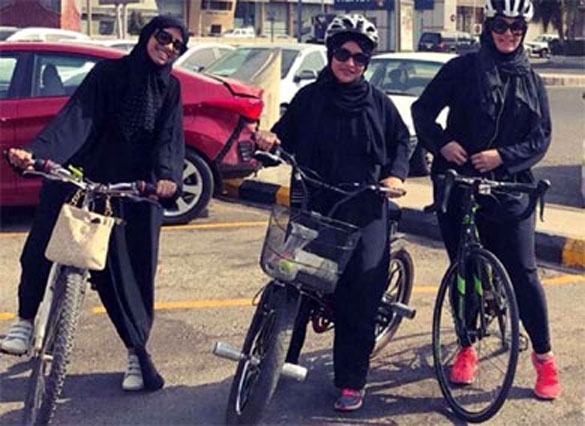 FORTY-SEVEN women of various ages came together to participate in the Kingdom's first women-only cycling race at the King Abdullah City for Sports in Jeddah on Tuesday.
----
• Report: Women with Tight, Sexy Clothing in Kelantan Breaking Shariah Law
• Don't Burn Women: Warning to Immigrants Looms Over a Quebec Village
• Kerala High Court Grants Bail to Accused in 'Forceful Conversion' of Gujarat-based Woman
• #WhiteWednesdays: Why Iranian Women Want To Be Seen, Heard
• Boko Haram has kidnapped at least 1,000 girls since 2013: UNICEF
• Nigeria: BBOG Plans Fourth Anniversary of Chibok Girls' Abduction
• Muse: Life Lessons From Saudi Designer Tamara Al-Gabbani
Compiled by New Age Islam News Bureau
URL: https://www.newageislam.com/islam-women-feminism/large-participant-turnout-women-only/d/114923
--------
Large Participant Turnout At Women-Only Cycling Race In Jeddah
By Emad Al-Hakami
April 13, 2018
FORTY-SEVEN women of various ages came together to participate in the Kingdom's first women-only cycling race at the King Abdullah City for Sports in Jeddah on Tuesday.
The 10-km race organized by the General Authority for Sports coincided with the International Day for Health.
This is the second sporting event dedicated to women to take place in the Kingdom. Earlier this year, Jeddah hosted the first marathon for Saudi women which turned out to be a great success.
Several participants expressed how happy they were to take part in the event calling it a "beautiful initiative." They also requested that the event be organized again in the future.
Event supervisor Nadima Abu Al-Enein commented on the large number of participants by saying: "The large turnout of participants prompted the organizing committee to raise the allowed number of participants from 30 to 47 girls. But the committee was still forced to exclude numerous others who came hoping to participate." — Al-Arabiya English
http://saudigazette.com.sa/article/532595/SAUDI-ARABIA/Large-participant-turnout-at-women-only-cycling-race
--------
Report: Women with tight, sexy clothing in Kelantan breaking Shariah law
April 12, 2018
KUALA LUMPUR, April 12 — Women who wear tight and "sexy" clothing, including trousers or dresses, in Kelantan will be breaching the state's Shariah laws that criminalise indecent attire, a report said.
The Kelantan Islamic Affairs Department (JAHEAIK) and Kota Baru Municipal Council (MPKB) could use the state law to punish those suspected of committing the Shariah offence, local daily New Straits Times' (NST) website cited unnamed sources as confirming. Both the JAHEAIK and MPKB have the right to act against those wearing "sexy" dresses, a source said.
He reportedly said that this was intended to spur women to cover up their "aurat" — intimate body parts which Muslims are required to cover as exposing them is considered sinful.
NST cited the source as saying that the JAHEAIK and the MPKB may, in certain operations, only warn the offenders to not repeat the offence and not issue any summonses, while women in some other cases were issued with summonses and notices to attend counselling.
According to the NST, women who wear tight or sexy attire in public places in Kelantan would be caught under Section 5 of the Kelantan Shariah Criminal Code 1985.
Under Section 5(1), any person who wilfully acts or behaves in an indecent manner which is contrary to Islamic laws in a public place will be fined a maximum RM1,000, or jailed a maximum six months or both if convicted.
The Kelantan Shariah Criminal Code says the law applies to all Muslims in Kelantan who have achieved puberty unless specified otherwise.
On Monday, a Facebook post on MPKB fining women wearing tight clothing became viral, website Says had said.
In September 2014, MPKB had launched a four-month-long operations to ensure female traders at places like night markets or supermarkets to reinforce an existing rule for them to cover up their aurat, with failure to do so punishable by a maximum RM500 compound.
A news report by Sinar Harian had in 2014 then stated that the rules for female Muslim traders and staff in Kelantan include wearing a tudung or headscarf that covers their chests, wearing long-sleeves, wearing loose-fitting pants and skirts or clothing that do not show their body shape.
Most Muslim jurists agree that the "aurat" for Muslim women towards the public include their whole bodies, except their faces and hands; while some Muslims hold the view that those who wear tight-fitting clothing that shows their body shape would be considered as exposing their aurat.
In early March 2015, MPKB said it had issued 1,000 summonses since 2014 on those who exposed their aurat or behaved indecently in public.
Following a viral incident of a man issued summonses over his shorts for futsal, the Jaheaik had last September said the summonses were meant to educate as they were only required to attend counselling sessions.
http://www.themalaymailonline.com/malaysia/article/report-women-with-tight-sexy-clothing-in-kelantan-breaking-shariah-law
--------
Don't Burn Women: Warning to Immigrants Looms Over a Quebec Village
Lire en français
By DAN BILEFSKY
APRIL 12, 2018
HÉROUXVILLE, Quebec — The stylized lilies of the Quebec flag, symbols of the French crown, flutter conspicuously in this sleepy village, population 1,300. Also hard to miss is the single set of traffic lights, the convenience store selling cloyingly sweet Québécois caramel cakes and the local residents, who are eying me suspiciously.
With its gray identikit houses seemingly frozen in a 1950s time warp, Hérouxville would seem like just another Quebec village. Except that this quiet hamlet attracted global opprobrium about a decade ago when the local council introduced a code of conduct for immigrants that, among other things, warned against stoning women in public and burning them alive. There was also a section explaining Christmas trees.
"We listen to music, we drink alcoholic beverages in public or private places, we dance and at the end of every year, we decorate a tree with balls and tinsel and some lights," the code explained. "The only time you may mask or cover your face is during Halloween."
There was just one thing: The town had no immigrants.
The code of conduct, which also affirmed the rights of same-sex parents, was the brainchild of a local official, André Drouin, who died last year, and had come up with the idea after traveling in the Middle East.
When the guidelines were made public, Hérouxville became a source of provincewide ridicule, even as its many defenders lauded the village for expressing the anxieties about encroaching immigration that were felt by many Canadians at the time. Soon, a handful of nearby towns wanted to emulate the code.
"Hérouxville tapped into a cultural nerve that still exists today," said Pierre Marceau, a radio journalist from the region who covered the outcry and its aftermath. "There were those who laughed out loud, but others who praised the village for having the courage to speak out."
A native Montrealer, I recently returned to Quebec, 28 years after leaving Canada, and embarked on a road trip aimed at understanding Quebec identity. And so it was that I found myself on a recent day in a village many Quebecers would rather forget. I was curious to observe whether attitudes had shifted.
My initial reception was as cold as the chilly March weather.
"Nothing ever happens here — we have a church and a few chalets. Oh, that's about it," said the first woman who crossed my path. "Why are you here?"
The code, which polarized Quebec, helped spur a loud national debate and even a provincewide commission on what constituted "reasonable accommodation" when it came to respecting the cultures and traditions of immigrants. Should veils, for example, be worn by Muslim students at school? Should a Montreal Y.M.C.A. have installed frosted windows at the request of ultra-Orthodox Jews who didn't want to see scantily clad women exercise?
Questions of identity and cultural preservation run deep in Quebec, a majority French-speaking province of eight million people, which fears that its native tongue could be subsumed by the large English-speaking majority in much of the rest of North America. To help preserve the French language, there are laws in place, including a requirement that immigrants send their children to French schools.
Hérouxville became such a target of derision that it was recast in a comedy show as "Hérouxtyville," in a now famous skit in which a Muslim couple accidentally end up in the village. They are brought before a stern village councilor because, among other things, the veiled woman has ordered baklava at the local bakery and they are driving a Hyundai, a foreign car. Pointing to the car, the red-faced councilor barks at them to drive their "moving bomb" out of town.
To take today's political temperature in the village, I contacted Hérouxville's mayor, Bernard Thompson, an early supporter of the code of conduct. He declined to meet me, citing an urgent meeting with other local leaders. (He later told residents his mother had been ill when I was in town.)
Nor were some Quebecers pleased about my Hérouxville visit. On radio shows and social media, commentators tut-tutted me, suggesting that there were more interesting places. "You are completely out of touch with Quebec society," Johanne Vallin, a history teacher, wrote on Twitter.
In Hérouxville, many residents declined to disclose their full names, citing fears of retribution. At the local convenience store, a truck driver, a beer in each pocket, complained that the code of conduct was the first subject visitors brought up.
A woman buying groceries said locals were fed up with all of the attention. Suzanne Lamothe, a retiree whose house is next to the main Hérouxville sign, said visitors came to the village to take selfies in front of the sign, some putting mock head scarves on their heads. She defended the code of conduct. "If immigrants come, they should respect local customs," she said. "I wouldn't go to a Muslim country and walk around scantily clad." Another resident asked whether I was Muslim.
Yet for all of the annoyance at the apparent impertinence of my visit, I was struck by the way the identity politics raised by Hérouxville still resonate.
Late last year Quebec introduced Bill 62, a law requiring people to show their faces when using public services like buses and libraries. Some human rights advocates have pilloried the law for stigmatizing Muslims who wear head scarves. But others have defended it as a necessary measure to ensure Quebec's vaunted secularism and way of life.
Marie Louise Héroux, whose great-uncle, the abbot Joseph-Euchariste Héroux, founded Hérouxville in 1897, said she had wanted to walk with a "bag over my head" after the village that bears her name became synonymous with xenophobia. She said the guidelines had been a particular source of angst for her, as she had been in love with a Muslim doctor.
"It does not represent me as a Héroux," she said, adding: "In Quebec, we like to think that immigrants should come and adapt to our way of doing things. In Hérouxville it was pushed to ridiculous proportions, but it tapped into something that had to be taken into account."
Others said the visceral reaction to safeguard Quebec against immigration, and conservative Islam in particular, was a reflection of the province's history, its staunch feminism and its strong reflex against outward signs of religiosity.
Gérard Bouchard, an eminent historian and sociologist who helped lead the commission on cultural accommodation spurred by Hérouxville, lamented that the code of conduct had attracted outsize notoriety. Nevertheless, he said the backlash against accommodating ethnic minorities partly reflected the extent to which Quebec was still under the sway of the so-called Quiet Revolution of the 1960s, when Quebecers revolted against a Roman Catholic Church that had once ruled daily life, including pressuring women to reproduce.
Alluding to the situation of majority-French Quebec surrounded by English-speaking Canada, he added, "When a majority feels like a minority, it's not a very good neighbor for other minorities."
https://www.nytimes.com/2018/04/12/world/canada/canada-herouxville-immigration.html?mtrref=www.google.co.in&gwh=7F087DCC8BFE57D1B4431D68A9B03DA8&gwt=pay
--------
Kerala High Court Grants Bail to Accused in 'Forceful Conversion' of Gujarat-based Woman
April 12, 2018
Thiruvananthapuram: Mohammed Riyas, the main accused in the alleged forceful conversion of a 25-year-old Gujarat-based woman, has been granted bail. The National Investigation Agency (NIA) had earlier arrested Riyas for forcefully converting and trying to sell off the woman to the Islamic State in Syria.
The complainant had also alleged that she was used as a sex slave in Jeddah, Saudi Arabia.
The Kerala High Court granted him bail on the condition that he would not travel to any area outside the investigating agency's jurisdiction.
The girl who lives in Gujarat approached the Kerala High Court, alleging that she was forcefully converted to Islam in Kerala, married through fraudulent means, used as a sex slave and that her husband Riyas had plans to take her to Syria. Her complaint to the court states that Riyas had taken her to Jeddah in Saudi Arabia when she escaped his clutches by informing her father.
NIA took Riyas into custody from Chennai airport on February 2 when he was coming back from Jeddah.
Sources had told News18 that they had not found any proof of his involvement with the IS.
Riyas's cousin Fayas was also arrested along with real estate agent Siyad for allegedly helping the accused rent a house. They were both granted bail earlier by the NIA court.
They were charged under sections of the Unlawful Activities (Prevention) Act (UAPA) and IPC.
Riyas had filed an affidavit in the Kerala High Court denying all allegations and stating that they were legally wedded. He also clarified that the charges of him planning to take her to Syria and make her watch Zakir Naik's videos were also false and baseless.
The affidavit further stated, "There was only some marital discord between us and she went to Gujarat as her father had some health issues. The petition also stated that in a habeas filed by Riyas in 2017, the girl herself had told the court that she wants to go with Riyas and they went to Jeddah because his family was there. His father was working there for the past 25 years."
Her complaint in the Kerala High Court however stated that she was studying in Bengaluru in 2013 when she met Muhammed Riyas, a resident of New Mahe in Kannur. The two got into a relationship when he a private video.
According to the petition, he later blackmailed the girl with these visuals and forced her to convert to Islam and marry him.
V Sethunath, counsel for the woman said that Riyas' mother was also hand-in-glove with the accused and that she was sent for religious classes and forced to watch to Zakir Naik's videos.
After her wedding, the woman went back to her family in Gujarat when Riyas filed a writ petition. Counsel Sethunath said that she was blackmailed into saying that she went back on her own will and she was threatened with her objectionable photos.
Later, she was taken to Kozhikode, where her passport name was changed to Aisha and she was taken to Jeddah, Saudi Arabia. She further alleged that she was forced to be his sex slave in Saudi and was told that she will be taken to the Islamic State territory in Syria. When she somehow managed to contact her parents, they sent her a ticket to return to India when she finally came back on October 3.
She later approached the court to nullify the marriage and sought NIA investigation into matter. The case, which was being probed by the Kerala police, was later handed over to the NIA.
https://www.news18.com/news/india/kerala-high-court-grants-bail-to-accused-in-forceful-conversion-of-gujarat-based-woman-1716561.html
--------
#WhiteWednesdays: Why Iranian women want to be seen, heard
April 13, 2018
Maryam Shariatmadari, one of the 'Girls of Revolution Street', was arrested for protesting the mandatory hijab practice of Iran, and sentenced to one year in prison on March 25. Charged under Branch 1091 of the 2nd Penal Court of Tehran for "encouraging corruption by removing her hijab", Shariatmadari is the second woman to be sentenced for participating in the anti-hijab protests that have gained momentum across the country since late last year.
On March 7, 2018, Narges Hosseini, was booked under similar charges and sentenced to 2 years in prison. While criticising both the sentences, prominent human rights attorney Nasrin Sotoudeh told the Center for Human Rights in Iran, "In order to create fear, the judiciary is exaggerating alleged crimes and trying to impose heavier punishments; that's against the law."
The crime
It all started in May 2014, when Masih Alinejad, an exiled Iranian journalist in New York, posted old pictures of herself, clicked in Iran, where she had taken off her mandatory veil while driving. Soon, her Facebook page was flooded with similar pictures shared by Iranian women. Alinejad then created a Facebook page, "My Stealthy Freedom", encouraging women of her country to do the same. A campaign, #WhiteWednesdays, bloomed, asking women to wear white on Wednesdays to protest the compulsion.
The campaign reached a crescendo on December 27, 2017, when Vida Movahedi, a 31-year-old mother of a toddler, stood in Tehran's busy Enghelab Square and waved her headscarf like a flag, as part of #WhiteWednesdays. Movahedi was arrested, and released after nearly a month. She has not been seen since. "Yes, we have no news of Vida… Everyone is wondering about her whereabouts," Alinejad told The Indian Express through Facebook. However, many women, who call themselves the 'Girls of Revolution Street', followed suit. Since January, the Iranian police have arrested at least 29 people, including men, for making silent demands for equality on Enghelab (or revolution) Street.
The politics
Like in most Muslim-majority nations, the hijab in Iran, too, plays an important role in understanding the dynamics between the power elite and the society. During the Pahlavi regime (1925-1979), Mohammad Reza Shah (the last Shah), with the intention of modernising Iran, had issued a decree banning all Islamic veils. This not only clashed with the religious values of the majority, but its forceful implementation also outraged locals.
In a research paper titled 'Women and the Moral Politics of Dress in Twentieth Century Tehran', Rhoya Sousan Sarikhani Selden writes, "Many Iranians… opposed the Pahlavis' close relationship with Western countries and their material extravagance. Mullahs (clerics) based in Iran's religious capital of Qom denounced the Pahlavi monarchy, as they believed that it betrayed Iran's true ideals."
The resistance snowballed into the 1979 Islamic Revolution, which was led by Ayatollah Khomeini, an Iranian cleric and opponent of the Shah. Khomeini was exiled, and returned to the country in 1979; soon after the Islamic Republic of Iran was born. As Selden observes in her research that even during this time, "The women of Iran… felt the full brunt of the clash between opposing nationalisms."
Following the revolution, the new government under Khomeini introduced its own set of strict domestic laws, mainly for women. While acknowledging the crucial role women played in the revolution, the Khomeini dispensation passed an edict making hijab compulsory for all women in Iran.
On March 8, 1979, thousands of women again took to the streets to reassert their ability to choose for themselves. However, "they [protestors] were attacked by vigilantes with acid, scissors, knives and stones…," Azar Nafisi, an Iranian writer, was quoted as saying in an article published in HuffPost.
According to the Islamic Penal Code of Iran (1991), "women who appear in public without a proper hijab should be imprisoned from ten days to two months or pay a fine of 50,000 to 500,000 Ryal". This allowed the "morality police" to harass women for any violation of the country's dress code.
The current scenario
The anti-hijab protests that were visible in late 2017 have compelled Supreme Leader Ali Khamenei to react to the issue. An article published by Iran's Radio Farda quoted the leader as saying that the protests were "the outcome of the enemy's widespread propaganda, and spending hefty sums in order to influence Iranian women's attitude towards hijab."
The hijab, the leader claims, "makes women immune to sexual harassment and gender inequality."
Meanwhile, Alinejad said, "the compulsory veil had always been a thorny issue… Women have always resisted it by pushing the boundaries further, by wearing shorter and more colourful coats, and headscarves…."
Commenting on the recent measures introduced in Saudi Arabia, she said, "Iranians have been… watching fondly the developments in Saudi Arabia. For a long time, reformists… had been telling the world that Iran was better than Saudi Arabia in terms of women's place in society because women can at least drive… However, with the… reforms in Saudi Arabia, the pressure to open up is also mounting on the Iranian regime…."
On the ongoing campaigns, Alinejad said, "It has given greater courage to Iranian women, so much so that we have even been receiving videos/photos of women walking unveiled near the morality police… Moreover, it has also created solidarity worldwide… Turkish women, for instance, have been… supporting Iranian women's White Wednesdays through what they call #BeyazÇarsambalar campaign."
http://indianexpress.com/article/explained/whitewednesdays-why-iranian-women-want-to-be-seen-heard-5135436/
--------
Boko Haram has kidnapped at least 1,000 girls since 2013: UNICEF
Apr 13, 2018
The United Nations children's agency has slammed repeated attacks by the Daesh-linked Boko Haram terrorist group against children in Nigeria, announcing that at least 1,000 children have been abducted in the African country since 2013.
More than 1,000 children, mostly under 15 years of age, have been abducted in northern Nigeria since January 2013, the UN's Children's Fund, UNICEF, estimated in a statement on Thursday.
"Children in northeastern Nigeria continue to come under attack at a shocking scale," said Mohamed Malick Fall, UNICEF's Nigeria head. "UNICEF is appealing for an end to attacks on schools and all grave violations of children's rights."
He also called for the release of those still held in captivity.
Boko Haram has been regularly kidnapping youngsters. In 2014, 276 schoolgirls were abducted from the town of Chibok, located in Nigeria's northeast. The mass kidnapping triggered global condemnation and intense criticism of Nigerian officials in the country as well as an international "Bring Back Our Girls" campaign.
"Nigerian authorities have made a commitment to make schools safer and more resilient to attack, and UNICEF stands with them to implement the Safe Schools Declaration, by which Nigeria commits to protecting schools and universities from violence and military use during armed conflict," Fall further said.
The agency also said that at least 2,295 teachers had been killed and more than 1,400 schools had been destroyed due to the militancy in Nigeria.
The Boko Haram terror campaign in Nigeria is in its tenth year and has so far killed more than 20,000 and forced the displacement of over two million others.
Most recently, more than 100 schoolgirls were kidnapped by the group in the town of Dapchi, which had previously been unaffected by the militancy. The girls were later released reportedly through quiet efforts by the government.
Four years since the Chibok abduction, however, some 100 of the schoolgirls are believed to remain in captivity. Nearly 60 of the abductees escaped soon after the incident and some others have since been released through mediation.
Nigerian President Muhammadu Buhari, a former general, came to power in 2015 on a platform of stamping out the Boko Haram militancy. Despite retaking swathes of territory from the group, though, the government has been unable to prevent attacks from continuing against both civilians and government targets.
Buhari plans to seek re-election in 2019.
http://www.presstv.com/Detail/2018/04/13/558331/Nigeria-Boko-Haram-schoolgirls-UNICEF
--------
Nigeria: BBOG Plans Fourth Anniversary of Chibok Girls' Abduction
12 APRIL 2018
By Kehinde Olatunji
The Bring Back Our Girls (BBOG) advocacy group has said if the rest of the kidnapped Chibok girls were not released before Saturday, it would mark the fourth anniversary of their abduction with a rally, vigil and prayers in Lagos and Abuja.
In a statement yesterday in Lagos by Yemisi Ransome-Kuti, the group added that it would engage members of the Chibok community.
The two-day programme, according to the statement, would feature a march, interfaith vigil, Christian and Muslim prayers as well as a town hall meeting.
Pastor Tunde Bakare is to deliver the lecture while the prayer sessions would be handled by Pastor Ituah Ighodalo and Imam Nojeem Jimoh.
While applauding the Federal Government for the rescue of 107 Chibok 106 Dapchi girls, BBOG however, vowed, that it would not abdicate its demand for the unconditional release of the remaining school children and other Nigerians still in captivity.
Ransome-Kuti noted in the release: "While we are aware of the efforts made so far, and commend the government for the recovery of 107 Chibok girls, and 106 Dapchi girls, we will not relent in our advocacy and strident demands for the rescue of our school children and fellow citizens from captivity.
"As concerned citizens of this country, the #BringBackOurGirls (BBOG) advocacy group has highlighted the plight of these innocent girls and other victims of insurgency, even at a global level and engaged the government and other agencies in a constructive manner to secure the rescue of the girls.
"We empathise with the traumatised families of all the victims of insurgency, those missing, deceased, and forcibly removed from government schools where their parents thought they would be safe. We pray that many more families will be able to share in the joy of their children coming back home."
The group appealed to all to pressurise the government in putting an end to abductions, extremism and insecurity.
http://allafrica.com/stories/201804120259.html
--------
Muse: Life lessons from Saudi designer Tamara Al-Gabbani
12 April 2018
DUBAI: I love to work hard, so my demanding schedule suits me. No two days are the same, plus I travel a lot, so every day is a little adventure — a challenging adventure I'm grateful for and gives me the beautiful opportunity to help those less fortunate.
My best friend is obsessed with unicorns. She's a grown woman, but I respect her wishes and, obviously, want to make her happy, so I've bought her a unicorn outfit and a matching unicorn phone charger and unicorn dressing gown. Whatever floats your boat, you know?
I'm living proof that if you want to create an independent life for yourself, with self-respect, decency and dignity, you can. But it takes hard work, focus, determination, and an indomitable belief in God.
If people treat you — or judge you — negatively, it's usually a projection of their own insecurities and deeper issues. That isn't my problem, so I choose to carry on positively.
We're in the midst of a very interesting time. Men's perception of empowered women is changing for the better. It's heading in a positive direction; misogyny, being intimidated by women, judging or underestimating them… all that is changing. A man doesn't need to feel undermined because a woman is empowered. I don't even blame them, that is what they were taught. But a re-learning is taking place.
I have learned a lot about life and business from men — being levelheaded in emotional situations, not gossiping, not holding onto grudges — but men can also learn from women. Women have the marvelous gift of being able to view a situation from different perspectives, providing a more accurate assessment of what is really going on. And women excel at communication; a critical leadership skill in both professional and personal settings. When we keep the conversation flowing, there's no room for misunderstandings or harboring negativity.
I'm proud of a lot that I've achieved: being the face of DKNY and Dolce & Gabbana for their modest collections, and setting up my own fashion brand. Still, I regret not being more fearless.
http://www.arabnews.com/node/1283476/fashion
--------
URL: https://www.newageislam.com/islam-women-feminism/large-participant-turnout-women-only/d/114923
New Age Islam, Islam Online, Islamic Website, African Muslim News, Arab World News, South Asia News, Indian Muslim News, World Muslim News, Women in Islam, Islamic Feminism, Arab Women, Women In Arab, Islamophobia in America, Muslim Women in West, Islam Women and Feminism