New Age Islam News Bureau
3 Nov 2016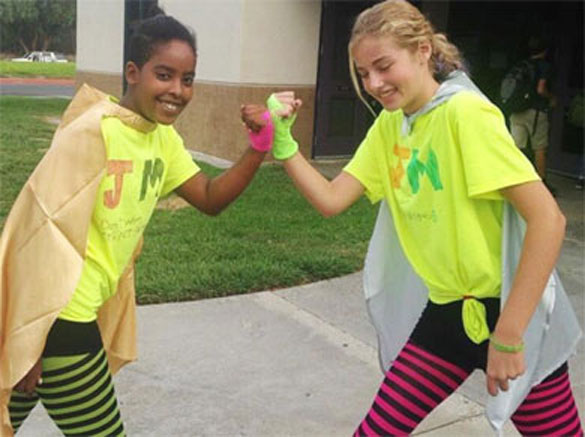 13-year-old Casey Pearlman is Jewish and her best friend Yasmin Idris, also 13, is Muslim.
--------
• 'Free Sharbat Gula on Humanitarian Grounds'
• Malala Govt School Conceals Name Following Threats
• Saudi Council Rejects Study on Women Driving
• Prague Students Support Teacher Sued For Banning Hijab in Class
• Qatar University postpones 'Women in Islam' talk over controversy
• Manganya Applauds Muslim Women on Dressing, Environmental Conservation
• Muslim Women Are Main Decision-Makers in Halal Tourism
Compiled by New Age Islam News Bureau
URL: https://newageislam.com/islam-women-feminism/jewish-muslim-best-friends-go/d/108999
--------
Jewish and Muslim Best Friends Go Viral with 'Juslim' Halloween Costume
By Ghita Benslimane
November 2, 2016
Casablanca – In a world too often characterized by divisiveness, these two best friends give us hope for humanity with their "Juslim" superhero Halloween costume.
13-year-olds Casey Pearlman and Yasmin Idris are Jewish and Muslim, respectively. They are also best friends, and for this year's Halloween celebration, they've decided to dress up as "The Juslims," a superhero team.
Casey's father Tweeted out a picture of the duo with the following caption: "My daughter is Jewish. Her best pal is Muslim. For Halloween they created a superhero team: The Juslims. I've rarely been more proud. Truly." The picture has been liked over 120,000 times and retweeted over 60,000 times.
In a blogpost, Pearlman's dad said that, "This was not a political statement or a social statement or a stance on the presidential election. They weren't doing it in the name of religious pride or America's diversity or equality for all. Nope, they decided to be the Juslims simply because it was funny."
Regardless of the exact motives of the two girls, their costume proves that friendship and respect knows no bounds.
Faith in humanity [partially] restored.
moroccoworldnews.com/2016/11/200382/jewish-muslim-best-friends-go-viral-juslim-halloween-costume/
--------
'Free Sharbat Gula on humanitarian grounds'
03-Nov-16
PESHAWAR: Afghan Ambassador to Pakistan Dr Omar Zakhilwal on Wednesday requested Pakistan to release Afghan refugee Sharbat Gula on humanitarian grounds.
He was speaking at a press conference at the Afghanistan Consulate in Peshawar after visiting the green-eyed Afghan lady who has been behind the bars since October 25.
The envoy said the 46-year-old ailing mother of four children has faced enough hardships.
"Her bail request was rejected by the court but thankfully she is not in the prison as the authorities have provided her with a hospital room, where she is free to meet her children besides getting treatment for hepatitis C, the disease that had snatched her husband and her young daughter a few years back," Dr Zakhilwal informed the media.
The ambassador added that the overwhelming support from all walks of life, including the media and human rights activists in the Sharbat Gula case was helping in improving the relations between the people of Pakistan and Afghanistan.
"She might not have seen Afghanistan after becoming refugee and especially after she was immortalized by the National Geographic Channel's documentary. The lady chose to live in Pakistan despite the US and many European countries offering her asylum. Instead of becoming celebrity, she chose to live a simple life with her family," Zakhilwal added.
He added Sharbat Gula did not do any fraud while obtaining a Pakistani identity card. In fact someone else had gone to the National Database and Registration Authority (NADRA) office to get her an identity card.
"Even if she was guilty of a crime that was committed some years ago, the Pakistani authorities should have accepted her as their own national as she is a symbol of the sufferings of the Afghan refugees," the envoy said.
"She has spent more than a week in the prison and she can spend a few more days. Bailing her out would have sent a positive message to the world about Pakistan. That chance has gone begging and now we wait for another day to hear that Sharbat Gula has been given relief," he added.
Mubashir Nazar, Sharbat Gul's lawyer, said they are waiting for the copy of the detailed decision before filing an appeal in the next hearing due on Friday.
"Some of the sections of the law under which Sharbat Gula is being tried, for example Section 420 and 471 are bail-able, however other sections are not bail-able and we will have to wait for the outcome of the court proceedings," Nazar said.
Talking about the repatriation of Afghan refugees, Zalkhiwal hoped to resolve issues related to the properties owned by the Afghan in Pakistan.
"More than 600,000 Afghans have repatriated back to Afghanistan in the past four months. Eight to ten thousand persons are returning daily. However, we are still trying hard to come to a conclusion about the properties worth millions of dollars owned by the Afghans in Pakistan," he added.
To a question, Dr Zakhilwal said the Afghan Embassy in Islamabad had helped at least 120 refugees detained under the 14 Foreign Act.
dailytimes.com.pk/khyber-pakhtunkhwa/03-Nov-16/free-sharbat-gula-on-humanitarian-grounds
--------
Malala Govt School conceals name following threats
03-Nov-16
KARACHI: The administration of Malala Government Girls Secondary School has concealed the name of Malala inscribed at the façade of the school building due to threats.
The administration told that some suspects have threatened the parents of girl's students to keep them at homes instead of sending to the school. This move has also terrified the students of the school.
The enrollment has also decreased after these threats. The school management has informed the concerned authorities about this situation, but Education Department and Law Enforcement Agencies (LEA) are not taking any concrete steps for the security of the school.
When contacted, Shaheen Parveen, the headmistress of the school, told Daily Times that some students and parents have complained that some suspects have threatened them and asked not to come to the school.
However, she added, concerned authorities have been informed about the current situation but as a preventive measure Malala's name has been concealed on the school board.
The school is situated on Mission Road, Bhimpura -- an old city area. The foundation stone of the school was laid down by Seth Koverji Khamji Gujrati before Indo-Pak partition and the school was also named after him as Seth Koverji Khamji Lohana Gujrati School.
However, Sindh Government renamed the school as Malala Yousafzai Govermnet School with Malala her father Shoukat Yousafzai and senior minister education Pir Mazahar-ul-Haq inaugurated the school on February 6, 2012.
Pir Mazhar had also announced on the occasion that the school will be upgraded to a degree college, but this did not happen even after four years.
On the other hand, Works and Services Department has not released funds for the renovation of the school and its adjacent building. The Directorate of School Karachi (DSH) has merged four different public sector schools namely New Idea Boys Schools, New Mission Elementary Middle school, and Logo Islamia School to be run in the same building of Malala Govt Girls Secondary School.
This has created hurdles for teaching staff, while it also disturbs studies of students. Sui Southern Gas Company Limited has also disconnected the supply of gas to the school due to non-payment of utility bills to add to the woes of the management.
Shaheen said she is the acting in-charge of the school as the Education Department has not deployed any headmistress in the school for last 3 years. She added that School Management Committee (SMC) has provided funds for the renovation but they are insufficient.
She demanded from the Sindh government to provide funds for renovation and construction of the premises because it is difficult to run four different schools in the same building.
dailytimes.com.pk/sindh/03-Nov-16/malala-govt-school-conceals-name-following-threats
--------
Saudi Council Rejects Study On Women Driving
November 03, 2016
RIYADH - Saudi Arabia's Shura Council, which advises the cabinet, has turned down a proposal to study the issue of women's driving, a Shura member told AFP on Wednesday.
The kingdom has some of the world's tightest restrictions on women, and is the only country where they are not allowed to drive. At a meeting this week, a male member of the appointed council suggested the study, said another member who declined to be named. He said the enquiry would have looked at: "What are the difficulties if they start? What is required to allow them to drive?"
But the proposal failed to get the required 50 percent plus one support among the council's 150 members, who include 30 women. The council can make non-binding recommendations to the government but it has no legislative powers.
Activists say women's driving is not technically illegal but that the ban is linked to tradition and custom.
A slow expansion of women's rights began under the late king Abdullah, who named them to the Shura Council in 2013.
He also announced that women could for the first time vote and run in municipal elections. At least 20 women were elected for the 2,106 contested council seats last December.
Some activists have challenged the driving ban by getting behind the wheel and posting images of themselves online.
Other Saudi women, however, believe change cannot be forced - a message the kingdom's powerful Deputy Crown Prince Mohammed bin Salman, 31, gave in April when he unveiled the Vision 2030 plan for economic diversification and social change.
"So far the society is not persuaded - and it has negative influence - but we stress that it is up to the Saudi society," he said, commenting on whether women should drive.
The Vision and its associated National Transformation Programme target an increase in the proportion of female workforce participation from 23 to 28 percent by 2020.
http://nation.com.pk/international/03-Nov-2016/saudi-council-rejects-study-on-women-driving
--------
Prague Students Support Teacher Sued For Banning Hijab In Class
3 NOVEMBER 2016
Prague, Nov 2 (CTK) - Tens of female students from a Prague secondary nursing school on Wednesday gathered outside a courtroom to support their head teacher who was sued by a former Muslim student from Somalia banned from wearing the Muslim veil covering her head and neck (hijab) during classes.
"We came to support our head teacher. This is absolute nonsense. Our school has set rules and she violated them," one of the students told CTK about the former Muslim student.
Another girl said all students should respect the same rules, without any exceptions.
The court started dealing with the case on Wednesday. The former Muslim student demands an apology and financial compensation of 60,000 crowns for being indirectly discriminated in her access to education and free choice of profession. She did not come to court, allegedly being afraid of the negative atmosphere. The school says the complaint is untrue and misleading.
Supporters of Islam arrived as well and the proceedings had to be moved to the largest courtroom.
A girl wearing a head scarf said she believed everybody should be allowed to decide on their own whether their heads are covered or not. She said she knew neither the Muslim student nor the nursing school.
The opponents of Islam who were present in court called on the girl to take off her scarf because it offended them.
Two Muslim girls, one from Somalia and the other from Afghanistan, left the nursing school in 2013, allegedly due to the ban on hijab.
Ombudsman Anna Sabatova supported the girls then and said the school discriminated against them indirectly.
The school argued that students must not have their heads covered in the classroom. Sabatova demanded that the school rules be changed as the hijab is a religious symbol. The school did not change the rules, but it gave the school director the right to grant exceptions for religious reasons.
This dispute provoked discussions about whether to let Muslim women wear coverings such as the hijab, niqab or even the burka in the Czech Republic.
Deputy Ombudsman Stanislav Krecek was among those who came to court yesterday. Unlike Sabatova, Krecek said Muslim women should not be allowed to wear coverings at schools and medical facilities.
Radka Korbelova Dohnalova, the Somali girl's lawyer, said her client was granted asylum in the Czech Republic in 2011. She said the girl left her homeland because she did want to marry a member of the armed militia and because she was in a bad position as a single mother.
The girl claims that the school management agreed that she would not wear hijab when she worked as a nurse but only in the classroom. Nobody told her she would be banned from wearing a head scarf at school, she claims.
According to the lawyer, on the first day of school, the girl was summoned to the head teacher's office and ordered to take off the scarf, which she refused to do. The head teacher refused a compromise that the Muslim girl offered, or that she would only cover her neck. The girl was forced to confirm in writing that she ends her study at the school, Korbelova Dohnalova said.
The school tells a different story: the Somali girl ended her study on her own because she did not submit the required documents. The school blames Sabatova for triggering a hysteria around the case.
http://praguemonitor.com/2016/11/03/prague-students-support-teacher-sued-banning-hijab-class
--------
Qatar University Postpones 'Women In Islam' Talk Over Controversy
3 NOVEMBER 2016
Qatar's national university has said it will reschedule a lecture that was supposed to be held today after its keynote speaker came under fire for her views.
Saudi scholar Dr. Hatoon Al Fassi, a Qatar University faculty member, was slated to talk about women in Islam at the school this afternoon.
But this week, several students and community members launched a Twitter campaign demanding she be sacked for challenging Qatari and Islamic values.
Al Fassi is a well-known commentator on Gulf women's rights, championing for women's ability to vote and drive in her home country.
The scholar has been part of QU's faculty for the past six years, and teaches women's and Middle East history in the Department of International Affairs.
Postponement
QU President Hassan Rashid Al-Derham announced the lecture postponement on Twitter yesterday.
First, he stressed the importance of open discussion and ideas in academic settings, saying:
Al-Derham also said that the university is currently reassessing how it teaches students, in order to better train them to debate critical issues.
Reactions
Earlier this week, many people expressed support of Al Fassi, calling the online campaign against her a witch-hunt and criticizing her detractors for advocating censorship.
Translation: Regardless of postponing the event, why is the door left open for a discussion with the likes of her (Hatoon Al Fassi)? Why can't you have a male scholar who is respectful and mindful of religion to lead this discussion? He'd more knowledgeable of the situation of women in Islam.
Translation: Regardless of postponing the event, why is the door left open for a discussion with the likes of her (Hatoon Al Fassi)? Why can't you have a male scholar who is respectful and mindful of religion to lead this discussion? He'd more knowledgeable of the situation of women in Islam.
Translation: The decision to cancel or "postpone" the debate shows how fragile the university's policies are. Why the fear of this debate? This move is an insult to students.
http://dohanews.co/qatar-university-postpones-women-islam-talk-controversy/
--------
Manganya Applauds Muslim Women On Dressing, Environmental Conservation
November 3, 2016
Members of Muslim Women Organization in Zomba were stunned when social commentator and comedian Michael Usi popularly known as Manganya became a surprise guest during their Ijtema event on Saturday.
Usi, who is Adventist Development Relief Agency (ADRA) Malawi Country Director, was a surprise guest at the three-day Ijtema event held at Zomba Islamic High School which focused on sensitizing women on environmental conservation and management.
The comedian could not believe the overwhelming reception given by the frenzied crowd which was thunderstruck by his presence; and minced no words by applauding them for their conservative dressing.
He was the centre of attraction even from passersby as part of the audience could not resist it but jumped on opportunity to take pictures of the comedian who fitted in very well with his dressing ofThobe (long robe worn by Muslim men) and Ghutra also known as shemagh or kuffiyeh (head scarf).
A former Muslim himself but now an Adventist, Usi was so eloquent with Muslim teachings and scriptures, and seized opportunity to inspire the gathering- solely composed of Muslim women- to take leading role in conserving the environment aside from tackling HIV and Aids issues.
He noted that women play critical role in religion and the society, therefore there is a need for them to champion initiatives that focus on improving people's livelihood.
"I should applaud Muslim women in this country for being exemplary on dressing. I should also commend your work on environment. My organization deals with issues of environment and climate change. I therefore pledge to support such initiatives to ensure people's lives are improved," said Usi who donated K500, 000 cheque to the organization.
"Continue being peaceful people. And it's my sincere prayer that you should continue taking leading role and teaching others on issues of environment and HIV and Aids."
Manganya is the brain behind famous TV soap Tikuferanji which was in previous years been aired on MBC television but now it is being aired on privately owned Times television.
Ijtema is an Islamic congregation organized by Islamic organizations in association with the millions of Muslims. It is an essential part of the Tablighi Jamaat around the world as it plays a significant role on the lives of Muslims, and a huge number of people engage in Ijtema.
http://www.nyasatimes.com/manganya-applauds-muslim-women-dressing-environmental-conservation/
--------
Muslim Women Are Main Decision-Makers In Halal Tourism
November 3, 2016
Muslim women wear the pants when it comes to halal tourism. That's one of the highlights from the Halal Travel 2016 report.
The study, commissioned by travel technology company Amadeus, revealed that women play an influential role in the travel decision-making process and planning. They have a key role in destination choice.
According to the findings, women make their decisions based on word of mouth and input from family and friends.
"Women want activities to keep the whole family happy," the report read.
The report added that women have a high level of involvement when it comes to activity bookings and extra trip preparations.
Input from the fairer sex is especially important, considering that halal tourism continues to gain traction in the travel and hospitality industry.
Muslim travellers are expected to grow to 150 million visitors by 2020. Meanwhile, expenditure from this market segment is expected to rise from US$145bil (RM608.93bil) in 2014 to US$200bil (RM839.71bil) by 2020.
The report also called for the industry to recognise diversity among Muslim holidaygoers.
An Amadeus travel agent customer said: "Muslims travelling from Egypt will not be the same as those travelling from Saudi. Even within a market, there are big differences."
The six variables are: comfort, exploration, core family, extended family, deal-seeking and simplicity-seeking.
In addition to that, the report also outlined three themes on the needs of Muslim travellers. They are: maximising trip value, relevant accommodation and family-friendly destinations.
As for trip value, Muslim tourists like holiday packages but find them basic and inflexible. Meanwhile, apartments and chain hotels are preferred accommodation.
When it comes to destinations, Muslim travellers prefer to explore within their comfort zones. This includes excursions that integrate halal dining options and praying possibilities.
http://www.star2.com/travel/malaysia/2016/11/03/muslim-women-play-key-role-in-halal-tourism/#E5SDClv7BPTC0rBP.99
--------
URL: https://newageislam.com/islam-women-feminism/jewish-muslim-best-friends-go/d/108999
New Age Islam, Islam Online, Islamic Website, African Muslim News, Arab World News, South Asia News, Indian Muslim News, World Muslim News, Womens in Islam, Islamic Feminism, Arab Women, Womens In Arab, Islamphobia in America, Muslim Women in West, Islam Women and Feminism