New Age Islam News Bureau
26 Feb 2016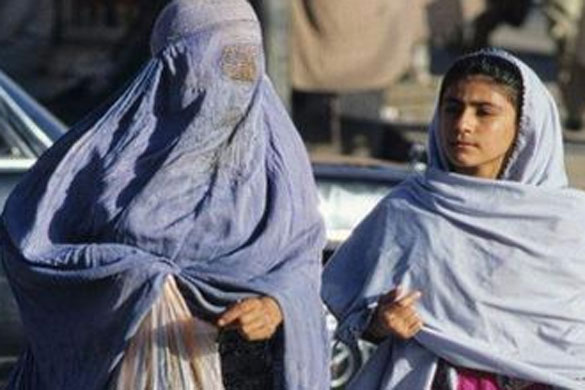 Photo: Pakistan Province Passes Law To Protect Women against Violence
-------
• Asian Sex Abusers to Be Stripped Of UK Citizenship and Deported
• Pakistan Province Passes Law To Protect Women against Violence
• Will the Pakistan Hindu Marriage Bill 2015 Really Make Life Easier For Hindu Couples?
• Afghan Woman Kill Taliban Commander Over Privacy Breach in Baghlan
• To Post or Not To Post: Defiant Pakistani Teens' Growing Dilemma
• Women's Solidarity, Belgian Director Chantal Akerman In Focus At Filmmor
Compiled by New Age Islam News Bureau
URL: https://newageislam.com/islam-women-feminism/isis-commander-killed-captured-iraqi/d/106478
----------
Isis commander 'killed by captured Iraqi woman' forced to act as a sex slave
Rose Troup Buchanan | The Independent | Feb 26, 2016
An Iraqi woman has reportedly killed an Isis commander after he forced her to become a sex slave for his fighters.
The Isis commander, only referred to by his nom de guerre Abu Anas, was allegedly murdered by an unidentified Iraqi woman on 5 September in Mosul, Kurdistan Democratic Party (KDP) spokesperson Saeed Mamouzini told al-Sumari TV.
According to Mr Mamouzini, the woman had been captured by the Isis commander and coerced into marrying several of the man's fighters three months ago.
The claims follow documented examples of Isis - also known as the Islamic State - systematically abusing women and girls within their captured territory.
A Human Rights Watch report earlier this year interviewed Yazidi survivors. The women described the rape and torture meted out by their captors, justified by a narrow interpretation of the Koran. It preceded a New York Times piece also interviewing sex slave survivors, which demonstrated how Isis "enshrined a theology of rape".
The use of women may be part of a larger propaganda programme. The information about these women - and their treatment - is carefully released to appeal to both Western fighters and those from the Middle East, an Oxford University study recently suggested.
timesofindia.indiatimes.com/world/middle-east/Isis-commander-killed-by-captured-Iraqi-woman-forced-to-act-as-a-sex-slave/articleshow/51150265.cms
----------
Asian Sex Abusers to Be Stripped Of UK Citizenship and Deported
Feb 26, 2016
Exclusive: Theresa May to broaden use of anti-terrorism powers in response to uncovering of Asian sex abuse gangs
In response to the series of Asian sex abuse gangs uncovered in towns across the UK there is likely to be an "acceleration of passport strike-outs and potential deportations" istock
Asian-born sex abusers will be stripped of their UK citizenship and deported at the end of their sentences under a new Home Office drive, The Independent can reveal.
Theresa May, the Home Secretary, is planning to significantly increase her department's use of legal powers that allow serious criminals with dual nationality to have their British citizenship withdrawn, Whitehall sources say.
Until now, the powers have predominately been used to remove the UK passports of terrorists and terrorist sympathisers.
Two charts that show the shocking reality of sex abuse in the UK today
But senior department sources told The Independent that – in response to the series of Asian sex abuse gangs uncovered in towns across the country in recent years – there is likely to be an "acceleration of passport strike-outs and potential deportations".
British-Pakistani members of the gang of six men and women from Rotherham who were convicted on Wednesday of offences including rape, forced prostitution, indecent assault and false imprisonment are expected to face action to strip them of their UK citizenship after they are sentenced today. Legal proceedings seeking their potential deportation to Pakistan are likely to follow.
The abuse of predominantly white girls by networks of Asian men has led to prosecutions across the North of England and the Midlands. More trials are imminent.
David Greenwood, head of the child abuse department at Switalskis solicitors in Sheffield, who represents almost 60 victims subjected to sexual abuse by the Rotherham gang between 1996 and 2012, said: "This trial is just the first of many and is the tip of a very big iceberg. From the work I have done, it appears that gangs of Asian men have been operating to sexually abuse young white girls in Rotherham, Oxford, Keighley, Bradford and Rochdale."
Although amendments to British nationality laws in 2014 making it easier to strip dual nationals of citizenship were primarily aimed at terrorists who could undermine the UK's security, the Home Office is now using the same legal sanctions to target serious crime, including sex abuse.
In a sign of the department's new approach, the Home Office recently took legal action against the British-Pakistani ringleader and members of a child sex gang in Rochdale who were convicted in 2012. A special immigration tribunal in Manchester has just completed hearing appeals against Ms May's decision to end their British citizenship and begin deportation proceedings.
Vinesh Mandalia, counsel for the Home Office at the tribunal, told the hearing that the decision by Home Secretary to deprive the men of their British citizenships was based on the need to express "society's condemnation of those who have gained the benefits and privileges of British citizenship, but go on to become involved in serious organised crime". The tribunal will deliver its verdict next month.
One Whitehall legal adviser said: "There are no limits. It is not just potential terrorists who face losing their UK citizenship. Those involved in serious or organised crime, and who hold dual nationality, can expect similar justice."
Use of the enhanced deportation powers in 2014 led to a British-born man and his three sons being stripped of their British citizenship because of alleged terrorism links.
Theresa May is planning to significantly increase her department's use of legal powers (EPA)
In another case, a man holding joint Afghanistan-British citizenship was stripped of his UK passport and left stranded in Pakistan after being accused of involvement in Islamist extremism.
Since 2000, an estimated 37 people have had their British citizenship revoked. Their nationalities include: Russian, Somalia, Yemeni, Australian, Pakistani, Afghan, Albanian, Egyptian, Lebanese, Sudanese, Vietnamese, Iranian, Iraqi and Nigerian. The individuals held British passports from birth, or by application.
It is much more difficult to strip UK nationality from foreigners who are not recognised as a citizen of any other country, as this would render them stateless.
Human rights campaigners have criticised the extended powers used by the Home Secretary to withdraw British citizenship and enforce deportations as a form of "medieval exile".
There has also been criticism that in many of the terrorism-related cases, those who face losing their British citizenship or their legal representatives will not be shown the evidence against them.
The Home Office has not yet responded to a request from The Independent for comment.
independent.co.uk/news/uk/crime/asian-sex-abusers-to-be-stripped-of-uk-citizenship-and-deported-a6896051.html
----------
Pakistan province passes law to protect women against violence
Reuters | Feb 25, 2016
ISLAMABAD: Lawmakers in Pakistan's largest province on Wednesday gave unprecedented protection to female victims of violence, in a bid to stem a rising tide of gender-related abuse in a country ranked as the world's third most dangerous place for women.
The new law criminalises all forms of violence against women, whether domestic, psychological or sexual, and calls for the creation of a toll-free abuse reporting hot line and the establishment of shelters.
Home to roughly 190 million people, Pakistan sees thousands of cases of violence against women every year, from rape and acid attacks to sexual assault, kidnappings and "honour killings".
"The instances of violence against women have been on the increase, primarily because the existing legal system does not effectively address the menace and violence by some is perpetrated with impunity," said the text of the legislation passed by the Punjab assembly.
In 2013, more than 5,800 cases of violence against women were reported in Punjab alone, the province where Wednesday's law was passed, according to the Aurat Foundation, a women's rights advocacy group.
Those cases represented 74% of the national total that year, the latest for which data is available.
The leader of one of Pakistan's largest orthodox Sunni Muslim seminaries denounced the new law as being in conflict with the Muslim holy book, the Quran.
"Attempting to change religious and national values in the name of protecting women is a tragedy that is of great concern," Muhammad Naeem, head of the Jamia Binoria seminary in the southern city of Karachi, said in a statement.
The new law establishes district-level panels to investigate reports of abuse, and mandates the use of GPS bracelets to keep track of offenders.
It also sets punishments of up to a year in jail for violators of court orders related to domestic violence, with that period rising to two years for repeat offenders.
Rights groups welcomed the law, but warned that its implementation remained a concern.
"The change in law would only make a difference if there is effective enforcement and the legislature continues to engage with the issue and ensures oversight," said Zohra Yusuf, chairwoman of the Human Rights Commission of Pakistan.
Domestic abuse, economic discrimination and acid attacks make Pakistan the world's third most dangerous country in the world for women, a 2011 Thomson Reuters Foundation expert poll showed.
timesofindia.indiatimes.com/world/pakistan/Pakistan-province-passes-law-to-protect-women-against-violence/articleshow/51142511.cms
----------
Will the Hindu Marriage Bill 2015 really make life easier for Hindu couples?
Feb 25, 2016
KOTRI: Raheel and Gulzadi have been married two and a half years. They live in Kotri with their one-year-old, but are unable to meet their extended families regularly. The couple avoids travelling far together because their marital status is not legally recognised.
"We face embarrassment when asked to prove our relationship at checkpoints," Raheel says. Security officials posted along the highway stop the couple and request identification and papers proving their marital status.
They have nothing to prove their marriage. "Not even with a CNIC," says Raheel, referring to the Computerised National Identity Card (CNIC). "According to our CNICs, my wife and I are both single," he adds.
Although they both have identity cards, their last names are not the same. Despite repeated visits to NADRA, officials have told the couple that Guldazi will retain her father's name until a legal document proves otherwise. It has been over two years but the status on their documents is still the same.
Explore: For lower-caste Hindus, a Soneri cup symbolises deep-rooted bigotry
Married—but not legally
Without a law, Hindus say women in their community are easy targets of rape and forced marriage, and face problems in proving the legitimacy of their relationships before the law. Widows are particularly disadvantaged in accessing their husband's savings and in matters of inheritance.
Even in daily affairs, moving forward with any other activity which involves documentation — from opening a bank account to applying for a visa — becomes next to impossible for a married Hindu woman.
Human Rights activist Pushpa Kumari, for example, might be married and her children grown up, but from a legal point of view, she is still single.
"An embassy asked me for proof of marriage when I needed to travel abroad," Kumari remembers. Her husband had to go to Diplo to try and get a marriage certificate issued by the Secretary Office of Union Council Diplo.
The secretary did not issue a marriage certificate─ which is still an informal arrangement and not a legal document─ until Kumari's husband brought at least two witnesses who had attended their wedding and submitted their testimony.
A bill 68 years in the making
Despite living in the country for the past 68 years, Pakistan's Hindu community has no mechanism to legalise their marriages. That problem, however, could soon be resolved if the Federal Assembly passes the proposed Hindu Marriage Bill 2015 which was unaninmously accepted by the Sindh Assembly last week.
After repeated delays in passing the Marriage Bill, the provincial assembly accepted it with two amendments: the bill fixes the minimum age of marriage at 18, and extends the law over the whole country instead of just the federal capital, as initially planned.
Before the bill is implemented, several aspects of the law will need to be properly formulated. One clause that has been the source of controversy states that the marriage will be nullified if any of the partners converts to Islam. The clause was inserted by the Council of Islamic Ideology and has caused an outcry amidst legislators and activists who fear it could be abused by forcing women to convert.
How women get stuck in limbo
The lack of legal documentation of personal status means women in particular are far more vulnerable. According to Seema Meshwari of Human Rights Commission Pakistan, it becomes difficult to legally force a husband to provide subsistence to the family, if he refuses to recognize it in the event of a dispute or separation.
In 2001, Guddi Mai, a mother of three children, filed a civil suit against her husband, demanding that he provide maintenance. When her husband appeared in court, he refused to acknowledge Mai and their three children. After undergoing humiliation, Mai managed to prove her claims through other means—but she was one of the luckier ones.
If a Hindu woman's husband passes away, widows and minors face difficulty in proving their relationship to the diseased, making the transfer or succession of property an extremely complicated process.
Gulzadi says she is also concerned about her future. "If my husband ever leaves me, I cannot claim for maintenance from him," she says. Gulzadi and her children cannot even benefit from inheritance, since they have no legal document or mechanism to make a claim. "Who would support me and my child?"
Registrations only
Ross Mahtani, a minority rights activist, welcomes the Sindh government's unanimous adoption of the Hindu Marriage Bill 2015 as a positive step, but he has his reservations. "It pertains solely to the registration of marriages," he explains.
Still, Mahtani says it is not enough. "It is only a registration bill which will allow the marriages of Hindu couples to be registered," Mahtani says. But other things are not included or even mentioned in the draft: inheritance laws, adoption, divorce, maintenance.
Meanwhile, there is a more comprehensive bill on the table: the Hindu Marriage Bill 2014, a private member bill which was passed by the National Standing Committee on Law, Justice and Human Rights.
"The legislation will institutionalise marriage and marriage-related legal rights thereof, this act is applicable to every person who is Hindu by his or her religion in any of its forms," Ramesh Lal of PPP, one of the two men who moved the private bill, told Dawn earlier.
No process for divorce
If marriage is in limbo, so is divorce. There is no law in place governing the process of separation or divorce between Hindu couples, and nothing preventing or outlining the process of remarriage.
Three years ago, Meena Meghwar's husband verbally divorced her and told her to leave their home six months after marrying her. Two years later, Meena remarried in her hometown of Umerkot in Thar, but soon, her former husband filed a petition in court saying her second marriage was illegal because he had never divorced her.
Tired of fruitless court visits, Meena's second husband forcibly divorced her. She returned to her father's home, where she now lives.
According to Seema Meshwari, there is a glaringly loophole among these arrangements and decisions. "If a married woman is abducted and forcibly remarried, then there is no proof of the first marriage," Meshwari says. Thus, marriages can be annulled and re-invoked simply on the basis of situation, mood and circumstance.
One law across provinces?
Efforts to institutionalise Hindu marriages began in 1976, but fell through when there was no consensus on details like divorce, says Jai Prakash Moorani, the editor of Daily Ibrat Hyderabad.
The demand for legislation was highlighted again in July 2009 when former chief justice Iftikhar Muhammad Chaudhry took suo motu notice of NADRA's rejection of Perrmessary Mai's request for a marriage certificate. NADRA took no action despite Chaudhry's order until 2012, when they finally amended their laws to provide a temporary mechanism for a marriage certificate.
After the 18th Amendment, the issues of religious minorities and their family matters became provincial subjects but the Balochistan and Khyber Pakhtunkhwa assemblies passed resolutions allowing the federation to legislate Hindu marriage law.
According to Jai Prakash Moorani, a uniform Hindu marriage law at the federal level is needed so interprovincial marriages are easier. Balochistan and Khyber-Pakhunkhwa were the first to pass bills similar to Sindh regulating Hindu marriages. Now that Sindh has been successful, reportedly, the Punjab Assembly is likely to follow soon.
Moorani said that ideally, all provinces should surrender their power through a resolution to the federal assembly for legistating the Hindu Marriage Bill under Article 144 of the constitution, so that one law prevails in the entire country. "If there are different laws in different provinces, it will create confusion and problems for interprovincial marriages."
dawn.com/news/1240349/will-the-hindu-marriage-bill-2015-really-make-life-easier-for-hindu-couples
----------
Afghan Woman Kill Taliban Commander Over Privacy Breach in Baghlan
By Khaama Press - Fri Feb 26 2016
An Afghan woman has killed a Taliban commander over home privacy breach in northern Baghlan province of Afghanistan, security officials said Friday.
Provincial police spokesman, Jawed Basharat, said the incident took place in Khwajah Bahauddin district of Baghlan province late on Thursday night.
Meanwhile, provincial police chief, Gen. Ewaz Mohammad Nazeri, said the Taliban commander was killed after he entered into the house of the woman, an act that is considered a serious breach of privacy by the Afghans.
He said another Taliban militant was also injured after the woman opened fire on the militants in Khwajah Alwan area.
Gen. Nazeri also added that the police forces were immediately deployed to the area following the incident.
The Taliban militants group has not commented regarding the incident so far which comes amid tense security situation in Baghlan province.
The Afghan national security forces are busy with the clearance operations in Dand-e-Ghori district where the Taliban militants were actively operating earlier.
khaama.com/afghan-woman-kill-taliban-commander-over-privacy-breach-in-baghlan-0179
----------
To post or not to post: Defiant Pakistani teens' growing dilemma
AFP | Feb 26, 2016
Many Pakistani teenagers are using fictitious profiles on social networking sites.Many Pakistani teenagers are using fictitious profiles on social networking sites.
ISLAMABAD: A pretty 15-year-old girl strikes a pose and pouts at the camera on her phone, so far so Generation Z, but unlike her teenage counterparts in the West, she stops short of posting the photo on social media, restricted in part by Pakistan's social mores.
It is a confusing time for the nation's youth — the arrival of 3G and 4G in Pakistan in 2014 and a massive surge in the sale of smartphones has seen social media use surge, making information about largely taboo subjects such as love, dating, even sex more accessible than ever.
Young people can communicate online in relative freedom, and the country even has a Kim Kardashian type figure — Qandeel Baloch, who has become famous through her tireless self-promotion and suggestive "selfies" posted on social media, amassing tens of thousands of followers.
But for the many in the deeply conservative Muslim nation, strict religious and familial controls still dictate behaviour — the "duck-face" selfie shot, which is almost ubiquitous on the social media pages of teens in the West, can present a hazard in Pakistan.
"In my pictures, I cannot pout anymore, I've stopped doing that, because otherwise people judge," the young girl said on condition of anonymity.
"You cannot post a picture outside with your friends, because your relatives, or friends, or teachers will criticise you. They will say: 'You look like a slut. Why are you smiling?'," she explained.
"So now, I barely change my profile picture anymore. When I started using social media, I thought I'd be a pretty girl with a lot of friends online. But I'm just an awkward girl with five friends."
The story is echoed by some of her classmates at a middle-income private school in Islamabad, where teenage boys and girls spoke candidly to AFP about their online experiences, but declined to be named.
"It all comes back to religion. We are in an Islamic state. People here will judge you because Islam doesn't encourage girls to show their legs, or arms, and it doesn't encourage boys and girls to interact," said one 14-year-old boy who described being scolded by relatives after posting a picture of himself with a girl.
Globally the perils women face online are well-documented but Pakistan's teenage girls face multiple issues — not only can their behaviour be judged as tarnishing the families' reputation or honour, there are rising incidents of cyber-misogyny and harassment.
"When I post pictures I get these creepy stalkers who send me creepy pictures. It really messes you up," said the 15-year-old girl, adding she no longer talks to boys online because of this.
A male classmate agreed: "I don't like selfies. And it's not safe for girls, because it can attract some boy stalkers."
But there is also a sense of growing defiance in the country, where around two-thirds of the population — roughly 180 million people — is believed to be under the age of 30.
On Valentine's Day, social media starlet Baloch donned a plunging scarlet dress and posted a message defying the country's president, who had issued a stern warning against the "Western" holiday.
"They can stop people from going out, but they can't stop people from loving," she declared in a Facebook video, going on to branding politicians "idiotic and disgusting".
Baloch is derided and feted in equal measure in Pakistan, but the message appeared to tap into the frustrations of many young people tired of being told how to behave — the footage has been viewed more than 830,000 times, and garnered 7,000 likes and counting.
She shot to fame in Pakistan in 2014 after a video of her pouting for the camera and asking "How em looking?" went viral.
"People are going crazy — especially girls. I get so many calls where they tell me I'm their inspiration and they want to be like me," she told AFP.
Cyberspace can turn society's rules upside down, said one 13-year-old boy.
"Online, guys write to girls 'hey baby, let's hook up,'" he said to a roar of laughter from his classmates. Once, he admitted to more scandalised giggles, it was the other way around. "A girl asked me to be friends in an online message. I was scared to death."
Another 15-year-old girl added social media provided them a unique platform for expression.
"It's useful to us, it's our own identity. In school you can't always speak your mind. On social media, you can be more open about what you like. You get to be yourself."
Some of AFP's interviewees said they knew of teenagers using fictitious profiles in order to protect their identities and behave more freely.
One young girl commented: "In a Muslim country, it's bad to talk to guys face to face so girls do it online. But it's very risky, some people have fake accounts."
Despite halting the pouting photographs, the 15-year-old girl called on her peers to be more confident online, instead of hiding behind Pakistani cultural restrictions.
She said: "You can't blame society for everything... You can't be a wimp all your teenage life and do nothing. And you can do (something) on social media."
timesofindia.indiatimes.com/world/pakistan/To-post-or-not-to-post-Defiant-Pakistani-teens-growing-dilemma/articleshow/51149128.cms
----------
Women's solidarity, Chantal Akerman in focus at Filmmor
February 25, 2016
Women's solidarity keeps women alive. This is the theme of this year's Filmmor International Women's Film Festival on Wheels, which is preparing to unroll its 14th edition next month in İstanbul.
Filmmor -- one of Turkey's two women's film festivals along with Ankara's annual Uçan Süpürge (Flying Broom) fest -- will present more than 70 films from 30 countries in its 2016 program, whose nine-day İstanbul leg is set for March 12-20, organizers said in a newsletter on Wednesday.
This year's program will pay homage to Belgian film director Chantal Akerman, an influential figure in feminist cinema, who died last October, aged 65.
The festival's Chantal Akerman retrospective, titled "Chantal Hakkında Her Şey" (Everything About Chantal) and presented in collaboration with the İstanbul Modern, will feature 15 out of the 42 films the director made throughout her career.
"No Home Movie," the last film Akerman made, which is a documentary feature focusing on conversations between the filmmaker and her mother just months before her mother's death, is among the highlights of the section. That film premiered at the Locarno Film Festival in August 2015.
"Tomorrow We Move," Akerman's 2004 comedy that won the Lumières Award for best French-language film in 2005; "Almayer's Folly," her 2011 big screen adaptation of Joseph Conrad's 1895 novel of the same name; and "The Captive," the director's 2000 drama that is loosely based on Marcel Proust's "La Prisonnière," are also part of the selection.
The Filmmor selection will mark the most comprehensive screening program dedicated to the work of Akerman in Turkey to date, the festival's organizers said in Wednesday's newsletter.
Other sections of the 2016 festival include "Women's Cinema," "A Purse of Her Own" and "Sex-Gender-Sexualities," which are three regular sections of the program every year, as well as the new sections "Women Are Everywhere," a video art selection, and another section called "Femicide Is Preventable -- Women's Solidarity Keeps Women Alive," which is this year's motto of the festival.
The motto is also the title of a campaign the women's cooperative Filmmor, which is organizing the festival, has been conducting since late last year. The campaign was launched in November 2015, during a two-day conference on "Urgent Action to Stop Femicide," held at İstanbul Technical University's Maçka Campus.
The festival will also present a thematic selection titled "Women's Cinema in the Middle East and North Africa," bringing together films by female directors from a broad geographical region extending from Morocco to Iran.
After completing its İstanbul run, Filmmor festival will travel to six more cities across Turkey for two-day programs, beginning with Antakya on March 26-27. Other stops on the 2016 itinerary include Adana (April 2-3), Bodrum (April 9-10), Mardin (April 16-17), İzmir (April 23-24), and Van (April 29-30), according to the newsletter.
The Filmmor Women's Film Festival on Wheels does not have a competitive section, yet it does feature two awards: The Purple Camera Award, for up-and-coming female film professionals, and the Golden Okras, the festival's annual "anti-awards" that draw attention to sexism in Turkish cinema, which will be handed out for the eighth time this year.
Viewers will be voting online to determine the recipients of this year's Golden Okras, which are announced each year "in the hopes that these will be the last, due to failure to find nominees in the future."
todayszaman.com/arts-culture_womens-solidarity-chantal-akerman-in-focus-at-filmmor_413294.html
URL: https://newageislam.com/islam-women-feminism/isis-commander-killed-captured-iraqi/d/106478
New Age Islam, Islam Online, Islamic Website, African Muslim News, Arab World News, South Asia News, Indian Muslim News, World Muslim News, Womens in Islam, Islamic Feminism, Arab Women, Womens In Arab, Islamphobia in America, Muslim Women in West, Islam Women and Feminism